Genesee Speedway Ready to Pay Out $15,000 at 2016 Awards Banquet

Rich Vleck, BATAVIA, NY, (November 25, 2016)- It should come as no surprise that what was an incredible 2016 season at Genesee Speedway will be capped off with a record-paying banquet.

At the 2016 Genesee Speedway Awards Banquet Saturday December 10 at the Quality Inn (formerly Clarion Hotel), the Point Fund will exceed $15,000 in cash! Over $5,000 was made possible by the FOAR Score Group, but the first-year promotion team of Jim and Pam Johnson and Mike Fisher decided to triple that amount for the over 50 teams that will take home a slice of the record-breaking amount.

The top 10 drivers in each of the five adult divisions will claim a portion of the point fund, with champions Beamer Guzzardi (Crate Late Models), Kyle Inman (Sportsman, Dave DuBois (360 Late Models), Butch Zimmerman (Street Stocks), Brad Shepard (Mini Stocks), Cole Hicks (Bandits) and Matt Smith (Micro Sprints) being highlighted throughout the night.

The point standings may already be known, but a host of special awards will also be part of the festivities, including Rookie of the Year, Most Improved, Fan Favorite, Best Appearing, Sportsmanship, Perseverance and Drivers of the Year.

It is important to note that with 250 tickets already purchased, the Awards Banquet is Sold Out. The banquet will give teams and fans to get a preview at what is setting up to be an even more thrilling 2017 season with the recent announcement of the ULMS Super Late Model event on Thursday, July 6th. For more information, visit www.Genesee-Speedway.com.

KING OF DIRT AWARD WNNERS ANNOUNCED
To Be Honored At The January 14th Banquet Party In Fonda

November 16, 2016 (Fonda, NY) – King Of Dirt Racing recently announced the list of drivers who have earned awards by touring in 2016. 18 different drivers will be honored among their peers along side champions Connor Cleveland (Sportsman) and Robbie Speed (Pro Stock) at the annual Night Of Champions banquet party on January 14th at the Winner's Circle Restaurant in Fonda, New York.

Eight different Sportsman Modified drivers will share in the 10 special awards up for grabs at the Night Of Champions banquet party. While King Of Dirt releases the names of drivers who have won the aforementioned special awards, the specific awards they have earned is unknown until banquet day.

The Sportsman Modified special awards include crowning champion Connor Cleveland and naming the prestigious Award Of Excellence winner. Other awards to be handed out include newcomer of the year, outstanding performance, memorable moment, hard charger, most improved, lap leader, hard luck, top Bicknell warrior, 1st man out, and most popular driver.

Drivers who have been named to receive an award for the KOD Sportsman Modified Series are: Connor Cleveland, Andrew Buff, Scott Duell, Michael Sabia, Adam Gage, Adam Pierson, Cody Hunt, and David Schilling.

Drivers who have been named to receive an award for the KOD Pro Stock Series are: Dean Charbonneau, Dan Older, Gus Hollner, Luke Horning, Chuck Dumblewski, Jason Casey, Byron Wescott, Robbie Speed, Daniel Sanchez, and Nick Stone.

Crowning the Pro Stock champion will top honors naturally, however the award of excellence, newcomer of the year, outstanding performance, memorable moment, hard charger, most improved, lap leader, hard luck, 1st man out, and most popular driver awards will also greet one of the lucky drivers named.

"Honestly our season ended September 24th and it's taken this long to determine award winners. That's how many guys were up for each and deservingly so. At the end of the day we had to narrow it down and we've done that. I think everyone will be pleased with how we close out our racing season," said KOD Promoter Rob Hazer.

Last year the King Of Dirt Racing Series packed the banquet hall at the Winner's Circle Restaurant and expects to do so again this year. With space being limited, everyone attending is asked to be prompt with ticket sales. Please send checks or money orders made out to King Of Dirt Racing along with a list of names in your party no later than January 2nd.

The KOD Night Of Champions Banquet Party is scheduled for January 14th at the Winner's Circle Restaurant in Fonda, New York. There will be dinner, dancing, fun, and friends to close out the 2016 season. Also announcements for the 2017 season will first be made at the banquet for those in attendance.

For more information on the King Of Dirt Racing Series visit on the web at www.kingofdirtracing.com.

You can also find King Of Dirt via Twitter @kodracingseries or @kodracing.

Look for KOD also on Instagram @kingofdirtracing or on Facebook www.facebook.com/kingofdirtracing.

Follow King Of Dirt Racing Series happenings via Instagram @kingofdirtracing.

2016 KING OF DIRT RACING SERIES FEATURE WINNERS: (Sportsman) Connor Cleveland, Scott Duell, Kevin Ward, Tim Hartman Jr., David Schilling, Rocky Warner, (Pro Stock) Robbie Speed, Dan Older, Nick Stone, Daniel Sanchez, and Luke Horning.

NIGHT OF CHAMPIONS
King Of Dirt Banquet Date Set
Saturday January 14, 2017
Winner's Circle Restaurant
Route 5 – Fonda, NY 12068
Crate Sportsman Series
Pro Stock Series
Dinner – 6:30 PM
Awards – 7:30 PM
$30 Per Ticket Due By January 2nd
Please RSVP Names Along With Money
Anyone Is Welcome To Join Us; We hope to see you there!
Dinner, Awards, Products, Point Funds, Dancing, 50/50's, Prizes, & More!

Dinner included with ticket price, which includes: Roast Beef, Turkey, Mashed Potatoes, Mixed Vegetables, Dinner Salad, Soup, Dinner Rolls, Tea, and Desert.

All who plan to attend must RSVP along with paying for tickets prior to January 14th please. Make Money Order or Check payable to King Of Dirt Racing and on the memo line note KOD Banquet. Mail to 2204 Hickory Hill Rd, Fonda NY, 12068.

Top 10 King Of Dirt Crate Sportsman Series Points
1) Connor Cleveland
2) David Schilling
3) Michael Sabia
4) Cody Bleau
5) Cody Hunt
6) Kevin Chaffee
7) Scott Duell
8) Andrew Buff
9) Jon Miller
10) Adam Pierson

-end-
HUMBERSTONE HOSTED AWARDS BANQUET

- Drivers, Crews Honored For 2016 Season Achievements -

NIAGARA FALLS, ONTARIO (November 12, 2016) The Humberstone Speedway hosted their 2016 Awards Banquet at the Americana Resort in Niagara Falls on Saturday evening. The banquet was mc'ed by track announcers Clinton Geoffrey and Steven Petty.

Brad Rouse from St. Catharines, Ontario raced his way to the 2016 title in the PC Works DIRTcar Sportsman. Rouse beat out former track and Mr. DIRT champion Cody McPherson by just 35 points to earn the title. Chad Chevalier, Justin Sharp and Jay Mallory finished in the top five at season's end. Other drivers to see victory lane in 2016 include Ron Davis III (Sportsman Super DIRTcar Series Tour event), Brent Begolo, Joey Mastrioanni, Sharp, and Jeff Armstrong.

"The Keystone State Warrior" Dennis Lunger Jr from Albion, Pennsylvania won his second straight Pinty's Delicious Foods RUSH Late Model Championship. Lunger beat out veterans Jeff Dayman, Tim Gillespie, Rob Pietz and Ken Winfield to win the championship. Drivers that saw victory lane in 2016 included Lunger, Dayman, Gillespie, Pietz, Chad Homan, John Waters (RUSH Tour) and Brandon Mowat (Go Nuclear Series).

Dave Bailey from Hagersville, Ontario won the JC Auto Street Stock Championship in 2016. Bailey was also crowned the track champion at both Ohsweken and Merrittville. Rob Murray, Jason Fontaine, Kyle Pelrine and Vince Fargnoli completed the top five in points. Drivers that picked up checkered flags this season were Bailey, Fontaine, Murray and Bill Bleich Jr. Fontaine, Bleich, Murray, Fargnoli and Bryce Richardson also received their point fund money from the Duel on the Dirt.

Kyle Haynes from Caledon, Ontario won the Cosco Haulage Mini Stocks championship. Haynes beat out former track champion Evan Curtis, Olivier Larocque, Garnet Wilson and Mike Sarantakos to earn his first track title at Humberstone. Drivers that saw victory lane in 2016 include Haynes, Curtis, Larocque, Rob Goulding, Jay Moulton, Kyle Rothwell, Brandon Iudiciani, and Tony Kelly.

Dylan Llord from St. Catharines, Ontario won the Mike Knapp Ford Pro 4 Trucks championship behind 10 feature wins. Llord just edged out Danny Wurster by 43 points to earn the title in just his sophomore year of racing. Craig Vlasic, Frank Perry and Kyle Tomaski completed the top five in points. LLord, Wurster, Perry, Tomaski and Vlasic all saw victory lane in 2016.

The Most Improved Driver Award was presented to Joey Mastrioanni, Tim Gillespie, Kyle Pelrine, Kyle Haynes and Craig Vlasic. The Most Sportsmanlike Award went to Justin Sharp, Jeff Dayman, Bryce Richardson, Garnet Wilson and Andy Imbeault. Chad Chevalier, Jeff Dayman, Bryce Richardson, Brandon Iudiciani and Kyle Tomaski won the Best Appearing Car/Truck Award. The Hard Charger Award went to Brad Rouse, Dennis Lunger Jr, Jason Fontaine, Evan Curtis and Dylan Llord while Jay Mallory, Colton Ledingham, Andrew Reece, Brandon Iudiciani and Kyle Tomaski were the recipients of the Hard Luck Award.

Dylan Davidson, Travis Martineau, Andrew Reece, Olivier Larocque and Mitch Dumont were honored by being named Rookie of the Year.

The Pete Cosco Dedication to the Sport Award went to Pro 4 Truck driver Kyle Tomaski. Tomaski went out into the region to help promote Humberstone at different events throughout the season.

The Jim Simpson Crew Chief of the Year Award went to Jeff Armstrong. Jeff, a DIRTcar Sportsman driver, also wrenched on step son Tyler Puchalski's Sportsman as well as a Sportsman and a Pro 4 Truck for Emily Puchalski.

The Trevor Wilkens Driver of the Year went to Dave Bailey. Bailey won the track titles at all three tracks in the Niagara Region (Ohsweken, Merrittville and Humberstone) and just missed out on the overall title for the Duel on the Dirt, a four track series between Brighton, Ohsweken, Merrittville and Humberstone.

Race Director Tom Beales spoke to the crowd that was on hand, releasing the speedway's plan for the 2017 season. New improvements to the speedway will be made including an upgrade to the track lighting system. The first event for the 2017 will be the second annual Dawn of Destruction that will take place the first weekend of May. More information about a potential race night change will be announced after the DIRTcar fall promoters meeting in Syracuse in mid-November.

-end-
OCFS
50-lap Sportsman Feature
1. Tyler Boniface
2. Jessey Leiby
3. Allison Ricci
4. Tim Hartman
5. Chris Lynch
6. Jared Labagh
7. Joe Falanga
8. Joe Conklin
9. Brad Horton
10. Mike Sabia
11. Derrick Cormier
12. Pat Murphy
13. Leo Fotopoulous
14. Jimmy Johnson
15. Cole Hentschel
16. Anthony Falanga
17. Robbie Speed
18. Jermey Pitts
19. Mel Schruffer
20. Tony Kowalchuk
21. Nick Plumstead
22. John Virglio
23. John Illanovski
24. Phil Johnson
25. John Criscione
26. Jeff Hulseapple
DQ. Frank Venezia
DQ Matt Stangle
DQ Chris Stevens
DQ Howie Finch

-end-
CODY HUNT ROSE TO THE CHALLENGE ON TOUR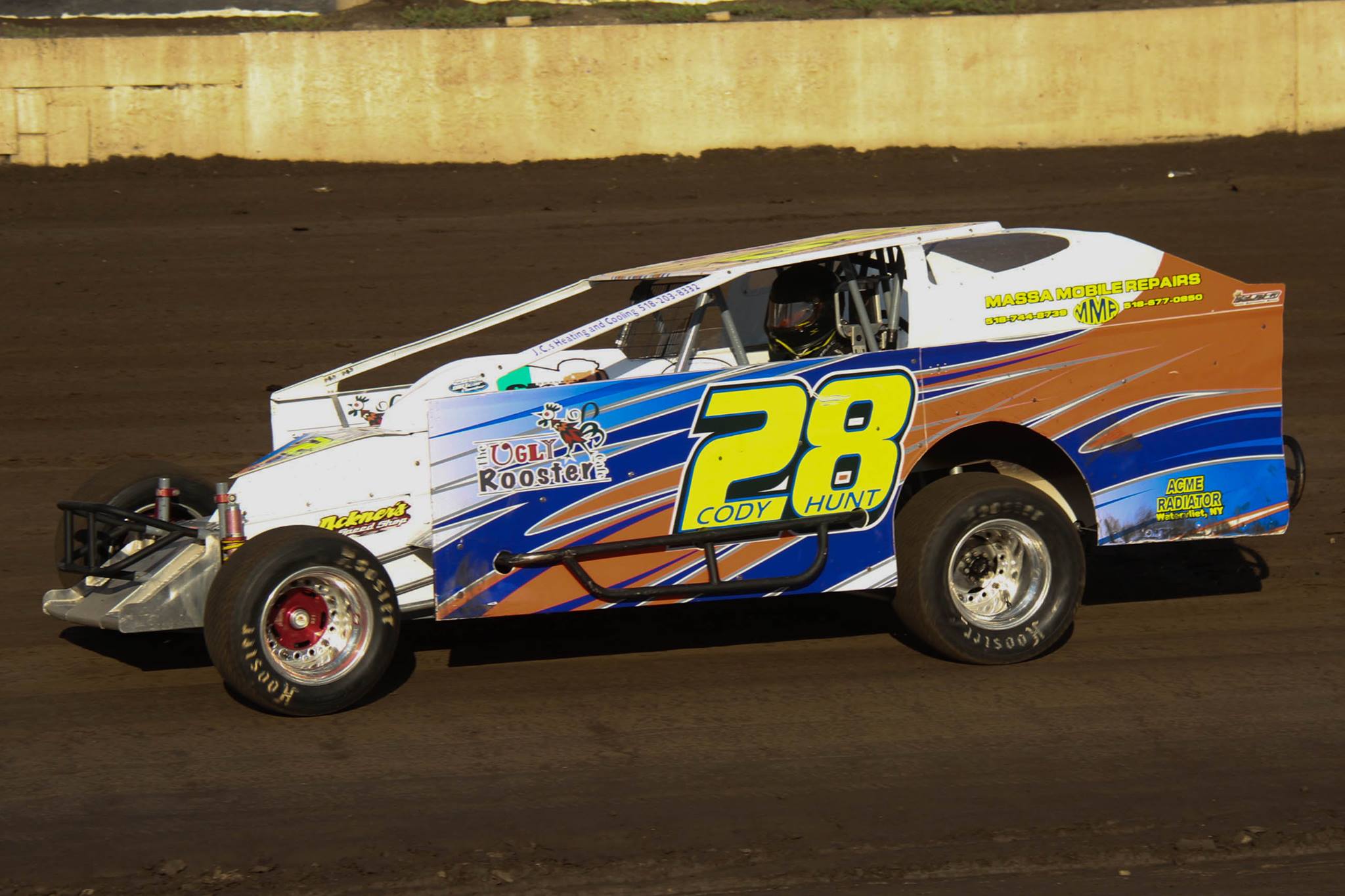 KOD Newcomer Of The Year & Bicknell Top Warrior In 2016

October 18, 2016 (Fonda, NY) – Cody Hunt started racing at the age of 14 in an open wheel Sportsman Modified having never raced anything before. He dabbled in the Rookie class in 2010, but called the high banks of Lebanon Valley his home to kick off his career. This season he challenged himself on the KOD tour, which resulted in some high honors headed his way at the year-end Banquet Party in January.

The Redline Graphics Newcomer Of The Year battle was fierce all season long, which came down to the final race of the season. At one point during the 100-lap event at Bear Ridge Speedway, Hunt found himself trailing challenger Scott Duell for the honor. By races end he had climbed from deep in the field to finish strong in 7th locking up the honor worth an extra $250 on top of his point fund money and driver rewards bonus.

This can be contributed to his father Richard Hunt, who got Cody into racing after being on various pit crews since the mid 1980's. Poppa Hunt was a life long race fan who raised a son itching to feed the need for speed himself. He provided that opportunity for Cody by purchasing a Bicknell Racing Chassis at the end of the 2010-racing season. The rest as they say is history.

Little did they know purchasing that BRP chassis would one day earn him the Bicknell Racing Products top warrior honors worth $333 on top of his Newcomer Of The Year $250, his point fund money, and his driver rewards bonus. Cody contributes his success to his fathers' countless hours in the race shop maintaining his race rod.

His favorite drivers are two icons in Capital Region dirt track racing, Kenny Tremont Jr. and Andy Bachetti. When asked what he enjoys most about the thrill of racing, Cody was happy to respond.

"I enjoy meeting new people and making friends in racing, but the speeds of a big track and battles on a short track are exciting. As long as I can go to a track and know I have a chance to race competitively and maybe win, that's also a huge thrill for me," said Cody Hunt, Newcomer Of The Year and Bicknell Racing Products Top Tour Warrior.

Any driver has to reflect at the end of a season. They must step outside the fire suit and self evaluate their program. This is perhaps the hardest part of the sport for many steel horse warriors, but being able to grade yourself and acknowledge where one can do better is important in growing as a driver. Hunt has no problem giving himself a grade.

"Running a tour is difficult for any driver. We traveled to tracks I've never seen before and saw various track conditions and surfaces. To make it even harder, when you show up to a KOD race you're racing against some of the best drivers in the state. There are some things I can improve on for next season," stated Hunt.

He continued saying, "I struggle at time trials and need to remember, to tell myself, slower is sometimes faster. I need to back up this corner, easy in, easy out, and gain as much forward momentum as possible. For what we accomplished as a team this year I'd give myself a B+," Hunt continued.

Cody Hunt elaborated on his favorite moment of the 2016 season and why saying, "The last race at Bear Ridge was probably my favorite moment, because I had never seen that track before and had a great car after some adjustments. I went from 22nd to 12th before getting caught up in a jingle and then went from the back to 7th where I finished. If I hadn't been in those jingles, I think we may have contended for the win," said an excited Hunt.

The 2016 Redline Graphics Newcomer Of The Year and Bicknell Racing Products Top Tour Warrior spoke highly of the KOD series, his crew, and his sponsors thanking them for helping him achieve a career year, but it was his father who got most of the young man's praise.

"All my sponsors Massa Mobile Repairs, JC Heating & Cooling, Polaro Sand & Gravel, UPSEU, and the Ugly Rooster Café have been a huge help and my crew is great, but I really have to thank my father," spoke Hunt.

He concluded by saying, "My dad is the heart and soul of our team. His meticulous dedication to our car keeps us on the track with minimal mechanical failure, almost never. We don't have brand new stuff or big budgets, but what we got never fails me week in and week out, because of the hard work and dedication my father puts in. Because of him I know every time I hit the track I can race competitively and at times for a win."

Celebrating a career season will highlight his accomplishments at the banquet, where Cody will be honored in front of his peers for his efforts during the King Of Dirt Racing Tour. Stories like his are inspiration to other young drivers, which can empower the youth movement in motorsports. The KOD Banquet Party is scheduled for January 14th at the Winner's Circle Restaurant in Fonda, New York.

2016 KING OF DIRT RACING SERIES FEATURE WINENRS: (Sportsman) Connor Cleveland, Scott Duell, Kevin Ward, Tim Hartman Jr., David Schilling, Rocky Warner

Top 10 King Of Dirt Crate Sportsman Series Points
1) Connor Cleveland
2) David Schilling
3) Michael Sabia
4) Cody Bleau
5) Cody Hunt
6) Kevin Chaffee
7) Scott Duell
8) Andrew Buff
9) Jon Miller
10) Adam Pierson

-end-
Devil's Bowl Speedway 50th Season in Review: Dirt Sportsman Modifieds

Hackel dominates for first Dirt championship

For Immediate Release

WEST HAVEN, Vt. – This is the second installment of the "Devil's Bowl Speedway 50th Season in Review" series. This series takes a retrospective look at an action-packed year of stock car racing in 2016 on the half-mile Asphalt Track and the 3/10-mile Dirt Track at Devils Bowl Speedway, division by division.

Sportsman Modifieds – Dirt Track
Champion: Bobby Hackel – Rensselaer, N.Y.
Rookie of the Year: Justin Severance – Pittsford, Vt.

Mother Nature tried her best to disrupt the 50th Season at Devil's Bowl Speedway in 2016, particularly the first full season of NASCAR Whelen All-American Series racing at the 3/10-mile Dirt Track. Thankfully, she quit halfway through the year. Bobby Hackel, however, never did.

After three consecutive rainouts, the fourth-generation racer opened the Dirt Track season on Sunday, June 12 by winning the first of two 25-lap features for the Central Vermont Motorcycles Sportsman Modified division on Brown's Quarried Slate/Brown's Orchard & Farm Stand Night. Veteran driver Tim LaDuc – who was in a medically-induced coma for almost a month following a severe lung infection just six weeks earlier – was physically drained but finished second.

Vince Quenneville Jr. rebounded from a tough 11th-place showing earlier in the Brown's event to win the second feature of the night – his lone dirt victory in 2016 – topping Tim Hodge and Derrick McGrew.

Seven-time Devil's Bowl champion Kenny Tremont Jr. earned his 71st career win in West Haven at the Central Vermont Motorcycles-sponsored "topless" Father's Day race on June 19, which saw the cars run without roofs. McGrew and Adam Pierson were next in line at the finish. A major wreck early in the race collected 16 of the 22 starters, though most were able to continue.

After a scheduled off-week, it was Hackel back in the winner's circle on July 3 for the WhistlePig Whiskey Firecracker. The race was halted after an accident involving Ron Casey, who appeared to suffer a medical emergency just before crashing into the wall. Sadly, Mr. Casey passed away at a local hospital several hours later. Once the race resumed, Hackel continued to dominate, followed by Justin Comes and Jackie Brown Jr.

Rain on both ends of a mid-summer break effectively meant no racing again for a month, but when the season got back on track, it got busy. A double-feature night on August 7 resulted in another win for Hackel in the first race, but the star of the night was Chad Miller. The unheralded White River Junction, Vt., driver took even himself by surprise with a runner-up finish in the opening race, but then shocked everyone with a win in the nightcap. He held off Tremont by six feet to win the second race, scoring at Devil's Bowl for the first time since a Pro Stock event in 1998; his best finish of the season prior to the event had been 20th place.

Three short nights later, Tremont took the "Whelen Wednesday" event on August 10 for the twice-postponed Whelen Engineering Mid-Season Championships. An early wreck severely damaged the body on Tremont's car, but he soldiered on to the win. As Tremont did, Hackel, LaDuc, and rookie Justin Severance all came from deep in the starting order to finish in positions two through four.

Back again on Sunday, August 14 for Liberty Street Discount Beverage & Deli Night, Hackel made history by sweeping both the Modified and Sprint Car feature victories, becoming only the second driver in Devil's Bowl's 50 seasons to win in two divisions on the same night, and the first to do so on dirt.

After the sixth rainout of the season on August 21, it was Hackel again on August 28. This time, his win came in the Charlie LaDuc Memorial "Ol' Reliable 54." Tim LaDuc, son of the late fan favorite, had a chance at what would have been an emotional victory but settled for the runner-up spot.

Labor Day weekend brought the third and final double-feature night on September 4. Justin Comes shed a month's worth of bad luck by dominating the first 25-lapper for his first Devil's Bowl win, and Hackel picked up the second race win. "Downtown" Jackie Brown Jr. had his best night of the year with a pair of runner-up finishes, while Brian Whittemore, Billy Lussier, Codie Aubin, and Jason Bruno each earned season-best finishes with top-five runs over the two races.

September 11 finally saw the twice-rained-out Interstate All Battery Center "Vince Quenneville Sr. Memorial 38" get in the books, and another first-time Devil's Bowl winner in Wayne Stearns. The former champion at Bear Ridge, Canaan Fair, and Legion Speedways pounced on Louie Cadwell to take the lead with five laps left. LaDuc also squeezed by for second place with Cadwell, Allan Hammond, and Comes rounding out the top five.

After the seventh and final Dirt Track race event rainout on September 18, Hackel posted his seventh and final win on September 25. Rookie Lenny Pillsbury had his best run by leading the first 15 laps before Comes took over. Hackel reached Comes late and wrestled the lead away with two laps left; Comes and Pillsbury finished second and third, respectively.

It was all Tremont at the season finale on Saturday, October 1. Terrible late-season luck – including a flip a week earlier – put Tremont on the pole by virtue of the handicap system, and he buried the field with an undisputed Stove Depot "King of the Clay" 100 win. LaDuc and Pierson had a sensational fight for second place, which went LaDuc's way. Hackel wrapped up his title season in fourth place with Quenneville fifth.

Despite a winless season, LaDuc ended the year as the runner-up in the championship standings, edging Tremont by three points. Quenneville took fourth overall with Comes fifth. Severance, from Pittsford, Vt., put together an impressive run of 10 top-10 finishes in the season's 14 races to seal up the Rookie of the Year title and sixth place in the point standings. In all, 63 different drivers competed in the division in 2016.

As the "Devil's Bowl Speedway 50th Season in Review" series continues soon, Part 3 will focus on the NASCAR Whelen All-American Series Vermont State Championship fight for the Sportsman Modified division.

Devil's Bowl Speedway is located on Route 22A in West Haven, Vt., four miles north of Exit 2 off of U.S. Route 4 and just 20 minutes from Rutland, Vt. For more information, visit www.DevilsBowlSpeedwayVT.com or call (802) 265-3112. Devil's Bowl Speedway is on Facebook at facebook.com/DevilsBowlSpeedway and on Twitter and Instagram at @DevilsBowlSpeed; follow the action using the #DevilsBowl hashtag.

FINAL 2016 POINT STANDINGS
Central Vermont Motorcycles Sportsman Modifieds
Devil's Bowl Speedway Dirt Track
1. Bobby Hackel, Rensselaer, N.Y. – 745
2. Tim LaDuc, Orwell, Vt. – 662
3. Kenny Tremont Jr., West Sand Lake, N.Y. – 659
4. Vince Quenneville Jr., Brandon, Vt. – 593
5. Justin Comes, Middlebury, Vt. – 591
6. Justin Severance, Pittsford, Vt. – 554
7. Jackie Brown Jr., Hurley, N.Y. – 540
8. Billy Lussier, Fair Haven, Vt. – 503
9. Chad Miller, White River Junction, Vt. – 423
10. Wayne Stearns, Bradford, Vt. – 392

Feature Winners: Bobby Hackel (7), Kenny Tremont Jr. (3), Justin Comes (1), Chad Miller (1), Vince Quenneville Jr. (1), Wayne Stearns (1).

-end-
Marcuccilli Makes Magic

Becomes first Sportsman driver to win a feature event at Oswego Speedway

by Brendan Capria

OSWEGO, N.Y. – Oct. 8, 2016 – Dave Marcuccilli battled the rigor of an extended race program Sunday night to win the Sportsman Chevy Performance 50 Championship at Oswego Speedway for the finale of the prestigious 45th running of the NAPA Auto Parts Super DIRT Week. Marcuccilli and company did not disappoint as the jam-packed crowd at the Clay Palace gave the week's last feature event a standing ovation.

The 30-car feature event was comprised of more than 60 percent native New Yorkers. Cayuga, N.Y. driver David Marcuccilli led the field into the green flag for 50 laps after recording the fastest lap in time trials on Friday with a 23.451.

In a nine-caution marathon, not one Sportsman driver conserved their race car. When the green flag waved, the two rows of 15 cars merged – some wasting no time to rub fenders with each other. Rocky Warner, who recorded the third fastest lap in time trials, made his push to the top from third place. The only driver separating him from leaving Oswego on a high note was Tyler Meeks.

It only took the race's first restart for Warner to jump the gun on Meeks. Warner took the spot within moments and diminished Marcuccilli's lead to 0.187 seconds before another caution put a hold on his growing momentum. Thereon, Meeks dropped back to the bubble spot of the top five.

"There was a lot of give and take out there," Warner said.

The caution also wreaked havoc on Marcuccilli as he momentarily lost second position to series front-runner Ron Davis III. In the following cautions, Marcuccilli successfully fought off Davis. Davis eventually spun-out in turn three of the closing laps, placing 15th. Marcuccilli, on the other hand, was still in the running.

Marcuccilli and Warner had a classic barn-burner that almost went the entire length of the race. That is, until Warner connected with the turn one wall; there was clear mechanical damage after the impact. Warner held his ground, but lost enough for Marcuccilli to reclaim his place at the top.

"Oh man, that was tough," Marcuccilli said. "What a race that was, man. What a wrestling match I had with the car the entire race. We were way too tight, and I think Rocky was tighter than me. He started having issues, or whatever was going on. I saw him struggling and was lucky enough to be able to hang with him."

While Warner faded, Greg Martin made the charge to second. Martin recorded the fastest time in the Sportsman Futures earlier in the week, and in this particular feature climbed his way up from 11th.

"Yeah, it's always fun when you get to run with guys like these," Martin said. "They run clean, and they run good. We're just glad we had a car strong enough to get up to second."

Three cautions in the final few laps created a green-white-checkered situation. Though this revitalized drivers' chances, Marcuccilli was able to hold off the field. Martin settled for third, while Warner limped into the final podium spot.

"Rocky is a shirt off your back kind of guy," Marcuccilli said. "If you need anything, he'll give it to you. Like I told him, I bought him Red Lobster last night and told him that I needed to get my car turning right…and it worked."

Marcuccilli is the first ever Sportsman driver to win a feature event at Oswego. He said to sit on the pole and survive the strong field is an experience that is unforgettable. He earns a $4,000 purse.

DIRTcar Racing Sportsman DivisionStatistical Report; Oswego Speedway, N.Y.; Oct. 9, 2016

Feature (50 laps): 1. M1- David Marcuccilli [1]; 2. 4- Greg Martin [11]; 3. 1J- Rocky Warner [3]; 4. 28- Tyler Meeks [2]; 5. 33- Alex LaJoie [6]; 6. 234- Adam McAuliffe [18]; 7. 711- John Sowle [21]; 8. 15P- Adam Pierson [13]; 9. 94- Chris Burek [12]; 10. 27- Jeremy Pitts [17]; 11. 15B- Brianna Ladouceur [7]; 12. 10%- Timothy Hartman Jr. [16]; 13. 52- Jessica Power [19]; 14. 20k- Kyle Inman [15]; 15. 32R- Ron Davis III [5]; 16. 9x- Tyler Trump [9]; 17. 18R- Brad Rouse [14]; 18. 29k- Chris Cunningham [30]; 19. 34- Kevin Root [4]; 20. 18jr- Louie Jackson Jr. [22]; 21. 20d- Gregory Doust [27]; 22. 88c-Connor Dawdy [28]; 23. 35- Thomas Cook [23]; 24. 09- Connor Cleveland [20]; 25. 6- Matt Stangle [26]; 26. 92p- Martin Pelletier [8]; 27. 0- Shane Pecore [29]; 28. 1RH- Adam Hilton [25]; 29. 7F- Matt Farnham [24]; 30. 7- Cody McPherson [10]

-end-

Rouse Does the Rooftop Two-Step at Brewerton

Battles from sixth to claim career win No. 104

CENTRAL SQUARE, N.Y. - Oct. 6, 2016 - Brad Rouse dominated the field Thursday night, winning the concluding feature of the 24th Annual Billy Whittaker Cars & Trux Hurricane 100 presented by SUNY Canton Racing. The DIRTcar Racing Sportsman class was set for 30 laps, and Rouse made a strong run to the top.

"The guys put a good car underneath me," said Rouse, his family and crew crowding his car. "[My crew] really worked hard to do this. We had a rough night last night, but we just need to keep plugging away here."

The "D-Shaped Dirt Demon," a 1/3-mile clay oval, made for closed-quartered battles throughout the 30-car field. But the Sportsman division's second-consecutive show during the 45thAnnual NAPA Auto Parts Super DIRT Week had the packed-house focusing on some of the race's hardest chargers. Rouse was one of them.

Rouse started the feature from outside of the top five in sixth. Rouse, looking to build on his heat win from earlier in the program, was also seeking to add career win No. 104 to his tally. Rouse is the most seasoned driver in the class, having raced in the class for 23 years.

The feature abruptly began with a red flag exiting turn one. On the restart, Rouse joined third and fourth position to break into the podium. The three drivers were three-wide through the bullring, but Rouse's No. 18r car prevailed. Rouse climbed three spots within the first five laps. He had his sights toward second.

Though the fight for a podium spot ultimately widened the gap between him and second place, Rouse found his groove at the top of the track. Rouse began to gain a few tenths of a second each lap until he was within a half-second. On lap 15, Rouse carried more momentum out of turn two, capturing second position.

The second-half of the feature was Rouse closing the gap. Tyler Trump, leading the race from the start, had as much as a 2.480-second advantage over the field. With ten laps remaining, Rouse shaved his lead to less than one second. All the while, Rouse extended his separation from third position to more than one second. This isolated Trump and Rouse for an impending battle to the checkers.

It did not take Rouse long to make his move. The very next lap, Rouse took advantage of dense lapped traffic. Trump lost momentum on the backstretch while Rouse was able to side-step the congestion. Rouse took the lead entering turn three, and won the feature by a 0.614-second margin. Notably, Trump was not the second driver to finish the race.
Another hard charger was Rocky Warner. Warner's No. 1J car finished second in heats earlier and started 10th in the feature event. Trump, losing the top spot to Rouse in the final laps, faded enough for Warner to capitalize. Warner finished second, while Trump rounded out the podium in his No. 9x machine.

"This [win] means a lot," Rouse said. "This is a great facility. I think [Trump] was gone in lapped traffic a little bit, but he was quick too. We just had to keep plugging away, changing lines. The lapped cars helped us."

Last season, Rouse finished second to Warner in the event while Trump improved from a 15th place finish.
Brewerton Speedway Notebook

RACE NOTES: Brad Rouse bided his time late in the race, turning a sixth place start into his 104th career win in the Sportsman division. Using lapped traffic in the closing laps, Rouse made his way passed pole-sitter Taylor Trump. Rocky Warner, who also charged to the front from outside of the top five, recorded a runner-up finish at the short track.

(DIRTcar Sportsman Championship Series Hurricane 30 ) - BRAD ROUSE, Rocky Warner, Tyler Trump, Taylor Caprara, Corey Barker, Jackson Gill, Kevin Root, Zach Sobotka, Dave Marcuccilli, Shane Pecore, Brianna Ladouceur, Todd Root, Ron Davis III, Glenn Forward, Rocco Leone, Aaron Pierson, Dylan Davidson, Rich Townsend, Jessica Power, Chris Cunningham, Kevin Chaffee, Dan Ferguson, Louie Jackson Jr., Tony Finch II, Billy Clark Jr., Martin Pelletier, Tom Collins Jr., Alex LaJoie, Jordan Kruskie, Michael Sabia.

Shane Pecore is Looking for a Strong Run at Brockville's Northeast Fall Nationals

By Jim Clarke, Clarke Motorsports Communications/First Draft Media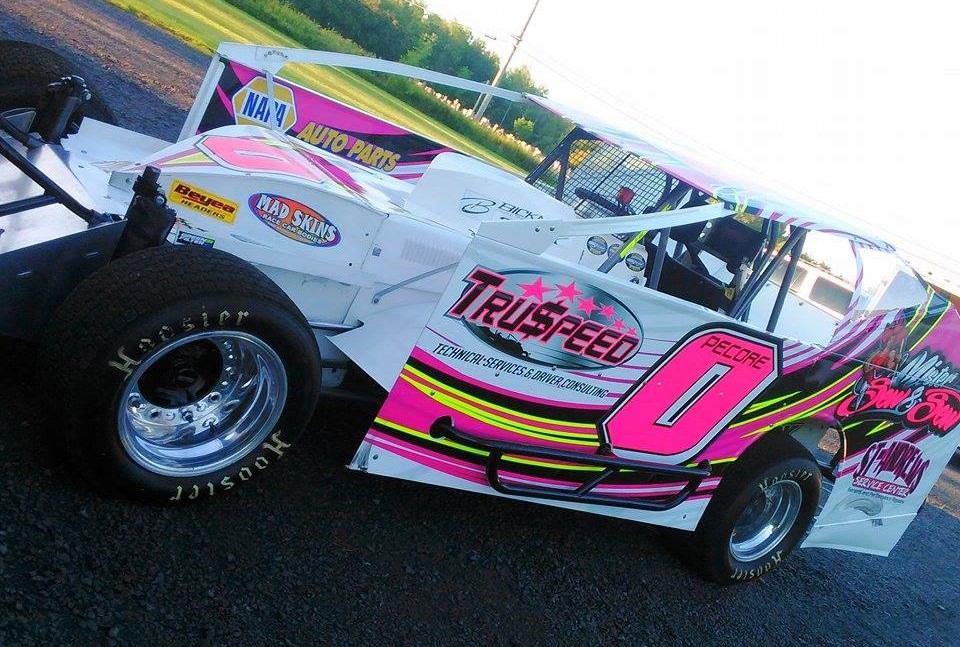 It could very well be the biggest event of his career.

Shane Pecore took the 2014 Sportsman-Modified honours during the 1000 Islands RV DIRTcar Northeast Fall Nationals, but if everything falls into place, a solid finish could net the 23 year-old from St. Andrews, Ontario his first career Mr. DIRTcar Series championship. After an impressive season at Brockville and the track championship at his hometown Cornwall Motor Speedway, the second generation speedster is taking a 23-point lead into the Super Dirt Week satellite events at Brewerton and Weedsport Speedways (near Syracuse, New York), with his sights set on clinching the crown during the Saturday, October 15th season-ending spectacular at The BOS.

"I've never really been the type of driver to worry about points; just winning races and getting the best possible finish," said the youngster. "My focus has changed a bit lately and I've become more aware of who is running where in the order. Every position that we can gain on the track is worth a little more in the standings and we're looking to take as big a cushion as we can into the final show at Brockville."

The late season events on the calendar have already been very kind to Shane Pecore. He won the Pete Mitchell Memorial at Mohawk International Raceway, finished 7th during the Applefest Shootout at Brighton Speedway and was 5th out of a stellar field of 82 Sportsman-Modified entries during the Outlaw 200 Weekend at Fulton Speedway. The #0 Bicknell Racing Products machine made its way to the winner's circle a total of 10 times during the 2016 campaign and in addition to the point title, earned the 'Race for the Cure' title for a 3 race mini of 100 lap shows at Cornwall Motor Speedway.

"Momentum is an important component of this sport and I'm happy with the position we've put ourselves in heading-down the home stretch," admitted the confident racer. "The hard work we've put into our program this season has paid dividends since the first green flag of the year and I think we're in a good spot to be a contender for the overall title. To have the final race of the play out on a track where we've run all season puts our time into a strong position."

-end-
Chris Murray Cops Season Finale

Chris Murray had never seen the Legion Speedway before arriving to compete in the season ending Sportsman Modified Run-What-You Brung event Friday Evening for the Sportsman Modifieds. The Redraw for the Main Event put Murray on the outside pole and he took full advantage of the starting spot, jumping into the lead at the drop of the green leading all 50 Laps of the event to take the win, which was worth $1400.00 thanks to bonus money added by season long division sponsor Peanuts Auto. While Chris Murray may have led the entire distance he had to deal with the yellow flag flying seven times. The battle for second through fifth was at times intense with positions changing almost every lap. Randy Howe, who started on the pole finished second, but at one time had slipped all the way back to fifth. Adam Pierson was third when the dust settled with Derek O'Hearn and Ryan Avery completing the top five.

The Bear Ridge Sportsman Coupes were also on hand. The redraw put Gene Pierson Jr on the pole and at the drop of the green he jumped out to a large lead which he held until Brian Chaffee slipped into the top spot on a restart. Pierson Jr later returned the favor reclaiming the lead on the next restart. Pierson Jr would lead until the last caution, which came out with three laps to go. On the restart Jason Horniak got the jump, led the last three laps and claimed the win. Melvin Pierson would slip by Brother Gene Pierson Jr for second with Pierson Jr third. Brian Chaffee and Chris LaForest rounded out the top five

Also on had for a non-points race were the Sprint Cars of New England. Ryan Avery jumped into the lead at the drop of the green and led the entire way of the caution free event for his first win in a Sprint Car. Christine Boesch was a distant second, a career best for her in SCoNE competition. Jake Williams was third with Chad Turk fourth and Dennis McLeod fifth.

The Wingless Auto Club completed the program with their initial race. Veteran Ice racer Mike Horsch took the win with Dan Bowne second and Courtney Prentice third.

The season is now complete for the O'Reilly Auto Parts Twilight Racing Series and the annual Banquet of Champions is scheduled for November fifth.

For more information visit the tracks' website, www.Legionspeedway.com.

Legion Speedway-Unofficial Results 09/30/16

Peanuts Auto Sportsman Modifieds (50 Laps)
1. Chris Murray
2. Randy Howe
3. Adam Pierson
4. Derek O'Hearn
5. Ryan Avery
6. Billy Lussier
7. Derek Graham
8. Chad Miller
9. Jim Boardman
10. Jason Sanville
11. Matt Lashua
12. Todd Buckwold
13. Brian Whittemore
14. Ricky Sanville
15. Tom Placey

Bear Ridge Speedway Sportsman Coupes (25 Laps)
1. Jason Horniak
2. Melvin Pierson
3. Gene Pierson Jr
4. Brian Chaffee
5. Chris LaForest
6. Earl Maxham
7. Bob Shepard
8. Todd Hayward
9. Jason Colbeth
10. Shenia Covey
11. Robert Tucker

Sprint Cars of New England (25 Laps)
1. Ryan Avery
2. Christine Boesch
3. Jake Williams
4. Chad Turck
5. Dennis McLeod
6. Kevin Chaffee
7. Tyler Austin
8. Will Hull (DNS)

Wingless Auto Club
1. Mike Horsch
2. Dan Bowne
3. Courtney Prentice
4. Wade Prentice

-end-

Marcuccilli Sweeps Grit Hoosier Series/Open Tire Shootout At Outlaw Fall Nationals

(Dundee, NY) – Dave Marcuccilli makes rare appearances at Outlaw Speedway from season to season, but always seems to capitalize when he makes the trip.

Marcuccilli cashed in this weekend at the Outlaw Fall Nationals by winning not only the Grit Hoosier Series event on Friday night, but also by winning the open tire Crate Sportsman Shootout on Saturday at the "Fast Four-Tenths-Mile".

Friday night saw Marcuccilli roll off from the fourth starting position, while AJ Lloyd took off and led the opening eleven laps from the pole position. Lloyd had the Fox's Auto No. 1F running well on Friday night after running the full season at Outlaw.

Lloyd was doing yeoman's work to keep the blue painted No. M1 behind him, while Marcuccilli worked on slipping by Lloyd on the bottom lane. After eleven laps of not being able to make the pass down low, Marcuccilli went to the outside lane to make his move.

Marcuccilli tossed it up top and rode the cushion around turns three and four, snookering Lloyd to make the pass for the lead exiting turn four. From there, it was all done except for the photos and victory lane interview.

A caution on lap fifteen for Dylan Zacharias allowed the field to bunch back up to Marcuccilli, but he would drive away on the restart to secure the win. It was a big win for Marcuccilli for Grit Hoosier points, as he and Rocky Warner were tied going into the event. Warner drove from his eighteenth starting spot to finish fifth, but would lose the tie for the point lead.

Marcuccilli, Lloyd, Woodhull regular Brandon Butler, Outlaw regular Stacey Jackson and Warner filled out the top five.

Saturday saw the Crate Sportsman drivers return for an open tire show, with the same driver ending his night in Victory Lane. But it wasn't nearly as easy, as Marcuccilli had to go through 2016 Outlaw Speedway Crate Sportsman track champion Chris Fisher.

Fisher led the event from the drop of the green flag, leading the first eighteen laps of the thirty-five-lap event that paid two thousand dollars to the victor. Marcuccilli got by Fisher to lead the event on lap nineteen, but Fisher wouldn't go away easy as he reclaimed the lead on lap twenty-one.

It took Marcuccilli three more laps to work his way back by Fisher for good, as he would race away to the weekend sweep. Rocky Warner picked off several cars late in the going to finish second over Nick Guererri who advanced to third from mid-pack. Fisher and Corey Curuli rounded out the top five.

Outlaw Speedway Outlaw Fall Nationals Night 1 Official Results
9/23/2016:
GRIT SPORTSMAN HOOSIER SERIES, 35 cars (25 Laps): DAVE MARCUCCILLI, AJ Lloyd, Brandon Butler, Stacey Jackson, Rocky Warner, Tommy Collins, Brady Fultz, Karl Comfort, Josh Butler, Eric Giguere, Nick Guererri, Jake Dgien, Austyn Fugle, Glenn Forward, Brett Buono, Matt Guererri, Damien Long, Tim Guild, Todd Root, Dylan Zacharias, Anthony Kimble, Mike Jackson, Frank Guererri Jr., Todd Hayward, Rob Bussey

Outlaw Speedway Outlaw Fall Nationals Night 2 Official Results
9/24/2016:

OPEN TIRE CRATE SPORTSMAN, 30 cars (35 Laps): DAVE MARCUCCILLI, Rocky Warner, Nick Guererri, Chris Fisher, Corey Curuli, Mike Jackson, Brandon Butler, Tommy Collins, AJ Lloyd, Rob Bussey, Ray Bliss, Ken Hammond, Stacey Jackson, Tim Guild, Mike Austin, Doug Smith, Brent Ayers, Dylan
Zacharias, Eric Williams, Greg Turner, Ron Cartwright, Loren Lincoln, Josh Butler, Dale Welty

-end-

O'Hearn Cements Championship with Win Number 5

Derek O'Hearn dominated the Main Event in the Peanuts Auto Sportsman Modified Feature Friday night, jumping into the lead before a single lap was completed from the third starting spot and rolled to win number five in the non-stop event. O'Hearn, who already held the point lead heading into the last regular season race, cemented the championship with the victory. Ryan Avery finished second after hopping a ride in the Sanville #92 with Brian Whittemore once again claiming third. Ricky and Jason Sanville completed the top five.

The regular season is now complete for the O'Reilly Auto Parts Twilight Racing Series but there still remains one event left on the schedule. This Friday, September 30th it will be Legion Speedway Unleashed. This event will feature a $1200.00 to win, extra distance race for the Sportsman Modifieds. Also on the schedule is the final event of the season for the Sprint Cars of New England, the Bear Ridge Speedway Sportsman Coupes and the debt of the Wingless Auto Club, which is just what it says, Sprints Cars with no wing.

For more information visit the tracks' website, www.Legionspeedway.com.

Legion Speedway-Unofficial Results 09/23/16

Peanuts Auto Sportsman Modifieds (25 Laps)
1. Derek O'Hearn
2. Ryan Avery
3. Brian Whittemore
4. Ricky Sanville
5. Jason Sanville
6. Travis Shinn
7. Robbie Williams
8. Randy Howe

-end-
DAVID SCHILLING SINES AT BEAR RIDGE

Connor Cleveland Claims 2016 KOD Championship

September 26, 2016 (Bradford, VT) – David Schilling came into the King Of Dirt Sportsman Modified Series season finale at Bear Ridge Speedway just 11 points behind Connor Cleveland. Schilling would start 3rd with Cleveland starting 10th and that set up one epic throw down for the crown in the Green Mountain State Clash.

Michael Sabia and Jon Miller led the 31-car field to the green flag, with Sabia taking the early lead. The aforementioned David Schilling quickly moved into the runner up spot and began pressuring Sabia for the lead.

Miller found himself battling early with a familiar foe Scott Duell and track regular DJ Robinson for positioning inside the top five.

It didn't take long for the fastest man alive in the state of Vermont to make his way forward. Adam Pierson started 7th and within 10 laps moved into position battling with Duell for 4th until inadvertent contact left Duell 14x facing the wrong direction and Pierson sent to the rear.

On the restart Sabia continued to control the pace of the 100 lap feature race with Schilling pressuring, but a new face entered the race for the top spot in the form of Jason Gray. The double zero was pressuring hard using top and bottom in an exciting race with Schilling for 2nd, with both just a car length off the back of the Sabia 7s.

Kevin Chaffee has chased the KOD tour all summer long and found himself in his wheel house starting 9th, but worked his way to the top five to battle for the $1250 win. It wasn't easy, as he'd find himself in a battle for position with former track champion Chris Donnelly who was aboard the Jim Boardman number 70.

After a pair of yellow flags around lap 69 the 1-800-GOT-JUNK Troyer of David Schilling finally made the move to grab the top spot from Schilling on a restart and began to run away. This put the pressure solely on Connor Cleveland who at the time was running 11th.

One of the other battles playing out was the Redline Graphics Newcomer Of The Year. Young gun Cody Hunt entered the event leading the Newcomer standings over Scott Duell and Andrew Buff by only five points. At one point early in the race Duell had enough spots to take the honors, but through the event both Hunt and Buff battled back to grab top 10 finishes.

With 15 laps remaining a near catastrophic incident happened on a restart. A small jingle on a late race restart saw Adam Pierson get caught up in a multi-car incident that included point leader Connor Cleveland. Pierson would retire for the evening, but Cleveland was able to continue and rally to finish 4th.

Up front it was all David Schilling who picked up a win on tour at a track he's never seen. Very impressive run for the championship challenger who finished a mere six points behind Cleveland in the title fight. Sabia crossed the line 2nd, with Kevin Chaffee, Connor Cleveland, and Chris Donnelly rounding out the top five.

An impressive run to earn Hoosier Hard Charger for Andrew Buff in 6th, Redline Graphics Newcomer of the year Cody Hunt in 7th, Jordan Fornwalt 8th, Scott Duell rebounded for 9th, and Adam Gage rounded out the top 10.

Next up for the King Of Dirt Racing Series will be the annual banquet with date and venue to be determined in the next month. Stay tuned and keep an eye on the social media outlets and website.

NOTES: 31 cars entered the Green Mountain State Clash at Bear Ridge Speedway. 15 drivers on hand were KOD tour regulars, with Pierson and Chaffee being speedway regulars as well. KOD Tour regulars occupied 8 of the top 10 finishing spots after the 100-lap event. David Schilling picked up his 1st career KOD Tour win. Connor Cleveland survived, battled, and rallied to claim the crown as King by six points with his 4th place finish. Andrew Buff suffered a broken steering box in time trials, but worked hard from 24th to earn a 6th place finish making him the Hoosier Tire Hard Charger. Despite missing the final event of the KOD Series schedule, Cody Bleau actually gained points and finished 4th in points after the drop was figured in. Bleau was sidelined with a concussion after an accident the week before the series trip to Bear Ridge. He had 316 points, but with the drop it gave him 275. After the Bear Ridge event his drop would be the no show, giving him the 316. Finally, Cody Hunt was able to secure the Redline Graphics Newcomer Of The Year honors after finishing 7th respectively.

FEATURE (100 LAPS) – 1) David Schilling, 2) Michael Sabia, 3) Kevin Chaffee, 4) Connor Cleveland, 5) Chris Donnelly, 6) Andrew Buff, 7) Cody Hunt, 8) Jordan Fornwalt, 9) Scott Duell, 10) Adam Gage, 11) Derek Graham, 12) Robert Tucker, 13) Thomas Placey, 14) Richie Simmons, 15) Terry Williams, 16) Jon Miller, 17) Matt Lashua, 18) Ryan Christian, 19) Jim Morgan, 20) James Fadden, 21) Todd Buckwold, 22) Luke Klob, 23) Mike Dunn, 24) Jason Gray, 25) Adam Pierson, 26) Josh Currier, 27) Gary Siemons, 28) Kevin Ward, 29) DJ Robinson, 30) Don Lashua, 31) Kevin White.

King Of Dirt Crate Sportsman Tour Schedule
06/12/16 – Utica Rome Speedway – '602 Spring Fling' WINNER: Rocky Warner
06/24/16 – Albany Saratoga Speedway – 'Friday Night Lights' WINNER: Connor Cleveland
08/06/16 – Lebanon Valley Speedway – 'Battle On The Banks' WINNER: Kevin Ward
09/01/16 – Lebanon Valley Speedway – 'Mr. Crate Track USA' WINNER – Scott Duell
09/09/16 – Albany Saratoga Speedway – 'Northeast Crate Nationals WINNER – Tim Hartman Jr.
09/10/16 – Utica Rome Speedway – 'Salute To Our Troops' WINNER – Rocky Warner
09/24/16 – Bear Ridge Speedway – 'Green Mountain State Clash' WINNER – David Schilling

-end-

WARNER REPEATS WITH GRAND DADDY VICTORY TO KICK OFF 'THUNDER ALONG THE MOHAWK WEEKEND'
By Tom Coughlin

FULTONVILLE, N.Y.-Thursday, September 22, 2016 would see the first leg of the 'Thunder Along The Mohawk Weekend' kick off at the Glen Ridge Motorsports Park, with the 'Grand Daddy 602 World Championship' title on the line and the best of the best in 602 sportsman ranks on hand to take a shot at the $3,000. winner's share that awaited the victor at the end of the 75 lap GRIT Series feature, presented by Adirondac Leather and STR Trailer Repair.
After a series of time trials and heat races that would allow the top three finishers in every heat race to redraw,the feature line up was set for the 75 lap feature that would see only green flag laps count.

By luck of the draw rookie Brian Calabrese would start on the pole with a with field of veteran drivers all around his 21C. The M1 of Dave Marcucilli would start outside pole, with Jeremy Pitta and 2015 Grand Daddy 602 Champion Rocky Warner making up the second row to begin the feature. There was one false start, but when flagger Joe Kriss waved his green flag again to let the field go, it was Calabrese who grab the lead coming out of turn one closely followed by the Page Trucking M1 of Marcucilli, Pitts, and Warner.

By the completion of lap 3 Warner had moved his Jake Spraker Used Cars 1J around Pitts to take over third. Two laps later and Tim Hartman Jr.in the Parillo Services 22 is along side of Pitts challenging for the fourth spot and fifth place starter Billy Gray in the Tom Spencer Racing 16 slides to the high side while while negotiating turn 1.

As Calabrese continues to hold the lead in his Puthaven Farms 21C, Hartman and Pitts are side by side as they cross the line to complete lap 7 and lap 9 Gray is side by side of the Grennon Project Services 27P of Pitts. Calabrese was now into traffic on lap 10 and made contact as he tried to work through it, which caused him to suffer a right front flat and make contact with the outside wall. Marcucilli would now assume the lead for the Delaware style restart followed by Warner, Hartman, Brian Pessolano, and Gray.

Pitts clipped an infield tire in turn 2 on the restart bringing out the caution again and on the ensuing restart 'Happy' Harry Shaffer, Derrick McGrew, and Gray would go three wide through turns 1 and 2, but Gray would end up sitting against the outside wall bringing his night to an early end. Marcucilli held the lead on the restart over Warner and Hartman, but lap 17 Pessolano who was running fourth in the West End Towing 24P at the time would make contact with an infield tire as he was working the low side of turn 4, bringing out another caution.

On the restart Kurtis Hohensheldt came to a stop in turn 1, with the running order now Marcucilli, Warner, Hartman, Chad Edwards, and Shaffer. This restart to begin lap 20 saw Marcucilli, Warner, and Hartman three wide through turns 1 and 2, but when they came around and crossed the line, it was now Warner who was out front.leading Marcucilli, Hartman, Edwards, and Shaffer. Warner started to open up some distance between himself and Marcucilli, who had a small lead on Hartman, who was trying the high side of the 'Fastest 1/4 Mile On Dirt' as they ran lap 25.

Just past the 1/3 mark and Calabrese has worked his way back up to the seventh position after his lap 10 incident and starts to look to the inside of the Parillo Services 27 of Derrick McGrew. Warner was into traffic on lap 34 as he worked turn 4 and a couple laps later Edwards has his Dodson Construction 14.side by side with Marcucilli as they pass under the flagger's stand to complete lap 36.

Halfway and Warner leads Edwards, Marcucilli, Hartman, Shaffer, and Calabrese as the top runners are now all negotiating their way through lapped traffic.Lap 49 would see a halt to all racing action as Orange County regular Rich Coons and his West Point Tours 27C took a wild ride on top of and over the outside wall between turns 1 and 2., completely out of sight. To the amazement and relief of all in attendance, as the track safety crew and recovery vehicles were headed for the accident scene, Coons came driving back to the racing surface and into his pit area.

Again the restart would see three wide racing as the charging field entered turns 1 and 2, with Marcucilli now into second over Edwards, Hartman, and McGrew. Calabrese looked inside fifth place runner McGrew as they raced through turns 1 and 2 on lap 53 and had the spot by lap 55. Lap 61 and Edwards is closing in on Marcucilli, just as the Pro-Tech Scales 21H of Shaffer goes high exiting turn 4 with a wedge bolt failure, bringing an early retirement to a good night's effort. With Warner out front Edwards powers ahead of Marcucilli from the outside on the restart, with Calabrese and Hartman completing the top five, but Marcucilli was not giving up as he fought side by side with Edwards, through the turns.

Lap 67 and the end is near as Calabrese, in the high grove and Hartman, on the low side battle to hold their track position. Dave Constantino who had been running in the top 10 would drop out on lap 68 with mechanical failure to the West End Towing, Cyclone chassis 7. Warner would go on to win his second 'Grand Daddy 602 World Championship as he had also won the Inaugural event in 2015.

It was an emotional victory lane for the popular driver, surrounded by family and friends as he paid tribute to his late father Don' The Silver Fox' Warner, who was a great friend to racing and so many that he came into contact with. Don Warner and Tom Spencer were two of the driving forces behind the 'Grand Daddy' and with the hard work ethic of Spencer there were numerous bonus and lap sponsorship dollars hand out at the end of the night.

Heat race winner's were Brian Calabrese, Dave Marcucilli, and Tim Hartman Jr. The top three in their respective time trial groups were Brian Pessolano at 13.778, Dave Marcucilli at 13.704, and Todd Root at 13.678.

In the year ending non-winner's race for the modifieds, veteran Bob Vedder of Schoharie driving the Vedder Excavating 53 and the Mid-Tel no. 9 of Jim Becker set up the front row for their 25 lap feature.

These two top notch wheelmen raced side by side into turns 1 and 2, but unfortunately the younger generation at the back of the field had issues as Jim Nagle in a Laudy Hoyenga 34 and Brian Nelson is his own 47N made heavy contact in turn 1, sending both to the hot pits. Becker shot to the lead on the restart with Vedder and Justin Boehler in hot pursuit.

Nagle would retire on lap 4 as Becker held a constant big lead on Vedder, who was feeling Pressure from Boehler in turn 4.

With Becker your leader Vedder was is second, but entering turn 3 Boehler was able to continue to move inside as Vedder, would have trouble with the inside of turns 3 and 4. Boehler would get inside of Vedder as they passed the grandstand for lap 23 and finally make the pass, but Vedder would not give up that easily he charged back to take the second spot from Boehler's Pro-Tech Scales 50.

Pit notes-Calabrese was a DQ after post race inspection due to a tire infraction, Chris Curtis was a DNS due to a broken steering box and Kyle Inman was a DNS due to drive line failure.

GRAND DADDY 602 SPORTSMAN WORLD CHAMPIONSHIP-FEATURE-75 LAPS-ROCKY WARNER, Chad Edwards, Dave Marcucilli, Jeremy Pitts, Tim Hartman Jr., Derrick McGrew, Floyd Billington, Jack Lehner, Will Shields, Mike Coffey, Dave Constantino, Harry Shaffer II, Mike Block, Rich Coons, Kurtis Hohensheldt, Brian Pessolano, Todd Root, Billy Gray, Justin Comes, DQ Brian Calabrese, DNS Chris Curtis, DNS Kyle Inman.

MODIFIED NON-WINNERS-FEATURE-25 LAPS-JIM BECKER, Bob Vedder, Justin Boehler, Ricky Davis, Nick Lussier, Jeff Kelley, Jim Nagle, Brian Nelson.

-end-
Ransomville Speedway
King of the Hill Weekend
Friday, Sept. 23
SPORTSMAN (100)_MATT FARNHAM, Jesse Cotriss, Brett Senek, Chris Burek, Derrek Borkenhagen, Brett Martin, Noah Walker, Greg Martin, Mike Williams, Austin Susice, AJ Custodi, Jim Harbison, Steve Lewis Jr, Gordy Hermanson, Kevin Wills, Garrison Krentz, James Henry, Dustin Gorhan, Jonathan Reid, Chase Matteson, Justin McKay, Darrell Borkenhagen, Bryan Harris. HEAT WINNERS: Greg Martin, James Henry and Billy Coleman. CONSI: Jim Harbison. FAST TIME: Brett Senek 99.760mph. .

-end-
Excitement Building For Lucrative Industrial Tire Of CNY Sportsman Shootout Championship At Fulton Speedway Outlaw 200 Weekend Sept. 30 – Oct. 1

By Dave Medler

FULTON, NY – September 22, 2016 – Fulton Speedway will be the setting for one of the crown jewels in Northeast Sportsman racing, the Industrial Tire of CNY Sportsman Shootout 50, on Friday, September 30 and Saturday, October 1, during the 31st Annual Sunoco Fulton Ethanol Facility Outlaw 200 weekend presented by SUNY Canton.

Long time Fulton Speedway marketing partner Industrial Tire of CNY located at 1015 Hiawatha Blvd. in Syracuse, N.Y continues its strong support as title sponsor making the Sportsman Shootout one of the highest paying and prestigious events to win for the division. Over $15, 000 in purse and prize money including heat money, lap money and other special awards will be up for grabs. The Industrial Tire of CNY Sportsman Shootout Champion also earns a spot in the All-Star Race as part of the World Short Track Championship in Charlotte on October 21.

Drivers will draw to determine their qualifying groups on Friday beginning at 3:30pm. Drivers will stay within the same group for timed hot laps and 10-lap heat races on Friday evening. Following the heats, 12-lap consolations will be held. Saturday, 15-lap B-Mains will complete the 30 car field for the 50-lap all-green flag feature event with all non-qualifying drivers receiving $60.

This is race #11 of the DIRTcar Sportsman Championship series and the first of five "championship" point events in a two-week period for Sportsman competitors. All DIRTcar rules apply and drivers must be DIRTcar members. Recently crowned Fulton Speedway point Champion, Ron Davis III, looks to continue his torrid late season run that has seen him tally three DIRTcar Sportsman series wins since Labor Day. Ontario's Shane Pecore holds the series point lead to date on the strength of two series wins over Martin Pelletier. A strong contingent of competitors for New York State, Ontario and Quebec is expected.

For the DIRTcar Sportsman Championship Series competitor notes, entry form, and other Outlaw Weekend info, log onto www.fultonspeedway.com and click the Outlaw Weekend tab. To preorder tickets, call the ticket hotline at (315) 552-6199. For all other inquiries contact the track at (315) 593-6531.

Schedule
Thursday – 9/29
5pm – 9pm – Pit Area opens for early hauler parking.
Friday – 9/30
9am – 2pm – Pit Area open for hauler parking
3pm - Pit Area Opens
3:30pm - Pre-tech on drag strip/Draw for group qualifying begins
5:30pm - Driver's Meeting
6:00pm - Timed Hot Laps – 10-Lap Heat Races – 12-Lap Consolations
Saturday – 10/1
11am - Pit Area Opens
3pm - Hot Laps
4:30pm - 15-lap B-Mains
Approx 7:30pm - 50-lap Industrial Tire of CNY Sportsman Shootout

-end-
CHAD CHEVALIER CRACKS SAFE AND WINS SAFECRACKER SPORTSMAN 100

PORT COLBORNE, ONTARIO (September 18, 2016) Chad Chevalier from Port Colborne, Ontario was victorious in the Safecracker 100 for the PC Works DIRTcar Sportsman at the Humberstone Speedway

Dennis Lunger Jr from Albion, Pennsylvania won his eighth Pinty's Delicious Foods RUSH Late Model feature of the season and clinched the track title for the second straight season. Dave Bailey from Hagersville, Ontario won his fifth JC Auto Street Stock feature of the season and clinched his first Humberstone title. Kyle Haynes from Caledon, Ontario won the Cosco Haulage Mini Stocks feature event for his fourth win of the season and wins the track divisional title.

Danny Wurster from Niagara Falls, Ontario won the main event for the Mike Knapp Ford Pro 4 Trucks while St. Catharines, Ontario's Mike Toovey scored the win in the Pro 4 Trucks non-winners race.

Brad Rouse from St. Catharines, Ontario won the 2016 title for the PC Works DIRTcar Sportsman on Labor Day Weekend. "The Keystone State Warrior" Dennis Lunger Jr won his second straight Pinty's RUSH Late Model title behind eight victories in 2016. Dave Bailey completed the Niagara Region Trifecta by winning the track title not only at Humberstone, but at Ohsweken and Merrittville as well in 2016. Kyle Haynes from Caledon won the Cosco Haulage Mini Stocks championship while Dylan Llord from St. Catharines, Ontario was the divisional champion in the Mike Knapp Ford Pro 4 Trucks.

Charlie Lynch led the opening circuits in the Safecracker 100 for the PC Works DIRTcar Sportsman. Adam Leslie would take second away from Tom Richau Jr on lap nine and started to chase down Lynch. Track champion Brad Rouse would take fourth on lap 12 on his quest towards the front of the field. Adam Leslie would catch race leader Lynch on lap 17 and would challenge for the lead. Leslie would take the lead from Lynch on lap 19. The leaders started to hit heavy lap traffic on lap 20.

At the races ¼ mark, Adam Leslie continued to show the way over Charlie Lynch, Brad Rouse, Chad Chevalier, and Jay Mallory raced inside the top five. Lynch would battle back to catch Leslie while working lap traffic. While in traffic, Dave DiPetro spun in turn three and collected the lead duo of Leslie and Lynch on lap 31. . With the leaders involved in the caution, Brad Rouse would inherit the race lead. Chad Chevalier would take the lead away from Rouse on the outside off the restart on lap 35. The caution would come back out on lap 39 as Mark Chiddy spun in turn four. Rouse would lead at halfway mark with Cody McPherson moving up and into third. Chevalier would regain the lead off a mid-race restart as McPherson would take second away from Rouse as Chevalier started to pull away from the field. The caution would fly on lap 89 as Brent Begolo spun in turn three and collected Chris Storm and John Babion. On the restart, Chevalier would start to pull away and open up his lead over the balance of the field. Chevalier would lead the final laps to score his second win of the season.

NEWS AND NOTES: Track General Manager Bobby Davidson addressed the crowd and said "We can put all the rumors to rest. We are not sold, we are not going to be sold and we will be back in 2017!" 25 entrants took part in the Safecracker contest. Young race fan Jason was Lucas Oil/Leslie Motorsports Jr Fan Members of the Week. Jason received a prize pack from Lucas Oil and Leslie Motorsports. As part of being the Jr. Fan Member of the week, Jason said "the most famous words in Motorsports" as well as got the chance to ride in the Pace Car and get picture taken with each of the feature winners in Epic Racewear Victory Lane! The Jr Fan of the Week can pick up their photos the following week at the souvenir stand courtesy of Soft Touch Images.

The final racing event of the 2016 season will be next Sunday September 25th as Tidyman Maintenance and Port Colborne Laundry presents the annual Eve of Destruction. Grandstand gates opening at 10:00am with the destruction starting at 12:00pm sharp! Get there early to get the best seat in the house!

RACE REPORT: 9-18-16 MIKE KNAPP FORD PRESENTS THE SAFECRACKER 100

DIRTcar Sportsman: CHAD CHEVALIER, Cody McPherson, Brad Rouse, Justin Sharp, Jeff Armstrong, Jay Mallory, Jordan Cosco, Rob Knapp, Brett Senek, AJ Custodi, Dylan Davidson, Pat Sonnenberg, Chris Bellamy, Luke Carleton, Mark Chiddy, Brent Begolo, Chris Storm, John Babion, Adam Leslie, Tyler Puchalski, Charlie Lynch, Tom Richau Jr, Dave DiPetro, Ken Cosgrove Failed to Qualify: Austin Susice, Jim Harbison, Rob Goulding, Matt Sharpe, Dave Flannigan Jr, Brian Page, Emily Puchalski, Gord McIntosh

-end-
KEVIN JORDAN AND DALE WELTY SCORE FEATURE WINS AT SKYLINE RACEWAY PARK

Speedsville, NY's Kevin Jordan picked up his eighth feature win of the season last Saturday night as he drove to victory in the open Sportsman portion of the Turbo Blue Finale. Dale Welty lengthened his lead in the 602 Crate Sportsman STAR Series as he defeated a strong 33 car field to pick up the feature win. Tony Harris scored his second consecutive feature in the the Empire State Series IMCA Modified feature while Shane Wolf won his second Skyline feature of the season in the Street Stock feature. Buck Mills Jr. came home the winner of the Stock Car feature, his 15th win of the season. Mike Robinson won his second feature of the season in the STAR Series Four Cylinder Stock feature.

The 20 lap Open Sportsman feature saw outside polesetter Randy Shantel jump out to the early race lead trailed by Kevin Jordan and Ben Bushaw. For the majority of the event it appeared as if Shantel was the man to beat as he opened up an advantage over Jordan which Kevin could not cut into. Just two laps from the checkered flag, Shantel suddenly lost power racing through the first turn and retired to the infield, turning the lead over to Jordan. Kevin would go on to lead the final two laps to claim the victory. Eddie White drove to a runner-up finish ahead of his son, Brian White. Polesetter Ben Bushaw finished fourth with Jim "Rocky" Rothwell rounding out the top five finishing order.

In the STAR Series 602 Crate Sportsman feature, veteran Dale Welty found himself driving into victory lane after an unexpected turn of events on the final lap. Newly crowned track champion Andrew Smith and Alan Fink tangled while battling for the lead, causing both to spin. Welty was able to work his way through the spinning cars despite making enough contact to do some heavy damage to the right side tinwork but never coming to a stop. Luckily for Welty, the damage was only cosmetic and he was able to control the green white checkered restart and drive on to score the feature win. Dustin Jordan finished second with Brandon Butler crossing the line third. Stacy Jackson and Pat Jordan were fourth and fifth respectively.

For the latest information about upcoming events at the Skyline Raceway Park, log onto www.skylineracewayny.com or contact the speedway office at 607-745-0275.

RACE SUMMARY:

OPEN SPORTSMAN: KEVIN JORDAN, Eddie White, Brian White, Ben Bushaw, Jim Rothwell, Lee DeWitt, Bill Leonard, Dylan Zacharias, Randy Shantel, Mike Owens, John Morse,

602 CRATE SPORTSMAN : DALE WELTY, Dustin Jordan, Brandon Butler, Stacy Jackson, Pat Jordan, Chuck Miller, Dylan Zacharias, Tom Collins Jr., Nick Nye, Mike Nagel Jr., Greg Doust, Mike Lackson, Isaiah Forward, Tyler Ward, Connor Brown, JJ Courcy, Rich Powell, Brad Smith, Corey Cormier, Josh Butler, Garrett Rushlow, Randy Gates, Taylor Lamb, Andrew Smith DQ: Alan Fink, DNQ: Rich Coons, Todd Titus, Jason Thomas, Jamie Batzel, Lee Foland, John Behr, Buck Mills Jr., John Austin

-end-
Ricky Sanville Claims his 3rd Win of the Season

Ricky Sanville continued his late season surge in the Peanuts Auto Sportsman Modifieds as he grabbed the lead at the drop of the green flag and led the entire way in the caution free Feature to claim his third win of the season. Points leader Derek O'Hearn finished in the runner up spot with Brian Whittemore third. Jason Sanville and Matt Lashua completed the top five.

For more information visit the tracks' website, www.Legionspeedway.com.

Legion Speedway-Unofficial Results 09/16/16

Sportsman Modifieds (20 Laps)
1. Ricky Sanville
2. Derek O'Hearn
3. Brian Whittemore
4. Jason Sanville
5. Matt Lashua
6. Robbie Williams
7. Travis Shinn

-end-
HARTMAN NATIONALS CHAMPION AGAIN AT MALTA

Rocky Warner & Nick Stone Claim KOD Wins At Utica Rome

September 12, 2016 (West Lebanon, NY) – Tim Hartman Jr. time trailed 19th, finished 5th in the B-Main, and finally qualified through the consolation at the 2016 Northeast Crate Nationals. That didn't stop 'Big Time Little Tim' from storming to the front, taking the lead on lap 37, and holding on to become the first 2-time Nationals Champion.

62 drivers checked in for the Northeast Crate Nationals at Albany-Saratoga on Friday September 9th looking to qualify for the King Of Dirt Racing Series crown jewel. Michael Sabia, Mike Ostrander, Hunter Bates, Chad Edwards, Scott Duell, and Chris Johnson earned Burt's Tree Service Super Six honors and locked themselves into the main event.

After time trials were complete the stage was set for Next Generation Roofing qualifying mains. Cody Bleau won the B-Main, Connor Cleveland won the C-Main, and Jason Gray won the D-Main, with consolation wins going to Hartman Jr., Andrew Buff, and Doug Flynn. Cody Hunt, Kevin Chaffee, and Jon Miller were awarded KOD series provisionals and the 30-car starting field was set.

Mike Ostrander and Michael Sabia would lead the field to the green flag starting the 100-lap Northeast Crate Nationals. Ostrander would take the lead early, but Chris Johnson claimed second and began pressuring early for the top spot.

Mr. Crate Track USA Scott Duell started 5th and began working his way forward battling with Hunter Bates, Michael Sabia, and Jason Gray. Other heavy hitters battling for top ten spots early on included 2015 Nationals Champion Rocky Warner, Adam Pierson, and Cody Bleau.

Ostrander fought to hold the lead, but Johnson took the top spot on lap eight and began pulling away. The first yellow flag dropped around lap 20 when Connor Cleveland and Chad Edwards locked bumpers heading into turn one. When the separated Cleveland collected up Andrew Buff, JaMike Sowle, and Allison Ricci.

On the restart Johnson resumed the lead leaving Ostrander to battle with Scott Duell for the runner up spot. Cody Bleau had worked his way into the top five running the high side, while Michael Sabia battled to remain top five.

The second yellow flag flew near lap 37 when the aforementioned Scott Duell suffered a flat right rear tire, which sent him pit side to the attention of his crew. The field would restack for another double file restart to thrill the crowd.

On the restart Warner tangled with Hunter Bates and appeared to have damage. He slowed dropping to near 17th position before picking the pace back up. No yellow flew and the 2015 Nationals Champion had his work cut out for him.

At the same time the 2014 Nationals Champion had climbed into the top 12 flexing his muscle on the topside of the speedway. After starting 21st Tim Hartman Jr. had worked his way to second and hunted down leader Chris Johnson. On lap 42 Hartman Jr. grabbed the lead setting the tone for the remainder of the race.

King Of Dirt Series point contender Cody Bleau had who was battling in the top five began to have mechanical issues on the 173 and backslid through the field, while at the same time another point contender, David Shilling, was climbing back through the field after being involved in an early race tangle.

In the later stages of the event with Hartman Jr. leading the way, his teammate Derrick McGrew had worked his way into the top ten along with the 234 of Adam McAuliffe. Around lap 85 McGrew would suffer front-end damage that retired him for the evening, however McAuliffe continued to battle ultimately finishing 6th.

Jason Gray who had worked his way into the top three at one point found himself doing battle with the aforementioned Rocky Warner who had fought his way back into the top five and ultimately finished in the runner up spot. Warner had a late race caution to attempt taking the lead from Hartman Jr., but 'Big Time Little Tim' was not going to be denied, as he claimed his 2nd Northeast Crate Nationals title.

Tim Hartman Jr. won followed by Rocky Warner, Chris Johnson, a charging Jeremy Pitts, Adam Pierson, Adam McAuliffe, Mike Tholin, Jason Gray, Michael Sabia, and Floyd Billington rounding out the top ten.

Defending King Of Dirt Crate Sportsman Series champion Rocky Warner claimed victory at Utica Rome Speedway sweeping the events at the action track of the east the very next night on September 10th. Warner was gracious in victory lane praising the KOD Series and supporting it despite missing a pair of events in 2016 due to scheduling conflicts with his home tracks.

Matt Janczuk, Dave Marcuccilli, AJ Filbeck, Connor Cleveland, Stephen Denton, Kevin Root, David Schilling, Andrew Buff, and Corey Barker rounded out the top ten at Utica Rome Saturday.

Next up for King Of Dirt Racing Sportsman Series is Saturday September 24th at Bear Ridge Speedway in Bradford, VT for the Green Mountain State Clash. The point title will be settled and a new king will be crowned.

NOTES: Northeast Crate Nationals was again a smashing success. 62 cars on hand tried qualifying for the prestigious race, which saw Tim Hartman Jr. hang on to become the first driver in race history to win it twice. Connor Cleveland became only the 2nd driver in event history to win multiple qualifying events. Burt's Tree Service Super Six saw only one driver from 2015 time in the top six twice, which was Chad Edwards. Warner continued his dominance at Utica Rome claiming his 5th career KOD win. Matt Janczuk who started 25th impressed onlookers by climbing to 2nd. Following the Salute Our Troops event Cody Bleau was evaluated at a local hospital after suffering an injury during the event. Thankfully no bones were broken on his left foot, but he did sustain a 2nd degree burn. Get well soon Cody! With Warner's win he became the only repeat winner on KOD tours this year.

FEATURE RESULTS AT ALBANY-SARATOGA SPEEDWAY (100 LAPS) – 1) Tim Hartman Jr., 2) Rocky Warner, 3) Chris Johnson, 4) Jeremy Pitts, 5) Adam Pierson, 6) Adam McAuliffe, 7) Mike Tholin, 8) Jason Gray, 9) Michael Sabia, 10) Floyd Billington, 11) David Schilling, 12) Dave Constantino, 13) Jack Lehner, 14) Scott Duell, 15) Kevin Chaffee, 16) Andrew Buff, 17) Hunter Bates, 18) Mike Ostrander, 19) Cody Hunt, 20) Allison Ricci, 21) Cody Bleau, 22) Justin Smith, 23) Chris Stevens, 24) Jon Miller, 25) Doug Flynn, 26) Derrick McGrew, 27) Richard Smith, 28) Connor Cleveland, 29) JaMike Sowle, 30) Chad Edwards (DQ).

FEATURE UTICA-ROME (100 LAPS) – 1) Rocky Warner, 2) Matt Janczuk, 3) Dave Marcuccilli, 4) AJ Filbeck, 5) Connor Cleveland, 6) Stephen Denton, 7) Kevin Root, 8) David Schilling, 9) Andrew Buff, 10) Corey Barker, 11) Casey Williams, 12) Cody Bleau, 13) Mike Button, 14) Kevin Chaffee, 15) Dave Moyer, 16) Rocco Leone, 17) Cody Hunt, 18) Steve Marshall, 19) Scott Duell, 20) John Strickler, 21) Michael Sabia, 22) Luke Klob, 23) Charlie Tibbitts, 24) Kyle Kiehn, 25) Jon Miller, 26) Brad Alger, 27) Aaron Jacobs.

King Of Dirt Crate Sportsman Tour Schedule
06/12/16 – Utica Rome Speedway – '602 Spring Fling' WINNER: Rocky Warner
06/24/16 – Albany Saratoga Speedway – 'Friday Night Lights' WINNER: Connor Cleveland
08/06/16 – Lebanon Valley Speedway – 'Battle On The Banks' WINNER: Kevin Ward
09/01/16 – Lebanon Valley Speedway – 'Mr. Crate Track USA' WINNER – Scott Duell
09/09/16 – Albany Saratoga Speedway – 'Northeast Crate Nationals WINNER – Tim Hartman Jr.
09/10/16 – Utica Rome Speedway – 'Salute To Our Troops' WINNER – Rocky Warner
09/24/16 – Bear Ridge Speedway – 'Green Mountain State Clash' $1,250 To Win / $100 To Start

-end-
RON DAVIS III WINS TREVOR WILKENS MEMORIAL AT HUMBERSTONE

- Gillespie, Fontaine, Larocque, & Tomaski All Collect Wins -

PORT COLBORNE, ONTARIO (September 11, 2016) Memphis, NY's Ron Davis III won the Trevor Wilkens Memorial for the Sportsman Super DIRTcar Series at the Humberstone Speedway on Sunday night. Tim Gillespie from Ridgeway, Ontario won his first Pinty's RUSH Late Model feature of the season. Port Colborne, Ontario's Jason Fontaine won his fourth JC Auto Street Stock feature of the season. Olivier Larocque from Port Colborne, Ontario won his first Cosco Haulage Mini Stocks feature of the season. Kyle Tomaski from Dain City, Ontario won his second consecutive Mike Knapp Ford Pro 4 Trucks feature of the season.

Brianna Ladouceur and Martin Pelletier led the Sportsman Super DIRTcar Series to the green flag for their 50 lap feature event with Ladouceur in the lead over Pelletier with Lewis, Davis and McPherson running in the top four early on. The leaders would work on lapping the field by the races 1/5th mark. Chad Chevalier would work his way into the top five on lap 14. The top two would battle for the lead and would take the lead away on lap 15. Ron Davis III would take the lead on lap 18. Davis would increase the lead over Pelletier, McPherson and Ladouceur with Chevalier running in fifth. Pelletier would re-inherit the lead on lap 24 after a Darrell Farraway caution. Tyler Puchalski would spin in turn three to bring out the caution on lap 35. At the time of the Puchalski caution, Brad Rouse would work his way into sixth place, after starting 27th on the grid. Pelletier and Davis battled for the lead in the races closing stages and entered lap traffic with six laps remaining. Davis would take back the lead with five laps to go. Davis would hold off Pelletier and Dave Marcuccilli to score his second win on the tour in three days.

NEWS AND NOTES: Next Sunday will be the Safecracker 100 for the Sportsman as Mike Knapp Ford will present the racing festivities. One lucky fan if they can put in the right four digit code can walk away from the track with $100,000! It is also season championship night for the Late Models, Street Stocks, Mini Stocks and the Pro 4 Trucks. Gates will open up at 4:30pm with racing getting underway at 6:30pm sharp.

RACE REPORT: 9-11-16 COSCO HAULAGE PRESENTS THE TREVOR WILKENS MEMORIAL

Sportsman Super DIRTcar Series: RON DAVIS III, Martin Pelletier, Dave Marcuccilli, Cody McPherson, Chad Chevalier, Brad Rouse, Shane Pecore, Justin Sharp, Brianna Ladouceur, Louie Jackson Jr, Dylan Davidson, Jay Mallory, Luke Carleton, Matt Farnham, Jessica Power, Adam Leslie, Jordan Cosco, Rob Knapp, Tyler Puchalski, Zack Sam, Jesse Penner, Steve Lewis Jr, Chris Storm, Chris Cunningham, Matt Sharpe, Tom Richau Jr, Darrell Farraway, John Babion, Shawn Dominey

Qualifying Winners: Dylan Davidson, Ron Davis III, Martin Pelletier

Fast Time: Dylan Davidson (15.812 sec)

-end-
2016 DIRTcar Sportsman Sept. 6
1. Shane Pecore 1,335
2. Brad Rouse 1,252
3. L. Jackson Jr. 1,243
4. Martin Pelletier 1,221
5. Alex Lajoie 1,201
6. Bryan Coultier 1,179
7. B. Ladouceur 1,174
8. C. Cunningham 1,168
9. Dany Gagne 1,152
10. Ron Davis III 1,135