Wilson wins Renegade's PPMS stop

The Renegade 410 Sprints Series made its inaugural appearance at Pittsburgh's Pennsylvania Motor Speedway on Saturday night, and the 31 drivers certainly didn't disappoint, with several of them breaking the track record during qualifying. The feature event had 24 cars starting as the green flag waved, and at the end of 25 incredibly fast laps, Greg Wilson from Benton Ridge, OH took the checkered flag and the $5,000 top prize. Also in action last night were the Precise Racing Products Rush Late Models, and Daryl Charlier, who led all 20 laps, claimed the victory in that division.

The Renegade 410 Sprints started off the action for the night by holding 2-lap qualifying. The Apollo Rocket, Ed Lynch, was the first driver to break the track record, clocking a time of 15.317 or 146.896 mph. However, that record was short lived as Danny Holtgraver completed his qualifying lap with a time of 15.214 or 147.89 mph. In the end, though, it was Randy Hannagan who had the fastest time and was declared the new track record holder with a time of 15.182 or 148.202 mph. Fan favorite driver Tim Shaffer, who experienced some engine trouble which caused him to miss his line up spot for qualifying, was penalized and given only one lap to qualify and ended up posting a time of 15.183 or 148.192. However, series rules stated that he could start no better than 25th in the feature event for missing the qualifying line up.

An impressive 6-wide parade lap showcased the 24 cars that were starting the feature event. As the green flag waved, Randy Hannagan rocketed to the top spot and was closely followed by Danny Holtgraver. However, it was 7th place starting Greg Wilson, who worked his way through the field taking over the top spot on lap 17, claiming the win the inaugural Sprint Monster Renegade event. Holtgraver, Hannagan, Chad Kemenah and Sheldon Haudenschild rounded out the top five.

Feature Finish
1. Greg Wilson
2. Danny Holtgraver
3. Randy Hannagan
4. Chad Kemenah
5. Sheldon Haudenschild
6. Brandon Matus
7. Logan Wagner
8. Ed Lynch Jr.
9. Cole Duncan
10. Tim Shaffer
11. A. J. Flick
12. Andrew Palker
13. Cody Swanson
14. Adam Kekich
15. Dan Kuriger
16. Rod George
17. Scott Priester
18. Mitch Harble
19. Wayne Dadetto
20. Brent Matus
21. Ralph Spithaler
22. Caleb Helms
23. Travis Philo
24. Dean Jacobs

-end-
Andrews gets Fremont win; Reed takes track title

By Brian Liskai

FREMONT, Ohio – Chris Andrews has watched several races slip through his fingers at Fremont Speedway this season. The Sandusky, Ohio driver wasn't about to let another opportunity get away Saturday on Kistler Racing Products Season Championship Night.

Andrews passed Byron Reed with seven laps to go and went on to record his first win of the season in the Fort Ball Pizza Palace 410 Sprints. Reed would finish second and earn his fifth career Fremont Speedway track championship.

"Byron took $10,000 away from me a couple of weeks ago (the Kistler Racing Products FAST Championship) so he can afford to lose some money," joked Andrews beside his Burmeister Racing/Lucas Oil/Goofy Golf/Schiets Motorsports/Adkins Sanitation/Applebee's Restaurant backed machine.

"I thought we were going to go winless at Fremont the way things were going. I love Fremont Speedway…the fans are awesome and Rich Farmer has the track in excellent shape. I can't thank my guys enough. We had engine problems the last four weeks and Paul Kistler went to work and put an awesome motor together. Mikey Summers…works his tail off on this thing," added Andrews in the Engine Pro Victory Lane.

"Caleb Griffith was the one that scared me. I about moved to the top and I watched him screw up and I figured I'd wait for that to clean off a little bit," continued Andrews who now has 7 career wins at The Track That Action Built.

For Reed, it was his second straight track title, though he expressed disappointment at not winning a feature all season at Fremont Speedway.

"I feel bad…I wanted to win that one pretty bad. I got discombobulated with my motor trouble there (he had a cracked header) and Chris got going good in the middle and that's where I needed to be in three and four," said Reed beside his Crown Battery backed machine.

"Our goal coming into the season was to win the FAST championship and to win the Fremont championship. I thought if we did that we would have won a few more races. Like I said I credit this championship to my crew. Our bad nights we were eighth or ninth…we didn't drop out of races. We weren't the best car this year…we did get better the last couple of months," added Reed.

In the 30 lap 410 sprint feature, Reed and Andrews would bring the field to green, but before a lap could be completed T.J. Michael and Jason Dolick tangled in turn four, resulting in a red. Both drivers were okay but were done for the night.

When the green flew again Reed jumped into the lead over Andrews, Caleb Griffith, Craig Mintz, Broc Martin and Stuart Brubaker. Reed pulled away slightly as Andrews and Griffith battled for second when the caution flew for Jimmy Colvin and Duane Zablocki who spun in turn four.

On the restart Reed led Griffith, Andrews, Mintz, Martin, Brubaker and Brian Lay. Griffith run up front would end when he went off the high side of turn two on lap five and hit the wall. When the green came back out Reed could not shake Andrews with Mintz, Martin, Brubaker, Lay and Brian Smith in pursuit.

The leaders hit lapped traffic by the 11th circuit and Andrews and Mintz closed on Reed. By the half-way point, Reed led by less than a car length over Andrews while Mintz and Martin battled for third. A lapped machine would get into Mintz, sending him spinning in turn one. The restart order was Reed, Andrews, Martin, Brubaker, Smith, Lay, D.J. Foos and Todd Heller.

With 10 laps to go, Andrews was racing to Reed's inside and the two would battle side by side over the next three laps. Andrews would execute a perfect slider in turns three and four to not only drive by Reed for the lead but to clear a couple of lapped cars on lap 23. Andrews would then drive away for the win over Reed, Martin, Brubaker and Lay.

In the 25 lap 305 sprint feature, Stroup and Rando would bring the field to green but before a lap could be scored Paul Weaver would spin. On the second attempt at green Rando would power into the lead over Stroup, Ryan, Kyle Capodice, Kevin Lee and Seth Schneider.

The action would grind to a half on lap two when Ryan French and Nate Dussel tangled in turn one. On the restart Rando would continue to lead as Stroup and Ryan battled for second. The leaders raced into heavy lapped traffic by the 9th circuit and the three car battle was on.

Rando would slip up on lap 11 with Stroup driving into the lead and Ryan taking second. With 10 laps to go Strop, Ryan and Rando were battling for the lead and trying to negotiate lapped traffic. Ryan would take the lead on lap 16 but Stroup continued to race to his inside with Rando also challenging. Rando's great run would end on lap 17 as he slid off the high side of turn two to bring out the caution.

Now with a clear track, when the race went back to green Ryan would drive off as Capodice now challenged Stroup for second. With five laps to go the running order was Ryan, Stroup, Capodice, Dustin Dinan, T.J. Michael and Tyler Gunn.

Ryan would drive to the win over Stroup, Capodice who wrapped up the division's rookie of the year honors, Dinan and Michael.

Jeff Ward and Cory McCaughey would bring the field to green in the 20 lap dirt truck feature. The event would go green to checker with no cautions.

Kent Brewer would drive into the lead over Ward, McCaughey, Matt Foos, Valenti, Art ball and Jimmy McGrath Jr. Valenti would move into fourth on lap two and would take third by lap six as Brewer continued to lead Ward. Valenti would take second on lap eight and applied pressure to Brewer.

Valenti would finally take the lead on lap 11 as the leaders caught the back of the field. Brewer would stay close with Ward, McCaughey, Foos, McGrath Jr., Ball and Cory Ward in pursuit. Valenti made one little slip with two laps to go and Brewer dove to his inside as the pair raced side by side to the white flag. Valenti regained his composure and drove to the win over Brewer, Jeff Ward, McCaughey and Ball.

Fremont Speedway will be back in action Saturday, Oct. 4 with the Buckeye Machine BOSS non-wing sprints and the Run-What-You-Brung with the trucks and stocks in a class, the late models and modifieds in a division and four-cylinder compact in another class. There are no rules for the later three divisions and some teams usually show up with huge wings, side panels and more.

It's also Family Fun Night which includes $1 hot dogs and 50 cent popcorn along with a penny toss for the kids with several special prizes. There will also be a ladies powder puff truck race.

410 Sprints A-Main - (30 Laps) 1. 16-Chris Andrews[2]; 2. 5R-Byron Reed[1]; 3. 83M-Broc Martin[5]; 4. 35-Stuart Brubaker[7]; 5. 45L-Brian Lay[8]; 6. 2+-Brian Smith[9]; 7. 21-DJ Foos[11]; 8. 55F-Taylor Ferns[16]; 9. 14H-Todd Heller[6]; 10. 60-Jody Keegan[19]; 11. 10J-Jarrod Delong[20]; 12. 39M-Matt Merrill[13]; 13. O9-Craig Mintz[3]; 14. 9Z-Duane Zablocki[14]; 15. 51-Roger Campbell[17]; 16. 9-Jimmy Colvin[10]; 17. 40DD-Caleb Griffith[4]; 18. 3T-Tony Beaber[15]; 19. D12-Jason Dolich[12]; 20. 8M-T.J Michael[18]

305 Sprints A-Main - (25 Laps) 1. 5R-Jordan Ryan[4]; 2. 10X-Dustin Stroup[1]; 3. 12-Kyle Capodice[3]; 4. 6-Dustin Dinan[9]; 5. 8I-T.J Michael[13]; 6. 68G-Tyler Gunn[16]; 7. 36-Seth Schneider[5]; 8. 18-Bobby Clark[15]; 9. 94-John Ivy[11]; 10. 1-Nate Dussel[17]; 11. 7A-Alvin Roepke[10]; 12. 2-Ricky Peterson[20]; 13. 10-Josh Harrison[7]; 14. 22M-Dan McCarron[12]; 15. 11G-Luke Griffith[18]; 16. 7M-Brandon Moore[19]; 17. 19R-Steve Rando[2]; 18. O2-Kevin Lee[6]; 19. 1W-Paul Weaver[8]; 20. 32-Ryan French[14]

-end-

Blaney holds of Kaeding for UNOH All Star Win at Brushcreek

PEEBLES, Ohio (Saturday, Sept. 20, 2014) – Dale Blaney held off a furious charge by Tim Kaeding over the last six laps Saturday to earn his 16th University of Northwestern All Star Circuit of Champions victory of the season at Brushcreek Motorsports Complex.

In the UNOH All Stars first appearance at "The Creek" since 2005 – the track has been reshaped and made smaller and racer since then – Blaney charged around Derek Hagar on lap 19 and then survived several attempts by Kaeding following a late race caution, to earn his 20thoverall win of 2014.

"This is the most wins I've ever had in a season. It's been unbelievable. Tony (Kennedy) has put together such an awesome team. I've said it a bunch this year, but George (Fisher, crew chief) is more focused than I've ever seen him," said Blaney beside his Kennedy Cattle/Ti22 Performance/Penske Shocks backed #14k.

The victory was Blaney's 115th career UNOH All Star win and is the second most in a season with the series – he earned 17 All Star wins in 1996. Blaney has essentially wrapped up his fifth UNOH All Star championship – a feat no other driver has accomplished in the history of the series.

"I heard Tim a lot there the last few laps. I was getting tighter and was using all the track to keep him behind me. This was a fun track," added Blaney.

For Kaeding, it was another second place finish behind "The Low Rider."

"Just like out west…I finished behind him again. I'm going to have to pull a Tonya Harding on him and break his knees or something," jokedKaeding beside his Tom and Sherry Leidig owned, Southern Pacific Farms/Auto Electric backed #59. "He was just better than me in one and two. I could get a great run on him in three and four, but Dale's just on top of his game right now. I can't thank the Leidigs and Bonzi and everyone who works hard on this thing enough and believing in me."

Like Blaney, Lee Jacobs is having the best season of his career, and powered to another podium finish, coming home third.

"Just an awesome season. I can't thank the Lewis family enough for believing in me and giving me everything I need to do this. I screwed up early…wasn't aggressive enough. When I finally got up on the wheel I started coming on at the end," said Jacobs beside his Simcox Grinding and Steel/Crown Investments/Amanda Lewis Attorney At Law backed #81.

Paul May and Derek Hagar would bring the field to green for the 30-lap feature with Hagar powering into the lead. After two laps were complete R.J. Perkins and Rick Fraley would tangle, bringing out the caution.

On the restart Hagar led Jimmy Stinson, who established a new qualifying record at Brushcreek the previous night, May, Nathan Skaggs, Blaney and Jacobs. Stinson would slide off the back stretch on lap three as May, Blaney, Skaggs, Jacobs, Danny Smith (who won the previous night at the track),Kaeding and JacHaudenschild drove by.

With five laps in Kirk Jeffries would stop on the track for another caution. On the restart Hagar pulled away as May and Blaney battled for second with Skaggs, Jacobs, Kaeding and Haudenschild racing hard for fourth. The caution would fly again on lap eight when Smith and Ryan Broughton stopping on the track.

When the green flew Hagar led Blaney, Skaggs, May, Jacobs, Kaeding, Cory Crabtree and Aaron Higgins. Hagar quickly caught the back of the pack by lap 13 with Blaney inching closer while Skaggs and Kaeding battled for third. The caution flew again on lap 13 with Dave Dickson, Bryan Nuckles and Adam Strausser involved in the melee.

On the ensuing restart Hagar got a tremendous jump and pulled away from Blaney with Kaeding working into third over Skaggs, May, Jacobs, Crabtree and Danny Smith. Blaney would methodically real in Hagar and just after completing lap 18,Blaney would duck under Hagar exiting turn two and grab the lead.

The caution would come out again on lap 20 for a Stuart Brubaker spin. On the restart Blaney pulled away as Hagar now had his hands full with Kaeding while Jacobs, Skaggs and May gave chase. Kaeding would grab second on lap 22 just before the caution flew for Ronnie Blair who stopped on the speedway.

When the green reappeared Kaeding drove the high line and raced side by side with Blaney in turns three and four. That battle continued the next lap before the caution flew for Crabtree with six laps to go. That prompted a refueling stop. When the green flew again Crabtree made contact with the turn one wall, ending his night.

The final six laps had the crowd on their feet as lap after lap Kaeding would pull under Blaney exiting turn four. Blaney would hold a narrow lead into turn one but would pull away slight exiting off the bottom of turn two. Lap after lap this battle transpired with Blaney holding off Kaeding at the checkered. Jacobs, Hagar and Skaggs would round out the top five.

The UNOH All Stars will wrap up the 2014 season at the Sprintacular event Oct. 11 at Eldora Speedway.

For more information go to www.allstarsprint.com

Brushcreek Motorsports Complex - 9/20/2014

All Star Circuit of Champions (24 Cars)
[#]-Starting Position

Qualifying - Kistler Engines
1. 84-Jim Stinson, 12.209; 2. 59-Tim Kaeding, 12.262; 3. 9W-Derek Hagar, 12.378; 4. 4-Danny Smith, 12.383; 5. 81-Lee Jacobs, 12.431; 6. 60-Kory Crabtree, 12.444; 7. 14K-Dale Blaney, 12.479; 8. A97-Aaron Higgins, 12.530; 9. 2S-Nathan Skaggs, 12.576; 10. 35R-Ronnie Blair, 12.580; 11. 71M-Paul May, 12.626; 12. 9J-Adam Strausser, 12.707; 13. 59N-Bryan Nuckles, 12.828; 14. 6-Jac Haudenschild, 12.857; 15. 22-Ryan Broughton, 12.866; 16. 7A-Dave Dickson, 12.869; 17. 35-Stuart Brubaker, 12.935; 18. 3F-Rick Fraley, 13.070; 19. 59J-Kirk Jeffries, 13.186; 20. O8-Brandon Conkel, 13.313; 21. 8-Dave Smith, 13.322; 22. A79-RJ Perkins, 14.053; 23. 3FX-Dean Kester, 14.084; 24. 91-Cale Thomas, 99.999

Heat 1 - Kears Speed Shop (8 Laps - Top 8 finishers transfer to the A-feature)
1. 14K-Dale Blaney[2] ; 2. 84-Jim Stinson[4] ; 3. 35R-Ronnie Blair[1] ; 4. 4-Danny Smith[3] ; 5. 7A-Dave Dickson[6] ; 6. 59N-Bryan Nuckles[5] ; 7. 59J-Kirk Jeffries[7] ; 8. A79-RJ Perkins[8]

Heat 2 - All Pro Aluminum Heads (8 Laps - Top 8 finishers transfer to the A-feature)
1. 81-Lee Jacobs[3] ; 2. 71M-Paul May[1] ; 3. 6-Jac Haudenschild[5] ; 4. 59-Tim Kaeding[4] ; 5. 35-Stuart Brubaker[6] ; 6. O8-Brandon Conkel[7] ; 7. A97-Aaron Higgins[2] ; 8. 3FX-Dean Kester[8]

Heat 3 - Dragon Racing Fuels (8 Laps - Top 8 finishers transfer to the A-feature)
1. 2S-Nathan Skaggs[2] ; 2. 9W-Derek Hagar[4] ; 3. 9J-Adam Strausser[1] ; 4. 60-Kory Crabtree[3] ; 5. 22-Ryan Broughton[5] ; 6. 3F-Rick Fraley[6] ; 7. 8-Dave Smith[7]

Dash - Howard Johnson Hotel - Lima, OH (6 Laps, finishing order determined first 6 starting positions of A-feature
1. 71M-Paul May[2] ; 2. 9W-Derek Hagar[1] ; 3. 2S-Nathan Skaggs[4] ; 4. 84-Jim Stinson[5] ; 5. 14K-Dale Blaney[6] ; 6. 81-Lee Jacobs[3]

A-Main - University of Northwestern Ohio (30 Laps)
1. 14K-Dale Blaney[5]; 2. 59-Tim Kaeding[7]; 3. 81-Lee Jacobs[6]; 4. 9W-Derek Hagar[2]; 5. 2S-Nathan Skaggs[3]; 6. 4-Danny Smith[8]; 7. 71M-Paul May[1]; 8. 22-Ryan Broughton[15]; 9. 59J-Kirk Jeffries[19]; 10. 8-Dave Smith[21]; 11. A97-Aaron Higgins[10]; 12. 35-Stuart Brubaker[17]; 13. 35R-Ronnie Blair[11]; 14. 3F-Rick Fraley[18]; 15. O8-Brandon Conkel[20]; 16. 60-Kory Crabtree[9]; 17. 3FX-Dean Kester[23]; 18. 9J-Adam Strausser[12]; 19. 59N-Bryan Nuckles[13]; 20. 7A-Dave Dickson[16]; 21. 6-Jac Haudenschild[14]; 22. 84-Jim Stinson[4]; 23. A79-RJ Perkins[22]
Hard Charger: 8-Dave Smith[+11]

-end-
Blaney sweeps UNOH All Star weekend at Fremont

FREMONT, Ohio (Saturday, Sept. 13, 2014) – The numbers just keep piling up for Dale Blaney. The four time University of Northwestern Ohio All Star Circuit of Champions titlist would drive to the $10,000 payday on JLH General Contractor Night for the 7th Annual Jim Ford Classic at Fremont Speedway Saturday.

Blaney would sweep the two-day event at "The Track That Action Built." It was his 15th UNOH All Star win of the season and runs his career total to 114. Blaney has five wins in 2014 at Fremont to take his career total at the track to 24, moving him into a tie with John Beaber for 19th on the track's all-time win list. It was the 116th appearance of the UNOH All Stars at Fremont and Blaney leads all drivers in career series wins at the track with 18.

"Chris (Andrews) was really good in the dash. I really thought he was going to be the guy to beat. But we got rolling really good around the top and he was struggling through the middle a little bit and I was gaining some ground on him. Man this car just got better and better and I could put it anywhere I wanted," said Blaney beside his Kennedy Cattle/Ti22 Performance/Penske Shocks/Gf1 Chassis backed machine.

"George Fisher (crew chief) is unbelievable. I've worked with him for 12 years now and we're going good and I'm proud of everybody. Skippy and Donnie and Ricky Jr….we have a lot of guys that put in a great effort and it shows," added Blaney.

Andrews and Rob Chaney would bring the field to green for the 50-lap feature with Andrews gaining the advantage as Blaney would move from third to second. As Andrews and Blaney pulled away, Andrew Palker and Chaney would battle for third with Lee Jacobs, Bryan Sebetto, Tim Shaffer and Caleb Griffith in pursuit.

Lee Jacobs would blast into third on lap three just before the caution flew on lap four for a Cap Henry spin. On the restart Andrews and Blaney again pulled away with Jacobs, Palker, Chaney, Shaffer, Sebetto and Griffith giving chase.

With six laps in the books, Blaney began to pressure Andrews. On lap eight Blaney would shoot around Andrews going down the back stretch but the caution would fly when Craig Mintz suffered front end damage and stopped on the front stretch.

On the restart Andrews and Blaney picked right back up on their battle with Lee Jacobs, Palker, Chaney and Sebetto in tow. Cale Thomas would stop on lap 10 for another caution. And again when the green flew Andrews and Blaney battled for the lead. That duo would wage war over the next seven laps before hitting heavy lapped traffic on lap 16.

Blaney would rocket off the bottom of turn three on lap 18 to steal the lead from Andrews with Lee Jacobs, Chaney and Sebetto the running order. Palker's great run would end on lap 24 when he spun in turn two and that would bring out a red flag fuel stop.

When the green flew Blaney had a couple of lapped cars separating him from Andrews while Lee Jacobs, Chaney, Sebetto, Griffith and 17th starter Greg Wilson in pursuit. The caution flew again on lap 28 for a Brian Lay spin. On the restart Henry would tumble on the front stretch; he was uninjured.

On the restart Blaney again pulled away from Andrews as Chaney drove around Jacobs for third with Wilson moving into the top five. That top five would not change as they again raced into lapped traffic on lap 37. With 10 laps to go Jacobs began pressuring Chaney for the third spot when he would suffer front end damage on lap 41, ending his run.

On the restart Blaney had a two lapped car cushion over Andrews, Chaney and Wilson. Chaney would drive into second on lap 43 but Andrews challenged back with five laps to go. Chaney would finally pull away from Andrews and began closing on Blaney.

But, Blaney's lead was insurmountable and he drove to the victory over Chaney, Andrews, Wilson and Sebetto.

"I think there's a lot of credibility to running second to him. I stayed with Dale last night and I used his car today and I put gas in it and now I wish I wouldn't have," joked Chaney beside his Stan Cortad Racing #9x.

After leading the first 17 laps and having a bad couple of weeks that saw him miss out on a track title at Attica and the Kistler Racing Products FAST championship, Andrews was happy to finish third.

"I tried to take Dale's advice. I didn't want to go too hard and then he showed his nose past me and I kind of just followed him and learned a little bit. I got to racing with lapped cars that should have probably just pulled out of the way and let the leaders run a little bit. Seems like we run pretty good at the Jim Ford Classic every year. It makes up for a lot of bad runs here recently and I'm pretty excited," said Andrews beside his Burmeister Racing/Lucas Oil/K&N Filters/Goofy Golf/Re-elect Judge Anstead/Tender Touch Car Wash/Schiets Motorsports/Kistler Engines/Adkins Sanitation/Applebees Restaurant backed #16.

The UNOH All Stars and Fremont Speedway announced the series would return to Fremont Speedway for several big shows in 2015.

The All Stars now head to Brushcreek Motorsports Complex in Peebles, Ohio on Saturday, Sept. 20.

Fremont Speedway - 9/13/2014
UNOH All Star Circuit of Champions (39 Cars)
[#]-Starting Position

UNOH A-Main - (50 Laps)
1. 14K-Dale Blaney[3]; 2. 9X-Rob Chaney[2]; 3. 16-Chris Andrews[1]; 4. W20-Greg Wilson[17]; 5. 29-Bryan Sebetto[6]; 6. 40DD-Caleb Griffith[9]; 7. 45-Tim Shaffer[8]; 8. 24H-Brandon Wimmer[7]; 9. 14H-Todd Heller[13]; 10. 2+-Brian Smith[10]; 11. 9-Dean Jacobs[20]; 12. 7C-Caleb Armstrong[11]; 13. 60K-Jody Keegan[23]; 14. 83M-Broc Martin[21]; 15. 22S-Brandon Spithaler[18]; 16. 81-Lee Jacobs[5]; 17. 27-Chad Kemenah[16]; 18. 53-Cap Henry[12]; 19. 45L-Brian Lay[14]; 20. 57X-Andrew Palker[4]; 21. 11F-D.J. Foos[19]; 22. 91-Cale Thomas[24]; 23. O8-Dan Kuriger[15]; 24. O9-Craig Mintz[22]

Qualifying – Kistler Engines
1. 14K-Dale Blaney, 12.492; 2. 57X-Andrew Palker, 12.521; 3. 16-Chris Andrews, 12.572; 4. 9X-Rob Chaney, 12.643; 5. 7C-Caleb Armstrong, 12.676; 6. 53-Cap Henry, 12.740; 7. 29-Bryan Sebetto, 12.784; 8. 55F-Taylor Ferns, 12.816; 9. 14H-Todd Heller, 12.827; 10. 81-Lee Jacobs, 12.837; 11. 24H-Brandon Wimmer, 12.837; 12. 45-Tim Shaffer, 12.851; 13. 45L-Brian Lay, 12.905; 14. 33M-Sheldon Haudenschild, 12.911; 15. 16M-Danny Mumaw, 12.928; 16. 40DD-Caleb Griffith, 12.982; 17. 2+-Brian Smith, 12.999; 18. O8-Dan Kuriger, 13.068; 19. 27-Chad Kemenah, 13.100; 20. W20-Greg Wilson, 13.147; 21. 22S-Brandon Spithaler, 13.155; 22. 11F-D.J. Foos, 13.203; 23. 9-Dean Jacobs, 13.264; 24. 83M-Broc Martin, 13.280; 25. 51-Roger Campbell, 13.287; 26. 1ST-Gary Taylor, 13.293; 27. 9W-Derek Hagar, 13.300; 28. 39M-Matt Merrill, 13.336; 29. O9-Craig Mintz, 13.375; 30. 6-Jac Haudenschild, 13.415; 31. 35-Stuart Brubaker, 13.416; 32. 5R-Byron Reed, 13.459; 33. 21-Travis Philo, 13.493; 34. 60K-Jody Keegan, 13.711; 35. 10-Carl Bowser, 13.806; 36. 40-Caleb Helms, 13.952; 37. 91-Cale Thomas, 14.079; 38. 13-Brandon Matus, 14.104; 39. 33-Brent Matus, 14.607

Heat 1 – Kear's Speed Shop (10 Laps - Top 5 finishers transfer to the A-feature)
1. 2+-Brian Smith[2] ; 2. 22S-Brandon Spithaler[1] ; 3. 14K-Dale Blaney[6] ; 4. O9-Craig Mintz[8] ; 5. 91-Cale Thomas[10] ; 6. 14H-Todd Heller[4] ; 7. 7C-Caleb Armstrong[5] ; 8. 45L-Brian Lay[3] ; 9. 21-Travis Philo[9] ; 10. 51-Roger Campbell[7]

Heat 2 – All Pro Aluminum Heads
(10 Laps - Top 5 finishers transfer to the A-feature)
1. O8-Dan Kuriger[2] ; 2. 81-Lee Jacobs[4] ; 3. 57X-Andrew Palker[6] ; 4. 11F-D.J. Foos[1] ; 5. 60K-Jody Keegan[9] ; 6. 33M-Sheldon Haudenschild[3] ; 7. 1ST-Gary Taylor[7] ; 8. 13-Brandon Matus[10] ; 9. 6-Jac Haudenschild[8] ; 10. 53-Cap Henry[5]

Heat 3 – Dragon Racing Fuels (10 Laps - Top 5 finishers transfer to the A-feature)
1. 16-Chris Andrews[6] ; 2. 27-Chad Kemenah[2] ; 3. 24H-Brandon Wimmer[4] ; 4. 9-Dean Jacobs[1] ; 5. 29-Bryan Sebetto[5] ; 6. 9W-Derek Hagar[7] ; 7. 35-Stuart Brubaker[8] ; 8. 10-Carl Bowser[9] ; 9. 33-Brent Matus[10] ; 10. 16M-Danny Mumaw[3]

Heat 4 – Kinsler Fuel Injection (10 Laps - Top 5 finishers transfer to the A-feature)
1. W20-Greg Wilson[2] ; 2. 45-Tim Shaffer[4] ; 3. 9X-Rob Chaney[6] ; 4. 83M-Broc Martin[1] ; 5. 40DD-Caleb Griffith[3] ; 6. 5R-Byron Reed[8] ; 7. 55F-Taylor Ferns[5] ; 8. 39M-Matt Merrill[7] ; 9. 40-Caleb Helms[9]

Dash – Quality Inn/Comfort Inn & Suites of Fremont (6 Laps, finishing order determined first 6 starting positions of A-feature
1. 16-Chris Andrews[4] ; 2. 9X-Rob Chaney[2] ; 3. 14K-Dale Blaney[1] ; 4. 57X-Andrew Palker[5] ; 5. 81-Lee Jacobs[6] ; 6. 29-Bryan Sebetto[3]

B-Main – MSD Ignition (12 Laps - Top 4 finishers transfer to the A-feature)
1. 53-Cap Henry[2] ; 2. 7C-Caleb Armstrong[1] ; 3. 45L-Brian Lay[5] ; 4. 14H-Todd Heller[4] ; 5. 1ST-Gary Taylor[9] ; 6. 5R-Byron Reed[14] ; 7. 33M-Sheldon Haudenschild[6] ; 8. 55F-Taylor Ferns[3] ; 9. 9W-Derek Hagar[10] ; 10. 10-Carl Bowser[16] ; 11. 51-Roger Campbell[8] ; 12. 39M-Matt Merrill[11] ; 13. 21-Travis Philo[15] ; 14. 40-Caleb Helms[17] ; 15. 13-Brandon Matus[18] ; 16. 6-Jac Haudenschild[12] ; 17. 35-Stuart Brubaker[13] ; 18. 33-Brent Matus[19]

-end-
Blaney gets late race UNOH All Star win to open Jim Ford Classic at Fremont

FREMONT, Ohio (Friday, Sept. 12, 2014) - Dale Blaney has often said he would rather be in second late in a race. The reason? So he can watch where the leader is running and choose where to make a move for the win.

He did just that Friday on All Pro Cylinder Heads Night at Fremont Speedway to open the 7th Annual Jim Ford Classic with his 14th University of Northwestern Ohio All Star Circuit of Champions victory of 2014.

The numbers just keep piling up for "The Low Rider" as he looks to wrap up his unprecedented fifth career UNOH All Star championship. The victory was the fourth overall for the year at Fremont Speedway and ran his career total at the track to 23 to move him into a tie for 20th on the track's all-time win list. Blaney sits atop the UNOH All Star career win list with 113 victories. It was the 115th appearance of the UNOH All Stars at Fremont Speedway and Blaney leads all drivers in series wins at "The Track That Action Built" with 17 victories.

In the first half of the race, Blaney witnessed a tremendous battle between Bryan Sebetto and Brandon Wimmer. Once in lapped traffic with eight laps to go, Blaney moved around Wimmer for second and pressured Sebetto. Blaney would drive off the bottom of turn two on lap 27 to take the lead with Sebetto now applying the pressure. Sebetto would spin in turn two on lap 29 setting up a green, white checkered finish. Blaney would pull away for the win.

"I watched a hell of a race. Those guys were dicing and it was awesome for me to sit there and watch them. I watched where they raced. The top got a little bit better down there (in three and four). I could see Bryan made a good lap around there on that restart and I started to run up there and I was just kind of trying to run where they weren't. Down here (in one and two) it was survival. I was a little snug and got better and better as the race went on," said Blaney.

In the 30-lap UNOH All Star feature, Sebetto and Wimmer brought the field to green with Sebetto, a former Jim Ford Classic winner, grabbing the top spot over Wimmer, Cap Henry, Blaney, Cole Thomas, Craig Mintz and Brandon Spithaler.

On lap two Gary Taylor would tumble in turn three with Brandon Matus stopping in turn two. On the restart Jody Keegan would hit the cone on the front stretch necessitating another start. When the green flew so did Sebetto, pulling away slightly from Wimmer, Henry, Blaney, Thomas, Mintz, Spithaler and Lee Jacobs.

Sebetto would catch the back of the pack on lap eight and narrowly avoided disaster when Taylor Ferns got sideways in front of him in turn three, allowing Wimmer to shoot into the lead with Henry, Blaney, Thomas, Dean Jacobs and Mintz in tow.

The caution flew on lap 13 when third place running Henry suffered a front axle failure and stopped on the track. On the restart Sebetto drove around Wimmer to regain the lead with Blaney, Thomas, Dean Jacobs, Spithaler and Mintz in pursuit.

With 10 laps to go the leaders again found heavy lapped traffic and Wimmer drove into the lead on lap 21. Sebetto blasted back by a lap later, bringing Blaney to second. While Wimmer and Blaney battled fro second, Sebetto pulled away slightly.

With five laps to go Blaney had secured second and was closing on Sebetto with Wimmer, Thomas, Dean Jacobs and Byron Reed in tow. Blaney would rocket off the bottom of turn two on lap 27 to take the lead. Sebetto challenged to his outside while Wimmer, Dean Jacobs, Thomas and Reed trying to stay close.

As they took the white flag, Sebetto tried a move in turn two and it backfired as he spun to bring about the green white checkered finish. On the restart it was Blaney over Wimmer, Dean Jacobs, Mintz, Reed, Rob Chaney and Thomas.

Blaney would pull away the last two laps for the win with Wimmer, Dean Jacobs, Mintz and Reed Rounding out the top five. Chaney would grab sixth with Lee Jacobs rallying those final two laps for seven with Thomas, Caleb Griffith (up from 21st) and D.J. Foos (up from 16th) rounding out the top 10.

"It's been an awesome year and my guys have given me an awesome race car and I'm just the lucky guy who gets to drive it. I love coming to Fremont…the fans…everyone treats me great here," said Blaney.

Wimmer expressed his frustration with another second place run to Blaney.

"I hate to add up how many times I've run second to that guy. He drives me nuts. He's just tough to beat. You mess up one time and he's buy you. We're happy to be up here on the front stretch though. I have to thank the Hammer family and hopefully we can get one spot better for the big one tomorrow," said Wimmer.

Last week's Fremont winner Dean Jacobs would drive from ninth to a third place finish.

"This was as challenging, challenging race track tonight. The bottom was really sticky. If your car could roll there you were good and if you missed it a little bit you got in that slick spot and you got loose. But it made it great because it made the guy in the seat do his job," said Jacobs.

The UNOH All Stars will be back in action Saturday at Fremont Speedway for the 50-lap $10,000-to-win event.

A-Main - University of Northwestern Ohio (30 Laps) 1. 14K-Dale Blaney[5]; 2. 24H-Brandon Wimmer[2]; 3. 9-Dean Jacobs[9]; 4. O9-Craig Mintz[8]; 5. 5R-Byron Reed[10]; 6. 9X-Rob Chaney[13]; 7. 81-Lee Jacobs[6]; 8. 91-Cale Thomas[4]; 9. 40DD-Caleb Griffith[21]; 10. 11F-D.J. Foos[16]; 11. 45L-Brian Lay[20]; 12. 9W-Derek Hagar[17]; 13. 13-Brandon Matus[19]; 14. 6-Jac Haudenschild[18]; 15. 35-Stuart Brubaker[12]; 16. 33M-Sheldon Haudenschild[23]; 17. 29-Bryan Sebetto[1]; 18. 55F-Taylor Ferns[14]; 19. 22-Brandon Spithaler[7]; 20. 53-Cap Henry[3]; 21. 60K-Jody Keegan[22]; 22. 16-Chris Andrews[11]; 23. 8M-T.J. Michael[24]; 24. 1ST-Gary Taylor[15]

-end-

Renegade Sprints Teams Focus on Positivity as its Next Event Nears

Inside Line Promotions - FINDLAY, Ohio (Sept. 10, 2014) - Renegade Sprints drivers are seeking opportunities to keep busy racing with a couple more weeks until the next event.

One option is the 7th annual Jim Ford Classic this Friday and Saturday at Fremont Speedway in Fremont, Ohio.

"Jim Ford was the best promoter Fremont has ever had," Renegade Sprints President Shane Helms said. "Randy, who is Jim's son, and my dad raced together for years. And I raced against Randy at the end of his career. Jim was always a gentleman. They don't make them like that too often."

There has been recent conversation in Ohio about a rivalry between the Renegade Sprints and other entities, which Helms wants to clarify.

"I don't want to hurt racing," he said. "Every driver has a personal choice to make. There's no instruction on my part to boycott this weekend. We're about the positives, about building the sport, treating the owners and drivers with respect, etc. Improving the sport is what we have to focus on."

That has been the emphasis of the Renegade Sprints during its inaugural season, which showcased a great battle between 37 drivers at its first-ever race last month.

The Renegade Sprints was formed to develop and improve the sport of 410ci sprint car racing in the rich historic region that includes Ohio, Western Pennsylvania, Indiana and Michigan. The series aims to operate a professional organization that is focused on creating value for sponsors and promoters along with offering an affordable form of high-quality entertainment for the fans. The Renegade Sprints is also dedicated to creating long-lasting partnerships with the team owners and drivers for the future of the sport.

"We are focused on the goals that we set in an effort to continue to build a top-notch sprint car series that values its fans, drivers, owners, sponsors and tracks," Helms said. "We believe in taking the positive road and that we can help sprint car racing as we continue down this path."

-end-

Dean Jacobs gets Fremont 410 sprint win, Byron Reed wraps up FAST title

By Brian Liskai

FREMONT, Ohio – Jerry McClure has never won a sprint car race as a car owner in 18 years. Dean Jacobs fixed that Saturday on Tank's Meats Night at Fremont Speedway. Jacobs got a break from a late race caution and went on to an emotional win in the Fort Ball Pizza Palace 410 Sprints.

"Jerry McClure deserves this. He just told me it's been 18 years and he's never won an A-main. The first time I ever drove his car at Lakeville Speedway and my son, Coty won and I ran second and Jerry's cousin…he was with us with cancer and sat on the trailer a few times…that last time I drove Jerry's car there he died that night. I'd like to dedicate this race to him…he was a great guy," said an emotional Jacobs beside his Harbach Electronics/Hochstetler Truck and Auto Repair/Gressman Powersports/Kear's Speed Shop/Mac & Bob's Towing backed #9.

And that caution with six laps to go? It was for Chris Andrews who came into the night atop the Kistler Racing Products FAST (Fremont Attica Sprint Title) Championship Series points. Andres suffered front end problems. Byron Reed would finish third and wrap up his second (he was the 2010 FAST champion) FAST title and the $10,000 payday. It was also announced that Kistler Racing Products would be back as the title sponsor of FAST for the seventh straight year.

"This one wasn't won by me…it was won by my crew. We weren't very good for the middle part of the season but we never dropped out of a race. We'd have a bad night but we still managed an eighth or ninth out of it. That's what won it for us. We got good the last month….back to where should be. My thanks to my crew, Kurt, Dick, Kevin, Tom, my kids, my dad and my mom…everyone that had a part in it. I'm not a young guy any more…score one for the old guys with me and Dean on the front stretch," said Reed beside his Crown Battery backed machine.

The caution was very beneficial for Jacobs as Cap Henry had just passed him down the back stretch to take the lead. But going back to the last fully completed lap, Jacobs was again the leader.

"I've had them yellows beat me many a time and that won the race for me. In an open race track I could run the guts out of this thing," said Jacobs of his sixth career Fremont victory.

Chad Kemenah and Jacobs would bring field to green for the 30-lap 410 sprint feature with Jacobs grabbing the lead over Cap Henry, Kemenah, Gary Taylor, Rob Chaney, D.J. Foos and Reed. The leaders would catch the back of the pack by lap five with Jacobs holding a slight lead over Henry, Kemenah and Chaney. By lap 10 Jacobs was having some difficulty dealing with traffic and Henry closed. Jacobs was able to pick his way through and continued lead Henry, Kemenah, Reed, Taylor, Chaney and Foos with 10 laps to go in a rapidly moving race.

But, with seven laps to go, Henry closed again on Jacobs and just drove to his outside to take the top spot when the first caution flew for Andrews. On the restart Jody Keegan and Caleb Griffith would tangle. On the ensuing restart, Jacobs again had his hands full from Henry with Reed, Kemenah, Taylor and Chaney in pursuit. Jacobs would hit his marks to perfection the remaining laps to take the win over Henry, Reed, Kemenah and Foos.

410 Sprints A-Main - (30 Laps) 1. 9-Dean Jacobs[2]; 2. 53-Cap Henry[3]; 3. 5R-Byron Reed[7]; 4. 27-Chad Kemenah[1]; 5. 11F-DJ Foos[5]; 6. 9X-Rob Chaney[6]; 7. 45L-Brian Lay[10]; 8. 24H-Brandon Wimmer[15]; 9. 2+-Brian Smith[12]; 10. 83M-Broc Martin[16]; 11. 40DD-Caleb Griffith[9]; 12. 1ST-Gary Taylor[4]; 13. 35-Stuart Brubaker[11]; 14. 14H-Todd Heller[13]; 15. 9Z-Duane Zablocki[18]; 16. 8M-T.J Michael[17]; 17. 60-Jody Keegan[19]; 18. 11-Shawn Hubler[21]; 19. 16-Chris Andrews[8]; 20. 39M-Matt Merrill[20]; 21. 21-Travis Philo[14]

-end-


Stevie Smith ties dad with 16th UNOH All Star win, takes Night Before the Tuscarora 50 at Port Royal

PORT ROYAL, PA (Friday, Sept. 5, 2014) – Stevie Smith held off charges from Danny Holtgraver to win the $5,000 Night Before the Tuscarora 50 at Port Royal Speedway Friday Night. The win was Smith's 16th career University of Northwestern Ohio All Star Circuit of Champions victory, as he has tied his dad, Steve Smith's career series total.

Piloting the Fred Rahmer/Dave Prichard-owned #51, Smith took the lead from pole-sitter Doug Esh early in the non-stop 30-lapper. Pittsburgh, Pennsylvania driver Danny Holtgraver, who started in the outside front row, challenged Smith several times late in the race, but his car faded in the final laps as Danny Dietrich took second on the last lap.

"I was thinking it was 25 laps," Smith said with a chuckle beside his Miller Chevrolet/Aran Trading/Tru-Line Contractors/Don Ott Engines/Ken's Tire/Durr Enterprises/Engler backed machine.

"It didn't seem that long, but I guess when you are up front and having fun, it doesn't seem like much," continued the New Oxford, Pa. native who now calls Broken Arrow, Ok. home.

Car-owner Fred Rahmer may make the rest of the competition nervous for the 50 lap event Saturday at the Juniata County oval. A $12,000 – or more as there's lap money involved as well – check awaits the winner.

"Stevie did a great job. He did what he had to do, and we hope we can get the car even better tomorrow," said Rahmer.

It was Smith's first UNOH All Star win since 2012 and he became the 16th different series winner out of 32 events in 2014.

Esh took the early lead over Holtgraver and Smith. The top three ran within three car-lengths of each other at times before entering traffic by lap 7. Smith drove under Holtgraver on lap 8 and worked lapped traffic to perfection to take the lead from Esh on lap 11. Holtgraver would move into second two laps later.

Smith ran the middle and low line with Holtgraver blasting away along the outside fence which propelled him to close rapidly on Smith by lap 17. Holtgraver raced to Smith's outside with five to go.

"I didn't know who it was but I saw someone running the very top," said Smith. "That is where I love to be, but I knew it was time to move down."

Smith stayed glued to the bottom which got faster as the race wore on. Holtgraver made a great run, but he didn't challenge over the final four circuits.

"I just slowed down some more," Smith said. "I hated to do it, but I think we were faster. I could run the top early, but it's a decision I had to make. It could have cost us the race, but we won anyway."

Dietrich, who took a UNOH All Star win at Lincoln Speedway in June, might have been the fastest car at the finish. He passed Esh for third on lap 16 and drove around Holtgraver for the runner-up spot exiting turn two on the last lap.

"We were pretty good," Dietrich said beside his Gary Kauffman Racing/Sandoe's Fruit Market/Mark Bell Trucking/Racers Used Parts Warehouse/Bear Mountain Orchards/Drop of Ink Tattoo and Body Piercing backed #48. "I didn't think it would go 30 laps. A caution would have been nice. I don't know if we would have had anything for Stevie, but we sure as hell would have given it everything we had." Holtgraver fell to third.

"The car just got worse and worse and worse. It faded bad at the end. I was running as hard as I could but I was hanging it off the turn two fence. I went to the bottom the last lap so I wouldn't wreck and Danny got around me. The tires wore off and I couldn't get the wing back fast enough. I can't wait till tomorrow," said Holtgraver of his Rob Hunter owned, Seneca Energy Corp./DKW Transport/Bonnell's Rod Shop backed machine.

UNOH All Star point leader Dale Blaney came from 10th to fourth, and Blane Heimbach completed the top five.

Port Royal Speedway - 9/5/2014
All Star Circuit of Champions (41 Cars)
[#]-Starting Position

A-Main- (30 Laps) 1. 51-Stevie Smith[3]; 2. 29-Danny Dietrich[5]; 3. 10H-Danny Holtgraver[2]; 4. 14K-Dale Blaney[10]; 5. 12-Blane Heimbach[4]; 6. 27-Greg Hodnett[13]; 7. 14-Lance Dewease[19]; 8. 19M-Brent Marks[7]; 9. 11-Mike Erdley[12]; 10. 8H-Doug Esh[1]; 11. 56-Nate Snyder[8]; 12. 5-Justin Barger[6]; 13. 94-Ryan Smith[15]; 14. 1Z-Lucas Wolfe[11]; 15. 12J-Lynton Jeffrey[18]; 16. O-Rick Lafferty[21]; 17. 5G-Curt Michael[16]; 18. 21-Brian Montieth[9]; 19. 33-Curt Stroup[20]; 20. O7-Justin Henderson[24]; 21. 747-Davey Sammons[14]; 22. 7-Chad Layton[22]; 23. 5C-Dylan Cisney[17]; 24. 3Z-Brock Zearfoss[23]

Qualifying - Kistler Engines
1. 1Z-Lucas Wolfe, 16.258; 2. 12-Blane Heimbach, 16.372; 3. 29-Danny Dietrich, 16.381; 4. 11-Mike Erdley, 16.403; 5. 8H-Doug Esh, 16.424; 6. 27-Greg Hodnett, 16.496; 7. 5-Justin Barger, 16.502; 8. 51-Stevie Smith, 16.510; 9. 10H-Danny Holtgraver, 16.524; 10. 19M-Brent Marks, 16.588; 11. 20-Ryan Taylor, 16.607; 12. 56-Nate Snyder, 16.609; 13. 21-Brian Montieth, 16.626; 14. 14K-Dale Blaney, 16.664; 15. 747-Davey Sammons, 16.673; 16. 94-Ryan Smith, 16.755; 17. 5G-Curt Michael, 16.757; 18. 5C-Dylan Cisney, 16.775; 19. 12J-Lynton Jeffrey, 16.781; 20. 14-Lance Dewease, 16.812; 21. 33-Curt Stroup, 16.830; 22. O-Rick Lafferty, 16.830; 23. 29W-Ryan Wilson, 16.892; 24. 7-Chad Layton, 16.901; 25. 3Z-Brock Zearfoss, 16.902; 26. 25B-Tyler Bear, 16.918; 27. O7-Justin Henderson, 16.929; 28. RG3-Logan Wagner, 16.981; 29. 99M-Kyle Moody, 16.983; 30. 9W-Jac Haudenschild, 17.000; 31. 8S-Trenton Sheaffer, 17.047; 32. 44H-Joey Hershey, 17.066; 33. 65-Dave Ely, 17.253; 34. 36D-Wayne Dadetto, 17.264; 35. 44-Rodney Westhafer, 17.389; 36. 21K-Kyle Pruitt, 17.404; 37. 15S-Vince Snyder, 17.418; 38. 75-Nicole Bower, 17.531; 39. 12W-Troy Fraker, 17.779; 40. 15R-Jay Reichard, 18.231; 41. 98H-Dave Blaney, 99.999

Heat 1 - Kears Speed Shop (8 Laps - Top 5 finishers transfer to the A-feature)
1. 33-Curt Stroup[1] ; 2. 10H-Danny Holtgraver[4] ; 3. 8H-Doug Esh[5] ; 4. 5G-Curt Michael[2] ; 5. 21-Brian Montieth[3] ; 6. 1Z-Lucas Wolfe[6] ; 7. 65-Dave Ely[9] ; 8. 99M-Kyle Moody[8] ; 9. 3Z-Brock Zearfoss[7] ; 10. 98H-Dave Blaney[11] ; 11. 15S-Vince Snyder[10]

Heat 2 - All Pro Aluminum Heads (8 Laps - Top 5 finishers transfer to the A-feature)
1. 19M-Brent Marks[4] ; 2. 5C-Dylan Cisney[2] ; 3. O-Rick Lafferty[1] ; 4. 14K-Dale Blaney[3] ; 5. 12-Blane Heimbach[6] ; 6. 27-Greg Hodnett[5] ; 7. 9W-Jac Haudenschild[8] ; 8. 25B-Tyler Bear[7] ; 9. 75-Nicole Bower[10] ; 10. 36D-Wayne Dadetto[9]

Heat 3 - Dragon Racing Fuels (8 Laps - Top 5 finishers transfer to the A-feature)
1. 12J-Lynton Jeffrey[2] ; 2. 747-Davey Sammons[3] ; 3. 29-Danny Dietrich[6] ; 4. O7-Justin Henderson[7] ; 5. 5-Justin Barger[5] ; 6. 44-Rodney Westhafer[9] ; 7. 8S-Trenton Sheaffer[8] ; 8. 29W-Ryan Wilson[1] ; 9. 20-Ryan Taylor[4] ; 10. 12W-Troy Fraker[10]

Heat 4 - Kinsler Fuel Injection (8 Laps - Top 5 finishers transfer to the A-feature)
1. 7-Chad Layton[1] ; 2. 14-Lance Dewease[2] ; 3. 94-Ryan Smith[3] ; 4. 51-Stevie Smith[5] ; 5. 56-Nate Snyder[4] ; 6. 11-Mike Erdley[6] ; 7. RG3-Logan Wagner[7] ; 8. 44H-Joey Hershey[8] ; 9. 21K-Kyle Pruitt[9] ; 10. 15R-Jay Reichard[10]

Dash - Howard Johnson Hotel - Lima, OH (6 Laps, finishing order determined first 6 starting positions of A-feature
1. 8H-Doug Esh[2] ; 2. 10H-Danny Holtgraver[3] ; 3. 51-Stevie Smith[6] ; 4. 12-Blane Heimbach[1] ; 5. 29-Danny Dietrich[5] ; 6. 5-Justin Barger[4]

B-Main - MSD Ignition (12 Laps - Top 4 finishers transfer to the A-feature)
1. 27-Greg Hodnett[3] ; 2. 1Z-Lucas Wolfe[1] ; 3. 11-Mike Erdley[2] ; 4. 3Z-Brock Zearfoss[6] ; 5. 9W-Jac Haudenschild[10] ; 6. RG3-Logan Wagner[8] ; 7. 65-Dave Ely[13] ; 8. 99M-Kyle Moody[9] ; 9. 44-Rodney Westhafer[15] ; 10. 44H-Joey Hershey[12] ; 11. 98H-Dave Blaney[21] ; 12. 25B-Tyler Bear[7] ; 13. 36D-Wayne Dadetto[14] ; 14. 75-Nicole Bower[18] ; 15. 12W-Troy Fraker[19] ; 16. 8S-Trenton Sheaffer[11] ; 17. 15S-Vince Snyder[17] ; 18. 21K-Kyle Pruitt[16] ; 19. 20-Ryan Taylor[4] ; 20. 29W-Ryan Wilson[5] ; 21. 15R-Jay Reichard[20]

-end-
All Stars set to invade Port Royal for 47th Annual Tuscarora 50 Weekend

PORT ROYAL, PA. (Tuesday, Sept. 2, 2014) – The All Star Circuit of Champions are hoping to put an end to the domination of the Pennsylvania Posse at this weekend's 47th Annual Tuscarora 50 weekend at Port Royal Speedway. The event takes place Friday and Saturday, Sept. 5 and 6 at 7 p.m. as part of the 160th Annual Juniata County Fair.

When the UNOH All Stars invaded Port Royal in April for the Bob Weikert Memorial, Hodnett would take the victory but it wasn't easy as four time All Star champion Dale Blaney pressured him most of the way.

The 2013 Night Before event drew 39 cars and saw Greg Hodnett wire the field for the $5,000 payday
.
With 40 cars in action, last year's Tuscarora 50 saw a rousing event as both Danny Dietrich and Brian Montieth came from deep within the field to challenge leader Don Kreitz Jr. for the lead with Montieth taking control nearing the 10-to-go point. Montieth's rally put Kreitz's elbows up and the Sinking Spring veteran surged back to the front a few laps later to drive to his third career Tuscarora victory while pocketing over $13,000 for the checkers.

This year, Friday's Night Before The 50 sprint car program will pay the winner $5,000 to win the 30 lap feature event and $400 just to start.

Packer's Concessions of Centre Hall is sponsoring a $200 fast time award for the fastest Night Before The 50 qualifier in time trials.

The super late models are also on the Friday card with group time trials slated in warm ups.

Saturday's 47th annual running of the Tuscarora 50 will see a total event purse of some $42,000 posted for the sprinters including a paid B Main. Sponsored by Ramsey's Car Washes, the Tuscarora 50 main event will pay $12,000 to win and $500 just to start. Each lap of the Tuscarora 50 will pay $25 to lead and the Packer's Concessions fast timer for the 50 will receive a $300 cash award.

The econo lates will join the 410 sprints for the 50, racing in a special, rare, topless event.

This will be the 32nd and 33rd events in 2014 for the UNOH All Stars with 15 different drivers picking up series wins thus far.

Blaney must be considered a contender to upset the PA Posse! The Hartford, Ohio driver scored his 13th UNOH All Star win this past Saturday at Attica Raceway Park in Ohio, running his career series total to 112. "The Low Rider" hasn't scored this many UNOH All Star wins since 1996 when he won 17 features.

Pittsburgh, Pennsylvania's Danny Holtgraver also posted a UNOH All Star win at Attica this past Friday, the third series win of 2014. He currently is third in the All Star's national points.

And NEVER count out "The Wild Child" Jac Haudenschild. The Wooster, Ohio driver has a pair of UNOH All Star wins in 2014 and sits second in the series national points.

The pair of races are points battles in the UNOH All Star's Eastern Region standings where Hodnett leads four time national All Star champion Tim Shaffer by just 16 markers. Shaffer scored his first UNOH All Star win of 2014 two weeks ago at Mercer Raceway Park in Western Pennsylvania.

Danny Dietrich sits fifth in the UNOH All Star Eastern Region standings and recorded a series win at Lincoln Speedway in June.

And to add even more excitement to the weekend's events, the pair of races will determine the Port Royal Speedway track champion for 2014 and the title fight couldn't be any closer.

After Monday's Labor Day Classic for the sprints at Port Royal, both Rick Lafferty and Chad Layton are tied for the point lead with 4,825 markers. Both men have a win at the historic oval already this season.

Layton is already a two-time Port Royal rack champion, having scored the laurels for Middleswarth racing in 2010 and in 2012. If he would be able to take over the point lead and claim the crown with the conclusion of this weekend's All Stars Sprints races, it would be an unprecedented eighth career track title for his car owner, Dave Middleswarth. Aside from Layton's two titles, the Middleswarth stables garnered crowns with Keith Kauffman as their driver at the track in 1999, 2001, 2002, 2004 and 2007.

Lafferty, a self-owned race, is looking for a first ever track title however after taking over the point lead from Mike Wagner at the track on August 30. Traditionally, Lafferty has performed better than Layton on slick track surfaces like the one that the Port Royal oval usually produces over the course of the 50 events.

And not to be counted out at this point is 2006 track champion Mike Erdley of Elizabethville, who sits just 50 points out of the lead coming into the weekend. Erdley too sometimes excels at slick track surfaces and on the heels of his car owner Randy Lisi's just released retirement announcement effective at the end of the season, the Cinderella story of the Tuscarora 50 weekend at Port Royal lays in his hands.

Defending track champion Blane Heimbach currently sits fourth in season points, at a 120-point deficit to the tied leaders. A bad night by any or all of the previously mentioned trio could thrust Heimbach right back to the top of the standings, a position he held for over three-quarters of the 2014 season since it began in April.

Admission to the Juniata County Fair that surrounds the speedway is FREE both nights with adult race general admission priced at $25 on Friday and $30 on Saturday. Students ages 12 -18 are admitted to the races for just $5 both nights.

Camping is available adjacent to the fairgrounds for the economical flat price of only $30, regardless of length of stay.

Gates for both racing programs will open at 4 p.m.

For more information go to www.portroyalspeedway.com or www.allstarsprint.com

-end-
Atomic Resumes Action with $3,000 Sprint Invite

$1,000 for Sport Mods

CHILLCOTHE, OHIO- The high banks of the historic Atomic Speedway near Chillicothe, Ohio will be alive this weekend as action resumes with a $3,000 to win 410 Sprint Car special and a potent $1,000 to win Sport Mod main. Also on the race card are AMRA Octane Advanced Services Modifieds, Hobby Stocks, and the Dreadland Haunted Hills Enduro.

The sprint car event is sanctioned by the Ohio Valley Sprint Car Association with Ervco Inc. sponsoring the boost in the sprint car purse. Bobst Auto Parts and Tim Hattle Trucking have upped the Ante in the Sport Mods. Atomic Speedway would like to thank these fine sponsors and all the other Atomic sponsors for a great 2014 season.

Yes, make plans now for a great family night at Ohio's fastest 3/8 Mile high banked dirt track.

$3,000 TO WIN FOR OVSCA SPRINTS!

$1,000 TO WIN FOR C & M RACING SPORT MODS!

$750 TO WIN FOR ADVANCED SERVICES AMRA MODIFIEDS!

$400 TO WIN FOR RACERS EDGE SUPPLEMENTS STREET STOCKS!

PLUS DREADLAND HAUNTED WOODS ENDUROS!

For more information please call 740-703-9749 or 740-663-4141 or visit the Atomic Speedway website at <<< www.atomicspeedway.net >>> Atomic is located 12 miles South of Chillicothe, Ohio off SR 23, two miles out Blain Highway between Chillicothe, Ohio and Waverly, Ohio at Alma.

Racing resumes Saturday, September 6 at Atomic.

Coming events:
September 13- DARF NIGHT- Sprints, AMRA Late Models, AMRA Modifieds, Street Stocks, Sport Mods
September 20- BOB CRACE SR MEMORIAL- $5,000 to win AMRA Late Models, AMRA Modifieds, Street Stocks, Sport Mods
September 27- FAN APPRECIATION NIGHT #2 Sprints, AMRA Late Models, AMRA Modifieds, Street Stocks, Ohio Valley Roofers Legends
October 4-Season Championships: $2,500 to win Sprints & Late Models, $1,000 to win Modifieds

-end-
UNOH All Stars announce 2015 Point Fund, Tow Money Packages

CAMARGO, Ill. (Friday, Aug. 29, 2014) – To reward sprint car teams who support fans and tracks where the University of Northwestern Ohio All Star Circuit of Champions compete at, the series has revamped it's point fund for 2015.

The UNOH All Stars will no longer utilize the "region" point fund and will go back to crowning one national champion. Also, the series will incorporate "tow money" to the teams who follow the tour all season.

The 2015 point fund – which will be paid to teams by Jan. 20, 2016 – will reward the UNOH All Star champion $30,000. Series President Guy Webb said more money has been added through the top 10.

"This point fund will help the race teams trying to stay on the tour for the entire season. We want to reward the teams that put great effort to entertain the fans and support the tracks that support them," said Webb.

The 2015 UNOH All Star Circuit of Champions Point Fund will be:
1. $ 30,000
2. $ 20,000
3. $ 17,000
4. $ 12,000
5. $ 9,000
6. $ 8,000
7. $ 7,000
8. $ 6,000
9. $ 5,000
10. $5,000
10. $5,000

In addition, the series will pay the previous year's national champion $500 "tow money" per track and $300 to up to 9 other teams registered to run the entire season.

"For example, during Ohio Sprint Speedweek, not only will teams be running for $5,000 to win each of nine nights, but those nine cars who registered to run the entire season with us, could earn an extra $2,700 in tow money just for that week," said Webb.

The UNOH All Stars have also revamped the funding for all non-transfer cars – those that do not qualify for the A-main feature - at each series event. All non-transfer cars at each UNOH All Star event will now receive $100.

"We want to try and help the smaller funded teams and be as welcoming as we can to the local teams that compete with us at all our great tracks," said Webb. "We recognize the local competitors are as important to our series and the fans and tracks as the All Star competitors."

The UNOH All Star officials have been working hard to put together another strong schedule for 2015.

"Things are moving forward and in the right direction. We have the 2015 schedule nearly wrapped up and are excited about the teams we have coming aboard and the great racing they will provide for the fans. We have great business partners like the University of Northwestern Ohio and great relationships with the tracks. I believe 2015 will be a fantastic year for our sport," said Webb.

For more information go to www.allstarsprint.com

-end-


Blaney gets by Chaney late to take All Star win at Attica

By Brian Liskai

ATTICA, Ohio – Dale Blaney gave his daughter Leah a fantastic 19th birthday present Saturday at Attica Raceway Park – a victory.

The Hartford, Ohio driver got by Rob Chaney with five laps to go and went on to score his 13th University of Northwestern Ohio All Star Circuit of Champions feature win of 2014 to close out the track's season on Baumann Auto Group Night. The previous night the Tony Kennedy owned team had experimented with a different chassis and decided to put another car together for Saturday's event and it paid off.

The victory is the second most All Star wins in a season for Blaney – he won 17 in 1996 – and runs his career total to an amazing 112 with the series. The victory was the fourth win of 2014 at Attica for "The Low Rider" and runs his career total to 21 at the track to move into third on the track's all-time win list. Blaney leads all drivers in UNOH All Star wins at Attica with 15 victories.

"I was as good as what he was (Chaney)…it's hard being behind a guy. He was kind of running where I wanted to in one and two and three and four he was taking up some ground. He had a really good car. It's bitter sweat for me. He's my best buddy out here. We talk all the time. He's been going really, really, really good. I can see he has a lot of confidence. I love to win races…he's going win a lot here. Those guys are going pretty good," said Blaney beside his Kennedy Cattle/Penske Shocks/Ti22 Performance/GF1 Chassis/Tom's Sewer and Septic Service backed #14k.

"We switched cars from last night…put this one together. I just didn't feel comfortable with the other one. I told George (Fisher, crew chief) after the race 'my car is back.' Awful proud of all the guys. Tony is putting together a great team. We've had unbelievable success in his first year as an owner. Just looking forward to the rest of the races. Looking forward to getting back to Fremont in a couple of weeks…looking forward to some outlaw races. George has this thing dialed in," added Blaney.

For Millersburg, Ohio's Rob Chaney, running second after leading 23 of the 40 laps was bittersweet as well. He looked like he had the race in hand when the caution flew with seven laps to go and Blaney pounced soon after.

"I'd be lying if I said I wasn't disappointed. I'm happy to run second. We got beat by the heavy weight champ. If you give him (Blaney) that many opportunities he's going to find a way and he did. He does what he does to everybody…to outlaws…it doesn't matter, he finds a way," said Chaney beside his Stan Cortad Racing #9x.

"Our guys have worked real hard. We struggled really badly early in the year and we have this car rolling now and have a lot of confidence in it," added Chaney.

Lockbourne, Ohio's Cole Duncan would get by Byron Reed the final two laps to score the third place finish.

"I screwed up early and let some guys get by me and it really cost us there for awhile. No body had anything for Dale. Him and George had that thing rolling from the drop of the green so you have to congratulate them. It feels good to come back and get third after we struggled so badly last night," said Duncan of his Motorcity Auto Transport/Wolfden Products/Industrial Special Powder Coating/Gressman Powersports backed #22.

Duncan and Chaney would bring the field to green for the 40-lap All Star feature with Chaney gaining the upper hand with Cap Henry sliding into second and Duncan back to third. Henry would immediately challenge Chaney for the lead on lap two when the caution flew for a Caleb Armstrong spin in turn four.

On the restart Chaney would lead Henry, Duncan, Blaney, Danny Holtgraver, Sheldon Haudenschild, Randy Hannagan and Byron Reed. Henry would blast under Chaney in turns three and four to grab the lead on lap six with Blaney driving around Duncan for third a lap later.

The caution flew again on lap 11…unfortunately it was for leader Henry who spun in turn two. That handed the lead back to Chaney with Blaney, Sheldon Haudenschild, Duncan, Reed, Holtgraver and Reed in tow. When the green flew Blaney immediately put pressure on Chaney as Sheldon Haudenschild, Reed and Duncan put on a fantastic battle for third.

Henry would spin again on lap 14 to bring out the caution and he would retire to the pits. On the restart Chaney was able to pull away slightly from Blaney with Sheldon Haudenschild, Reed, Holtgraver, Duncan, Hannagan and Chris Andrews giving chase.

At the half-way point Blaney began closing again on Chaney with Haudenschild, Reed, Holtgraver and Duncan still battling for third. The leaders would encounter lapped traffic on lap 23, as Haudenschild slipped over the banking in turn two allowing Reed, Holtgraver and Duncan to get by.

With 15 laps to go, Chaney and Blaney were battling for the lead while Reed, Holtgraver and Duncan did the same for third. Just as things were heating up, Andrew Palker would stop on the back stretch bringing out the yellow. On the ensuing restart Holtgraver, who picked up the win the previous night, would stop with mechanical issues, ending his night.

When the green flew the battle between Chaney and Blaney continued with Reed, Duncan, Haudenschild and Andrews in pursuit. As the laps ticked off, it appeared Chaney had just enough to hold off Blaney. But, Hannagan would spin with seven laps left, giving Blaney the shot he needed

On the restart Chaney and Blaney raced side by side with Blaney driving into the lead with five laps to go. Once in the lead Blaney pulled away from Chaney for the victory. Duncan would get around Reed on the white flag lap to take third with Reed and Andrews rounding out the top five.

UNOH All Star 410 Sprints (36 Cars)
A-Main - (40 Laps) 1. 14K-Dale Blaney[8]; 2. 9X-Rob Chaney[2]; 3. 22-Cole Duncan[1]; 4. 5r-Byron Reed[9]; 5. 16-Chris Andrews[11]; 6. 24h-Brandon Wimmer[5]; 7. 40dd-Caleb Griffith[13]; 8. 9w-Jac Haudenschild[22]; 9. w20-Greg Wilson[17]; 10. 93-Sheldon Haudenschild[7]; 11. 9-Dean Jacobs[19]; 12. o9-Craig Mintz[23]; 13. 81-Lee Jacobs[24]; 14. 98h-Dave Blaney[16]; 15. 11n-Randy Hannagan[6]; 16. 35-Stuart Brubaker[15]; 17. 5t-Travis Philo[21]; 18. 7c-Caleb Armstrong[12]; 19. 10h-Danny Holtgraver[4]; 20. 57X-Andrew Palker[14]; 21. 4-Danny Smith[20]; 22. 6M-Max Stambaugh[18]; 23. 83M-Broc Martin[10]; 24. 53-Cap Henry[3]

-end-
Fall Fun Coming at Mercer Raceway Park

Mercer, PA (August 27, 2014): After crowning Tim Shaffer as the 25th Western Pennsylvania Sprint Car Champion, the management and staff of Mercer Raceway Park are taking a short break to catch their breaths and to prepare themselves for the final stretch run in the 2014 racing season.

Last weekend, the All Stars Circuit of Champions Sprint Car Series was in town for a pair of thrilling events.

In Saturday's preliminary feature, Dale Blaney, of nearby Fowler, OH, scored his first career win at the speedway that has created many fond memories for his celebrated racing family. Brother Dave scored his very first Sprint Car victory there on his way to the National Sprint Car Hall of Fame and the ranks of NASCAR. Father Lou was one of the most successful and beloved racers in the history of the track. He earned over 85 wins in the Sprint Car and Modified divisions as he built a resume that put him into the National Sprint Car Hall of Fame and the DIRT Motorsports Hall of Fame. Dale, a four-time All Stars Champion and the current points leader is making his case for induction, and it seems only fitting that he would grace victory lane at the Park in one of his most successful seasons behind the wheel of a winged Sprinter. Blaney battled another Hall of Famer, Jac Haudenschild, to the finish.

Sunday's finale saw Tim Shaffer hold off the late-race charge of his protege, Danny Holtgraver. Shaffer timed his passes of lapped cars perfectly to preserve a safe margin of victory. For Shaffer, it was a much-needed score, as he has had a sub-par year to date. Like Blaney, Shaffer is a four-time title holder who made his mark on the local speedpaths before hitting the road.

In other racing action, C.J. Jones and Tyler Denochick prevailed in the Bonnell's Rod Shop Outlaw Sprint Warriors; J.R. McGinley and Frankie Guidace triumphed in the Approved Toilet Rentals 358 Modifieds; and Randy Wyant and Shaun Fawcett topped the Precise Racing Products Open Stock Cars.

In addition to the exciting racing action, the Western PA Championship weekend featured a variety of fun-filled events for all to enjoy. Free camping was available for the entire weekend. After the races Saturday, there was a Party with the Pits. The local 410 Sprint contingent, known as the "back row boys" because of where they park their rigs on race nights, hosted the festivities and provided the live music. Sunday morning, breakfast was served before a worship service. A scrumptious hog roast was offered for lunch. All proceeds of these activities benefited the injured drivers relief fund.

Plans are already being made to have a bigger and better event in 2015!

Racing will resume at the Park on Saturday, September 6. It will be championship night at the speedway. Double points will be on the line. In two of the divisions, the final finishing order will determine who will wear the crowns! Eric "Turkey" Williams, one of the ringleaders of the "back row boys," holds the advantage over Rod George in the 410 Sprints presented by Luxaire Heating & Cooling and McCrudden Heating & Supply. Jimmy Holden now has a slim margin over Kyle Fink in the Approved Toilet Rentals. Jimmy Morris is likely to prevail in the Bonnell's Rod Shop Outlaw Sprint Warriors; Rusty Moore in the Precise Racing Products Stock Cars; George Englert in the Rock Concrete Modified Lites; and Mike McConnell in the Eperthener's Auto Wrecking/Ray's Racing Collectibles Mini Stocks.

The final action on the oval will take place on September 26 and 27, when the 15th Annual Little Guy Nationals will go to the post. In addition to the previously announced classes, the two-barrel Econo Modifieds will be part of the program. Registration forms are available on the website, www.mercerracewaypark.com; by calling the track office, 724-663-1310; or by picking one up on race night. Competitors should sign up now to take advantage of the early bird discount.

September 13 and 14 will see some different motorsports fun at the Park. The popular USA East Regional Final Fall Nationals Truck and Tractor Pull will happen on Saturday, September 13. The next day, there will be the first Car Cruise for Causes. Make your plans to take in one or both of these programs.

-end-
Attica closes out 2014 in HUGE way

By Brian Liskai

ATTICA, Ohio – Attica Raceway Park will close out the 2014 season in a HUGE way Friday and Saturday, Aug. 29 and 30 for the traditional Attica Ambush.

The Lucas Oil Late Model Series and University of Northwestern All Star Circuit of Champions will kick off the double-header weekend on Detroit Chocolat Night, Friday, Aug. 29. The Lucas Oil Late Models will be vying for $10,000 to win while the winged UNOH All Star sprints will battle for $3,000 to win.

The UNOH All Stars headline Saturday's event on Baumann Auto Group Night as they battle for $5,000 to win. The Summit Racing Equipment UMP Late Models, Foster Auto Body 305 Sprints and Fremont Fence Dirt Trucks will also be in competition on Saturday, Aug. 30.

Four time UNOH All Star champion Tim Shaffer swept the Attica Ambush weekend in 2013. Shaffer is coming off his first All Star win of 2014 when he picked up the victory Sunday at Mercer Raceway Park. He also picked up a weekly win at Attica on April 18th, the 13th of his career at the track.

The UNOH All Stars have made only one appearance at Attica in 2014 as two other events were rained out. Four time All Star champion and current series point leader Dale Blaney picked up the win in April at "Ohio's Finest Racing" speedplant and leads all drivers in series wins at the track with 14. Blaney has three overall wins at Attica in 2014 to take his career total to 20 at the track to tie him for third on the track's all-time win list.

Blaney has 12 UNOH All Star wins in 2014 and has raised his series' leading career total to 111.

The UNOH All Stars have competed at Attica in 102 events in their history.

As always the UNOH All Stars will have their hands full with the tough Attica weekly competitors. Six time track champion Byron Reed picked up his first win of 2014 at the track this past Saturday. Caleb Griffith, who has a win at Attica in 2014, earned the track's championship. Craig Mintz, the 2013 Attica champion, has three wins at the track this season. Cap Henry, a former All Star regular, has 2 wins at Attica in the past month and Chris Andrews also has a pair of wins at the track in 2014.

The Lucas Oil Late Model Series made their first ever appearance at Attica in 2013 and Jimmy Owens scored the win. Owens leads the series points over Don O'Neal, Scott Bloomquist, Steve Francis and Eddie Carrier Jr.

O'Neal picked up the latest Lucas Oil win at Lawrenceburg Speedway in Indiana on Saturday. Owens has eight series wins in 2014 while O'Neal has six victories. The Lucas Oil stars will also have their hands full with Attica's tough weekly competitors. Jeff Babcock wrapped up the track's 2014 championship this past Saturday, winning his sixth feature of the year. Look for the likes of Ryan Markham, who has three wins at Attica this year, and Mike Bores, Ryan Missler, Rocky Owens, Doug Drown and Rusty Schlenk who have victories at Attica in 2014.

Pit gates open Friday at 3 p.m. with main gates at 4 p.m. and racing at 7:45 p.m. Pit gates open Saturday at 3 p.m. with main gates at 4 p.m. and racing at 7 p.m.

For more information go to www.atticaracewaypark.com

-end-
Sammy Swindell Retiring From Full-Time Racing Effective Immediately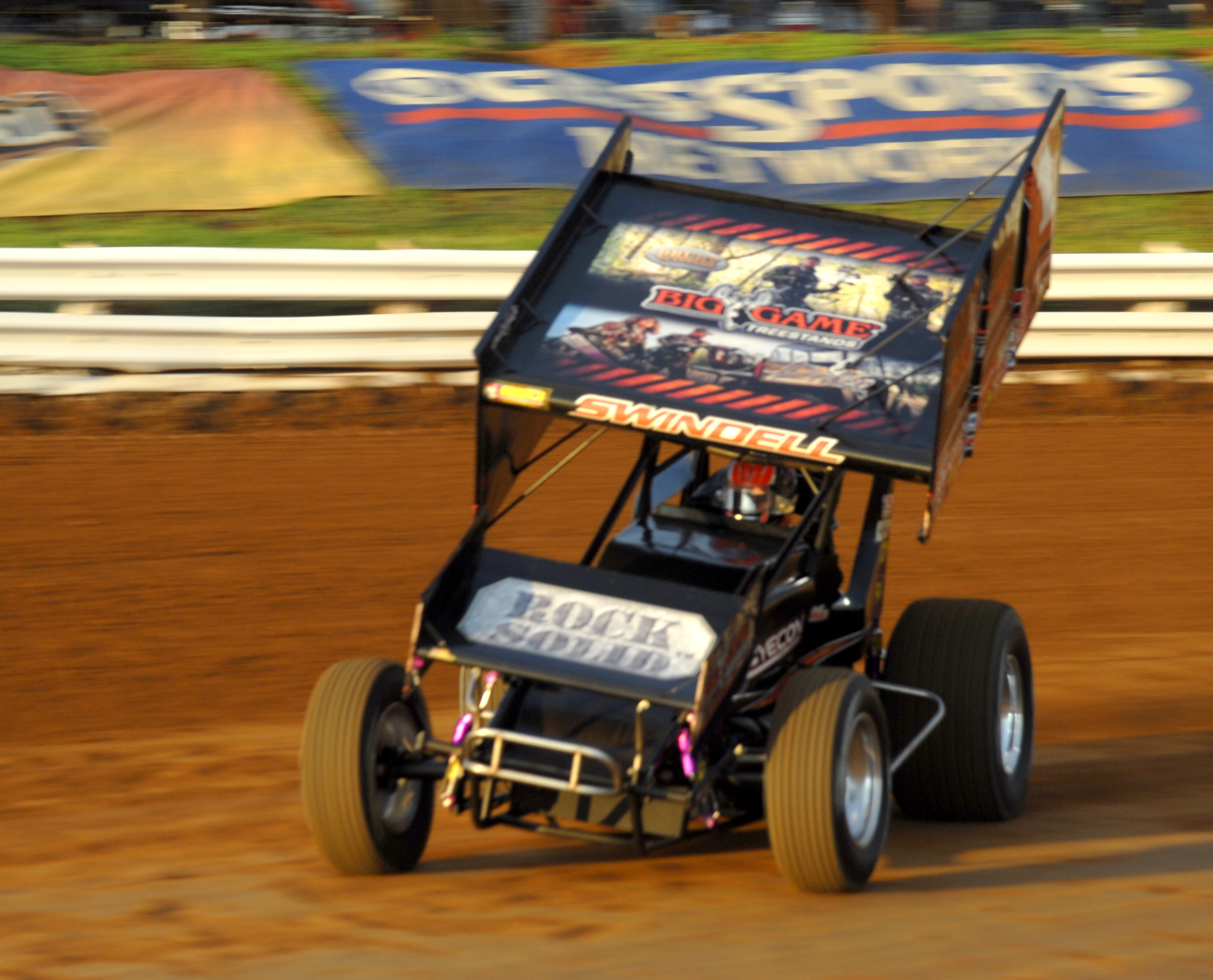 Sammy Swindell races into Turn 3 at Williams Grove in what would be his final visit to the track back in July. Photo Copyright Shawn Wood Productions.
Inside Line Promotions - GERMANTOWN, Tenn. (Aug. 25, 2014) - Sammy Swindell has decided to retire from professional racing effective immediately.

Swindell, who has driven for Big Game Motorsports the past four years of his 40-plus year career, isn't planning to race again outside of the Chili Bowl Nationals.

Here are his words to the fans:

"After the last two weeks of our break from racing I have decided to retire from racing. I would like to still drive my midget at the Chili Bowl. I have been thinking a lot about this for the last three months. It has been a hard decision to make. I always knew when the time came to retire it would be clear. I've had a long and very successful career. Part of the reason for the timing now is I've spent the last two weekends with my son, Kevin, racing. I haven't had any time to spend with his racing the last four years. He will drive a (NASCAR) Nationwide car for the rest of the year and I want to be there to support him. I was going to do a limited schedule next year or retire at the end of this year. I've had a long talk with (Big Game Treestands Founder) Tod Quiring and we both agreed that this is the best for me.

"Amy and I would like to thank Tod and everyone at Big Game Treestands for the last four seasons. We would also like to thank everyone who has helped or been a part of my career, my fans and the friends that I have met over the last 43 years."

Swindell has one of the most well-rounded racing careers at any level. While he had stints in NASCAR and IndyCar, Swindell made a name for himself on dirt race tracks across the country.

He earned three World of Outlaws STP Sprint Car Series championships and he ranks second in career wins - 294 - with the premier sprint car series.

Swindell has also claimed almost every major sprint car event, including the Knoxville Nationals, Gold Cup Race of Champions, Kings Royal, Williams Grove National Open, Don Martin Memorial Silver Cup, Selinsgrove Open, Western World Championships and Syracuse Super Nationals to name a few.

Additionally, Swindell won an unprecedented two World of Outlaws features on the same day in 1991 and he picked up victories at Bristol Motor Speedway when it was covered in dirt in 2000-01.

Also, his five Chili Bowl victories are the most for any driver at the famed midget event.

Swindell, who was elected into the National Sprint Car Hall of Fame in 2006, started racing when he was 15-years-old. Two years later he began a sprint car career that has culminated in more than 600 feature victories and at least one win in every season.

His career during the past 40-plus years of chasing races from state to state and coast to coast is legendary. Now he will focus on another career - that of his son, Kevin, who is the youngest driver to win a World of Outlaws STP Sprint Car Series main event, is the only driver to win four consecutive Chili Bowl titles and is embarking on an opportunity in NASCAR.

-end-
Freedom 40 to Randy Hannagan

By Scott Wolfe

CHILLICOTHE, OHIO- Thirty-seven of the nation's fastest sprint cars made history Saturday night (August 23, 2014) when the Renegade Sprints made their inaugural start at the Atomic Speedway for the 16th Annual Freedom 40. Also making history was Randy "The Hurricane" Hannagan, originally from San Jose, California, who pocketed the $5,000 winner's paycheck. Hannagan inherited the lead from dominating leader Cole Duncan with two laps to go to win the 2014 version of the Freedom 40 event. Dave Fireball Pinkerton won the shortened AMRA Octane Advanced Services Modified feature; a race that ended with violent flip by Kenny Johnson.

Despite the high humidity, a large crowd turned out to salute the stars of open wheel racing. Not only did the Renegade Series deliver with a host of talent, they also created a fan-friendly atmosphere that allowed fans to connect with the drivers. Multiple opportunities were given for fans to get up-close and personal with the drivers. Ten of the series cars and drivers set up a meet-and-greet at the front gate to welcome race fans and sign autographs.

Support features were won by Harley Martin in the Sport Mods, Larry Highland in the Street Stocks and Tim Howard in the Enduro.
Heavy rains over Thursday and Friday put the race in doubt, but the Atomic crew worked hard to prep the track in adverse conditions. The extra moisture left the track super fast for the races as moisture worked out of the track surface for excellent traction, albeit a few choppy soft spots.

Like a Greek epic, Saturday's racing unfolded with classic drama. For some it was heartbreak; for others it was heaven. For Shane Helms and the Renegade Series it was a huge success. Excitement filled the air all evening long.

he first-ever Renegade Sprint feature event saw Caleb Armstrong and Cole Duncan pace the field to starter Frank Lemaster's green flag.

New Castle, Indiana driver Armstrong took the early lead with a good start over outside pole sitter Cole Duncan. Surviving a caution on lap two for Caleb Helms, and a red on the restart on a flip by Aaron Higgins, Armstrong continued to lead. Armstrong was smooth and fast through the turns with great forward bite off the high side. The young driver led through lap five when he jumped the cushion and spun over the back-chute.

That spin was followed by a flip by Brian Sabetto who jumped the cushion on the restart following Armstrong's misfortune. Both flip victims, Sabetto and Higgins were ok, but unable to continue.

With Armstrong restarting on tail, Cole Duncan 'blasted off' in what looked like a dominating drive to victory. Duncan sliced and diced through traffic, turning lap times reflective of qualifying times . Duncan lapped all the way up to sixth place by lap 25 and was working on sixth place Chad Kemenah. Great racing took place throughout the pack among some of the biggest names in racing. Duncan's effort, however, was delightful to watch.

Young Lady driver Taylor Ferns held a top five most of the race. The young feminine phenom remained poised and fast, holding down a strong third behind Andrew Palker who now had anchored a solid second. Randy Hannagan chased down Ferns by lap 26. Ferns made contact with another car and went headlong into the wall then rode the circumference through turn four before bringing her mount down on all fours on lap 34.

By this time Duncan was 3/4 lap ahead of his nearest competition. On the restart Duncan again was on a rail and raced some 12 car lengths ahead of the pack. Both Hannagan and Brandon Wimmer blitzed by Palker on the restart, leaving Palker and Danny Smith to battle it out for fifth.

According to the transponders, Hannagan had the second fastest car on the track. Caleb Helms who had gone a lap down early, actually was turning times faster than the leader Duncan in an effort to dig himself out of a hole. By races' end Helms had charged back into a top ten.

Duncan continued to drive as if chased by a pack of hungry wolves. Coming around to take the white flag, Duncan's mount slid high above the cushion, caught the turn four concrete and flipped violently into the catch fence. Duncan emerged unscathed but his newly built #49 was badly damaged.

Hannagan inherited the lead and raced on to the very first Renegade Sprint win. Much to the delight of the fans Hannagan did a wing stand after exiting his mount in victory lane.

Rounding out the top ten were Randy Hannagan, Brandon Wimmer, Chad Kemenah, Danny Smith, Andrew Palker, Caleb Helms, Dean Jacobs, Mike Terry, Jr., Jesse McCreary, and Mark Imler. Imler came from deep in the pack, while McCreary held his own in the top ten all evening long.
"I'll tell you what," said a winded Hannagan. "I gotta thank Brad (McCown) and this entire Renegade series. This series is gonna be a great deal."

"It's really a shame that my car owner Ed Neumeister is not here to see it, but he's probably listening now on the internet. I'd like to thank my crew, Charlie Fisher Engines, and everyone who made it possible to get me here. I was hungry for a win, but I think some guys behind me were just as hungry. (laughing) Ed will probably fix his hauler with the winnings."

"This car was a rocket tonight. We made some wholesale changes and some changes during the open red. It was Cole's race to lose and unfortunately he did. I hated to see that, but Cole is out there racing and knows there are 23 other guys out there behind him. We all race as hard as we can."

"We got ourselves behind in qualifying when the wing fell apart," said second place Brandon Wimmer. "But I can't complain with getting a second here tonight. We fought that qualifying time, but had a good run."

"I'd like to thank the fans for sticking this deal out," noted third place Chad Kemenah. "Continue to support this series. It is going to be a good deal."

"We had some things happen tonight, but the bottom line is you can't beat the weather and you gotta deal with it. We appreciate Brad for putting on this show and appreciate the fans for being here."

Kemenah raced from 9th to third, Terry from 17th to 8th, Jacobs from 19th to 7th, and Imler from 21st to tenth.

Brandon Wimmer was the hard charger in a great run from 18th to second place.

Heat winners were Dean Jacobs, Mark Imler, Wes McGlumphy, and Brandon Wimmer. Caleb Armstrong won the dash, and Jimmy Nier won the B-main. Jimmy Stinson, two-time Atomic Champion flipped in the dash, doing extensive damage to the Jamie Miller #6. Ryan Myers took a nasty end-for-end flip on the last lap of the B-main and actually transferred while flipping across the line. His mount, however, was unable to continue, thus his position and Stinson's allowed six cars instead of four cars to transfer from the B to the A-main.

Greg Wilson was absent from the sprint event in the hospital with gallstones. Ed Neumeister (Hannagan's owner) was on the sprint line-up, however, Neumeister's rig broke down and he was unable to make repairs.

410 Sprints Feature: Randy Hannagan, Brandon Wimmer, Chad Kemenah, Danny Smith, Andrew Palker, Caleb Helms, Dean Jacobs, Mike Terry, Jr., Jesse McCreary, Mark Imler, Ronnie Blair, Josh Davis, Eddie Slone, Cole Duncan, Caleb Armstrong, Taylor Ferns, Jimmy Nier, Todd Kane, Wes McGlumphy,Brian Sabetto,Nathan Skaggs, Travis Philo, Adam Strausser, Aaron Higgins

Fast Time- Cole Duncan 11:722

Heat One-Dean Jacobs,Jesse McCreary, Travis Philo, Cole Duncan, Caleb Armstrong, Ryan Myers, Adam Strausser, Josh Davis, Mark Coleman, Brandy Bower

Heat Two-Wes McGlumphy, Jimmy Stinson, Todd Kane, Chad Kemenah, Caleb Helms, Nate Reeser, Bryan Nuckles, Jeff Conrad, Ronnie Blair

Heat Three-Mark Imler, Nathan Skaggs, Danny Smith, Andrew Palker, Mike Terry, Jr., Aaron Higgins, Cody Gardner, Dean Kester

Heat Four-Brandon Wimmer, Randy Hannigan, Eddie Slone, Taylor Ferns, Brian Sabetto, Kevin Roberts, Randy Fink, Jimmy Nier, Ryan Broughton

Dash: Caleb Armstrong, Cole Duncan, Andrew Palker, Caleb Helms, Taylor Ferns, Jimmy Stinson

B-Main: Jimmy Nier, Aaron Higgins, Ronnie Blair, Adam Strausser, Ryan Myers, Nate Reeser, Josh Davis, Cody Gardner, Jeff Conrad, Brandy Bower, Brian Nuckles, Kevin Roberts, Randy Fink, Dean Kester, Mark Coleman, Kory Crabtree, Ryan Broughton.

-end-

Reed gets first win of season...Griffith claims Attica 410 championship

FOR IMMEDIATE RELEASE

By Brian Liskai

ATTICA, Ohio – Byron Reed has been racing quite awhile now. But even a veteran can start doubting himself when he goes through a drought. Reed, a six time Attica Raceway Park champion, came into the Kistler Racing Products Presents the Mark Keegan Classic Championship Night winless in 2014.

That all changed Saturday as the Monclova, Ohio driver led all 30 laps to score his 30th career Attica win. Ironically, Reed is second on the track's all-time win list to…Keegan.

"Probably part of the reason I've struggled so much this year…qualifying the first half of the year and bad pill draws. Everyone is so close it's sometimes hard to get buy guys who are in clean air. Mid-season there I was pretty frustrated. We started the year off with some of the same stuff we did last year and it just wasn't working. We had to change some stuff and we've been pretty good the last month and we finally have a win to show for it," said Reed..

"I have to thank my crew for staying with me and working hard. And my wife has to come to every race now because she drew the number two for the feature. My sons drew that one that got me in the back of the heat. So she has to draw now," added Reed.

And, Castalia, Ohio's Caleb Griffith, a former Attica 305 sprint champion, would come home second and would claim his first ever track championship in the O'Reilly Auto Parts 410 sprints. Griffith is only the 9th 410 sprint champion in the track's 27 year history.

"Obviously I'm happy we won the track championship but it's not the way I wanted to do it with Chris (Andrews) sitting in the infield and Craig (Mintz) getting hurt early in the year. But, the last five times we've been to the race track from the time we drop the trailer door to the time we roll out to the heat race it's been a complete struggle. This is fantastic for the guys. Byron was a little bit better than us on the short run…we needed lapped traffic. That's Byron's first win this year…that shows you how competitive this deal is," said Griffith.

Brian Lay and Reed would bring the field to green for the 410 sprint feature with Reed gaining the advantage over Lay, Christopher Bell, Griffith, Cap Henry, Gary Taylor and Brian Smith. Griffith would drive into third on lap three.

Reed would drive into heavy lapped traffic by the 7th circuit as Griffith picked up second. Griffith began closing on Reed as they worked through traffic with Bell, Lay, Henry, Taylor, Craig Mintz and Rob Chaney in pursuit.

The first caution would fly on lap 17 when Bell spun off of turns three and four while running third. On the restart and with a clear track Reed pulled away slightly from Griffith, Henry, Mintz, Lay, Taylor and Chaney.

All eyes were on Chris Andrews who had started 12th and needed a solid top eight finish to secure the track championship. He was up to 9th by lap 18.

The more laps under green that were run, Griffith was able to close on Reed. With seven laps remaining the running order was Reed, Griffith, Mintz, Henry, Lay, Taylor, Chaney and Andrews. However, Andrews would make contact with one of the infield tractor tire barriers on lap 27, bringing out the caution and ending his championship run.

The three lap shoot-out saw Reed drive to victory with Griffith just a car length back. Mintz, Chaney and Henry would round out the top five.

Fremont's Bobby Clark would drive under Steve Rando for the lead on lap 13 of the Foster Auto Body 305 Sprint feature and would pull away for his second win of the season. The victory is the 15th of his career at Attica and ties him with D.J. Foos – ironically the son of Clark's crew chief – for 6th on the division's all-time win list.

"We were mediocre with my car and they had this car out for a couple of runs (with Bobby's nephew driving) and it looked kind of promising. So we decided we wanted to try it…I think we're going to keep it," said Clark beside his Fremont Fence/Little Bar on the Prairie/B&L Plumbing/Kear's Speed Shop/Big D's Pizza/Kistler Engines/Nagy Equipment Sales/CRF Concrete/Willey's Towing backed machine.

Clark started the feature with his wing pulled way back on the car. While most were rim-riding around turns three and four, Clark was able to drive the middle and bottom of the track in a 25-lap non-stop feature event.

"Dave (Foos, crew chief) always has a good read on the track. He pays attention and that's what he decided to do with the wing and I'm glad he did. As long as I kept it low and smooth I had good drive off. I might have another year or two in me yet," added Clark.

Castalia, Ohio's Jordan Ryan, just 16 years of age, would drive from 13th to an eighth place finish to wrap up his first ever Attica track championship.

"I hustled just to get a top four in the heat to make the feature. In the feature we started deep and I was just trying to stay calm and stay away from other cars. We're planning on going 410 racing next year but we'll see what happens. It's been a real consistent season and that's the key," said Jordan who has had 11 top five finishes in 2014 at Attica.

Attica Raceway Park wraps up the 2014 season with a big double-header weekend Friday and Saturday, Aug. 29 and 30. On Friday Detroit Chocolat Presents the Lucas Oil Late Model Series gunning for $10,000 to win with the University of Northwestern Ohio All Star Circuit of Champions also in competition for $3,000 to win. On Saturday the UNOH All Stars battle for $5,000 to win on Baumann Auto Group Night with the late models going for $1,500 to win and the 305 sprints and dirt trucks also in action.

For more information go to www.atticaracewaypark.com

Attica Raceway Park - 8/23/2014

410 Sprints A-Main - (30 Laps) 1. 5R-Byron Reed[2]; 2. 40DD-Caleb Griffith[5]; 3. O9-Craig Mintz[11]; 4. 9X-Rob Chaney[10]; 5. 53-Cap Henry[4]; 6. 45L-Brian Lay[1]; 7. 1ST-Gary Taylor[7]; 8. 35-Stuart Brubaker[9]; 9. 53C-Christopher Bell[3]; 10. 2+-Brian Smith[6]; 11. 9Z-Duane Zablocki[14]; 12. 11X-Brandon Martin[20]; 13. 83M-Broc Martin[18]; 14. 14-Chad Wilson[8]; 15. 73-Joe Armbruster[16]; 16. 60-Jody Keegan[17]; 17. 8-Kevin Shelbo[21]; 18. 16-Chris Andrews[12]; 19. 17-Scott Euler[13]; 20. 3T-Tony Beaber[15]; 21. 14H-Todd Heller[19]

305 Sprints A-Main - (25 laps) 1. 18-Bobby Clark[6]; 2. 19R-Steve Rando[1]; 3. 1-Nate Dussel[5]; 4. 6-Dustin Dinan[9]; 5. 1W-Paul Weaver[8]; 6. 2-Ricky Peterson[4]; 7. 8I-John Ivy[11]; 8. 5R-Jordan Ryan[13]; 9. 3J-Trey Jacobs[3]; 10. 68G-Tyler Gunn[2]; 11. 25-Jason Keckler[7]; 12. 8M-T.J Michael[15]; 13. 48-Mike Burkin[10]; 14. 12-Kyle Capodice[18]; 15. 11G-Luke Griffith[12]; 16. 10-Josh Harrison[19]; 17. 36-Seth Schneider[17]; 18. 32-Dan Hennig[14]; 19. 22M-Dan McCarron[20]; 20. O2-Kevin Lee[16]

-end-
Tracks ban together to support UNOH All Star Circuit of Champion events

In recent years track operators throughout the Midwest have worked together to insure dirt tracks across the region are successful.

With the recent announcement of a new sprint car series many tracks once again have jointly discussed the issues this brings to sprint car racing and have decided to continue their support of the University of Northwestern Ohio All Star Circuit of Champions and the organization's 30+ year history including Ohio Sprint Speedweek and other special events.

The tracks announcing their support of the All Stars include Fremont Speedway, Limaland Motorsports Park, Eldora Speedway, Sharon Speedway, the NAPA Auto Parts Wayne County Speedway and Waynesfield Raceway Park in Ohio; Lernerville Speedway, Lincoln Speedway and Mercer Raceway Park in Pennsylvania; Butler Motor Speedway in Michigan; Wilmot Raceway in Wisconsin; Huset Speedway in South Dakota; and Volusia Speedway Park in Florida.

These tracks represent over 75 percent of the current UNOH All Star schedule.

The UNOH All Stars have upcoming races at Mercer Raceway Park (Aug. 23 and 24), Attica Raceway Park (Aug. 29 and 30), the NAPA Auto Parts Wayne County Speedway (Aug. 31); Canandaigua Motorsports Park (Sept. 4); Port Royal Speedway (Sept. 5 and 6); Fremont Speedway (Sept. 12 and 13); Brushcreek Motorsports Complex (Sept. 20); and Eldora Speedway (Oct. 11).

-end-
THURSDAY NIGHT 'SPRINT CAR 101' FORUM FEATURING JON AGAN TO BE STREAMED LIVE ON THE INTERNET

KNOXVILLE, IOWA (August 19, 2014) – Thursday night's "Sprint Car 101: An Evening with Jon Agan" forum at the National Sprint Car Museum will be streamed live at www.ustream.tv/channel/sprintcarhof. The Eric Arnold-emceed program, which is free and open to the public, will begin promptly at 7 p.m. Central.

Museum special events coordinator David Herrmann said today, "We are definitely increasing our reach by streaming these Sprint Car 101 programs live on the internet. The fact that former All Star Circuit of Champions regular Jon Agan is having a banner year here in the Midwest at Knoxville Raceway and with the Sprint Invaders Association should make it a popular feed for those unable to make it to our Knoxville-based museum this Thursday night."

-end-

Blaney rolls to 11th All Star win

By Brian Liskai

QUINCY, Mich. (Saturday, Aug. 16, 2014) – Dale Blaney continued his phenomenal summer, holding off Jac Haudenschild for the sweep of the University of Northwestern Ohio All Star Circuit of Champions weekend at Butler Motor Speedway.

The win is Blaney's 11th series victory in 2014 and the 110th of his career with the UNOH All Stars. Jac "The Wild Child" Haudenschild didn't make it easy for the "Low Rider," challenging in traffic. But, several cautions helped Blaney stay out of traffic late for the win.

"Track was a lot better tonight. We drew a number one for the dash and that's huge here. Track position is everything at Butler. We had a good car but I'll tell you if Jac would have gotten the lead I don't know if I could have gotten back around him," said Blaney beside his Kennedy Cattle/Ti22 Performance/Penske Shocks/GF1/Tom's Sewer and Septic Service backed #14k.

Blaney is on track to record one of his best seasons of racing. Not only does he have 11 UNOH All Star wins, but a World of Outlaws STP Sprint Car Series victory as well. Blaney's best season with the UNOH All Stars came in 1996 when he took 17 victories after having 12 wins with the series in 1995. Blaney is looking to become the series first ever five time champion.

Haudenschild would rebound from a bad night Friday to finish second in the Destiny Racing/Rick Rogers Construction/Mondak Portables/Triple X Racing/Renegade Rentals/Champion Oil #9w.

"It was a lot better night tonight. Scott Benic and the crew worked hard to get this thing better. I don't know what we have to do to beat Dale but we're getting better," said Haudenschild.

Local racer Chad Blonde would race his way to a third place finish.

"After the drama last night, it was nice to have a clean race and pass some cars and bring this thing home in third. Shawn and Chris Robinson fund this all out of their pocket and I'm so thankful for what they do for me. The track was a lot better tonight and I was able to move around a little in traffic," said Blonde beside his Krieger Racing Engines backed machine.

A-Main - (30 Laps) 1. 14K-Dale Blaney[1]; 2. 9W-Jac Haudenschild[2]; 3. 1-Chad Blonde[6]; 4. 24H-Brandon Wimmer[3]; 5. 81-Lee Jacobs[5]; 6. 19-Doug Zimmerman[4]; 7. 17H-Jared Horstman[12]; 8. 6M-Max Stambaugh[9]; 9. 17-Scott Euler[10]; 10. 51-Roger Campbell[13]; 11. 4-Josh Turner[11]; 12. 10J-Jared Delong[17]; 13. 21T-Troy Chehowski[20]; 14. 29S-Mark Aldrich[22]; 15. 20A-Andy Chehowski[23]; 16. 27K-Ryan Kirkendall[21]; 17. 81X-John Gall[16]; 18. 39-Matt Merrill[14]; 19. 48-Scott Hull[8]; 20. 9E-Tim Evilsizer[18]; 21. 35-Stuart Brubaker[7]; 22. 59P-Chris Jones[15]; 23. 11-Trey Smith[19]; 24. 25M-Ken Mackey[24]

-end-