Jeff Gordon Interview about Belleville- Listen
Championship-committed Zach Daum heads to Angell Park for POWRi Midgets Saturday, Sunday

SUN PRAIRIE, Wis. (May 22, 2013)—Zach Daum believes a steady flow of top-five finishes can carry him to the championship this season in the POWRi Lucas Oil National Midget Series.

The 22-year-old from Pocahontas, Ill., will be gunning for a pair of them Saturday (May 25) and Sunday (May 26) in the 11th annual Sue Thiel Memorial at Angell Park Speedway, two events co-sanctioned by the Badger Midget Auto Racing Association.

Daum has started solidly in the pursuit of his first title in POWRi Midgets, finishing third at Belle-Clair Speedway in Belleville, Ill., last Friday and fifth at Macon (Ill.) Speedway on Saturday. He was 16th in the season opener at Jacksonville (Ill.) Speedway and is second in the points to Andrew Felker of Carl Junction, Mo., 500-390.

"Of course, I'd like to win 10 or 15 races, but that's not going to happen," Daum said. "I want to win races, but if I could finish in the top five in every race, I'd be happy. I'm racing with support from Toyota this season and it wants a POWRi championship and that's my goal.

"At Macon, I could have started doing slide jobs and could have finished second or 22nd. We're here to win the war, not the battle. Toyota believes in me that I can do it and that's what I'm going to do for them."

Daum is racing with an engine built by Stanton Racing Engines with parts supplied by Toyota Racing Development and also has sponsorship support. It's his first season with the manufacturer.

"Gary Stanton kind of slid my name in there and Tracy Hines, who is like a second father to me, recommended me and we accepted a deal from them in early December," Daum said. "(Toyota's) Gary Reed showed faith in me and it makes me feel good."

Daum built a new Eagle chassis over the winter and it made its debut at Belle-Clair and Macon.

"I think we'll be OK," Daum said. "I needed a couple of races just to get going. We're got the first nights out of the way and we have a better idea of what the car wants, what the driver wants. We'vum e got to get everybody on the same page."

Daum has one POWRi National Midget victory, last season at Macon. He ran 13 POWRi events in 2012 with seven top fives. Daum drove in his first POWRi event in 2007 and had a total of 80 starts heading into 2013.

"POWRi grows every year, look at the numbers of cars," Daum said. "There are a bunch of young kids moving up out of the Micros and that's great. POWRi has expanded every year and it has the best schedule this year it's had in a long, long time. There are a lot of good race tracks.

"The best thing POWRi has done is to co-sanction with Badger and USAC. There aren't enough cars to stand alone at some tracks and you can't draw all the big names. The co-sanctions accomplish that and bring in the people."

POWRi is co-sanctioning 16 events with Badger and eight with USAC this season.

Daum finished fourth in a Badger event at Angell Park Speedway last Sunday. With so many co-sanctions, he's decided to run for the Badger title, too.

"I went up to Angell Park last week to prepare for the POWRi events," Daum said. "I missed the setup and the gearing a little bit. It gives us a good idea of what we need for this weekend. We're going to go for the Badger title, too, because we didn't have to add many events."

The Thiel Memorial pays $2,000 to win Saturday and $4,000 to win Sunday.

POWRi Lucas Oil National Midget Series top-10 points standings (after three of 33 events: 1. Andrew Felker 500, 2. Zach Daum 390, 3. Jake Blackhurst 370, 4. Tyler Thomas 350, 5. Shane Cockrum 300, 6. Tyler Robbins 280, 7. Justin Peck 270, 8. Colten Cottle 235, 9. Terry Babb 210, 10. Nick Knepper 200.

POWRi Lucas Oil National Midget Series 2013 race winners: Jacksonville, Ill.—Shane Cockrum; Belleville, Ill.—Chris Bell; Macon Ill.—Brady Bacon.

-end-
Deadly Oklahoma Tornado hits I-44 Riverside Speedway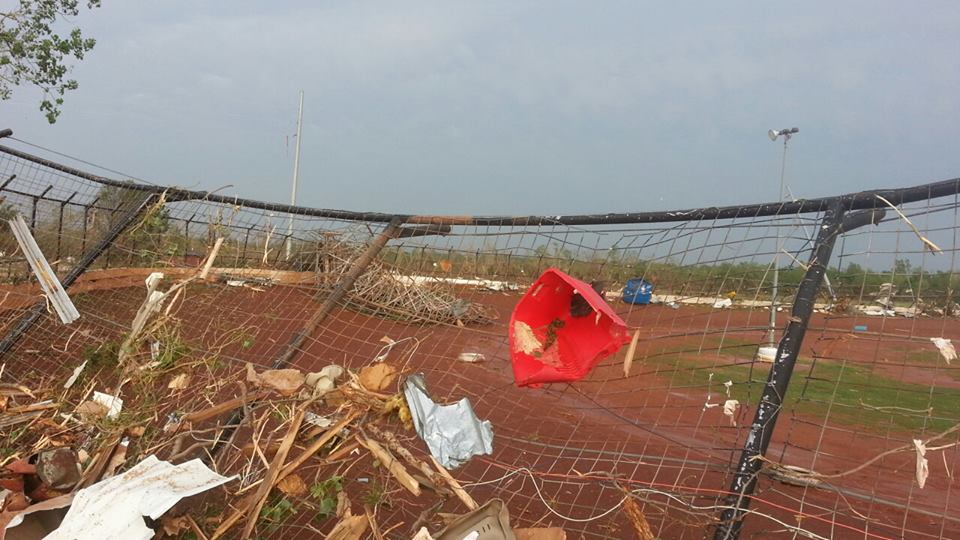 I44 Riverside Speedway was hit very hard by an EF3 tornado. The tornado was about 1/4 to 1/2 mile wide as it hit the speedway. Promoters Mark Banister and Gloria Olexia also had their home completely destroyed a few miles east of the trackas the tornado intensified to an EF5. Gloria's daughter was at the home when the two mile wide tornado hit, she was pulled from the wreckage very shaken, but unharmed. They finally found refuge late last night, but are reunited and safe.

The pictures posted of the devastation were taken as Greg Moore and other I44 Riverside patrons were the first to arrive at what was left of the track.

To everyone in the racing community - I44 Riverside will be back THIS SEASON. Cleanup will be a monumental effort, thank you to all who have volunteered to help - we will need it and more.

Details of the debris are visible in photos, but main grandstand is in a heap in the infield, score tower somehow still standing, but ruined. The pit grandstand is in a wooden heap in turn 3. Track access structures have all been leveled, but the concession stand survived. All of the track equipment was lost, the lighting, PA, electrical, even the flagstand all ruined. Unfortunately, all track equipment also lost as well.

I spoke with I44 Riverside Speedway Promoter Mark Banister late last night - and while everything was insured - we still have a cleanup on our hands unlike anything seen before in this region's racing. With the support of the best teams and fans in the nation, as well as the leading motorsports outlets in the country, we can and will restore the only track in Oklahoma City so that we can put some happiness in hearts that today are so heavy. Together we will bring back and celebrate I44 Riverside Speedway.

But today is a time to grieve and pray for the victims of this horrific tragedy - for those who lost everything and those that lost even more. There are so many broken and heavy hearts, so many who are suffering - PLEASE do anything you can to help. The race track can wait, please do what you can for the families who are suffering. The following link contains detailed information on how you can help, please contribute in any way you can.

http://www.usatoday.com/story/news/nation/2013/05/20/help-tornado-victims/2344493/

-end-
Brady Bacon takes runaway victory in POWRi Midgets

MACON, Ill. (May 18, 2013)—Brady Bacon drove to a runaway victory in the POWRi Lucas Oil National Midget Series and Dereck King won his second feature of the season in the POWRi Speedway Motors 600cc Outlaw Micro Series on Saturday at Macon Speedway.

Bacon led the final 29 of the 30-lap feature on the one-fifth mile track and finished a quarter-lap ahead of Tyler Thomas. It was the sixth career victory in POWRi Midgets for the 22-year-old from Broken Arrow, Okla.

"I need that money in my pocket," Bacon said. "It's been a long winter. We've had a lot of rain outs and the money just hasn't been coming in like it needs to be."

Bacon, driving a Spike-Esslinger for car owner Scott Ronk, earned $2,000.

Thomas seriously challenged Bacon twice, but cautions stopped his charges.

"We had a fast car and I got past Bacon twice with slide jobs, but the cautions came out and put me in back of him," the 17-year-old from Collinsville, Okla., said. "I didn't have much for Brady after that."

Thomas and Thomas Meseraull of San Jose, Calif., spent the second half of the race dueling with slide jobs at both ends of the track. Meseraull finished third.

"It was a blast," Thomas said. "I have to thank T-Mez for racing me as clean as he did. We were both racing extremely hard."

Meseraull was a couple of car lengths short of Thomas at the checkered flag.

"I just couldn't get it done," he said. "It was a fun race."

Bryan Clauson finished fourth, followed by Zach Daum in a strong field with 43 entries.

POWRi Lucas Oil National Midget Series feature results (30 laps): 1. Brady Bacon, 2. Tyler Thomas, 3. Thomas Meseraull, 4. Bryan Clauson, 5. Zach Daum, 6. Jake Blackhurst, 7. Andrew Felker, 8. Colten Cottle, 9. Tyler Robbins, 10. Justin Peck, 11. Tanner Thorson, 12. Justin Grant, 13. Park Price Miller, 14. Shane Cockrum, 15. John Campbell, 16. Austin Brown, 17. Terry Babb, 18. Jerry Coons Jr., 19. Chris Bell, 20. Matt Ponder, 21. Matt Sherrell, 22. Nick Knepper.

-end-

Chris Bell wins 1st in POWRi Midgets

BELLEVILLE, Ill. (May 17, 2013)—Chris Bell finished less than a car length over Nick Knepper to win his first feature in the POWRi Lucas Oil National Midget Series and Joe B. Miller drove to victory in the POWRi Speedway Motors 600cc Outlaw Micro Series on Friday at Belle-Clair Speedway.

Knepper of Belleville, Ill., drove deep on the inside into turn three to briefly put the nose on his Essingler-powered Spike ahead, but Bell turned his Toyota-powered Bullet underneath in turn four and beat him to the checkered flag on the one-fifth mile track.

"He surprised me," Bell said. "I didn't know he was that close. I was lucky to see him early enough and take the cushion and drive across him."

Bell's victory for Keith Kunz Motorsports came in his 20th POWRi start. It was his first in a Midget in any series.

"It was a long time coming," the 18-year-old from Norman, Okla., said. "Keith and the team gave me an awesome car and I'm definitely really fortunate to be driving for him. When you drive for Keith, you have the best of the best."

Bell was hired in January for the Toyota-backed No. 71 car, one of the best seats in

Midget racing. He had driven in 11 races in the POWRi series a year ago before accepting an offer to race winged Sprint cars in the second half of the season.

"We watched him run in the POWRi stuff and there something about him we liked," Kumz said.

Bell, on the inside, and Knepper started on the front row for the 30-lap feature. Knepper jumped into the lead and held it through three restarts. On the 14th lap, Bell passed him for the lead in turn four, sliding around him and then getting the power down to narrowly go ahead.

"He was running the top and I was on the bottom for a couple of laps after the (third) restart," Bell said. "I had my best lap on the bottom in turns one and two and I think he made a mistake and I got around him."

"I did make a mistake on top," the 26-year-old Knepper said. "Our cars were pretty even and it came down to who was in front. I made a last ditch effort to pass him on the final lap and came close. I thought it would catch him off guard and I guess it did, but he countered it pretty well and it came down to the (finish) line."

Zach Daum of Pocahontas, Ill., finished third in his Toyota-powered Eagle driving for his family team. Andrew Felker of Carl Junction, Mo., the 2012 POWRi National Midget champion, climbed to fourth after starting 23rd and last, taking a provisional to get into the feature. Tyler Robbins of Collinsville, Ill., was fifth.

The POWRi Midgets and Micros race tonight at Macon (Ill.) Speedway.

POWRi Lucas Oil National Midget Series results (30 laps): 1. Chris Bell, 2. Nick Knepper, 3. Zach Daum, 4. Andrew Felker, 5. Tyler Robbins, 6. Dereck King, 7. Chett Gehrke, 8. Dillon Welch, 9. Travis Berryhill, 10, Jeff Flesher, 11. Terry Babb, 12 Jake Blackhurst, 13. Devon Huff, 14. John Campbell, 15. Darren Kingston, 16. Justin Peck, 17. Austin Brown, 18. Shane Cockrum, 19. Michael Koontz, 20. Tanner Thorson, 21. Tyler Thomas, 22. Parker Price Miller, 23. Daniel Adler.

-end-
Austin Brown seeking to bounce back from rough start in POWRi Midgets at Belle-Clair, Macon

Austin Brown will try to rebound from an unfortunate start to the season when the POWRi Lucas Oil National Midget Series races at Belle-Clair Speedway in Belleville, Ill., on Friday (May 17) and Macon (Ill.) Speedway on Saturday (May 18).

Brown won his heat at Jacksonville, Ill., in the sole event of 2013 on April 26, but was caught up in an early accident and crash damage took him out. He finished 22nd.

The 23-year-old from Millstadt, Ill., won his first feature in POWRi National Midgets at Belle-Clair last Oct. 6 and also had sixth- and 10th-place finishes at the one-fifth mile track last season. Brown's prospects at Macon for a solid result are also good. He finished third and sixth in features there a year ago.

Brown finished third in 2012 and fourth in 2011 in the POWRi Midget championship. He has raced in 43 straight features, no easy feat in a series where 10 or more cars regularly go home early. His goals for 2013 are to win more races and win his first championship.

"I think the first win is always the hardest one to get," Brown said. "Even in my Micro career, it took me a while to get the first and the next two definitely came easier. I'm hopeful it's the same in Midgets. And the championship is what we're running for."

POWRi Lucas Oil National Midget Series top-10 points standings (after one of 33 events; 1. Shane Cockrum 200, 2. Andrew Felker 190, 3. Tyler Thomas 150, 4. Jake Blackhurst 130, 5. Brad Kuhn 120, 6. Justin Peck 110, 7. Colten Cottle 100, 8. Garrett Aitken 90, 9. Terry Babb 70, 10. Levi Jones 60.

POWRi Lucas Oil National Midget Series 2013 race winners: Jacksonville, Ill.—Shane Cockrum.

-end-
POWRi National/West Midgets at Lucas Oil Speedway canceled

WHEATLAND, Mo. (May 3, 2013)—Saturday's POWRi Lucas Oil National/West Midget Series event at Lucas Oil Speedway has been canceled by snow, rain and cold temperatures.

The next events on the schedule for the POWRi National Midgets are at Belle-Clair Speedway in Belleville, Ill., on May 17 and Macon (Ill.) Speedway on May 18.

-end-
Rain cancels POWRi Midgets, Micros at Macon

MACON, Ill. (April 27, 2013)—Rain has forced POWRi's Lucas Oil National Midget Series and Speedway Motors 600cc Outlaw Micro Series on Saturday (April 27) at Macon Speedway to be cancelled.

POWRi's next National Midget event is scheduled for May 3 at Valley Speedway in Grain Valley, Mo., followed by the Missouri Mid-State Midget Nationals at Lucas Oil Speedway in Wheatland, Mo., on May 4.

The next POWRi 600cc Outlaw Micro event is scheduled for May 17 at Belle-Clair Speedway in Belleville, Ill., followed by an event at Macon on May 18.

-end-
Shane Cockrum takes breakthrough victory in Midgets, King wins 21st in Micros to open POWRi season

JACKSONVILLE, Ill. (April 26, 2013)—Shane Cockrum drove to his first victory in the POWRi Lucas Oil National Midget Series and Dereck King extended his all-time lead in the POWRi Speedway Motors 600cc Outlaw Micro Series to 21 wins Friday night at Jacksonville Speedway.

It was a career breakthrough for Cockrum--his first triumph in a Midget--and it came against an outstanding field with 49 entries including 2012 POWRi Midget champion Andrew Felker, who finished second, and 2012 USAC Mopar National Midget champion Darren Hagen, who finished third.

Cockrum, a 31-year-old from Benton, Ill., was the UMP DIRTCar Pro Late Model Missouri champion in 2008 and decided to chase a lifelong dream of driving open-wheel cars the next season. Cliff Cockrum, his late father, was a top Midwestern Midget and Sprint Car driver in the 1960s and '70s.

"Unfortunately, my dad retired before I could see him race, but he took me to open wheel races at Du Quoin (Ill.) and other tracks," Cockrum said. "I grew up idolizing Jack Hewitt, Parnelli Jones and A.J. Foyt. We had won quite a few races in modifieds and late models, but my heart was in open wheel. I didn't want to be 31 and never had a chance to race in open wheel.

"We'd won 16 races in 2008 and we turned around and dumped everything to buy the Midget. We were fans, but we didn't know anything about open wheel racing. It's been an uphill battle. It's awesome to finally win in the Midget."

Cockrum's victory came in his 28th POWRi feature and 36th event. His best previous finish was fifth at Fayette County Speedway in Brownstown, Ill., in 2010.

"We're such a low budget team, we run a low number of races," Cockrum said. "This was definitely a win for the little guy."

Cockrum started 10th, on the outside of the fifth row, in his Esslinger-powered Triple-X. He passed Hagen and Felker in traffic to take the lead on the 25th of 30 laps and won by three car lengths.

"I knew we had a pretty good car and knew I could say with Felker and Hagan in lapped traffic," he said. "You could say the waters parted. I got around Hagen in Turns One and Two and Andrew got caught up in traffic and I was able to slide him in Turn Four and complete the pass. I never had to switch lanes coming through the traffic. The lapped cars kept moving over to the inside. It was a technical track and you had to search out the right line."

Felker of Carl Junction, Mo., started on the outside of the front row alongside Zach Daum of Pocahontas, Ill., and jumped into the lead at the start.

Hagen of Riverside, Calif., took advantage of three red flags in the opening 12 laps to move up to second. He passed Felker for the lead on the outside in Turn Four on the 18th lap.

Cockrum passed Felker and Hagen on the 25th lap and Felker bolted past Hagen for second on the front straight starting the 26th.

Cockrum had to deal with a restart with four to go and he didn't have any problems leading to the checkered flag.

"I'm pretty happy with second in a real tough field to start the season," Felker said.

Hagen said he made a mistake in traffic.

"I think I got a little cautious in lapped traffic," Hagen said. "We made a little shock adjustment during a red and we probably went the wrong way."

POWRi's Midgets and Micros race at Macon (Ill.) Speedway tonight (April 27) in the second event of the season.

POWRi Lucas Oil National Midget Series feature results (30 laps): 1. Shane Cockrum, 2. Andrew Felker, 3. Darren Hagen, 4. Dalton Armstrong, 5. Danny Stratton, 6. Tyler Thomas, 7. Caleb Armstrong, 8. Jake Blackhurst, 9. Brad Kuhn, 10. Justin Peck, 11. Colten Cottle, 12. Garrett Aitken, 13. Christopher Bell, 14. Terry Babb, 15. Levi Jones, 16. Zach Daum, 17. Mike Hess, 18. Daniel Adler, 19. Bubba Altig, 20. Bobby East, 21. Derrick Myers, 22. Austin Brown.

-end-
Young Gun Colten Cottle heads to Jacksonville, Macon for POWRi Midgets

Colten Cottle entered his first event in the POWRi Lucas Oil National Midget Series at Jacksonville (Ill.) Speedway late in the 2011 season and drove in his fourth early in 2012. He failed to advance to the feature in both events.

Sixteen events later, the 17-year-old from Kansas, Ill., returned to Jacksonville late last season and finished third. It was substantive evidence of his rapid improvement and the promise of his talent.

Cottle will build on the 24 POWRi National Midget events he's run in the season-opening events at Jacksonville (Ill.) Speedway on Friday (April 26) and Macon ((lll.) Speedway on Saturday (April 27).

"Jacksonville is one of my favorite tracks," Cottle said. "I like to run on top and gas it up. That first race I ran there was my first in a Midget and it was a big difference from where we used to go racing in mini-sprints. It's a big jump in horsepower and lot different driving. It was a whole new ball game that I had to learn how to do.

"I think having a lot more experience helped me (finish third) at Jacksonville. It helped we had a pretty good heat race and started up front in the feature. We learned a lot through the year, running the top and doing the slide jobs and all that."

Cottle made his first feature at Macon late in 2011 and finished 12th. He raced at the one-fifth mile track four times last season and made the feature in all four with best finishes of 11th and 12th.

"Macon has not really been one of our strongest tracks, but I enjoy it," Cottle said. "It's a lot of close racing. You've got to be on your game. There's a lot of good drivers in POWRi and it takes a lot of experience to run up front."

Cottle is a second-generation driver. Father Rick, his current crew chief, drove Modifieds. Uncle Shane Cottle of Kokomo, Ind., has had an outstanding career in Midgets and Sprints. He was the USAC Indiana Midget Week champion in 2005 and 2006 and won the prestigious Little 500 Sprint Car race at Anderson (Ind.) Speedway in 2008.

"Uncle Shane goes to the (POWRi) races when he's not running and helps me quite a bit driving wise," Cottle said. "He helps me understand what I'm doing wrong and how to correct it. My dad does all the setups on the car (Spike-Esslinger) and he's a big help, too."

Cottle was the mini-sprint champion at one-eighth mile Coles County Speedway in Mattoon, Ill., in 2009 and continued to race there through the 2011 season.

Cottle finished second in the feature at Lincoln (Ill.) Speedway, like Jacksonville a quarter-mile, in his 10th POWRi Midget event last season and 13th overall. He finished 14th in the national championship and had two top-fives and six top-10s in 21 events. Cottle made the feature 18 times including in 17 of the last 18 events.

"I was pretty happy with it (season)," Cottle said. "It was our first year, just getting started. It was a pretty good year for us."

Cottle finished fourth and fifth in features against strong Midget fields at Montpieler (Ind.) Motor Speedway on April 5-6.

"I started ninth and ended up fourth the first night and started 14th and ended up fifth on the second," Cottle said. "It was a good start to the year.

"I'm hoping to do decent in POWRi again this season. We need to have a little bit of luck and have things go our way. POWRi is tough."

The POWRi Speedway Motors 600cc Outlaw Micro Series also begins its season at Jacksonville and Macon.

Notes: NASCAR drivers Justin Allgaier and Ken Schrader will be competing at Macon. Allgaier of Riverton, Ill., will be in POWRi Midgets and Ken Schrader will be in the Billingsley Towing UMP Modified event. Allgaier of Riverton, Ill., is fourth in the Nationwide Series this season. He has two POWRi Midget victories, at Macon and Du Quoin, Ill., in 2008. Schrader has driven in Sprint Cup, Nationwide and Camping World Trucks in a 30-year NASCAR career. He's also a co-owner of Macon

-end-
Jake Blackhurst begins POWRi Midget championship pursuit at season-opening Kokomo Grand Prix

KOKOMO, Ind. (April 9, 2013)—Jake Blackhurst embarks what he believes can be a championship campaign in the POWRi Lucas Oil National Midget Series with the season-opening Kokomo Grand Prix on Friday (April 12) and Saturday (April 13), two events with full programs co-sanctioned by the USAC Mopar National Dirt Midget Series.

It will be Blackhurst's third season in POWRi Midgets and he's achieved notably in his initial two. The 17-year-old from Mapleton, Ill., was POWRi's Rookie of the Year in 2011 and finished fourth in the championship in 2012, a season that included his breakthrough victory at Lucas Oil Speedway in Wheatland, Mo.

"Our No. 1 goal is going for the championship this season," Blackhurst said. "We've got two cars and my dad (crew chief Paul Blackhurst) has been working his butt off getting them perfect. We're taking both of them to the track."

Both cars are Esslinger-powered Spikes, but the engines are slightly different and will give the Blackhurst team the ability to adjust for track sizes. The standard Esslinger will continue to be used on the larger tracks like Kokomo, but a version with a new electronic engine management system will provide an option for shorter tracks like one-fifth Macon (Ill.) Speedway and Belle-Clair Speedway in Belleville, Ill. And having two cars ready to race will eliminate the problem of engine failures sending the Blackhurst team home early.

Blackhurst also has had success at Kokomo Speedway. He finished fourth at the three-eighths mile track last October in the Kokomo Klash behind veterans Tracy Hines, Shane Hollingsworth and Bobby East. He was sixth in the Klash in his first event at Kokomo in 2010 and was running well when a mechanical failure took him out in 2011.

"I love Kokomo," Blackhurst said. "It is probably my favorite track. It is so racy. It's not real banked, but it's wide and they prepare the track so well. You're on the gas hard, kind of wide open."

Blackhurst had five top-10s in 14 features and was 11th in the points in 2011. He drove in 24 features and had five top-fives and 11 top-10s in 2012.

"Overall, it was a great year," Blackhurst said. "I didn't imagine getting fourth in the points with all the motor problems we had. I thought we could have done better."

The Kokomo Grand Prix will also be the season opener for the USAC National Dirt Midgets and with $4,000 to win for the 30-lap feature Friday and $6,000 to win for the 40-lap feature Saturday , it is expected to attract an outstanding field.

The POWRi Speedway Motors 600cc Outlaw Micro Series also opens its season at Kokomo and USAC's Ignite Midgets are also part of the program both nights.

-end-
Justin Peck, 14, to make debut in POWRi Midgets at Kokomo Grand Prix

KOKOMO, Ind. (April 2, 2013)—At the age of 14, Justin Peck of Monrovia, Ind., will make a full-time move into the POWRi Lucas Oil National Midget Series this season, which begins at Kokomo Speedway on April 12-13 in a co-sanctioned event with the USAC Mopar Midget National Championship.

Peck's resume supports the decision. He became the youngest feature winner at 13 in the history of the POWRi Speedway Motors 600cc Outlaw Micro Series last June at Lincoln, Ill., and backed it up with a second victory at the 66 Mike Phillips Memorial at Marion, Ill., in July, an event that had 106 entries from across the United States.

The decisive event in the decision to move into Midgets was the annual Rumble in Fort Wayne in December, run indoors on concrete. Driving for car owner Steve Clay of Michigan, Peck finished second on the opening night to Billy Wease and third on the second night to Derek Bischuk and Bobby East. He'd never driven a Midget prior to the event, which was full of veterans including Tony Stewart.

"I think it was Fort Wayne that made us decided to run the full season in the Midget," Peck said. "To do that well, it says something that I'm ready to run in POWRi. I'm a little nervous taking that big jump in horsepower (about 380 for Midgets, 140 for Micros), but I think I've got the dirt experience and capability."

Peck's family-owned-and-run team, with father Steve as crew chief, has purchased a Bullet chassis from Keith Kunz and will use Essingler power.

"Our goals are to be Rookie of the Year and to make 38 main events," Peck said.

The POWRi Midgets have 38 events scheduled.

"That's a lot of races," Peck said. "It will be pretty crazy.'

Peck will make his debut on dirt in a Midget at Montpelier (Ind.) Motor Speedway on Friday (April 5) and Saturday (April 6). It's a quarter-mile track, the same as Kokomo.

"It will be good to get some laps before Kokomo," Peck said.

Peck has raced twice at Kokomo in a 600cc Outlaw Micro, winning the feature last October in the Kokomo Klash.

"It's pretty wicked fast," Peck said. "It's all about knowing what the track will do."

The Kokomo Grand Prix will also be the season opener for the USAC National Midgets on dirt and with $4,000 to win for the 30-lap feature on April 12 and $6,000 to win for the 40-lap feature on April 13, it is expected to attract an outstanding field.

The POWRi 600cc Outlaw Micros and USAC's Ignite Midgets are also on the program both nights.

-end-
Midget Links