The SRA Presents the 360 Victorian Title at Hamilton this Weekend
By Ian Vale

The Sprintcar Racing Association of Victoria heads to Western Speedway Hamilton to conduct the Parr Motorsports Victorian 360 Sprintcar Title this Saturday night the 10th of December with a strong list of entries that includes three past Victorian 360 Sprintcar Champions plus the defending State Champion Michael Tancredi.

Western Speedway Hamilton has conducted the SRA 360 Title in the past but the venue also hold the annual SRA 360 Sprintcar Gold Cup each season and this event will double up this season as the Victoria 360 Sprintcar Title / Gold Cup.

Some of the best 360 Sprintcar races seen in Victoria have been witnessed at the Hamilton venue, last season the 360 Gold Cup was a dead heat finish with Jake Tranter and Dion Bellman sharing the Gold on the night.

So looking at the field for the Parr Motorsports 360 Victorian Title you have the past winners of Phil Lock, Chris Solomon, Domain Ramsay and the current Champion Michael Tancredi then add in Brenten Farrer who was the runner up last season in the Title Chase at Avalon Raceway. Brenten Also claimed his first Sprintcar feature win at Western Speedway when he took out 2014 360 Gold Cup.

Only one driver has taken the Victorian 360 Sprintcar Title with back to back wins, Tony Moule did just that winning the Title in 2007 and then 2008, so the question is can the defending champion Michael Tancredi do that this weekend ? It will be a big ask! Or will Domain Ramsay, Phil Lock or Chris Solomon take the win to make it two Titles in their resume?

A few of the regular 360 Sprintcar drivers entered such as Paul Solomon, Anthony Foster or Brenten Farrer could spoil a few of the past champions ambitions, these drivers are more than capable of standing on the podium at the completion of the Title race.

Daniel Evans is no stranger to the Western Speedway venue, Daniel was looking good for a feature race win here a couple of seasons back when he was taken out of the race lead thru no fault of his own. Keep on eye on this young charger.

Speaking of young charges two of the Eureka Garages & Sheds Sprintcar Series drivers, Jordyn Charge and Brayden Parr are nominated for this event with 360 power plants instead of the open engines. Both of these drivers are sitting in the top thirteen of the Eureka Series standing, a top three placing is possible for them.

Jessica Moulden has returned to the Sprintcar ranks after a brief stint a few years back, Jessica has had great success in recent years in the F500 class and has been holding her own in the Victorian Speedcar scene as well.

Hamilton will be represented by local racer Jason Gibbins, Jason's Racing over the years has been on a limited program but this season he has already contested a few 360 Sprintcar event.

Other drivers entered for the Parr Motorsport 360 Victorian Title / Gold Cup are regular Open Sprintcar drivers that have slot their 360 engines in when time allows, Eddie Lumbar will represent New South Wales while Chris Campbell, David Aldersley and Micheal Cunningham will be out to put their best foot forward looking for the Gold.

Two rookie drivers Daniel Ellis and James Wren will be pleased to gain more experience in their rookie season against some of the more established sprintcar drivers from around Victoria.

The drivers will contest four heat races and a top six shootout before lining up for the 2016/2017 Parr Motorsports 360 Victorian Title / Gold Cup A Main event.

On Track Action will commence at 5.30pm at Western Speedway Hamilton located at North Boundary Road Hamilton.

-end-

HUGE SPRINTCAR AND SPEEDCAR FIELDS FITTING HONOUR FOR GEORGE TATNELL'S MEMORY...

Official release: Valvoline Raceway

December 6, 2016

A huge field of USC Sprintcars and the third round of the Speedcar Super Series will be the best possible tribute to George Tatnell's memory this Saturday night at Valvoline Raceway.

With a collective car count that may reach 100 in the pits the spirit of competition will be alive and well as men and women race off for the second annual "GT Challenge" night.

American lady Sprintcar racer Harli White wins the 'geographical prize' for the most miles traveled to race coming in out of the cold wet Oklahoma weather as he joins up with her Australian team the Stirton Family for a month-long commitment at VR and sister USC venues.

White, who makes her Australian debut this weekend, has won thousands of fans worldwide with her story of courage and determination to overcome an horrific start to her racing career as a then 12 year old.

Now 21 the pint sized rocket racer is an inspiration to racers and fans alike and will relish the chance to compete against Australia's best.

It's Brooke Tatnell however who enters the event as the sentimental favourite as he seeks to win the event that honours his late father's historic racing career and legacy.

George Tatnell was a multiple Australian Speedcar and Sprintcar Champion and an ambassador the sport on so many levels.

He was a larger than life, flamboyant, shoot-from-the-hip driver, car owner and administrator before succumbing to cancer at 68 years of age.

One of the sport's true champions and characters he left an indelible and irreplaceable mark and the legacy of his son's successful international Sprintcar career.

This Saturday night Brooke Tatnell will climb into both his Krikke Motorsport Sprintcar and his borrowed Scott and Jade Wilson owned #42 BOSS Stanton Speedcar to race in both classes.

Like his father would have loved.

Tatnell will compete in a hectic third round of the Speedcar Super Series that will celebrate some 65 events under the helm of passionate Speedcar and former racer Ken Jenkins.

A crack field of 33 drivers has entered thanks to Diamond Air-conditioning racing for prize money and three unique trophies that feature scale models of Tatnell's most iconic racecars.

"They're fantastic," grins Brooke, "I've never seen anything like them before. Anyone that wins one will have something to keep forever. I wish I could win all three."

In a field brimming with talent including multiple SSS champion Nathan Smee, multiple Australian champion Adam Clarke, Queenslanders Victorian Travis Mills and Queenslanders Anthony Chaffey, Chris Singleton and Cal Whatmore and a who's who of NSW talent including the in-form Matt Jackson and last week's winner Darren Jenkins it will be a tall order for Brooke Tatnell to score a win.

"Brooke has the talent," says SSS promoter Ken Jenkins, "he did a great job in the Speedcar last year, I think he has as much chance as anyone."

TFH (Temporary Fencing Hire) Principal Brett Thomas put Tatnell in his Speedcar last year and will do the same again but this time with a freshened Esslinger motor from the KRE powerhouse in Brisbane that is owned by Lee Redmond in WA.

Sydney standout Nathan Smee was originally wheeling that car but will now instead drive the Scott and Jade Wilson owned BOSS Mopar #Q42 that American Andrew Felker drove last summer in the Australian title.

"It's a great piece," says Thomas, "Brooke will have all he needs to get it done with his car and now Nathan is in that Wilson Boss that's a ferocious combination too."

Drivers will also be competing for a bonus P1 Australia Sportsman $100 voucher for the driver voted to have best exhibited George Tatnell like attributes including sportsmanship, flamboyance, presentation and the like on the night.

"They don't have to win the race," says P1 Australia's Glen Revell, "it's about spirit of competition and having a positive influence on the show."

Entries for the SSS include:
1 N 3 Darren Jenkins
2 N 4 Paul Murphy
3 Q 4 Anthony Chaffey
4 N 5 Andy Hassan
5 N 6 Michael Jordan
6 V 10 Travis Mills
7 N 11 Adam Wallis
8 N 21 Robert Mackay
9 N 24 Robert Taylor
10 N 26 Jamie Hall
11 Q 26 Chris Singleton
12 Q 29 Adam Clarke
13 Q 36 Cal Whatmore
14 N 40 Gary Rooke
15 N 41 Jordan Mackay
16 N 42 Jamie McKinlay
17 Q 42 Brooke Tatnell
18 N 51 Michael Stewart
19 N 54 Alan Day
20 N 58 Jeremy Evans
21 N 62 Dan Biner
22 N 63 Tony Abson*
23 N 65 Don Mackay
24 Q 69 Nathan Smee
25 N 70 Matt Hunter
26 N 71 Reagan Angel
27 N 76 Bob Jackson
28 Q 76 Reid Mackay
29 N 78 Troy Jenkins
30 N 87 Aidan Corish
31 N 97 Matt Jackson
32 V 97 Kaidon Brown
33 N 98 Jay Hall

A huge field of USC Sprintcars with numbers expected to exceed 60 will also line-up for the seventh round of USC NSW.

Gates open at the Valvoline Raceway – located at 21 Wentworth Street in Clyde – at 2pm with hot laps (practice) commencing at 5.15pm and main racing starting from 6.30pm.

-end-
DARREN JENKINS RETURNS AS A WINNER AT VALVOLINE RACEWAY
Official release: Speedcar Association of NSW
December 4, 2016

Darren Jenkins took an emphatic win in the main event at Valvoline Raceway on Saturday night. DJ, having his first meeting back this season, started from the third row and made his way to the front within the first five laps. From that point he led every lap to record his first win in a number of seasons.

The race began with the usual frenetic pace with all eyes towards the back with the likes of Matt Jackson, Michael Stewart and Troy Jenkins slicing their way through the traffic.

The race was stopped on lap twelve after Jack Black took a wild ride in turn three. Although originally needing ambulance attention, he emerged gingerly from the car. It was a shame for Black who was battling hard for a good finish.

The ensuing laps were frantic as Matt Jackson gained two more positions by virtue of passing Troy Jenkins and Michael Stewart and worked his way up to second spot. This enabled Jackson to place plenty of pressure on the Darren Jenkins.

Unfortunately on lap twenty-one, whilst running second and third, Michael Stewart and Troy Jenkins made contact in turn two and brought on the yellows. Sadly they had to go to the rear for the restart. The yellow was out just one lap later when Jordan Mackay and Gary Rooke collided in turn four.

At the restart, with just three laps remaining, it was Darren Jenkins, Matt Jackson and Kaidon Brown in the top three, however Bob Jackson was heaping the pressure on Brown. Also, Troy Jenkins and Michael Stewart were battling their way back. It was a scintillating three laps to round out the main event, indicative of the style of racing this season to date.

At the chequers it was Darren Jenkins followed by Matt Jackson and Kaidon Brown.

It was Kaidon's fourth ever race meeting and second only at Valvoline Raceway.

Following the top three home was Bob Jackson, Troy Jenkins, Michael Stewart, Reagan Angel, Michael Jordan, Jordan Mackay and Andy Hassan was the final classified finisher.

Non finishers were Gary Rooke, Jack Black, Jaimie McKinlay, Jeremy Evans, Dan Biner and Jamie Hall. Don Mackay was a non-starter in the event.

Earlier in the night, heat race wins went to Jeremy Evans, Kaidon Brown, Darren Jenkins and Troy Jenkins.

The next event on the Speedcar Association of NSW calendar will be this Saturday night, December 10 for the Speedcar Super Series at Valvoline Raceway. A big field is expected for the event that encompasses the George Tatnell Double Duty Night.

-end-
WORLD SERIES ROBBED OF A RESULT AT TOOWOOMBA

Toowoomba's Hi-Tec Oils Speedway has endured "one of those nights" after a myriad of challenges eventually overcame the running of the fourth round of World Series Sprintcars.

Intense heat, followed by an unforeseen downpour of rain forced organisers to quickly revise the schedule, allowing the majority of heats to be run as well as the World Series Shootout, which promoted David Murcott from seventh on the A Main grid to pole position claiming the IBRP.com.au/Revolution Racegear Pole Sitter award.

However the World Series Sprintcars B-Main was where the night ended, after Capalaba's Kevin Titman attempted to make an outside pass on Toowoomba's Dave Whell only to make contact and catapult Titman into the catch fence.

Thankfully he emerged unscathed from his crumpled JTR #Q59 race despite it still hanging from the fence, forcing organisers to abandon the race meeting in the interest of spectator and driver safety.

Speedway Events Manager, Ben Bishop had mixed feelings about the decision, clearly relieved at Titman's wellbeing, but disappointed that the event had to be abandoned.

"We were plagued tonight with every possible challenge, and our team worked tirelessly to try and get the show in, but it just wasn't to be. The racetrack was really coming in and was ripe for producing some excellent feature races for both World Series and the support divisions. We were anticipating a cracker main for the Sprintcars with Murcott, Farr, Veal, Tatnell and McFadden in the top five on the grid, but now I guess we'll never know."

The Super Sedan Summer Slam headlines the next event at Toowoomba on New Years Eve alongside Freestyle Motocross, a Demolition Derby and Fireworks as well as Speedcars, Formula 500's and Legend Cars.

-end-

Jenkins Blyton Anderson and Eyeington big winners at VR

Darren Jenkins, Mark Blyton, Shane Anderson and Rob Eyeington were the main event victors in their respective Speedcar, Wingless Sprint, AMCA National and Compact Speedcars tonight at Valvoline Raceway.

It was a night for the more seasoned racers to hold sway against the rising tide of young chargers that have claimed so much of the winning and the spotlight so far this season.

Darren Jenkins only races on selected occasions in his Mopar #3 but tonight he showed 'the kids' how to get around the highline like a boss even though the in-form Matt Jackson nearly pulled off a late race pass to snare the victory.

"When you're leading you don't really know where the fast line is or how the guys behind you are doing, so you just really go with what you think feels right. I knew that Matty and the boys would be right behind me but all I could do was stick to my guns," grinned the happy main event winner.

Jackson took over the lead position with two laps to go but only for a corner when he slid Jenkins in turns three and four – Jenkins ducked back underneath when Jackson pushed high on the exit.

16-year-old Kaidon Brown continued his impressive rookie season so far with a heat race win and a third place finish behind his two vastly more experienced rivals ahead of him.

Troy Jenkins and Michael Stewart were putting on a huge battle between them for the third position before Stewart pushed high from the kerb line coming out of turn two and the two made contact and spun identically bringing on the cautions.

Both cars rejoined from the rear at the restart with Jenkins managing to reach fifth and Stewart sixth by the chequers.

Bob Jackson was fourth behind Kaidon Brown over Jenkins, Stewart, Reagan Angel in seventh, Michael Jordan eighth, Jordan Mackay ninth and Andy Hassan tenth.

DNF's were Gary Rooke (mechanical) Jack Black (crash) Jaimie McKinlay, Jeremy Evans, Dan Biner, Jamie Hall and Don Mackay.

Jack Black's crash was particularly spectacular with a snap roll when he tagged a lapped car whilst battling for a podium finish in the once-pristine SeaDoo #99.

The talented teenager climbed from the wreck with sore knees but otherwise seemed to be OK at the scene.

Heat winners were Kaidon Brown, Troy Jenkins, Darren Jenkins and Jeremy Evans.

Wingless Sprint racing was typically ultra-competitive and saw some bruising race incidents.

Heat Three in particular was savage with a wreck involving birthday boy Jeff Thomas when he flipped spectacularly on the main straight after contact with Graham Flood.

Thomas' Flair Dancewear entry was badly damaged and the 35-year old would later be taken to Westmead Hospital with a broken collarbone.

Despite the brutal battles Dubbo veteran Mark Blyton managed to pry the race lead loose from Harley Smee's hands in the 20-lap A-Main to score the win.

Smee was clearly devastated to lead so much of the feature race in in the Chief Fluid Systems #57 before the wily veteran Blyton snuck through and slipped away.

NSW champion Jason Bates was solid yet again with his third place whilst the always-rapid Dean Thomas looked to have a podium spot booked on several occasions before eventually having to settle for fourth.

Sean Mayo was impressive for fifth ahead of Daniel Flood in sixth, Stephen Allen was seventh and very fortunate that the race was declared with two laps remaining as he blew the motor in the #8 at about that exact moment.

Chris McInerney finished ninth, Luke Sayre tenth, Nikki Briton eleventh. John McRae twelfth, Nick Tatnell thirteenth, Leighton O'Brien fourteenth and Jeff Neve rounded out the fifteen.

Newcastle's Shane Anderson was a jubilant winner of the AMCA National main event to lead home fellow Novocastrian Daniel Cassidy in second place and Terry Pankhurst third.

Anderson was too smooth and too fast to be caught in the #28 but teenage rager Cassidy was lucky to even finish with a badly damaged right rear rim that almost popped the tube in the tyre after contact with a lapped car.

Pankhurst held on to third despite the attempts of Trent Keeler in fourth over Peter Markulin fifth, Spano Gutierrez sixth, James Deahm seventh, Scott Brydie eighth, Justin Hackett ninth and Brandon George rounding out the top ten.

The Compact Speedcars made their 2016/2017 VR debut and put on an entertaining show with a field that was primarily NSW based but also had smatterings of QLD influence in the nominations.

Sydney veteran Rob Eyeington had more reasons than most to win the main event with a car that tributed his late stepson who passed away in June of this year.

Eyeington had the car in a bright orange and white livery with "303" (Shane's dirt bike number) emblazoned down the side.

"This one's for Shane," he admitted, "it's been a really emotional few months and it's fantastic to get this win we can dedicate to his memory."

Eyeington held off the advances of former Legend Car racer Mark Heaton in second place and rapid lady racer Emma Harris finishing off the podium.

Queenslander David Collins narrowly missed the top three in fourth over Craig Hickey fifth, Gaby Yammouni sixth and Alan Day being registered as the last recorded finisher.

DNF's were Nathan Mathers, Jason Essai, Dan Biner, Steven Hawksworth and Rod Saville.

Unfortunately Saville was later treated in the pits and then taken to hospital for repercussions from his race accident in the A-Main.

The next event for Valvoline Raceway is next Saturday, December 10 with the George Tatnell Challenge for the Speedcar Super Series and the Ultimate Sprintcar Championship Round Seven featuring Brooke Tatnell doing double duty and the debut of American lady USC racer Harli White.

-end-
FORMER AUSSIE CHAMP MAKES QUEENSLAND SEASON DEBUT AT TOOWOOMBA

Two-time Australian Sprintcar Champion, Dave Murcott is a surprise entry to this weekend's World Series Sprintcars round at Toowoomba's Hi-Tec Oils Speedway.

The Tasmanian raised, Melbourne based racer will suit up with Horrell Motorsport for the first time this season in the familiar Q83 Mainline Dynalog Dynamometers entry with the same crew that have partnered with him in his two Australian titles.

Murcott's results at the Charlton venue were at extremes last season, winning the March 25 event in fine fashion to then return just over a week later to start on the front row and crash out on the first lap after an altercation with James McFadden.

He finished last season with a win at Archerfield in late May and then begin the 2016-17 season with a victory at Moama before making the podium on two other occasions, cementing his place as a legitimate threat to the travelling World Series Sprintcars entrants this weekend.

-end-

Midget and Modified Double Bill This Saturday

Archerfield Speedway Media Release

A stout field of 22 competitors from Queensland, interstate and overseas will take to the track this Saturday night (December 3) at Ausdeck Patios Archerfield Speedway to contest round three of the Polar Ice Midget Track Championship. Also featuring on another huge double-bill will be Dirt Modifieds who, with their Queensland Championship event washed out last weekend, are obviously keen to get back on track with a field of 20 drivers nominated for the night.

Fresh from his victory here in the Midget Super Series last month, Newcastle's Adam Clarke will be hoping to replicate his race-winning form again this weekend when he faces off against arch rival Nathan Smee and New Zealand ace Chris Gwilliam, who won the Super Series round in Lismore and the previous Polar Ice round. Clarke and Smee have been Australia's best Midget pilots for several years, their battles on the track are always intense and they present a considerable hurdle for Gwilliam in his bid to collect a third feature race win for the season.

The field also includes the very best of Queensland's Midget brigade, including two state championship winners in Mark George and Rusty Whittaker, and regular Polar Ice front runners such as Darren Vine, Troy Ware, Brendan Palmer, Brock Dean and Anthony Chaffey. The 2016/2017 Polar Ice Track Championship has thus far produced some outstanding competition and, with the Australian Championship and World Championship events scheduled for Archerfield for later this season, there seems no reason to think there will be any lessening in intensity this weekend.

Australian Dirt Modified champion Kevin Britten will make his first Brisbane appearance for the season and his first outing since his narrow runner-up finish to Tim Morse at the New South Wales title in Lismore. Until his Lismore loss, Britten held every state title in addition to his national crown and he will be out to reassert his authority over his rivals come Saturday night.

The posse of pursuers trying to hunt down Britten includes two national championship winners Andrew Pezzutti and David Clarke, a couple experienced racers and a bunch of rising stars desperate to make their mark. Scott Conlin and Gary Wathen have enjoyed long associations with the Dirt Modified category and are proven winners, while the likes of Chris Corbett, Mitchell Randall, Nick Knott and Trent Schofield are amongst the rising stars who are taking the challenge to the old guard every time they hit the track.

With adult tickets at just $25 and a full support program comprising Modlites, Formula 500 Juniors, Open Sedans and Ford v Holden v Sigma sedans, the scene is set for another huge night of variety, value and action at Queensland's premier speedway venue.

Polar Ice Midget Track Championship round three nominations: Adam Clarke, Adam Wallis, Nathan Smee, Darren Vine, Brendan Palmer, Dallas Sharp, Chris Gwilliam, Rusty Whittaker, Troy Ware, Brock Dean, Anthony Chaffey, Brad Young, Cal Whatmore, Charlie Brown, Chris Singleton, Corey Stothard, Mark George, Mitch Haynes, Reid Mackay, Gavin McDowell, Jason McDowell, Shane McDowell

Dirt Modified nominations: Kevin Britten, Andrew Pezzutti, Scott Conlin, David Clarke, Andrew Firth, Chris Corbett, Chris Holdt, Dallas Czwerwinski, Mitchell Randall, Nick Knott, Geoff Rose, David Ohl, Garry Wathen, Graeme Holland, Joshua Rose, Sam Brown, Sam Bruggy, Simon Blandford, Trent Scofield, Trevor Wiley

Gates open at 4.00pm, early racing kicks off at 4.45pm and the main program featuring Dirt Modifieds and round three of the Polar Ice Midget Track Championship gets underway from 6.00pm. For more information, head to the track website at www.brisbanespeedway.com.au or follow Archerfield Speedway on Facebook

-end-
Parr Motorsports USC Victoria Track Premiership Points Are Tight!

After the opeing two nights of Sprintcar action at Sungold Stadium, Premier Speedway, Warrnambool the points battle in the 2016-17 Parr Motorsports USC Victoria Track Premiership is a hotly contested affair with three drivers currently sharing top spot.

Following 20 year-old South Australian Aidan Hall's stunning Victorian Title winning performance on Saturday night, that saw him earn maximum points (154), a modest 30 points is all that separates the top ten, with Hall currently in 16th, having not been a part of the opening nights racing back on November 5.

Steven Lines, who captured the feature race win back on November 5, joins Corey McCullagh and Darren Mollenoyux as the joint leaders, with all three drivers having secured 268 points.

Sitting fourth is Mount Gambier's Glen Sutherland whose fifth-place finish in Saturday's Victorian Title garnished a very handy 140 point haul, to take his seasons tally to 256, just 12 points behind the trio of leaders.

Currently sitting in a tie for fifth place in the prestigious $10,000 to Win Parr Motorsports Track Premiership are Allansford's Jake Smith and Two-Time Aussie Champ David Murcott. Both drivers have accrued 252 points from their two starts this season.

Jye O'Keeffe, Saturday night's runner up, finds himself in seventh place in the points standings with 250 points, just ahead of the evergreen John Vogels (248 points) who continues to produce strong results night in night out.

The top ten is completed by Brett Milburn (240) and Tim Van Ginneken (238) with both drivers still well and truly in contention ahead of the Max's Race on December 17, which should once again see an influx of drivers all keen for success.

From the opening two nights of competition, six drivers have now qualified for the USC Chase later in the season with Opening Night winner Steven Lines, now joined by Aidan Hall as well as Jamie Veal, Grant Anderson, Jye O'Keeffe and David Murcott all courtesy of their podium finishes.

With some big names set to again appear on December 17 and then again for World Series Sprintcars and The Classic in January, the points battle is sure to intensify as the season rolls on.

Parr Motorsports USC Victoria Track Premiership Points:
1. Steven Lines 268
1. Corey McCullagh 268
1. Darren Mollenoyux 268
4. Glen Sutherland 256
5. Jake Smith 252
5. David Murcott 252
7. Jye O'Keeffe 250
8. John Vogels 248
9. Brett Milburn 240
10. Tim Van Ginneken 238
11. Dion Bellman 220
12. Adam King 210
13. Dennis Jones 206
14. James Gardiner 198
15. Peter Doukas 190
16. Aidan Hall 154
17. Jamie Veal 146
17. James McFadden 146
19. Grant Anderson 142
20. Brooke Tatnell 140

-end-
Knoxville Nationals Champion to Contest Grand Annual Sprintcar Classic

The 2016 Knoxville Nationals Champion Jason Johnson will return to the Grand Annual Sprintcar Classic when the famed event celebrates its 45th running with thanks to Lucas Oil this coming January.

The native of Eunice, Louisiana who now resides in Rocky Mount, Missouri claimed a famous victory in August at the Knoxville Nationals when he dethroned defending champion and nine-time winner Donny Schatz after an epic 50 lap battle.

The return of Johnson to Australia and most notably the Grand Annual Sprintcar Classic is due in no small part to Western Australia's Stephen Stathy and the Diamond Bay Motorsports team who will provide the 'Ragin Cajun' with all the equipment he needs aboard the competitive W26 entry.

Many Australian Speedway followers will recall Johnson being a stand-out competitor for car owners of the ilk of Darren Disbury and Alan Haynes.

During those visits to our shores, Johnson was very impressive, becoming a three time World Series Sprintcars Speedweek Champion, tasting victory in the summers of 2006-07, 2009-10 and 2010-11, showing just how accomplished he was behind the wheel.

These WSS Speedweek Triumphs came as a part of 24 career World Series Sprintcars A-Main victories, which amazingly is third in the all-time standings behind only Brooke Tatnell and Max Dumesny.

With regards to his record at the Grand Annual Sprintcar Classic, Johnson has an impressive resume despite having never stood atop the podium on the final night of competition.

In 2008 he finished second behind Kerry Madsen, while in 2011 he was again on the podium, this time in third place behind Steven Lines and Brooke Tatnell.

Amazingly, since his last visit to Australia, Johnson has made some major changes to his American Racing program.

Having compiled an impressive 247 career wins in Stock Cars, Mini-Sprints, Outlaw Winged Modifieds, 360 Sprintcars and more recently 410 Sprintcars, Johnson was regular with the ASCS 360 Sprintcar National Tour, competing in only selected 410 Sprintcar events during his previous visits to Australia.

His time spent in the ASCS competition was very successful with Johnson claiming five ASCS National Tour Drivers Championships as well as claiming a further four titles in the ASCS Owners Championship!

At the beginning of the 2015 American Sprintcar Season, Johnson his wife Bobbi and their long-time Sponsorship Partners decided to make the quantum leap into the ultra-competitive World of Outlaws 410 Sprintcar Series.

As the season kicked of the team quickly went about becoming competitive, only for a race Accident at California's Placerville Speedway resulting in a serious injury to Jason, thus meaning he would revert to car-owner duties while the likes of two-time World of Outlaws Champion Jason Meyers, Australia's own Jamie Veal and Sammy Swindell acted as substitute drivers for the number 41 entry.

Following a period of recuperation, Johnson was soon back behind the wheel and did enough to ensure that he would be acknowledged as the Kevin Gobrecht Rookie of the Year for 2015.

As for 2016, Johnson highlighted it with his emotional Nationals Victory at Knoxville in August, but he was also able to bury some demons by extracting revenge on Placerville Speedway when he claimed the win there en-route to four World of Outlaw A-Main wins on the season.

In total for 2016, Jason Johnson contested 92 races, for four victories and 24 top five's to finish 7th in the overall Driver Point Standings for the World of Outlaws.

For Johnson there would be no better way to launch his 2017 season than with a successful run at the 45th Lucas Oil Grand Annual Sprintcar Classic, and with the support of Diamond Bay Enterprises, Bunbury Auto Group, Jeep, Autostyle Spray Painters and Mobili, there is no reason why he won't be in contention to finally stand on the top step of the podium.

Joining Jason Johnson in the field at the Classic will be the up and coming Queenslander Mitchell Gee who impressed many with his final night effort at the 2016 Lucas Oil Grand Annual Sprintcar Classic.

On that occasion, Gee progressed from C-Main 2, through to an eventual 10th place finish in B-Main two aboard the Consol Racing Q41 machine.
For his tilt at the 45th Anniversary Lucas Oil Grand Annual Sprintcar Classic, Gee has secured the ride in the popular Q36 Titan Racing entry for Reeve Kruck.

With some positive early season performances, Gee will be keen to again improve on his 2016 performance to provide maximum exposure for the teams sponsors that include Titan Garages and Sheds, Stickit Signs, Oven U, Bissells Paint and Panel, ARD Doors, Torco and XYZ.

The Classic will again act as a qualifying event for the Speed Sport News World Challenge which will be held during the Knoxville Nationals next August.

-end-
Lucky Lock Wins MMS Allstar Main
Official release: Murray Machining & Sheds Speedway
November 26, 2016

Victorian Phil Lock prevailed in what was a drama filled 30 lap finale for Round 4 of Australian 360ci Sprintcar All-stars Series at the Murray Machining and Sheds Speedway. With three laps remaining Lock was running in sixth position but he found himself in the box seat as the top 5 drivers in the main event were all involved in accident that was triggered by contact between race leader Ryan Jones and current Australian Champion Luke Dillon.

Prior to the contact the race for the lead between Jones and Dillon was exceptional with both drivers trading slide jobs for the lead on what was a brilliant racing surface. After winning the pole shuffle Dillon started on the pole position leading a procession of regular 410 racers including Chad Ely, Jones, Chris Soloman and Mark Caruso.

At the drop of the green the battle between the top three was intense as Ely got the jump over Dillon and Jones but it wasn't long before Jones found his way to lead after a couple of monster slide jobs following two early restarts for Brendan Guerin and Cody Atkins.

The caution would also come out on lap 5 as teenager Rusty Hickman slammed the wall hard in turn one resulting in a lengthy caution.

Following the restart Jones held the lead briefly until Dillon reclaimed the top spot with Ely in third but his run would end on lap 20 as he slammed the turn two wall. The final 10 laps proved to be some of the most dramatic laps at the venue for several seasons as shortly after the restart the dramas began as the front wing post broke on the Ryan Jones driven #63 but the damage failed to slow the 4 times Australian Champion as he drove to lead passing Dillon on the bottom of the race track.

With five laps to go the red lights came on for Rory Button, who rolled in turn four, ending what had been a tough night for the Mount Gambier racer who had earlier rolled in the heat 2.

With only five laps remaining the damaged front wing became a real problem for the leader as the wing completely folded back obscuring the vision of the race leader. But the vision issue failed to slow down Jones as he continued to lead using the concrete gutter as a guide to get around the track. With three laps to go Dillon sensed an opportunity to take over the race lead and dove to the inside of Jones in turn one with the two cars making contact. As a result, Dillon spun and in the process collected third placed Mark Caruso, fourth placed Chris Soloman and Tyson Chambers in fifth.

Jones managed to escape the scene of the accident but he was black flagged under the caution sending the race leader to the infield. Therefore Phil Lock, who sat back and saw it all happen in front of him inherited the lead from Brenten Farrer and Trigga Gates and that's how they finished. South Australian Champion Dan Evans, Paul Soloman, Michael Lovegrove, Jarman Dalitz, Kane Newcombe, Jack Gartner and Darwin's Jamie McInnes were the only other finishers.

Earlier the four heat race winners were Ely, who also topped the time sheets during time trials, Dillon, Chambers and McInnes while Dillon won the pole shuffle over Ely and Victorian Kane Newcombe was victorious in the B-Main.

-end-

Stunning Run from Oldfield to Win Archerfield WSS

Archerfield Speedway Media Release

In a masterful performance at Ausdeck Patios Archerfield Speedway on Saturday night (November 26), Luke Oldfield blitzed round three of the 2016/2017 World Series Sprintcar Championship presented by Performance Wholesale. Taking on the WSS contracted competitors and another 20 drivers from Queensland and interstate, Oldfield dominated from the outset and scorched through the 30-lap feature race to score a resounding win over James McFadden and Daniel Harding to become only the fourth Queensland driver to win a round of the WSS championship.

In a typically torrid Archerfield feature race, Andrew Scheuerle surged late to finish fourth ahead of series leader and defending champion Jamie Veal. Mitchell Gee was very solid in sixth, with Kevin Titman, Darren Jensen, Jake Tranter and Peter Lack rounding out the top ten in a highly entertaining race in which the only major incident saw Brooke Tatnell crash out whilst running in second spot.

Oldfield signalled his intentions in qualifying when he stopped the clock at 11.755 seconds to secure Revolution Racegear Fast Time. It was locals who filled the top of the timesheets, with Scheuerle (11.795), Titman (11.800) and Bryan Mann (11.852) and Paul Rooks (11.952) filling five of the top six spots. McFadden's fifth-fastest 11.864 was the best of the contracted drivers and it was Harding, Tatnell, Gee and Andrew Wright who were the only others to clock under 12 seconds.

James Grady jumped away from pole position to win the opening heat from Jason Pryde and Richard Morgan, with Oldfield storming from the back to finish fourth.

South Australia's Jake Tranter took out heat two over Clem Hoffmans and Ben Hilder, before Kristy Bonsey elicited a roar of appreciation from the parochial local crowd when she triumphed in heat three in advance of Simon Jupe and Jayden Peacock, only to find her effort largely in vain due a penalty incurred as a result of her late arrival the pre-race drivers briefing.

Hoffmans also earned a rousing reception when he held on to score a narrow win in heat four over Oldfield, who again surged from the back row of the grid, with Richard Morgan annexing third again.

Jupe downed Callum Walker and Allan Woods in heat five before Tranter doubled up to take the final preliminary ahead of Hilder and McFadden.

In the Pole Shootout, Tatnell advanced from the Bronze Dash to ultimately emerge with pole position for the feature event. After initially downing Gee, Titman and Darren Jensen in the first round, he subsequently disposed of Scheuerle, McFadden, Oldfield and Harding, who would start on the outside front row.

Wright rounded up Allan Woods to win the B Main, while Peacock, Mann (who also incurred a 25-point penalty), Lack and Jason Pryde joined them in advancing into the feature race.

Tatnell won the sprint into turn one to lead Harding through the opening lap but there was always a sense of inevitability about Oldfield's ascension to the front of the field and it was lap 10 that saw him demote Tatnell and take control of the race. Tatnell remained second until he happened upon a stricken Jupe in turn three on lap 19 and made an unceremonious exit. McFadden inherited second spot for the restart but the two-time national champ and WSS titleholder was unable to make much impression as Oldfield rode the cushion to his maiden WSS win. Harding capped a solid night with his third placing ahead of the advancing Scheurele and Veal, with Gee, Titman, Jensen Tranter and Lack next best. Hilder, Peacock, Walker, Morgan, Pryde and Woods completed the finishers, with Wright and Mann joining Tatnell and Jupe on the infield.

Next Saturday night (December 3) at Ausdeck Patios Archerfield Speedway will feature the Polar Ice Midget Track Championship plus Dirt Modifieds, Modlites, Formula 500 Juniors and Open Sedans.

-end
25 ALL STARS HEADED TO BRIDGE THIS SATURDAY!

Official release: Murray Machining & Speedway

November 23, 2016

A solid field of 25 cars has entered for the fourth round of the Mainline DynoLog Dynamometers Sprintcar All stars Series at Murray Machining & Sheds Speedway this Saturday night.

The MMS venue has been the scene of some historic 360ci Sprintcar moments in the past and this weekend's All-star showdown promises more of the same.

The Series has been coming to Murray Bridge since 2009 and this is the ninth trip to MMS for the All Stars.

A tense top ten points battle has erupted coming into Round Four with the Solomon brothers Paul (first place) and Chris (third) separated by second placed Riverland racer Dan Evans and a mere 39 points.

The two brothers are like chalk and cheese, "the Cyclone" Paul being the more extroverted and younger sibling Chris being slightly more reserved – when out of the racecar at least!

Chris celebrated the start of the Murray Machining & Sheds Speedway season opener on October 2 with a great win for iconic South Aussie former driver and now car owner Tony Bartlett.

Paul won the previous All Stars round at Heartland Raceway Moama over the weekend and is the 2008/2009 Series champion.

Currently second in the points is second-generation Renmark racer Dan Evans who proudly won the recent SA 360ci Championship at Bordertown.

Victorian 16 year old Rusty Hickman stunned everyone with a round win at Swan Hill earlier this month after just a handful of races in the car owned and prepared by his Dad Darren.

Hickman sits fifth in the All Stars points coming into Murray Bridge.

Defending All Stars Champion young Victorian livewire Brenten Farrer must certainly rate a chance for victory in one of the most competitive 360ci events held in South Australia outside of an Australian Championship.

In addition to the All Stars Series contenders South Australian former Australian 360ci champion and current USC driver Chad Ely has switched motors to be a part of this weekend and that throws a whole new degree of wild card into the mix.

Ely won the All Stars Series in 2013/2014 and is regarded as one of the most versatile racers to come out of the City of Churches.

2010/2011 All Stars Champion Mark Caruso also joins the entry list taking a break from his USC SA aspirations in the always-potent #33 entry.

The 25-car field features an exciting mix of former Series Champions, current Series young guns and established SA and Victorian heroes at a circuit that many believe is perfectly suited to the 360ci Sprintcars.

This is the 10th season for the Mainline DynoLog Dynamometers All Stars Series.

Saturday night is also the fourth round of the "JSR King of the River" mini-series with a $2000 bounty for the highest points driver over the five total rounds thanks to John Sidney Racing.

Current Series Points:
Paul Solomon VIC 1533
Daniel Evans SA 1495
Chris Solomon VIC 1494
Brenten Farrer VIC 1492
Rusty Hickman VIC 1489
Phil Lock VIC 1473
Tregan Gates SA 1470
Kane Newcombe VIC 1451
Cody Atkins SA 1428
Brayden Cooley VIC 1425

Nominations:
V18 Anthony Foster
V34 Brenten Farrer
S75 Chris Solomon
V24 Daniel Ellis
S96 Darryl Guerin
NT4 Jamie McInnes
V65 Kane Newcombe
S85 Lee Dillon
S9 Michael Burford
V7 Paul Solomon
S57 Rory Button
A38 Shaun Forrell
S26 Tyson Chambers
S76 Brayden Cooley
S22 Chad Ely
S69 Cody Atkins
S44 Dan Evans
S16 Jack Gartner
S56 Jarman Dalitz
S78 Keke Falland
S33 Mark Caruso
S90 Michael Lovegrove
V4 Phil Lock
V40 Rusty Hickman
S5 Trigga Gates

-end-
World Series Showdown This Saturday

Archerfield Speedway Media Release

Sure, Queensland speedway fans are used to seeing some of the best Sprintcar racing throughout each season with the Ausdeck Patios Archerfield Speedway Track Championship, but this Saturday night (November 26) the local stars will be out to defend their territory against the very best drivers from across Australia in round three of the 30th Anniversary World Series Sprintcar Championship presented by Performance Wholesale. Jamie Veal, James McFadden and Brooke Tatnell, who have 12 WSS championship wins between them, lead the interstate invasion and it is defending champion Veal who currently sits atop the championship standings, having won both of the opening rounds in vastly different circumstances.

The opening event at Murray Bridge Speedway was rained out after the completion of all the heat races, leaving Veal as the top pointscorer overall, while round two in Sydney saw Veal drive to a dominant win in the 30-lap feature event. McFadden and Tatnell finished fourth and fifth respectively in Sydney and will be looking for improved results in Brisbane to prevent Veal from further expanding his advantage. However, whilst all three of these drivers have outstanding records of success across the country, winning at Archerfield has always proven a somewhat tougher proposition than at other venues and that certainly doesn't look like changing any time soon. Veal in particular has been unable to produce the brilliant form here that has carried him to so much success elsewhere, but he will need to be at his absolute best if he is going to keep McFadden, Tatnell and more than 20 other drivers at bay to further expand his series lead.

Other interstaters hitting the track on Saturday night include NSW's Andrew Wright, South Australia's Jake Tranter and the Western Australia-based duo of Daniel Harding and Jason Pryde, while current track champion Andrew Scheuerle and Toowoomba's Peter Lack are leading the local challenge. Proven performers at WSS level, Scheuerle and Lack have both won championship rounds, while the likes of Bryan Mann, Luke Oldfield, Brent Kratzmann and Darren Jensen also bring a wealth of big race experience and success into the contest. Oldfield has been in sensational form this season and he should be supremely confident of taking the challenge to the contracted stars.

Young guns Mitchell Gee and Callum Walker took the opportunity to acquire some WSS experience in Sydney last weekend and both will relish the opportunity to tackle the contracted stars on the track that has been the catalyst for their rapid development into genuine contenders, and it will be no surprise to see either of them in the thick of the action at the front of the feature race field. Jayden Peacock is another rising star looking to shine in the WSS spotlight, while Kevin Titman could also be a contender if he can rid himself of the bad luck that has plagued his Archerfield campaign so far this season.

Also looking to make a big impression on Saturday night will be the Super Sedans contesting round five of the Think Money Championship Series. Current points leader Mark Pagel will be looking to continue the remarkable run of success that has seen him feature on the podium at all four rounds, with two feature race wins. However, Pagel will face off against no less than four Australian Championship winners in Darren Kane, Matt Pascoe, Steve Jordan and Michael Nicola, along with Wayne Randall, Ian Brims, defending series champion Sean Black and another dozen drivers looking to make their mark on what is looming as a huge night of action.

Determined not to be overshadowed, the Compact Speedcars look set to produce their biggest field so far this season with 19 drivers slated to compete. National champ Darren Vine is the obvious favourite, but there are plenty of potential challengers in the field, such as Wayne Corbett, Rob Stewart, Mark Maczek, Dave Collins and Steve Swingler.

Only Ausdeck Patios Archerfield Speedway brings you Australia's very best drivers in three divisions on one massive action-packed program. Gates open at 4.00pm (3.30pm for online ticket holders), with early racing from 4.45pm. Round three of the 30th Anniversary World Series Sprintcar Championship presented by Performance Wholesale will get underway with time trials from 5.30pm, with the main racing program kicking off at 6.00pm. Tickets can be purchased online via the track website, with family passes available from just $80.00.

-end-

The Eureka Garages & Sheds Sprintcar Series Round Five Is More Than a Series Round Win This Weekend
By Ian Vale

Round five of the prestigious Eureka Garages and Sheds Sprintcar Series is more than just a Eureka Series round this weekend, the winner of this round will have the honour of being crowned the Graeme McCubbin Victorian Open Sprintcar Champion for 2016-2017.

How good is the Eureka Sprintcar Series so far, after just three rounds completed there are three different winners and a different Eureka Series / KTM point's leader after each round.

Glen Sutherland now stands at the top of the Eureka Series points table after his stunning drive at last weekends round at Mt Gambier taking out the feature win, but to keep that number one status this early in the Eureka Series is going to require another strong performance this weekend.

The level of competition nominated for this round of the Series is second to none,
there are five drivers that have fifteen SRA Series crowns between them and twelve of the Series Titles have been under the Eureka Garages & Sheds Sponsorship banner.

Matthew Reed has six Series Titles, with three of them as the Eureka Series while the following are all Eureka Garages & Sheds Champions. John Vogels has won the Series five times while Darren Mollenoyux, Shaun Dobson and current Eureka Series champion Brett Milburn has one each.

Three of these drivers have also won the Victorian open Sprintcar Title, Matthew Reed and John Vogels who is the defending Victorian Champion has two wins each while Darren Mollenoyux has take out the Title once.

Three other drivers that are in the field that have had taken out the Victoria Open Sprintcar title are David Murcott, Daniel Pestka and Tim Rankin.

In 2015 the Sprintcar Racing Association of Victoria was pleased to be able announce that the Victoria Open Sprintcar Title will be conducting the future Titles in honour Graeme McCubbin. To be known as the Graeme McCubbin Victorian Open Sprintcar Tile to keep his memory around for many years to come.

This cracker field of drivers will race this weekend to the very popular group time trial format where the drivers will only be time trialling against the drivers in their seeded heat races to qualify for the C, B and Eureka Garages & Sheds A Main events.

Will we see yet another new name added to the winners list for round five of the Eureka Garages & Sheds Sprintcar Series at Premier Speedway this Weekend?

There is plenty of the local talent that is more than capable to snare a win at their home track with the likes of Corey McCullagh, Jye Okeeffe, Tim Van Ginneken and round two winner Peter Doukas all nominated.

Once again the Series has attracted a few interstate drivers that are not regulars of the Series, from South Australia Brad Keller, Sam Putland, Ricky Maiolo and Aidan Hall who had a run at last Saturdays Eureka Garages & Sheds round at Mt Gambier.

Queensland driver Lachlan McHugh is calling in for a run on his way home from a race meeting last week in Adelaide. The two young charges in the Series, Jordyn Charge and Brayden Parr have been running with consistent performances and both drivers sit in the top twelve of the points score.

Charles Hunter will be out to redeem himself after a bad night in round three that dropped him down the points table after a promising start to the Series.

With over forty drivers nominated once again the Series continues to be very popular and one of the toughest Sprintcar Series in the country.

Round five of the Eureka Garages & Sheds Sprintcar Series doubles as the Victoria Open Sprintcar Title in memory of Graeme McCubbin, a Victorian and Australian Sprintcar Champion.

-end-

ULTIMATE KIDS NIGHT AT THE SPEEDWAY BRINGS THRILLS FOR ALL AGES!

official release: Valvoline Raceway
November 22, 2016

This Saturday night at Valvoline Raceway it's tailor made for the knee-high variety.

The fact is though "Ultimate Kids Night" appeals to the little kid in all of us.

A Demolition Derby, a Fireworks Display, face painting, carnival rides, giveaways and a triple helping of USC Sprintcars, Late Models and the ever popular Legend Cars – now that's a recipe for fun regardless of your age.

Kids 12 and under get in free - just to make it even more fan friendly.

This Saturday night the emphasis is on the kids and having plenty of fun though the Speedway racing itself will lose none of it's intensity.

Round Six of the Ultimate Sprintcar Championship NSW features an ongoing battle for the honour of "USC NSW Champion" and a $15,000 plus bounty at the end of the season in May.

Five of the top ten drivers in the Championship so far are under 25 years of age, once again demonstrating the bright future for the sport.

"Slightly" outside that Under 25 bracket is 33-year-old Agnes Banks racer Troy Little.

Little has enjoyed one of the most consistent starts to a season in his twenty plus year Speedway career and is currently placed fifth in the Steve Lynch owned Pit Stop Autos #20 Maxim.

He finished sixth in a class World Series Sprintcars field last Saturday night.

"I think finishing sixth in a field like that is a measuring stick for our Australian title ambitions in January. I'm happy with where we are," Little concedes.

The beauty of a championship as long as the USC NSW at Valvoline Raceway is that you often get another chance to atone for your mistakes and this Saturday night Troy gets the chance to perhaps avenge a moment only weeks ago.

Leading the main event on November 5 and looking like a veritable 'shoe in' for the win he slipped off the edge of the track and gave up valuable real estate and in fact the lead which Nelson racer Matt Dumesny was quick to capitalize on.

Dumesny was never headed and went on to score his first career victory.

"You can't dwell on things like that," Little admits, "you have to focus on the next race not the last one. You'd never get back in a Sprintcar if you constantly related to the last race you had, unless it was a win. We'll be back this Saturday night trying to get the win, it's all you can do."

Currently the points are as we come into Round 6:
1 7Q Robbie Farr 722 Gold Coast QLD
2 57N Matthew Dumesny 672 Nelson NSW
3 5V Max Dumesny 670 Nelson NSW
4 38N Max Johnston 666 Razorback NSW
5 20N Troy Little 638 Agnes Banks NSW
6 11N Matt Smith 598 Brandy Hill NSW
7 21C Shaun Dobson 590 Hobart TAS
8 56N Mick Saller 578 Windsor Downs NSW
9 16N Daniel Sayre 578 Harrington Park NSW
10 54N Grant Tunks 572 Windsor Downs NSW
11 47N Marcus Dumesny 572 Nelson NSW
12 99C Jay Waugh 558 Canberra ACT
13 9N Kyle Caunt 552 Albion Park Rail NSW
14 22N James Thompson 546 Kellyville NSW
15 92N Sam Walsh 540 Orangeville NSW
16 39N Jeremy Cross 532 Dubbo NSW
17 32N Warren Ferguson 524 Kellyville NSW
18 44NQ Brandon Rawlings 506 Darra QLD
19 7N Toby Bellbowen 492 Cranebrook NSW
20 17N Marty Perovich 484 Denham Court NSW

A strong field of Late Model Muscie cars will also take to the track for their third appearance of the season with their grunty motors, radical suspension and wheel-hiking racing.

The hugely competitive 'pocket rocket' Legend Cars will also take to the track delighting the children and parents alike.

Those metal munching car-crunching crazies are at it again with their second Demolition Derby of the season so far.

The prize money goes to the last car running (or crawling) after what is usually the 'ultimate road rage release' and results in a steaming, smoking, smoldering sea of twisted metal.

Miraculously the combatants climb one by one from their once pristine battleships, emerging with sweaty grins and armed with plenty of 'war stories' to share with family and friends.

This Saturday's insanity will once again defy logic, defy mechanical logistics and thrill fans of all ages.

Queensland pyrotechnics guru Clive Featherby is flying down to (in his words) 'put a huge smile on those kids faces' with a monster fireworks display.

Gates open at the Valvoline Raceway – located at 21 Wentworth Street in Clyde – at 2pm with hot laps (practice) commencing at 5.15pm and main racing starting from 6.30pm.

-end
Sutherland Storms to the Lead to Take his First Eureka Series Win
By Ian Vale

Glen Sutherland driving the Gambier Earthmovers S20 Sprintcar drove one of the best races of his life to defeat David Murcott and the current Eureka Garages & Sheds Series Champion Brett Milburn in front of his home crowd at Borderline Speedway Mt Gambier in round four of the Eureka Series last night.

Sutherland was one of the inform drivers on the night taking a heat win and a sixth place in his second heat to put him into the top six shoot for a shot at pole position for the Eureka Garages & Sheds A Main where he advanced to put the S20 GEM sprinter onto the front row alongside high points scorer David Murcott who also set the fastest time in the shootout. Brett Milburn lost out and dropped to third place, Rory Button claimed fourth place leaving last round winner Peter Doukas to start from position five along side of the John Vogels at the completion of the shootout.

Other drivers to qualify directly to the A main after the heat races were S15 Aidan Hall and Brad Warren in the V91 machine on row four while Corey McCullagh V90 and Jye Okeeffe V42 filled row five leaving Brock Hallett S13 and Dennis Jones V17 to take row six.

The B Main event was punctuated with a few caution periods but the end results it was run and won by lady racer Lisa Walker from start to finish although a little luck went here way. Lisa was in command of the race when after lapping a couple of cars coming off turn two the S4 machine pulled a big wheel stand that slowed Lisa's progress momentarily that lost her a few positions, but a quick call by the stewards who thought the S4 car was coming to a halt put the caution lights a little early as she managed to keep the car going. On the restart Walker was reinstated to the lead that she held in fine style to go onto take the win and transfer to the A Main.

Joining Walker to advance to the A Main from the last chance B Main was V48 Adam king, V72 Jacob Smith, V14 Chris Rodda, V36 Tim Van Ginneken and V77 Brayden Parr.

The great weather that was a promoters dream had the Borderline venue in top condition right from the hot laps and throughout the night and into the Eureka Garages & Sheds A Main Event that would see both the front row sprintcars go down the main straight at the drop of the green flag wheel standing into the first corner.

David Murcott eventually won the battle for the lead exiting turn two on the first laps but Glen Sutherland followed closely for the opening couple of laps before Murcott opened a small gap. Brett Milburn, Aidan Hall and John Vogels were next in line.

Lap four and the race came to a halt to remove the cars of Tim Van Ginneken who rolled and Hall who sustained damage in the incident to put him out of the race as well.

The race only went another lap on the restart when Rory Button rolled in turn one as well that would see him and fellow South Australian Brock Hallett eliminated too.

Take three and Murcott lead the race away once again but Sutherland was not going to let him get away this time, Sutherland saw a chance down the main straight to drive deep into the turn under Murcott to take the race lead. Milburn was holding down third place in front of the duelling pair of John Vogels and Corey McCullagh followed by the Jye Okeeffe and round three winner Peter Doukas, Jacob Smith, Brad Warren and Dennis Jones rounded out the top ten placing's.

A little further back following the top ten drivers were Brayden Parr, Chris Rodda,
Lisa Walker and Adam King when just over one third distance the red lights were for Walker when she rolled in turn three just in front of the leaders to end here night after some impressive driving.

Sutherland was on a mission, this is one race he was not letting get away, Glen had already set the fastest lap of the race on lap twelve with a 11.279 laps showing he was going to be hard to beat.

Heading into the final part of the race and Sutherland had opened a comfortable gap over Murcott who at one stage had Milburn challenging him for second place, Vogels, McCullagh, and Doukas were keeping each other company.

With three laps to run Murcott had picked up his pace to be the fastest car on the track gapping Milburn but more importantly he started to close the gap down to the race leaders Sutherland only for the laps to run out before he mount a challenge once again.

As the chequered flag fell for the thirty lap journey it was Sutherland that greeted that flag first to a big applause from the local community ahead of Murcott in second and the current Eureka Garages & Sheds Series Champion Brett Milburn who was enjoying his best run so far in the Series this season.

Vogels held out McCullagh to take forth place rounding out the finisher was McCullagh in fifth place followed by Doukas, Warren, Smith, Parr who passed the most cars in the race then it was Rodda from Okeeffe who had dropped down the field earlier on when he was the innocent party that saw him spin and relegated to the rear of the field.

Three rounds of the Eureka Garages & Sheds Sprintcar Series completed and three different winners so far this season, will we see yet another new name added to the winners list in just six days for round five the Eureka Garages & Sheds Sprintcar Series at Premier Speedway?

Heat wins on the night went to V91 Brad Warren, S20 Glen Sutherland, V98 Peter Doukas, V88 David Murcott, V70 John Vogels and V68 Brett Milburn.

Round five of the Eureka Garages & Sheds Sprintcar Series will be conducted at Premier Speedway next Saturday night the 26th of November 2016. This Event also doubles as the Victoria Open Sprintcar Title in memory of Graeme McCubbin one of the greats of Sprintcar racing and Speedway in general.

Eureka Garages and Sheds Series – KTM Top 10:
1st – Glen Sutherland - 1098
2nd – Jye Okeeffe - 1024
3rd – David Murcott - 949
4th – Corey McCullagh - 946
5th – Tim Van Ginneken - 941
6th – Jacob Smith - 919
7th – Brad Warren -879
8th – Brett Milburn - 867
9th – Adam King - 775
10th – Jordyn Charge - 749

Western Nissan
(End of Series random draw between 11th & 20th place)
11th – Peter Doukas - 741
12th – Brayden Parr - 737
13th – Dennis Jones - 728
14th – John Vogels - 703
15th – Sam Wren - 644
16th – Terry Kelly - 588
17th – Ashley Scott - 579
18th – Charles Hunter -556
19th – David McKay - 538
20th – Scott Reilly - 499

-end-
FARR AND DOBSON STAR BUT VEAL SEALS THE DEAL IN A WSS SYDNEY THRILLER

Official release: Valvoline Raceway
November 20, 2016

Jamie Veal won tonight's second round of the 30th anniversary World Series Sprintcars at Valvoline Raceway and in the process picked up Round Five of the USC NSW in what was a spectacular race on many levels.

Despite the constant threat of rain and several light trickles during the C-Main and beyond right up into the A-Main line-up the weather Gods played nice and allowed a good crowd on hand to see one of the races of the season so far in Sydney.

It was nail biting 30-lap event from start to finish and after a couple of yellow light stoppages initially the race settled down to a rhythm where Veal took the #35 SWI Engineering Maxim to the front.

Robbie Farr started on the front row in the ECP Cool alongside Brooke Tatnell's TEH Cool with Veal and Shaun Dobson starting on the second row.

Dobson and Tatnell had both come from the Bronze Shootout to move through to the Gold Shootout and make their task significantly easier to run up the front in the main event.

James Thompson (always the quiet achiever) and James McFadden began their WSS/USC assaults from the third row of the grid whilst Alex Orr (who set quick time in his flight in qualifying) and Troy Little occupied row four and Brandon Rawlings and Max Johnston rounded out the top ten.

Veal led early but Farr ran him down and passed him, only for Veal to eventually move back into the top spot but not before some terrific lead swaps eventuated in lapped traffic.

Shaun Dobson looked ominous throughout the main in the Essendon Ford #21 and would eventually claim third place behind Veal and Farr in second place.

James McFadden's set up came on gang busters with ten laps to go and the Milwaukee Maxim was on a major charge towards a possible win before he jumped the cushion in turn one late in the race and all but flipped.

In the end Veal won by several car lengths oblivious to the tumultuous battle going on behind him for the final step of the podium.

"Rookie mistakes," was the furrowed brow response from Veal when asked why he'd given up the lead on a couple of occasions, "I had to settle down and get back to the bottom where the car was better. For a while there I simply struggled to get the cushion sorted and Robbie (Farr) got by me. When I eventually got back to the bottom I was able to get rolling."

Veal was presented his WSS trophy by Sydney ambassador John Walsh who was honoured for his contribution to the sport over many years.

McFadden steamed back to fourth ahead of Brooke Tatnell in fifth, Troy Little sixth, James Thompson seventh, Alex Orr (solid all night) eighth, Grant Anderson ninth and Mick Saller a career best WSS result for tenth.

Max Johnston placed eleventh ahead of Toby Bellbowen twelfth, Matt Dumesny thirteenth, Max Dumesny fourteenth and Sam Walsh fifteenth.

The battle between the three Dumesny men Matt, Max and Mitchell (who eventually had to settle for 17th) was epic to say the least and certainly had Mum (and wife) Melinda reaching for someone's arm to grip.

"They don't go easy on each other," she smiled later, "that wasn't easy to watch that's for sure. They're all so competitive."

Ian Loudoun won the B-Main and came home in eighteenth, Matt Smith spun and came back to nineteenth, Mitchell Gee came the B-Main to make his first WSS Sydney A-Main and finish nineteenth, Ben Atkinson had a rough night for an eventual twentieth, with Brandon Rawlings breaking a front end to curtail what had been his best result to date in Sydney.

Danny Reidy survived a scary incident when he rode Jamie Veal's right rear early in the night to be registered as twenty second with Jay Waugh and Daniel Harding being the last two DNF registered cars.

The B-Main was a clinic for Ian Loudoun to lead home fellow A-Main transferees Matt Dumesny, Mitchell Gee, Matt Smith and Max Dumesny sixth.

Dumesny barely squeezed into the A-Main with a last lap, last corner gasp pass on Grant Tunks to snatch away the final transfer position from the hapless budget Sydney racer.

The C-Main was won by West Aussie Jason Pryde from Queensland teenager Callum Walker in second place, Matt Geering in third, Braydan Willmington fourth and Luke Stirton rounding out the top five.

Four of the top five were in their late teens, once again showing the depth of the USC 'nursery' in Sydney.

The Bronze Shootout transferees were Brooke Tatnell and Shaun Dobson.

The Silver Shootout transferees were Shaun Dobson and Brooke Tatnell.

The Ian Boettcher Race Parts pole position was then won by Robbie Farr over Brooke Tatnell, Shaun Dobson and Jamie Veal.

Heat winners were Brandon Rawlings (2) Mitchell Gee (2) Matt Dumesny, Andrew Wright (2) and Darryl Campbell.

Jamie Veal scored Quick Time in qualifying overall whilst Central Coast racer Alex Orr claimed the quick time mantle in Flight One.

A total of 55 cars took time.

Top Ten Qualifying results:

Jamie Veal 11.848
Alex Orr 11.861
Troy Little 11.902
Toby Bellbowen 11.940
James McFadden 11.946
Ben Atkinson 11.956
Robbie Farr 11.957
Shaun Robson 11.972
Grant Anderson 11.986
Brooke Tatnell 11.988

The night began with an emotional "Sydney goodbye to Shane Krikke" as the KMS #2 led WSS champions Robbie Farr, Jamie Veal, Max Dumesny and James McFadden during the national anthem laps with Ryan and Jodie Krikke standing trackside.

The Lightning Sprint main event was won for the second consecutive time by Sydney second-generation racer Matt Reed over Chris Davis in second place and Rodney Waters home in third for his second consecutive podium finish.

Dean Eden was fourth ahead of Ben Morgan in fifth, Scott Moir sixth, Jason Bisset seventh and Danny Stone eighth.

Raymond Terrace Street Stock veteran Shane Carlson took the bright green "Kermit" Carline Automotive Falcon to another main event win to narrowly lead home last week's feature winner Andrew Espener and VR Track champion Kiona Sunerton in third.

Impressive newcomer Shaun Davoodi was fourth to lead Shane Saunders in fifth, Ray Tyler sixth, Blake Milton seventh, Blake Eveleigh eighth, Butch Dawes ninth and Shane McPhee rounding out the top ten.

The next event at Valvoline Raceway is this Saturday night, November 26 for Ultimate Kids Night and Round Six of the Ultimate Sprintcar Championship.

-end
The river runs to Moama

The Mainline DynoLog Dynamometers All Star Series is at Heartland Raceway, Moama tomorrow night for RD3 of the JSR King of the River. "so far we have crossed the Murray river at Mildu ra,Swan Hill and now at Moama.

All 3 towns picturesque and special and we love visiting them. Especially when we have the chance to throw in a race meeting" Searle tells us. The River R
un is over the first 5 shows which are all based al ong the Murray River and has $2000 to win purse.

Taking out the A Main last weekend young gun Rusty Hickman's J&J will be keen for another podium after placing 1st and 3rd for the past 2 weekends.
Defending Series Champ Brenten Farrer's V34 Frijtek ART will be looking for a better result after finishing the Main on the infield last weekend.

Current SA 360 Champion Daniel Evans will want to step up one more position after running 2nd at Swan Hill. Paul Solomon has shown speed and loves the big banks of Heartland and will certainly be one to watch.

Other South Aussie's making the long haul to Moama is Trigga Gates, Cody Atkins, Jarman Dalitz & Team Bartletts 2 car team with Solomon & Cooley.

Atkins locked in his first Pole Shootout last weekend and is showing talent. Gates loves the big Heartland track and is keen to do well. Another young gun on board this season is Jack Gartner, this is Gartner's second season in sprintcars after stepping out of Juniors and is putting in some very good laps. With the usual All Star giveaways, posters, driver autograph signing it will be lots a family fun.

On track action starts from 5.30pm. November 19th Heartland Raceway, Moama

-end
BROOKE'S BIRTHDAY WISHES FOR WSS VICTORY AT VALVOLINE RACEWAY

official release: Valvoline Raceway
November 17, 2016

As if he ever needs additional motivation to win.

This Saturday night however, Brooke Tatnell has two reasons specifically for wanting the feature win for Round Two of the 30th anniversary World Series Sprintcars.

Well, two reasons that are two birthdays really.

Brooke's nine year old daughter Emma (or "Bug" as he affectionately calls her) turns ten on the Saturday itself, then the day after (Sunday) it would have been Krikke Motorsport principal Shane Krikke's 47th birthday.

"This is the third year in a row I'll miss Emma's birthday," Tatnell explains, "and when you're a little kid or a Dad or a Mum that's a big deal. I always tell her I'll buy her a Barbie Doll when I win, so I'm really hoping I can get her one for her birthday Saturday night. I love what I do but I really miss my family when I'm away."

The nine-times WSS champ's wife Amy, daughter Emma and son Garrett are back home in Minnesota USA while Brooke prepares for what may well be his first ever WSS win with Krikke Motorsport at his home track Parramatta.

The Saturday and Sunday are two massively significant dates for Brooke himself and for the KMS team as Sunday is the first birthday since Shane Krikke passed away from cancer in June of this year.

"It's hard to believe I've never won here (Valvoline Raceway) for Krikke Motorsport," Tatnell laments, "but I can't imagine a more appropriate time to change all that. It's going to be an extremely emotional weekend for everyone involved with the KMS team. I really hope we can blow the candles out for Shane the night before. He deserved this more than anyone."

With the disappointment of last Saturday night's rainout of the opening round at Murray Machining & Sheds Speedway Tatnell is even more fired up than ever to get his 10th WSS Championship.

"I've never needed any more motivation than just winning itself," Brooke explains, "but I find myself trying harder than ever to downplay how much a win at this place this weekend would mean. There are two incredible reasons celebrating two amazing people that I hope I can get the job done for."

Shane Krikke was a hugely respected and revered figure in Australian Sprintcar Racing and throughout the USA and NZ for his global racing footprint established with "KMS".

His funeral service in Western Australia in June was attended by some 2000 people and hundreds more watched online as the service was broadcast on the Internet.

A former Sprintcar racer who turned his focus to 'team principal' when he was first diagnosed with cancer in 1998 the larger than life Toyota dealer had a reputation for his passion for racing, his family and his friends.

Krikke often regarded friends as 'brothers'.

He built Krikke Motorsport up into a National Championship and World Series Sprintcars winning operation capable of beating any team in any field.

Appropriately last weekend's WSS kick off at Murray Bridge was attended by his wife Jodie and daughter Taylor, his Mum and Dad Peter and Julie and his brother Ryan.

This Saturday night Jodie and Ryan will be in attendance with KMS for the team's first trip to Sydney without "SK".

Defending WSS champion Jamie Veal, two-time WSS champion James McFadden, former WSS champion Robbie Farr and multiple WSS Champion Max Dumesny will all compete this Saturday night and take part in a special national anthem parade lap to start the show.

Currently at the time of writing some 54 entries have been received for Saturday night's battle including drivers from West Australia, South Australia, New South Wales, Queensland, Northern Territory, Victoria and Tasmania.

It's an historical moment for the sport with drivers and teams representing every state and territory represented.

Valvoline Raceway is located at 21 Wentworth Street in Clyde

Gates open at 2pm.

Action on track with hot laps from 5.15pm

-end-
Rusty creates history with the All Stars

16 year old Rusty Hickman in the Hickmans Tree Service V40 broke through for his maiden A main win in the Mainline DynoLog Dynamometers All Star Series.

The young gun has shown maturity beyond his years with the guidance of the former series champion Darren Hickman. The proud father was elated with his son's efforts as was evident as the pair did a victory wing dance after clearing the scales. Closely home in 2nd was SA44 Dan Evans and topping out the top 3 with an excellent drive was V7 of Paul Solomon.

At the start of the feature SA75 Chris Solomon lined up alongside Hickman and took the early lead. Solomon showed speed until getting tangled with a lap car and ending his night in the T1 wall. Series champ Brenten Farrer in the Frijtek V34 was disappointed after hitting a rut in T4 banging the wall and ended up coming to a stop at the start finish line. With right rear damage Farrer sat the remainder of the race on the infield.

While the front markers were having their own race SA69 Cody Atkins, V4 Phil Lock, SA56 Jarman Dalitz, S76 Brayden Cooley, V65 Kane Newcombe, SA5 Trigga Gates were all dicing for position throughout the 30 laps.

Yellows were bought on a couple of times enabling them to keep together and put on a hell of a race.

A Main results: 1st V40 Rusty Hickman, 2nd SA44 Dan Evans, 3rd V7 Chris Solomon, 4th SA69 Cody Atkins, 5th V4 Phil Lock, 6th SA56 Jarman Dalitz, 7th SA76 Brayden Cooley, 8th V64 Kane Newcombe, 9th SA16 Jack Gartner, 10th SA5 Trigga Gates, 11th V18 Anthony Foster, 12th V50 Darren Clarke, 13th ACT47 Ben Morrison, 14th V24 Daniel Ellis, 15th V31 Jason Gibbons, 16th V33 Ron Donaldson-DNF, 17th SA75 Chris Solomon - DNF, 18th V34 Brenten Farrer-DNF, 19th ACT38 Shaun Forrell-DNF, 20th ACT26 Tony Moule – DNF

-end-

Warrnambool Drivers take Trifecta in Eureka Series Round Three

By Ian Vale

Warrnambool driver Peter Doukas took his first feature race win in a thrilling race in round three of the Eureka Garages & Sheds Sprintcar Series at Avalon Raceway last night ahead two other Warrnambool drivers, Jye Okeeffe in second and Tim Van Ginneken home in third on a track that was used from the top to the bottom with all starters finishing the race distance.

With blusty winds and threatening rain the thirty eight drivers in attendance were ready for a quick program in round three of the Eureka Garages & Sheds Sprintcar Series that also double as the annual Fireball Derby thanks to the support of Avalon Raceway sponsor Routley's Bakery.

Eight heats races with eight different heat races winner along with some commendable performances during the heats set the points table for the C, B and A Main events. There were a few big name drivers after mixed results in the heats that would have to try and work thru the C Main event to the B Main for a shot at making the Eureka Garages & Sheds A Main event. Three of these drivers that advanced from the C Main to the B Main were Corey McCullagh, David Murcott and defending Eureka Series Champion Brett Milburn, McCullagh would go on to take the last transfer spot to the A Main leaving both Milburn and Murcott to watch the A Main from the spectator side of the fence.

With threatening weather still looming the top six shootout was dropped to make sure the Main events could be run without any delays.

What a grid for the A Main with a god mix of the new generation drivers and some of the more experienced and competitive drivers in the line up.

The order for the Eureka Garages & Sheds / Routley's Fireball Derby A Main was top points scorer V36 Tim Van Ginneken in P1 with V42 Jye Okeeffe alongside on the front row followed by V3 Ian Loudoun, V98 Peter Doukas, V72 Jacob Smith, Act 21 Shaun Dobson, V64 David Aldersley, Act66 Tim Rankin, V23 James Gardiner, V60 Jordyn Charge, V70 John Vogels, S37Terry Kelly, and the B main transferring drivers V48, Adam King, S20 Glen Sutherland, V77 Brayden Parr, V17 Dennis Jones, V91 Brad Warren and V90 Corey McCullagh.

Jye Okeeffe won the start with Ian Loudon quickly finding his way into second place demoting Tim Van Ginneken to third ahead of Doukas, Dobson and Smith who filled the top six placing's. A few laps in and the moves were on with both Dobson and Rankin passing Smith, Sutherland was quickly moving thru the field to settle into tenth place. The first caution period came on lap eight when Jordyn Charge spun to a holt.

The top ten order for the restart was Okeeffe, Loudoun, Dobson, Van Ginneken, Doukas, Rankin, Smith, Vogels, Sutherland and King.

Back under way and Okeeffe was controlling the race from Loudoun, a few laps latter and Loudoun started to challenge Okeeffe for the lead putting the nose of the V3 under Okeeffe on a couple of occasion, Okeeffe moved up track looking for a bit more pace but it didn't work well for him and dropped back to the low line to keep Loudoun at bay.

A little further back and Doukas had seen the Okeeffe move up high on the track and decided he would give it a go, it was working for him taking Dobson for third place on the outside and then closing in on the leaders quickly. Lap twenty Doukas continued his run up the top of the track to take both Loudoun and Okeeffe in one move to take the lead of the race demoting Okeeffe to second and Loudoun to third who now had Dobson and Van Ginneken putting the pressure on him.

Van Ginneken found his way pass Loudoun to take third place while Dobson was working hard on Loudoun when Loudoun spun to bring on the caution lights for the second and last time with six laps to go.

Doukas had the race in hand on the restart with Okeeffe giving it his best shot to try to get the lead back, Dobson had third place but Van Ginneken was all over him like a rash taking third place leaving Dobson to now fend off Rankin and Vogels who were followed by the two hard charges of Sutherland and McCullagh who had came from the rear of the field.

Okeeffe who put a very smooth driver could do nothing to take the lead back leaving Peter Doukas to take a well deserved victory in round three of the Eureka Garages & Sheds Sprintcar Series and adding another new name to the list of winners in the Series.

The finishing order with all cars finishing was Peter Doukas 1st place followed by Jye Okeeffe in second and Tim Van Ginneken 3rd, ahead of Rankin, Dobson, Vogels, Sutherland, McCullagh who passed ten car in the race then it was Smith, King, Kelly, Charge, Parr, Gardiner, Loudoun, Warren, Jones and Aldersley.

Heat wins on the night went to V98 Peter Doukas, S37 Terry Kelly, V3 Ian Loudoun, V72 Jacob Smith, V36 Tim Van Ginneken, Act66 Tim Rankin, V23 James Gardiner, and V70 John Vogels.

The Eureka Garages & Sheds Sprintcar Series next stop is at Mt Gambier's Borderline Speedway for round four on Saturday night the 19th of November 2016.
More information may be found at the Borderline Speedway web site borderlinespeedway.com

Eureka Garages and Sheds Series – KTM Top 10:
1st – Tim Van Ginneken - 746
2nd – Jye Okeeffe - 738
3rd – Glen Sutherland - 703
4th – Jacob Smith – 615
5th – Corey McCullagh –597
6th – Jordyn Charge - 583
7th – David Murcott - 553
8th – Adam King - 548
9th – Brad Warren - 548
10th – Tim Rankin - 495

(End of Series random draw between 11th & 20th place)
11th – Brett Milburn - 481
12th – Dennis Jones - 459
13th – Domain Ramsay - 452
14th – Brayden Parr - 447
15th – Sam Wren - 445
16th – Terry Kelly - 436
17th – Peter Doukas - 400
18th – Ashley Scott - 392
19th – Charles Hunter - 385
20th – Tim Hutchins - 382

-end-
South Aussies stand up before weather intervenes in WSS opener at Murray Bridge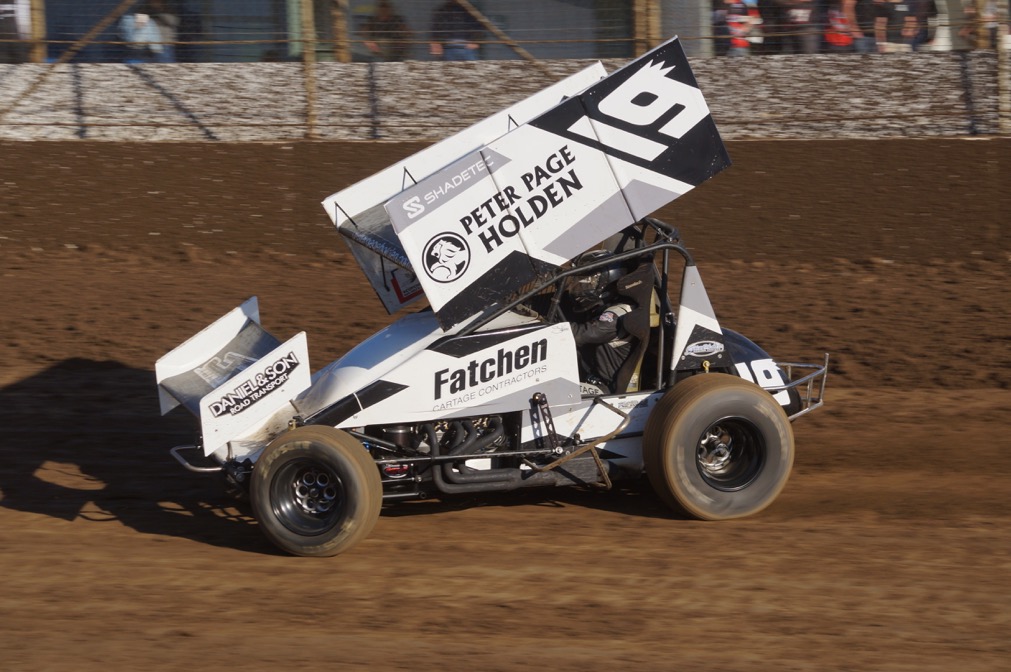 The 30th Anniversary World Series Sprintcars Championship got off to a spectacular then disappointing start at the Murray Machining and Sheds Speedway at Murray Bridge tonight with rain cancelling the event following the heat races.

Despite the best efforts of the Management Team at the Murray Bridge venue it was decided to halt proceedings with persistent rain sweeping across the area.

The opening round of the 2016/17 tournament attracted a field of 33 drivers with combatants from across Australia representing five mainland states but it was the locals who paced the field during time trials with Brad Keller recording a lap of 11.622 edging out Ryan Jones, who was in the first pairing, by .001 of a second.

The top five in qualifying was rounded out by defending champion Jamie Veal (11.726), Brooke Tatnell (11.744) and Matt Egel (11.764).

The Time Trial session wasn't without drama with the caution lights coming on for a couple of incidents in turn two as Luke Bowey rolled is #55 after clipping the wall while Western Australian Jason Pryde made hard contact with the concrete in the same spot.

Bowey would unfortunately take no further part in the event after being taken to hospital after reporting a lower back injury.

The six heat races that were conducted were full of action with the track allowing for some great side by side racing with the fastest qualifiers regularly making their way towards the front from their back row starts.

The opening heat didn't go to plan for Keller as he made contact with Steven Caruso after Caruso spun in front of the field leaving Keller with nowhere to go. The contact cut down the right rear tyre on the #19 Maxim. Hayden Pitt would go on to record an easy win ahead of Jake Tranter and Daniel Pestka.

The second heat saw Daniel Harding take the win but he had to work hard to get the better of Keke Falland, who was campaigning his trusty 360ci Ford. Queensland livewire Lachlan McHugh made an impressive MMS debut as he stormed his way to third ahead of Robbie Farr.


The final heat of round one saw Craig Vandestelt score the win by 3.459 over Todd Wigzell and Jordyn Brazier with Jamie Veal charging from the back row to finish fourth ahead of Luke Dillon.

As he did in the opening round Hayden Pitt utilised his front row start to perfection to record his second heat win of the night in heat 4 defeating Chad Ely and Robbie Farr, who had a great duel for the runner-up spot.

Contracted WSS driver Andrew Wright managed to limp around in tenth spot with a damaged top wing after rolling his #78 in turn four on the opening lap.

The final two heats of the night saw two famous Australian Speedway names in victory lane as Todd Wigzell claimed his first ever Sprintcar heat race victory while Jordyn Brazier won the final heat of the evening over James McFadden and Vanderstelt.

Therefore after the Time Trials and heat races Jamie Veal was the top qualifier on 82 points ahead of Brooke Tatnell 75, James McFadden 75, Luke Dillon 75, Ryan Jones 75, Brad Keller 75, Matt Egel 75, Steven Lines 74, Robbie Farr 74 and Daniel Pestka 71.

The next round of World Series Sprintcars is scheduled for Saturday night, November 19.

-end-