Dillion Dashes Into The Chase

THURSDAY MARCH 6, 2014

SOUTH Australian Luke Dillon will be one of the favourites to win the 2013-14 AHG Sprintcar Series championship when the first round of The Chase is held at the Perth Motorplex on Saturday March 15.

Dillon is one of 12 drivers who have qualified for The Chase that will be held over four nights with the highest-scoring driver from those rounds being crowned the new champion.

His form with WA-based Diamond Bay Motorsport has been sensational this summer and that included the early rounds of the AHG-backed series before the team went on the road as one of the contracted superstars for World Series Sprintcars.

Dillon missed the first round of the WA series that was postponed due to rain and run midweek.

His first outing was at the Motorplex on November 2 where he finished third to David Priolo and Jason Kendrick before taking a hat-trick of feature race wins (November 9 in Bunbury, November 23 in Perth and November 30 in Bunbury).

Dillon was then fourth in the WA Sprintcar Championship in Perth in early December, finishing behind Brooke Tatnell, Cameron Gessner and Shaun Bradford.

The team then turned its attention to WSS duties where they ultimately finished fourth behind Steven Lines, Tatnell and defending champion James McFadden.

Last weekend at the Krikke Boys Shootout in Bunbury Dillon put in a stellar effort to be second to Kerry Madsen in the epic 35-lap final.

Now Dillon and the Diamond Bay Motorsport crew is getting ready to return to the WA series and his consistent form this side of the country will no doubt play its hand over the final four nights.

Could Luke Dillon be the 2013-14 AHG Sprintcar Series champion?

Be at the Perth Motorplex next week to find out.
The Chase: March 15, March 29, April 12 and April 19.

The Dirty Dozen (eligible for the championship): Cameron Gessner, Jason Kendrick, Jamie Maiolo, Brad Maiolo, Jason Pryde, Trent Pigdon, Sheldon Brady, Callum Williamson, Lee Nash, Luke Dillon, Ryan Lancaster and Mark Wells.

-end-
A Change In The Dirty Dozen

TUESDAY MARCH 4, 2014

THERE has been a change to the Dirty Dozen that will contest the 2013-14 AHG Sprintcar Series Chase.

On Tuesday the Sprintcar Entrants Group received written confirmation from Cale Sotiroff that he has withdrawn from racing immediately, not contesting any more shows in at least the current season.

He has already qualified for The Chase.

This is on the back of Ryan Lancaster winning the fan vote that closed on Monday night.

Lancaster claimed 31.7% of the vote to narrowly defeat Mark Wells on 31.5% of the vote – the margin at the end of the count was only two votes.

Lancaster automatically became the 12th driver but on the news of Sotiroff's withdrawal SEG officials have now deemed that Wells would also be part of The Chase action.

SEG Chairman Geoff Kendrick said they accepted Sotiroff's withdrawal with regret.

"Everyone all year races to get into The Chase and it's the pinnacle of our AHG Sprintcar Series," Kendrick said.

"It's unfortunate that Cale has withdrawn but we hope he returns to racing one day and we wish him all the best in the mean time.

We also wish everyone In the Chase the utmost success and safe racing.

The Dirty Dozen is Cameron Gesner, Jason Kendrick, Jamie Maiolo, Brad Maiolo, Jason Pryde, Trent Pigdon, Sheldon Brady, Callum Williamson, Lee Nash, Luke Dillon, Ryan Lancaster and Mark Wells.

The driver with the most points in The Chase over the last four rounds (March 15, March 29, April 12 and April 19) will be the 2013-14 AHG Sprintcar Series Champion.

Final fan voting figures: Ryan Lancaster 31.7%, Kye Scroop 4.6%, David Priolo 7.2%, Mark Wells 31.5%, Shaun Bradford 11.6%, Daniel Harding 3.0%, Carl Dowling 1.0%, Troy Beckingham 3.7%, Brodie Minchin 0.6%, Jason Boland 0.1%, Matt Young 0.1% and Troy Lawson 4.7%.

-end-

Reed grabs the cash – Ely take the Series

Sunday March 2, 2014.

ACT49 Matt Reed returned for the States on Friday, sat on another flight to Mildura on Saturday then sat in his new mount supplied by Ken Hutchins owned Modern Stainless Steel ART. Reed looked comfortable in his new seat from the start taking out the Oval Express Magazine Quick Time Award. The Bar Up $8K was also on offer for the qualifying teams and Reed grabbed the $5K bonus for being the first across the line.

Ely & Bishop lined up in 1 & 2 for the A Main with Reed & Moule off the second row. Everyone in the house new they were in for some excitement. Ely looked strong leading the main for 2/3rd race distance. The yellow light was bought on by V85 and the field had to line up again for the start. This was Reed's opportunity to pass Ely and he grabbed the lead in Turn 2 and held off to the chequer. V4 Phil Lock was back on the podium running 3rd. Locky loves the Mildura track and always has good results at the venue.

With the Setts Bar & Grill Function Centre Big Screen sitting up in Turn 3 capturing all the highlights adding another level of entertainment to the night. The feature race certainly providing plenty of "highlights" to be captured! Full report to follow.

Heat Wins: NT30 Mark King, V83 Chris Solomon, V4 Phil Lock, SA22 Chad Ely

A Main – ACT49 Matt Reed, SA22 Chad Ely, V4 Phil Lock, SA96 Darryl Guerin, SA44 Daniel Evans, V34 Brenten Farrer, SA77 Chris Evans, V7 Paul Solomon DNF, V83 Chris Solomon, V66 Wayne Logue DNF, V85 Colin Lincoln DNF, ACT26 Tony Moule DNF, V23 Jimmy Gardiner DNF, SA66 Clinton Oliver DNF, V8 Corey Lincoln DNF, SA18 Jed Bell DNF,ACT15 Harley Bishop DNF, NT30 Mark King DNF, V99 Zac Farrer DNF

-end-
Ely sweeps Horsham

SA22 Chad Ely took the chequered flag in an action packed A Main marred by red & yellow lights. Biting his heels every lap was ACT26 Tony Moule just waiting for a moment to swoop under or around Ely. V11 Brad Foster showed his old form running a comfortable 3rd.

SA18 Jed Bell showed talent throughout the night running 3rd until bringing on the reds in T4 in the dying stages of the race. Phil Lock in the V4 also returned to form after changing chassis back to his old Eagle obviously feeling comfortable in the seat.

V90 Corey McCullagh again showed potential in the A Main before pulling in with an issue with the floor pan. Spider man Mark King in the NT30 was over the moon with his first heat win for the series and then followed it up with a win in the B Main. Mark Weaver's NT17 J&J had another great night in only his second show for the season. Weavers years of experience certainly showed.

SA57 Rory Button locked in the Oval Express Magazine Quick Time Award with a 13.669 and took the $500 cash bonus on QT for the night.

Heat Wins: NT30 Mark King, V83 Chris Solomon, V4 Phil Lock, SA22 Chad Ely

A Main – SA22 Chad Ely, ACT26 Tony Moule, V11 Brad Foster, V34 Brenten Farrer, SA62 Colin Brooks, NT17 Mark Weaver, V85 Colin Lincoln, V84 Luke Nash, V7 Paul Solomon, V4 Phil Lock, SA83 Shannon Barry, NT30 Mark King, SA18 Jed Bell – DNF, V99 Zac Farrer –DNF, ACT36 Eddie Lumbar- DNF, SA57 Rory Button –DNF, ACT49 Ken Hutchins – DNF

-end-
Tatnell Wins But Lines Still Grins

Feb 22, 2014

Brooke Tatnell won the final round of ENZED World Series Sprintcars tonight at the Perth Motorplex in a fantastic come from behind performance but even that wasn't enough to stop Steven Lines from scoring the Championship victory.

Lines wrapped up his first ever WSS Championship victory for the Halls Haulage team by a mere 68 points from Tatnell in second, James McFadden third and Luke Dillon fourth overall.

Kerry Madsen dominated the early proceedings in the 30 lap A-Main in the American Racing Custom Wheels #29 KPC but when the track laid rubber and Madsen went to the sanctuary of the low line Tatnell began his blast around the outside groove.

"Normally when it's rubber down you have to get down to the low line as fast as you can so that's what I did," lamented Kerry, "but Brooke just sailed by on the outside and did a great job to get the win. Congratulations to Brooke and also to Linesy (Steven Lines) for winning the Championship."

For Tatnell his 72nd WSS career win was bitter sweet as he brought the Toyota Genuine Parts KMS home to a rousing reception from the Motorplex crowd.

"We knew once we finished the Adelaide round that the only way we could still have a shot at this Championship was to win races," he grinned, "and that's what we did. We threw everything at this and only just came up short. Congratulations to Linesy and the Hall's Haulage team they deserved their first series win, they aren't getting their second one though."

Tatnell dedicated the win to his long time crew chief (in seasons gone by) and good friend Peter Caporn's wife Taryn who had major surgery during the week and appears to be on her way to recovering towards better health.

Outgoing series champ James McFadden finished third in his Totally Workwear #25 Cool after running some inspired laps right up on the cushion near the wall in the last few laps.

"I'm sick of finishing third and fourth," he lamented, "I just wanted to win a round in this series at least. We had a good shot at it tonight when the rubber went down but Brooke went to the top when I did and we just couldn't get through enough from there to have a shot at him or Kerry."

For Steven Lines the Championship win capped off an amazing series for the Hall's Haulage #3 KPC with three wins and five podium finishes to his credit.

"This is for our guys," beamed the new champion, "Brian Hall and Craig Bennett and everyone associated with this team have given me such a great car to drive night in and night out. This is such a great result for the team, I can't thank them enough for this opportunity."

Robbie Farr brought the ECP Racing #7 Maxim home in fifth ahead of David Priolo's #8 Watson's Express Transport entry in sixth and Luke Dillon placing seventh in the Diamond Bay Motorsport Maxim despite dropping a cylinder in the motor early in the race.

Eighth across the line was Jamie Veal (Mototech #35 Maxim) trailed by Mark Wells' #21 Oval Track Diecast & Racing Collectibles J&J) in ninth, Brad Maiolo's LJM Produce #77 Maxim in tenth, Daniel Pestka eleventh (Gawler Farm Machinery #27 J&J) and Tim Kaeding soldiering home with motor issues in the second KMS #2 Cool for twelfth.

Shaun Bradford (GKR Transport Cool) finished thirteenth ahead of Dylan Jenkin (Gericke Bulk Handling Cool) fourteenth, Shane Stewart fifteenth (Milwaukee Racing #7 J&J) and Jordyn Brazier's Capalaba Wreckers #21 Schnee rounding out the field in sixteenth.

The only red light stoppage of the main event came on the opening lap when Cameron Gessner's #41 Cowara Contractors Maxim spun in turn two and Garry Brazier rolled the Capalaba Wreckers Schnee in the resultant melee which also involved and took out Matt Egel (Muir Motorsport #53) and Carl Dowling (Di Candilo Steel #87).

Ian Loudoun retired the #65 Peet Motorsport Maxim with an engine misfire in a separate incident.

A-Main (30 laps)
1. Brooke Tatnell
2. Kerry Madsen
3. James McFadden
4. Steve Lines
5. Robbie Farr
6. David Priolo
7. Luke Dillon
8. Jamie Veal
9. Mark Wells
10. Brad Maiolo
11. Daniel Pestka
12. Tim Kaeding
13. Shaun Bradford
14. Dylan Jenkin
15. Shane Stewart
16. Jordyn Brazier
DNF: Cameron Gessner, Matt Egel, Garry Brazier, Carl Dowling, Ian Loudoun.

Final Championship standings
1. Steven Lines 3453
2. Brooke Tatnell 3385
3. James McFadden 3204
4. Luke Dillon 3097
5. Jamie Veal 2901
6. Shane Stewart 2422
7. Dylan Jenkin 2382
8. Robbie Farr 2369
9. Daniel Pestka 2344
10. Jackson Delamont 2063
11. Garry Brazier 1908
12. Daniel Harding 1760
13. Jordyn Brazier 1512

-end-
Kerry Cruises To Kwinana WSS Prelim Win

Feb 21, 2014

With no thoughts of a Championship result to cloud his mind Kerry Madsen cruised to an all the way win in tonight's preliminary A-Main at The Perth Motorplex, leading home Brooke Tatnell and Steven Lines in the 25 lap affair.

Whilst it might have appeared that Madsen had the handle well and truly reigned in on the #29 American Racing Custom Wheels KPC chassis the driver himself explained that it was far from an armchair ride.

"To be honest, I was never really happy with my track position. I knew that Brooke was running slightly higher than me but I was bouncing around all over the place out there trying to find somewhere that suited where I was at. I don't think I ever really found that place."

Tatnell was quick to praise Kerry, even if he wasn't prepared to himself.

"That's why he wins World of Outlaw races and why he's driving for such a great team, because he is that good. We didn't really have anything for Kerry tonight and as for that bloody Steven Lines, he just won't go away will he?" grinned the 8 times WSS champ.

Lines himself was businesslike in the Hauls Haulage #3 KPC, running third to the lead duo but sitting right on Tatnell's (his main championship rival) #2 KMS Cool tail tank.

"We did what we had to do tonight," said the Mt Gambier hard charger, "my job tonight was to get through that race with some points and keep Brooke from making too much ground on us with one night to go."

James McFadden brought the Totally Workwear #25 Cool home in fourth place in a determined drive to stay within touch of the two drivers looking to steal away his WSS crown.

Fifth home was Luke Dillon in the Diamond Bay Motorsport #26 Maxim after the South Aussie set his 6th Revolution Racegear Quick Time in qualifying earlier in the night.

Rounding out the finishers were Shaun Bradford (GKR Transport Cool) in sixth, Cameron Gessner seventh (Cowara Contractors #41) Tim Kaeding (KMS Cool) eighth after coming from 15th and winning the B-Main, Matt Egel in ninth (Muir Motorsport Cool) Brad Maiolo (LJM Produce Maxim) in tenth and Ian Loudoun eleventh in the Peet Motorsport #65.

Some bone jarring wrecks were unfortunate highlight TV show reels including Jamie Maiolo when something broke on his #99 LJM Produce Maxim sending him into a violent series of rollovers, Jason Kendrick flipped heavily on the main straight after he and Callum Wlliamson tangled coming out of turn four, Jackson Delamont who crashed heavily into the turn four wall and Trent Pigdon who rolled in turn one.

Also registering a DNF were Robbie Farr (flat left rear) David Priolo (flat left rear) Jamie Veal (mechanical) and Garry Brazier (mechanical).

Several drivers did not make the transfer from the B-Main to the A-Main including local hero Mark Wells (8th) Trevor Green (11th) Dylan Jenkin (12th) Daniel Harding (13th), Shane Stewart (14th) and Daniel Pestka (15th).

Jenkin and Pestka in particular both struggled to overcome a disastrous evening when they failed to make the inversion cut after qualifying.

Shane Stewart again endured a heartbreaking evening with a crash then thrash job to even make the B-Main.

The points situation sees Brooke Tatnell slide marginally back on Lines as the Championship heads to it's final night of the season at the Motorplex tomorrow (Saturday) night.

A-Main (Prelim)
25 laps
1. Kerry Madsen
2. Brooke Tatnell
3. Steve Lines
4. James McFadden
5. Luke Dillon
6. Shaun Bradford
7. Cameron Gessner
8. Tim Kaeding
9. Matt Egel
10. Brad Maiolo
11. Ian Loudoun
DNF: David Priolo, Jamie Veal, Robbie Farr, Jackson Delamont, Callum Williamson, Jason Kendrick, Garry Brazier, Jamie Maiolo, Trent Pigdon.

Points after Friday night (Saturday is final race of series)
1. Steven Lines 3236
2. Brooke Tatnell 3105
3. James McFadden 2976
4. Luke Dillon 2906
5. Jamie Veal 2729
6. Dylan Jenkin 2231
7. Shane Stewart 2166
8. Daniel Pestka 2046
9. Jackson Delamont 1991
10. Garry Brazier 1682
11. Daniel Harding 1662
12. Jordyn Brazier 1280

-end-

Tatnell Tightens It Up!

Feb 15, 2014

Brooke Tatnell scored his second WSS main event win of the season when he claimed Round 11 of the ENZED World Series Sprintcars Championship on Krikke Motorsport home turf at QUIT Bunbury Speedway.

The 8 times series champion timed the use of his Joker card to perfection by scoring maximum points; a strategy that he credited to KMS crew chief Dylan Buswell.

"To be honest Shane (Krikke) and I didn't really want to play the joker tonight," explained Tatnell in ENZED Victory Lane, "it was Dylan who really thought we should go for it. I really have to give him the credit for it."

Tatnell led every lap of the 30 lap A-Main in what may turn out to be a championship defining moment for two-times WSS champion James McFadden who was sent to the rear of the field in his Totally Workwear #25 Cool after making heavy contact with Shane Stewart's Milwaukee Power Tools J&J with only two laps remaining.

Stewart flipped heavily whilst holding down third place when McFadden attempted an inside pass in turn four.

Officials, who had earlier disqualified Luke Dillon in his second heat for contact with Jason Kendrick (which resulted in Kendrick's #11 92.9 entry flipping violently in a similar position on the track), then sent McFadden to the rear at the restart for his part in the Stewart result.

The crash elevated Shaun Bradford to third place where remained in the #57 GKR Transport behind Championship leader in second place as the chequers fell.

For Shane Stewart and the Monte Motorsport team the crash took the shine off what had been the most promising night all series with a possible podium finish not out of the bounds of reality.

Coming into the Top 8 Shootout Stewart was the highest point scorer and raced for many laps in second place during the A-Main before Steven Lines shot by.

In an eerily similar situation to the previous night where Steven Lines had all but dislocated his right shoulder in a heat race incident at the Perth Motorplex (he still went on to win the main event later in the night) Brooke Tatnell injured his back and neck in the Amadio Wines Top 8 Shootout when the chassis rail bottomed out on the choppy surface and drove to victory in significant discomfort.

"It doesn't feel too bad right now," admitted Tatnell after the main event, "but tomorrow morning it might not be that way. We'll just get to a chiropractor this week and get through to next weekend. It's Valentines Day back in the USA right now so I'd like to dedicate this win to my wife Amy. It's not a dozen roses this win, but it'll have to do."

Tatnell now moves from fifth to second and only 125 points off Lines' lead with the final round looming in Perth.

Lines was businesslike all evening after setting quick time in Revolution Racegear qualifying and placing second in the main event.

"We just need to keep racking up points, driving smart and importantly finishing races," he explained, "we're not getting ahead of ourselves. There's still two nights left in this deal."

Shaun Bradford recorded his second career podium with third place in a move that rewarded sponsor GKR (Kevin Small) for purchasing a motor from Luch Monte earlier in the day to go racing that night.

Bradford had one of the most remarkable things ever seen in WSS happen to him in the Top 8 Shootout when the entire floor pan in the #57 Cool was ripped from under his feet when he hooked a rut in turn three.

"I don't know I didn't get really hurt, I guess I do have some luck after all. I looked down at my feet and all I could see was the racetrack, it was pretty scary really."

Robbie Farr (Hi-Tec Oils Maxim) forged from the seventh row of the grid to finish a strong fourth just ahead of Ian Madsen's Kenerick Racing #29 entry who had come from position nine.

Jamie Veal brought his Mototech #35 Maxim from the seventh row to an eventual sixth place ahead of seventh place Luke Dillon in the Bunbury Autogroup Maxim after the South Aussie hard charger moved from an original #15 starting spot.

James McFadden sped back to an eventual eighth by the fall of the chequers ahead of South Aussie second year WSS talent Daniel Pestka in the Gawler Farm Machinery J&J in ninth, David Priolo (Budget Forklifts Cool) in tenth, Jamie Maiolo's LJM Produce #99 Maxim eleventh, Mark Wells (Hoppy's Auto Parts J&J) twelfth and Jackson Delamont (who used his provisional to start in the A-Main) rounding out the final finishing field in the Mad Harry's Steel KPC in thirteenth.

DNF's included Shane Stewart (rollover) Dylan Jenkin (flat right rear tyre) Matt Egel (crash) Daniel Harding (flat right rear) Brad Maiolo, Ian Loudoun, Trent Pigdon (who had almost completely rebuilt his car with the help of several teams after he snapped an axle and rolled over in the Top 8 Shootout) and Jason Kendrick (DNS).

A-Main (30 laps)
1. Brooke Tatnell
2. Steve Lines
3. Shaun Bradford
4. Robbie Farr
5. Ian Madsen
6. Jamie Veal
7. Luke Dillon
8. James McFadden
9. Daniel Pestka
10. David Priolo
11. Jamie Maiolo
12. Mark Wells
13. Jackson Delamont
DNF: Shane Stewart, Dylan Jenkin, Matt Egel, Daniel Harding, Brad Maiolo, Ian Loudoun, Trent Pigdon. DNS: Jason Kendrick.

The Championship points after eleven rounds and with only one round (over two nights to go) remaining are:
Steven Lines 3063
Brooke Tatnell 2934
James McFadden 2820
Luke Dillon 2746
Jamie Veal 2602
Dylan Jenkin 2157
Shane Stewart 2064
Robbie Farr 2022*
Daniel Pestka 1975
Jackson Delamont 1967
David Murcott 1701*
Garry Brazier 1569
Daniel Harding 1554*
Ian Madsen 1499*
Jordyn Brazier 1178

-end-
Lines Shines In Strongarm Kwinana WSS Win

Feb 14, 2014

Despite a painful shoulder injury he sustained earlier in the night South Aussie Steven Lines drove to his third main event win in Round 10 of the ENZED World Series Sprintcars Championship at The Perth Motorplex Kwinana Beach tonight.

In his second heat race a mystery object struck the right side of Lines' Halls Haulage #3 KPC and the impact drove his full containment seat hard into his right shoulder where it partially dislocated.

Despite the painful injury the gritty Mt. Gambier racer still managed to secure the Amadio Wines Top 8 Shootout win shortly after and begin the 30 lap main event from pole position alongside Jamie Veal.

It was Veal who led early in his Mototech / SWI Engineering #35 Maxim in the main event before Lines flew around the outside in turn four on lap 8 where he was never headed from there.

"My team give me a great car every time we come out on the track," he explained from Victory Lane, "I get the easy job of driving it. My arm's not too bad but I guess we'll see how it feels in the morning. My safety equipment did the job and now we can move on to tomorrow night's round at Bunbury and keep this Championship rolling."

Jamie Veal had a good run going on Lines late in the race but Cameron Gessner's power meeting with the turn three and four wall brought on the red lights with only 8 laps to go.

Any advances that Veal had been making on the leader soon vanished at the restart as Lines simply drove away.

"I won't say I wasn't disappointed when the reds came on," explained Veal, "you can't afford to give a driver like him (Lines) any ground with clear track, he'll do exactly what he did just then. I can't thank my boys enough for giving me a good car tonight. I'm keen to get to Bunbury tomorrow and continue our good form."

Brooke Tatnell moved the Toyota Genuine Parts #2 Cool into an eventual third place in what was a big and important drive from his original nesting spot on the fifth row of the grid.

"Full credit to Linesy for his drive tonight, and Jamie is doing a really great job lately too. We're better at the slick stuff than this hooked up rough stuff tonight. I had to remind my crew chief that I'm 42 and not 22 so we could free the car up a bit," Tatnell quipped.

Ian Madsen earned himself the "American Racer Hard Charger" award with a stirring drive from position #16 to fourth in the Kenerick Racing #29 after earlier running second in the B-Main.

Luke Dillon placed the Diamond Bay Motorsports #26 Maxim into fifth and James McFadden pipped Dylan Jenkin for sixth in full view of the chequers as the two time and defending WSS champ fought to keep his Championship aspirations alive as Lines drove away with the win.

Matt Egel impressed on debut in the Muir Motorsports #53 to run a solid 8th place whilst David Priolo wasted little time in storming back from the rear (he changed a left rear tyre on the restart on lap 22) to finish 9th.

Jamie Maiolo placed 10th ahead of Carl Dowling in 11th, Jason Kendrick 12th, Daniel Pestka 13th, Kye Scroop 14th and Shane Norris the last car running in 15th.

DNF's included Cameron Gessner (crash), Shaun Bradford (motor) Robbie Farr (mechanical) Ian Loudoun (flat tyre) Garry Brazier and Jackson Delamont.

A-Main (30 laps)
1. Steve Lines
2. Jamie Veal
3. Brooke Tatnell
4. Ian Madsen
5. Luke Dillon
6. James McFadden
7. Dylan Jenkin
8. Matt Egel
9. David Priolo
10. Jamie Maiolo
11. Carl Dowling
12. Jason Kendrick
13. Daniel Pestka
14. Kye Scroop
15. Shane Norris
DNF: Cameron Gessner, Shaun Bradford, Robbie Farr, Ian Loudoun, Garry Brazier, Jackson Delamont.

The points going into tomorrow's 11th round of the Championship at QUIT Bunbury Speedway are:
Steven Lines 2770
James McFadden 2598
Luke Dillon 2526
Jamie Veal 2368
Brooke Tatnell 2360
Dylan Jenkin 1973
Shane Stewart 1868
Robbie Farr 1767
Daniel Pestka 1761
Jackson Delamont 1705
David Murcott 1701
Garry Brazier 1446
Daniel Harding 1383
Ian Madsen 1252
Jordyn Brazier 1051

-end-
All Star Challenge 2015 locked and loaded

The Mainline DynoLog Dynamometers All Star Series are excited to announce that Heytesbury Stockfeeds Simpson Speedway have again locked in two January dates for the 2014/2015 season.

Saturday January 3rd will again be used as a shake down for the All Star Challenge with the actual event being held on Saturday 17th. As well as locking in these 2 dates we thrilled to also announce that the Challenge will now pay $6K to win and another $1K to be spread through the field – making the event now worth $21K for the A Main.

"How exciting is this news for everyone. With the event growing in popularity each year we really do now have a show that is paying serious $ to its competitors. Thanks must be given to the Simpson Speedway committee for having faith in us and sharing our dream in creating a major showcase for 360's in Australia." says Searle.

Don't miss the opportunity to be part of this huge event by locking the date into your race calendar now.

-end-
31 Laps of excitement

Not a person in the house would have walked away disappointed after the thrilling Spud feature race held at Borderline Speedway last Saturday night. With a 4 wide salute to the crowd with the missing man formation to honour Tyson creating the atmosphere at the start of the feature everyone sensed they were in for something special and that is certainly what they got. With Rilat and Egel lined up on the front row, Ely & Solomon behind them, all 4 with their own desire to win this night.
Rilat got the start but Egel was never far off his tail as the 2 ran lap after lap quickly catching lap traffic and weaving thru it on the high side and low side. Unfortunately for SA75 Matt Egel his Driveline let go with 10 laps to go putting an end to his night. Having their own dice for 3 & 4th was SA22 Chad Ely and youngster V90 Corey McCullagh. McCullagh ran the race of his career challenging Ely the entire 31 laps with the duo passing each other several times. Ely eventually gained some distance between himself and McCullagh allowing him to concentrate on Rilat. Ely was gaining momentum on Rilat and passed him for the lead in the front straight in the dying stages of the Main only to have Rilat rebound in Turn 2 with an awesome outside pass.

ACT26 Tony Moule had a much improved night looking comfortable in his new Maxim chassis. V74 Michael Cunningham was another to have a great night after starting in P14 and moving forward 7 places to win the Red Ed Sheds Lucky 7's Award for finishing 7th. SA57 Rory Button made a return for the night and showed his talent in his 2nd run this season in the GT Bobcat backed 360. V86 Van Ginneken, V34 Farrer, V7 Solomon, ACT49 Brooks, SA69 Atkins all having their own dice with each in the feature and added to the excitement in the A.

Newcomer to the 360 ranks V84 Luke Nash took out the Oval Express Quick Time Award after purchasing a KRE Engine from Brent Kratzmann with an 11.400 lap. As well as winning the 12 month subscription to Oval Express Magazine he also collected $500 cash bonus for his effort. "Not a bad start to his 360 career" Mandy Searle tells us.

-end-
It's The Real Deal Open Wheel!

Feb 8, 2014

Jamie Veal recorded his career first ENZED World Series Sprintcars main event success tonight leading all the way in the 35-lap $10,000 to win George Tatnell Cup at Adelaide's Speedway City.

Veal (who was playing his Joker card) started on the front row in his SWI / Mototech Maxim and was never headed despite valiant endeavours from South Aussies Luke Dillon and Steven Lines.

Dillon had qualified his #26 Bunbury Autogroup Maxim on pole after winning the Amadio Wines Top 8 Shootout and elected to start from the outside front row for the main event.

Several red and yellow light stoppages saw Veal's inside lane become progressively a better option until the race finally got underway with the Warrnambool second-generation racer slipping through to the number one position in the opening turn.

He was stout from every moment after that crossing the line for the restart-plagued win ahead of Steven Lines in second (who was also playing his Joker card) James McFadden in third, Luke Dillon fourth and West Aussie Jamie Maiolo in a career best Speedway City WSS round fifth.

"I can't thank my Dad and Juddy ((Jeff Judd) enough," grinned the youngster known as "the real deal" when presented the George Tatnell Cup by, appropriately, Brooke Tatnell, "we've been on a really good roll since the Lismore World Series round and tonight caps off a great month so far."

Playing the Joker card was somewhat of a stroke of genius too.

"My Dad would have been proud of your drive tonight," smiled Tatnell as he handed over the trophy on behalf of the Tatnell family, "you did a great job."

Tatnell was left to lament what might have been when the #2 KMS Cool dropped a cylinder whilst placed in the top four.

"I felt it immediately (the motor laying down)," he explained, "and I wasn't taking any chances. There's no point burning down a motor when you can avoid it. I'm disappointed because of course I wanted to win Dad's race. There's still next week and the week after that for this Championship yet though, we're not done yet."

Steven Lines now assumes the series lead as he too made the most of his Joker card in the Halls Haulage #3 KPC.

"Hats off to Vealy," Lines conceded, "he's been having a great run lately and it's good to see him get a win. I'm proud of our guys to get this result tonight and we can go into the final two weekends in WA with the points lead."

James McFadden surged from the third row to an eventual third in the Totally Workwear #25 Cool after having to do it the hard way on the outside.

"The top was working but it wasn't working brilliantly," he admitted, "it took us a long time to get by Murky (David Murcott) and then eventually Luke (Dillon) but in the end we needed another twenty laps. Considering the night we had tonight third place probably isn't a bad result."

Luke Dillon had to be disappointed with an eventual fourth place after the second-generation throttle stomper again set fast time in qualifying and won the Top 8 Shootout.

Australian Sprintcar Champion David Murcott soldiered his Mainline Dynalog Dynamometers #1 Maxim to sixth ahead of a career best seventh place for the Auto Masters #10 of Steve Caruso, Dylan Jenkin (who came from the B-Main) in the Gericke Bulk Handling #51 Cool in eighth, Broken Hill second generation racer Brendan Guerin's Century Batteries entry in ninth (he also won the American Racer Hard Charger) Jackson Delamont's Mad Harry's Steel #48 KPC in tenth and Ryan Jones (Murray Machining & Sheds Triple X) in eleventh.

Shane Stewart soldiered on to twelfth despite two beaten up wings and a badly bent draglink (steering arm) on the Milwaukee Power Tools #7 Maxim after he rolled over on the first lap.

Stewart earned the Hog's Breath Café "Go the whole hog" award for his effort.

Robbie Farr had stormed from the B-Main (he started from the fifth row in that) to sixth place in the Hi-Tec Oils Maxim but hooked a rut and rolled, ending a difficult night that he was well on the way to salvaging with a possible top five result.

The infield looked like a wrecking yard sadly with several badly damaged racecars from separate incidents including Daniel Pestka (front end) Brad Keller (front end) Brooke Tatnell (motor) Hayden Pitt (rollover) Robbie Farr (rollover) Michael Burford and Brent Aprile (retired).

Garry Brazier's disappointing run of bad luck continued with an engine issue ruling him out of a certain B-Main transfer to the main event, despite a 'vintage Braz' heat win earlier in the night when he took the #21 to the highline and looked like the 6 times Aussie champion of old.

The Championship now has three rounds over four nights remaining with events at The Perth Motorplex and QUIT Bunbury Speedway over the next two weekends.

A-Main (35 laps)
1. Jamie Veal
2. Steve Lines
3. James McFadden
4. Luke Dillon
5. Jamie Maiolo
6. David Murcott
7. Steven Caruso
8. Dylan Jenkin
9. Brendan Guerin
10. Jackson Delamont
11. Ryan Jones
12. Shane Stewart
DNF: Robbie Farr, Hayden Pitt, Brooke Tatnell, Michael Burford, Brent Aprile, Jamie Cobby, Bradley Keller, Daniel Pestka.

WSS Points
1. Steven Lines 2436*
2. James McFadden 2352*
3. Luke Dillon 2267*
4. Brooke Tatnell 2092*
5. Jamie Veal 2070*
6. Shane Stewart 1757*
7. David Murcott 1701
8. Daniel Pestka 1612*
9. Robbie Farr 1610
10. Dylan Jenkin 1573*
11. Jackson Delamont 1539*
12. Garry Brazier 1282*
13. Daniel Harding 1265
14. Brad Keller 1129
15. Ian Madsen 998
16. Jordyn Brazier 930*

* Indicates WSS contracted drivers

-end-
WSS Doubles as the George Tatnell Cup

Feb 5, 2014

This Saturday Night, Adelaide's Speedway City will host ENZED World Series Sprintcars for the second time this season as a field of over 30 competitors contest Round 9 of the 2013/14 series.

As it has done previously, this event will incorporate one of the most prestigious events on the Australian Sprintcar calendar as it doubles as the "George Tatnell Cup".

In what will be a special night, this weekend will mark the first occasion that Brooke Tatnell will be able to contest the event that honours the life of his father. George is one of only three drivers in Australian Speedway history to have won both the Australian Speedcar and Sprintcar Championships, with his only Sprintcar Championship victory coming at the Adelaide venue in 1988.

For the leading drivers there is not only a prestigious feature race to win this Saturday night, but also an intense championship to concentrate on. Current series leader James McFadden holds a slender 95 point lead, heading into the Adelaide round over the local South Australian driver and previous round winner Luke Dillon.

With only four rounds remaining, both McFadden and Dillon and under serious pressure from Mount Gambier's Steven Lines (2013 GT Cup Winner) and Brooke Tatnell, both of whom are yet to play their double feature points "Joker Card".

American Shane Stewart appears to be out of Championship contention but he was in a similar situation last season. A late charge then saw the Monte Motorsports pilot claw his way to second in the overall points. He certainly cannot be discounted for a round win before the season is done.

Of the remaining contracted drivers in action, Jamie Veal has found some outstanding mid-season form with a podium result in Lismore and a preliminary feature win at the Classic only 2 weeks ago. And the other contracted drivers led by Daniel Pestka, Dylan Jenkin, Jackson Delamont Garry Brazier and Jordyn Brazier are always out to impress at the big events.

Then of course you also have a number of competitors who are simply here for the win, without championship pointscores to worry about. Dave Murcott will debut the Australia #1 for the first time after his stunning win at Latrobe in Tasmania last weekend.

"It was great to finally get the win after knocking on the door for so long and it was a great reward for Horrell Motorsport," stated Murcott.

"Our focus will now be on the George Tatnell race. We were lucky enough to win the first one and we have won a lot of big races in Adelaide so we are looking forward to getting back there."

In addition to Murcott former WSS Champion Robbie Farr is always fast at Speedway City having claimed the Sprintcar Masters earlier in the year, while Western Australian's Jamie and Brad Maiolo, Daniel Harding and North Queenslander Brent Aprile will also be present.

However, you can never count out the local "South Aussie Posse" which is led by current Speedway City Track Champion Brad Keller, who finished second to Lines in the opening round of WSS on Boxing Day. The domestic contingent also includes two former GT Cup Champions in Ryan Jones and Ricky Maiolo along with local stars Steven and Mark Caruso, Terry and Hayden Pitt, Jamie Cobby, Brendan Guerin and Luke Bowey.

Racing starts from 6pm at Speedway City, Virginia SA.

www.worldseriessprintcars.com.au

www.speedwaycity.com.au

-end-
Tim Kaeding Celebrates A Classic Triumph In Spectacular Fashion

California's Tim Kaeding has wildly celebrated his strong victory in the 42nd Lucas Oil Grand Annual Sprintcar Classic last night in sensational style becoming the first American in four years to win Australia's biggest-ever speedway event.

Kaeding's car ended up rolling on its side on the main straight after he'd combined a succession of high speed donuts in outrageous and entertaining celebrations after the race. Then the likeable Kaeding climbed from his car still with chequered flag in his left hand to a rousing reception from the capacity 9000 strong crowd on hand at Sungold Stadium.

The brilliant Kaeding was to good for his 23 Classic final rivals and pocketed a cool $30,000 and was the first USA driver to win since Shane Stewart in 2010. After grabbing the lead on lap five when he raced under early-leader, Warrnambool's Jamie Veal who he shared the front row with, Keading was never headed in the 40-lap final. Kaeding led home multiple Classic winner Max Dumesny and the ultra-impressive and fast Veal.

While Kaeding had hustled to the lead early it was the experienced Dumesny who did the same going to second on lap seven pushing Saturday night's winner to third and those positions would not alter for the remainder of the race.

With much of the field running the bottom line for the entire journey positions didn't change too much but on lap 31 a hush came over the crowd when seven-time Knoxville Nationals champion Donny Schatz had a huge roll. Schatz went to the high line but launched into the air after riding Robbie Farr's right rear wheel and wrecking his chassis and was out for the race.

Kaeding said of his celebrating that it was unexpected how his car would end up.

"I wasn't expecting that to happen. In the race I never once left the bottom. I didn't expect to have the week I've had. It was one of those weeks with no expectations. This win will be awesome for me as I go into a new season back home," Kaeding said.

Kaeding's car-owner Sean Dyson of Singleton in NSW still was coming to terms with his team's efforts an 90 minutes after claiming the country's biggest sprintcar race.

"I'm still pinching myself that we've just won the Classic. Two years ago I was just sitting in the crowd. Then I came home and said to my wife I want to do this and go and race that Classic. We bought the KPC Chassis car that Jason Meyers raced here two years ago and now really the rest is history. TK did an amazing job the whole time he's been here," Dyson said.

Warm and sunny temperatures yesterday helped build a massive three-day crowd aggregate of more than 23,000 people who had packed into the Allansford complex during racing and none were left disappointed after the excellent racing in perfect conditions.

Earlier it was three-time Classic champ Brooke Tatnell who had raced to the first B Main win from Darren Mollenoyux, Dale Blaney and Grant Anderson with the last-chance B going to Steven Lines from Cameron Gessner, Jason Sides and David Murcott.

The opening C Main would end Sheldon Brady's night's racing when he climbed the front straight wall and rolled through the air with Tim Rankin and Mitch Foster caught in the melee. Ryan Jones eventually got the win from Kevin Titman, Taylor Milling and John Vogels while the second group of transfers were David Gravel, Danny Reidy, Shane Stewart and Darren Hickman.

The D Main 1 was won by Sheldon Brady from Rod Matthews and the second D was won by Dennis Jones from Steven Rowell.

Heat winners were David Murcott, Shane Stewart, Andrew Wright, Dale Blaney, Lee Nash, Tim Rankin, Brad Sweet, Kris Lacey, David Gravel and Jamie Hennessey.

Tim Kaeding was judged the fastest time trialler over the two combined nights of qualifying with the quickest lap of 10.471 seconds and received the Alan Pollard Memorial Quick Time Award and also the Ian Sheppard Memorial Award, given to the driver who makes an outstanding contribution over racing at Avalon, Mount Gambier and Warrnambool.

Kris Lacey won the best presented car and crew as judged by the hard-working Premier Speedway Maintenance Sub-Committee and courtesy of R & M Security Services and grabbed $1500.

The Thomos Race Graphix Hard Luck award went to USA's Brad Sweet while the Skwid Signs Classic Hard Charger award went to the impressive Cameron Gessner of WA who came from 20th to 13th.

This year's Lucas Oils Grand Annual Sprintcar Classic was the club's first three-day extravaganza with prizemoney totaling a massive $208,000 and beat all records before it with a record field of 118 cars entered including 20 visiting American drivers. These numbers have never been seen in Australian sprintcar racing history.

-end-
Clauson claims checker but Hagan stacks the points

Media Release
Sunday January 26, 2014
For immediate release

2014 Chili Bowl winner Bryan 'The Bullet' Clauson only landed in Australia on Friday! He had been awake since 3am yesterday yet the 24yr old from Indiana steered the United Truck Parts Insley Racing#USA39 King/Esslinger into first place across the line, in the Preliminary Feature race for Round 4 of the inaugural World POWRi Midget Championship at Supercheap Auto Archerfield Speedway last night.

"This place is really neat, I love it. It's a little bit closer to what we have at home than maybe what we see in New Zealand. I think that's why you saw the Americans rise to the top in the end of that one (the Feature) 'cause we feel right at home here," said Clauson.

He continued "They've got the track in really good shape for the weather they've fought all week and I'm excited to see what they give us for tomorrow night."

Fellow countryman and 2013 USAC Midget Champion #USA2 Christopher Bell dazzled onlookers with a courageous drive from position 10 to cross the checkers in second place while chasing down Clauson. Bell laid down the fastest lap of the feature with a 14.489 second lap of the Queensland circuit.

Clauson may have been first passed the chequer, but it's the 2013 USAC National Midget Pavement Champion #USA91 Darren Hagan who now leads the point's score heading into tonights final. The Californian claimed two heat wins and third fastest in time trials (with a 14.040s lap) and a gutsy third place in the Preliminary Feature resulting him with 143 points; clear of Clauson by just 21 points.

There were a number of quick Kiwi's last night; four of them are in the top ten and its New Zealander #NZ96 Chris McCutchen who holds third place with 120 points following night 1. He was off to a good start as fourth fastest in time trials with a 14.124s lap then capitalised with a third place finish and first in his heats.

Two Aussies are flying the flag in the top ten, defending Australian Midget Car Champion and Sydneysider #N7 Nathan Smee has locked down fourth place in points (118), posting second fastest in time trials; and one of only two drivers to break into the 13s bracket with a 13.954s lap before the track slickened off. Smee's first two heats were sluggish but he dialled in to take the win in his final heat.

Kiwi #NZ7 Brad Mosen holds fifth (115), Queenslander #25 Anthony Chaffey is in sixth (112) tied with ex-Kiwi #NZ89 Michael Kendall (112), #USA2 Christopher Bell is eighth (111), #NZ3 Hayden Williams is ninth (109) and #USA29 Alex Bright (104) rounds out the top ten.

Bright put in some scintillating drives, namely in heat 7 when he dived through the pack from sixth into the first turn and came out the other side in third. The closing laps saw him and Clauson fight wheel-to-wheel before Bright got the heads up off the final turn; this is just a taste of what the fans on the enjoyed all night.

It was the 'Missouri Missile' who posted Quick Time; Andrew Felker capably piloted the CJR Motorsport #USA82 Breka/Toyota around the 400m track clocking a 13.906s lap. He was on the charge in his second heat and up into third before mechanical issues then affected the remainder of his night. He qualified for the front row of the B-Main but was unable to make the start; the crew will replace the differential today.

And what of our three-time Australian Speedcar champion #A1 Adam Clarke? He's still in with a shot in twelfth on 93 points following a heat win, a third and a fourth. He qualified 14 for the A-Main and drove a consistent race to eventually finish the Feature in seventh. The Australian POWRi SSS leader #Q69 Brett Thomas got off to a rocky start following contact amid traffic during his first heat. The crash cost him his second heat but the crew worked hard to get him back out for the third and he drove the wheels off the Illuminated Industries rocket from 15th to 6th in the B-Main.

Two cars won't make it back for tonight's racing. The #Q91 car of Rob Stewart is out, as is #22 Ashley Jarvis. In his first full season racing a Midget Car, Jarvis and the team are having to dig deep. Ashley clipped the wall out of turn four at the end of his second lap in Time Trials which ended his night.

Two support divisions competed last night. In the Lightning Sprint Feature #6 Jim Kennedy was just too good, #22 Peter Campbell finished second but he had his work cut out for him though he raced with a damaged wing as a result of a roll-over earlier in the night; #20 Mark Sinton filled the minor placings. The AMCA Feature ran 20-laps non-stop and it was #98 Nathan Durston who dominated the entire race. He led flag to flag, negotiated lapped traffic from the 8-to-go mark and finished a full straight-away ahead of #32 Steve Potts and #77 Jason Molle.

Archerfield Speedway Promoter John Kelly immediately started prepping the track after presentations. Three days of heatwave earlier in the week then 100mm of rain on Thursday was certainly testing but he's aiming for more stability in the track surface tonight.

Tonight we will crown the winner of the first Australian round in the inaugural World POWRi Midget Championship; don't miss this historic event! Support divisions include Modlites, Compact Speed Cars, Open Sedans and it's the crazy Caravan, Boat & Dunny race; there'll also be a huge fireworks show.

Spectator gates open 4pm. Tickets are available online from our website www.brisbanespeedway.com.au using Visa or MasterCard (online tickets incur a fee and are only available until 2pm today) or purchase your tickets from the gate - there are no eftpos, ATMs or Credit Card facilities at the venue.

-end-
Kendrick claims fourth AHG Sprintcar Series win

SUNDAY JANUARY 26, 2014

JASON Kendrick took full advantage of a front row start to win the 20 lap sprintcar feature race from Kye Scroop and Mark Wells at the Perth Motorplex on Saturday night.

This was Kendrick's fourth win of the season with the team shaking off much of the bad luck they endured early in the championship.

The hard luck story belonged to Callum Williamson and Trent Pigdon who were both in for a podium finish but came together as they tried to avoid a spinning car on lap eight and both had to restart from the rear.

They were locked in a great duel in the second half of the race but unfortunately it was for seventh and eighth.

Jake Beard-Miller, who was a late nomination, after scrapping his original plans to contest the 360 championship in Esperance, drove well for fourth with Troy Beckingham finishing his first feature race in a long time, claiming a well-deserved fifth.

"We have obviously got this car set up unreal and hopefully we can just keep this run going with all the big guys coming in from over the east," Kendrick said.

"We have got an awesome team."

Scroop was pretty impressed with the podium finish, suffering a wretched run in recent times.

"It's been a real hard six weeks, we have not finished a race for six weeks and this is for all the boys," Scroop said.

"Without them we just couldn't do it.

"It was just good for us to get a finish and get rolling leading into World Series."

Wells, who started from position eight in his new white car, finished strong for his third.

"Yeah we have gone back to a bit of old school," Wells said.

"This car was supposed to be here in November but it got here a bit late.

"A lot of people like the white and a lot like the black, but I hate silver (this is Wells' 25th season) so it had to be white.

"We were all doing the same speed but I had nothing for him (Scroop), I was virtually flat out.

"It was good to get some laps with the new car."

Qualifying: Trent Pigdon 14.350, Jason Kendrick 14.558, Shane Norris 14.596, Kye Scroop 14.718, Mark Wells 14.730, Ryan Lancaster 14.910, Callum Williamson 15.142, Jake Beard-Miller 15.182, Jason Bolan 15.304, Troy Beckingham 15.346, Troy Lawson 15.559, Cale Sotiroff 15.688, Damian Blacka 15.689, Jason Pryde 15.840, David Scofield 16.359.

Heat 1: 1st Callum Williamson, 2nd Jake Beard-Miller, 3rd Jason Kendrick, 4th Kye Scroop, 5th Shane Norris, 6th Troy Lawson, 7th Troy Beckingham, 8th Damain Blacka, 9th David Scofield. DNF: Ryan Lancaster, Jason Boland, Jason Pryde, Trent Pigdon, Cale Sotiroff and Mark Wells.

Heat 2: 1st Jason Kendrick, 2nd Trent Pigdon, 3rd Kye Scroop, 4th Callum Williamson, 5th Ryan Lancaster, 6th Mark Wells, 7th Troy Beckingham, 8th Shane Norris, 9th Troy Lawson, 10th Damian Blacka, 11th Jason Boland, 12th Jason Pryde, 13th David Scofield. DNF: Jake Beard-Miller.

Feature: 1st Jason Kendrick, 2nd Kye Scroop, 3rd Mark Wells, 4th Jake Beard-Miller, 5th Troy Beckingham, 6th Ryan Lancaster, 7th Trent Pigdon, 8th Callum Williamson, 9th Jason Pryde, 10th David Scofield. DNF: Damian Blacka, Troy Lawson, Jason Boland, Shane Norris and Cale Sotiroff.

-end-
McFadden Claims Night One Victory At The Classic

Reigning Australian sprintcar champion James McFadden blasted to an emphatic victory over seven-time Knoxville Nationals champion Donny Schatz to win the opening night of the 42nd Lucas Oil Grand Annual Sprintcar Classic.

On a slick surface in front of 5500 fans McFadden was patient in his drive to collar the American star on lap 23 and grabbed a deserved win at the venue which has brought him great success.

Adelaide's Trevor Green was third after an early battle with Schatz for the lead and the 1997 Classic winner looked again in ominous form after two wins in as many weeks in Sydney just prior to the Classic.

Polesitter Luke Dillon grabbed the lead at the start of the feature from Tim Kaeding while McFadden lay in third. Moments later McFadden tagged the wall on lap five coming out of turn three and knocked the Jacobs Ladder hard, and a lap later Robbie Farr also hit the wall on turn three and rolled with Schatz sneaking through to lead.

The restart saw Schatz lead from McFadden, Dillon, Kaeding, Kerry Madsen and Kyle Hirst while Max Johnston had moved through the pack to be 13th from grid position 20.

Jamie Maiolo spun two laps later and Dillon remained third while in a solid duel with Madsen and Kaeding.

Kaeding hustled through quickly on Dillon to third at the restart and relegated him to fifth.

Trevor Green moved past Kaeding with ease on lap 16 to fourth in pursuit of Madsen as Schatz raced away but Schatz was passed by on lap 23 for the lead, while Shaun Dobson was up to fifth in a stirring drive from 11th.

Officially over the line McFadden held off Schatz while Madsen was in third but relegated four positions for twice passing on the infield so Green was pushed up to third and Shaun Dobson drove brilliantly from 11th to be fourth in a gutsy drive.

McFadden said he was happy to finally bag a big race win.

"It's good to final get back where we finally should be. I knew it would come down to lap traffic and for us now it's a big look ahead to Sunday night for us," McFadden said.

Schatz still was looking forward to the final night's action also.

"I didn't expect the track to take that much rubber. I got it right on the slick and James did a great job and he did a clean pass. We did the best we could tonight, but we juts got beat its as simple as that," Schatz said.

Luke Dillon and Tim Kaeding came off the front row with Australian sprintcar champion James McFadden and Donny Schatz on the second line for the 30 lap final.

The 2014 Classic has beaten all records before it in the world with a record field of 118 cars entered including 20 visiting American drivers. These numbers are unmatched ever in Australian sprintcar racing history in an epic three-day show supported by Oval Express magazine, G J Gardner Homes, KRE Race Engines and Lady Bay Resort.

The night opened in sensational fashion when Brent Krantzmann rolled as did David Priolo and Tim Kaeding blasted from pole to cruise home for the win.

Other heat winners all came from the front row and were James McFadden, Donny Schatz, Luke Dillon, Robbie Farr, Bryan Mann, Bud Kaeding, Trey Starks, Danny Smith and Tim Rankin.

C Main of 15 laps was an eventful opening when Jake Smith's right rear tyre caught the turn two wall and rolled. On lap three a massive end to end roll saw Matthew Dumesny exit the race. Transfers to the B Main were Andrew Wright, Jay Waugh, Sheldon Brady and Todd Wanless who came from the rear to grab fourth but was relegated two spots for an indiscretion, so. Geoff Ensign was through.

Dave Blaney of Iowa raced to the front of the B Main until lap nine when he cut a right tear tyre and was out. Darren Hickman eventually won from Will Carroll, Daniel Pestka and Sydney live wire Magic Max Johnston.

The Super Rods again were a solid support and their final was a tight contest with great wheel to wheel racing and Dale Walsh won from Alan Pitcher and Adam Verhoeven.

The three-day race weekend kicked off in usual with the Flying Horse Bar and Brewery on Friday morning for the Classic Brunch and was a sold out affair superbly hosted by Wade Aunger.

Today is the popular, annual Fan Appreciation morning at the same venue with plenty of displays, giveaways and interviews to keep everyone entertained.

Tonight's racing will see another 30-lap Oval Express Australia / America Challenge paying a cool $10,000 to win following time trials, heats and a C and B-main.

The Points After Night One Are:

1. James McFadden 558
2. Luke Dillon 556
3. Tim Kaeding 552
4. Donny Schatz 530
5. Trevor Green 522
6. Kyle Hirst 512
7. Kerry Madsen 506
8. Shaun Dobson 498
9. Jason Sides 496
10. Robbie Farr 494
11. Cameron Gessner 490
12. Kevin Swindell 482
13. Bud Kaeding 470
14. Justin Henderson 466
15. Jamie Maiolo 446
16. Bradley Keller 446
17. Will Carroll 434
18. Darren Hickman 434
19. Kody Kinser 414
20. Daniel Pestka 402
21. Kevin Titman 402
22. Dale Blaney 400
23. Bryan Mann 394
24. Danny Smith 390
25. Jackson Delamont 384
26. Max Johnston 378
27. Dennis Jones 368
28. John Vogels 364
29. Carl Dowling 350
30. Andrew Wright 342
31. Jay Waugh 336
32. Sheldon Brady 334
33. Mitch Foster 332
34. Jamie Hennessy 324
35. Nick Lacey 322
36. Lee Nash 314
37. Tim Rankin 314
38. Geoff Ensign 302
39. Jake Smith 300
40. Trey Starks 288
41. Daniel Harding 280
42. Matthew Dumesny 272
43. Luke Nash 270
44. Callum Zizek 268
45. Todd Wanless 266
46. Troy David 254
47. Tyler Courtney 254
48. Kristy Ellis 248
49. Jamie Stark 234
50. Eddie Lumbar 234
51. Peter Gordon 228
52. Paul Rooks 200
53. David Priolo 200
54. Robin Dawkins 188
55. Brent Kratzmann 150

-end-
Hirst takes the Challenge

The Mainline DynoLog Dynamometers All Star Challenge was taken out by USA10 Kyle Hirst in the Michael Cunningham owned PRP Engineering ART. A jubilant Hirst pulled in over the scales, weighed in good and climbed from his mount to celebrate with Crew Chief Mikey and the Cunningham team. His elation at winning the event was obvious.

With Hirst and Gravel lining up on the front row, Ely & Ensign in P3 & P4 the crowd knew they were in for a great feature race and the drivers certainly didn't let them down. Hirst got the start and led for the first lap but then David Gravel who had landed in the country only the day before passed him for the lead. The 2 diced each other lap after lap until lap traffic played its part when Hirst took advantage of this and swept passed Gravel for the lead. The rolls then reversed with Gravel doing the chasing but couldn't manage to get thru again. With the race going green to chequer it was a spectacle to watch.

SA22 Ely was the first Aussie home after making an outside pass in the later stages of the race on USA60 Geoff Ensign to finish in 3rd with Ensign 4th. 5th and 6th placing's taken by the local Simpson favourites of V70 Johnny Vogels and V4 Phil Lock. The spectator banks on Turn 1 all barracking for the favourite sons would have been elated with the results.

Scott Bogucki's SA84 came for an unplanned drive across the SA border to run his 2nd All Star event. He drove an excellent race and was up to 4th in the middle stages of the race but unfortunately spun on turn 4 as the chequer was dropped. This youngster showed impressive talent taking on the Simpson track for his first visit there.

V86 Tim Van Ginneken kicked the night off well claiming the Oval Express Magazine Quick Time Award in only his 2nd run for the season.

With the Essendon Ford Big Screen being managed by Pro Videos expert Matthew Hamilton the night was made extra special with and insight to the Drivers meetings, race footage, action replays and driver interviews being shown just added another level to the show and the huge crowd in attendance.

Heat Wins: V86 Tim Van Ginneken, USA88 David Gravel, USA10 Kyle Hirst, V83 Chris Solomon, V4 Phil Lock, ACT15 Harley Bishop

A Main – USA10 Kyle Hirst, USA88 David Gravel, SA22 Chad Ely, USA60 Geoff Ensign, V70 Johnny Vogels, V4 Phil Lock, V91 Liam Williams, ACT49 Matt Reed, V86 Tim Van Ginneken, V68 Brett Milburn, V90 Corey McCullagh, SA62 Colin Brooks, V7 Paul Solomon, V40 Darren Hickman, V8 Corey Lincoln, V99 Zac Farrer, V11 Brad Foster, V82 Chris Solomon, SA84 Scott Bogucki DNF, ACT15 Harley Bishop DNF.

Points
1 SA 22 Chad Ely 1763
2 ACT 49 Matt Reed 1719
3 VIC 4 Phil Lock 1623
4 SA 83 Shannon Barry 1577
5 VIC 83 Chris Solomon 1576
6 VIC 7 Paul Solomon 1574
7 VIC 74 Michael Cunningham 1548
8 ACT 26 Tony Moule 1468
9 VIC 99 Zac Farrer 1464
10 VIC 11 Brad Foster 1453

-end-
Star studded field for the All Star Challenge

A star studded field of entries has rolled in for the Mainline DynoLog Dynamometers All Star Challenge. With nominations currently sitting at 34 for the event this Saturday night you can guarantee all drivers will want to take the pay cheque of $5000 for 1st place.

All the All Star regular ensured they locked in early for the event. Last year's Challenge winner Matt Reed is driving the ACT49 Modern Stainless Steel Eagle which he has proven to be fast and consistent all season and will be looking to take out the winner's purse again. A late nomination coming thru from the V40 Darren Hickman after solving niggling engine issues.

Hickman has been on the dais every year but never managed to take the win. "I'm gonna win this one day – I have been in the top 3 for 3 years now and it's time to take 1st" the amicable Hickman told us earlier this week. Current Series point's leader Chad Ely in the SA22 J&J will also be thinking about points to ensure his lead for the end of year championship. Ely has freshened up his engine during the past week and is serious about taking out the cash.

Hard charging ACT26 Tony Moule is looking for a positive result to show he is back in form. Local hot shots V70 Johnny Vogels and V4 Phil Lock both have their own goals to achieve at their home track. V74 Cunningham, V86 Van Ginneken, V68 Milburn, V7 & V83 Solomon brothers, V11 Foster, V34 Farrer, V91 Williams, Q77 Kratzmann, ACT15 Bishop, V96 Hennessy all have the ability and desire to make it their own night and come away with a $5K payout.

Then there's the Yanks - you can guarantee they are serious about taking out the cash. USA10 Kyle Hirst's PRP Engineering's ART is hot after winning RD6 of the All Star Series at Simpson and also the 410 Victorian Title last weekend. Hirst and Crew Chief Mikey will be very focused about this weekend and certainly be a team to watch. Current 360 Victorian Title holder USA60 Geoff Ensign's Master Fit Out's Maxim looked very fast last weekend winning the No 1 for Victoria and the $5K would be bonus before their assault on the Classic. USA88 David Gravel's Drysdale's Chaff Mill, Bass Concreting, Lucas Oil Products, Victory Lane Racegear backed J&J might have a bit of jet lag only arriving in the country the day before the race but that won't slow him down as he tries to improve on his 2nd placing last year.

Don't miss the fireworks this Saturday night at Heytesbury Stockfeeds Simpson Speedway, racing starts at 6.00pm.

-end-
Meyers, Caunt Team Up To Tackle Lismore

Jan 13, 2014

Former WSS contracted driver and high-profile New South Wales team owner, Steve Caunt, is preparing to welcome Jason Meyers to Australian soil later this week in preparation for WSS' return to Lismore Speedway.

Meyers is scheduled to arrive in Australia Wednesday, before stepping into the cockpit of the special-edition USA 9 car Saturday night.

The Garrett-powered KPC car will look mostly familiar to fans, but features a special stars and stripes accent and some minor mechanical changes specifically for Meyers.

While Caunt is perfectly capable behind the wheel himself, and acting as a team owner is not without its own stress, the opportunity to vacate the cockpit for a close friend was too good to pass up.

"It's stressful just making sure everything goes well," said Caunt. "It's easy when there's a personality like Jason around, though."

"He's really positive and uplifting for all of us - he'll polish floors in the trailer and clean if he needs to - nothing is too hard for him."

The relationship between the Caunt and Meyers families began several years ago when Jason travelled down under to race for the SCR team. A year later Caunt imported two cars from Meyers' USA operation and completed a 6-week stint with the team in the USA, but that certainly wasn't the end of the partnership.

"The following year Jason came to Australia and was considering his future in the sport," Caunt continued. "We ended up buying the complete Outlaw team (except for a couple of trucks and cars) to continue to run Jason."

"Since then we have been on holiday with the Meyers family and continue to build a great relationship."

Meyers and the Caunt team were thrilled to be able to join WSS in New South Wales, and despite other high profile events on the same weekend, the team never considered racing anywhere else.

"David Lander (Lismore promoter) did a deal with Jason and I a couple of years ago when David was in Sydney, so Jason and I both have a great level of trust and respect for him as a Speedway promoter."

"World Series Sprintcars is professionally run and full of great people, so we never considered running any rival show. I know when we arrive at the track, Shane Collins (WSS Race Director) will be there to greet us and shake our hand - it's a bit like a family and we really appreciate that."

Stay tuned throughout the week for more stories and previews regarding World Series Sprintcars' return to Lucas Oils Lismore Speedway on January 18, and be sure to visit lismorespeedway.com.au for more news and updates.

-end-
AHG SPRINTCAR SERIES POINTSCORE (After Round #12)
1. Cameron Gessner 2080 *
2. Jamie Maiolo 2004 *
3. Brad Maiolo 1978 *
4. Jason Pryde 1930 *
5. Cale Sotiroff 1918 *
6. Sheldon Brady 1870 *
7. Trent Pigdon 1842 *
8. Lee Nash 1822 *
9. Jason Kendrick 1804
10. Callum Williamson 1804 *
----------------------------
11. Ryan Lancaster 1780 *
12. Kye Scroop 1382 *
13. David Priolo 1310 *
14. Luke Dillon 1272 *
15. Shaun Bradford 1168 *
16. Daniel Harding 1118 *
17. Carl Dowling 1096 *
18. Mark Wells 1034
19. Brodie Minchin 1026 *
20. Troy Beckingham 948 *
21. Jason Boland 480
22. Matt Young 252
* Indicates driver has played his double point "Joker" card.

The next round (which is the last round to qualify for The Chase) will be held at the Perth Motorplex on January 25.

-end-
Donny's Too Damn Good in WSS Australian Open At Archerfield

Jan 11, 2014

5 times World of Outlaws Champion Donny Schatz brought his A-Game to Supercheap Autos Archerfield Speedway tonight as he stormed to victory in the 2014 Australian Open that doubles as Round Seven of the ENZED World Series Sprintcars Championship.

Schatz steered his Crimsafe J&J to victory in the marathon 50-lap $20,000 to win main event but not before having his hands full with a spirited David Murcott who led 19 laps in his East Coast Logistics #83 Maxim.

Schatz got by the Victorian but four laps later Murcott had reassumed the point position until the American slotted back by into fresh air on lap 27.

Murcott's stellar run (in which he ran in the top three) came to an abrupt end on lap 42 when he caught the very pronounced cushion and flipped the #83 up on to the turn four concrete wall.

Until that moment it had been one of his best drives in many seasons in what had been a fitting reward for pole position and $500 cash thanks to his win in the Amadio Wines Top 8 Shootout before the main event.

"It was a lot of fun racing with Dave for the first half of the race," Schatz would later tribute, "it's rare that you can run so close to someone without them getting into you or changing lines constantly. I felt very comfortable running with him like that."

Despite dense and often two-wide lapped traffic in front of him Schatz showed his class for a large and appreciative crowd on hand - a crowd that included long time West Aussie car owner Luch Monte who had flown over for the weekend.

Steven Lines moved his Halls Haulage #3 KPC into second after getting by Murcott on lap 27 and several times the hard charging South Australian appeared to be making ground on the 5 times World of Outlaw champion.

Though he was unable to get close enough to have a real crack at the leader Lines paid tribute to his American rival.

"He just doesn't make any mistakes. I had a look a couple of times but we never really got close enough to make a real play for the lead. In instances like that you have to keep reminding yourself to pay attention to what he's doing and learning from one of the best. This is a good result for us, I'm pleased for the team and I'm relieved that we have our motor program back in shape."

The big movers in the field were James McFadden (Totally Workwear Cool) and American Brad Sweet in his Highrace Towing #99 TI22.

The Californian charged to an eventual third place and was really gaining on Lines and Schatz as the chequers flew.

"My motor was starting to get hot towards the end but if it hadn't I sure would have liked another twenty laps," he mused, "the car was beautiful and I really enjoyed my first look at Archerfield. It's a racy place."

McFadden came from tenth to fourth and as a consequence of playing his "Joker" card was able to double his points haul and move into the series lead, despite the fact that Steven Lines had placed second and finished two spots ahead of the defending champion in the A-Main.

McFadden is clearly frustrated at not being able to break through for his first WSS main event win for 2013/2014 despite clearly having the car speed.

The two-time and defending champ now has a 112 point lead over Lines as the series heads to Lismore Speedway next weekend for Round 8.

Brooke Tatnell raced through the field to salvage fifth in his Krikke Motorsport Cool despite the best efforts of fast-finishing American Jason Sides trying to pip him for the spot in the #7 Horrell Motorsport Maxim.

Luke Dillon was racy early in his Diamond Bay Motorsports #26 Maxim but faded late in the race to seventh despite a typically barnstorming drive from the quietly spoken South Australian.

Dillon battled with fellow South Aussie Daniel Pestka for several laps with Pestka's GFM J&J eventually placing eighth behind Dillon's #26.

Grant Anderson ran a consistent ninth in the Fuchs #37 Maxim ahead of Ian Madsen (who changed a motor in the Dave Sharman fettled #29 Watson's Transport Eagle) in tenth, Shane Stewart (who came from 19th) in the Milwaukee Power Tools #7 Maxim eleventh, Andrew Scheuerle's Ausdeck Patios & Roofing Cool in twelfth, David Muir's Titan Garages #36 Maxim thirteenth, Luke Oldfield's #17 JB Automotive entry fourteenth, Bryan Mann's #16 Eagle Motorsport entry fifteenth, Brent Aprile in the Everyready Technologies #42 Maxim sixteenth and Jamie Veal seventeenth in the Heytesbury Stockfeeds #35 J&J.

Veal was indeed lucky to finish the event after he was involved in a red light situation with Dylan Jenkin (DNF) in the Gericke Bulk Handling Cool and Luke Oldfield in turn two.

Veal and Jenkin both were able to restart due in no small part to the various crew from other teams who lent a hand under the red light period but Jenkin retired not long after with complications from the initial incident.

Robbie Farr was a lively contestant in the Hi-Tec Oils Maxim but retired from the main event with a mystery mechanical ailment not long after David Murcott's red light stoppage in turn four with 9 laps remaining.

The winner of the mid-pack scramble was Brad Sweet over Ian Madsen whilst Jamie Veal swept the B-main from fellow transferees Luke Oldfield, Brent Aprile, Grant Anderson, Shane Stewart and Bryan Mann.

As the series heads to the neutral playing field at Lucas Oils Lismore Speedway some 84 different drivers have now contested events on the 2013/2014 ENZED World Series Sprintcars Championship.

Brisbane Int Speedway
WSS 2013-14 Brisbane R7
A-Main (50 laps)
1. Donny Schatz
2. Steve Lines
3. Brad Sweet
4. James McFadden
5. Brooke Tatnell
6. Jason Sides
7. Luke Dillon
8. Daniel Pestka
9. Grant Anderson
10. Ian Madsen
11. Shane Stewart
12. Andrew Scheuerle
13. David Muir
14. Luke Oldfield
15. Bryan Mann
16. Brent Aprile
17. Jamie Veal
DNF: Dylan Jenkin, Robbie Farr, David Murcott.

The top 20 in Championship points are:
James McFadden 1814
Steven Lines 1702
Luke Dillon 1656
Brooke Tatnell 1612
David Murcott 1457
Robbie Farr 1431
Shane Stewart 1306
Daniel Pestka 1243
Jamie Veal 1224
Dylan Jenkin 1168
Garry Brazier 1001
Ian Madsen 998
Brad Keller 962
Jackson Delamont 956
Brad Sweet 923
Daniel Harding 840
Kyle Hirst 801
Donny Schatz 777
Matt Egel 756
Grant Anderson 709

-end-
Kendrick wins AHG Sprintcar Series, Rd12

JASON Kendrick survived a midrace challenge from Brad Maiolo and then plenty of heat from Trent Pidgon in the last few laps to win round 12 of the AHG Sprintcar Series at Quit Bunbury Speedway on Saturday night.

Kendrick started outside of Maiolo on the front row and led for much of the event, crossing the line just 0.545 of a second from Pigdon with American Kody Kinser taking third.

The win capped off a good night for Kendrick who was second quickest in qualifying before enjoying a second and a first in his heats.

Jamie Maiolo put in a stellar drive for fourth after starting the 25-lapper from position 12 and was followed over the line by Lee Nash, Cameron Gessner, Brad Maiolo, Jason Pryde, Callum Williamson, Sheldon Brady, Cale Sotiroff and Brodie Minchin.

The feature race only made it to the first corner before a handful of cars got tangled up including Kye Scroop, Ryan Lancaster, Brodie Minchin and Jake Beard-Miller with the first two pushed to the infield as the pack reformed.

Miller was then out of the contest when he spun on the back straight after completing just one lap.

Sheldon Brady, who started from position four, was involved in a few wars early on and dropped valuable ground after impressing everyone with his progression through the Bronze and Silver Shootouts with Trent Pigdon, before the pair of them had their colours lowered in the Gold Shootout by Brad Maiolo and Kendrick.

With 15 laps to go Kendrick went wide coming out of turn two and Maiolo seized to take the lead but it was short-lived as only moments later Minchin spun in pits bend and the positions reverted to what they were on the previous lap.

Pigdon pounced on the younger of the two Maiolos for second spot with nine laps remaining and not long after Maiolo spun the car around on the back straight, leaving the track in third spot and rejoining in seventh.

Pigdon was all over Kendrick in the latter stages as they front runners closed in on the lapped car of Minchin but despite one low-line move Kendrick held on for his third feature race win of the season.

Gessner and Minchin played their Joker cards at the start of the night to double their points for the round.

Ultimately Gessner's sixth was a good points haul but the team didn't appear happy with the motor's performance for much of the night.

Williamson's crew was also chasing motor gremlins early on in the night but the young gun still showed plenty of attack and slid under Jamie Maiolo after only nine laps were completed.

Unfortunately the move didn't stick and he tagged the back straight fence, surrendering a couple of spots.

Troy Lawson made a welcome return to the series and although he only completed eight laps in the feature race he still showed plenty of potential.

Brad Maiolo is this round's winner of the Rogue Race Products Quick Time award with his 14.281-second lap in qualifying (over Kendrick's 14.359 and Kinser's 14.625) winning him another Rogue Race Products front wing.

The series returns to the Perth Motorplex on January 25.

Results:

Time trials. Brad Maiolo 14.281, Kendrick 14.359, Kinser 14.625, Nash 14.715, Sotiroff 15.238, Brady 15.526, Miller 15.664, Lancaster 15.702, Gessner 15.779, Scroop 15.817, Williamson 16.210, Minchin 16.481, Pigdon 16.596, Jamie Maiolo 16.790, Lawson 17.266, Pryde 17.688.

Heat 1: 1st Trent Pigdon, 2nd Callum Williamson, 3rd Kody Kinser, 4th Cameron Gessner, 5th Brad Maiolo, 6th Cale Sotiroff, 7th Troy Lawson. DNF: Jake Beard-Miller.

Heat 2: 1st Jamie Maiolo, 2nd Jason Kendrick, 3rd Jason Pryde, 4th Kye Scroop, 5th Sheldon Brady, 6th Lee Nash, 7th Ryan Lancaster, 8th Brodie Minchin.

Heat 3: 1st Brad Maiolo, 2nd Lee Nash, 3rd Trent Pigdon, 4th Cameron Gessner, 5th Ryan Lancaster, 6th Cale Sotiroff, 7th Jason Pryde, 8th Brodie Minchin.

Heat 4: 1st Jason Kendrick, 2nd Kody Kinser, 3rd Sheldon Brady, 4th Callum Williamson, 5th Kye Scroop, 6th Jake Beard-Miller, 7th Troy Lawson, 8th Jamie Maiolo.

Feature: 1st Jason Kendrick, 2nd Trent Pigdon, 3rd Kody Kinser, 4th Jamie Maiolo, 5th Lee Nash, 6th Cameron Gesser, 7th Brad Maiolo, 8th Jason Pryde, 9th Callum Williamson, 10th Sheldon Brady, 11th Cale Sotiroff, 12th Brodie Minchin. DNF: Troy Lawson, Jake Beard-Miller, Ryan Lancaster and Kye Scroop.

-end-
Schatz Hot In WSS Australian Open Preliminary

Jan 10, 2014

American Donny Schatz drove to a fundamentally faultless win in tonight's 20 lap preliminary A-Main in Round Seven of the ENZED World Series Sprintcars at Supercheap Autos Archerfield Speedway.

It was the perfect build up to tomorrow night's $20,000 to win 50 lap main event.

Schatz drove the Crimsafe / Gearwrench #15 J&J from pole position to an all the way win despite struggling several times with cumbersome lapped traffic.

"I got caught up with those lapped cars several times," he conceded, "and I thought for sure I'd run into a bit of trouble with the guys behind catching me. I ran the bottom for most of the earlier part (of the race) and when I tried to move up a bit and try something new there really wasn't much on offer. I ended up coming back to the low line."

Starting alongside Schatz was South Australian youngster Daniel Pestka in the GFM J&J and the 2013 WSS Rookie of the Year ran in second place for 19 of the 20 programmed laps until James McFadden's #1 Lucas Oils / Totally Workwear Cool relieved him of that position as the two slid into turn three on the final lap.

"Daniel did a good job," admitted McFadden, "it wasn't until the last two corners that I was able to get by him. In the end second place tonight is a pretty fair effort considering we had a pretty brutal time just getting into the A-Main."

The defending WSS champ went as far as saying he was genuinely fearful that he'd hurt seventeen year old Jordyn Brazier in his final heat when the young Sydneysider flipped into McFadden's path.

"I was relieved to see Jordy get out," James explained, "I hit him pretty hard right in the cage and I was really worried that he would be hurt."

Fortunately Jordyn wasn't injured but the same couldn't be said for his #21 Capalaba Wreckers entry with the chassis tweaked in the incident.

To rub salt into the wound Jordyn's Dad Garry extensively damaged his Schnee in a separate incident when the right front spindle broke and sent the car careening into the wall.

David Murcott recovered from a bruising encounter with Ian Madsen in his first heat to qualify for the A-Main and eventually run a strong fourth position in the Dave Horrell #83 Maxim with the Victorian hard charger pinching David "Blingy" Muir's spot as the laps wore down.

Muir brought the Titan Garages / Oven U Maxim home in fifth ahead of Brooke Tatnell in sixth (Toyota Genuine Parts Cool) Steven Lines seventh (Halls Haulage KPC) Californian Brad Sweet eighth (Highrace Towing #99 TI22) Luke Oldfield ninth (#17 JB Automotive) and Brent Aprile's #42 Eveready Technologies Maxim rounding out the top ten.

Following just outside the top ten were Andrew Scheuerle's #25 Ausdeck Patios Cool, Luke Dillon's #26 Bunbury Autogroup Maxim twelfth, Shane Stewart's #7 Milwaukee Power Tools Monte Motorsport J&J thirteenth, Jamie Veal in the Heytesbury Stockfeeds J&J fourteenth, Robbie Farr in the #7 Hi-Tec Oils / ECP Racing Maxim fifteenth, Dylan Jenkin's #51 Gericke Bulk Handling Cool in sixteenth and Bryan Mann's #16 Dave Horrell Eagle chassis classified as the last running car in seventeenth.

American Jason Sides unfortunately DNF'd with damage to his front wing and right rear corner after early race contact.

Revolution Racegear "Quick Time" in qualifying went to Donny Schatz with an 11.287s lap from Steven Lines (11.340) Daniel Pestka (11.380) Jason Sides (11.411) Luke Oldfield (11.507) Shane Stewart (11.517) David Muir (11.519) Brad Sweet (11.528) David Murcott (11.534) and Robbie Farr rounding out the top ten with an 11.539.

The Hog's Breath Cafe "Go the whole Hog" award went to Terry Bracken who extensively damaged his once pristine Mitchell Motorsport #19 when a spin involving Daniel Pestka took both cars out of the finishing results in their second and final heat.

Hard luck stories included Danny Reidy (who hurt a motor without even scoring a lap in Qualifying in his Desert Palms Resort #5.

"We've missed the inversion anyway now," said a disappointed Reidy from the infield "and we don't have a spare motor right now. We're better off parking it up."

Ian Madsen too was unlucky not to make the A-Main for the top 18 qualifiers when he and David Murcott crashed spectacularly in their first heat race appearance.

Madsen's #29 Watson Express Transport / East Coast Logistics Eagle was all but perched high atop Murcott's car as they came to a grinding halt in turn two with the hard charging Sydneysider only narrowly missing the graduation into the A-Main field later that night.

Saturday night sees the field compete in two more heats, a mid-pack scramble, the Amadio Wines Top 8 Shootout, the Hog's Breath Cafe B-Main and the $20,000 to win 50 lap A-Main event.

Results of WSS 2013-14 Brisbane R7
Prelim A Main 20-laps
1. Donny Schatz
2. James McFadden
3. Daniel Pestka
4. David Murcott
5. David Muir
6. Brooke Tatnell
7. Steve Lines
8. Brad Sweet
9. Luke Oldfield
10. Brent Aprile
11. Andrew Scheuerle
12. Luke Dillon
13. Shane Stewart
14. Jamie Veal
15. Robbie Farr
16. Dylan Jenkin
17. Bryan Mann

DNF: Jason Sides.

DNS: Andrew Wright, Ian Madsen, Terry Bracken, Peter Lack, Richard Morgan, Jackson Delamont, Paul Morris, Grant Anderson, Brodie Tulloch, Jordyn Brazier, David Whell, Steven Rowell, Steve Johnson, Paul Rooks, Garry Brazier, Daniel Harding, Brent Kratzmann, Danny Reidy.

WSS Points
1. Luke Dillon 1462
2. Steve Lines 1460
3. James McFadden 1422
4. Brooke Tatnell 1412
5. Robbie Farr 1301
6. David Murcott 1247
7. Shane Stewart 1159
8. Jamie Veal 1091
9. Daniel Pestka 1079
10. Dylan Jenkin 1036
11. Bradley Keller 962
12. Garry Brazier 931
13. Jackson Delamont 831
14. Ian Madsen 817
15. Kyle Hirst 801
16. Matt Egel 756
17. Daniel Harding 740
18. Brad Sweet 695
19. Trevor Green 644
20. Randy Hannagan 622

-end-
Dillon Carries Slim Advantage Into Australian Open

Jan 9, 2014

Luke Dillon holds a slim, 23-point advantage at the top of the table as teams prepare for this weekend's two-night Australian Sprintcar Open.

The two-night extravaganza is the second consecutive WSS round at the Brisbane venue, affording teams some rare continuity for car setup and race preparation. The extra laps will no doubt help travelling teams acclimate after a number of local drivers registered top-10 results in round 6, and American superstar Donny Schatz showed off incredible car speed and racing prowess.

Veteran Queenslander and former WSS contracted driver, Bryan Mann suprised the field, qualifying quickest and claiming the Revolution Racegear Quicktime Award to start the night, while fellow Queenslanders Andrew Scheuerle, Luke Oldfield and Brent Aprile joined him among the A Main's top 10 finishers later in the evening.

Scheuerle's 4th place finish represented the most impressive drive of the locals - starting from the third row of the grid, Scheuerle held off a hard-charging James McFadden until late in the race. Scheurle's success will be no surprise to Brisbane regulars however, as Scheurle is the current KRE Track Champion and holds the distinction of being the first ever Queenslander to win a WSS round.

Luke Oldfield's 6th place finish was a career best result in WSS competition, and after a number of impressive results this summer, the former Dirt Modified driver is quickly adapting to life in a sprintcar.

Championship leader Luke DIllon knows he will be racing under pressure for the remainder of the series thanks to a retirement after playing his Joker at Mount Gambier, but the South Australian continued to look suberb in Brisbane, finishing an eventual second to Donny Schatz. The Diamond Bay outfit will no doubt be a factor again this weekend as they look to hold of the charges of Steven Lines, Brooke Tatnell and James McFadden.

One of the major questions for the weekend will no doubt centre on who will be brave enough to play their Joker Card. The loss of Warrnambool's Speedweek finale threw a spanner in the works for a number of teams' plans to gain double feature race points, and the Open will represent a great opportunity for some specialists at the venue, namely reigning champion, James McFadden.

J-Mac is no stranger to success on the Archerfield clay having defeated Schatz in last year's 50-lap Australian Open, and capturing his second Australian Championship at the venue a week later. Observers were quick to note the young champion's form last weekend as he ran the inside and outside grooves, progressing from 10th place in the A Main to snag the final podium placing.

Another odds-on favourite to play their Joker Card is regular Brisbane visitor, David Murcott, who has earned a Joker Card by completing all WSS rounds to date. Murcott finished ninth last weekend after qualifying for the Amadio Wines Top 8 Shootout and has a long, successful history in Brisbane.

While harder to predict their Joker strategies, Steven Lines and Brooke Tatnell will continue to be drivers to watch this weekend. Both competitors have looked scintillating throughout the series - Lines has continued his Summer-long hot streak and consistently looked like the man to beat, while the Krikke Motorsport team must be thrilled with the seamless re-integration of 8-time WSS Champion, Brooke Tatnell.

The inclusion of three American drivers makes for a star-studded affair as Jason Sides (US 7) and Donny Schatz (US 15) will be joined once again by Californian Brad Sweet in the US 99 car. Sweet was impressive during his Speedweek appearances, capturing a win in Mount Gambier driving his Kings Royal winning car owned by the Ruhs brothers.

As always, fans will be able to stay up to date with the racing all weekend long with the WSS Live iPhone app, the wss-live.com mobile website for smartphones, and WSS Race Night Live on desktop. Live timing will be available through all platforms and fans at home can enjoy live audio coverage via Race Night Live.

Stay tuned to worldseriessprintcars.com.au for all of the latest news and results throughout the weekend and be sure follow WSS on Facebook and Twitter.

-end-
ALBANY ROUND CANCELLED

The Albany round of the 2013-14 AHG Sprintcar Series that was to go ahead on Saturday January 18 has been cancelled.

The Sprintcar Entrants Group along with management from Albany Speedway have jointly decided that the round will not go ahead at this stage as planned.

The SEG believed that the busy schedule for the sprintcar drivers and the fact that many WA drivers had racing commitments on the east coast would have an impact on car counts for the Atwell Park event.

The SEG wants to deliver a quality car count but at this stage it could not guarantee a strong field and felt it was better to cancel the event rather than deliver a below-standard show.

Discussions will soon be held to investigate having another round at Albany this season but it appears unlikely at this stage.

The SEG wishes Albany Speedway all the best for the remainder of its season.

For more information call Geoff Kendrick on 9242 1313.

-end-
Dillon Determined But Donny Does It

Jan 4, 2014

5 times World of Outlaws Champion Donny Schatz won the 30 lap A-Main for Round Six of ENZED World Series Sprintcars at Supercheap Auto Archerfield Speedway tonight but not before South Aussie Luke Dillon impressed the strong Queensland crowd on hand by leading most of the race.

Schatz led home Dillon in second, James McFadden third, Andrew Scheuerle fourth, Bryan Mann fifth, Luke Oldfield sixth, Brent April seventh, Jason Sides eighth, David Murcott ninth, Brooke Tatnell tenth, Daniel Pestka eleventh, Jamie Veal twelfth, David Muir thirteenth, Danny Reidy fourteenth, Shane Stewart fifteenth, Garry Brazier sixteenth, Peter Lack seventeenth, Dylan Jenkin eighteenth and Terry Bracken nineteenth.

Steven Lines was classified as a DNF when he unfortunately blew a motor within sight of the last lap.

Dillon started on the front row in his Diamond Bay Motorsport #26 Maxim alongside fellow SA hard charger Steven Lines in his Halls Haulage KPC for the main event and it Luke who led into turn one for the first time.

Lines slipped into second whilst Bryan Mann (who had earlier set his first ever Revolution Racegear "Quick Time" in Qualifying) slid his #16 Eagle Motorsports entry into third ahead of Schatz's STP J&J.

The Outlaw superstar eventually moved by Mann on lap seven and eight laps later had replicated the move on second place Lines who had his hands full with a car that was clearly very tight.

It culminated in two uncharacteristic spins on separate laps.

"I caught the slippery stuff in turn four," Lines admitted, "and we spun. I dropped a few spots but I was really struggling with the car."

The Mt. Gambier throttle man and Speedweek Series winner eventually looped the #3 KPC in turn one and two later in the race.

"I was pushing too hard. Trying to get a couple of spots back and I turned it around. Completely my fault," he conceded.

(Lines would eventually detonate his second motor for the series, forcing the team to go to a back up plan for next weekend with QLD builder Scott Inglis lending a hand.)

Meanwhile James McFadden was motoring from his fifth row starting spot in the #1 Totally Workwear Cool and making progress towards the podium.

Andrew Scheuerle was supremely consistent in the Ausdeck Patios #25 Cool whilst Bryan Mann was intent on finishing inside the top five given half a chance.

Luke Oldfield recorded a career best sixth place in his #17 JB Automotive entry.

After setting up the move for several laps previously Donny Schatz eventually moved his #15 car to the cushion in turns three and four on lap 23 and shot around the outside of Dillon's #26 to take the lead and never look back.

"There's a lot of good cars here tonight," conceded the gracious winner later in ENZED Victory Lane, "this is a good build up for next weekend's Australian Open. I can't thank Luch Monte (his car owner) enough for his support. I've been driving for Luch for the best part of 18 years I reckon. I'm really pleased we can get this one for him and I hope we can do the same next weekend when he's over here."

Schatz's car is for sale, complete with motor.

Luke Dillon was encouraged by what was easily his best result at Archerfield.

"This place (Archerfield) is foreign territory for me in a lot of ways, so to lead here and run second to Donny Schatz is a pretty good result for this team and for me personally. I'm disappointed we didn't win for sure, but it's encouraging to get a result like this. He's (Schatz) a pretty good driver after all."

Dillon now has a slender 23 point Championship lead over Lines in second and Tatnell third.

McFadden's eventual third was also satisfying for the two-time WSS champion.

"A win can't be far away," he mused, "we really got going tonight in the main event and I know we've got the car speed, we just need things to turn our way a bit. It's a good build up for the 50 lapper next weekend anyway."

For his seven position haul in the main event McFadden won the American Racer Hard Charger award.

Brooke Tatnell came from 15th to 10th but the end result was certainly not what the 8 times WSS champion was hoping for in the KMS #2 Cool Chassis.

The B-Main was marred by a nasty flip involving Queenslander Paul Morris on the main straight going into turn one of the opening lap.

Morris' #67 Supercheap / Hungry Jacks J&J flipped several times and gave it's driver quite a work over before the Supercar driver climbed clear of his once pristine race car.

As some consolation Morris was awarded the "Go the whole hog" Hog's Breath Cafe award.

Brooke Tatnell went on to win the B-Main narrowly from Shane Stewart in second and Jamie Veal in third.

Brisbane Int Speedway
WSS 2013/14 Brisbane R6
30-lap A-Main
1. Donny Schatz
2. Luke Dillon
3. James McFadden
4. Andrew Scheuerle
5. Bryan Mann
6. Luke Oldfield
7. Brent Aprile
8. Jason Sides
9. David Murcott
10. Brooke Tatnell
11. Daniel Pestka
12. Jamie Veal
13. David Muir
14. Danny Reidy
15. Shane Stewart
16. Garry Brazier
17. Peter Lack
18. Dylan Jenkin
19. Terry Bracken
DNF: Steve Lines

Top 20 in Championship points after Round 6:
1. Luke Dillon 1334*
2. Steven Lines 1311*
3. Brooke Tatnell 1260*
4. James McFadden 1254*
5. Robbie Farr 1181
6. David Murcott 1088
7. Shane Stewart 1027*
8. Jamie Veal 966*
9. Brad Keller 962
10. Dylan Jenkin 915*
11. Daniel Pestka 911*
12. Garry Brazier 859*
13. Kyle Hirst 801
14. Matt Egel 756
15. Jackson Delamont 730*

* Indicates contracted WSS drivers

-end-
UNCLE SAM'S BOYS RUN 1-2-3 IN WORLD DERBY GRAND FINAL AT VALVOLINE RACEWAY

Kraig Kinser, Dale Blaney and Steve Kinser delivered a mortal blow to sprintcar rivals in a thrilling finish to the 35 lap World Derby grand final at Sydney's Valvoline Raceway tonight.

It was a giant turnaround from last night's preliminary feature race where superman Steve finished upside down after hitting an outside ledge of the fourth turn three laps from the end.

Track conditions tonight were testy with a slick track that turned like pavement, but the moment it took rubber the fine dust disappeared and the real race was on and how.

Ian Madsen, the Australian international, took the lead and had to fight off a determined Dale Blaney who got stronger by the lap.

Kraig Kinser gave up trying the inside line and went to the high side where he immediately gained ground.

Starting from around 16th position in the 24 car field was the 20 times World of Outlaws champion.

He was sensational to watch as the 58 year-old worked his magic in the traffic.

Steve ranged up on Max Dumesny and Ian Madsen who touched and Kinser split them in a flash.

Blaney succumbed to the constant pressure of Kraig who was in no mood to settle for second.

Once in front he drew away to win from Ohio's Dale Blaney and his dad, the King of the sprintcar set.

It was a great result for the Kinser clan, Bad Boy Buggies, Ohio's Dale Blaney and Active Power Steering sponsor and car owner David Doherty.

"This is my first main event win in Australia and I'm really pleased to do it here at Valvoline Raceway," Kraig confessed(as he proudly stood centre on the podium with Dale Blaney on his right and dad Steve on the left).

"I can't say how good this feels for our team and with a little luck, we might get close to doing the same here on Wednesday night in the AGP," he added.

-end-
News and Notes From Week One Of WSS

Jan 3, 2014

ENZED World Series Sprintcars Presented by Hog's Breath Cafe and Carline heads north to Supercheap Auto Archerfield Speedway this weekend, where the next 2 rounds will take place on Queensland clay. With such a short break between rounds, you may have missed a few facts and figures from the opening week of the championship.

Garry Brazier's return as a World Series Sprintcars contracted driver started in the worst possible fashion, requiring an engine change in order to compete at round 2 of the series at Murray Bridge. The most unfortunate aspect of the engine failure? It was a brand new engine and it was only three meetings old. Garry's son Jordyn hasn't avoided drama either as he cracked his car's frame in an incident at Avalon. The Brazier team will certainly be hoping that their luck improves heading into Brisbane this weekend.

Former WSS Champion, Robbie Farr, had an up and down Speedweek tour that began with a massive crash at Speedway City during the A-Main, totally destroying the Q7 Maxim. The incident seemed to spur on the team as they went from having a "junked" racecar on night one to leading the series at the completion of Avalon, courtesy of the "Joker Card".

South Australian Luke Dillon started the series in dynamic form, recording the Revolution Racegear Quick Time at each of the opening three rounds. Just prior to the driver's briefing in Avalon, Garry Brazier didn't seem impressed, jokingly noting, "that's nothing, I think my best is six in a row… but it must be a while ago since I can't remember when that was!"

Luke had a very interesting night in Mount Gambier, starting with setting Quick Time and going on to be the first driver in WSS history to play the "Joker Card." From there his night went downhill as an engine change was required just prior to the A-Main before the W26 ended upside down in turn three.

Current Speedway City Track Champion Brad Keller was the absolute standout of the non-contracted drivers on Speedweek, chalking up an "Amadio Wines Top 8 Shootout" win, a second and a fourth placed A-Main result along with an impressive run from eighth to second in the Shootout at Avalon. Surely this young man will be on the radar for a high profile drive in the not too distant future.

After a breakout season last year, Strathalbyn youngster Daniel Pestka seemed to struggle a bit during the opening rounds, his best result being a tenth-place finish at Mount Gambier. Compounding what has been a tough campaign so far, Daniel was crashed out in the B-Main at Avalon while just outside a transfer spot. On the positive side, he celebrated his 22nd birthday at Murray Bridge, and there would be no better way to celebrate a milestone than racing against the best drivers at a World Series Sprintcars event.

After missing round 1 of the tour to defend his series lead in the SRA Series, Dubbo's Jeremy Cross showed great commitment to compete, driving from Avalon to Murray Bridge. Sadly, the effort was all for nought as his night ended with a roll over.

Brooke Tatnell's return to WSS was a huge success with the fans with Brooke signing endless number of autographs, and his sheer presence at the race track lifted the anticipation of the night ahead. Brooke didn't disappoint, putting in a vintage drive to win at Murray Bridge, later conceding that he didn't expect to win that early in the series.

Quote of the week came from former Australian Champion Phil March when Wade Aunger asked him about what keeps him coming back to Sprintcar racing.

"Because I haven't got it right yet."

When you've won as many races as Phil has in his career, you probably got it right a few times!

Although it is not a situation you want to find yourself in, Gawler racer Ricky Maiolo won all five of his opening heat races of the WSS season. If you are up front winning heat races it means that you didn't time well in qualifying and we are sure that Ricky would love to trade a heat win for a Revolution Racegear Quick Time Award and silence a few of his critics.

Once again the WSS Speedweek attracted big crowds at all four completed events with great car counts, with the largest being 51 cars at Avalon. In all a total of 64 drivers contested at least one round during Speedweek. Prior to cancellation, Warrnambool was preparing to host 58 of the nation's best at the Speedweek finale.

Another effect of the rain out at Warrnambool: several drivers were left without the chance to play their Joker Card. A number of non-contracted teams had the opportunity to race for double points at Warrnambool including Brad Keller, Kyle Hirst, Randy Hannagan, Dave Murcott, Matt Egel, Luke Bowey, Luke Nash, Daniel Harding and Ian Madsen. With Madsen, Harding and Murcott heading to Brisbane, their Joker Card is still in play, but with the remaining qualified drivers expected to forego the trip north, their opportunity has now been lost.

For those wondering, the Joker Card is open to non-contracted drivers, provided they meet the following criteria: Non-contracted drivers must have competed in every round of WSS up to when they choose to use their "Joker Card". If they have missed a round they no longer qualify.

Stay tuned to Race Night Live this weekend for up to the minute results, live timing, grid draws, live audio and tweets from trackside. Fans with an iPhone can grab the WSS Live app from the app store and all smartphone owners can visit wss-live.com for all of the same data on the go.

-end-
Lines Crowned Speedweek Champion As Final Round Rains Out

Jan 1, 2014

Mt. Gambier's Steven Lines has won the 2013/2-14 ENZED World Series Sprintcars Speedweek as a result of the final round being rained out at Premier Speedway today.

Though Robbie Farr leads the overall series points he doesn't claim the Speedweek trophy due to the fact that he used his Joker card for the Avalon round and Joker cards do not have an effect on Speedweek standings.

"You can use the Joker for your series points," explains WSS Competition Director Paul Trengove, "but they don't have an effect on Speedweek standings."

For Lines, his consistent Speedweek which included two wins (Speedway City and Avalon) a second place at Murray Bridge and a DNF at Mt. Gambier, netted him the victory from Brooke Tatnell in second, James McFadden third, Brad Keller fourth and Robbie Farr rounding out the top five.

"Obviously it's a disappointing way to win," concedes Lines, "but let's face it we're going to take the win. Now we'll focus on heading to Brisbane and the next two weekends there."

The top ten for the ENZED WSS Speedweek Series, presented by Carline Mufflers and Hog's Breath Cafe, are:
Steven Lines 1140
Brooke Tatnell 1052
James McFadden 984
Brad Keller 962
Robbie Farr 961
Luke Dillon 931
David Murcott 871
Shane Stewart 845
Kyle Hirst 801
Jamie Veal 769

-end-
Lines Leaves 'Em All Behind!

Dec 30, 2013

South Australian Steven Lines dominated the fourth round of the ENZED World Series Sprintcars Speedweek Series with a commanding win in front of a huge crowd at Geelong's Avalon Raceway tonight.

Indeed the Mt. Gambier born and bred throttle stomper seemed to get better the further into the 35 lap A-Main race he went, leading home Robbie Farr in second, James McFadden in third, Brad Keller fourth, Brooke Tatnell fifth, Shaun Dobson sixth, Brad Sweet seventh, Luke Dillon eighth, Shane Stewart ninth and Stephen Bell rounding out the top ten.

Coming home in eleventh was Jamie Veal followed by the wounded (car) David Murcott in twelfth and John Vogels thirteenth.

Lines paid tribute to his crew chief Craig Bennett in victory lane, citing the car as 'perfect' in its set up for the night.

"The car kept getting better and better," he smiled, "we really didn't have to change a thing, even during the red light stoppage. I knew we had a great car because that's what the boys gave me. There wasn't much I couldn't do with it. This really makes up for our disappointment in Mt. Gambier two nights ago. I can't thank Brian Hall and everyone associated with this team enough."

Though he's not contracted to contest the series 2011 WSS champion Robbie Farr now leads the points as a result of his second place finish tonight and the fact that he played his 'joker card' and doubled his points in tonight's main event.

He set quick time in Revolution Racegear qualifying too.

"We had nothing to lose given that we're not running the next round so we played the Joker for some fun, and in the end we wound up the points leader until January 1. It was fun tonight, the boys are getting a handle on our new car and even though we didn't have anything for Linesy we ran strongly all night," Farr grinned.

James McFadden rued his third place finish in the Totally Workwear #1 Cool.

"Don't get me wrong, we're fast," he said, "but we just can't catch a break and get a win right now. I know it can't be too far around the corner but it's frustrating when we're fast and we can't get the job done. Steve (Lines) did a great job but we need to turn this around and get some points."

South Australian rising talent Brad Keller showed why he is one of the country's most underrated drivers by starting on the front row alongside Lines (who won the Amadio Wines Top 8 Shootout) and holding on to second place for much of the race before eventually placing fourth.

"He's doing a great job," complimented Steven Lines, "he's had a killer week so far and he's showing a lot of good car speed. I'm really proud of he's going."

Brooke Tatnell looked to be a podium proposition around mid-race but couldn't quite crack the defences of Keller to break through early and then had to fight James McFadden for position for several laps.

The race was marred by the only red light stoppage when the vastly improved Mitch Foster (who did a sensational job to qualify on the third row of the grid for the main event in his William Adams CAT #4) spun the car in front of the rapid Kyle Hirst in an incident that saw Hirst roll over and involve Garry Brazier, Grant Anderson and David Murcott.

Hirst couldn't restart, neither could Brazier, and Anderson and Murcott made it back out there with limited impact on the remaining laps.

DNF's for the night in the A-Main included Darren Mollenoyux (crash) Trevor Green (crash) Garry Brazier (crash) Grant Anderson (crash) Dylan Jenkin (mechanical) Brett Milburn (mechanical) and Mitch Foster (crash).

Luke Dillon charged from 15th (he won the B-Main) starting spot in the A-Main to an eventual 8th in the Diamond Bay Motorsports Maxim whilst Brad Sweet's eventual 7th in front of Dillon was not really representative of his speed considering he'd been to the rear of the field earlier after getting caught up in a crash.

Avalon
A-Main
35 laps
1. Steve Lines
2. Robbie Farr
3. James McFadden
4. Bradley Keller
5. Brooke Tatnell
6. Shaun Dobson
7. Brad Sweet
8. Luke Dillon
9. Shane Stewart
10. Stephen Bell
11. Jamie Veal
12. David Murcott
13. John Vogels
DNF: Grant Anderson, Brett Milburn, Kyle Hirst, Garry Brazier, Mitch Foster, Dylan Jenkin, Trevor Green, Darren Mollenoyux.

Points for the series for the Top 15 are:
Robbie Farr 1181
Steven Lines* 1140
Brooke Tatnell* 1052
Luke Dillon* 1036
James McFadden* 984
Brad Keller 962
David Murcott 871
Shane Stewart* 845
Kyle Hirst 801
Jamie Veal* 769
Matt Egel 756
Dylan Jenkin* 749
Ian Madsen 708
Daniel Pestka* 706
Garry Brazier* 685

* indicated WSS contracted driver

The next round of ENZED World Series Sprintcars (presented by Carline Mufflers and Hog's Breath Cafe) is scheduled for Wednesday night, January 1, 2014 at Premier Speedway Warrnambool.

-end-
Do or die prior to WSS

The International Series continues this Wednesday, January 1 at Supercheap Auto Archerfield Speedway.

Its USA Night 3/Round 8 of the KRE Race Engines Sprint Car Series and another huge show is planned; 6 divisions running as well as a crazy Demolition Derby and a spectacular fireworks show. Our USA visitors are enjoying their stay; #USA15 Donny Schatz has won two-from-two so far and #USA7 Jason Sides was a lot more settled on Night 2 finishing second on the podium but this will be their last chance to fine tune ahead of the World Series Sprintcars (WSS) which starts January 4.

It's not often Andrew Scheuerle leaves the track without a trophy but that was the case on USA Night 2 when he finished fourth. His lead in the KRE Race Engines Series still stands firm though; he's 71 points ahead of David Muir who decided to preserve his engine and retire from last round's Feature race when it wasn't firing on all cylinders. Kevin Titman is looking at a total rebuild ahead of New Year's Night. A substantial crash in his last heat totally destroyed the car but he still holds third place in the standings and plans to race this next round.

Darren Jensen had a cracker of a night on Boxing Night Round 6; two heat wins and third on the podium have catapulted him up into fourth position in the KRE point's standings, just nudging out Luke Oldfield who now sits in fifth. Danny Reidy has also moved up the order inside the top ten and now sits is seventh.

At the time of this release Bryan Mann and the Horrell Motorsport team have another tight turnaround after the #16 car was damaged on USA Night's 1 and 2; they're still nominated for January 1. Rod Wilson is a late nomination which takes the total to 26 for USA Night 3.

Current Queensland and NSW V8 Dirt Modified champion Kevin Britten is back and the racing between he and the likes of Racy Klarich, Mitchell Gee and Geoff Phillips will be great to watch. Compact Speedcars, Stock Cars, the Brisbane Sedans and the SSA Juniors will add to this massive night of racing.

Avoid the queues and purchase your tickets online at brisbanespeedway.com.au online purchases also entitle you to early entry. Pit gates open at 3pm; spectator gates 4pm (3.30pm for online sales). There'll be pre-program racing from approx 4.30 and the main program will commence at 6pm. Check the website for ticket prices. Give your New Year's revelry and rev join us for a whole lotta' horsepower New Year's Night; see you there!

-end-

Brad's "Sweet" WSS Mt. Gambier Victory

Dec 28, 2013

2013 Kings Royal victor Brad Sweet was an elated winner of the ENZED World Series Sprintcars Round Three main event at Borderline Speedway Mt. Gambier tonight.

The 28 year old Californian steered the Highrace Towing GF1 chassis to a classy win in what was a race shrouded with drama and controversy as he led home Shaun Dobson in second and Darren Mollenoyux in third.

Driving for Josh and Isaac Ruhs out of Broken Hill in NSW the pint sized KKR racer who will join the World of Outlaws full time in 2014 never looked greatly troubled as he deftly moved through traffic in the car in which he won the Kings Royal in Eldora earlier this year.

"It certainly helps when you can drive a car that you're used to," he smiled from the podium, "and I can't say enough about Josh and Isaac for giving me this opportunity. I came down here to Australia hoping to get a bit of an edge on some of my rivals back home for next year and I'm super happy I can start it off with a win here."

Sweet's victory in the $10,000 to win 35 lap A-Main was his first on Australian soil.

Second and third placed Dobson and Mollenoyux respectively registered personal bests in terms of WSS competition.

"I'm really pleased for Harry (Drosti) and my boys that we could get a podium tonight," explained Dobson, "I gave it everything I had on the restart and we made up a few spots but it was pretty tough to get close to Brad in traffic. He was really fast tonight."

Mollenoyux too was naturally pleased.

"We came here just hoping to make the A-Main, so to wind up on the podium ahead of guys like Robbie Farr and Garry Brazier is more than we could have hoped for. I really need to thank Parr Motorsports for giving me this opportunity."

The battle for fourth place behind Mollenoyux and Dobson raged between Robbie Farr and Garry Brazier for several laps with the now West Australia domiciled Farr narrowly getting the nod over Brazier as the chequers flew.

Following Brazier home in fifth was sixth placed Grant Anderson over Jamie Veal recording his best WSS result to date in 2013 with seventh in the Heytesbury Stockfeeds J&J.

Eighth home was Ian Madsen followed by David Murcott in ninth, Daniel Pestka in tenth, Brad Keller in eleventh, Shane Stewart twelfth, Dylan Jenkin thirteenth and fourteenth placed Sydney WSS rookie Jackson Delamont credited as the last car running for position.

The DNF's were a who's who of WSS competition.

The first casualty was Brooke Tatnell in the KMS #2 Cool when Steven Lines made contact with the 8 times WSS champ as the pair exited turn two and made their way down the back straight two laps in to the race.

Tatnell's car suffered left front wheel and tyre damage in the impact and as the car headed towards the infield half a lap later the hapless Matt Egel had nowhere to go and slammed his #29 Rapiti Earthworks entry into the side of Tatnell's car.

Though Egel rejoined the track shortly after the yellow lights came on for Tatnell and a seething and somewhat bewildered Egel was positioned at the rear of the field for the restart.

"Because Matt had crossed the line with Brooke under greens, not under yellows (or caution lights), he was actually registered as crossing the line in last position when he rejoined the track," explained WSS Competition Director Paul Trengove.

At the restart it was again Sweet who led away but the battle pack behind him of Dillon, Lines and McFadden was about to come unstuck.

Dillon, who was playing the "Joker" card which guarantees him double points in the main event, had earlier had to thrash with the help of several teams to replace the motor in his #26 Diamond Bay Motorsports entry after the Top 8 Shootout.

His night was about to get worse.

Attempting a slide job on James McFadden in turn three Dillon overcommitted and slammed first the cushion then the wall where he rolled over leaving Steven Lines with nowhere to go but into the melee.

Not 20m further into the corner McFadden had also overcommitted and crashed hard into the wall in his #1 Totally Workwear Cool.

Lines managed to escape with only front wing damage but stewards deemed that he or somebody around the car had removed the damaged front wing with a tool under fundamentally a 'closed red' situation preventing him from being eligible to restart.

Once the field restarted Brad Sweet was able to drive away with the victory despite the best efforts of Shaun Dobson who made up several positions with a bold swoop around the outside in turns one and two.

Garry Brazier recorded the fastest lap of the 35 lap A-Main with an 11.472 on lap 19.

At the end of three rounds Luke Dillon narrowly leads the points (as a result of using his Joker card that guaranteed him double points in tonight's main event) as the field re-groups for Monday night's fourth round at Avalon Raceway Lara.

A-Main
35 Laps
1. Brad Sweet
2. Shaun Dobson
3. Darren Mollenoyux
4. Robbie Farr
5. Garry Brazier
6. Grant Anderson
7. Jamie Veal
8. Ian Madsen
9. David Murcott
10. Daniel Pestka
11. Bradley Keller
12. Shane Stewart
13. Dylan Jenkin
14. Jackson Delamont
DNF: Kyle Hirst, James McFadden, Luke Dillon, Steve Lines, Matt Egel, Brooke Tatnell.

Top 20 Points
1. Luke Dillon 822
2. Steven Lines 810
3. Brooke Tatnell 788
4. James McFadden 708
5. Brad Keller 699
6. David Murcott 668
7. Robbie Farr 657
8. Shane Stewart 637
9. Kyle Hirst 615
10. Matt Egel 605
11. Dylan Jenkin 594
12. Daniel Pestka 576
13. Jamie Veal 571
14. Ian Madsen 567
15. Ryan Jones 552
16. Garry Brazier 511
17. Jackson Delamont 502
18. Ricky Maiolo 495
19. Trevor Green 486
20. Randy Hannagan 473

-end-

Kendrick wins rd9 of AHG Sprintcar Series

AFTER starting from position two and getting the holeshot into the first turn Jason Kendrick was never challenged on his way to winning round nine of the AHG Sprintcar Series at Quit Bunbury Speedway on Saturday night.

The Kendrick Racing #11 pilot put in a flawless display to win the 25-lap feature race from Bradley Maiolo and Cameron Gessner with the winning margin being 4.291 seconds.

The win was a massive relief for a team that has promised so much and been so fast but been unlucky at the business end of many meetings.

Already this season Kendrick has claimed three Rogue Race Products qualifying awards but has failed to convert those into wins at the end of the show.

At Bunbury, after setting the second quickest qualifying time, he enjoyed a win and a second in the heats and was only bettered by Brad Maiolo in the Gold Shootout where both drivers started on the front row.

The only time Maiolo, fresh from his win at the Perth Motorplex two nights earlier, got to lead was the first race-start attempt that was abandoned.

On the podium Kendrick conceded a good start was crucial and knew he had to pass lapped cars quickly to keep distance between himself and his rivals.

He said the team was moving forward and they hoped to develop some momentum in the second-half of the season.

Kendrick acknowledged the strong support the team has had.

"We have had a lot of help from a lot of people," he said.

Maiolo said the LJM Racing team was enjoying a consistent run of late and "we will take second tonight".

After claiming a DNF at the Motorplex on Boxing Day Gessner was happy to rebuild his points tally.

He also paid credit to everyone involved with Cowara Motorsport, particularly after the car kept jumping out of gear at the previous round.

"It has been a big effort from everyone involved to get the car ready from week to week."

Tyre wear leading up to the feature race was a big factor and saw teams in the Top 8 Dashes go in with different strategies.

Jamie Maiolo's right rear tyre was one of several that were completely bald before the three-lap dashes and he failed to post a time that would see him move forward on the feature race grid.

This was in contrast to Callum Williamson who bolted on his second right rear for the night (teams are restricted to two for each round) and while he managed to progress from the Bronze to the Silver Shootouts, he paid the price with tyre wear.

The team elected to go for a third new tyre for the feature race but was forced to start from the back of the pack.

Jason Pryde and Sheldon Brady came together early in the feature race, forcing a restart that saw Jamie Maiolo and Williamson both withdraw with mechanical issues.

Trent Pigdon, who claimed the Rogue Race Products Quick Time award with a best lap of 13.207 seconds early in the night, started and finished fourth and was followed by Lee Nash, Ryan Lancaster, Cale Sotiroff, Brady, Pryde and Brodie Minchin.

Terry Cutts joined Jamie Maiolo and Williamson as non-finishers.

Playing the Joker (where drivers double their points for one round) proved to be a kiss of death for Jamie Maiolo and Kye Scroop with the latter packed up before the first heat race.

His chassis suffered significant damage in a clash with Minchin in qualifying and the team elected not to drive the car.

Qualifying: Trent Pigdon 13.207, Jason Kendrick 13.252, Brad Maiolo 13.377, Cameron Gessner 13.384, Jamie Maiolo 13.442, Lee Nash 13.499, Kye Scroop 13.576, Ryan Lancaster 13.637, Sheldon Brady 13.651, Callum Williamson 13.767, Cale Sotiroff 13.824, Terry Cutts 13.834, Jason Pryde 14.105, Brodie Minchin 14.530.

Heat 1: 1st Brad Maiolo, 2nd Jason Pryde, 3rd Cale Sotiroff, 4th Trent Pigdon, 5th Jamie Maiolo, 6th Sheldon Brady.

Heat 2: 1st Callum Williamson, 2nd Jason Kendrick, 3rd Terry Cutts, 4th Cameron Gessner, 5th Lee Nash, 6th Ryan Lancaster, 7th Brodie Minchin.

Heat 3: 1st Jason Kendrick, 2nd Jamie Maiolo, 3rd Trent Pigdon, 4th Lee Nash, 5th Callum Williamson, 6th Jason Pryde, 7th Sheldon Brady.

Heat 4: 1st Brad Maiolo, 2nd Cameron Gessner, 3rd Ryan Lancaster, 4th Cale Sotiroff, 5th Terry Cutts. DNF: Brodie Minchin.

Feature: 1st Jason Kendrick, 2nd Brad Maiolo, 3rd Cameron Gessner, 4th Trent Pigdon, 5th Lee Nash, 6th Ryan Lancaster, 7th Cale Sotiroff, 8th Sheldon Brady, 9th Jason Pryde, 10th Brodie Minchin. DNF: Terry Cutts, Jamie Maiolo, Callum Williamson. DNS: Kye Scroop.

-end-
Tatnell Takes Murray Bridge WSS Thriller

Dec 27, 2013

Luke Dillon was in command almost until the end but 8-time series champion Brooke Tatnell relieved the talented South Aussie of his post with just two laps to run in the 35 lap A-Main of ENZED World Series Sprintcars tonight at Murray Machining & Sheds Murray Bridge Speedway.

In one of the best races in WSS history Tatnell, Dillon, Steven Lines and even in the later stages Shane Stewart diced in front of a huge crowd for the $10,000 on offer.

Tatnell stood on top of the podium when the dust settled and was visibly thrilled when he emerged from the cockpit of the Krikke Motorsport #2 Cool.

"This is one for the old guys," he grinned, "some people wrote us off before this Championship even got started and I can tell you that's not a very smart thing to do. Dylan (Buswell) and Finchy (Shane Finch) did a great job with this car all night and it's great to get a win and some points."

Steven Lines came home in second, backing up on his win last night with another solid result.

"Full credit to Brooke, he did a great job. I feel for Luke because I've been there too but he did a good job and we were just able to get a bit luckier in the last few laps."

Luke Dillon was naturally deflated,having gone from the lead to third in just two corners.

"We did everything you need to do to win," he grimaced, "except get the win I guess. I was trying to stay on the fastest line and I thought that was the bottom. For most of the race it was. I guess we just came up short."

Dillon had every reason to feel perplexed, having set Quick Time in qualifying for the second night in a row and also winning the Amadio Wines Top 8 Shootout.

Shane Stewart ran a strong fifth in the Monte Motorsport #7 but was fourth for much of the race before fellow American Kyle Hirst blew by in his PRP ART chassis.

Sixth home was defending WSS champion James McFadden followed by David Murcott in seventh, Robbie Farr eighth, Matt Egel ninth, Trevor Green tenth, Brad Keller eleventh, Jamie Veal twelfth, Ian Madsen thirteenth, Dylan Jenkin fourteenth,

Andrew Wright fifteenth, Jackson Delamont sixteenth, Daniel Pestka seventeenth and Ricky Maiolo eighteenth.

Ryan Jones was an unfortunate DNF whilst Jeremy Cross was the only red light of the main event, rolling over on the back straight early in the main.

Murray Bridge
A-Main (35 laps)
1. Brooke Tatnell
2. Steve Lines
3. Luke Dillon
4. Kyle Hirst
5. Shane Stewart
6. James McFadden
7. David Murcott
8. Robbie Farr
9. Matt Egel
10. Trevor Green
11. Bradley Keller
12. Jamie Veal
13. Ian Madsen
14. Dylan Jenkin
15. Andrew Wright
16. Jackson Delamont
17. Daniel Pestka
18. Ricky Maiolo
DNF: Ryan Jones, Jeremy Cross.

-end-

Ely locks in 3

Nyora Speedbowl celebrated Christmas with a great crowd, fine weather and the Mainline DynoLog Dynamometers All Star Series last night whilst SA22 Chad Ely locked in his third Feature win.

ACT15 Harley Bishop and SA22 Chad Ely lined up on the front row of the A Lap 1 was marred by a yellow light after Bishop got the lead in the opening lap. Unfortunately Bishop was relegated to the rear and from then on Ely showed his dominance till the chequer was dropped.

Making a return to racing after a season out was Mark Weaver's in the NT17. After sitting a season out Weaver was obviously comfortable in his new car and managed to hold off ACT49 Matthew Reed's as he challenged Weaver lap after lap. Reed tried high and low but Weaver wouldn't let himself be out manoeuvred and came home in third.

Young Zac Farrer in the V99 Maxim showed impressive skill holding on the P4 with USA60 Geoff Ensign challenge him lap after lap. Farrer with his best result for the season was elated with 4th place.

SA83 Shannon Barry also had a very impressive night locking in Quick Time, a heat win and running up into P3 in the early stages of the A. Unfortunately for Barry he was involved in an incident with V15 Bill Fraser brining on the yellows. Barry having to start again from the rear whilst it was the end of the night for Fraser. At the Drivers meeting at the start of the night Barry won the IDIGIT $100 Lucky Draw for his 3rd time in a row. With the IDIGIT proprietor Brett Milburn also competing on the night Barry has a chance to thank him personally for his sponsorship.
Milburn just recently purchasing a 360 didn't have a night he would prefer to remember losing a drive line in his heat and having an issued with the oil line in the B Main.

Heat Wins: Barry, McCullagh, Reed, Farrer, Chris Solomon, Harley Bishop,

A Main – SA22 Chad Ely, NT17 Mark Weaver, ACT49 Matt Reed, V99 Zac Farrer, USA60 Geoff Ensign, V4 Phil Lock, V74 Michael Cunningham, V11 Brad Foster, ACT15 Harley Bishop, SA83 Shannon Barry, V85 Colin Lincoln, V64 David Aldersley, V90 Corey McCullagh, SA18 Jed Bell, V83 Chris Solomon,V15 Bill Fraser –DNF, ACT26 Tony Moule -DNF

-end-

Schatz starts the hunt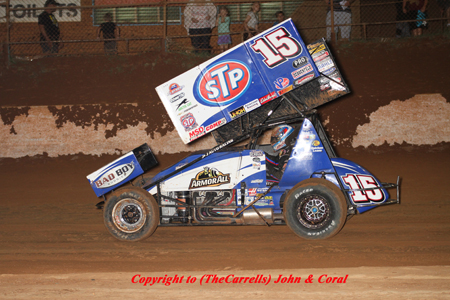 A huge crowd rolled in to Supercheap Auto Archerfield Speedway on Boxing night for the much anticipated arrival of international Sprint Car stars Donny Schatz and Jason Sides. With both electing to bring their own steeds this summer there was little time for practice so promoter John Kelly allowed the pair their own hot laps before qualifying; much to the delight of the crowd.

With a big format it was straight into Hot Laps and Jason Sides, from Bartlett, Tennessee threw down quickest time with 11.72 seconds despite struggling with car set up. KRE Series leader Andrew Scheuerle qualified second and Schatz put aside his jetlag after touchdown from Fargo, North Dakota to qualify third; three-hundredths of a second separated the top three.

Sides off the rear in heat one, would struggle to move forward from the rear; ultimately finishing seventh. Youngster Ben Hilder would take the first heat win of the night. Heat 2 and a strong field had the crowd on their feet, Kevin Titman took victory. Peter Lack would make them all stand back, a huge roll in turn 4 put him on the hill for the rest of the night; literally. Heat 3 and Schatz had his first chance at the challenging track; his car far from what he wanted. The champion spun in turn 4 on lap 2; relegating him to rear of field. With eight laps to go, Schatz pulled off quickest time of the heat to fight back to fifth place by race end. An experienced Darren Jensen stayed fast to win the heat. Maintaining that momentum, Jensen returned in the next heat and won ahead of a determined Luke Oldfield. Heat 5 and Sides was able to avoid a turn-1 rollover by David Whell but unable to beat budget racer Dan Murray to the line, Murray coming away with the heat win; a great result.

They say in the classics, we leave the best 'till last and heat 6 was just that. Groundhog Day for Schatz as he turned it around on lap one; bringing on the yellows. Again from the rear he was to fight, and what happened during the next 3 minutes will be talked about for years to come; he opened the book on the boys. One by one they fell as Schatz weaved his way to a dazzling heat win, laying down fastest time yet again.

Both internationals qualified for the Lucas Oils Dash and joined a hungry field of Queensland Top Guns. It was a fast freight-train affair on a track now settling in due to the hard work by track curators. Scheuerle, Bracken, Schatz, Sides, Reidy and Muir finished in that order and were to form the front three rows of the 35-lap Feature Race.

The 15-lap B-Main was an all-Queensland show with Kevin Titman, Brodie Tulloch, Mark Pholi and Brad Ayres all staying out of trouble to transfer.

The 35-lap Feature Race was to be a battle from the fall of the flag. In lap 1 Bracken took the lead momentarily through turns 1 & 2 which Scheuerle snatched back immediately down the back straight. Schatz slotted in behind and Sides followed but was swarmed by Reidy and Muir into turn 3. Sides spun as well as Oldfield, bring the field to a total restart; Sides to the rear.

Scheuerle was first turn 1 at the green and Schatz flew past Bracken. Muir, Mann and Reidy had the gloves off with Reidy chasing down Bracken, Mann and Muir came together in turn 3; Mann into the wall hard. With his car now on the infield, Muir's crew took advantage of the red light, changing a damaged right-rear and returning to the field. 33 laps to go and it was Scheuerle, Schatz and Reidy all the way until Morris and Ayres spun in turn 2, bringing on the yellows again.

Caution three came with only 15 laps completed. Scheuerle led from the start but Schatz took that from him after only two laps and started to drive away until Jason Sides forced the next yellow after spinning in turn 2. Next restart and Schatz had a clear track on which he showed great speed, making a full straightaway-length lead after only 3 laps. Muir was coming on strong and in the process, wowed the crowd, with his battle between Titman and Oldfield. Ultimately, the latter two came together in turn 4 with only 3 laps to go.

The intensity of the final laps grew as Schatz, Scheuerle, Jensen, Bracken, Reidy and Muir led away in that order. Reidy drove hard into turn 3 just 1 lap in, only to spin in front of Bracken; both sent to the rear. With no laps counted, they rolled around still with 3 to go but it was over in a flash and Donny Schatz took a memorable win ahead of an elated Andrew Scheuerle and a back-to-form Darren Jensen who rounded out the podium.

Go online now to pre-book your tickets for a huge night tomorrow night Saturday December 28 and avoid the queues. Large crowds are expected during the international summer series and if last night was any indication, with the quality of racing that's expectedm, it's no wonder why.

Pit gates open at 3pm, main gates at 4pm, pre-program 4.30pm and main program at 6pm. Check brisbanespeedway.com.au for prices.

-end-

Lines Motors To WSS Opening Win

Dec 26, 2013

Steven Lines motored to an emphatic win in tonight's first round of the 2013/2014 ENZED World Series Sprintcars Championship at Speedway City Virginia in front of a packed parochial South Aussie crowd.

The Mt. Gambier hard charger claimed the 35 lap main $10,000 to win main event but was lucky to do so after his engine began to falter with much of the race still to run.

"I can't say when it started to break down," explained Lines' car owner Brian Hall, "but I know we had at least ten laps still to go when it started to sound really bad. I'd say that we're lucky it lasted the distance but I don't know how much damage we've done as yet."

Lines was naturally pleased with a good start to the WSS campaign but typically cautious.

"It's a good start but it's only early days yet. There's a long way to go and Speedweek is tough. We've got a lot of good cars here and wins won't come easy. Congratulations to Brad (Keller) on a good drive, he was tough to run down and to finish second two years in a row is a credit to him. We just need to work on maintaining this momentum and getting more strong results. I know we hurt the motor tonight so we'll have a different one in for Murray Bridge."

Despite the motor issue Lines simply refused to lose and crossed the line to take the win from Brad Keller in second, Brooke Tatnell in third, James McFadden fourth, Ryan Jones fifth, Luke Dillon sixth, Randy Hannagan seventh, David Murcott eighth, Matt Egel ninth, Trevor Green tenth, Dylan Jenkin eleventh, Daniel Pestka twelfth, Ricky Maiolo thirteenth and Garry Brazier fourteenth.

For Adelaide's Brad Keller his second consecutive runner up position at this WSS event (he did the same in 2012) the result was satisfying but also bitter sweet after the #19 Fatchen Contracting started on pole position for the 35 lap main event.

"It's so tough," Keller lamented, "It's one thing to qualify on pole but another thing entirely to lead these guys and get a win after 35 laps. I knew Steve would be close behind and when he went by it was tough to run him down. It's a great result for my team and my sponsors but I really want to get a win. We'll work on that tomorrow night at Murray Bridge."

Brooke Tatnell got the Krikke Motorsport team off to a strong start with third.

"I'm really pleased with our guys and our car speed right now," said the 8 time WSS champ, "we've had three runs in this car and three times we've been on the podium, including the win in the WA title. I need to learn a bit more about these tyres so that's my challenge over the next few nights. I think we've got a good package and I'm excited to be back."

James McFadden came from 8th to 4th after a difficult night for the defending champion.

"I screwed up and spun in my last heat and then in the Shootout I didn't do us any favours. It's tough to come from the fourth row in the A-Main in a field like this so it wasn't our best result tonight. It's OK, we've got a long way to go."

Murray Bridge's Ryan Jones will go into the second round brimming with confidence after a gutsy drive from 15th to 5th not long after winning the B-Main in one of the best drives of the night.

Luke Dillon was disappointed to finish 6th in the Diamond Bay Motorsports entry after earlier in the night setting quick time in Revolution Racegear qualifying and starting the A-Main with good car speed up his sleeve.

Indiana based Californinan Randy Hannagan made his return to Speedway City after over a decade in the Matt Muir owned #53 and logged in a seventh place finish on a track that he labelled as "challenging" throughout the night.

American Shane Stewart had a see-sawing night in the Monte Motorsport #7 electing to use his provisional starting position in the A-Main after missing the transfer in the B-Main earlier.

Stewart managed to claw his way into the top ten and looked to salvage a good result before a flat right rear tyre rubbed salt into an already stinging wound and brought the #7 to a premature end.

Robbie Farr's exit from the main event was far more spectacular.

The former WSS champ clashed with Ryan Jones going into turn one and flipped violently into the path of the hapless Ian Madsen (who had come from the B-Main and was typically charging) with both cars launching into a wild series of flips.

Farr and Madsen emerged slowly from their respective wrecks but were thankfully not seriously injured.

Farr's team immediately begain building a new car for the Murray Bridge round.

Hard luck stories came thick and fast for the local heroes with cousins Steven and Mark Caruso retiring early despite their excellent efforts in qualifying for the A-Main.

Adelaide youngster Hayden Pitt did a great job to put the Pitt Family car into the A-Main as well in what might well be a career best qualifying effort.

DNF's included Shane Stewart. Jamie Cobby, Hayden Pitt, Mark Caruso, Robbie Farr, Ian Madsen and Steven Caruso.

WSS opener
35-laps
1. Steve Lines
2. Bradley Keller
3. Brooke Tatnell
4. James McFadden
5. Ryan Jones
6. Luke Dillon
7. Randy Hannagan
8. David Murcott
9. Matt Egel
10. Trevor Green
11. Dylan Jenkin
12. Daniel Pestka
13. Ricky Maiolo
14. Garry Brazier
DNF: Shane Stewart, Jamie Cobby, Hayden Pitt, Mark Caruso, Robbie Farr, Ian Madsen, Steven Caruso.

Top 20 points for the Championship after Round One are:
Steven Lines 332
Brad Keller 293
Brooke Tatnell 278
James McFadden 260
Luke Dillon 246
Ryan Jones 243
Randy Hannagan 235
Trevor Green 223
David Murcott 219
Dylan Jenkin 218
Matt Egel 212
Daniel Pestka 195
Ricky Maiolo 188
Garry Brazier 187
Shane Stewart 177
Jamie Cobby 175
Hayden Pitt 174
Robbie Farr 168
Steven Caruso 165
Mark Caruso 165

Round 2 of ENZED World Series Sprintcars, presented by Hog's Breath Cafe and Carline, will be held Friday night, December 27, at Murray Bridge Speedway.

-end-

Brad Maiolo wins Rd8 of AHG Sprintcar Series

BRADLEY Maiolo rolled the dice and it paid off when he claimed round eight of the AHG Sprintcar Series at the Perth Motorplex on Thursday night.

In front of a big crowd Maiolo won the 25-lap feature race from older brother Jamie and New South Welshman Ian Loudoun.

Prior to the start of the show Maiolo, along with Troy Beckingham, declared he would be playing his Joker card at the Boxing Day Bonanza where drivers double their points for that particular round.

The gamble paid off with the 21-year-old being the first driver this season to win a feature race on the night he has played the Joker card.

It was a tough round with only 10 cars finishing the feature with Callum Williamson fourth, followed by Lee Nash, Sheldon Brady, Cale Sotiroff, Jason Pryde, Terry Cutts and Ryan Lancaster.

Polesitter Shaun Bradford, along with fellow front runner Jason Kendrick and Cameron Gessner (out of P5), were all out of the race after just three laps.

Gessner was the first to withdrew when the car appeared to jump out of gear and Kendrick was soon out with a broken universal joint.

Bradford came up to lap Ryan Lancaster on the back straight but misjudged the move and launched into the fence after riding Lancaster's right rear tyre.

The impact heavily damaged the car's front-end.

A crash in turn four involving Troy Beckingham and Kye Scroop on lap 12 forced another restart and was a disappointing way for Scroop to finish after he was eyeing off a podium finish.

At the same time Trent Pigdon suffered a split to his fuel tank that created a massive fire trail and fire ball that was only put out after he pulled up next to the fire crew and quickly got out of the car.

Maiolo started from position four and said it was "one of those deals" when a few of the frontrunners dropped out of the battle early.

He said there was definitely a lot of carnage in the race and "the lapped cars were a bit of a challenge.

Maiolo is looking forward to round nine being held at Quit Bunbury Speedway on Saturday night "and we should be looking strong for there."

"We should be looking pretty high on the points too."

Brother Jamie was full of praise for Brad's win.

"He did a good job although maybe in lapped traffic I thought we might have had something for him," Jamie said.

"The track was fast…it was pretty racy and wide open up the top."

Jamie said they didn't have much time to regroup for the Bunbury round.

"The boys do a great job with the car and it's a good result for the LJM race team."

Loudoun was one of the big movers in the event, racing to third after starting from ninth but conceded he had a few challenges.

"We ran out of brakes after that restart with 21 to go and that ruins your chances to contend," Loudoun said.

RESULTS:

Qualifying: Jason Kendrick 13.790, Shaun Bradford 13.890, Bradley Maiolo 13.997, Kye Scroop 14.245, Trent Pigdon 14.270, Cameron Gessner 14.304, Jason Pryde 14.345, Lee Nash 14.357, Shane Norris 14.409, Jamie Maiolo 14.419, Callum Williamson 14.470, Ryan Lancaster 14.480, Ian Loudoun 14.517, Sheldon Brady 14.577, Troy Beckingham 14.811, Cale Sotiroff 14.975, Terry Cutts 15.012 and Russell Taylor 15.048.

Heat 1: 1st Trent Pigdon, 2nd Ian Loudoun, 3rd Brad Maiolo, 4th Callum Williamson, 5th Jason Kendrick, 6th Shane Norris, 7th Russell Taylor, 8th Jason Pryde: DNF: Troy Beckingham.

Heat 2: 1st Shaun Bradford, 2nd Jamie Maiolo, 3rd Kye Scroop, 4th Cameron Gessner, 5th Lee Nash, 6th Cale Sotiroff, 7th Sheldon Brady. DNF: Terry Cutts. DNS: Ryan Lancaster.

Heat 3: 1st Kye Scroop, 2nd Jason Kendrick, 3rd Trent Pigdon, 4th Lee Nash, 5th Ian Loudoun, 6th Shane Norris, 7th Cale Sotiroff, 8th Russell Taylor.

Heat 4: 1st Bradley Maiolo, 2nd Shaun Bradford, 3rd Cameron Gessner, 4th Jamie Maiolo, 5th Callum Williamson, 6th Jason Pryde, 7th Sheldon Brady, 8th Troy Beckingham and 9th Terry Cutts.

Bronze Dash: Cameron Gessner 13.602, Jamie Maiolo 13.639, Trent Pigdon 13.641, Lee Nash 13.701.

Silver Dash: Jason Kendrick 13.405, Jamie Maiolo 13.479, Cameron Gessner 13.608 and Kye Scroop 13.782.

Gold Dash: Shaun Bradford 13.311, Jason Kendrick 13.350, Jamie Maiolo 13.411, Brad Maiolo 13.476.

Feature: 1st Bradley Maiolo, 2nd Jamie Maiolo, 3rd Ian Loudoun, 4th Callum Williamson, 5th Lee Nash, 6th Sheldon Brady, 7th Cale Sotiroff, 8th Jason Pryde, 9th Terry cuts, 10th Ryan Lancaster. DNF: Troy Beckingham, Kye Scroop, Trent Pigdon, Shane Norris, Russell Taylor, Shaun Bradford, Jason Kendrick and Cameron Gessner.

-end-

Super-fast festive season at Archerfield

Supercheap Auto Archerfield Speedway is set for a super-fast festive season that will stretch over the next two weeks; the gloves come off tonight as the USA stars arrive for the start of the international Sprint Car series. World champion Donny Schatz will continue his battle with fellow American Jason Sides on our soils this summer, both taking the opportunity to continue racing through the American off-season.

Supercheap Auto Archerfield Speedway promoter John Kelly says it's a real plus to have two 'Outlaws' stars for our locals to gauge themselves against; this is Schatz' third full-time campaign here at Brisbane. "Donny is still rated the number one driver in the world even though he didn't win World of Outlaws (WoO). He won the Knoxville Nationals this year which is the 'Bathurst 1000' of racing in America; he's won seven of them now," said John.

The North Dakota racer and five-time American World of Outlaws STP Sprint Car Series champion Donny Schatz very nearly made it six titles in 2013. Just 14 points separated first from second as the final chequered fell in early November at 'The Dirt Track at Charlotte.' He had to settle for third on the podium which placed him second overall for the series; this narrow margin was the closest finish in the 36 year history of the series.

Schatz and Sides fought hard at Charlotte with Tennessee's Sides claiming second on the podium that night, earning him ninth overall for the 2013 WoO Series. This is the kind of close racing Australian crowds can look forward to as these two mix it up with our local stars.

Andrew Scheuerle, David Muir and Kevin Titman are locked in first, second and third respectively for both the KRE Race Engines Series at Archerfield and also the Queensland Club Championship after several rounds of racing. Brisbane's Danny Reidy made the podium last round after a slow start to the season; he sits in seventh for the KRE series just behind fellow Brisbane racer Darren Jensen with Terry Bracken rounding out the top ten.

Thirty-four Sprint Car competitors have nominated for USA night one tonight at the Brisbane speedway. Motorsport fans will get an added fix of horsepower with two supercharged, 540 cubic inch, big-block Monster Trucks scheduled to tear it up on the infield and to top it off… fireworks for the kids.

At last count nominations for the support divisions are strong, 19 Modlites including regular rivals Dylan Menz, Jeff Jensen, Jamie McHugh and Luke Whitehill will be there. Steve Potts, Russ Hardy and David Ohl resume their battle in the AMCA Nationals that number around 18 nominations. Eight Wingless Sprints will race tonight and in the Lightning Sprints Peter Campbell is likely to dominate the field of 13 cars.

Spectator gates open at 4pm and there'll be early racing ahead of the main program set to start at 6pm.

Sprint Car fans can also catch the stars fly on December 28 and January 1, World Series Sprint Cars are set to run January 4 then the international series crescendo's to January 10 & 11 with the World Series Australian Sprint Car Open.

Check brisbanepeedway.com.au for details.

-end-
Cam Gessner wins Rd7 of AHG Sprintcar Series

DEFENDING AHG Sprintcar Series Champion Cameron Gessner raced to victory in the Coal Miners Cup held at the Quit Collie Speedway on Saturday night.

He started from pole position and led all the way to win from Trent Pigdon and Jamie Maiolo, with the winning margin being just 1.311 seconds.

Callum Williamson finished fourth ahead of Lee Nash, Cale Sotiroff, Sheldon Brady and Jason Pryde.

It was a good night for the eventual winner who enjoyed a win and a second earlier in the show.

Unfortunately it was a tough night for some of his rivals in round seven of the 2013-14 series, including Kye Scroop who started from position six and put in a strong drive to get up to second place at one stage.

He withdrew from the contest on lap 24 after suffering a broken fuel line.

Brad Maiolo was another who had mixed results on the Collie track.

He was the top qualifier and after a fourth and then a win in the heats he qualified for the Gold Shootout with brother Jamie, but they were no match for Gessner and Pigdon who advanced from the Silver Shootout and claimed the front row for the 30-lap feature race.

Maiolo spun out a couple of times in the main event and went infield on lap 24.

Ryan Lancaster spun on lap seven and was hit hard by Damian Blacka, forcing both of them to the infield for the remainder of the show.

Jason Kendrick, who started from position nine, muscled his way forward and got into the top three before he pulled infield with only a few laps remaining.

Jason Pryde, Sheldon Brady, Callum Williamson, Cale Sotiroff and Ryan Lancaster all announced they were playing their Joker card at the start of the night, doubling their points for the round.

Luke Dillon still leads the series from Gessner with Pryde moving into third, Sotiroff fourth and Jamie Maiolo fifth.

The series takes a short break before returning to the Perth Motorplex for the Boxing Day Bonanza on December 26 and then Quit Bunbury Speedway on December 28.

AHG SPRINTCAR SERIES POINTSCORE (After Round #7)
1. Luke Dillon 1272 *
2. Cameron Gessner 1270
3. Jason Pryde 1264 *
4. Cale Sotiroff 1260 *
5. Jamie Maiolo 1236
6. Sheldon "Mr Flex" Brady 1236 *
7. Callum Williamson 1230 *
8. Bradley Maiolo 1196
9. Trent Pigdon 1158 *
10. Jason Kendrick 1154
11. Ryan Lancaster 1152 *
12. Daniel Harding 1118 *
13. Carl Dowling 1096 *
14. Kye Scroop 1082
15. Lee Nash 1002
16. David Priolo 984
17. Shaun Bradford 876 *
18. Mark Wells 760
19. Troy Beckingham 526
20. Jason Boland 480
21. Brodie Minchin 396
22. Matt Young 252
* Indicates driver has played his double points "Joker" card.

-end-
Reed takes the Throne

Normally after an A Main win you see an ecstatic driver climb about his race car with sheer emotion but RD 4 of the Mainline Dynolog Dynamometers All Star series saw something a bit different last night. Ken Hutchins the car owner of the ACT49 Matthew Reed driven Modern Stainless Steel Eagle was obviously thrilled with Reed's win. After congratulating his driver Hutchins climbed up on the car and punched the air with delight. The enjoyment still obvious at the trophy presentation as the team accepted the winner's trophy, the Kings Crown and cape and celebrations that went with it. "This is pretty cool" said Reed. "Kenny first win and we get all added attention of wearing the crown which adds some more fun to the night." Unfortunately Benissa Hutchins was not there to share it with them on the night.

ACT26 Tony Moule & ACT49 Matt Reed lined up on the front row with Moule getting the lead on the first start but having to do it all again after a yellow light in lap 1. Reed didn't give Moule a second chance to grab the start and lead from second start till the checker. The race to watch was again between the top 8 cars with moves and passes amongst themselves and then having lap traffic to add to the excitement. V34 Brenten Farrer had a brilliant night locking into the Pole Shoot out in P6 and moved forward to advance his start position in the A, finishing finally 3rd. ACT15 Harley Bishop's team were also rewarded for all their hard work over the past couple of weeks with a strong drive finishing 5th. Bishop moving up to 3rd at one stage but the dicing between himself, Farrer, Solomon & Barry changed the positions regularly. V7 Paul Solomon had a great dice in the feature to finish 4th but bypassed the night that he was looking for receiving front end damage in lap 1 of the A and ending his night on the infield but still manages to hold a narrow margin in the Series points.

Heat Wins: Chad Ely, Matt Reed, Brad Foster, Wayne Logue.

A Main – ACT49 Matt Reed, ACT26 Tony Moule, V34 Brenton Farrer, ACT15 Harley Bishop, V4 Phil Lock, V74 Michael Cunningham, V11 Brad Foster, SA83 Shannon Barry, NT30 Mark King, V83 Chris Solomon, V99 Zac Farrer, V66 Wayne Logue, V7 Paul Solomon, ACT8 Shaun Forrell – DNF, SA18 Jed Bell DNF,V8 Corey Lincoln DNF, V85 Colin Lincoln DNF, V96 Andy Caruana DNF, V23 Jimmy Gardiner, V15 Bill Fraser DNF, SA22 Chad Ely DNF.

Top 10 in points after last night:
1. SA22 Chad Ely - 1001
2. ACT49 Matt Reed - 993
3. SA83 Shannon Barry - 935
4. V74 Michael Cunningham- 930
5. V7 Paul Solomon - 915
6. V83 Chris Solomon - 906
7. V4 Phil Lock - 893
8. ACT26 Tony Moule - 884
9. V11 Brad Foster - 857
10. V66 Wayne Logue - 830

-end-
Brooke Tatnell wins WA Sprintcar Championship

BROOKE Tatnell is the new WA Sprintcar champion after winning the epic 30-lap feature race at the Perth Motorplex on Saturday night.

After a series of aborted attempts that sidelined some of the major contenders Tatnell held off a very fast finishing Cameron Gessner and Shaun Bradford.

In only his second drive back with the 'old band' – the professional Krikke Motorsport operation, Tatnell showed a cool head in heavy lapped traffic late in the race, surviving challenges from both Bradford and Gessner.

It took some time to get the race going with a handful of restarts.

Kye Scroop was the first casualty, not making it past the first corner and a few moments later Jake Beard-Miller, Damian Blacka and Lee Nash were all involved in an incident on the main straight.

The next restart was caused after Trent Pigdon and Daniel Harding came together on the back straight and on the next attempt David Priolo had contact with Jason Kendrick which then involved Carl Dowling for an open red light situation.

Luke Dillon, who had won the last three rounds of the WA series, finished fourth with Brad Maiolo taking fifth and was followed by Ian Loudoun, Jamie Maiolo, Shane Norris, Cale Sotiroff, Sheldon Brady, Matt Young, Ryan Lancaster, Daniel Harding, Jason Pryde and Kent Roberts.

"It was definitely a stop-start affair in the first few laps," Tatnell said, relating it to constant stoppages of public transport.

While his rivals showed their intentions a few times Tatnell said he had a bit in reserve but admitted it was tough in heavy traffic.

He paid tribute to long-term family friend John Day who is still in hospital.

"I said I was going to come here and win this for him and hopefully we can get back to the hospital tomorrow and see him."

Gessner said he really wanted to win the title race.

"I am happy and sad at the same time, it was a hell of a race."

Bradford finally grabbed a podium in the Darren Allen-owned #67 machine.

"It was going really good at the start," Bradford said.

"I was just waiting and biding my time and then all of a sudden I had sparks every time I hit the brake so I stopped using them as much as I could which made it hard.

"With the run I have been having I was just lucky to finish."

Round seven of the AHG Sprintcar Series will be held at Quit Collie Speedway on December 14.

Qualifying: Group 1: Luke Dillon 14.093, Mark Wells 14.254, Daniel Harding, Ryan Lancaster 14.555, Jason Boland 14.892, Kent Roberts 14.899, Jason Pryde 14.987. Group 2: Shane Norris 14.488, Cameron Gessner 14.626, Trent Pigdon 14.884, Jamie Maiolo 14.982, Callum Williamson 15.070, Damian Blacka 15.501. Group 3: Brooke Tatnell 14.905, Brad Maiolo 14.964, David Priolo 14.965, Carl Dowling 15.177, Jake Beard-Miller 15.382, Sheldon Brady 15.447, Matt Young 15.591. Group 4: Shaun Bradford 14.681, Jason Kendrick 14.728, Troy Beckingham 14.867, Russell Taylor 14.895, Ian Loudoun 15.100, Kye Scroop 15.208, Cale Sotiroff 15.301.

Heat 1: 1st Jake Beard Miller, 2nd Cameron Gessner, 3rd Lee Nash, 4th Brooke Tatnell, 5th David Priolo, 6th Luke Dillon, 7th Jason Kendrick, 8th Daniel Harding, 9th Callum Williamson, 10th Kye Scroop, 11th Jason Pryde, 12th Russell Taylor. DNF: Jason Boland and Matt Young.

Heat 2: 1st Jamie Maiolo, 2nd Ian Loudoun, 3rd Shaun Bradford, 4th Carl Dowling, 5th Trent Pigdon, 6th Brad Maiolo, 7th Shane Norris, 8th Troy Beckingham, 9th Ryan Lancaster, 10th Kent Roberts, 11th Cale Sotiroff, 12th Sheldon Brady. DNF: Mark Wells and Damian Blacka.

Heat 3: 1st Luke Dillon, 2nd Shaun Bradford, 3rd Jason Kendrick, 4th Daniel Harding, 5th Kye Scroop, 6th Ryan Lancaster, 7th Cale Sotiroff, 8th Jason Pryde, 9th Kent Roberts. DNF: Ian Loudoun and Troy Beckingham.

Heat 4: 1st Brooke Tatnell, 2nd Cameron Gessner, 3rd Brad Maiolo, 4th David Priolo, 5th Shane Norris, 6th Trent Pigdon, 7th Carl Dowling, 8th Jamie Maiolo, 9th Lee Nash, 10th Jake Beard-Miller, 11th Sheldon Brady, 12th Callum Williamson, 13th Matt Young. DNF: Damian Blacka.

Bronze shootout: Brad Maiolo 14.119, Jason Kendrick 14.128, David Priolo 14.180, Shane Norris 14.535.

Silver shootout: Jason Kendrick 13.833, Cameron Gesner 14.039, LukeDillon 14.126, Brad Maiolo 14.380.

Gold shootout: Brooke Tatnell 13.883, Shaun Bradford 14.074, Cameron Gessner 14.099, Jason Kendrick 14.122.

Feature: 1st Brooke Tatnell, 2nd Cameron Gessner, 3rd Shaun Bradford, 4th Luke Dillon, 5th Brad Maiolo, 6th Ian Loudoun, 7th Jamie Maiolo, 8th Shane Norris, 9th Trent Pigdon, 10th Cale Sotiroff, 11th Sheldon Brady, 12th Matt Young, 13th Ryan Lancaster, 14th Daniel Harding, 15th Jason Pryde, 16th Kent Roberts.

-end-
Luke Dillon claims AHG Sprintcar Series hat-trick

LUKE Dillon came, saw and conquered Quit Bunbury Speedway on Saturday night to win round five of the AHG Sprintcar Series from Brooke Tatnell and Jamie Maiolo.

Dillon started from pole but in the early part of the 30-lap feature race he was chasing Cameron Gessner who eventually pulled out with suspected throttle problems, seeing Dillon's dominance in the WA season continue.

He started the night with a seventh in his opening heat before blasting away for a win in the next qualifier.

The Diamond Bay Motorsport driver then set himself for pole position after progressing from the Bronze to the Silver and ultimately to the Gold Shootout, starting alongside Gessner who also progressed from the Silver Shootout.

It was Dillon's third win of the season after claiming the previous Bunbury round on November 9 and then the King of Wings at the Perth Motorplex on November 23.

Tatnell, who flew into Western Australia the day before and only sat in the new Krikke Motorsports hotrod for the first time on raceday, looked comfortable with his 'old' team, moving forward after starting from position three.

He was a very convincing winner in the first heat race and also hustled his way into fourth after starting at the back of the pack in the next heat race.

Jamie Maiolo missed the Top 8 Shootout and had to do it the hard way after starting from position 11 and to get on the podium was a remarkable effort.

Earlier in the night he didn't set the world on fire with a second and seventh in the heats but put it altogether when it counted.

Younger brother Jamie, who started from position four, missed out on his second successive podium finish but banked some good points with his fourth.

Jason Kendrick also used plenty of track craft to finish fifth after starting from ninth – a good effort after earlier in the night he clouted the fence in hot laps on a very slippery race surface thanks to a shower of rain.

David Priolo, Carl Dowling, Kye Scroop, Daniel Harding and Callum Williamson rounded out the top 10.

Heat 1: 1st Brooke Tatnell, 2nd Callum Williamson, 3rd Cameron Gessner, 4th Kye Scroop, 5th Brad Maiolo, 6th Trent Pigdon, 7th Luke Dillon, 8th Sheldon Brady. DNF: Cale Sotiroff.

Heat 2: 1ST Jason Kendrick, 2nd Jamie Maiolo, 3rd Ryan Lancaster, 4th Daniel Harding, 5th Carl Dowling, 6th David Priolo, 7th Jason Pryde, 8th Lee Nash, 9th Troy Beckingham.

Heat 3: 1st Brad Maiolo, 2nd David Priolo, 3rd Cameron Gessner, 4th Brooke Tatnell, 5th Daniel Harding, 6th Callum Williamson, 7th Jamie Maiolo, 8th Jason Kendrick, 9th Jason Pryde.

Heat 4: 1st Luke Dillon, 2nd Carl Dowling, 3rd Sheldon Brady, 4th Kye Scroop, 5th Lee Nash 6th Cale Sotiroff, 7th Troy Beckingham. DNF: Trent Pigdon and Ryan Lancaster.

Feature: 1st Luke Dillon, 2nd Brooke Tatnell, 3rd Jamie Maiolo, 4th Brad Maiolo, 5th Jason Kendrick, 6th David Priolo, 7th Carl Dowling, 8th Kye Scroop, 9th Daniel Harding, 10th Callum Williamson, 11th Jason Pryde, 12th Troy Beckingham. DNF: Cameron Gessner, Sheldon Brady, Ryan Lancaster, Trent Pigdon, Lee Nash and Cale Sotiroff.

-end-
KMS Seeing Double

After announcing that Brooke Tatnell will once again be hopping into the cockpit of the WA2 Toyota Parts & Accessories Cool car for the upcoming 2013/14 racing season, now team boss Shane Krikke has sealed the coup of the year and will be putting together a two car team to run the final round of the World Series Sprintcar event at the Perth Motorplex PLUS the Krikke Boys Shootout to be held at Bunbury Speedway in March. That's right folks, Krikke MotorSport and Brooke Tatnell are going to be teaming up with Tim 'Clay Dragon' Kaeding and they'll be putting on a show for the West Australian speedway fans.

With Kaeding unable to race the full KMS schedule of events and his airfares had already been paid for, a last ditched attempt by Krikke to have the 'Clay Dragon' make use of those tickets became a golden opportunity for Krikke MotorSport and the WA fans.

"We've got four new cars and three new motors here (at the moment) so I'm hoping that we won't be needing all four of them this year. So if all the stars align and we're still looking the goods towards the end of the season, TK will be coming back down here to race with us, which puts all those naysayers and keyboard warriors who have taken to the internet to denigrate our team and friendship with both of these drivers in a rather awkward position don't ya think." stated the KMS team boss "Everyone knows exactly what the Krikke Boys Shootout means to me, my family and the KMS family and with TK putting on a clinic last year we thought it only fitting he get the chance to come back and try his hand at winning it back to back. But that by no-means means that we won't expect Brooke to win it either. Just as long as one of them takes out the prize and the other one runs second, yeah that'd make me the happiest man on Earth, so long as they don't crash each other. That will be the only team order!! And I'm sure TK would love to put on another expression session after the race as well. The fans all over the world loved it last year and the YouTube vision proved that. It has always been a desire of ours to put 2 cars out there on the track and to be able to do it 2 drivers the quality of Brooke and TK is a real luxury for us and a heck of a treat for all our fans and supporters. I really can't wait for this to all to become reality."

So racefans, if you've ever toyed with the idea to coming to WA to watch the Krikke Boys Shootout, this is the one you'll want to be at.

Tim can be seen racing in WA at the Perth Motorplex on February 21st & 22nd, 2014 and then at the KBS at Bunbury City Speedway on the WA long weekend of March 1st & 2nd, 2014.

-end-
Polar Ice Round 3 A-wash By a Wall of Water

So close to a result yet so far; only the AMCA, V8 Dirt Modified and the Midget Car Features remained on the schedule at Supercheap Auto Archerfield Speedway when the super-sized drops started to fall at 8pm. Promoters made every effort to achieve a result for Round 3 of the Polar Ice Midget Car Series, speeding through the program, but the super-cell that stretched hundreds of kilometres, engulfed the region; quite literally a wall of water.

There will be no official result for Round 3 of the Polar Ice Series and the individual clubs from the three divisions will determine if any points are to be awarded from the heat racing that was completed.

It was evident from the get-go (Midget Time Trials) that the racing was going to be something pretty special. Current Queesland Champion Adam Clarke decided to make a late nomination and run the new engine again ahead of his New Zealand commitments next weekend. The move was worthwhile. He and a handful of others were very closely matched, clocking laps in the high 13 second mark (no official times available).

The heat racing was thrilling to watch, the second heat in particular. Michael Kendall and Adam Clarke started from positions 7 and 8 respectively. The pair made efficient use of the multi-lane track, carving their way to the front; Clarke repeated his tutorial again in Heat 4 when he started from position 7 and was the first to meet the checker. Chris Singleton was in great form; quick too were Grant Draney, Darren Vine and Brett Thomas but eventually heat wins went to Ashley Jarvis, Michael Kendall, Michael Harders and Adam Clarke. It was such a shame that Mother Nature robbed everyone of what was shaping up to be a great Dash and Feature race.

V8 Dirt Modifieds went wide and loud as always and though small in number, there were some quality drives and some close battles throughout the heats. David Clark took first blood and displayed great race craft by taking the Heat 1 win on a track that was still coming to the racer. Kevin Britten showed just why he's the current QLD and NSW champion by winning heat 2. Andrew Pezzutti was quick to win the third heat and Brandon Rawlings the fourth. Several others were right in the mix including rookie Mitchell Gee and his stable mate Brandon Rawlings as well as Scott Conlin, Geoff Phillips and veteran racer Ray Klarich.

Next week Sprintcar fans are in for something special as Ian Madsen ends his American season and returns to Australia to race; fortunately for us Archerfield is his first stop on the map. He'll line up alongside Robbie Farr and David Murcott who are also early nominations for Round 5 of the KRE Race Series but current point's leader Andrew Scheuerle will be doing everything he can to hold onto his lead. Super Sedans make their first appearance next weekend (Nov 30) and they'll be joined by Modlites, Wingless Sprints, SSA Juniors and FordVHoldenVSigma

Check Facebook or brisbanespeedway.com.au for tickets and times.

-end-
Dillion Wins King of Wings at Perth

"Cool Hand" LUKE Dillon is the Scardifield Smash Repairs King of Wings, winning the 40-lapper from Jamie Maiolo and Bradley Maiolo at the Perth Motorplex Speedway on Saturday night.

Dillon started from pole and survived a couple of challenges from Shaun Bradford to take time-honoured race that included a mid-race pit stop.

Jamie Maiolo started from seventh while Brad Maiolo started from third in the fourth round of the AHG Sprintcar Championship.

On two occasions, Bradford, who also started on the front row, hit the lead twice only to have the position negated when the caution lights came on both times.

Then late in the race on a red-light stop he withdrew with a broken left header.

"I got a lucky break, I have had bad luck before so I will take that," Dillon said.

"We were good all night."

Dillon was happy with the car, saying the Diamond Bay Motorsport team has tested all three cars prepared for World Series Sprintcars that starts in Adelaide in December.

Jamie Maiolo said he struggled early on but said he was fired up after fellow racer Trent Pigdon jumped one of the starts and was later penalised four positions.

"We got back in there, I think we were ok, I just needed a bit of lapped traffic to do something with Luke…congratulations to him."

Brad Maiolo was also smiling with his podium finish.

"I knew we just had to hang in there and that there was going to be a bit of carnage."

Troy Beckingham was the first casualty when he had a flat right rear tyre with the next to surrender being Jason Boland who ran out of power on the main straight eight laps in, for the first restart.

Dillon was the early leader and up into lapped traffic again within a few laps.

Bradford was on his tail on lap 15 in heavy traffic and they were joined in the battle by Cameron Gessner and David Priolo.

He then hit the lead on lap 19 and not long afterwards as officials called the mid-race stop Priolo hit the turn 1-2 fence and was lucky to spin around and keep rolling.

Jake Beard Miller hit the fence hard, collapsing the car's rear end on lap 25 just as Bradford hit the lead again and the latter was clearly unhappy, remonstrating as the field regrouped and he moved back into second.

On lap 28 Callum Williamson spun around forcing another restart and on lap 32 Priolo went over in turn 1-2, Kendrick pulled up behind him and Mark Wells had nowhere to go, rolling over.

The driver of the 21 was able to get a restart, albeit with damaged front and top wings.

Qualifying: Jason Kendrick 14.196, Luke Dillon 14.204, Shaun Bradford 14.269, Bradley Maiolo 14.469, Lee Nash 14.503, Cameron Gessner 14.569, Trent Pigdon 14.569, Mark Wells 14.591, Ian Loudoun 14.680, David Priolo 14.685, Daniel Harding 14.797, Jamie Maiolo 14.801, Sheldon Brady 14.899, Jake Beard-Miller 14.910, Shane Norris 14.958, Kye Scroop 14.983, Troy Beckingham 15.030, Callum Williamson 15.046, Ryan Lancaster 15.080, Jason Pryde 15.129, Carl Dowling 15.172, Jason Boland 15.240, Damian Blacka 15.587, Cale Sotiroff 15.732, Russell Taylor 15.380, David Scofield 17.093. Brodie Minchin NTT.

Heat 1: 1st Sheldon Brady, 2nd Mark Wells, 3rd Jamie Maiolo, 4th Troy Beckingham, 5th Lee Nash, 6th Carl Dowling, 7th Brad Maiolo, 8th Russell Taylor, 9th Daniel Harding, 10th Jason Pryde, 11th Cale Sotiroff, 12th Brodie Minchin: DNF: Kye Scroop and Jason Kendrick.

Heat 2: 1st David Priolo, 2nd Shaun Bradford, 3rd Trent Pigdon, 4th Luke Dillon, 5th Jake Beard-Miller, 6th Cameron Gessner, 7th Shane Norris, 8th Callum Williamson, 9th Jason Boland, 10th Ryan Lancaster, 11th Damian Blacka, 12th David Scofield. DNF: Ian Loudoun.

A Dash: 1st Luke Dillon, 2nd Brad Maiolo, 3rd Cameron Gessner, 4th Jamie Maiolo, 5th Mark Wells, 6th Troy Beckingham, 7th Carl Dowling, 8th Jake Beard-Miller.

B Dash: 1st Shaun Bradford, 2nd Lee Nash, 3rd David Priolo, 4th Shane Norris, 5th Trent Pigdon, 6th Russell Taylor, 7th Sheldon Brady. DNF: Callum Williamson.

Midpack Madness: 1st Jason Kendrick, 2nd Ian Loudoun, 3rd Daniel Harding, 4th Kye Scroop, 5th Ryan Lancaster, 6th Jason Pryde, 7th Jason Boland, 8th Cale Sotiroff, 9th Brodie Minchin. DNF: Damian Blacka.

Feature: 1st Luke Dillon, 2nd Jamie Maiolo, 3rd Brad Maiolo, 4th Cameron Gessner, 5th Ian Loudoun, 6th Jason Kendrick, 7th Trent Pigdon, 8th Carl Dowling, 9th Mark Wells, 10th Callum Williamson, 11th Lee Nash, 12th Ryan Lancaster, 13th Shane Norris, 14th Jason Pryde, 15th Cale Sotiroff, 16th Brodie Minchin. DNF: Daniel Harding, Sheldon Brady, Kye Scroop, Shaun Bradford, David Priolo, Jake Beard-Miller, Jason Boland.

Round 5 of the AHG Sprintcar Series will be held at Quit Bunbury Speedway next Saturday night.

-end-
Brooke Tatnell to pilot KMS sprint car (listen to Brooke's interview)

They're Back!

If anyone ever thought that this racing business was easy then they haven't experienced a day in the life of owning a raceteam that's for sure and Krikke MotorSport have had a week of torment to prove that.

After a shock conversation with Tim Kaeding saying he would no longer be able to come out and drive the KMS Cool Deuce this season in Australia due to his American team owner announcing to him that he'd be taking him on the road fulltime next season to compete in the World Of Outlaws Championship, it left KMS team boss Shane Krikke scrambling to find someone to fill the racing duties just 24days out from the start of their season opener.

Krikke had this to say when asked about the events that have unfolded over the past week or so. "I'm gutted to be honest that we've spent so much time, effort and money building this year's campaign around TK and just days out from our first hit out on the track to be told he wouldn't be coming was devastating. I've been left short with trying to find the calibre of driver that we and racefans have come to expect to be in out hotrod. I cannot tell you though, when this all came to light, how much support we have had and how many sprintcar drivers resumes have come into my office, my email inbox and also via twitter and facebook messages. The calibre of talent and high profile names from all over the world that have thrown their hat in the ring to drive for us; it's truly been very humbling. But look, we understand that this is the nature of the racing beast! It can be cut throat and at times, quite ruthless and brutal, but in reality it is everyman for himself and TK has an opportunity to run with the Outlaws full time and a few of the dates overlapped so it didn't work for either of us. Let me go on the record to say there was nothing personal about it and we remain very good friends and I can assure you we will race together sometime but just not for now. I have read and heard about some of the rubbish on some chat rooms and other public forums and social media etc and it really couldn't be further from the truth about us nor 'The Clay Dragon'. TK is family...and he will be back!"

As most of you may know KMS is not just a hobby for the Krikke family, it's part of who they are and a very professional business, so when it came time to decide on their options the whole team as a family had input into the decision making. And there was one name that they just couldn't look past... Brooke Tatnell. That's right ladies and gentlemen, After a year hiatus with another raceteam Krikke MotorSport is pleased to announce that the 'Band' is getting back together and if you thought that up until now the team was looking at this year as their 'Year of Redemption' then the competitors and racefans had better watch out as they've just upped the ante.

Krikke further added, "To have BT back in the car is exciting! We are practically family and to have him back and being able to contest the full World Series schedule again and the other major dates on the calendar is great and I think after the past 12 months we all have something to prove and I can tell you when Brooke has his mind set on something like this and his back to the wall THAT is when he is at his best! I am looking forward to getting racing... it has been a long winter and now it is time for redemption."

It would also be remiss of Krikke MotorSport to not send a big thanks to Vivian & Barry Lewis for allowing Brooke to come onboard as he chases another World Series Championship in the 'Black Deuce Hotrod'. The Lewis' had a deal in place for Tatnell to come out and race for a month in January but they kindly allowed Brooke to come across to race again for KMS as he chases yet another World Series Championship, another Warrnambool Classic and Aussie Title and a dream to win his first Krikke Boys Shootout.

"I was very excited to receive Shane's phone call and be offered the seat in the KMS Hot Rod and I'm appreciative of the time Shane has given me to make the right decision as I know his phone has been running hot.' commented Tatnell 'It is going to be very busy next couple of months for me, what with flying back and forth to the USA taking care of everything but it will be well worth it in the long run as KMS is ultra professional." "Despite this being a homecoming of sorts with rejoining the team, I am excited to be working with young KMS crew chief Dylan Buswell on a regular basis. I just hope they warned him that most of my racing stories happened before he was born. And having Finchy (Shane Finch) around will make the transition pretty smooth as well. I am not here as a substitute driver but here to redeem what was a bad season last year by our standards for both KMS and myself in the SCR deal. I did however point out to Shane and Ryan that I hate the number two on the tail tank so we will be gunning to change that number." Tatnell went on to say " It should have been an easy decision to say yes to the offer from Shane to rejoin the KMS team, after the success we have shared together over the seven years of teaming up previously, but it has been an emotional roller coaster week before I could commit to the team; The reason it has been so tough to say yes is that we had agreed to come and run for Barry and Vivian Lewis and the Australia Wide Towing Team at Sydney Speedway over January and anyone that knows Baz knows that he is a great guy and great car owner and I did not want to let him down." "Over a week of phone conversations with Barry, Vivian and Shane I had to make the best decision for my team, my family and our future.
I cannot say thank you enough for Barry and Vivian's support on what has been a tough week and look forward to being back behind the wheel of the Australia Wide Towing Sprintcar for the 2014 USA season."

Obviously, there are still a few logistics to work out; new racesuits, new merchandise designs, more airfares etc. but you can guarantee when this team hit the track for their first night they won't be there just to make up numbers and they haven't joined forces out of sheer desperation; This team has proven time and time again that they have been Australia's #1 team and you can bet your bottom dollar they're determined to prove that again in 2013/14. WA fans will get to see Tatnell in his first race back in the Toyota Parts & Accessories Cool car on December 7th when they compete at Perth Motorplex in the WA State Title.

-end-
Ely conquers Heartland

The Mainline DynoLog Dynamometers All Star Series ticked another box last night running their first show in NSW at Heartland Raceway and what a show it was! Action packed with a brilliant race between #SA22 Chad Ely & #ACT26 Tony Moule. With the pair lined up beside each other on the front row of the A Main, Moule getting the start to take out the lead lap. Ely made an awesome move to pass Moule in lap 2 and lead the race till the checker. Ely didn't have it easy thou as Moule was all over him lap after lap. The pair put on a spectacle for the crowd. #V74 Michael Cunningham, #ACT49 Matthew Reed & #NSW20 Troy Little were hot on the heels of 1 & 2 and if either of them had made the slightest error they were waiting to pounce.

Lap 1 was marred by a red light as #Q77 Brent Kratzmann, #V96 Andy Caruana & #SA83 Shannon Barry tangling in turn 2. Unfortunately ending the night for both Caruana & Barry. Kratzmann changed a rear tyre and was good to go again. Kratzmann drove a skilled race to finish 6th from the rear. The Caruana team would have been disappointed sitting on the infield after a great night till that point. Caruana is really starting to show great form over the past couple of shows. Barry was also obviously disappointed also to finish another night infield. The team worked hard thru the week to repair the car from RD1 but didn't have their efforts rewarded.

Early in the night #V23 Jimmy Gardiner took a bone jarring tumble in turn 4 and parking up in the catch fence. The crew rebuilt the car in time for the A. Gardiner lined up at the rear and was cautious in the first few laps only to pull infield after 7 laps.

#ACT15 Harley Bishop, Corey MCCullagh's V90 & SA18 Jed Bell tangled in Heat 2 with Bishop & McCullagh getting enough damage to end their nights.

The Pole Shoot out had the crowd on their toes with #ACT26 Tony Moule putting on a clinic. Starting the Shoot Out in P5 and finished in P1. Lining up against Kratzmann, Reed, Cunningham & Ely, Moule certainly put on a show. Quote of the night came from Heartland staff "Best racing every - that was worth the price of admission alone!."

Heat Wins: Chad Ely, Tony Moule, Brent Kratzmann, Shaun Forrell

A Main – Chad Ely, Tony Moule, Matthew Reed, Troy Little, Michael Cunningham, Brent Kratzmann,
Paul Solomon, Wayne Logue, Brad Foster, Colin Lincoln,, Jed Bell, Shaun Forrell-DNF, Phil Lock-DNF, Shane Hendry-DNF, Jimmy Gardiner-DNF, Chris Solomon-DNF, Zac Farrer-DNF, Shannon Barry-DNF, Andy Caruana-DNF

Championship Points
Chad Ely 518
Brent Kratzmann 501
Matthew Reed 489
Paul Solomon 463
Phil Lock 462
Michael Cunningham 459
Shane Hendry 454
Chris Solomon 448
Shannon Barry 436
Wayne Logue 404

-end-
Charge Set for Round 4 of the KRE Series

The charges are set for Round 4 of the KRE Race Engines Series. Not a drop of rain has fallen at Supercheap Auto Archerfield Speedway at the time of this release (9pm Tuesday November 12). Areas south and west of Brisbane have experienced downpours and severe storms, which are forecast to continue for the next couple of days but should dry up Friday and Saturday.

Sprintcar nominations are strong and the field shows great depth; both up the front and mid-pack; 28 cars in all will converge to fight it out.

Defending KRE Series champion and current points leader Q25 Andrew Scheuerle would like to see the track go dry and slick, given the quality of cars coming on Saturday night. "We'll just wait and see what the weather does first of all; rain will dictate the track. Regardless, it will come down to the same four of five cars that will battle it out."

The Brisbane based Q7 East Coast Pipeline Racing team will be packing some punch this Saturday night having achieved their first win of the season, weekend before last, at the 28th Annual Sprintcar Masters in Adelaide. Robbie Farr agreed it felt good to end the string of successive second place finishes, "Yes definitely, although it was nothing to be ashamed of. We'll aim to finish this one like we finished the Masters; every game plan is the same - try and win the race."

The team regrouped last weekend and continue to work on the car in the lead-up to Saturday. "You don't stop learning, we believe that we learnt some things from the Masters that we hope to take this weekend," said Robbie.

David Murcott made the podium at Round 1 of the KRE Series but hasn't really showed his usual form since then. He crashed at the Masters but is quite likely to come out of nowhere and finish at the front.

Scheuerle notes, "Out of the locals David Muir is the main guy that's throwing at us." Muir took the KRE Round 2 win and made the podium elsewhere last weekend. David currently sits third in the points standings on 124 below Kevin Titman who's accrued 132. Besides Kevin there are a number of top ten contenders who have sealed heat wins during the first three rounds. If their early pace is any indication, the Lucas Oils Dash should be thrilling.

The format for the Dash will be a Bronze–Silver–Gold Shootout. At the conclusion of the heats, point scorers 5, 6, 7 & 8 head out first for the Bronze Shootout, the slowest two disappear. The remaining two are joined by 3 & 4 for the Silver Shootout; again the slowest two disappear. The top two point scorers join the two left standing in a four-car Gold Shootout; their finishing order determining the start of the Feature race.

Support divisions include the Lightning Sprints and previous podium finishers Q18 Scott Genrich, Q15 Jason Busk and Q77 Keith Blatch are all nominated. The Brisbane Sedans are back and grass-roots racing divisions will be there too when the Stock Cars along with the FordvHoldenvSigma take to the clay-way.

Ticket sales are only available at the gate for this race meet; spectator gate opens at 4pm. No EFTPOS or credit card facilities at the venue. Check the website for details.

-end-
Tim Kaeding vacates Krikke Motorsports Seat

With a text message received yesterday from Tim Kaeding two scenarios played out at once.

Tim Kaeding was uncomfortable with what he had to announce to his 'Boss' Shane Krikke but the reasons were a life-long dream for him; TK was leaving Krikke MotorSport just 24 days out from their 2013/14 racing campaign with news from his American team owner that he would be contesting the full World Of Outlaws schedule and would be unable to commit to a full race season here in Australia. To say that Krikke was gutted is a huge understatement. Airfares had been paid for, race suits had been made, merchandise had been created, hotrods had been signed, races had been confirmed, contracts had been signed and now the team had been left in the wake of the news and with very little time to find a new pilot before the start of race season.

"To say I am gutted is a huge understatement. TK and I have talked about this scenario of him doing the full World Of Outlaws all our off season, but he and his owner both said that it wouldn't happen' said KMS team owner, Shane Krikke 'So yesterday when I got the message I wasn't surprised to be honest, I was just majorly disappointed that we'd wasted so much time and

money when we could have been working on a deal with someone else. And now we're faced with the prospect of being just 24 days out from hitting the road and we've got the best of the best in terms of crew and race gear and no pilot to drive the hotrod." "Of course I'm happy for TK that he's getting to live his lifelong dream and become a WoO driver and he gets to chase the Championship, but it's with a bitter pill to swallow as well."

So now the race is on for Krikke to find someone with the calibre of driver that racefans have learned to expect to sit in the KMS Cool car. They may have hit a snag but you can guarantee that KMS are still looking at this race season as their 'Year of Redemption'… Now probably more so than ever!

-end-