MATT'S MOMENT OF TRUTH

Official release: Valvoline Raceway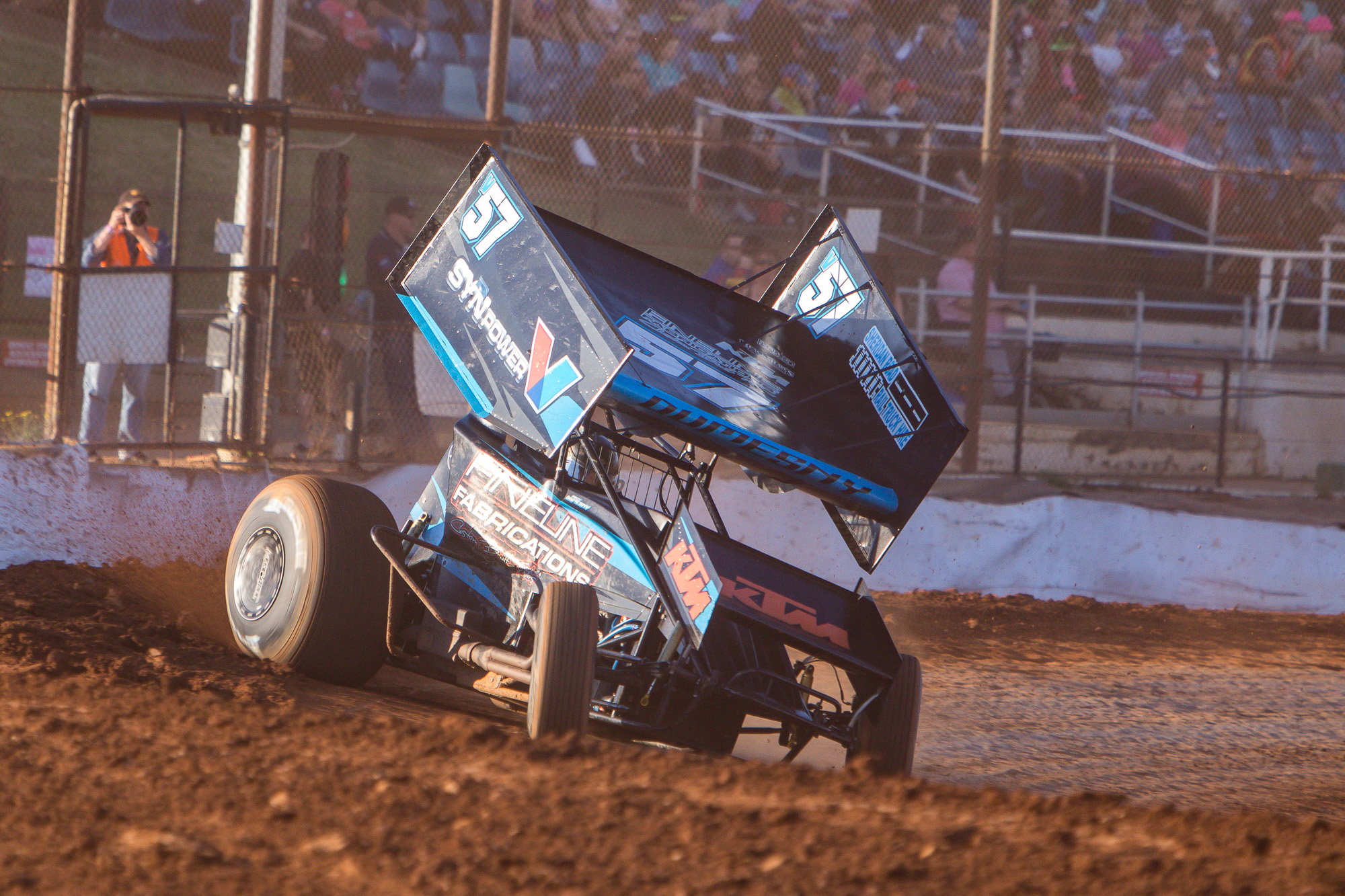 October 18, 2016

Last Saturday night (October 15) Matt Dumesny came closer than he ever has been to scoring his first USC Sprintcar main event win.

The third generation racer in his fourth season behind the wheel blasted from 12th to 2nd in last week's grueling 30-lap Sid Hopping Shootout and along the way wheeled past his legendary father Max and USC champion Jamie Veal amongst others.

"It was cool to go past Dad but cooler to get by Jamie (Veal) considering all over the world he's one of the guys to beat," conceded the 22 year old, "I wasn't really expecting much going into the event because I had a sore shoulder and ribs from an incident earlier in the week but it turned out way better than I thought."

Previously Dumesny's best result at VR was a pair of fourth place finishes but the career-first podium last weekend certainly eclipses that.

"It's great to get some Chase points and to get that first podium. My crew chief Cam Coghlan and our team have been working really hard every week to get some speed from the car and it's really paying off. I feel good about our chances this Saturday night now."

Dumesny's Valvoline Synpower / Fineline Fabrications / Simmons Civil Contracting / KTM Maxim will be right in the thick of things this Saturday night (October 22) in Round Three of USC NSW after Sam Walsh's stirring win last weekend.

Walsh sped his Rocket Industries / Fleck Earthmoving GF1 chassis to the fastest lap ever recorded at Valvoline Raceway last Saturday in qualifying and then went on to a stirring $10,000 win in the 30-lap main event.

He comes into this event, like Dumesny, like podium place-getters and this season main event winners Robbie Farr, James Thompson and over 50 other USC drivers this Saturday night looking for the pay-dirt and the glory associate with a Valvoline Raceway feature win.

This Saturday night's USC action also features the return of the Late Model Dirt Muscle Car Series and the Ford vs Holden Street Stockers.

Dirt Muscle car racer "The Newcastle Nightmare" Nathan Disney will be looking to snare his second consecutive main event success after scoring victory on October 8 at Valvoline Raceway.

-end-
Former Champ Loudoun Joins McFadden and Rookies in Classic Field

David Dickson's Essendon Ford backed V3 as piloted by 2012 Lucas Oil Grand Annual Sprintcar Classic Champion Ian Loudoun is amongst the early nominations for the 45th running of the famed event this coming January.

Loudoun who wound up his 2016 Classic campaign with a 16th place finish in B-Main 2 after suffering mechanical woes on his qualifying night, will be joined by one of the country's hottest partnerships, with Monte Motorsport also confirming their Classic entry this week, with the recently hired James McFadden at the wheel.

The high profile duo will be joined in the field by a pair of Classic rookies, Victoria's Jamie Heyen and Braydan Willmington from Marulan in New South Wales.

Both drivers have experience at Sungold Stadium, with Heyen having contested Eureka Sprintcar Series events at Warrnambool in the past while Willmington was a stand out in the Junior Sedan category.

McFadden, as always, will be one to watch. Come January he and crew chief Kim Buswell will have had time to gel as a team and with equipment that is the envy of most within the sport, it is fair to think that McFadden may well improve on his 2016 Classic which returned a very impressive 8th place finish in the Sunday night 40-lap feature event.

Having continued to hone his craft during the Australian off-season by racing in the United States, most notably with Pennsylvania based car owner Matt Highland's and then for NASCAR Star Kasey Kahne, McFadden will be at the top of his game.

Monte Motorsport have again secured the tremendous support of Milwaukee Tools along with Kaeding Performance, SCI, Factory Kahne, Lucas Oil Products, Maxim Chassis, KRE Race Engines, PWR, Performance Racegear, All-Star Performance and BMRS.

Loudoun, who has already produced a strong result in a USC event in New South Wales, will be looking to add a second Classic win to his resume and again with the ultra-professional support of David Dickson and his Essendon Ford backed team anything is possible.

For his trip south for a maiden Classic tilt, young gun Braydan Willmington has secured the support of Xtreme Auto Parts, ARDESIGNS and Paris-Leigh Photography.

Jamie Heyen has also secured the backing of some local support with the Kyabram, Victoria resident enlisting the support of Cobram Panel Works, Katunga General Store and AG Parts Echuca for his Classic tilt.

For those punters wishing to pre-book tickets for the Classic and any of the Premier Speedway 2016-17 season meetings, it is anticipated that ticket sales will be available on-line from around October 20. Premier Speedway Management are currently awaiting final confirmation of the launch date for tickets.

Please continue to check the Club's website and/or Facebook page for further updates.

Membership packages and reserved seating passes are also expected to be mailed out at a similar time in readiness for the season opener on Saturday November 5.

-end-
Speedway Grand Opening kicks off new season

Perth Motorplex fires up for a fresh new season this Saturday night with the running of the Speedway Grand Opening - and the good news is that kids spectate free!

See reigning AHG Sprintcar Series champion Brad Maiolo (right) commence his championship defence against the likes of Jason Kendrick, the Wormall Civil Sprintcar megateam and even brother Jamie - all trying to stop him from repeating history. And in late breaking news you can add two times World Series Sprintcar champion James McFadden to the list.

The Quest Apartments Late Models will be bumping and barging their way around the famed Perth Motorplex oval track, as well as The Pool Shop Group Speedcars, Alltools Formula 500s and Harris Engines Wingless Sprints.

There's Sprintcar qualifying from 5pm and racing from 6pm and don't forget kids spectate free (silver and general admission). General admission for adult spectators starts at $32 and you can purchase your tickets at the gate or in advance online.

For more event information including silver and gold admission, seating options and detailed times, check out the event page here.

McFadden joins Sprintcar show
James McFadden and Monte Motorsport have just unveiled their awesome new Milwaukee Tools livery (picture thanks to Mayhem Enterprises). He might have been a late entry on to our list but there is no doubting that this multi-time Australian champion has what it takes to send his opposition packing. Bring the kids (for free) and witness this Sprintcar legend at work.

Season passes - it's not too late
Speedway season passes represent great value - getting you into every night of speedway at Perth Motorplex from World Series Sprintcars to practice nights. Silver passes start from $399.

If you were to purchase silver admission for each and every speedway event at Perth Motorplex, it would cost you $1680, but with a Speedway Season Pass you can enjoy a saving of up to $1281! Plus child memberships are also available for the low price of $99. Email ticketing@motorplex.com.au to get your pass now.

-end-

Big Fields for Archerfield Double Header

Archerfield Speedway Media Release

Upwards of 80 drivers will hit the track at Ausdeck Patios Archerfield Speedway this Saturday night (October 15) with a huge double-header program featuring round three of the Archerfield Speedway Sprintcar Track Championship and round two of the Think Money Super Sedan Championship Series. It is a rare treat for Queensland speedway fans to see Sprintcars and Super Sedans on the same program and it is no surprise that Archerfield is the venue that has lured big fields of both to do battle. Also on the program is round two of the KRE Race Engines Formula 500 Series, plus Lightning Sprints and Open Sedans.

The Sprintcar competition has been intense since the season began with Andrew Scheuerle enjoying a solid start to his track championship defence without emerging as the dominant force that he was in the corresponding events last season. After a runner-up finish in the opening round, Scheuerle was victorious in round two in a narrow result over Luke Oldfield, with Bryan Mann and Mitchell Gee finishing third in the two events staged thus far. Having snared fourth spot in both events, Brent Kratzmann must be desperate to make his way onto the podium, while Toowoomba's Peter Lack will be buoyed by his runner-up finish in the Queensland Championship last weekend in Toowoomba, a race that saw Oldfield finish third in his title defence.

The previous round saw Callum Walker blitz all-comers in qualifying to secure pole position for the main event before fading to finish seventh and the teenager will no doubt be determined to improve upon that performance, while fellow young gun Lachlan McHugh is a proven feature race winner looking to consolidate the success he achieved last season. Ben Hilder and Jayden Peacock also impressed at the previous round, while Northern Territory racer Chris Harrison endured a night best forgotten and will be hoping that some good results this weekend will render his misfortunes a mere memory. In total, 27 drivers have nominated for the event and there are plenty more amongst them who could feature at the front of the field.

Ausdeck Patios Archerfield Speedway Sprintcar Track Championship round three nominations: Allan Woods, Andrew Marks, Andrew Scheuerle, Anthony Lambert, Ben Hilder, Brent Kratzmann, Brett Minett, Callum Walker, Chris Harrison, Clem Hoffmans, Dan Murray, James Grady, Jayden Peacock, Kevin Titman, Kristy Bonsey, Lachlan McHugh, Luke Oldfield, Mitch Gowland, Mitchell Gee, Nelson Reddacliff, Paul Rooks, Peter Lack, Scott Doyle, Sean Iacono, Steve Greer, Wayne Iacono, Rob Hamilton

Gates open at 4.00pm, early racing kicks off at 4.45pm and the main program featuring Sprintcars and Super Sedans gets underway from 6.00pm. For more information, head to the track website at www.brisbanespeedway.com.au or follow Archerfield Speedway on Facebook.

-end-
Luminaries Line the List of Queensland Sprintcar Title Winners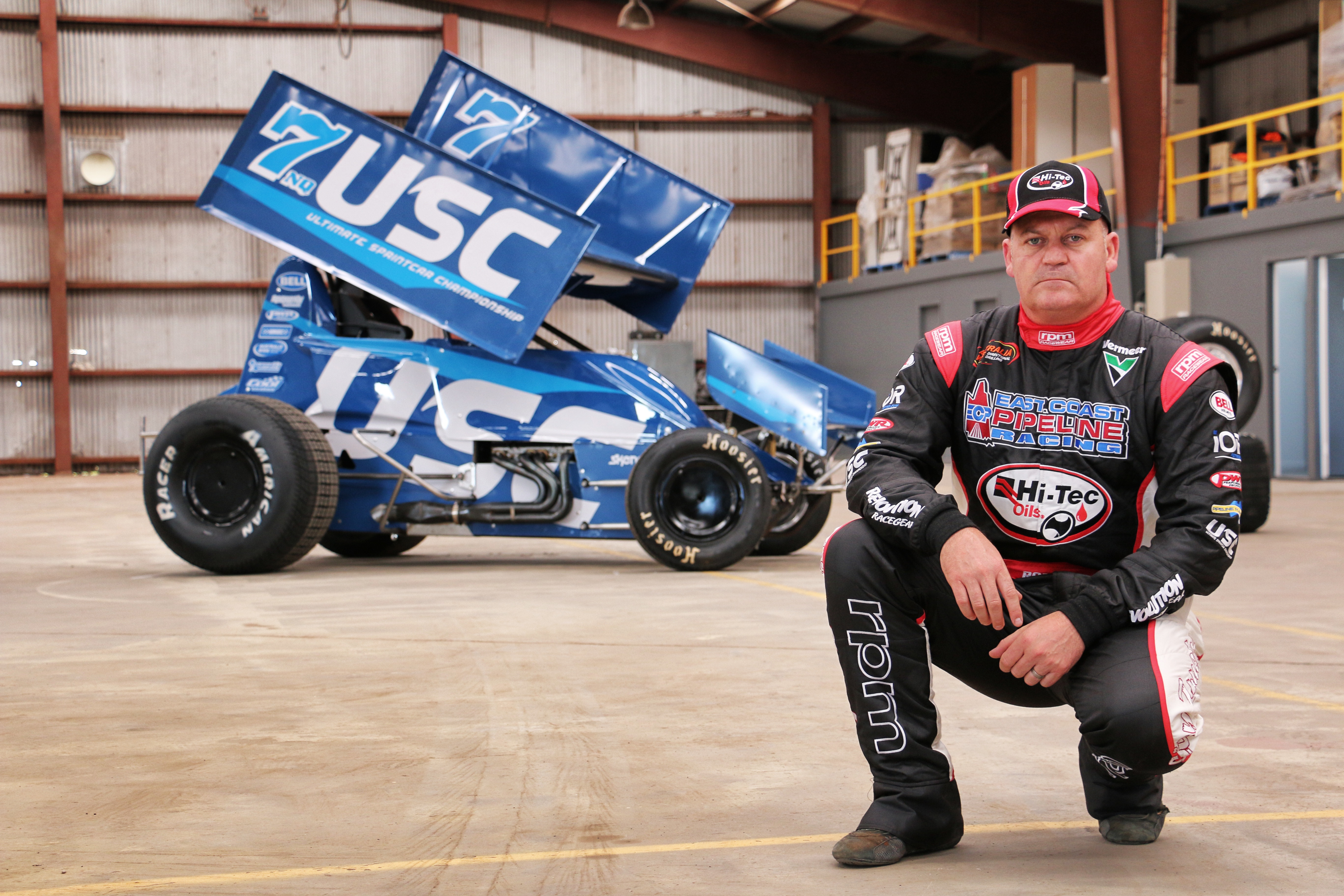 The dominant force in the Queensland Sprintcar Title, Robbie Farr has won the prestigious race a record five times over sixteen years. (Wade Aunger)
The Queensland Sprintcar Title returns to Toowoomba's Hi-Tec Oils Speedway this Saturday after a five-year absence, and will search for its 41st victor from a 35 lap final.

A remarkable list of luminaries shrouds the honour roll for the prestigious event, including national heroes, Brooke Tatnell and Garry Brazier who share four titles between them, as well as the iconic Max Dumesny who claimed the crown in 1998 and ten-time Australian champion, Garry Rush who added the Sunshine State's biggest speedway honour to his resume in 1985.

However, the dominant force in the event, Robbie Farr has won the event on a record five occasions over the last sixteen years since his first victory in 2001, and returns to Toowoomba's Hi-Tec Oils Speedway this Saturday in search of six victories.

Despite living in different states in Australia across his career, the three-time national champion now ironically lives in the state that has brought him so much success, and is hoping that calling Queensland home will usher in more victories.

"We made the move from Perth to the Gold Coast this year, and it's been great for me because the race shop is only ten minutes away as opposed to being on the other side of the country when we lived in Perth, and as a result I'm not flying across the country every weekend to get to a race," he said.

"But more than that, I think the fact I'm working on the race car on a daily basis is really fuelling my hunger to win, and It's like I've had some new life breathed into me, so I guess the combination of living here finally and the fact that Toowoomba has been a happy hunting ground gives us heaps of confidence."

The other multi-time winner to face the starter this weekend is Toowoomba's own Andrew Scheuerle, and despite his dominance of the Queensland Sprintcar scene in recent seasons, it's been a gruelling ten years since the Ausdeck Patios backed racer has worn the crown.

"I'm definitely due for one aren't I," the likable family-man laughed, thinking about the ones that had got away.

"It seems like races like State Titles demand perfection. Everything has to be perfect from the time you roll the car out of the trailer, and we just don't seem to have had that lead up for us since our last win despite winning other big races. But we really need this now, because we've never won a title for Ausdeck so that pressure is on, not from our boss, but because he deserves it!"

Action starts this Saturday from 5pm with Sprintcars taking to the track from sundown. Tickets are available now from www.speedwaytickets.com.au or at the gate from 3pm. Check out www.toowoombaspeedway.com and Hi-Tec Oils Speedway on facebook for details and updates.
-end-
OLDFIELD: "I'M THE TARGET!"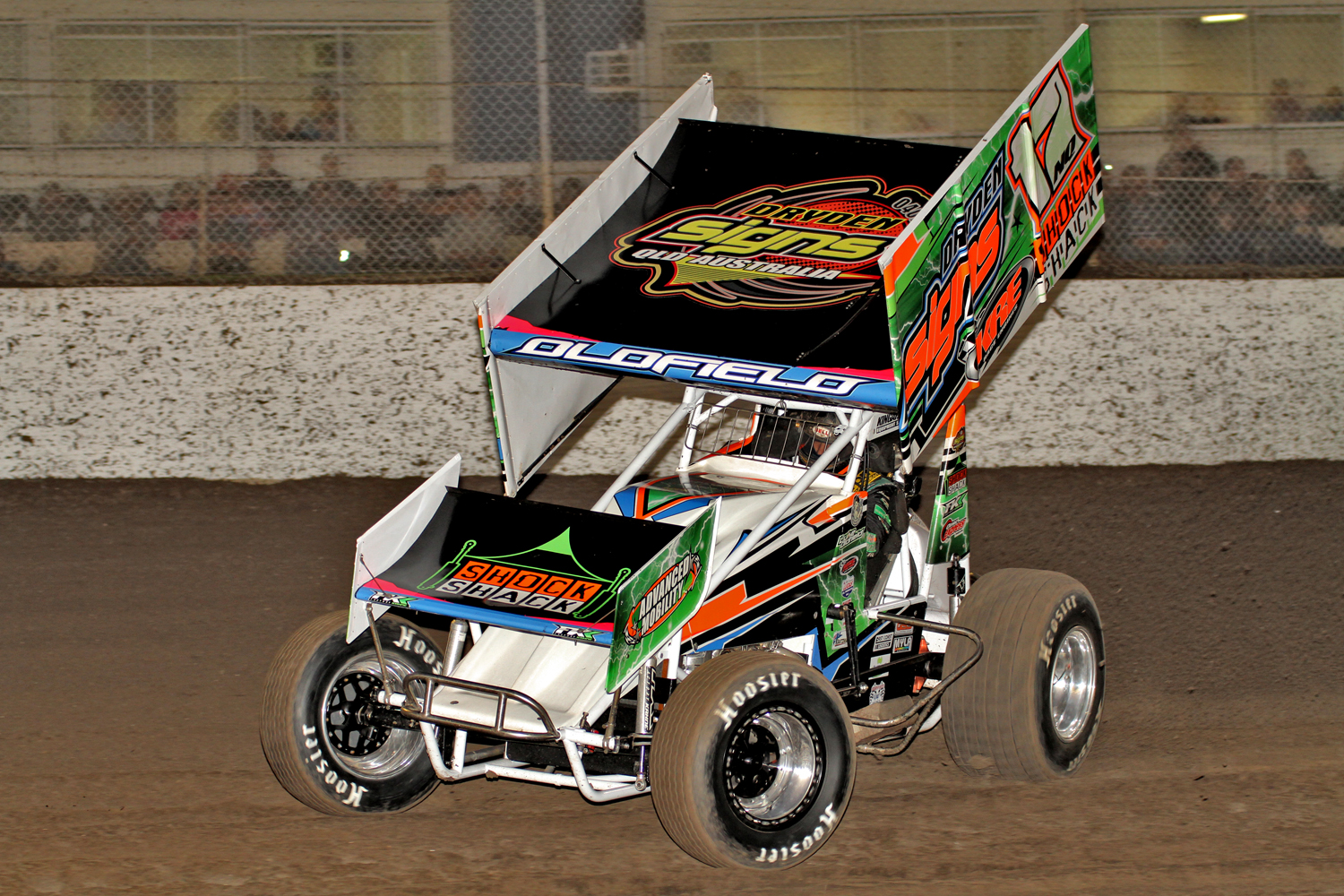 Reigning Queensland Sprintcar Champion, Luke Oldfield hasn't had long to bask in the glory of his maiden title win after claiming last season's crown in April at Archerfield, but despite his great lead up to this Saturday's 2016-17 running of the event, the in-form "Livewire" may feel a target on his back.

"I realise I'm probably a target this time around after what happened with Robbie at the last title. It wasn't intentional that's for sure but that stuff happens," the smiling Highfield Park resident conceded, despite opening the season with a win at Toowoomba and a runner up at Archerfield last Saturday.

"Experience is everything, and we learned a lot driving for Titan last season, and to win the title for them was great, but back in the family car, I'm just a little bit more comfortable and pretty confident as a result."

Luke is $10,000 richer after claiming the Carnival of Power opening event at Toowoomba on September 24, however, runner up Robbie Farr is hungrier than ever for his sixth Queensland Title, especially in light of losing last season's battle, after the altercation with Oldfield.

"Yeah that one certainly got away last year," said Farr, "but let's just say that I hope that this time the best man on the night gets the chequered flag, not the last man standing!"

Withcott local, Peter Lack made the last step on the podium at last season's, his best result in the state title but back on his home track, his confidence is on the boil.

"If we're going to win one, we'll win one at Toowoomba," the four time Modified Sedan National champ said, "and we really gave it a crack last time we were there up around the wall before I made a bit of a mistake, but I can guarantee you we'll get up on the top again if that's what it takes to get a win!"

The crown will be decided by qualifying, two rounds of heats, a Bronze-Silver-Gold Shootout and a 35 lap A main, while the Sprintcars will be joined by the opening round of the IBRP.com Modified Sedan Golden Helmet Series, along with the first appearance in two seasons by the Compact Speedcars and National 4's.

Action starts from 5pm with Sprintcars taking to the track from sundown. Tickets are available now from www.speedwaytickets.com.au or at the gate from 3pm. Check out www.toowoombaspeedway.com and Hi-Tec Oils Speedway on facebook for details and updates.

-end-

Defending Champ Back on Top

Archerfield Speedway Media Release

Defending series champion Andrew Scheuerle emerged victorious in round two of the Ausdeck Patios Archerfield Speedway Sprintcar Track Championship on Saturday night (October 1), chasing Callum Walker through the opening laps and then seeing off a typically torrid challenge from Luke Oldfield before securing his first feature win of the season. Oldfield was particularly threatening anytime the leaders hit lapped traffic but a late-race restart provided Scheuerle with the breathing space he needed to keep Oldfield at bay. A late charge from Mitchell Gee saw him snatch third and deny Brent Kratzmann a place on the podium, with Peter Lack finishing fifth.

After a sensational start that saw him running as high as third for much of the race, Ben Hilder slipped to sixth by races end, with Walker, Lachlan McHugh, Mark Pholi and Jayden Peacock rounding out the top ten. In a race that saw all 18 starters still running at the chequer, Darren Kane, Steve Greer, Paul Rooks, David Whell, Kristy Bonsey, James Grady, Anthony Lambert and Dylan Menz completed the field.

The beginning of what would be a terrific night for Walker came in qualifying when he stopped the timer at 11.701 to set KRE Fast Time, one of only six drivers to set their fastest time on their first lap against the clock. Oldfield was next quickest, marginally better than Scheuerle, Gee, Hilder and Lack, with McHugh, Greer and Menz rounding out the top ten.

A poised Peacock proved too pacey in the opening heat, leading Kratzmann and Lack to the flag. A ballsy turn two swoop from Lambert on the opening lap of heat two propelled the Toowoomba-based budget racer to victory, downing Oldfield and Whell.

It was a delighted Grady who, after several seasons of trying, scored his first ever win when he took out heat three in advance of Kane and Scheuerle. In a thrilling finish to heat four, Whell prevailed by a mere 0.012 over Pholi, with Oldfield third home.

Peacock doubled up in heat five, leading home Kane and Lack on this occasion before Gee wrapped up the preliminaries with a win over Scheuerle and Kratzmann in the final heat.

When top pointscorer Oldfield drew a six inversion for the Dash, taking Scheuerle with him to the third row of the grid, it was Walker who found himself occupying pole position for the 6-lap shootout. Taking maximum advantage of the opportunity, Walker was unstoppable and finished more than two seconds clear of Scheuerle to secure his first ever feature race pole position start. Lack and Oldfield were next best, with Kane, Gee, Hilder and McHugh filing to the flag in that order.

Menz enjoyed a fairly easy journey on his way to winning the B Main, taking Grady, Bonsey and Rooks with him in transferring into the feature race.

Despite the menacing presence of Scheuerle alongside him on the front row, Walker aced the start to lead the field away in the 30-lap feature event. Scheuerle slotted into second while Hilder enjoyed a fabulous first lap to leap from seventh to third. The order remained unchanged until lap 10 when Scheuerle found his way to the front. Three laps later saw Oldfield execute a double demotion when he advanced to second and then Hilder moved ahead of Walker on the next circulation, only for Kratzmann to usurp both of them on the next lap. Whilst there was plenty of toing and froing back in the pack, the order at the front seemed stable from this point as Oldfield found himself unable to wrest the lead, despite making every effort to find his way to the front with one of his typically bullish performances. As the laps wound down, Gee launched his late bid for the podium, charging past Hilder and Walker before relegating Kratzmann in the closing stages.

Next Saturday night (October 8) at Ausdeck Patios Archerfield Speedway, Dirt Modifieds hit the track for the first time this season. Round two of the Polar Ice Midget Series will also be decided, along with AMCA Nationals, Wingless Sprints, Modlites, Stockcars and Ford v Holden v Sigma sedans.

-end-
Veal Wins NSW USC Opener

Jamie Veal was a convincing winner of the Brian Healey Gold Cup that also doubled as the first round of USC NSW in front of a big crowd at Sydney's Valvoline Raceway tonight.

The driver of the SWI Engineering Maxim put in a dominant performance in the 35-lap A Main and pick up the $10,000 winner's prize to lead home Robbie Farr in second and James Thompson third.

He also set quick time, won his heat and won the Pole Shootout in a polished display which now sees him register 12 main event wins to tie with Ian Loudoun, Steve Brazier and Adrian Maher in career victories.

Veal's podium finish in Round One of USC QLD last weekend at Toowoomba and now his Valvoline Raceway win give he and Robbie Farr (a pair of podiums in as many weeks) a tremendous start in his Ultimate Sprintcar Championship title defence.

Sam Walsh placed fourth behind James Thompson with Ian Loudoun rounding out the top five ahead of Toby Bellbowen (6th) Max Dumesny (7th) Danny Reidy (8th) Kyle Caunt (9th) and Grant Tunks tenth.

Classified behind the top ten were Warren Ferguson eleventh, Michael Saller twelfth and Matt Smith thirteenth.

DNF's were Jay Waugh, Daniel Sayre, Jeremy Cross, Andrew Wright, Jake Tranter, Brandon Rawlings, Matt Dumesny, Jackson Delamont, Shaun Dobson, Max Johnston and Troy Little.

The Speedcar Main event was a thriller with Matt Jackson scoring a come from behind victory over West Australian Nick Rowe in second and place and Michael Jordan third in what was a punishing but nail-biting affair.

Valvoline Raceway returns next Saturday night, October 8 with the Dirt Muscle Car Late Model Series, Wingless Sprints, Bryan Foyle Street Stock Memorial, AMCA Nationals and Fender Benders.

The USC kicks off the first ever SA round at Murray Machining & Sheds Speedway Murray Bridge on October 8 also.

-end-

58 SPRINTCARS FOR BRIAN HEALEY GOLD CUP USC NSW OPENER AT VALVOLINE RACEWAY

Official release: Valvoline Raceway

September 28, 2016

A fantastic 58 cars have entered for the Brian Healey Gold Cup - Round One of the 2016/2017 USC NSW this Saturday night at Valvoline Raceway, and what a line-up it is!

Defending Brian Healey Gold Cup and USC Champion Jamie Veal leads a star-studded cast that includes three former national champions, Max Dumesny, Garry Brazier and Robbie Farr and former track champion James Thompson.

A strong contingent of interstate raiders includes Queensland's Danny Reidy and Brandon Rawlings, Northern Territory's Ben Atkinson, Tasmania's Shaun Dobson, Victorian Corey McCullagh and South Australia's Jake Tranter, Chad Ely and Terry Kelly.

Toby Bellbowen has prepared for this Saturday night's curtain raiser with a recent stint of racing in California and a strong run at last weekend's Queensland USC opener.

Sam Walsh, Jackson Delamont, Jordyn Brazier, Matt Dumesny, Jimmy Matchett, Max Johnston, Troy little, Matt Smith, Jeremy Cross and Marty Perovich form a formidable list of experienced racers capable of upsetting their more fancied rivals.

Marcus Dumesny, Cameron Ware, Thomas Jeffery and Mick Saller head a group of young-guns who now have at least one season of experience whilst a new breed of Sprintcar rookies join the fray including Courtney O'Hehir, Matt Geering, Brayden Wilmington and Adam Hourigan.

Nathan Smee, Michael Stewart, Jamie McKinlay, Reid Mackay, Matt Jackson and Bob Jackson lead a small but fiercely competitive field of 17 nominated Speedcars whilst current Australia #1 Rob Rawlings heads up a big field of Legend Cars.

USC SPRINTCAR NOMINATIONS:
ACT 2 Atkinson Ben
V 3 Loudoun Ian
NQ 5 Reidy Danny
V 5 Dumesny Max
N 6 Geering Matt
N 7 Bellbowen Toby
NQ 7 Farr Robbie
N 9 Caunt Kyle
ACT 11 Hourigan Adam
N 11 Smith Matt
N 12 Jeffrey Thomas
N 13 McKenna Wayne
N 16 Sayre Daniel
N 17 Perovich Marty
N 20 Little Troy
ACT 21 Dobson Shaun
N 21 Brazier Garry
NQ 21 Brazier Jordyn
N 22 Thompson James
S 22 Ely Chad
N 23 Alexander Scott
N 24 Skipper Blake
N 31 Davis Jason
N 32 Ferguson Warren
ACT 35 Anthony Kaitlyn
V 35 Veal Jamie
V 37 Anderson Grant
S 37 Kelly Terry
N 38 Johnston Max
N 39 Cross Jeremy
N 41 Lawler Jeff
N 44 O'Neill Peter
NQ 44 Rawlings Brandon
S 45 Tranter Jake
N 47 Dumesny Marcus
N 48 Delamont Jackson
N 49 Matherson Jamie
N 50 Jeffrey Antony
N 54 Tunks Grant
N 56 Saller Mick
ACT 57 Scorgie Brendan
N 57 Dumesny Matthew
ACT 58 Ware Cameron
N 61 Matchett Mick
N 64 Sheedy Shane
N 65 Rallings Brenden
N 71 O'Hehir Courtney
ACT 72 Vanderreyden Anthony
ACT 75 Hart Damien
N 78 Wright Andrew
N 80 Johnston Sebastian
N 81 Lagerlow Graham
N 88 Matchett Jimmy
ACT 89 Wilmington Braydan
V 90 McCullagh Corey
N 92 Walsh Sam
N 96 White Bruce
ACT 99 Waugh Jay

SPEEDCAR NOMINATIONS
N 5 Andy HASSAN
N 6 Michael JORDAN
W 7 Nick ROWE
N 8 Nathan SMEE
S 9 Michael STEWART
N 26 Paul RAYNES
N 41 Jordan MACKAY
N 42 Jaimie MCKINLAY
N 54 Alan DAY
N 58 Jeremy EVANS
N 62 Dan BINER
N 71X Reagan ANGEL
N 76 Bob JACKSON
Q 76 Reid MACKAY
N 97 Matt JACKSON
N 98 Jay HALL
N 99 Jack BLACK

-end-

Round Two Ready to Rumble

Archerfield Speedway Media Release

Anybody who witnessed the action that unfolded during round one of the Sprintcar Track Championship two weeks ago will be much anticipating the second round of competition to be contested this Saturday night (October 1) at Ausdeck Patios Archerfield Speedway. The opening round produced action aplenty and some sensational on-track combat that ended with Robbie Farr standing atop the podium alongside Andrew Scheuerle and Bryan Mann. With Farr is not racing this weekend, Scheuerle and Mann – both of whom have won the track championship over the previous two seasons – will no doubt fancy their chances of making their first visit to victory lane. However, with Luke Oldfield clocking a feature race win in Toowoomba last weekend and more than 20 other drivers desperate for success, the only certainty is that the racing will be red hot.

One driver who produced plenty of excitement during the opening round - in more ways than one - was Kevin Titman. Having produced plenty of pace throughout the night, Titman started the 30-lap feature race from pole position and was leading the race until a miscue whilst manoeuvring through lapped traffic curtailed his victory charge and also ended Oldfield's race. Titman and Oldfield will be a huge threat again this weekend, with Brent Krazmann and Peter Lack also expected to feature prominently after strong drives into fourth and fifth respectively during round one.

A welcome addition to the field this weekend is Gold Coast youngster Lachlan McHugh. The teenager enjoyed a tremendous campaign last season that included a maiden feature race win and, having missed the series opener, he will be looking to kick off his new season with the best possible result. Whilst McHugh was the standout amongst the batch of youngsters that emerged last season, Mitchell Gee, Callum Walker and Jayden Peacock are also on the cusp of something big and will again be in the thick of the action.

Having caused a sensation when he scored a Sprintcar feature race win in only his second ever meeting in the category, Northern Territory racer Chris Harrison takes a significant step forward in his racing career when he joins the field this Saturday, with New Zealand's Brett Sullivan returning after a miserable opening round that saw his night end early following a heat race crash.

Former national sedan champions Darren Kane and Andrew Corbet are continuing their open wheel education, with both drivers hoping for better fortunes after crashing out on debut. Corbet flipped out in his opening heat race, while Kane impressed to qualify for the feature race, only to become involved in Oldfield's turn three wipe-out.

Also in the field this Saturday night are Paul Rooks, Ben Hilder, Anthony Lambert, Mark Pholi, Kristy Bonsey, David Whell, Steve Greer, Clem Hoffmans, Dylan Menz and James Grady.

Compact Speedcars have assembled a solid 16-car field for their second event of the season, with Australian Champion Darren Vine once again the man to beat after cruising home to win the season-opening feature race. Wayne Corbett finished second on that occasion and again looms as the most likely to challenge Vine this weekend, although Rob Stewart will also be a serious threat. Of the rest, expect Matt Jurczak, Kristin Brown and Emma Harris, who was very quick but out of luck at the previous event, to feature in the fight for the minor placings.

Also on the program this weekend will be Lightning Sprints, Microsprints, Formula 500 Juniors and Open Sedans, so for the ultimate night of speedway action, make tracks to Ausdeck Patios Archerfield Speedway. Gates open at 4.00pm, early racing gets underway at 4.45pm and Sprintcars will hit the track for time trial qualifying from 5.30pm.

-end-
Oldfield Strikes First Blood in USC

Highland Park's Luke Oldfield has emerged the victor of Round One of the Queensland Ultimate Sprintcar Championship, holding off Robbie Farr and Jamie Veal to claim the $10,000 prize.

Farr claimed the Ian Boettcher Race Parts Quicktime prize at the start of the night, before ruts developed through the middle of the turns, sending racers in all directions to find a consistent race line through the heats.

In an ironic forecast of the feature race podium, Oldfield, Farr and Veal would claim wins in the first round of heats, however the second round where the quickest qualifiers were relegated to start from the fifth row produced a different result.

Jamie Veal got tangled in an early turn two incident in heat four ending his race, which would lock him into 16th position on the feature race grid, while Peter Lack went on to take an impressive win, before Robbie Farr put on the display of the night with a phenomenal heat win after starting tenth. Callum Walker also claimed a solid heat victory to lock him into the A-Main.

With an incident free dash deciding the first four rows, Robbie Farr would start on pole alongside hometown hero Peter Lack, with the edgy young duo of Toby Bellbowen and Mitchell Gee sharing the second row, and Oldfield alongside an impressive Brent Kratzmann who is surely knocking on the door of a podium result in the near future.

Bellbowen was the early threat to Farr's lead, advancing 3 spots in the first two laps before Peter Lack retired with a driveline issue, setting the stage for scramble between the top five with multiple order shuffles in the minor placings while Farr continued to lead.

Andrew Scheuerle was flying under the radar, advancing eight spots in the first seven laps. Meanwhile, Oldfield was carving through the field into second spot and passed Farr in traffic at lap 14 with Bellbowen catching a rut into the turn 3 wall for one of the most heart-wrenching crashes of the night.

With the original top five whittled down, Jamie Veal emerged in the running for the podium, but despite numerous restarts from a sting of minor incidents, neither Farr nor Veal had enough for the gutsy Oldfield who manhandled the Shock Shack/Dryden Signs Q17 to his first ever USC win.

"It was definitely a bit hairy out there, but I don't really mind that sort of racetrack," he said savouring the $10k payday, "but I was on one wheel a few times so it kept everyone on their toes!"

It was a great confidence boost for the reigning Queensland Champion, who will have the opportunity to defend his title in two weeks back at Toowoomba.

In the support divisions, Auckland's Chris Gwilliam produced a staggering win in the Speedcars after a lead swapping frenzy with Darren Vine and Brendan Palmer, while current Australian Champion Kurt Wilson was only marginally better than reigning Queensland champion Keith Blatch in the Lightning Sprints with Jason Busk claiming third.

Liam Williams withstood an intense challenge from Kayden Iverson in the Formula 500's with Nathan Pronger's first race in twelve months gaining him a third position on the podium and Glen Wright finally achieved his maiden Wingless Sprints win over the Lismore duo of David Eggins and Rob Mazzer.

The Queensland Sprintcar Title returns to Toowoomba on October 8 along with the Modified Sedan Golden Helmet Series, Compact Speedcars and National 4's. Check out the Hi-Tec Oils Facebook page and www.toowoombaspeedway.com for details.

-end-
ALL STARS 10th Anniversary
The Mainline DynoLog Dynamometers All Star Series are approaching their 10th season and have released an anniversary logo to help celebrate the occasion.

"How time flies. I am so proud of what we have all achieved in the past 9 seasons. I have to admit I was very nervous starting a new Series and it was reliant on the 360 Competitors getting behind and supporting it – and they have. I remember our first ever drivers meeting when I told the drivers – It's up to you guys now , I have done the ground work and now need you all to turn up and support the Series for it to work; and they have done that ever since. We have had our ups and downs but we have stayed strong and passionate and with the possibility of 6 or 7 new teams on board for this season it is shaping up to be awesome one." Series Promoter Searle tells us.

Over the short 9 seasons the All Stars have competed at 12 different tracks and with 2 new ones scheduled this season making it a total of 14. 180 drivers have competed from every state in Australia and the United States. These statistics just prove how popular 360's are.

"We are so pleased to have had such loyal sponsors. Mainline DynoLog Dynamometers have been naming rights sponsor for the past 4 seasons as well as naming rights of the All Star Challenge since its conception and we have just announced their recommitment again for this oncoming season. GKR, Hoosier Tire Australia, Red Ed Sheds & Max Dumesny Motorsport have also been there since we started. I am not sure how we can thank these companies enough for what they have done over the past 9 seasons – sometimes a thank you just doesn't seem enough."

Mandy says. "The same must be said for our Team Kerrie Donnelly, Mark Hales & Len Edwards have all worked with the series since the start. Our newer team members have also been with us for 5 years or more – Keith Mitchell, Blair Caldwell, Michael 'Paris' Karfut, Daniel 'Doris' Kirby & Cassandra West all share the same passion and without these guys we could not put on a show."

-end-
Driver of the Year Returns to Toowoomba for Biggest Field Ever!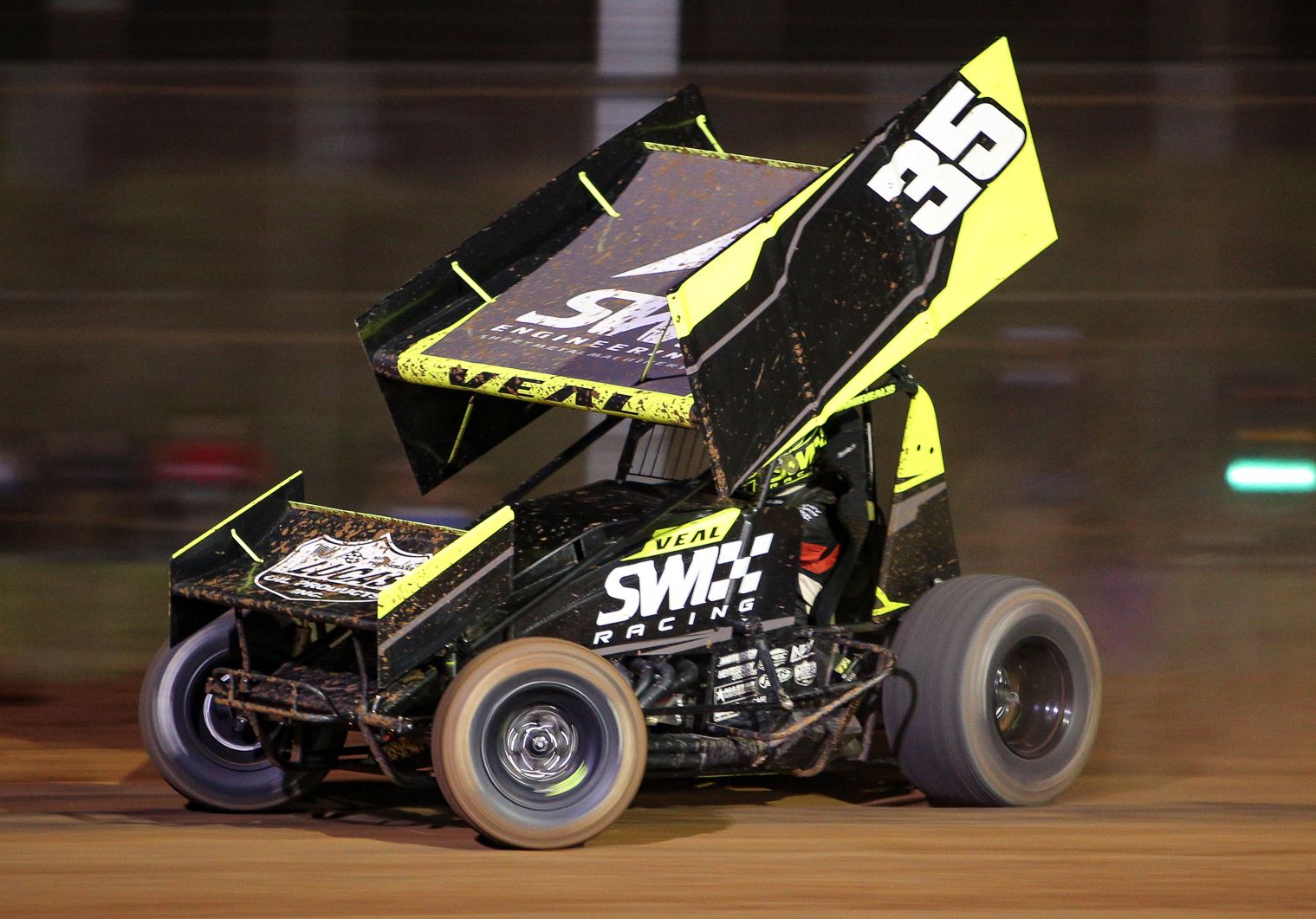 Reigning World Series Sprintcars and Ultimate Sprintcar Champion, Jamie Veal will return to Toowoomba's Hi-Tec Oils Speedway this Saturday for the season opening "Carnival of Power" just two weeks after being named Australian Speedway's "Competitor of the Year."

The Warrnambool whiz will launch his 2016-17 campaign at Toowoomba as the Ultimate Sprintcar Championship of Queensland presents the first of eight events, which will include two rounds of the famed World Series Sprintcars.

The likable 27 year old made his first ever appearance at Toowoomba in April last season, and despite never racing at the venue before, claimed a $10,000 win in the thirty lap feature race, displaying the talent has made him the undeniable dominant force in Australian Speedway in the last year.

"I'm really excited to get back up there. We had a great run in America in recent months, and I can't wait to put into practice back in Australia what I learned over there, but what I'm really looking forward to is meeting the fans after the show, because last time I was in Toowoomba they came down in droves and we almost ran out of ink on the pen from signing autographs!"

Veal will be under fire from three time Australian champ, Robbie Farr and a host of interstate entries, making a 37 car cavalcade all vying for the $10k first prize purse.

"It's a quick track and I love it but with 36 other drivers coming, I'm obviously not the only one who likes it. We didn't qualify so well last time so we need to get better at the start of the night, because we don't want to have to fight our way through a field that big, but we have our notes from last time and we will hopefully have a better idea from the start this time," he said from Singapore, on his way home from a pre-season break.

Toowoomba Speedway Events Manager, Ben Bishop was ecstatic about Veal topping the bill of what is a record number of Sprintcar entries for the venue.

"I've been talking with the guys who've been around since the start like Doug Schultz and Joe Ramia and they're confident this is the biggest line up of Sprintcars we've ever had, but it's not just the quantity, it's the quality that I'm excited about and to have Jamie here again after he made such an impression in April will be fantastic."

The Ultimate Sprintcars will enter the arena just after sunset, sharing the track with a full list of Speedcars, Wingless Sprints, Formula 500's and Lightning Sprints. Check out the Hi-Tec Oils Speedway Facebook page and www.toowoombaspeedway.com for details and weather updates.

-end-

Farr Too Strong in Series Opener

Archerfield Speedway Media Release

Robbie Farr raced to victory in the opening round of the 2016/2017 Ausdeck Patios Archerfield Speedway Sprintcar Track Championship on Saturday night (September 17), combining patience and precision with his years of experience to emerge victorious in the 30-lap feature event. In what was a cracking start to the new season, defending track champion Andrew Scheuerle finished in second spot, with Bryan Mann securing third after leading the race on two occasions. Brent Kratzmann finished fourth ahead of Peter Lack, with young Sydneysider Michael Saller impressing with his drive into sixth spot.

Jayden Peacock was another standout in seventh, his best result thus far, while 16th-starting Callum Walker climbed to eighth in advance of Matt Butler and Mitchell Gee, both of whom also transferred from the B Main. Dan Murray was next in line ahead of early leader Kevin Titman, with Paul Rooks and David Whell completing the finishers.

In the Polar Ice Midget Series feature race, Darren Vine proved too swift for New Zealanders Chris Gwilliam and Leon Burgess in a race that saw several drivers on the cusp of victory but unable to seal the deal. Vine remained steady throughout and pounced late in the race to lead Gwilliam and Burgess to the line. Brock Dean and Anthony Chaffey filled the first five, followed by Brad Young, Rusty Whittaker, Mark George, Charlie Brown and Rob Stewart.

The night got underway with Scheuerle continuing where he left off last season, clocking an 11.564 circulation to set KRE Fast Time for the night, outpacing Lack, Oldfield, Allan Woods, Farr and Mann. Murray, Walker, Gee and Whell rounded out the top ten.

The opening heat saw Paul Rooks become the first Sprintcar race winner of the new season when he led home Kratzmann and Rob Hamilton. Anthony Lambert withstood sustained pressure from Titman and Farr to win heat two, with Saller skedaddling to take out heat three over Peacock and Gee in a race that Woods end his night when he was unceremoniously pitched into the turn three concrete by David Whell. To add insult to injury, the second team car piloted by Kiwi Brett Sullivan also crashed out and also failed to reappear.

Young Peacock powere home ahead of Whell and Lack to win heat four before Ben Hilder bounced back from an earlier mishap to take heat five, leading Titman and Kratzmann to the chequer. Rooks doubled up in the final heat, outpointing Oldfield and Kristy Bonsey.

The Lucas Oils Dash saw Titman inherit pole position for the 6-lap shootout courtesy of a pre-race draw and he made no mistake in maximising his good fortune to secure the same starting slot for the feature by leading home Mann, Farr, Lack, Luke Oldfield, Kratzmann, Scheuerle and Rooks.

It was Gee, now piloting the Titan Garages Cool, who prevailed in the East Coast Logistics B Main, taking Walker, Butler and Whell with him into the main event.

From the outside front row, Mann led the first five laps until Titman zoomed to the front and set about expanding his lead before a misjudged manoeuvre under the lapped car of Lambert proved his downfall and triggered a chain of events that saw Oldfield ride the right rear of Lack and somersault to a halt atop the turn four wall, being collected by Darren Kane along the way. Until this point, Kane had enjoyed a solid Sprintcar competition debut in qualifying directly into the feature. With Lambert and Oldfield out of action and Titman banished to the back, Mann regained the lead for the restart but had no answer to Farr's victory aspirations as the former national champ zoomed to the front immediately upon the race resumption. A late surge from Scheuerle saw Mann relegated to third in the final few laps with Kratzmann and Lack also closing in as the laps wound down.

Midget heat winners were Lance Towns, Young, Gwilliam and Troy Ware, who led the first 15 laps of the feature before a spin in turn three promoted Chaffey to the head of the queue. Inexplicably, Chaffey was swamped in the closing stages as Vine pounced to take control and keep the Kiwis at bay. Replacing Michael Kendall in the Nielson Motorsport team, Gwilliam edged Burgess for second spot, with Dean and Chaffey completing the first five.

Presenting with their biggest opening night field for many years, the Midget racing was of a very high standard and augers well for the season ahead. Young rounded out a solid night in sixth ahead of Whittaker and George, with Brown advancing from deep in the field to nab ninth. Ware could only climb back to 11th behind Stewart, while Towns, Dallas Sharp, Cal Whatmore and Michael Harders rounded out the finishers. Scott Doyle, Jason McDowall, Reid Mackay, Michael Wilson and Corey Stothard failed to go the distance.

Despite a big field of challengers, Vine proved unstoppable in the Compact Speedcar feature race, finishing more than three seconds clear of runner-up Wayne Corbett. Graeme Flynn edged out Nathan Mathers to complete the podium, with Nick Gannon, Dave Collins, Matt O'Neill and Christian Pidgeon next in line. After a great start, Matt Jurczak surrendered his pursuit of Vine when he pirouetted to a halt in turn two, eventually climbing back through the field to be ninth at the fall of the chequer. Emma Harris was looking very strong with a podium finish in sight until she clipped the back straight wall.

Heat winners were Collins, Jurczak and Mathers, while the Formula 500 preliminaries produced two wins for national champ Liam Williams and a solitary success for veteran Ken Newton.

The next event at Ausdeck Patios Archerfield Speedway is on Saturday, October 1 featuring round two of the Sprintcar Track Championship plus Lightning Sprints, Compact Speedcars, Microsprints, Open Sedans and Formula 500 Juniors

-end-

Racing Resumes for New Season this Saturday At Archerfield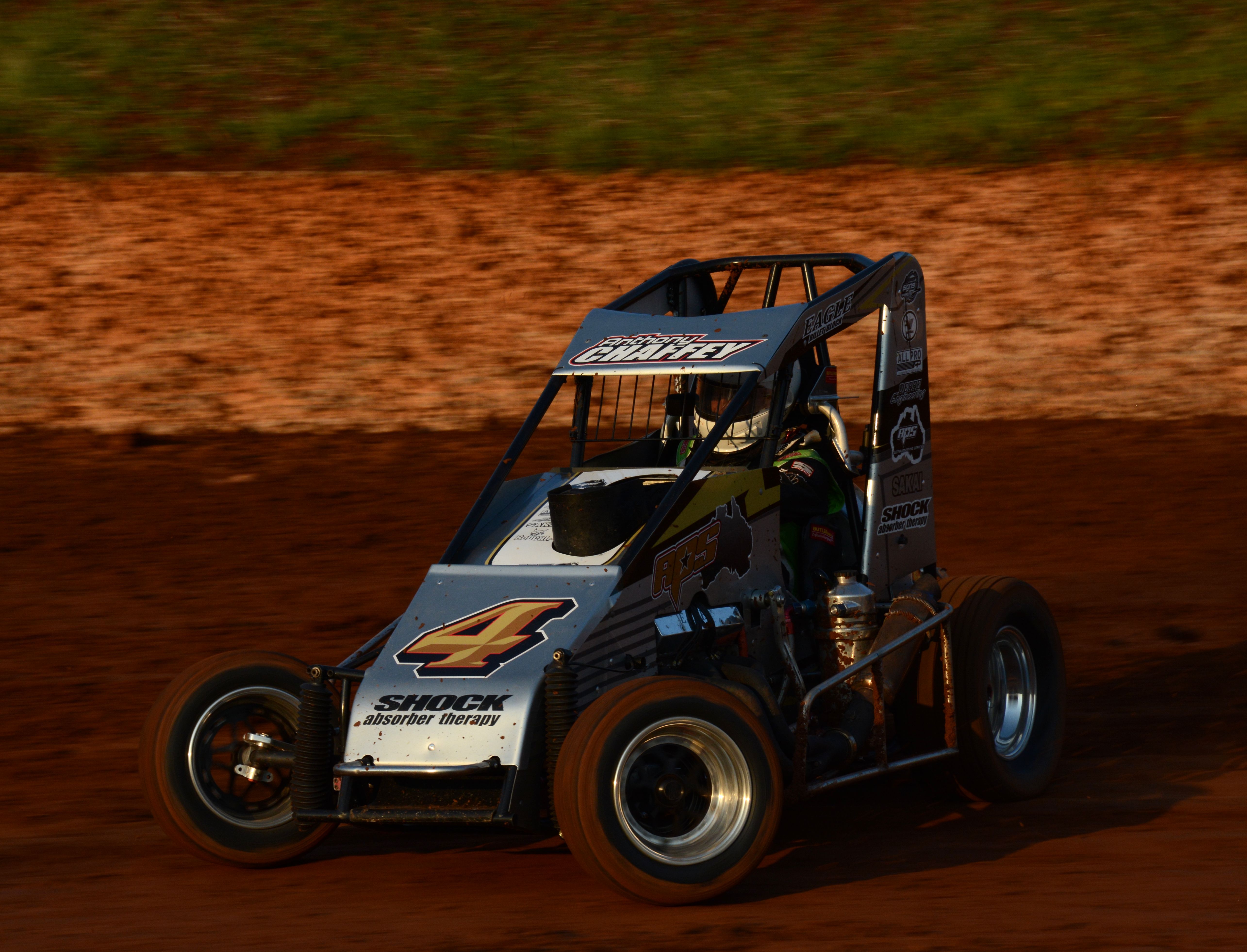 Anthony Chaffey. Photo Copyright Chris Metcalf

Preparations are complete, practice is done and now it's time to get serious for another season of competition at Ausdeck Patios Archerfield Speedway, the home of Queensland speedway. This Saturday night (September 17), the 2016/2017 season launches into action with the opening round of the Sprintcar Track Championship. In what will be a massive night of motorsport entertainment, the show will also feature an international field contesting the opening round of the Polar Ice Midget Track Championship, plus two mighty Monster Trucks and a huge season-opening fireworks extravaganza, plus additional racing courtesy of Formula 500s, Compact Speedcars and Modlites.

Andrew Scheuerle is the defending Sprintcar track champion and, whilst he was fairly dominant last season - particularly in the early weeks of the season where he won five consecutive feature races – he certainly had to work hard to maintain his advantage as the season progressed with the likes of Bryan Mann, Kevin Titman, Peter Lack, Luke Oldfield and Brent Kratzmann proving his biggest rivals each week and this quintet (not to mention the other 20+ drivers) will be out to ensure that Scheuerle does not enjoy another dream start to the season. This Saturday night also sees former national champion Robbie Farr amongst the 29 competitors who will contest the event, setting the scene for a sensational season-opening showdown.

One of the most exciting aspects of last season was the emergence of a batch of talented young drivers establishing themselves in the category and staking their claim as stars of the future. Several of these, namely Mitchell Gee, Brett Minett, Callum Walker, Dylan Menz and Jayden Peacock, are in action this weekend and with Lachlan McHugh to return in the weeks ahead, there is plenty to be excited about for Sprintcar fans.

In what is their strongest opening night field for several seasons, New Zealand stars Chris Gwilliam and Leon Burgess will be amongst the starters in the opening round of the Polar Ice Midget Track Championship. Both drivers competed at Archerfield last season in World Midget Championship events, with Gwilliam replacing defending Polar Ice series champion Michael Kendall in the Nielsen Motorsport team for the coming season. In addition to the Kiwi duo, a strong local line-up has nominated, including Queensland championship winners Rusty Whittaker and Mark George, along with proven feature winners in Anthony Chaffey, Brendan Palmer, Darren Vine and Troy Ware.

Formula 500's are out in force with several new drivers taking on Australian champion Liam Williams and track regulars as Kristin Brown, Ryan McNamara, James Kennedy, Piper Ogilvie, Adrian Farrell, Royce Harvey, Brad Vee, Phil Roberts and Graham Williams. New names include Glen Douglas, Robert Kite, Tomas Partington, Vicki Canfield and former Lightning Sprint racer Ethan Eyers, while the experienced Gary Edwards is also making a rare Brisbane appearance.

Compact Speedcars have assembled a stout 18-car field for their events, with Australian champion Darren Vine doing double duty to take on club champion Nick Gannon and a couple of state title winners in Wayne Corbett and Matt Jurczak, along with Emma Harris and the returning Mark Maczek. Again, there are several newcomers in the field and, with several more drivers expected for future outings, this might prove to be a breakthrough season for the category.

Modlites complete the racing program and all interest will be on whether anybody can beat Australian champion Terry Leerentveld. Of those nominated this weekend, Aaron Prosser and Sean Butcher are perhaps the most likely candidates to achieve what nobody could do last season.

In addition to the racing action, the two thundering monster trucks will be unleashed several times throughout the night, with gates opening at 4.00pm (3.30pm for online ticketholders). Early racing gets underway from 4.45pm and the main program kicks off at 6.00pm. For more information, head to the track website at www.brisbanespeedway.com.au or follow Archerfield Speedway on Facebook.

Archerfield Sprintcar Track Championship Round 1 nominations: Andrew Scheuerle, Bryan Mann, Kevin Titman, Brent Kratzmann, Peter Lack, Luke Oldfield, Robbie Farr, Mitchell Gee, Brett Minett, Callum Walker, Dylan Menz, Jayden Peacock, Allan Woods, Andrew Corbet, Darren Kane, Ben Hilder, Brett Sullivan, Clem Hoffmans, Dan Murray, Darren Silcock, David Whell, Mark Pholi, Kristy Bonsey, Michael Saller, Paul Rooks, Rob Hamilton, Simon Jupe, Anthony Lambert, Matthew Butler

Polar Ice Midget Track Championship Round 1 nominations: Anthony Chaffey, Darren Vine, Troy Ware, Brendan Palmer, Rusty Whittaker, Mark George, Chris Gwilliam, Leon Burgess, Brad Young, Michael Wilson, Lance Towns, Cal Whatmore, Cory Stothard, Dallas Sharp, Rob Stewart, Reid Mackay, Charlie Brown, Reid Mackay

-end-
Another Huge Season Scheduled for Archerfield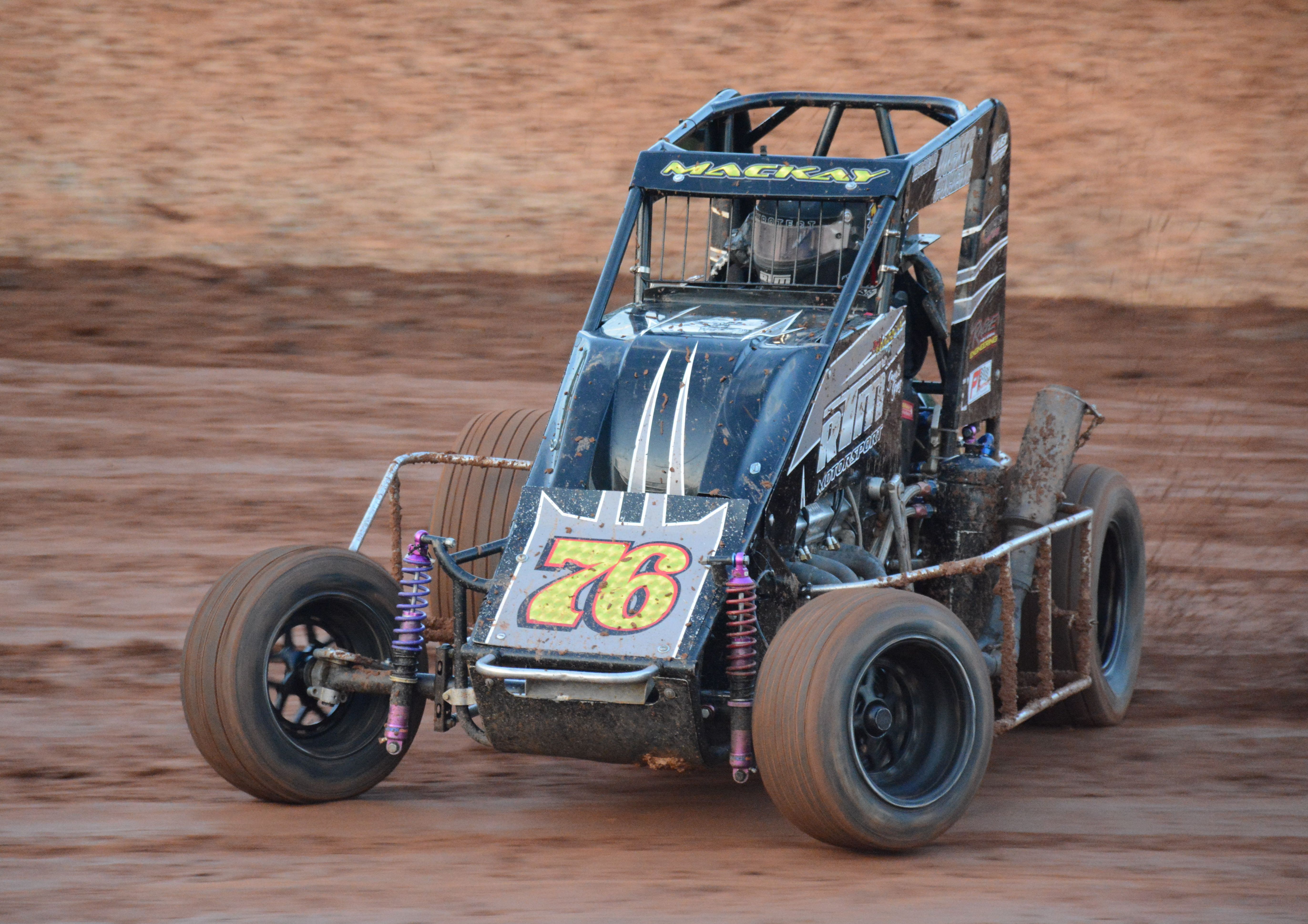 Midgets will also contest their Australian Championship at Archerfield this season. Photo by Chris Metcalf

Queensland's premier speedway venue is readying for another superb season of speedway competition, with championship races, blue ribbon events and track championship series' for a variety of racing divisions. The upcoming season at Ausdeck Patios Archerfield Speedway will again feature more variety than other track in Queensland, with no less than 18 different race categories included on the 2016/2017 event schedule. The season gets underway on Saturday, September 17 and will wrap up on May 27, with 34 nights of racing scheduled during this time.

To be staged over 17 rounds, the Sprintcar Track Championship will see Andrew Scheuerle endeavour to defend his title against a growing field of challengers comprising championship winners, experienced racers and a gaggle of young guns looking to make their mark. The likes of Queensland champion Luke Oldfield, former track champion Bryan Mann, Toowoomba's Peter Lack, experienced duo Kevin Titman and Brent Kratzmann and last season's standout new stars in Lachlan McHugh and Mitchell Gee will be among those looking to take the challenge to Scheuerle. However, there is another batch of youngsters on the cusp of something special, so look for Callum Walker, Brett Minett, Jayden Peacock and Dylan Menz to score some strong results this season.

In addition to the Track Championship action, Archerfield will host three rounds of the 30th Anniversary World Series Sprintcar Championship, including the prestigious two-night Australian Open on January 6 and 7 featuring World of Outlaws champion Donny Schatz and fellow American hotshoe Lucas Wolfe against the travelling WSS troupe. The inimitable Schatz will again compete exclusively at Archerfield this season, while Wolfe will also be based in Brisbane for his Australian campaign.

The mighty Midgets are also gearing for a bumper season that will include the Polar Ice Track Championship Series once again, plus the Australian Championship and a round of the World Championship. The inclusion of the two biggest events on the Australian Midget calendar on the Archerfield schedule is sure to lure the very best drivers from Australia and overseas to do battle. Michael Kendall has been the dominant driver in the Polar Ice Series for several seasons, so who is going to step up this season to take the mantel of track champion? Will it be Darren Vine, Ken Stanaway, Brock Dean or Michael Harders? If the likes of Troy Ware, Brendan Palmer and Rusty Whittaker make regular appearances this season, they will certainly be contenders and, with the national title coming to town, there is every reason to every driver to hit the track for every round in preparation for the big event.

In exciting news for sedan fans, Super Sedans are back in a big way this season and will do the majority of their racing at Archerfield this season with six events scheduled, including a round of the inaugural Summer Tour that will bring the best drivers from interstate to take on locals stars in national championship winners Darren Kane and Matt Pascoe, defending SSA series champion Sean Black and prolific feature race and championship winners such as Wayne Brims, Ian Brims and Wayne Randall. Long regarded as the strongest Super Sedan region in the country, the level of competition at every show should be sensational.

Likewise, Archerfield will also host the majority of events on the Queensland V8 Dirt Modified calendar, with eight scheduled appearances throughout the season, including the Paul Britten Memorial event on New Year's Day (January 1). All of the biggest names in the category, including current Australian Champion Kevin Britten and former national titleholders in Mark Robinson, Andrew Pezzutti and David Clarke, are all Archerfield regulars and never fail to disappoint when they unleash on the Archerfield clay.

Another division gearing for a big season are Compact Speedcars, who will be contesting their Australian Championship at Archerfield on January 20/21. With the club having indicated that more than 30 drivers will hit the track this season, there seems no reason why we can't expect full fields at each of their 14 events this season to showcase the quality racing the category can deliver.

The category that has perhaps experienced the biggest improvement in recent seasons – in both car numbers and the quality of their racing - are the Formula 500's and they are on track for continued growth again this season. Several new cars and drivers have already hit the track for practice in preparation to take on national champion Liam Williams and the talented bunch of youngsters that make the category so exciting. Look out for Charlie Brown, Kristin Brown, Ryan Skenner, Kaydon Iverson, Ryan McNamara, James Kennedy and Piper Ogilvie to feature prominently in the results once again.

A very exciting addition to the schedule this season is the Queensland Modified Sedan Championship to be staged in Brisbane for the first time ever. A category renowned for its close, hard racing, a massive field of Modified Sedan stars from near and far will invade Archerfield on April 8 for their championship shootout.

Other categories scheduled regularly throughout the season include Lightning Sprints, AMCA Nationals, Wingless Sprints, Stockcars, Modlites, Junior Formula 500's and Microsprints, with the Open Sedans and the Ford v Holden v Sigma sedans again providing their all-important supporting action each week.

Of course, in addition to all the speedway action, Ausdeck Patios Archerfield Speedway will also host a variety of special events throughout the season, including three appearances by the thundering Monster Trucks, the first of which is at the season opener next Saturday night (September 17). There will also be numerous fireworks shows, several demolition derbies and the caravan, boat and dunny races that always produce so much mayhem.

To see the full schedule of events for the 2016/2017 season at Ausdeck Patios Archerfield Speedway, visit the track website at www.brisbanespeedway.com.au or follow Archerfield Speedway on Facebook for the latest news and event updates.

-end-

WSS Schedule 2016-2017
30th anniversary
November 12 Rd 1: Murray Bridge Speedway, SA
November 19 Rd 2: Valvoline Raceway Sydney, NSW
November 26 Rd. 3: Archerfield Speedway, QLD
December 3 Rd 4: Toowoomba Speedway, QLD
December 26 Rd 5: Adelaide Motorsport Park, SA (WSS Speedweek)
December 27 Rd 6: Murray Bridge Speedway, SA (WSS Speedweek)
December 28 Rd 7: Borderline Speedway, SA (WSS Speedweek)
December 30 Rd 8: Avalon Speedway, VIC (WSS Speedweek)
January 1 2017 Rd 9: Premier Speedway, VIC (WSS Speedweek Final)
January 3 2017 Rd 10: Toowoomba Speedway, QLD (Sunshine Swing)
January 4 2017 Rd 11: Archerfield Speedway, QLD (Sunshine Swing)
January 6 2017 Rd 12: (Night 1): Archerfield Speedway QLD (Australian Open & Sunshine Swing)
January 7 2017 Rd 12: (Night 2): Archerfield Speedway QLD (Australian Open & Sunshine Swing)
February 3 2017 Rd 13: Adelaide Motorsport Park, SA (George Tatnell Cup)
February 4 2017 Rd 14: Murray Bridge Speedway, SA
February 11 2017 Rd 15: Perth Motorplex, WA (Western Swing)
February 17 2017 Rd 16: Attwell Park Speedway, WA (Western Swing)
February 18 2017 Rd 17: Bunbury Speedway, WA (Western Swing)
February 24 2017 Rd 18: Perth Motorplex, WA (Western Swing)
February 25 2017 Rd 19: Perth Motorplex, WA (Western Swing)
-end-