IT'S ALL COME DOWN TO THIS…
Official release: Valvoline Raceway
March 26, 2015
This Saturday is the culmination of one of the most historic Sydney Sprintcar Premierships ever conducted, and it goes right down to the wire between points leader James Thompson and rival Ben Atkinson.
Atkinson has two track championships to his credit already and a bagful of main event wins, whereas Thompson has yet to win a main event or track title in his 15 years.
Regardless of what he has or hasn't done in the past though 33 year old Kellyville Pest Controller Thompson has been the standout competitor in terms of consistency this summer.
"I feel like I'm really getting the hang of all this," he admits, "I know it's been a long time but I feel like I really have a handle on what we need to do every time we go out there. We've been sticking to the same game plan every night and it seems to have worked so far."
There's only one more night to go, and James has a narrow 27-point lead over the rapidly closing in Darwin racer Atkinson.
"We can't change the way we're doing things and think about the Championship," concedes Ben, "we just have to keep treating every race and every night as it comes. I can't allow myself to think about the possibilities."
The possibilities seem to swing in favour of Thompson on paper.
FOR BEN TO WIN:
- Ben has to finish 14 spots ahead of James to win track championship.
- So if Ben finishes 2nd, James has to finish 16th or worse.
- If Ben finishes 12th James would had to have finished 5th in B-Main or worse and not transferred.
- If Ben were to just win the A-Main, James would have to finish 14th or worse.
- If Ben were to win A-Main and lead most laps (4 bonus points), James would have to finish 12th or worse.
FOR JAMES TO WIN:
- Stay within striking distance - or 14 spots - of Ben all A-Main.
- Beat Ben.
- Ensure he makes the A-Main
- If Ben wins and leads most laps, finish 11th or better.
So a third Track Championship win for Atkinson is certainly not out of the question but the likelihood of a Sydney battler and father of two wrapping up his first is also seriously on the cards.
Aside from the Track Championship honours though there's also the matter of the "Month of Money" March prize-money bonus that pays $5,000.
So far the individual points score for the March promotion sees Young (NSW) 20-year-old Jackson Delamont and Australian champion David Murcott sharing the lead with Ben Atkinson sitting just two points shy of the lead duo.
South Aussie Trevor Green aggravated an old back injury last weekend in a crash during the Pole Shootout and as such will miss the Grand Finale.
The 45 year old veteran from Two Wells will fly in promising South Aussie youngster Chad Ely (the current Australian 360ci champion) in to steer the #11 NATRAD Maxim.
In addition to Ely the interstate vision will extend to former Queensland Champion Andrew Scheuerle, Queensland second generation racer Mitchell Gee, Victorian gasser Brett "the Jet" Milburn, former Valvoline Raceway Track Champion Ian Loudoun in the Essendon Ford (Victoria) #3, Victorian Ryan Davis and Northern Rivers region Mick Sauer.
With the Parramatta Posse that's an impressive 59 Sprintcars!
The night will also see the many former track champions honored and recognized including:
Bob Tunks
Bob Blacklaw
Rob Worthington
Garry Rush
Dennis Farr
Brooke Tatnell
Skip Jackson
Robbie Farr
Peter Attard
Trevor Green
Adam Clarke
Troy Little
Ian Loudoun
Mitchell Dumesny
Ben Atkinson
Max Dumesny
Top Ten in Valvoline Raceway Track Championship
James Thompson 4540
Ben Atkinson 4513
Sam Walsh 4426
Max Dumesny 4408
Jackson Delamont 4384
Toby Bellbowen 4329
Danny Reidy 4286
Trevor Green 4250
Grant Tunks 4110
Matt Dumesny 4037
In addition to the Sprintcars will also be Late Models and Street Stocks.
Gates open at 2pm with hot laps commencing at 5.30pm and qualifying prior to 6pm.
-end-
CAMERON GESSNER IS THE 2014-15 AHG SPRINTCAR SERIES CHAMPION

HE had a horror night behind the wheel but Cameron Gessner could still manage a smile late Saturday night after he won the 2014-15 AHG Sprintcar Series Championship.

Heading into the series Grand Final at the Perth Motorplex on Saturday night Gessner was in the box seat, being a solid 30 points in front of challenger Jason Kendrick.

To claim the championship it was pretty simple – stay out of trouble in the heat races to qualify for the feature race and then finish as high up the order in the 30-lapper as possible.

But just rolling the car onto the track for the final at the end of the night was almost enough for Gessner to seal the deal.

Kendrick would have been a threat if he won the feature race and Gessner finished 16th or lower but Kendrick was also struggling on the night and was coming out of P10.

Gessner's night started reasonably ok – taking second quickest time in his qualifying group behind Jamie Maiolo.

He started from P3 in his first heat race and struggled with the #41 machine, crossing the line eighth in the first 10-lapper.

In the second qualifying heat he came out of P4 but he didn't even complete a lap after contact with another car pushed him into the main straight fence hard.

Gessner was lucky not to roll over and he was quick to assess the damage on the infield as the team was preparing back in the pits to get the car ready for the final.

After replacing a front axle and getting the car ready Gessner started the feature race in 15th spot and once the race settled down he started to move forward.

Only a few laps from home he shredded a right rear tyre and was forced to limp the car to the finish line, albeit near the track's safety fence and out of harm's way.

Those last laps were a handful for Gessner as he tried to keep the car rolling – bearing in mind at that stage he was not sure of how the championship was going to go or where Kendrick was in the field.

Kendrick managed to take sixth and Gessner 12th – enough to seal his second championship for Cowara Motorsport headed up by Steve and Kareena Duggan, with the final margin being 18 points.

Kendrick, the WA champion, had enough points to easily be the series runner up with David Priolo, Shaun Bradford and Jamie Maiolo rounded out the top five in points.

AHG Sprintcar Series top 10.

Cameron Gessner 1960
Jason Kendrick 1942
David Priolo 1904
Shaun Bradford 1898
Jamie Maiolo 1894
Brad Maiolo 1838
Kye Scroop 1744
Ryan Farrell 1700
Callum Williamson 1408
Daniel Keen 1368

-end-

Priolo wins AHG Sprintcar Series Grand Final

SUNDAY, MARCH 15, 2015

DAVID Priolo started from P2 and once he got the jump, he never looked back as he charged away for a commanding win in the Washpod Westernapolis at the Perth Motorplex on Saturday night.

Priolo won the 30-lap feature race by more than 10 seconds over Ryan Farrell and Jamie Maiolo in what was the last round of the 2014-15 AHG Sprintcar Series.

Cameron Gessner, who limped over the line with a blown right rear tyre in 12th, claimed enough points to win the series points battle from Jason Kendrick and Priolo.

It was a good night for Priolo who was second quickest in his qualifying group and then took a third and a second in his heat races to qualify for the Silver Dash where he was quick enough to race in the Gold Dash for the right to start on pole.

Priolo belted out a very fast 12.715 second lap in the race against the clock but it was bettered by an even quicker Ryan Farrell who blistered round the track in 12.705 seconds.

The race track was the fastest it has ever been with a handful of drivers powering around in 12-second laps on a track that was well watered thanks to plenty of rain on Friday night and on Saturday before the race meeting.

Farrell lost ground on the start, slipping back to third and Priolo grabbed the holeshot and was extremely fast for the full 30-laps.

Contact between Daniel Harding and Brad Maiolo at the start of the second lap also saw Kye Scroop involved as the cars came together and unfortunately only Scroop was able to get a push away for another start.

By lap five Priolo had a massive lead and he was putting some of his rivals a lap down only seconds later.

Jamie Maiolo was running second when challenged by Farrell who was on his tail by mid-race distance.

The two traded slid jobs and ran side-by-side for a couple of laps before Farrell won the battle and stretched the legs on the #26 machine.

Carl Dowling was very impressive in the #87 entry, starting from P9 and enjoying a couple of midpack battles before edging out Shaun Bradford for fourth in the latter stages.

Bradford managed to finish fifth from Daryl Clayden, Jake Beard-Miller, Troy Lawson, Jason Boland, Lee Nash and Gessner who completed the last two laps up the near fence and out of harm's way with a shredded right rear tyre.

The win for Priolo was a good result after being so close on quite a few occasions this season, only to blow rear tyres at crucial moments in races.

This time he held on, grabbing the maiden AHG Series win for car owner Rob Watson from Watsons Express Transport.

Feature race: 1st David Priolo, 2nd Ryan Farrell, 3rd Jamie Maiolo, 4th Carl Dowling, 5th Shaun Bradford, 6th Jason Kendrick, 7th Daryl Clayden, 8th Jake Beard-Miller, 9th Troy Lawson, 10th Jason Boland, 11th Lee Nash, 12th Cameron Gessner. DNF: Daniel Harding, Brad Maiolo, Kye Scroop. DNS: Sean Zemunik and Jacob Lucas.

-end-

Easter Trail Champ To Score a Harley Davidson Street 500

The 2015 Geelong Harley Davidson Easter Sprintcar Trail will once again become a fitting finale to what has been amazing season of Sprintcar Racing at Avalon Raceway, Borderline Speedway, Mt. Gambier and Premier Speedway, Warrnambool.

However the attraction to the time honored three night Sprintcar extravaganza from a competitor stand point may just have been kicked up a notch with Geelong Harley Davidson coming on board as the Naming Rights Partners to all three nights of action.

David O'Brien and the hard working team at Geelong Harley Davidson will provide the winner of the 2015 Easter Sprintcar Trail with a brand spanking new Harley Davidson Street 500 valued at in excess of $10,000.00!

The Harley Davidson Street 500 is the latest and greatest of in the proud line of Harley Davidson Motorcycles and is most definitely a head turner!

The Street 500 is powered by the Revolution X, 60-degree V-twin, Single Over Head Cam, four valves per cylinder, precision liquid cooled engine and will come equipped with all of the trademark Harley Davidson features including the teardrop fuel tank, premium paint, café racer screen, LED tail lights, locking fuel cap and forks, metal tank and fender as opposed to plastic which is true to the Harley Davidson brand.

Jeff Drew from Avalon Raceway was instrumental in orchestrating the deal for Geelong Harley Davidson to become a part of the Sprintcar scene through their Geelong based venue and that relationship has now expanded to include the Easter Trail.

"To have David O'Brien and his team at Geelong Harley Davidson on board for the Easter Trail is great for our sport", Drew said.

"To be given the opportunity to reward the Easter Trail overall points champion with a Harley Davidson Street 500 is a pretty cool thing to do. As always the aim of the three venues involved in the Easter Trail is to continue to raise the bar and I am hopeful that this generous offer of the Harley Davidson Street 500 has done that once again in 2015", Drew added.

With the Harley Davidson Street 500 set to be awarded to overall Easter Sprintcar Trail Champion based on points awarded over all three nights of competition, the three venues have also seen fit to continue to offer the impressive $10,000.00 cash bonus for any driver who can sweep the three nights of competition.

The fact that potentially one lucky driver could seep the weekend raises the stakes even higher!

"As the three host venues we are keen to continue to offer the $10,000.00 bonus if a driver can sweep the three nights", Jeff Drew said.

"If you do the math, if someone can win all three nights they will collect $5,000.00 per night, the $10,000.00 cash bonus and take home the Geelong Harley Davidson Street 500", that's upwards of $35,000.00 in cash and prizes to the winner", Drew added.

So as the 2015 Geelong Harley Davidson Easter Sprintcar Trail approaches those intending competitors have a little added incentive to contest all three nights of competition.

Entry forms have been mailed to those teams that contested the 2014 Easter Trail with the same entry form also available for download via the Premier Speedway website www.premierspeedway.com.au.

The 2015 Geelong Harley Davidson Easter Sprintcar Trail will be held on Friday April 3, 2015 at Avalon Raceway, Geelong with thanks to Essendon Ford and Camden Neon Signs, Saturday April 4, 2015 at Borderline Speedway, Mt. Gambier with the support of the Ray Scot Group, Stihl Shop Mt. Gambier and S.E Fire Extinguisher Service before the final night on Sunday April 5, 2015 at Sungold Stadium, Premier Speedway, Warrnambool with thanks to GJ Gardner Homes.

The grand finals of the Essendon Ford Avalon Raceway Sprintcar Track Championship and the Parr Motorsports Premier Speedway Sprintcar Track Premiership will also be held as a part of the 2015 Geelong Harley Davidson Easter Sprintcar Trail.

-end-

Veal Takes Another Win and Creates History With Just One Lap

The 2014-15 Sprintcar Season has been an historic one for Jamie Veal and his SWI Engineering team in so many different ways. Tonight the talented young gun from Warrnambool etched his name into the record books again, not only in securing his 11th feature race victory of the season but in also becoming the first driver in history to break the ten second barrier at Sungold Stadium, Premier Speedway, Warrnambool.

The 9.963 second pass, which was recorded on the second of Veal's two time trial laps as a part of the top six shoot-out secured him a cool $10,000.00 as donated to the Premier Speedway Club by legendary Speedway personality Ian "Mr. Motors" Grant, as well as catapulting the Eureka Garages and Sheds Series points leader from sixth in points to a pole position start for the 30 lap A-main event.

Following the rain out at Heytesbury Stockfeeds Simpson Speedway on Saturday night the inaugural Labour Day Clash as a part of round 10 of the Eureka Garages and Sheds Sprintcar Series became a one night show, with the unseasonal March weather contriving to ensure that Premier Speedway was at it's fastest before a healthy long weekend audience.

With no time trials and drawn heats the racing from the first heat to the last was captivating as the drivers did their very best to ensure maximum points were banked on a night that would possibly go a long way to determining the overall points Champion.

Brett Milburn kicked off proceedings with an all the way win in the opening heat of the night, with an indication of how fast Premier Speedway was being Milburn's best lap which was recorded as a 10.270 second pass.

Not to be denied and in a sign of things to come Jamie Veal opened his account with a win in heat race number two, finishing ahead of an impressive Ian Loudoun and Nick Lacey. As if to do no more than prove a point, Veal broke the all time one-lap record in his heat race as he rattled off a 10.090 circulation.

Another of the local contingent saluted with a win in heat three as Tim Van Ginneken led home Brendan Balcombe and Adam King before the final heat race of the opening bracket saw Daniel Pestka cash in for maximum heat race points when he led home multi-time series Champion John Vogels and David Aldersley.

With a full inversion for the second round of heats it would be Quentin Tanner who would keep the hometown flag flying brightly as he took the win in heat five from David McKay and Dennis Jones.

Heat six was a who's who of the Eureka Garages and Sheds Sprintcar Series with Tasmania's Tim Hutchins performing admirably to take the win from Shaun Dobson and Darren Mollenoyux with Kris Lacey in fourth just ahead of Brett Milburn, Ian Loudoun and Veal.

Kristy Ellis was impressive as she garnished a heat race win in the penultimate heat of the night leading home Michael Cunningham and Glen Sutherland before Jamie Hennessy capped off a very solid run through the heats with a win ahead of an impressive Jack Lee and Bradley Warren who was also aiming to make a direct transfer to the A-Main.

What happened next will be the type of event that will long live with those that witnessed and will be talked about by others for a long time to come!

As the top six points scorers made their way onto the track to determine the top six starting positions it was Jamie Veal who literally stole the show as he rattle of a lap for the ages with what will be simply known as the 9.963 second lap!

Almost getting lost in the hype surrounding Veal's amazing circulation was the fact that Brett Milburn also bettered the previous one lap mark with a 10.102 to also secure a front row start in the 30-lap final.

Jamie Hennessy was third fastest while Daniel Pestka's 10.253 was good enough for fourth just ahead of Tim Hutchins and Tim Van Ginneken.

The C-Main saw Ryan Davis, Darren Hickman, Peter Doukas and Ashley Scott make the transfer to the all-important B-Main on a track that was fast and unforgiving.

The 15-lap B-Main produced some exciting racing as all vied for one of the cherished six transfer spots, which would see them make the final.

John Vogels used all of his experience and guile to take the win ahead of Kristy Ellis who had impressed right throughout the night. Darren Mollenoyux, Michael Cunningham, David McKay and Adam King also made the show.

The 30-lap final was always going to an intriguing affair with the track still in lightning quick shape.
At the drop of the green Veal got the jump on Milburn with the second row occupants Hennessy and Pestka not going to give up without a fight.

After just six laps the red lights came on for John Vogels as he partially inverted the once immaculate V70 entry in turn two, while Pestka's charge was also over with the heartbreak of another motor issue putting an end to he and the Victory Lane Racegear team's night.

At the re-start Veal opened a tidy little buffer on Milburn in second and Hennessy who was in sight of a career best performance. Tim Van Ginneken aboard the Harry Droste owned V36 machine was also running strongly in fourth while Ian Loudoun was impressive having clawed his way through the field from his position 12 starting spot.

With Adam King the next of the retirees it would be Shaun Dobson who would endure a roll over in turn four to again bring on the red lights. Thankfully as spectacular as it was, the hard charging Tasmanian was able to walk away from the crash.

Again at the re-start it was Veal who would try and run and hide as he set sail for victory with Milburn like a dog with a bone as he continued to pursue the race leader in a defiant display.

Just as it appeared the Veal's victory was in sight, Jack Lee suffered a component failure that speared him at warp speed into the turn four fence, again despite the huge impact Lee was able to walk away from was a significantly damaged car.

From there, with clear track ahead once more, it was all Jamie Veal as the star of the 2014-15 Eureka Garages and Sheds Sprintcar Series continued his domination of the series this summer.

Veal would again take the win, collecting a neat $5000.00 pay day along the way, from Milburn who was impressive all night long as was third place getter Jamie Hennessy who produced a podium finish to round out an excellent night at the wheel of the V21 machine.

Following the top three home were Tim Van Ginneken, Ian Loudoun, Bradley Warren, Darren Mollenoyux, Michael Cunningham, Quentin Tanner, Tim Hutchins, Dennis Jones, David McKay and Kristy Ellis.

As a result of tonight's outcome Veal now also has a very firm grip on the Parr Motorsports $10,000.00 Premier Speedway Sprintcar Track Championship.

Running in support to the Sprintcars tonight, the Late Models and V8 Dirt Modifieds put on some awesome racing, which saw Justin Pearson take the win in the Late Model division.

Pearson started from position six and made short work of a strong field of cars as he took the win ahead of Gary Bryans and Mick Hetherington.

Heat winners on the night were Ben Nicastri, Pearson and Bryans.

In the V8 Dirt Modifieds it was Daniel Scott who scooped the pool to take the win ahead of Darren Clarke and Mick Kirally.

The three heat winners were Mick Kirally while Daniel Scott capped a great night of racing with two heat wins.

-end-

BENNY A IS BACK IN THE GAME!

Official release: Valvoline Raceway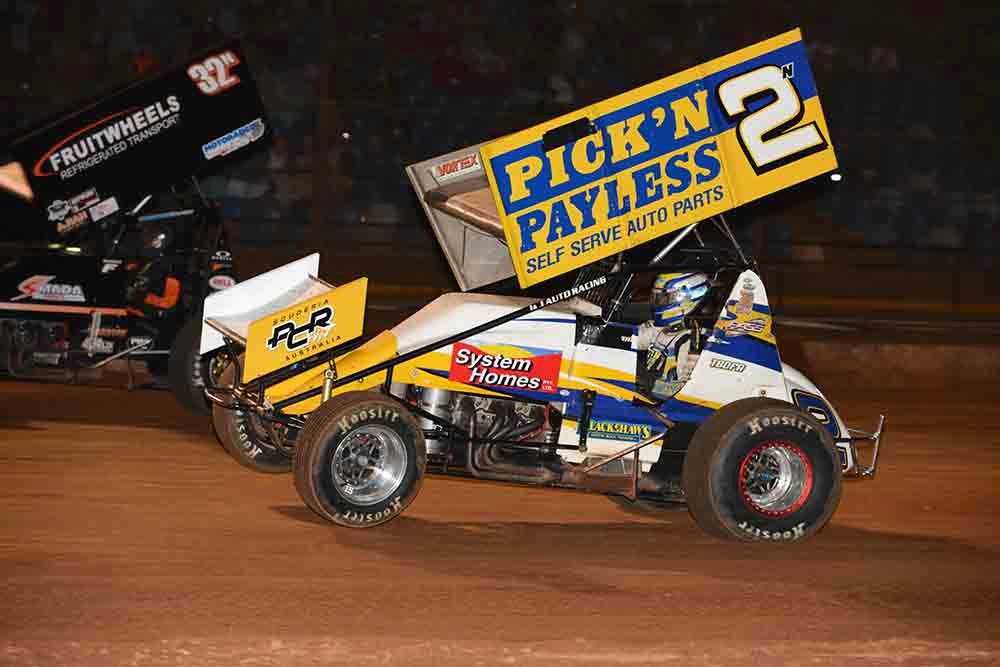 March 7, 2015

Benny Atkinson sounded a clear warning tonight that his Track Championship aspirations are far from over as he stomped to a commanding win in the 30 lap A-Main feature race at Valvoline Raceway.

The Darwin stick of dynamite survived an unsettling shunt in the Pole Shootout with rival Toby Bellbowen where the former was lucky not to roll over and Bellbowen unfortunately did forcing both teams to thrash to be ready for the main event.

When the lights went green in the main event Bellbowen led early but Atkinson resumed full control in the #2 Pick n Payless J&J and was never headed after that as he took the uninterrupted race victory.

Along the way, with lap leader sponsorship money the Northern Territory will have earned around $7500.

"I didn't think about that (the money) during the race because my focus was just on getting some feature wins before the end of the season. My guys have done a great job, JB always does a great job (his crew chief John Barrett), he's getting a little older now but he hasn't lost any of his drive to win races. I've had the pleasure of working with some good crew chiefs and working with JB is pretty special."

Atkinson sped home ahead of Grant Anderson in second place with Jackson Delamont rounding out the podium in third.

"We don't get to run here very often but it's always so much fun when we do," said Anderson, "I can't be sure how many more races we'll make here this month but we'll do as many as we can."

Young NSW racer Jackson Delamont showed plenty of speed on the lowline to score his second podium finish of the season.

"The track was nice tonight and that allowed me to zip around the bottom on my own little line. It's a great result for our team and I can't thank my Dad enough for all the effort he puts in every week on this car. It should really be him up here getting this trophy."

Sam Walsh was simply devastating in the #92 Maxim as he sizzled from 18th starting position to an eventual fourth place finish.

"Ideally I would have had a better night early and then we wouldn't have had to start so far back in the A-Main but it was still good to finish where we did. The car was fast, I just need to stop making mistakes."

Australian Champion David Murcott came home in fifth place ahead of Toby Bellbowen (who seemed to suffer some front end damage in an earlier race incident and who's team pulled off a major Houdini to even get him out on track after his Pole Shootout rollover) Jeremy Cross for seventh in one of his better finishes this year, Robbie Farr came out the B-Main to place eighth whilst current Track Championship leader James Thompson finished ninth ahead of South Aussie veteran Trevor Green in tenth.

Grant Tunks, Brent Aprile, Steve Caunt, Adrian Maher, Warren Ferguson, Jimmy Matchett, Matt Jackson, Kyle Caunt, Andrew Wright, Kelly Linigen, Clayton Hart and Mark Attard placed 11th – 22nd respectively whilst DNF's went to Alex Orr and Craig Brady.

Five times Australian Sprintcar Champion and living legend Dick Briton was the Grand Marshall for tonight's action and presented the winner's trophies to the Sprintcar and Wingless Sprint main event winners.

Briton received a warm and enthusiastic ovation from the fans when he lapped the circuit in a borrowed wingless with son Brian and granddaughter Nikki either side of him during the national anthem honours.

Central Coast Late Model driver Ryan Fenech atoned for his second place in last weekend's NSW Championship with an all the way in in the main event tonight leading home David Doherty in second place and Darryl Grimson in third.

Doherty literally stole second place from Grimson in the last twenty metres of the race as the duo sped to the chequers.

Following the lead trio home were Ben Nicastri, Todd Bayley, Nathan Disney, Ed Borg, Barry Kelleher, Michael Hickey and Bruce White rounding out the top ten.

The Wingless Sprint main event honours went to Mark Blyton for the second time this season over Nathan Dicker in second place and the rim riding seventeen year old Daniel Sayre home in third.

The next event at Valvoline Raceway will be held this Saturday night, March 14 and feature Sprintcars, Speedcars and Street Stocks.

James McFadden will join the ranks and legend Bob Tunks will be honoured as the Grand Marshall of the racing.

-end-

Track Championship Battle Resumes This Weekend

Archerfield Speedway Media Release

After what seems like one of the longest breaks in competition for quite some time, Sprintcars return to Ausdeck Patios Archerfield Speedway this Saturday night (March 7) for round 11 of the Supercheap Auto Track Championship. It has been six weeks since Sprintcars attacked the Archerfield clay and both drivers and fans are no doubt primed for a big night of competition from a typically strong field of dirt track daredevils. In what is shaping as a feast of open wheel competition, the Polar Ice Midget Series is also on the card, along with Formula 500's, Compact Speedcars and Lightning Sprints.

Most of the usual suspects are amongst the Sprintcar nominations, including current championship protagonists young gun Luke Oldfield and veteran racer Andrew Scheuerle. Over the last few weeks, Scheuerle has recorded feature race wins at Toowoomba and Kingaroy, while Oldfield has been unable to replicate the results he has produced here at Archerfield that have put him in such a strong position in the track championship fight. Both drivers are proven race winners and whilst their battle will be a fascinating element of the night's competition, there are 25 other drivers who will be doing their utmost to make their own mark on the championship.

Whilst Bryan Mann has featured on the podium several times this season, he hasn't yet been able to produce the level of consistency needed to make a serious run for the championship lead. However, with plenty of rounds still remaining, if he can maximise every opportunity that comes his way and secure a feature race win (or two), then he will very much zoom into contention and there is no better time to start such a surge than this Saturday night.

Tasmania's Jamie Bricknell returns to the Titan Garages #36 this weekend after stepping aside to make way for American Danny Holtgraver. Others who have shown glimpses of great form include the likes of Kevin Titman, Brent Kratzmann and Mick Sauer, all of whom have been feature race front runners at various stages of the season. If they can reproduce their best form, they will feature somewhere near the front of the field.

Also nominated for this event are Brock Dean, Dan Murray, Brandon Rawlings, Ben Hilder, Melissa Boyes, Andrew Leibke, Dan Moes, David Whell, Richard Morgan, Kristy Bonsey, Dave Fanning, Mark Pholi, Tony Michelle, Mitchell Gee, Steve Greer, Steven Johnson, Anthony Lambert, Cairns veteran Mike Walsh, current Bathurst 1000 champion Paul Morris and 16-year-old rookie Callum Walker, who will be making his Sprintcar debut.

A solid line-up of 20 cars will contest the Polar Ice Midget Series with everybody gunning for defending champion and current series leader Michael Kendall. Fresh from his fourth Australian Championship victory last weekend in Warrnambool, Adam Clarke is the most obvious candidate to upstage Kendall in what should be a terrific clash. Others worth watching include Darren Vine, a feature winner already this season, along with Scott Wilson, Brett Thomas, Michael Harders, Troy Ware and Mark George.

The Formula 500's have again produced a quality field which includes Kristin Brown, Charlie Brown, Billy Foyle, Nathan Pronger and Dale Shilletto, all of whom have scored feature race wins this season. Kaydon Iverson, Cody Maroske and Brooke Wanless are also potential winners, setting the scene for what may well be the closest contest of the night.

Compact Speedcars and Lightning Sprints complete the all open wheel program, which gets underway with pre-program events from 4:45pm. The main program will get underway at 6:00pm.

-end-

Brooke Tatnell Scores An Emotional Shootout Win
Andrew Roberts posted Monday March 2, 2015.
Brooke Tatnell and Krikke MotorSport drove to an emotional victory in the finale of the 18th Annual Quit Krikke Boys Shootout last night at Quit Bunbury Speedway in front of a capacity crowd.
Tatnell who also won the preliminary A-main on the opening night made his intentions clear from the drop of the green flag when he stormed to the lead after starting from position two. Within a few laps a battle emerged between Tatnell and World of Outlaws star Kerry Madsen. The two drivers gapped the field as Madsen began to hunt down the tail tank of the #2 KMS Hot-Rod. As the pair began to move through lapped traffic, Madsen seized an opportunity to wrench the lead from Tatnell and slowly began to pull away.
With 23 laps remaining, racing was halted as a result of a turn three incident which saw the cars of Harding, Bradford, Jones, Coyle, Johnston and Dillon all involved. The resulting Open Red provided a much needed opportunity for teams to repair some of the damaged machinery which also saw Ryan Farrell choose to change a rear tyre. Farrell would re-join from the rear of a field as a result which would also see an outstanding effort by Daniel Hardings team to repair much of the damage sustained also re-join proceedings. Dillon, Bradford, Coyle and Jones would also be in a position to resume hostilities as the green flag was again shown.
With less than 10 laps remaining as the leaders again navigated lapped traffic, a determined Tatnell who had by this time closed the gap to the leading car of Madsen would move underneath to assume control of the race.
Meanwhile Robbie Farr, Steven Lines and Kyle Hirst were locked in an epic battle for third but all three has no answers for the top two duo of Tatnell and Madsen. Two late race stoppages would tighten up the field but Tatnell was not going to let anyone steal the victory away from the #KMS team and went on and emotional victory in the event from Kerry Madsen, Robbie Farr in third and Steven Lines rounding out the top four.
The win would be the recently crowned WSS Champions first Krikke Boys Shootout victory. It was obvious to all how much the win meant to the Bunbury Based Krikke MotorSport team just prior to presentations getting underway which saw the entire KMS team join with Brooke Tatnell to perch themselves on the Top Wing of the team car with many tears flowing much to the delight of the capacity crowd who witnessed the event.
Earlier in the night, heat race victories would go to Kerry Madsen, Steven Lines, Daniel Harding and Robbie Farr. Jamie Maiolo would win the Mid Pack Dash from Kris Coyle and Ryan Jones.
-end-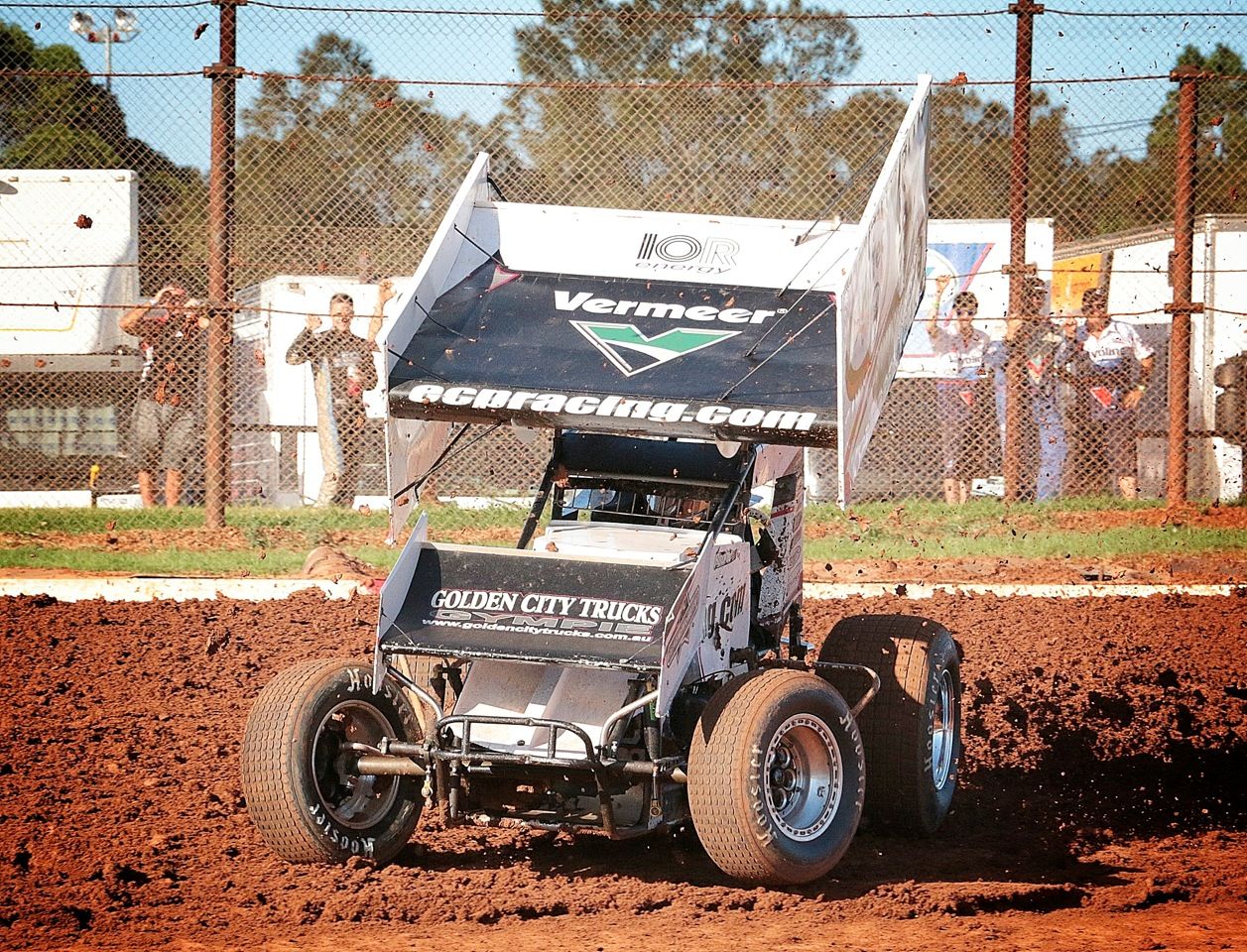 MURCOTT AND FARR HEAD STRAIGHT FOR VR
Official release: Valvoline Raceway

March 1, 2015

Dual Australian Sprintcar Champion David Murcott and multiple Australian titleholder Robbie Farr will take on the already impressive weekly battles within the Parramatta Posse this Saturday night at Valvoline Raceway.

The pair, having competed for the greater majority of February in Western Australia – where Murcott successfully defended his 2014 Australian Championship win – will throw extra fuel on to the fire lit by additional prize money and a $10,000 points fund booty for the month of March.

"I've never had that much success in Sydney before this year," concedes Murcott, "but winning a main event there earlier in the season and our form this summer across the country has me feeling confident that we can do the job again there."

Though the World Series Sprintcars Championship slipped from his grasp with minutes to spare the Victorian throttle stomper is in the best form of his career in the Horrell Motorsport #1 Maxim working with the lethal arsenal of the Inglis brothers in his corner.

"I feel like every time we go out the pit gate we can win," Murcott explains, "between Glenno with the chassis and our set up preparation and Scotty with the motor program we really have a fast car everywhere we show up."

Robbie Farr has showed a particular improvement in speed that has been concealed by an uncharacteristic spate of bad luck in the #7 Hi-Tec Oils ECP Racing Maxim.

"We've been fast, we just haven't been lucky," concedes the now West Australian domiciled Sydneysider who grew up racing thousands of laps around the then Parramatta City Raceway now known as Valvoline Raceway, "I don't think our results have shown what we've brought to the table this season. Sometimes the ball rolls your way and sometimes it doesn't. It doesn't affect our intensity or our commitment to winning either way, we're coming back to Sydney Speedway to get some chequered flags.

Murcott and Farr are just two interstate inclusions from a list that is expected to increase from this Saturday night (March 7) onwards for the first of four consecutive $5,000 to win main events for the Sprintcars.

Counting the points fund booty for the top three in points there is over $75,000 to be won.

Current Track Championship leader James Thompson clings to a slender lead as the series winds down on March 28 and he's all too well aware that former track champion Ben Atkinson and defending champ Max Dumesny are breathing down his neck.

"We can't afford to alter our game plan," concedes the Kellyville father of two, "being consistently up the front is what has got us into the points lead to start with so it makes no sense to deviate from that path now."

Despite a disappointing performance by his own standards in the previous round of the Track Championship on February 21 Thompson knows that he has the speed and the composure to continue his good form.

"It's up to those guys to catch me," he muses, "we'll just keep on chipping away."

This Saturday night's 18th round of the Valvoline Raceway Track Championship will also honour 5-times Australian Sprintcar Champion Dick Briton as the Grand Marshall in a month that honours four of the sport's former greats.

Also on the program Saturday night will be Wingless Sprints (in which his son Brian and granddaughter Nikki compete) and Late Model sedans.

Gates open this Saturday at 2pm; hot laps start from 5.30pm and Qualifying from 6pm.

-end-
Clarke Does It Again And Claims Speedcar Title Number Four

On a night that produced plenty of drama, simply to get the show in, Adam Clarke added his name once more to the long and illustrious list of Australian Speedcar Championship winners when he claimed victory in the 40 laps finale to the 74th Lucas Oil Australian Speedcar Championship.

After a warm and steamy day, Mother Nature decided that she would like to impart some of her finest work on Sungold Stadium as rain, thunder and lightning all reared their heads at one point or another.

With time slipping away the Management team at Premier Speedway made the call to give the event one last chance of being completed without requiring a return visit to the venue on Sunday, something that at one point looked a mere formality.

While some may have wish the meeting had of been postponed it was Clarke who was all smiles as he stood embracing a tirelessly hard working crew in victory lane post race.

Throughout a caution punctuated event Clarke withstood challenges from the likes of Tyler Thomas who rode around the high side of the early pace setter Clarke while fellow American Alex Bright was also in the thick of the action.

Nathan Smee was all class as he hounded the race leader, at times especially late in the race, guiding an ill handling car around a super quick Sungold Stadium.

Preliminary night feature winner Brendan Palmer was another to battle manfully as he was locked in a battle mid pack with the likes of Davey Ray, Matt Greenwood and Jerry Coons Jnr.

Ben Hall, Kaiden Manders, Travis Mills, Dayne Kingshott and Paul Farrell rounded out those who completed the grueling 40 lap journey.

The DNF's robbed the event of some of its biggest stars with the likes of Troy Jenkins, Todd Waddell, Nicholas Rowe, Domain Ramsay, Scott Wilson, Lee Redmond, Neville Lance, Anthony Chaffey and Gabe Goode on the infield. Goode in particular was the victim of a violent roll as he exited turn two. Thankfully he walked away.

Earlier in the night the final four heat race events were completed after a couple of aborted attempts to get the final nights program underway.

The heat wins and some valuable points went the way of Clarke, Tyler Thomas, Dayne Kingshott and Lee Redmond with firstly Thomas bettering the 10 lap record with a time of 2:09.56 before Kingshott went faster again with a 2:05.73 performance to etch his name into the record books.

-end-

LACHLAN LEADS 'EM HOME

Official release: Valvoline Raceway

February 28, 2015

Lachlan Onley was a jubilant winner of the fourth round of the tenth anniversary National Super Sedan Series tonight at Valvoline Raceway leading home West Aussie Kodee Brown and South Australian young gun Ryan Alexander in third.

The 30 year old Orange NSW resident sped his #17 Dencol Transport Ford Mustang to an all the way victory in the 30 lap main event despite the best and constant intentions of 21 year old Ryan Alexander.

"It's great to get a win in Sydney, especially for an event like this," grinned the current NSW Champion Onley, "the racing tonight was really good and I'm pleased for our team that I can come out on top."

Kodee Brown came on strong late in the race to dispose of Alexander for second but he couldn't run down Onley.

"Full credit to Lachlan and also to young Ryan," breathed the WA Champ, "it took me a long time to run down the pair of them but Lachlan drove a smart race and he had the best line around here worked out."

Considering he'd never raced at Parramatta before Ryan Alexander was sensational on debut.

"I just got tired," he admitted, "I ran the cushion for so long behind Lachlan and in the end I just got tired. It was pretty physical out there. I took a bit of getting used to racing without a wall like you do here but I really enjoyed it."

Controversy surrounded Victorian Mick Nicola earlier in the night when he was sent to the rear and then disqualified for refusing to obey the stewards' decision in a heat race but the former national champ rallied back to an eventual fourth.

NSW veteran Tony Barklimore placed a strong fifth ahead of the vastly improved Mark Towers in sixth, Wayne Dick seventh and Graeme Elliot being the last placed car in eighth at the fall of the chequers.

Barry Towers, Darren Kane, David Gartner, Kaleb Perrett, Rob Carrig, Peter Nicola and Andrew White were all classified as DNF's.

The NSW Late Model Championship was a hotly contested affair that almost went to Central Coast NSW hard charger Ryan Fenech had it not been for the class and tenacity of Australian champ Darren Kane.

Kane more than made up for the disappointment he suffered mechanically in his Super Sedan in the NSSS on the same night to narrowly pip Fenech in the dying laps of the 25 lap main event.

"I was just telling Ryan that I think he really had me on the bottom," Kane explained later, "I just couldn't get down there to run like he did and it took me a while to get my set up dialed back on every restart. I had to work really hard to chase him down."

Fenech led virtually every lap in the #29 Tumbi Tyres & More entry until Kane eventually slipped by using a battering ram style line on the cushion.

"That's why he's an Australian champion," lamented Fenech, "he was probably sizing me up the whole time back there before he made the pass."

Sydney veteran Darryl Grimson rounded out the podium with third place ahead of David Doherty fourth, Nathan Disney fifth, Ben Nicastri sixth, Liam Heaton seventh, Jeff Searle eighth, Ron Pyne ninth and Todd Bayley rounding out the top ten.

Ed Borg was eleventh, Scott Haynes twelfth, Wade Carter thirteenth and Barry Kelleher placed fourteenth and as the last car registered whilst Bruce McKenzie, Daniel Foot, Dean Hickey, Bruce White, Daniel Cassidy and Michael Hickey all wound up as DNF's.

Bruce McKenzie made the most spectacular exit as he barrel rolled the #15 HP / Hitachi entry on the main straight after striking Dean Hickey's crashed car.

"I'm OK, the car's not but what can you do," mused McKenzie as he bowed to the fans from the bonnet of his once pristine racecar.

In the support category racing for the night DJ Raw recorded a narrow victory over fierce rival AJ McTaggert in second place and eighteen year old Uni Student Jordin Binskin in third.

McTaggert passed Raw on the final corner to take the lead and greet the chequers first but the pass was deemed illegal after he made contact with Raw and he was put back to second.

Shane Cooper finished fourth ahead of Paul Freeman, Matt Geering, Matt Reed, Dean Eden and Rodney Waters rounding out the nine cars that finished.

Legend car racer and "Weet Bix kid" Todd Davey was a very satisfied winner of his class' main event as he led home James Duckworth in second and Valvoline Raceway debutant Regan Angel in third.

"It's great to get some racing in and record a win for the team," grinned Davey.

It was a typically competitive race for the Legend Cars with 21 cars classified as finishers including Brad Giffen in fourth, Mark Heaton fifth, Brett Mitchell sixth, Robbie Rawlings seventh, Linden Martin eighth, Warren Maybury ninth and Glen Arnold rounding out the top ten.

The "Bendy 500" took centre stage to round out the show and the bruising affair saw a number of spectacular rollovers as the Fender Benders eagerly contested for their chance at the $1500 winner's prize.

In the end Dungog Royal Hotel regular "Brendo" – who wielded the Hot Wheels #35 Falcon – came out on top to score the $1500 and the two metre high winner's trophy that goes with it.

The next event at Valvoline Raceway will see the Sprintcars return for the first of four consecutive events in March for 'the month of money' on Saturday night, March 7.

-end-

Brendan Palmer Holds Off Hard Charging Americans To Claim Speedcar Title Prelim

A cool and calculated drive by Queensland's Brendan Palmer saw him stand atop the victory dais following the Preliminary Feature of the 74th Lucas Oil Australian Speedcar Championship on Friday night at Sungold Stadium, Premier Speedway, Warrnambool.

On a night that had a bit of everything as Mother Nature again played a part in the outcome as she threatened to interrupt proceedings on numerous occasions through out the course of the night.

Palmer who started from pole position was able to withstand the challenge thrown at him by the two rim riding Americans in Alex Bright who started from position eight to eventually finish in the runner up sport and a super impressive Tyler Thomas who put on a clinic as he charged from position 19 through to third in a masterful display.

With Palmer preferring the low groove on a track that certainly took its time in widening out, it was the Americans who went upstairs to try and reel in the race leader as the likes of defending Aussie Champ Adam Clark and Travis Mills battled it out for fourth and fifth.

They were followed by Davey Ray who also charged from 16th to sixth, Jaimie McKinlay in seventh, Queensland's Scott Wilson who was eighth, Troy Jenkins who overcame a dropped heat earlier in the night to run ninth while Neville Lance rounded out the top ten.

They were followed by Rob Jackson, Dean Merrylees, Paul Farrell, Bell Hall and Gabe Goode while the DNF's were headed up by an unlucky Nathan Smee, who was rounded solidly in second before being forced infield. He was joined by Domain Ramsay, Matt Greenwood who had a motor detonate which also left Jerry Coons Jnr with no where to go and Kaiden Manders who was also one to record a DNF.

The top ten in points after nights one is as follows:

1. Q41 Brendan Palmer - 83 points.
2. V10 Travis Mills - 81 points.
3. W4 Alex Bright - 70.5 points.
4. N42 Jaimie McKinlay - 70 points.
5. Q25 Scott Wilson - 66.5 points.
6. V20 Domain Ramsay - 66 points.
7. Q98 Matt Greenwood - 65.5 points.
8. N7 Nathan Smee - 64.5 points.
9. A1 Adam Clarke - 64.5 points.
10. N14 Jerry Coons Jnr - 63 points.

Saturday night is Championship night with a further round of Speedcar heats, plus the C Main, B-Main, Top 8 Pole Shuffle and the 40 lap Championship decider all to be contested.

The Wingless Sprints with a round of their Super Six Series will be the support division on the night.

Racing will start from 5.30pm.

General Admission is available via the both sides of the venue.

Admission is Adults $25.00; Concession $20.00; Children 12-15 $10.00 and Children 6-11 $5.00.

The usual pit charges of $70.00 without or $35.00 with the minimum entry requirement (Speedway Australia) will apply.

-end-
VALVOLINE RACEWAY TO HONOUR SPRINTCAR LEGENDS IN MARCH

Official release: Valvoline Raceway

February 26, 2015

Valvoline Raceway will continue its commitment to preserving the history of Speedway at the iconic Parramatta venue by honoring four Sprintcar legends on individual nights of competition in March.

The celebration of some of the sport's greats will culminate on March 28 when all of the 17 former Track Champions are recognized.

"The excitement that we have for the future at Valvoline Raceway is matched by our pride in the past," says Valvoline Raceway Managing Director Steve Green, "since the first ever Track Championship was won by Bob Tunks in 1977/78 there's been a who's who of Sprintcar racing collect the honours. When you look back at the winners over the last thirty-five plus years it's something to be enormously proud of at this track. It's certainly overdue to celebrate these men and their teams and families."

Saturday night March 7 will be the first of the "Month of Money" races for the current stars and will see five times Australian Champion Dick Briton honored fittingly on the same night as the Wingless Sprints race with son Dick and granddaughter Nikki also on the grid.

Saturday night March 14 sees a tribute for Bob Tunks – the man who won the first two Track Championships back to back in 1977/78 and 1978/1979 and then repeated the dose on three further occasions to equal Garry Rush's record. Bob sits ninth on the all time winners' list at PCR/VR with 24 main event wins.

Saturday night March 21 will honour two-time Australian Sprintcar Champion Jim Winterbottom who stood on top of the country in 1969 and 1974. Jim is still a regular visitor to Valvoline Raceway as a spectator but the Winterbottom name is still prevalent as Jim's brother Gary is the Sprintcar club's long time Chief Steward.

The final night of the Sprintcar Track Championship on March 28 will see "The Streak" Bob Blacklaw as the Grand Marshall of the event. The three-time PCR Track Champion still sits proudly sixth on the all time winner's list for feature wins with 33 main event successes.

"We're excited that these four men will be able to come down and be celebrated by the spectators, our current teams and our Valvoline Raceway team," says Steve Green, "it's fitting that we look forward the future with respect to the past. All four of those nights in March will be just that little bit more special with Dick, Bob, Jim and Bob all here."

-end-
Tatnell Wins Ninth Title in Grand Final Heartbreaker!

Feb 21, 2015

Brook Tatnell has claimed his ninth ENZED World Series Championship as former series leader, Dave Murcott, relinquished his title hopes with a gut wrenching turn one crash with just 5 laps to go in the A main.

Rookie of the Year Kyle Hurst claimed the quick time award at the start of the night with Murcott timing in third extending his points lead over Tatnell to 80 points with Tatnell qualifying 11th.

Tatnell was able to reel in six points on Murcott after both rounds of heats with both drivers qualifying for the top 8 shootout, which was won by return visitor Kerry Madsen. Murcott's championship hopes looked good starting from the front row with Hirst and Jason Kendrick sharing the second row while Tatnell joined Jamie Maiolo on row three.

Distant title hope James McFadden would start from 11th spot.

On a perfect racetrack for a Grand Final showdown, the Motorplex provided a multi lane highway for great racing throughout the field that would provide mammoth battles including a five lap wheel to wheel showdown between Tatnell and Murcott, while McFadden also showed his nose in the top five after two restarts.

However, a bizarre hard right turn in the main straight by Jason Kendrick made contact with Murcott, leaving what appeared to be minor wing damage on the Australia #1, but the restart would reveal that the freshly recrowned Australian champion had sustained a higher impact than first thought.

Murcott restarted from fifth, seemingly unaware that his steering was on the verge of failing, and before turn one, became a passenger as the Mainline Dynolog Dynamometers entry headed straight into the turn one wall, junking the car and leaving the massive crowd speechless.

Murcott left the scene directly heading for the pits with helmet in hand, and his body language clearly showing his level of devastation.

With only 6 laps remaining, Tatnell still battled with Hard Charger Ryan Farrell who'd reached the second spot from fifteenth, however Kerry Madsen was unchallenged, leading every lap of the race to get his fifth World Series round win from Farrell, and Tatnell who claimed third and his ninth title in the process.

The final points tally still accommodated Murcott for a somewhat sour second position on points with McFadden securing third.

The contracted teams will finish the series with a championship dinner at the Burswood on Swan Function Centre Sunday. Speedway Australia would like to congratulate all of the competing teams across the twelve rounds and look forward to revealing plans for next season's series in the near future.

-end-


Madsen mauls sprintcar opposition

KERRY Madsen won 30-lap World Series Sprintcars Grand Final in front of a strong crowd at the Perth Motorplex on Saturday night from Ryan Farrell and Brooke Tatnell.

It was also round 12 of the AHG Sprintcar Series.

The professional racer from America was never challenged in the main event as he dominated in the Keneric Racing #29 in front of his Perth-based team owners.

Tatnell's third was enough to win the WSS championship after his main rival David Murcott crashed out of the feature race late in the final.

Madsen started the night by qualifying 12th in the 31-car field before taking a pair of fourths in his heats.

He really hit his straps after qualifying in the Top 8 Dash, winning the Bronze, Silver and Gold Dashes to elevate himself to the front row.

Farrell put in a barnstorming drive after starting from 15th, methodically picking off the drivers in front of him to get himself onto the podium.

He did it the hard way after being forced to qualify from the B Main thanks to motor problems in qualifying that saw him 27th after time trials.

He managed to get some valuable points after winning both his heat races, albeit from the front.

Tatnell qualified 11th at the start of the night and also had motor dramas but the Krikke team also put in a massive effort to get the W2 onto the third row of the grid for the final.

Brad Maiolo, who started from P14, lost valuable ground on the first corner, dropping back to last place.

Madsen only took four laps to get into lapped traffic and showed he was a class above his rivals.

The race went 12 laps before the field regrouped after Lee Nash spun on the back straight.

Murcott and Jason Kendrick had contact on the main straight with six laps remaining, forcing Kendrick out of the contest despite running in the top five.

Murcott was able to resume but is appears he suffered damage because moments later the A1 failed to turn at the end of the main straight and he ploughed into the fence – ending his chances of winning his maiden WSS crown.

On the final restart Farrell was third but pounced on Tatnell for second in a stirring drive from the Diamond Bay Motorsport pilot.

James McFadden, who started from P11, was fourth from Robbie Farr (P10), Cameron Gessner (P12), Kyle Hirst (P3), Steven Lines (P10), Shaun Bradford (P7), Matt Egel, David Priolo, Daniel Harding, Luke Dillon, Ryan Jones, Jamie Maiolo and Brad Maiolo.

Murcott and Kendrick were the only non-finishers in the main event.

RESULTS:
Qualifying: Kyle Hirst 13.830, Jason Kendrick 13.837, David Murcott 13.840, Robbie Farr 13.877, David Priolo 13.981, Ryan Jones 13.993, Luke Dillon 13.999, James McFadden 14.004, Taylor Milling 14.022, Brad Maiolo 14.029, Brooke Tatnell 14.031, Kerry Madsen 14.043, Steven Lines 14.054, Shaun Bradford 14.075, Jamie Maiolo 14.098, Cameron Gessner 14.137, Shaun Dobson 14.156, Carl Dowling 14.182, Daniel Harding 14.230, Darren Jensen 14.238, Troy Lawson 14.322, Brent Aprile 14.366, Kye Scroop 14.389, Matt Egel 14.443, Daryl Clayden 14.448, Andrew Wright 14.512, Ryan Farrell 14.553, Lee Nash 14.637, Daniel Keen 14.957, Jason Boland 14.958, Jason Pryde 15.070.

Heat 1: 1st Daryl Clayden, 2nd Lee Nash, 3rd Daniel Harding, 4th Cameron Gessner, 5th Robbie Farr, 6th Steven Lines, 7th Kyle Hirst, 8th Luke Dillon, 9th Bradley Maiolo, 10th Brent Aprile, 11th Jason Pryde.

Heat 2: 1st Darren Jensen, 2nd Shaun Bradford, 3rd Andrew Wright, 4th James McFadden, 5th Brooke Tatnell, 6th Jason Kendricik, 7th Shaun Dobson, 8th Daniel Keen, 9th Kye Scroop, 10th David Priolo.

Heat 3: 1st 1st Ryan Farrell, 2nd Matt Egel, 3rd Jamie Maiolo 4th Kerry Madsen, 5th David Murcott, 6th Ryan Jones, 7th Troy Lawson, 8th Carl Dowling, 9th Jason Boland and 10th Taylor Milling.

Heat 4: 1st Lee Nash, 2nd Cameron Gessner, 3rd Bradley Maiolo 4th Shaun Bradford, 5th Andrew Wright, 6th Brent Aprile, 7th Jason Kendrick, 8th Darren Jensen, 9th James McFadden, 10th Jason Pryde DNF: Robbie Farr.

Heat 5: 1st Steven Lines, 2nd Daryl Clayden, 3rd Matt Egel, 4th Kerry Madsen, 5th Daniel Harding, 6th Luke Dillon, 7th Ryan Jones, 8th Kyle Hirst, 9th Carl Dowling. DNF: Jason Boland.

Heat 6: 1st Ryan Farrell, 2nd Jamie Maiolo, 3rd Brooke Tatnell, 4th Kye Scroop, 5th Daniel Keen, 6th David Murcott, 7th Shaun Dobson, 8th David Priolo, 9th Troy Lawson, 10th Taylor Milling.

Final: 1st Kerry Madsen, 2nd Ryan Farrell, 3rd Brooke Tatnell, 4th James McFadden, 5th Robbie Farr, 6th Cameron Gesner, 7thKyle Hirst, 8th Steven Lines, 9th Shaun Bradford, 10th Matt Egel, 11th David Priolo, 12th Daniel Harding, 13th Luke Dillon, 14th Ryan Jones, 15th Darren Jensen, 16th Lee Nash, 17th Jamie Maiolo, 18th Bradley Maiolo. DNF: David Murcott and Jason Kendrick.

-end-

WALSH WOWS 'EM!

Official release: Valvoline Raceway

February 21, 2015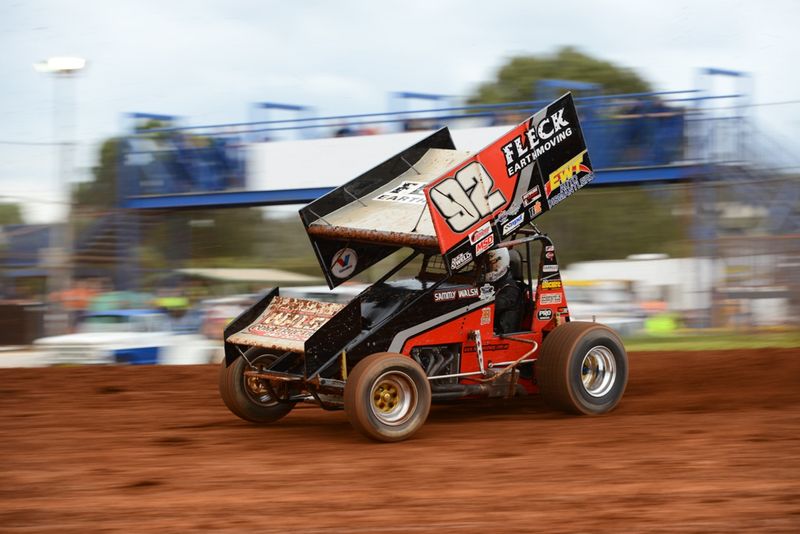 Sam Walsh recorded his second main event win for the season tonight as he accounted for a strong field in Round Seventeen of the Valvoline Raceway Sprintcar Track Championship.

Walsh sped his #92 Fleck Earthmoving entry around the highline with spectacular effectiveness despite the best efforts of Toby Bellbowen and Ben Atkinson to run him down.

Atkinson's podium finish now puts him within 50 points of championship points leader James Thompson as the final four rounds remain.

"We need the points and we got the win," smiled Sammy in victory lane, "the top was good and the bottom was good too but most of the lapped cars were down low so that made it easier for me to get around the outside. We kept the car pretty free going into the race because we knew that the traffic would be pretty dense and I think that was probably the difference in the end."

Walsh led home Toby Bellbowen in second place, Ben Atkinson third, Danny Reidy fourth, Grant Tunks fifth, Troy Little sixth, Jeremy Cross seventh, Warren Ferguson eighth, Matt Dumesny ninth and Jordyn Brazier rounding out the top ten.

Danny Reidy initially sat on the pole for the 30 lap main event after blitzing through the Pole Shootout from the fourth row but Walsh grabbed the highline and sped away from any potential captors as the frontrunners worked significant heavy traffic.

Track Championship leader James Thompson had a half lose in turn two early in the race and by the time he'd recovered had lost several track positions where he struggled to come back into contention and was eventually lapped by the leaders before coming home in fifteenth.

Trevor Green brought the #11 home in eleventh ahead of Craig Brady twelfth, Jackson Delamont thirteenth (who had to come from the B-Main win) Max Dumesny fourteenth (in his spare car) James Thompson fifteenth, Mark Attard sixteenth, Adrian Maher seventeenth, Steve Rowell eighteenth, Mick Saller nineteenth, Matt Jackson twentieth, Craig Morrison twenty first, Jason Gebert twenty second and Lachlan Abbott placed twenty third.

The only DNF of the field was Blake Skipper.

The B-Main went to Jackson Delamont from Jordyn Brazier in second, Craig Morrison third and Steve Rowell picking up the final transfer position.

The most spectacular moment of the race was when Matt Thomas flipped heavily in turn one ending what had been a disappointing night all evening for the Penrith based budget racer.

Quick time for Network Industry Qualifying also went to Sammy Walsh.

The 20 lap AMCA National East Coast Classic victory went to Queensland father and son duo Russ and Matt Hardy who ran 1-2 to lead home NSW racer Nick Stubbs in the all the way green light affair.

Hardy not only emerged with the win, he broke the 20-lap track record and scored a huge trophy thanks to the Sharpe Family.

The main event saw a remarkable incident where regular VR front runner Spano Gutierrez rolled his car in turn two with the roof not even touching the track as he rolled back on to all fours.

Unfortunately there was too much damage for Spano to restart and the incident also took out dual feature winner Darrell Kime.

The next event at Valvoline Raceway will be held this Saturday, February 28 with the fourth round of the National Super Sedan Series and Legend Cars, Litre Sprints and Fender Benders.
WREN WINS SIMPSON FRONT ROW CHALLENGE EVENT

Sam Wren continues his winning ways this season with another win in yet another of the Victorian Wingless calendar's premier events, when he came from one of the back of the grid positions to lead home B Main transferee Leigh Mugavin & Jess Moulden who stormed forward from fifteenth & then from being sent to the rear of the grid to finish in third place.

Other back markers Darren Hossack, David Alford, then Mick Uebergang & more backmarkers Mark Balcombe & Paul Robilliard kept out of trouble in the twenty five lap final and made their way forward to finish fourth to eighth with Chris Grayland the only other finisher.

Earlier Robilliard was the top qualifier after nine heats & picked up a front beam courtesy of Max Dumesny Motorsport for being the top qualifier as well as pocketing $250 cash for taking the Front Row Challenge to be shuffled back in the field.

As top qualifier Robilliard took the option to go to the rear of the field & try to bag $1000- if he can make it all the way to the front again by firstly making it to sixth to pick up $250 & then to win to pick up the last $500-. Robilliard also had to pull a pill from a hat to determine how many cars were going to the back of the field to join him, with pill's numbered 2, 4, 6 & 8 in the hat, Robilliard pulled number eight, meaning the top eight qualifiers joined him at the rear of the A Main field.

David Alford won the first heat of the night in a extraordinary night where every heat race ran from green to chequered once underway. Alford beat Mark Balcombe by almost two seconds with Wren, Jess Moulden who started in eighth & moved to fourth by lap eight & Rhys Baxter, Mick Uebergang was the early leader before dropping back through the field.

In a faster heat than the first, Daniel Beard won by a close 0.747 of a second in front of Phil Micallef, Andrew Chivell, Shaun Beard & Leigh Balcombe with Dan leading from start to finish from Micallef whilst Chivell moved forward from sixth to third on lap five, passing Shaun Beard and staying in third to the end.

Hossack has taken to Wingless racing just as quick as he takes to anything else he has every raced & a win in his first heat of the night by 2.441 seconds ahead of Alex Thomson, Marcus Green, Paul Robilliard & Chris Grayland after leading start to finish, had Hossack on the right path early. Glenn Jones was quick early and moved into second by lap three before breaking down on lap six & drifting out of the race.

Mark Balcombe won in another extremely close finish ahead of Jessica Moulden who set the fastest one lap time to this point of the night at 15.613, Wren was third, Alford then Baxter. Balcombe was never headed with Moulden passing Baxter on lap three to take the second spot.

Making it a Balcombe double up, Leigh Balcombe finished less than a second in front of Chivell with Andrew Thompson, Darcy McGlade & Daniel Beard fifth in the fifth heat.

Setting a new fastest one lap time of 15.594 Robilliard motored to a win in heat six with a new ten lap fast time of 2.39.086 winning by 2.114 over Jones, Hossack, Marcus Green & Grayland with the top three unchanged from the start to the end.

Immediately after, Jess Moulden with a 2.38.243 race time ran a faster race than Robilliard winning by just over a second from Wren, Mark Balcombe, Alford & Baxter with the top three in their positions start to finish.

Shaun Beared picked up a win from Phil Micallef in the eighth, Daniel Beard, Andrew Thompson & Chivell. Shaun got the jump at start from outside pole whilst Thompson slid back from the front to fourth on lap one.

Picking up a second heat win by the largest gap to this stage of the night, Robilliard beat Hossack by 3.782, and then came Grayland, Alex Thomson & Glenn Jones. Grayland was in second until Hossack picked him off on lap five.

The last chance B Main of fifteen laps was led from pole position by Baxter until lap eleven when his engine expired. From there Green who was second to this point moved to the lead holding off Jones, Uebergang, Mugavin & Watts at the flag.

Leigh Balcombe led the field away from lap one with Micallef & Alex Thomson behind him until lap seven where the first of the backmarkers hit the top five with Jess Moulden moving into fifth place whilst Thompson passed Thomson for third.

Wren was carving his way through the field also & by lap twelve Moulden moved into second, Wren into fourth & Uebergang into fifth place Leigh Balcombe still leading & Micallef in third place.

Moulden on lap fifteen was sent to the rear of the field for causing a race incident Leigh Balcombe leaving the # 27 with some damage & out of the race, Micallef also made contact with Wren & Green & Chivell were innocent parties caught up in the action. Chivell took a nasty ride landing him in Geelong Hospital overnight for precautionary checks & was let out on Sunday, Moulden was back into fourth by this stage with ten laps to go.

Wren then led Mugavin & Moulden from lap sixteen to the line for another fantastic win 3.859 seconds in front of second place with Hossack then Alford in fifth place. All top five drivers were turning laps under the 16 second barrier thrilling race fans at 'Heytesbury Stockfeeds Simpson Speedway'.

-end-