THOMAS NUMBER ONE IN THE HARVEST CUP AT TRI-STATE BRADY SHORT IS THE MSCS CHAMPION

Haubstadt, IN - October 8, 2016 - The "Harvest Cup" for the Hoosier Tire Midwest Sprint Car Series at Tri-State Speedway provided an exciting climax to the 2016 racing season. The 30 lap feature event for the sprint cars stayed green from beginning to end. Those drivers dropping out eased their cars into the infield. The drivers continuing performed exceptionally and there were not any incidents. No yellows! No reds! Just continuous racing action!

Kevin Thomas Jr. had the fastest car and proved it in leading all qualifiers with a 13.255 second lap to begin the evening. The Alabama driver also won the third heat and wrapped up the evening in winning the $3,000 Harvest Cup first place money. Thomas was piloting the Jeremy Ottinger owned entry sponsored by Franklin Equipment and CEP Concrete. It was Thomas' first MSCS win this season and fifth MSCS all time victory.

Chase Stockon would start on the pole for the feature alongside 2016 MSCS Rookie of the Year Tyler Hewitt. Thomas started in the second row. Stockon took the early lead but Thomas began diving into the turns and had the lead in a half dozen laps. From that point on he sped away as packs of drivers behind him fought to improve their positions. Thomas flew around any lapped traffic and the race for second was well behind him.

Kyle Cummins was persistent and took second place honors in the feature. Earlier he won a heat race with a fourth turn last lap pass that virtually threaded the needle. Carson Short would finish third in the feature. Jarett Andretti was fourth after being at the center of the battle for second and third. Critter Malone not only finished fifth but took the Keizer aluminum Wheels Hard Charger of the Race Award after gaining 11 positions in the process!

The second five included Chase Stockon, Brady Short, Aaron Farney, Brian Karraker, and Tyler Hewitt.

Critter Malone won the MSCS B Main. He also came from the back in this one after experiencing some misfortune in a heat race that he had been leading. Veteran Ted Hines was second. Brandon Morin was third. Twenty six sprint cars were on hand to compete. The field included three drivers who were competing for the first time with the series.

Brady Short protected his points lead with steady finishes during the night's events and received the MSCS Championship Trophy at a brief awards ceremony after the feature was completed. It was the Bedford Blaster's third MSCS Championship and second series title in a row. The Championship car owner this season was Cam Pottorff of Martinsville, IN. Tyler Hewitt of Marion, IN, was awarded the Rookie of the Year Award prior to heat racing action.

RACE SUMMARY
HARVEST CUP at Tri-State Speedway
Haubstadt, IN
October 8, 2016
FEATURE (30 Laps) : Kevin Thomas Jr., Kyle Cummins, Carson Short, Jarett Andretti, Critter Malone, Chase Stockon, Brady Short, Aaron Farney, Brian Karraker, Tyler Hewitt, J.T. Stapp, Jadon Rogers, Ben Knight, Kendall Ruble, Collin Ambrose, Chet Williams, Ted Hines, Kyle Stearns, Kent Schmidt, Brandon Morin

-end-

WEYANT VICTORIOUS AT I-35

Winston, MO (October 8, 2016)- Capping off a stellar season with the BOSS Chassis WAR Series, Korey Weyant picked up his sixth win of 2016 on Saturday night in the season finale at I-35 Speedway.

Weyant started his night by picking up a series best eighth heat race win. The win earned him the Heat Race Hero award over Clinton Boyles, who also came into the night with seven wins. The award was worth $400 thanks to Scott Shuman out of Pennsylvania.

In the 30 lap A-Main, Chris Parkinson set the pace early as he was trailed by Mitch Wissmiller and Rob Hockett. Third row starters Weyant and Terry Babb started to make their presence known as the pair battled with Hockett for third with both moving by on lap four. A lap later, Babb slid high in turn three over the bank bringing out the yellow as he backed into the wall. Babb would restart at the tail of the field.

On the restart, Wissmiller applied heavy pressure on Parkinson for the top spot. As the pair battled down the backstretch side by side, Wissmiller got a run on top and around Parkinson. Parkinson would get sideways in turn four and slid to a stop bringing out the yellow flag. He would restart at the tail. As the field got bunched up after the spin, Vinny Ward and Steve Thomas made contact with both suffering too much damage to continue.

Once green again, Wissmiller set the pace. Wissmiller lead laps six to eleven as Weyant started gaining ground around the top groove. On lap twelve, Weyant would work his way past Wissmiller and steadily he would increase his lead until a yellow came out for RJ Johnson and TJ Muths, who got tangled up in between turns one and two on lap seventeen. Johnson's night would come to and end, while Muths would restart at the tail.

Weyant got a great restart as he immediately increased his lead over Wissmiller. Behind Wissmiller, Rob Hockett, Clinton Boyles, Craig Carroll, and Terry Babb battled for third. The race would see one final yellow for PJ Grimes, who looped it in turn one.

On the final restart, Weyant again proved his dominance as he went on to his sixth win of 2016, setting a single season record in the process. The victory in his Ealey Transportation/Moore Automotive/Mahan Fiberglass Eagle with Automotive Machine power put him within one win of Mitchell Moore, Chris Parkinson, and Casey Shuman on the all-time WAR win list. Babb, made a great charge as he worked his way past Wissmiller and into the second spot in his KCBJ Motorsports/Faith Flatout Ministries Maxim with Stanton-All Pro power. Wissmiller was a solid third in his Air Plus Contracting/Roberts Tech Jobs.com Hixsom-powered Maxim. 2016 WAR Champion Boyles was fourth in his Jesse Hockett Racing/Lucas Oil/Rod End Supply/Rockwell Security Maxim with RMS power. Hockett rounded out the top five in his Jesse Hockett Racing Frankenstein with a Kevin Roth 305 under the hood. Parkinson would work his way back to sixth with Carroll, Layne Himebaugh, Muths, and Ryan Kitchen rounding out the top ten.

Please remember to reserve your 2016 WAR Awards Banquet tickets now. Head to the Schedule tab on the WAR website to find the event and buy your tickets today. Stay tuned to WarSprints.com for more information about the 2017 season as many exciting announcements are in the works.

BOSS Chassis A-Main- 30 laps 1. 99-Korey Weyant (5); 2. 8D-Terry Babb (6); 3. 1-Mitch Wissmiller (2); 4. 77-Clinton Boyles (8); 5. 77H-Rob Hockett (3); 6. 65-Chris Parkinson (1); 7. 24C-Craig Carroll (4); 8. 24L-Layne Himebaugh (7); 9. 65M- TJ Muths (11); 10. 75-Ryan Kitchen (10); 11. 00-PJ Grimes (13); 12. 55-Kenny Potter (15); 13. 8K-Katlynn Leer (12)-DNF; 14. 75K-RJ Johnson (9)-DNF; 15. 82-Vinny Ward (14); 16. 20-Steve Thomas (16)-DNF

-end-
WAR SEASON FINALE

Indianapolis, IN - The BOSS Chassis WAR Sprint Car Series is readying for their final race of the 2016 season which will be held at I-35 Speedway in Winston, Missouri on Saturday, October 8, 2016. In preparation, the stats have been updated heading into the season finale.

Eighty different drivers have competed with WAR so far this season with nine different winners - Korey Weyant (5), Terry Babb (4), Clinton Boyles (3), Zach Daum (2), Chris Parkinson, Justin Grant, Wyatt Burks, Joe B. Miller, and James Lyerla. Three races have been cancelled due to rain.

Clinton Boyles has locked up the Points Championship after his three podium finishes during the Jesse Hockett/Daniel McMillin Memorial 3-day weekend with 2,376 points currently. Running second is Chris Parkinson trailing 288 points behind Boyles with 2,088 points followed by Korey Weyant with 1,962 points. Kenny Potter has 1,899 points in fourth and T.J. Muths rounds out the top five with 1,819 points. All drivers have the last race of the season at I-35 Speedway to gain points towards the final tally of the year.

Leading the "Heat Race Hero" standings are Clinton Boyles and Korey Weyant, with seven wins each. Chris Parkinson follows with four wins. Then Mitch Wissmiller and Zach Daum with three wins. Ryan Kitchen, Rob Caho Jr., Mitchell Moore, Kyle Clark, and Bret Mellenberndt each have two wins. Tucker Klaasmeyer, Joe B. Miller, Aaron Reutzel, Riley Kreisel, Danny Smith, Derek Hagar, J.D. Black, James Scott, Carson Short, Mario Clouser, Katlynn Leer, Cody Baker, and Wyatt Burks all have one heat race win. Thanks to Scott Shuman out of Pennsylvania, the driver with the most heat race wins at the end of the year will be the 2016 "Heat Race Hero" and collect a $400 cash prize at the WAR Banquet. In the event of a tie, the best finishing competitor in the A-Main Saturday, October 8, 2016 will be named the "Heat Race Hero" of 2016.

-end-

Cottle gets 1st Fremont win with BOSS; Lay tames 410s; Weaver last lap 305 victory

By Brian Liskai

FREMONT, Ohio – Shane Cottle had a lot to live up to Saturday night at Fremont Speedway. The Paul Hazen owned sprint car has visited victory lane at "The Track That Action Built" on a couple occasions with other drivers.

"The Throttle" Cottle, from Kokomo, Ind., used lapped traffic to take the lead in the Rick's Truck and Equipment Buckeye Outlaw Sprint Series (BOSS) feature on lap 10 and held off Dustin Smith for his first career Fremont victory.

It was a lightening quick track on Kear's Speed Shop/Fort Ball Pizza Palace Open Wheel Shoot Out Night. After 10 heats were completed in just over an hour, a shower hit the track causing a 50 minute delay and creating a very tacky surface.

"Every time we've been here we've been pretty darn fast. I let one get away here last year and one this year. She was pretty hooked up tonight. I had to keep hitting my marks. I about busted my butt in turn three one time so I kind of slowed down getting into there. The track crew did a heck of a job getting this track back in shape after the rain. I have to thank Kercher Engines, Paul Hazen, Dave Booth and everyone who helps on this car," said Cottle in the Engine Pro Victory Lane.

Genoa, Ohio's Brian Lay survived a crash-filled 410 winged sprint feature, leading all 30 laps for his second win of the year at Fremont Speedway. It was his fourth career win at the track.

"Almost on every restart I carried the front tires from the cone all the way into turn one. And you really don't know what's going to happen when it sits down. Sometimes it's a little spooky. I have to thank Rich Farmer (track promoter) for doing one hell of job to get this race in for you fans. I want to thank all the fans who stuck around through the rain," said Lay beside his Robert Mucha Law; Seagate Sandblasting;Varga Farms; American Quality Stripping; Dave Story Equipment; Wood County Collision backed #45.

In the Fremont Federal Credit Union 305 sprint feature, a caution with six laps to go was the break Fremont's Paul Weaver needed. It wiped out a 4.5 second lead by Alvin Roepke and gave Weaver, who started 9th, a shot. Weaver used a lapped car in the final two corners on the last lap to get around Roepke for his fifth win of the year at Fremont Speedway. It is his 41st career win at the track and moves him into 9th on the track's all-time win list.

"I think he (Roepke) moved up thinking I was going to zoom around the top and the lapped car kind of boxed him in and I closed one eye and hoped I didn't hit the infield tire and squeezed it in there. I never got a chance to really watch Harold McGilton (who Weaver passed on the all-time win list) but they say he was one of the greats so this is a special accomplishment," said Weaver beside his Hampshire Racing Engines, M&L Excavating, Schiets Motorsports, Weaver Performance Center backed #1w.

In the 25 lap non-wing sprint feature, Cottle and Shane Westerfeld brought the field to green, but Cottle was penalized for jumping the start and moved back to the second row. On the second attempt Westerfeld grabbed the lead over Dustin Stroup, Cottle, Dustin Smith and Chad Wilson. Westerfeld pulled away while a tremendous battle ensued for second between Stroup, Cottle and Smith. Cottle finally took the runner-up spot on lap four with Smith moving into third a circuit later.

Westerfeld drove into heavy lapped traffic by the eighth circuit, allowing Cottle to slowly close while Smith, Stroup and Wilson gave chase. Cottle used the traffic to drive into the lead on lap 10 with Smith grabbing second two laps later. The only caution of the feature flew on lap 13 for Derek Hastings who stopped on the track. On the restart Cottle now had his hands full with Smith who was glued to the leader's rear bumper.

Cottle, Smith and Westerfeld ran nose to tail the rest of the feature. Smith kept waiting for Cottle to make a mistake, but the veteran hit his marks perfectly and drove to the win. Smith, Westerfeld, Stroup and Wilson would round out the top five.

When he took the green, Westerfeld locked up the 2016 BOSS championship, his second consecutive series title.

Lay and Craig Mintz brought the field to green for the 30-lap 410 winged sprint feature with Lay blasting into the lead over Mintz, Max Stambaugh, D.J. Foos, Chris Andrews and Bryan Sebetto. Stambaugh drove into second on lap two with Mintz staying glued to his rear bumper. Lay held a commanding lead as he raced into traffic on the fifth circuit. Cole Duncan brought the action to a halt on lap seven when he got upside down. He was uninjured but done for the night.

On the ensuing restart Jody Keegan took a tumble. He too was unhurt but done for the night. When the green flew again rookie Joey Pendergrass flipped and he too was okay but done for the night. Lay drove away on the next restart with Stambaugh, Mintz, Foos and Brubaker in tow. Just as Lay caught the back of the field again, Broc Martin flipped on lap 12. He was okay but done for the feature.

When the green flew so did Lay, pulling away to another commanding lead as Stambaugh and Mintz battled for second. Lay drove into traffic once again on lap 17 with Stambaugh, Mintz, Foos, Brubaker, Shawn Valenti and Brian Smith in pursuit. With eight laps to go smoke began to billow from Stambaugh's mount and finally let go on lap 23 as Foos got tangled with the powerless machine. The restart order was now Lay, Mintz, Brubaker, Valenti, Smith, Joe Swanson, Roger Campbell and Dakota Busche.

Lay motored away the final seven laps to score the win over Mintz as third running Brubaker got into the turn three fence on the final lap, moving Valenti to a third place finish. Smith and Swanson would round out the top five.

Roepke and Landon LaLonde brought the field to green for the 25-lap 305 sprint feature with Roepke gaining the advantage. LaLonde, Jason Keckler, Steve Rando, Matt Foos, Nate Dussel, Stroup and Weaver gave chase. Roepke set a blistering pace, encountering heavy lapped traffic by the sixth circuit. Roepke sliced his way through the traffic like a surgeon, building a huge lead as LaLonde continued to run second while a great four car battle ensued for third involving Keckler, Dussel, Weaver and Foos.

Roepke appeared to be on his way to his second win of the year, building a 4.6 second lead when Jordan Ryan would spin on lap 19. Weaver, who had just taken second from LaLonde, would restart right on Roepke's bumper. When the green flew Roepke held the point over Weaver as Keckler and Dussel got around LaLonde. As they took the white flag Weaver ran in Roepke's tire tracks. As they prepared to enter turn three on the final lap, Roepke got held up by a lapped car and drifted high to try and make a move, opening a narrow lane for Weaver who pounced.

Weaver drove under Roepke as they raced to the checkers with Weaver winning by half a car length. Dussel, Keckler and Foos rounded out the top five.

It was the season ending race for "The Track That Action Built" and Farmer passed on his thanks to all the fans, race teams and marketing partners, track workers, the emergency team and all the push trucks for making 2016 a great year.

For more information go to www.fremontohspeedway.com.

Fremont Speedway
Saturday, Oct. 1, 2016

BOSS A-Main (25 Laps): 1. 57-Shane Cottle[1] ; 2. 77-Dustin Smith[5] ; 3. 89-Shawn Westerfeld[2] ; 4. 1M-Dustin Stroup[3] ; 5. 14-Chad Wilson[4] ; 6. 33M-Matt Westfall[12] ; 7. 4-Michael Fischesser[8] ; 8. 21-Carmen Perigo[10] ; 9. 9X-Cooper Clouse[20] ; 10. 2DI-Dustin Ingle[9] ; 11. 9N-Luke Hall[18] ; 12. 4J-Justin Owen[22] ; 13. 91x-Aaron Middaugh[14] ; 14. 2-Mike Galajda[15] ; 15. 71-Straton Briggs[19] ; 16. 18-Arnie Kent[13] ; 17. 2+-Brian Smith[11] ; 18. 9-Cody Gardener[21] ; 19. 32M-Derek Hastings[16] ; 20. 69R-Dallas Hewitt[7] ; 21. 74-Drew Rader[17] ; 22. 57B-Brandon Spithaler[6]

410 Sprints A-Main (30 Laps): 1. 45L-Brian Lay[1] ; 2. 09-Craig Mintz[2] ; 3. 7V-Shawn Valenti[9] ; 4. 2+-Brian Smith[11] ; 5. 7-Joe Swanson[16] ; 6. 35-Stuart Brubaker[7] ; 7. 51-Roger Campbell[15] ; 8. 16B-Dakota Busche[20] ; 9. 33M-Max Stambaugh[4] ; 10. 23-DJ Foos[3] ; 11. 8-Bryan Sebetto[6] ; 12. 12X-Lou Scudere[18] ; 13. 97-Broc Martin[8] ; 14. 16-Chris Andrews[5] ; 15. 22-Cole Duncan[10] ; 16. 60-Jody Keegan[12] ; 17. 1K-Joey Pendergrass[17] ; 18. 59-Bryan Nuckles[14] ; 19. 0-Steve Irwin[13]

305 Sprints A-Main (20 Laps): 1. 1W-Paul Weaver[9] ; 2. 99-Alvin Roepke[1] ; 3. 1-Nate Dussel[8] ; 4. 25-Jason Keckler[3] ; 5. 2F-Matt Foos[5] ; 6. 19R-Steve Rando[4] ; 7. 2L-Landon Lalonde[2] ; 8. 4M-Jamie Miller[7] ; 9. 12-Kyle Capodice[14] ; 10. 2-Ricky Peterson[16] ; 11. 77I-John Ivy[11] ; 12. 1X-Jordan Ryan[12] ; 13. 18R-Tony Beaber[21] ; 14. 32H-Dan Hennig[18] ; 15. 97-Kyle Peters[13] ; 16. 11G-Luke Griffith[15] ; 17. 5JR-Jimmy Mcgrath Jr[20] ; 18. 7K-Brad keckler[19] ; 19. 13-Jeremy Duposki[6] ; 20. 14-Luke Daughtery[24] ; 21. 1J-Jeremy Shambaugh[23] ; 22. 20I-Dustin Stroup[10] ; 23. 51-Chase Dunham[17] ; 24. 47-Matt Lucius[22]

-end-
HARVEST CUP TO FINALIZE SEASON ON OCTOBER 8

Haubstadt, IN - September 30, 2016 - Tri-State Speedway will host the Harvest Cup on Saturday October 8th. It has become the championship event for the Hoosier Tire Midwest Sprint Car Series.

This race for 410 non wing sprint cars originated in 2011 to provide the series with a special event designed to showcase the talents of the drivers one last time each season.

The Harvest Cup is that one last opportunity to gain valuable points which could earn a driver a series title and/or a larger share of the point fund sponsored by Hoosier Racing Tire. The evening provides an advantageous time to present the MSCS season awards with fans supporting the series and the track in attendance. The MSCS Championship Driver, Car Owner, and the Rookie of the Year Awards await those competitors!

Sprint car drivers present will be competing for a purse which will award the 30 lap feature winner $3,000. The event will also be the last race to be held at the speedway in the 2016 season so Sunday October 9th will serve as a rain date. If racing is held on Sunday qualifications will begin at 5 P.M. and racing at 6 P.M. Race fans will be treated to a triple header with the AMS Open Wheel Modifieds and the MMSA Mini Sprints set to appear on the race card.

The number of MSCS feature winners at Tri-State Speedway this season has been limited to two. They are Kyle Cummins and Chase Stockon. Cummins leads Stockon three wins to two! However, Stockon won the Harvest Cup in 2015. Both drivers reside in Gibson County where the track is located. It appears that these two drivers are enjoying a home track advantage magnified with well prepared machines and sharpened driving skills. Features are usually still too close to predict a winner with every lap and any incident so important to the outcome.

In providing increased interest, it should be noted that the MSCS Points title is still undecided. It most likely will not be decided until the points are tallied after the feature itself. Brady Short holds a 28 point margin over Tyler Hewitt. Brandon Morin is just another 4 points back at a difference of 32 points. Carson Short is
at best a long shot to become this season's title holder but could certainly move up higher in the standings. Heat racing provides up to 10 points and the feature the 40 points that could make a big difference.

Tyler Hewitt has already locked up the Rookie of the Year Award for the Midwest Sprint Car Series. It is his first season to compete with MSCS and he has performed well. Brandon Morin was last year's MSCS Rookie of the Year. Morin has been in the thick of the points battle all season. After finishing tenth in overall points in 2015 he has upped his game to lead the points in late June and early July.

While Hewitt, Morin, and Carson Short are working to capture a first time MSCS Championship, Brady Short has two MSCS titles and is looking for a third.

Positions fifth to tenth are close enough that movement up or down in the standings could follow this final race. A perfect night for a driver would total seventy points. That would include show up points, a heat race win, and a feature win. Donny Brackett is currently fifth with Kyle Cummins ranked as his closest challenger. Dakota Jackson is tenth with Jon Stanbrough in striking distance at eleventh. Rookie Jared Chastain, C.J. Leary, and Brandon Mattox are closely wedged together within the second five!

Remember that on October 8th it will be Racing Times Three! The American Modified Series will be at the speedway to compete for an increased purse paying $1,500 to win. Brandon McDowell won the final event for modifieds last season. The modified class will also race in an extra feature needed to make up the one rained out back on June 26th. It will be the second appearance of the season for the MMSA Mini Sprints, but this time out they will be running minus the wing
on top. Rick Hench won this year's only previous mini-sprint race at Tri-State. It all happens at Haubstadt and on the same night!

-end-
Bryan Clauson Racing – "Race On"

Lonnie Wheatley, NOBLESVILLE, Ind. (September 27, 2016) – Race on. It's what Bryan Clauson would relate to his father Tim when faced with some of the darker moments in the sport. It's what racers do, they continue to race on.

With that in mind, it comes as little surprise that Bryan Clauson Racing will continue on under the watch of Tim Clauson and team co-owner Richard Marshall under the new Clauson-Marshall Racing banner. The team's first outing will be the USAC Midget "Jason Leffler Memorial" at Wayne County Speedway in Illinois on October 20 with Ricky Stenhouse, Jr., at the wheel.

"I never had a doubt that I wanted to carry on what Bryan's true passion was in his life and that was racing," Tim Clauson commented. "Bryan and I had several conversations when tragic things happened in the sport and his opinion never wavered; 'We race on. That's what we do, we are racers'.

"We both took great pride in working with young drivers and Bryan especially wanted to teach them the right way to race, and that was with respect and reverence for the sport. That is what we will carry on in his honor."

Clauson continued on, "I have been overwhelmed with not only the love and compassion from our racing family, but also with what I have learned since August 7th. I've learned the great respect he had not only for the sport, but, more importantly, the people in the sport. My goal with this program is not only to win races, but more importantly to share the love and respect that Bryan had and showed to the sport. If we can help cultivate a generation of racers who share that vision, then I think Bryan would be proud."

Richard and Jennifer Marshall have been more than sponsors to Bryan and the teams over the years, they have become family and now partners. Bryan and his teams have represented the Marshall Family through Priority Aviation from the small dirt tracks of the Midwest to the Indianapolis 500. Tim Clauson could not be prouder to partner with Richard and Jennifer to continue on Bryan's legacy in the sport with Clauson-Marshall Racing, knowing that BC will guide their every move.

"I have long shared the passion for this sport with Tim and Bryan," Marshall explains. "Bryan's passing gave all of us a serious pause. Since then, Tim and I agreed that Bryan would want us to race on. We had a meeting of the minds and decided to move forward with our passion and Bryan's dream. We could not be more excited to see this through with Clauson-Marshall Racing!"

Bryan and Tim initiated Bryan Clauson Racing in 2008 with the idea of providing their knowledge and experience with drivers and families attempting to navigate their way through the sport while at the same time providing Bryan with an outlet to pursue the venue of motorsports that he loved most, Midget and Sprint Car racing.

Along the way, the team met many of its goals including a pair of USAC National Midget championships and a USAC Sprint Car title along with three USAC Driver of the Year awards while also helping in the development of many younger drivers making their way through the ranks.

Bryan Clauson Racing had the honor of having some of the nation's top drivers race out of its stable including the likes of Tyler Courtney, Shane Golobic, Spencer Bayston, Jason Johnson, Kyle Larson and Ricky Stenhouse Jr., among others. Whether a seasoned veteran or an aspiring rookie, Bryan took great pride in providing a team to showcase their talents.

As such, it is only fitting that the Clauson-Marshall Racing debut at the Jason Leffler Classic will feature current NASCAR racer Ricky Stenhouse, Jr., at the wheel. All you have to do is watch Bryan's victory lane interview from last year to understand why.

"I'm always thrilled to race with Tim and this team. I value the friendship and passion he and Bryan have for racing," Stenhouse, Jr., comments. "This race means a lot to Bryan. The whole racing family comes together to remember an awesome guy and racer.

"I'm looking forward to representing this team and hope I can do even half of what Bryan could do in this car. Bryan's passing hasn't gotten easier, but it's been unbelievable to see the support of so many friends, family and fans. With them, I hope to continue Bryan's legacy and continue in his winning ways. It helps all of us and I'm glad to be a tiny part of it with this team."

Additional information regarding the Clauson-Marshall Racing team will be available in the coming weeks.

-end-
TRI-STATE SPEEDWAY PRESENTS THE HAUBSTADT HUSTLER $10,000 TO WIN FOR SPRINT CARS

Haubstadt, IN - September 10, 2016 - The remainder of the Hoosier Tire Midwest Sprint Car Series schedule is set to play out at the Tri-State Speedway in Haubstadt, IN. Just two races remain on the racing calendar. Next up is the largest paying event of the season. The Haubstadt Hustler there on Saturday night September 17th will pay $10,000 to the winner of the big 40 lap sprint car feature. This ninth annual event has been co-sanctioned with the United States Auto Club since 2011. Fans can expect to see the very best non-wing sprint drivers in the Midwest and America compete while looking for every advantage this well prepared quarter mile oval offers.

This event will be the second time in the 2016 season that MSCS & USAC have competed together in the same program. The other feature in April was won by Chase Stockon. He was victorious over Kyle Cummins and Carson Short. All three drivers have had successful campaigns this season. Stockon and Cummins have two MSCS wins each and Carson Short was victorious at the Indiana Sprint Week USAC race at Tri-State Speedway.

Jeff Bland Jr. has the distinction of winning the inaugural Haubstadt Hustler in 2008. The list of other former winners include the late great Bryan Clauson, Jon Stanbrough, Casey Riggs, Daron Clayton, Kevin Thomas Jr., and Brady Short. Clayton is the only repeat winner so far for this event. There have been some spectacular runs including last year's winning effort by Brady Short which took him from a twelfth starting spot to first.

Brady Short is currently the Hoosier Tire Midwest Series Points leader. Short will no doubt be looking for a repeat winning performance in the Hustler. The "Bedford Blaster" could take advantage of an opportunity to collect some big bucks along with that first MSCS win of the season. Short, Critter Malone, Brent Beauchamp, Jeff Bland Jr., Nick Bilbee, Donny Brackett, and Kevin Thomas Jr. are among the drivers who have posted runner-up finishes as their highest performances in MSCS races. They have all only been one spot away from a 2016 victory.

The addition of USAC drivers into the field of competitors lengthens the list of potential winners substantially. The current USAC National Sprint Car Points leader is Brady Bacon. The talent pool is deep! Sixteen different drivers have won USAC sprint car features during this season.

-end-

Wingless Sprint Series Wraps Up 2016 Season At Sunset Speedway Park On Saturday Night

By Ben Deatherage

Banks, Oregon- The inaugural season of the Wingless Sprint Series comes to a conclusion on Saturday, September 10th. The series will make their way to Sunset Speedway Park and is the smallest venue they compete at. They already have been to the "Banks bullring" once during the course of the current campaign.

Rob Lindsey has a comfortable lead in the points race headed into the final leg of the journey. Lindsey also is atop the list when it comes to victories. He has won four main events this season and is the only driver to win more than once. Cooper Desbiens, Kyle Miller, Gary Lynch, Lance Hallmark, Wayne Van Raden, and most recently Lindsay Barney all have one triumph to their credit.

Mentioned above was that the WSS have already paid a visit to SSP in 2016. That race was on July 23rd and would see Wayne Van Raden making his way to the winner's circle. Although the Wingless Sprint Series has one trip to Sunset, Non-Wing Sprint have a long storied history at the facility with the Northwest Wingless Tour, Oregon Double Shot Series, and even the old Intermountain Sprints.

Pit Gates on Saturday will open at 2:00 PM, Front Gates open at 4:00, and racing starts at 6:30. Tickets for this event are Adults $13.00, Seniors/Military/Juniors (13-18) $10.00, Youths (Ages 12-6) $5.00, and Children under the age of 5 are FREE and a family pass will be offered for two Adults and up to four Youths for just $35.00. For more information, log on to www.sunsetspeedwaypark.com.

2016 WINGLESS SPRINT SERIES SCHEDULE (DATE-TRACK-LOCATION)
May 7th-Madras Speedway-Madras, Oregon (Rob Lindsey)
May 21st-Cottage Grove Speedway-Cottage Grove, Oregon (Cooper Desbiens)
May 28th-Grays Harbor Raceway-Elma, Washington (Rained Out)
June 11th-Grays Harbor Raceway-Elma, Washington (Rob Lindsey)
June 18th-Willamette Speedway-Lebanon, Oregon (Rained Out)
June 25th-Cottage Grove Speedway-Cottage Grove, Oregon (Kyle Miller)
July 9th-Madras Speedway-Madras, Oregon (Gary Lynch)
July 16th-Coos Bay Speedway-Coos Bay, Oregon (Lance Hallmark)
July 23rd-Sunset Speedway Park-Banks, Oregon (Wayne Van Raden)
August 6th-Willamette Speedway-Lebanon, Oregon (Rob Lindsey)
August 20th-Madras Speedway-Madras, Oregon (Rob Lindsey)
September 3rd-Madras Speedway-Madras, Oregon (Lindsay Barney)
September 10th-Sunset Speedway Park-Banks, Oregon

-end-
JESSE HOCKETT/DANIEL MCMILLIN MEMORIAL RUNDOWN

Indianapolis, IN - The 6th annual Jesse Hockett/Danial McMillin Memorial will be a three-day event at Lucas Oil Speedway in Wheatland, Missouri running September 22 through September 24. The 3-day weekend will feature the BOSS Chassis WAR Sprint Car Series and the Lucas Oil American Sprint Car Series presented by the MAVTV Motorsports Network, Speedway Motors ASCS Warrior Region presented by Impact Signs. The prestigious event calls for a change of format from the WAR standard.

Thursday, September 22 and Friday, September 23 will both be complete preliminary shows in which all competitors will participate in order to accumulate points towards the finale Saturday, September 24. Competitors will be rewarded points Thursday and Friday night each time they take to the racing surface with the top six in points at the conclusion of Friday's event locking into Saturday night's A-Main finale. Please see below for points breakdown.

Thursday and Friday Points Breakdown:
Heat Race:
1. 125
2. 122
3. 119
4. 116
5. 113
6. 110
7. 107
8. 104
9. 101
10. 98

B-Main: Starting with the first non-transfer.
1. 89
2. 88
3. 87
4. 86
5. 85
6. 84
7. 83
8. 82
9. 81
10. 80

A-Main:
1. 150
2. 142
3. 135
4. 130
5. 125
6. 122
7. 119
8. 116
9. 113
10. 110
11. 108
12. 106
13. 104
14. 102
15. 100
16. 98
17. 96
18. 94
19. 92
20. 90

The format for Thursday and Friday will follow the standard WAR Race Procedure. All drivers will draw in for heat race position. The top 16 in passing points from heat races will lock into that night's A-Main. The FK Midwest "High Point Man" will redraw to decide the starting line-up for the top 6 in passing points for the A-Main. The remainder of the field will battle for the top 4 transfer positions in the 12 lap B-Main. The A-Main will be 25 laps to the checkered flag and standard payout.

The format for Saturday will be similar. All drivers, other than the 6 locked in competitors, will draw in for heat race position. The top 10 in passing points from heat races will transfer directly to the 30 lap A-Main. The remainder of the field will run a 12 lap B-Main with 6 cars transferring to the A-Main that will be $1,200 to win and $200 to start. The top 6 locked in drivers will redraw for their starting positions in the A-Main.

Further information on the WAR standard race procedure can be found at the following link: http://warwinglessautoracing.myracepass.com/rules/

Cash bonuses will be up for grabs throughout the inaugural weekend thanks to Scott Shuman of Pennsylvania. If a driver can win two of the three nights, he or she will take home a $300 cash bonus. If a driver sweeps all three nights of Lucas Oil Speedway, he or she will take home a $500 cash bonus.

The 6th annual Jesse Hockett/Daniel McMillin Memorial will be shown live on http://www.lucasoilracing.tv. Live coverage can also be found at http://www.racinboys.com.

Event Information:
Tickets for the Hockett/McMillin Memorial can be found online at http://lucasoilspeedway.com/tickets or the day of the race at the Lucas Oil Speedway.

Thursday, September 22, 2016
Gates open at 5 pm, Hot Laps at 7:00pm, Racing at 7:45pm
Adults (16 and up) $20
Seniors (62 and up)/Military $17
Youth (6 - 15) $5
Kids (5 and under) FREE
Family Pass $40
Pit Pass $35
3-Day Pit Pass-$100

Friday, September 23, 2016
Gates open at 5 pm, Hot Laps at 7:00pm, Racing at 7:45pm
Adults (16 and up) $20
Seniors (62 and up)/Military $17
Youth (6 - 15) $5
Kids (5 and under) FREE
Family Pass $40
Pit Pass $35

Saturday, September 24, 2016
Gates open at 4 pm, Hot Laps at 6:00pm, Racing at 6:45pm
Adults (16 and up) $25
Seniors (62 and up)/Military $22
Youth (6 - 15) $10
Kids (5 and under) FREE
Family Pass $50 (Click Here For More Information)
Pit Pass $40

Weekend Camping Spots
Reserved With Electric and Water-$100 (Limited Availability)
Reserved Dry Spots-$50 (Limited Availability)
Dry Camping-FREE

Lucas Oil Speedway Contact Information:
Phone: (417) 282-5984
Website: http://www.lucasoilspeedway.com
Email: info@lucasoilspeedway.com
Social Media: https://www.facebook.com/pages/Lucas-Oil-Speedway/195983577199?v=wall
Address: 700 E. Highway 54, Wheatland, MO 65779

Article Credit: Brooke Rowden

-end-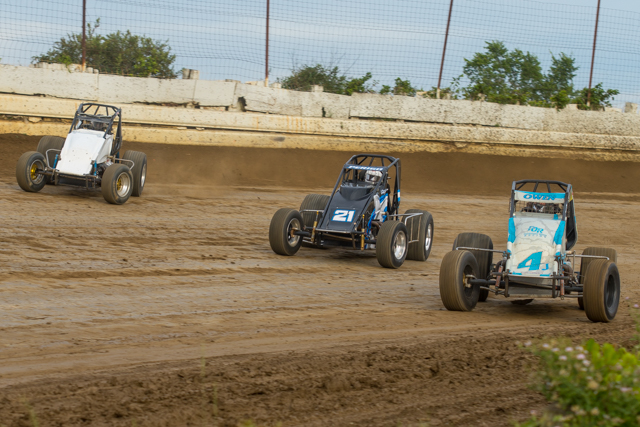 BOSS Action At PPMS!
Montpelier - Millstream BOSS Doubleheader Next

The final doubleheader weekend of the 2016 season lies ahead for the Rick's Trucks & Equipment BOSS sprint cars. Saturday, the last true outlaws of the dirt tracks will invade the historic Montpelier Motor Speedway in east central Indiana. The border war will continue on Sunday as the traveling series moves on to Millstream Speedway in Findlay, Ohio for a twilight event.

Shawn Westerfeld has picked up 2 wins this season and with some great consistency, holds a comfortable points lead. Youngster Cooper Clouse sits in second and gained some ground at the last event. Clouse, the 2014 National non wing rookie of the year, started the season hot winning the first 2 events and is the defending Millstream event winner. Justin Owen and Michael Fischesser have the team FOR cars sitting in the 3rd and 4th spots while Chad Wilson rounds out a heavy hitting top 5 of BOSS contenders.

Cody Gardner sits 6th in the standings despite missing 2 events after some vicious early season accidents. Steve Little jumped from 9th to 7th in the last race at Atomic Speedway and quietly continues to improve at every event. Veteran driver Aaron Middaugh holds down the 8th spot and is looking for redemption at Montpelier. Last year, he was involved in a nasty flip on the front stretch that tore a hole in the fence. Tour rookies Andy Feil and Stratton Briggs hold the 9th and 10th spots in a duel for the 2017 Rookie of the Year Award.

Russiaville, Indiana driver Dustin Smith could be considered the hometown favorite at Montpelier. He scored the win at Pittsburgh this season and appeared on his way to victory in the last event at Atomic Speedway when a deflating tire sank him to a 7th place finish. Smith is tied with Wampum, Pennsylvania driver Bob McMillin for 11th with Joe Butera, Bobby Distel and Mike Miller rounding out the top 15. Although outside the top 15 due to multiple mechanical failures, Brandon Spithaler will be in the Burkey #57B. Fans at Montpelier still recall Spithaler charging to the lead and appearing on his way to a win when he bicycled in turn 2 and flipped into the pit area. He returns Saturday in search of the win the track owes him!

In true "outlaw" style, you never know who will show up to a BOSS race. Robert Ballou and Shane Cottle have won the last 2 events at Montpelier and the 2015 Millstream event found drivers from 5 states and Canada in attendance.

Saturday at Montpelier, gates will open at 3 pm with hot laps at 5 and racing at 6:30. General admission is $15 with kids 12 and under free. Pit passes are $30. Transponders are free of charge and fuel will be for sale at the track. Mufflers are NOT required at Montpelier.

On Sunday at Millstream, gates again will open at 3 pm with hot laps at 5:30 and racing at 6. General admission will be $16 while seniors age 65+ will be admitted for $12. Kids age 11-16 are just $10 while kids 10 and under are free. DARF members will get $5.00 off general admission. Pit passes will be just $25 while kids ages 10 and under can get a pit pass for $10. For teams competing, methanol will be available at the track and transponder rental will be $5. Mufflers ARE MANDATORY at Millstream on Sunday!

For race teams AND fans who plan to hit this weekends doubleheader, a special hotel deal has been set up with the Lima, Ohio Howard Johnson. Be sure to ask for the BOSS sprint car racers rate of just $66. To make a reservation for Saturday night, please call (419) 222-0004.

-end-
BURKS CONQUERS WAR SPRINTS AT BETHANY

By Chad Buford

Bethany, MO (September 4, 2016) - With the BOSS Chassis WAR Series making their first appearance at the Northwest Missouri State Fair since 2013, Wyatt Burks picked up his third career win Sunday at the Northwest Missouri State Fairgrounds Speedway.

Chris Morgan and Kenny Potter led the twenty-two car field to the green flag with Potter going over the turn one bank on the original start. Behind him, action was frantic as Chris Desselle slid to a stop over the turn one bank and Chris Parkinson was contacted by another competitor and spun to a stop in turn two. Potter kept his car going and would rejoin the field at the front for a complete restart.

Morgan shot into the lead and would lead lap one as fourth-starting Burks moved into the second spot. Burks had a great run in turns one and two and would shoot by Morgan to take the lead on lap two. Terry Babb was able to move by Morgan on lap five.

Five laps were in the books when Vinny Ward spun over the bank in between turns one and two to bring out the caution.

Burks would continue to lead when the field resumed action as Babb tried every trick to get by the Topeka, KS driver. Burks, Babb, and Morgan extended their lead over the rest of the field as they encountered heavy lapped traffic.

Burks was able to move through the traffic to keep Babb at bay and went on to his first WAR win of 2016. Babb was a strong second. Morgan was third.

Twenty-second starting Taylor Walton was fourth and Layne Himebaugh was fifth. Cody Baker was sixth with Parkinson rebounding from his early spin to run seventh. 2012 and 2013 Northwest Missouri Fair winner Mitchell Moore was eighth with Potter and Korey Weyant rounding out the top ten.

The Boss Chassis WAR Series will next be in action at Lucas Oil Speedway as part of the 6th Annual Jesse Hockett/Daniel McMillin Memorial. This year's event will be a three-day show starting Thursday, September 22 and concluding with the JHDM Memorial finale Saturday, September 24.

BOSS Chassis A-Main- 25 laps 1. 11R-Burks (4); 2. 93-Walton (22); 5. 24L-Himebaugh (10); 6. 38-Co. Baker (5); 7. 65-Parkinson (7); 8. 51-Moore (6); 9. 55-Potter (2); 10. 99-Weyant (8); 11. 77-Boyles (18); 12. 78-Caho Jr. (15); 13. 9-Ca. Baker (11); 14. 8K-Leer (19); 15. 24C-Carroll (13); 16. 7JR-Black (14); 17. 82-Ward (9); 18. 75-Saville (12); 19. 1T-Shoemaker (21); 20. 65M-Muths (17)-DNF; 21. 99E-Elliott (20)-DNF; 22. 21C-Desselle (16)-DNF

-end
CUMMINS TAKES THE CHALLENGE - WINS AT HAUBSTADT

Haubstadt, IN - September 4, 2016 - The "Labor Day Weekend Challenge" at Tri-State Speedway provided an exciting feature event for the Hoosier Tire Midwest Sprint Car Series. The dirt flew for 30 laps and so did the competitors. The leaders were fast and cars coming up through the 21 car starting field were also very quick.

C. J. Leary started on the pole but Chase Stockon would lead the first three laps. Chris Malone was already on the move and took the lead on lap four. He had started in the fifth row and was now looking to stretch his lead over Stockon. Another driver also had his sights set on a win! Kyle Cummins grabbed the lead at the halfway point. Cummins had control and the $3,000 first prize would be his.

During the post race interviews Cummins was both confident and thankful. "Unbelievable! I knew that once I got out in front a bit that I could go top, middle, or bottom. The crew gave me a very good car. That made it easy for me tonight!" Cummin's Rock Steady Racing entry is owned by Hank Byram, and sponsored by Greenwell Auto Body and Tim Mason ReMax.

Chris "Critter" Malone was happy with his second place finish. "The car began having bad vibrations. After Kyle went by I knew that I could not catch him now. It is nice to be back in front!" Donny Brackett moved into contention and collected a strong third place finish. Donny added a "thank you" to the fans. "You being here is the reason we do it!" Fans watched three of the best racing with MSCS take podium finishes!

Carson Short came from deeper in the pack to finish fourth. His run from 14th to 4th earned him the Hard Charger of the Race Award. Justin Grant was a fixture in the top five for the distance and finished fifth.

The second five included Tyler Hewitt, C.J. Leary, Brady Short, Chase Stockon, and Zach Daum.

The pace of the feature was interrupted just 3 times. The one red flag was displayed when Hunter O'Neal's car turned over in turn two. Jadon Roger's was also involved but able to restart and finish the race. There was a yellow flag late in the event which brought about a green, white, checker restart. The excitement was compounded when a yellow flag came out after the dual checkers had been displayed to end the race.

The three MSCS heat races were quick 10 lap victories for C.J. Leary, Chase Stockon, and fast qualifier Max McGhee. Hunter O'Neal drove the Waltz sprinter to a win in the B Main. With 15 cars already having transferred to the A, fourteen drivers were competing for the final 5 feature starting spots. Only Brandon Mattox failed to answer the horn. A broken drive shaft in the first heat race ended his night early. Jared Chastain would take a provisional and join the starting field.

The next MSCS race is the biggest paying race of the year for the series. The Haubstadt Hustler is scheduled for Saturday September 17th at the Tri-State Speedway. This will be a MSCS-USAC co-sanctioned event. It pays $10,000 to win!

Sunday night's event was a big triple header. Two other divisions of race cars were in competition along with an opening ceremony presenting the vintage race cars. The MOWA winged sprinters were added to the program to provide that series with a rain make-up date. Hunter Schuerenberg of Sikeston, MO, won the 25 lap feature. Chase Stockon was second. Kody Kinser, Zach Daum, and Parker Price-Miller rounded out the top five. Schuerenberg, Daum, and A.J. Bruns won the
3 heat races. Mike Terry Jr. prevailed in the MOWA B-Main.

Four sprint car drivers ran with both MSCS and MOWA. Their best feature finishes were as follows: Chase Stockon - 2nd MOWA, Carson Short - 4th MSCS, Zach Daum -4th MOWA, and Joe B. Miller 10th MOWA.

RACE SUMMARY:
TRI-STATE SPEEDWAY
"Labor Day Weekend Challenge"
Haubstadt, IN
September 4, 2016

MSCS Feature (30 Laps) -Kyle Cummins, Chris Malone, Donny Brackett, Carson Short, Justin Grant, Tyler Hewitt, C.J. Leary, Brady Short, Chase Stockon, Zach Daum, Dakota Jackson, Jeff Bland Jr., Brandon Morin, James Lyerla, Jadon Rogers, Kent Schmidt, Chet Williams, Max McGhee, Collin Ambrose, Jared Chastain, Hunter O'Neal.

MOWA Sprint Cars Feature (25 Laps) -Hunter Schuerenberg, Chase Stockon, Kody Kinser, Zach Daum, Parker Price-Miller, A.J. Bruns, Danny Smith, Chris Urish, Jim Moughan, Joe B. Miller, Trey Datweiler, Jacob Wilson, Joey Moughan, Jerrod Hull, Jeremy Standridge, Paul May, Mike Terry Jr., Jake Blackhurst, Dustin Adams, Carson Short.

-end-

Hodges wins Gaines Memorial!

New Mexico native Josh Hodges, won for the second time in 2016 at Lawrenceburg and picked up his second win in a memorial race at the Burg.

Picking up the Jason Soudrette Memorial earlier this season, and now he "parked it" for the Gaines Memorial. 29 sprint cars were in attendance each looking to pick up the $3000 winner's purse. Also still undecided the Kelsey Chevrolet Sprint Car Track Championship.

Coming into the even, Jarrett Andretti held a 140-point advantage on defending track champ, Joss Moffatt. 20 cars would start the 25 lap feature with Jordan Kinser and Joss Moffatt on the front row. Kinser would be be put back a row for jumping the start.

When the green flag flew, Moffatt and Hodges were clearly the cars to beat. With Hodges settling into the top spot and Moffatt trailing him. Series point leader, Andretti had to come from 7th but made his way up to third followed by Kyle Cummins and Tyler Thomas. The race went green to checkers in just over 9 minutes.
The only close moments for Hodges came when he began to lap traffic allowing Moffatt to close a few times but he was never able to challenge. Heat race winners were Moffatt, Kinser, DiMattia, and Hodges. Dickie Gaines won the B main. Gaines would finish 17th in the race named after his father.

As the season comes down to one race remaining on September 17th, Jarrett Andretti holds a 125-point lead over Moffatt.

-end-
Wingless Sprint Series On Hand For August 20th Madras Speedway Open Wheel Spectacular

By Ben Deatherage

Madras, Oregon- For the third time in 2016 the Wingless Sprint Series will head over to central Oregon's Madras Speedway. The ¼-mile clay oval will be hosting the Open Wheel Spectacular and should be another riveting affair to the current campaign. With Cottage Grove Speedway having no racing during the weekend it may attract some regulars from the southern Willamette Valley.

Rob Lindsey has been very dominant this year and leads the point standings as well as the win column. Lindsey has three main event victories including the last WSS race at Willamette Speedway a few weeks ago. Kyle Miller, Gary Lynch, Lance Hallmark, Cooper Desbiens, and Wayne Van Raden all have won once. Rob Lindsey won the season opener at Madras earlier this year while the driver getting the job done at the Make-A-Wish Race in July.

Pit Gates open at 2:00 PM, Front Gates 4:30, and Racing around 6:30. Adults are $10.00, Seniors/Military $6.00, Children (6-11) $5.00, and Kids 5 or younger are FREE. For more information, log on to www.madrasspeedway.com. For the latest news and information regarding the Wingless Sprint Series visit their website at wingless.nwextremeseries.com.

2016 WINGLESS SPRINT SERIES SCHEDULE (DATE-TRACK-LOCATION)
May 7th-Madras Speedway-Madras, Oregon (Rob Lindsey)
May 21st-Cottage Grove Speedway-Cottage Grove, Oregon (Cooper Desbiens)
May 28th-Grays Harbor Raceway-Elma, Washington (Rained Out)
June 11th-Grays Harbor Raceway-Elma, Washington (Rob Lindsey)
June 18th-Willamette Speedway-Lebanon, Oregon (Rained Out)
June 25th-Cottage Grove Speedway-Cottage Grove, Oregon (Kyle Miller)
July 9th-Madras Speedway-Madras, Oregon (Gary Lynch)
July 16th-Coos Bay Speedway-Coos Bay, Oregon (Lance Hallmark)
July 23rd-Sunset Speedway Park-Banks, Oregon (Wayne Van Raden)
August 6th-Willamette Speedway-Lebanon, Oregon (Rob Lindsey)
August 20th-Madras Speedway-Madras, Oregon
September 3rd-Madras Speedway-Madras, Oregon
September 10th-Sunset Speedway Park-Banks, Oregon

-end-
Jimmy Kouba Tops Kobs in Outstanding Race at Red Cedar Speedway
Menomonie, WI
By: Greg Parent, UMSS Media Director (7-22-16)

Racing for the second time-ever at the Red Cedar Speedway, the UMSS Traditional sprint cars put on an outstanding race for the top spot in what turned out to be a 25 lap nonstop run to the checkers on Friday night July 22 in their feature race. Jimmy Kouba led all but one lap, but current TSCS point leader Rick Kobs stayed close throughout most of the race, actually grabbed the lead on lap 22 only to see Kouba charge back and retake the top spot by a matter of inches on lap 23, and then go on to win for the third time this season. Kobs was looking for his second win at Red Cedar in a Traditional sprint car, having won last year when the popular non-winged division raced at the Dunn County Fair on a Thursday night in July. Jimmy Kouba was not to be denied on this night though. Kouba commented on the race and his battle with Kobs during his post-race winner interview with Loren Miller in Rock Auto Victory Lane. Kouba picked up $500 for the victory thanks to some sponsorship help from GRP Motorsports.

It was also the first night of a planned two night challenge between the Wisconsin WingLESS Sprint Series (WWSS) and the UMSS Traditional sprints. Four non-winged sprints made the long tow up on a very hot summer day/evening. The WWSS sprints primarily race each Saturday night at Wilmot Speedway. On hand were Doug Schenck, Craig Campton, Jeremy Hunt and George Gaertner, Jr. Last Saturday (July 16), Jimmy Kouba won for the first time down on their home track, as the both Jimmy and Jake have traveled to Wilmot several times this season already. Tonight would mark two wins in a row for Jimmy Kouba in his last two nights of racing. Commenting in the pits after the races, Jimmy said, "I saw Kobs next to me a few times during the race, then we came up on that lapped car running in my line, and before I knew it Kobs had snuck past me. I got up on the wheel and drove back by him the next lap. That was a fun race!" Jake Kouba also joined the battle for the lead in the closing laps but settled for third behind Kobs at the checkers.

James Giossi had a strong run, but was hampered by a motor which broke a valve about eight laps into the race and was down a cylinder. Giossi rode home in fourth ahead of Anna Hippe. Local favorite Blake Anderson finished sixth ahead of Jeremy Kerzman who started 14th. 2011 TSCS Champion Kevin Bradwell turned in one of his better runs recently for eighth. Rookie Ty Sampair finished ninth. Earning the $100 GRP Motorsports Hard Charger award was Scott Brandt, coming from 19th to round out the top ten. Brandt broke a power steering pump in hot laps and missed his heat race. Borrowing a spare pump from Mike Mueller, Brandt moved up nine spots in the feature. All 20 cars on hand started the feature, and ALL 20 cars finished the green flag-to-checkers run. Sixteen cars finished on the lead lap. The highest finishing WWSS sprint was Doug Schenck in fourteenth. Schenck had a solid run in his heat race and found himself in the top four redraw where he ended up with an outside front row starting spot. Jimmy Kouba drew the pole with Kobs and Giossi in row two. Heat races were by Giossi, Jimmy Kouba and Kobs. The only two caution flags of the evening came in the heat races for a couple of spins.

The second night of the two race challenge series between the WWSS and TSCS sprints scheduled for the Eagle Valley Speedway fell victim to stormy weather and was rained out. It would have been the first-ever appearance for the UMSS Traditional sprints at Eagle Valley, and many teams were looking forward to racing at a new track and watching the IRA 410 Outlaw sprints as well. The weather did not allow that to happen. Hopefully the Traditional sprints can make it over to Eagle Valley next season.

The next race for the Traditional sprints will see them return to the Cedar Lake Speedway for their tenth appearance of the season next Saturday night July 30. Rick Kobs has won five out of the nine shows at CLS so far. Jeremy Kerzman has three CLS wins while Jimmy Kouba has one win this season at the track where he earned a track championship at back in 1997 in the WISSOTA 360 winged sprints. Following the scheduled Cedar Lake race on July 30, the Traditional sprints will take a planned two week break from racing before returning to action at the Grand Rapids Speedway for a non-points show on Thursday night August 18 prior to a double header weekend at Princeton and Ogilvie the next two nights. The Princeton show will feature all three UMSS divisions while the Ogilvie race will also have the UMSS winged sprints on the program. There is plenty of racing action remaining, as the series works its way through the second half of the season! Check out the schedule, results, points and other news for the Traditional Sprint Car Series on our website at www.umsprints.com by clicking on the blue logo or follow us on Facebook.

UMSS TSCS Race Results - Red Cedar Speedway July 22, 2016 (Race #15)

A Feature 1 (25 Laps): 1. 2K-Jimmy Kouba[1]; 2. 81-Rick Kobs[3]; 3. 6-Jake Kouba[5]; 4. 11-James Giossi[4]; 5. 16-Anna Hippe[8]; 6. 12X-Blake Anderson[9]; 7. 3K-Jeremy Kerzman[14]; 8. 95-Kevin Bradwell[6]; 9. N1-Ty Sampair[10]; 10. 7B-Scott Brandt[19]; 11. 55-Joseph Kouba[11]; 12. 99-Bryan Roach[17]; 13. 48-Neal Matuska[7]; 14. 71S-Doug Schenck[2]; 15. 87-Mike Mueller[12]; 16. 7S-Craig Campton[13]; 17. 29-Hunter Custer[16]; 18. 32-Jeremy Hunt[18]; 19. 89-George Gaertner Jr[15]; 20. 00-Kyle Finnegan[20]

Lap Leaders: Jimmy Kouba 1-21, Kobs 22, Jimmy Kouba 23-25.

-end-

WSS Makes Sunset Debut This Saturday July 23rd

By Ben Deatherage

Banks, Oregon- Although Non-Winged Sprint Car racing has a rich history at Sunset Speedway Park it has never hosted an event for the newly created Wingless Sprint Series. However, that will change on Saturday, July 23rd as the WSS will invade the "Banks Bullring". A very good count is predicted to be on hand with teams traveling from all over the states of Oregon and Washington.

2016 marks the first time since 2008 that there has been one sole Non-Wing sanctioning body in the Pacific Northwest. From 2009-2015 the Northwest Wingless Tour and the Oregon Double Shot Series would run two separate schedules although some dates were co-sanctioned. The two groups would unify during the 2015-16 offseason and so far every single edition has been a nail bitter.

With six events completed there have been five different winners. Rob Lindsey has the most, with two, while Cooper Desbiens, Kyle Miller, Gary Lynch, and Lance Hallmark all have one. Lindsey enters the weekend with the current points lead.

Pit Gates on Saturday will open at 2:00 PM, Front Gates open at 4:00, and racing starts at 6:30. Tickets for this event are Adults $13.00, Seniors/Military/Juniors (13-18) $10.00, Youths (Ages 12-6) $5.00, and Children under the age of 5 are FREE and a family pass will be offered for two Adults and up to four Youths for just $35.00. For more information, log on to www.sunsetspeedwaypark.com. For the latest news regarding the Wingless Sprint Series visit their website at wingless.nwextremeseries.com.

2016 WINGLESS SPRINT SERIES SCHEDULE (DATE-TRACK-LOCATION)
May 7th-Madras Speedway-Madras, Oregon (Rob Lindsey)
May 21st-Cottage Grove Speedway-Cottage Grove, Oregon (Cooper Desbiens)
May 28th-Grays Harbor Raceway-Elma, Washington (Rained Out)
June 11th-Grays Harbor Raceway-Elma, Washington (Rob Lindsey)
June 18th-Willamette Speedway-Lebanon, Oregon (Rained Out)
June 25th-Cottage Grove Speedway-Cottage Grove, Oregon (Kyle Miller)
July 9th-Madras Speedway-Madras, Oregon (Gary Lynch)
July 16th-Coos Bay Speedway-Coos Bay, Oregon (Lance Hallmark)
July 23rd-Sunset Speedway Park-Banks, Oregon
August 6th-Willamette Speedway-Lebanon, Oregon
August 20th-Madras Speedway-Madras, Oregon
September 3rd-Madras Speedway-Madras, Oregon
September 10th-Sunset Speedway Park-Banks, Oregon

-end-

Tommy Laliberte Shines In First Wingless Series presented by Joe Hunt Magnetos Start Of Season

Aptos, CA)- Stepping away from the Wingless Series presented by Joe Hunt Magnetos for an extended period of time, 2014 series champion, Tommy Laliberte, made the most of his first start of 2016 as he fended off Klint Simpson to win the Howard Kaeding Classic at the Ocean Speedway.

With Laliberte and Jimmy Christian leading the field to green on Saturday night, it was Christian getting the jump initially, but Laliberte would lead the first lap officially as he made a big time move in turns three and four.

With Christian and Laliberte setting up an exciting battle for the race lead early in the feature, the caution would fly on the race's second lap slowing the field and setting up another restart.

As the green flag was displayed to the field, Klint Simpson would get around Christian and take over the second spot, before he briefly took the race lead on the fifth lap, only to see Laliberte answer the call one lap later and reclaim the top spot on lap six.

While the top two battled hard, the red flag would be needed on the seventh lap, as Nick Larsen would come into contact with a fellow competitor and his machine would flip violently down the back stretch though he would escape uninjured.

Back under way, Laliberte, Simpson, and Christian entertained the crowd with an exciting battle up front, but Simpson would drift high in turns one and two and give up some ground to the lead duo.

Laliberte would shake his challengers as the race reached the halfway point and open up a comfortable lead. Though out front, Klint Simpson would get back into the second spot and take a liking to the cushion as he slowly closed Laliberte's gap.

In the final stages of the race, Simpson would find himself in the mix and would be all over Laliberte with the white flag in the air. Looking to duplicate his last lap move that he pulled off at this race in 2015, Simpson would come up short as Lalitberte would fend him off and score his first win of the 2016 season.

"To come back out and beat a driver like Klint Simpson who is at the top of his game right now is really cool," an emotional Tommy Laliberte said. "To have my little boy in the stands tonight and win, I am kind of speechless.

Simpson would finish in the second spot, while Cody Fendley would make a move on lap 16 to claim the final spot on the podium. Jimmy Christian would finish in fourth, while Terry Schank would overcome a tangle on lap two to round of the Top-5.

Klint Simpson would get things started on Saturday night by setting the standard in qualifying time trials, as Simpson and Fendley would pick up heat race wins on this night, with Jimmy Christian winning the Dash.

2016 Schedule
August 13th- Petaluma Speedway (Soares Classic)
August 20th- Ocean Speedway (Johnny Key Classic)
September 7th- Silver Dollar Speedway (Gold Cup)
September 17th- Petaluma Speedway
November 4th- Stockton Dirt Track

-end-
Lee Grosz Wins Earl Kouba Memorial at Cedar Lake Speedway
New Richmond, WI
By: Greg Parent, UMSS Media Director (7-8-16)

Despite a light rain shower during hot laps that caused a 40 minute delay to the start of the racing program, the sun reappeared and a pleasant evening followed for the running of the 24th Annual Earl Kouba Memorial race at the Cedar Lake Speedway on Friday night July 8. Becoming just the third driver to win this prestigious race more than once in its 24 year history, Harwood, North Dakota racer Lee Grosz led the entire 25 lap distance in the UMSS winged sprint car feature and parked in Rock Auto Victory Lane for his eighth career UMSS win. Grosz had previously won the Kouba Memorial back in 2008. Thanks to the tremendous support from several sponsors, Grosz earned $2,000 for his first victory in just his second UMSS race of the season.

A very competitive field of (21) UMSS winged sprint cars were on hand for the opening night of the big two-day World of Outlaws weekend at the popular western Wisconsin dirt oval. That number was immediately pared down to 20 cars, as 2013 UMSS Champion Chris Graf had an engine failure in the CT525 crate motor while putting heat in the engine in the pits prior to the racing program. Jeff Pellersels offered his car to Graf, so Chris jumped in the 1DOC ride for the evening and competed in the full program. Graf's team was heading home after the races to get their other car for Saturday night.

The UMSS ran their usual double round of qualifying races. Inaugural UMSS Champion Leigh Thomas won the first heat while three-time UMSS Champion Jerry Richert, Jr. picked up the win in the second heat and eventual race winner Lee Grosz topped the third heat. Challenge race victories went to 2010 UMSS Champion Cody Hahn and 2015 UMSS Champion Ryan Bowers. Bowers defeated Thomas Kennedy in the second Challenge race by 1/1000th of a second in a photo-finish at the line. The top four drivers in passing and finishing points redrew for starting spots in the first two rows of the feature. Grosz drew the pole with Hahn outside. Richert and Kennedy would go from row two. All five previous UMSS Champions were on hand.

Grosz blasted into the lead at the start of the 25 lap Earl Kouba Memorial feature and immediately established his line up on the cushion. Grosz drove to a comfortable lead while a group of cars battled for the second through fifth positions behind him. The lone caution of the race waved with 12 laps scored when Thomas Kennedy slid sideways in turn two and came to a stop near the bottom of the track. Kennedy restarted behind the lead lap cars. Kennedy had been racing with Brooke Tatnell for the fourth spot. Tatnell began his move forward following the caution, as the laps clicked off under the green. Grosz was long gone up front. Tatnell, the all-time leading UMSS feature winner, moved to third on lap 14 and passed his brother-in-law Richert for second on lap 17. Tatnell slowly began cutting into Grosz' lead, but without the aid of another caution Grosz never had to fend him off for the top spot. Tatnell finished second ahead of Richert, Bowers and Hahn. Driving the DDR #2 sprinter in his first-ever UMSS race, Fresno, California driver Dominic Scelzi finished sixth. Kennedy recovered for seventh. Mark Toews, driving Anna Hippe's winged sprint, rode home in eighth in his first race of the season. Cam Schafer came from 20th to finish ninth. Jared Goerges rounded out the top ten. Seventeen of the twenty starters were still running at the finish with eleven cars still on the lead lap.

The UMSS winged sprints return to Cedar Lake Speedway on for the second night of the all-sprint car racing weekend on July 9. A separate race report will follow to recap night number two. The opening night saw 34 WoO sprints, a record 27 UMSS Traditional sprints and 21 UMSS winged sprints in the pits for a total of 82 sprint cars! Fans can keep track of all the UMSS action on our website at www.umsprints.com or on the UMSS Facebook page.

UMSS Race Results - Cedar Lake Speedway July 8, 2016 (Race #5)
24th Annual Earl Kouba Memorial

GRP Motorsports Earl Kouba Memorial Feature 1 (25 Laps): 1. 4J-Lee Grosz[1]; 2. 14-Brooke Tatnell[6]; 3. 34DD-Jerry Richert Jr[3]; 4. 199-Ryan Bowers[7]; 5. 34-Cody Hahn[2]; 6. 2-Dominic Scelzi[5]; 7. 21K-Thomas Kennedy[4]; 8. 5T-Mark Toews[10]; 9. 5C-Cam Schafer[20]; 10. 9-Jared Goerges[11]; 11. 1DOC-Chris Graf[13]; 12. 1D-Dean Brown[12]; 13. 29-Leigh Thomas[8]; 14. 52-Jake Lempelius[14]; 15. 91A-Reed Allex[16]; 16. 77-Kevin Bradwell[15]; 17. 7M-Bob McVitty[17]; 18. (DNF) 74-Roger McVitty[18]; 19. (DNF) 03-Jamey Ogston[9]; 20. (DNF) 5G-Dave Glennon[19].

Lap Leader: Grosz 1-25.

-end-
TRI-STATE SPEEDWAY WET

Haubstadt, IN - July 3, 2016 - THe Southern Indiana Sprint Stampede scheduled to be held Sunday at Tri-State Speedway was cancelled due to wet conditions at the track. The event will not be rescheduled.

The next event at the track will be the USAC Indiana Sprint Week finale on July 16th. The sprints will be running for $5,000 to win and the modifieds will be competing for $1,000 to win. The MSCS Sprints will return August 13th for the Hoosier Sprint Nationals.

MESERAULL SPECTACULAR AT THE BILL GARDNER SPRINTACULAR

Putnamville, IN - July 2, 2016 - Thomas Meseraull pulled into victory lane for a third consecutive time at an MSCS race being held at Lincoln Park Speedway Saturday night. The California driver has won all three of his most recent Midwest Sprint Car Series appearances there. This time Meseraull collected the hardware for the second day of the Bill Gardner Sprintacular held in the honor of the founder of the Indiana Open Wheel web site. The 30 lap feature paid $3,000 to win!

The main event became a constant battle between the two leaders. Jeff Bland Jr. led the first third of the event. He was using a tight line along the inside edge of the track. Meseraull was working the high side of the track in the red Amati Racing Team sprint car. Fans watched as the two engaged in a see-saw contest. Back and forth efforts became a side by side challenge with less than 5 laps to go. Meseraull caught the checkered flag first with Bland running second.

Just behind the two leaders, Dave Darland was attempting to improve on the third spot that he was running in. Robert Ballou began charging deeper and deeper into the turns. Eventually those moves paid off as he powered past Darland to earn the third spot. Darland held on to fourth with Brent Beauchamp rounding out the top five.

A polished second five was made up of C.J. Leary, Shane Cottle, Chase Stockon, Dickie Gaines, and Brady Short. A.J. Hopkins picked up the Wilwood Tuff Brakes Award in finishing eleventh. Drivers that encountered trying situations included Jarett Andretti and Tyler Hewitt. Andretti had a front row starting spot for the feature but his car would not fire after repeated efforts. Hewitt, a leading MSCS Rookie driver, was involved in an incident in turn two that relegated his car to the pits after only 13 laps.

The B Main was an absolute showdown with talented drivers lining up row after row back into the starting field. Kevin Thomas Jr. took this 12 lap event. Carson Short was second. Following the event points leader Brandon Morin took the MSCS provisional offered to become the 21st starter for the feature.

The Hoosier Tire Midwest Sprint Car Series will be racing again later in July. The series will be running at Montpelier Motor Speedway The MSCS at MMS feature event will pay $2,000 to win!

A Main (30 Laps) - Thomas Meseraull, Jeff Bland Jr., Robert Ballou, Dave Darland, Brent Beauchamp, C.J. Leary, Shane Cottle, Chase Stockon, Dickie Gaines, Brady Short, A.J. Hopkins, Josh Hodges, Jon Stanbrough, Carson Short, Tyler Thomas, Brandon Morin, Kevin Thomas Jr., Shane Cockrum, Chad Boespflug, Tyler Hewitt, Jarett Andretti DNS.

-end-
MSCS & MOWA AT THE TRI-STATE STAMPEDE FOR SPRINT CARS

Haubstadt, IN - June 29 - Sunday night July 2nd the MSCS Sprints will appear at the Tri-State Speedway in Haubstadt, IN. This is year four for the Southern Indiana Sprint Car Stampede. The event is on a different weekend this year but the attraction is two, make it threefold. The MSCS non-wing sprints will share the oval with the MOWA winged Sprint Cars. The inclusion of the UMP Modified Cars this year will provide race fans with an outstanding three-way, your-way open wheel combo!

The MSCS series is now ready to undertake the second half of the season schedule. There are now just nine races left on the schedule. Saturday night the MSCS Sprints will compete at day two of the Bill Gardner Sprintacular at Lincoln Park Speedway. Then Sunday drivers can travel the 125 miles downstate to compete at Tri-State Speedway.

After last week's appearance for the series at the Daugherty Speedway, the MSCS Points Standings once again changed. Brandon Morin of Jasonville, IN, has assumed the points lead. The 20 year old driver was the 2015 MSCS Rookie of the Year. Consistent finishes and steady performances have propelled him to the top of the current standings.

Two drivers are tied for second in MSCS points. Carson Short and Brady Short remain in the hunt for the title. Brady Short is the defending champion and Carson was the runner-up last season. Dakota Jackson and Tyler Hewitt are fourth and fifth in points. Jackson is off to a great start this season. Hewitt just took over the MSCS
Rookie Points lead. Rookies Nevil Algie and Jared Chastain are just a few points back.

The Neal Tire Midwest Open Wheel Association will be making its third appearance in Indiana this season. Jerrod Hull has won the last two races including the Summer Showdown at Tri-State in June. He also leads that series' points standings. Others in the top five in MOWA points after the Haubstadt race were Parker Price-Miller, Jake
Blackhurst, Jim Moughan, and A.J. Bruns.

With wings and non-wing sprints on the same program the opportunity is there for drivers to run both. Having two cars available is usually one major deciding factor. Usually there are a couple of drivers who have the equipment, crew, and versatility to undertake the challenge. It certainly increases a driver's potential earnings.

At a recent MOWA race there were half a dozen non wing drivers either switching to wings or doing double duty.

Racing remains a sport that is all about winning! Chase Stockon won the MSCS feature at the Southern Indiana Sprint Stampede in 2015. Stockon heads this season's MSCS winner's list with 2 wins. Both of those were at Tri-State Speedway. Thomas Meseraull, Kyle Cummins and Mitch Wissmiller have posted feature wins also.

-end-

TWO BEFORE THE FOURTH - MSCS IS AT LINCOLN PARK & TRI-STATE

Haubstadt, IN - June 29 - The Hoosier Tire Midwest Sprint Car Series is booked for two big nights of holiday weekend racing activity. The non-wing sprint car drivers racing with the organization will be running at two different tracks on successive nights. The Saturday and Sunday night events are some 125 miles apart. That is close enough to insure that a lot of sprint car fans can attend both and yet far enough apart to attract a number of different racing teams to one or both shows. Everyone can enjoy seeing some great racing prior to the actual Fourth of July Holiday.

Saturday night the MSCS Sprints will unload to race at Lincoln Park Speedway in Putnamville, IN. The racing program is the second annual event named in honor of Bill Gardner who was the originator of the ever popular Indiana Open Wheel website. The Bill Gardner Sprintacular will be a two day show with MSCS sanctioning the
Saturday night show. The USAC sprints will be running to captivate the opening night crowd on Friday night. Drivers will be able to compete for high stakes both nights. The MSCS feature Saturday pays $3,000 to win!

Sunday night the MSCS Sprints will appear at the Tri-State Speedway in Haubstadt, IN. This is year four for the Southern Indiana Sprint Car Stampede. The event is on a different weekend this year but the attraction is two, make it threefold. The MSCS non- wing sprints with deep roots in Hoosier land will share the oval with the MOWA winged Sprint Cars based in Illinois. The inclusion of the UMP Modified Cars will provide race fans with an outstanding offering. It is in actuality a giant three-way open wheel combo! The MSCSfeature Sunday pays $2,500 to win!

Two great racing opportunities await the MSCS regulars. The series is now ready to undertake the second half of the season schedule. There are nine races left on the schedule. That still allows drivers to join or rejoin the series and race for the special purses and still have ample time to climb up through the standings. At each race drivers are also welcome to compete on a temporary permit.

After the last appearance for the series at the Daugherty Speedway the MSCS Points Standings once again changed. Brandon Morin of Jasonville, IN, has assumed the points lead. He was the 2015 MSCS Rookie of the Year. Consistent finishes and steady participation in combination have propelled him to the top of the current standings. Two drivers are tied for second in points. Those are 2015 MSCS Champion Brady Short and 2015 Points Runner-up Carson Short. Carson Short is ranked second based on best feature finishes! Dakota Jackson and Tyler Hewitt are fourth and fifth in points. Jackson is off to a great start this season and Hewiit just took over the MSCS Rookie Points lead.

Racing remains a sport that is all about winning! Robert Ballou won the MSCS Gardner Sprintacular last season.
Chase Stockon won the Sprint Stampede in 2015. Stockon heads the MSCS winner's list this season with 2 wins. Both of those were at Tri-State Speedway. Thomas Meseraull took the MSCS show at LPS in May. Kyle Cummins and Mitch Wissmiller won the two most recent features held for MSCS.

Racing gets underway at 7 P.M. Saturday at Putnamville. Racing Sunday at Tri-State Speedway begins at 7:30. Group qualifying is set for an hour earlier each night. Remember that the two tracks are in different time zones!

-end-
Kyle Miller Wins CGS Wingless Sprint Series Feature
By Ben Deatherage

Cottage Grove, Oregon- Cottage Grove Speedway would host the fourth race of 2016 for the inaugural season of the Wingless Sprint Series. Seventeen drivers would make the journey to the historic ¼-mile clay oval. Teams from Oregon and Washington would make appearances.

Sutherlin teenager Cooper Desbiens would get his J.H. Desbiens Construction/Budget Lumber/Lithia Autobody/Oregon Tool & Supply #4D Maxim to the front on the opening lap. Eugene's Kyle Miller would make the pass on lap two and began to pull away from there. Miller, in the Kady Adelman owned Machined For Speed By Craig Jensen/G.K. Machine & Fabrication #6A XXX, would develop a decent lead but a few cautions would keep the field close.

Shortly after a lap twelve restart Miller would receive some pressure and in fact lost the lead on lap thirteen to Rob Lindsey. Lindsey, of Sherwood and in his Maxline Custom Cases/Summerfield Golf & Country Club/Triple X Race Co./Speedmart Inc. #23 XXX, would try and create some distance but Miller would remain hot on his heels. Miller would take the position back on lap nineteen and stayed there the rest of the way. It was Miller's first career win with the newly created Wingless Sprint Series.

Rob Lindsey held onto second while the Todd's Auto Body/Clark Printing/Hedge Carter Gutter Service/Herz Precision Parts #85 Maxim of Ricky Ashley, from Thurston, was third. The balance of the top five was made up of Aloha's Brad Rhodes in fourth, piloting his Pro Tow/Beaverton Automotive/Raybourn Performance #50 Eagle, and the Whit Log Trailers/Double R Powdercoating/Redmond Trucking #57X Rocket, driven by Dusty Redmond, in fifth.

Kyle Miller set quick time in time trials while Rob Lindsey was triumphant in the trophy dash. Heat races were won by Miller, Lindsey, and Salem's Tim Alberding in the Alberding Racing #52 Maxim.

The Wingless Sprint Series will next visit Madras Speedway on Saturday July 9th. It will be the second time this year that the WSS visit the central Oregon ¼-mile clay oval. Be sure and keep up with the latest news and information regarding the Wingless Sprint Series by visiting wingless.nwextremeseries.com.

A Feature: 1. Kyle Miller; 2. Rob Lindsey; 3. Ricky Ashley; 4. Brad Rhodes; 5. Dusty Redmond; 6. Mike Griffith; 7. Cooper Desbiens; 8. Theo McCarty; 9. Lance Hallmark; 10. Otto Jorgenson; 11. Jonathan Jorgenson; 12. Randy Dunlap; 13. Jake Gilman; 14. Lindsay Barney; 15. Tim Alberding; 16. Chris Batalgia; 17. Johnny Butler.

-end-
EXTRA BONUSES ADD SPICE TO "PETER MURPHY CLASSIC"
By Lance Jennings

JUNE 23, 2016... Excitement and anticipation is growing as get closer to July 22nd & 23rd for the "3rd Annual Peter Murphy Classic." Hosted by the Merle Stone Chevrolet Thunderbowl Raceway in Tulare, California, the event is one of the most prestigious and richest dates on the USAC West Coast Sprint Car Schedule. Also featuring the winged King of the West Sprints and "Legends of Kearney Bowl" Vintage Cars, both nights are a "must see" event for California Sprint Car fans.

NOTICE TO RACERS: The "Peter Murphy Classic" will be run under the USAC West Coast Rule Book and a $35 entry fee will be collected. The Hoosier 105/16 Medium is the ONLY legal right rear tire and all four corners must be Hoosier. Cockpit adjustable shocks are NOT allowed and engine restrictor rules are 1-7/8" with open heads and 2-3/16" with ASCS cylinder heads. The weight rule is 1,475 lbs. with driver and the USAC West Coast Sprint Car Rule Book can be found online at www.westcoastsprintcars.com and www.usacracing.com. USAC Memberships are mandatory and can be purchased online at https://usacracing.redpodium.com/2016-usac-licensing. Membership forms will also be available on raceday.

A special thanks goes to Peter Murphy and his family for gathering sponsorship and raising additional prize money for the event. At press time, they are continuing to look for more sponsors and a list of current bonuses are listed below. Interested parties can contact Peter Murphy at Pro Signs in Fresno at (559) 292-4429 or prosignsfresno@yahoo.com.

FRIDAY, JULY 22nd
-Normal Purse ($1,500 to win and $225 to start). 22 Cars will start Main Event.

SATURDAY, JULY 23rd
-Main Event will be at least $4,000 to win and $400 to start.
-$500 for Fast Time. ($400 Bonus, plus $100 Woodland Auto Display Award)
-$400 for Hard Charger.
-$400 for Long Tow.
-Additional Cash will go to a 4-Car, 4-Lap, Dash For Cash

All bonuses raised by Peter Murphy will be paid in cash. USAC West Coast Contingency Awards worth over $1,600 will also be distributed. More information will follow as additional bonuses are available.

Noted as one of the most popular drivers in the Central Valley, Peter Murphy established himself in both the winged and non-wing sprint car ranks. Driving the potent Tarlton & Son #21, the Australia native won non-winged championships with the SCRA 360s, Bandits, Kings Bandits, VRA/Bandit Grand Slam Mini-Series, and the Santa Maria Sprint Cars. In West Coast action, Murphy won six races during the inaugural season and currently ranks sixth on the series win list. In addition, he posted one fast time award and still holds the track record at Hanford's Keller Auto Speedway at Kings Fairgrounds. Returning to the winged 410s, Murphy was very competitive until injuries sustained in a July 2013 crash forced his retirement as a driver. Still a great ambassador for sprint car racing, he has worked behind the scenes to make the "Peter Murphy Classic" a successful event to rave reviews and higher purses. Last year, Matt Mitchell won the USAC West Coast feature and Aaron Reutzel scored the King of the West triumph.

The USAC West Coast Sprint Car Series thanks Amsoil, Hoosier Tire, BR Motorsports, Brown and Miller Racing Solutions, Chris Kearns Presents, Competition Suspension Incorporated, DJ Safety, Diversified Machine Incorporated, Extreme Mufflers, Keizer Aluminum Wheels, King Racing Products, Rod End Supply, Stand 21 Racer Goes Safer Foundation, Ultra Shield Race Products, and Woodland Auto Display for their support. If you or your company would like to become part of the series, email PR Director Lance Jennings at lwjennings@earthlink.net.

For more information, visit www.westcoastsprintcars.com, and www.usacracing.com. You can also find exclusive content on the USAC West Coast Facebook and Twitter pages.

Loudpedal Productions has USAC West Coast Sprint Car DVDs and videos on demand available for purchase at www.loudpedal.tv and 805.407.7229.
-----------------------------------------------
USAC WEST COAST SPRINT CAR CHAMPIONS:
2009-Justyne Hamblin, 2010-Craig Stidham, 2011-Richard Vander Weerd, 2012-Bud Kaeding, 2013-Danny Faria Jr., 2014-Matt Mitchell, 2015-Danny Faria Jr.

USAC WEST COAST SPRINT CAR POINT STANDINGS:
1. Brody Roa-477, 2. D.J. Johnson-473, 3. Trey Marcham-425, 4. Jace Vander Weerd-401, 5. Austin Liggett-363, 6. Richard Vander Weerd-354, 7. Tristan Guardino-337, 8. Max Adams-323, 9. Danny Faria Jr.-293, 10. Ryan Timmons-293, 11. Jeff Sibley-237, 12. Cody Majors-234, 13. Troy Rutherford-216, 14. Kevin Barnes-215, 15. Kyle Smith-190, 16. Shannon McQueen-187, 17. Ricky Kirkbride-162, 18. Bryan Clauson-137, 19. Landon Hurst-135, 20. Brady Bacon-119.

2016 USAC WEST COAST SPRINT CAR SCHEDULE
DATE-TRACK-LOCATION
June 25: Keller Auto Speedway at Kings Fairgrounds - Hanford, CA
July 22: Merle Stone Chevrolet Thunderbowl Raceway - Tulare, CA (Peter Murphy Classic)
July 23: Merle Stone Chevrolet Thunderbowl Raceway - Tulare, CA (Peter Murphy Classic)
August 6: Santa Maria Raceway - Santa Maria, CA (Bud Stanfield Memorial)
August 12: Ocean Speedway - Watsonville, CA
August 13: Keller Auto Speedway at Kings Fairgrounds - Hanford, CA
November 23: Ventura Raceway - Ventura, CA (Turkey Night Grand Prix / Non-Points)
November 24: Ventura Raceway - Ventura, CA (Turkey Night Grand Prix / Non-Points)

-end-
Wingless Series presented by Joe Hunt Magnetos Geared Up For Wine Country Classic at Calistoga Speedway

Aptos, CA)- This Saturday night, the Wingless Series presented by Joe Hunt Magnetos is set to make it's lone appearance of the 2016 season at the famed Calisotga Speedway as the series will share the stage with the King of the West 410ci Series during the Wine Country Classic.

With Mother Nature causing several cancelations early in the year, the series was able to kick it's 2016 season off two weeks ago in thrilling fashion at the Petaluma Speedway.

During the series opener, Klint Simpson put on a show as he was able to carve his way through the field after a lap one spin and claim the win in dramatic fashion, as he continues to have a strong 2016 season in the division.

In two appearances at the Calistoga Speedway in 2015, wins went to Colton Slack and Terry Schank. With Slack out of the division now, Schank will look to become the first repeat winner with the series at the famed ½ mile, and look to rebound from some tough luck during the season opening event.

Other drivers that are expected to be on hand during Saturday nights event include Barry Pries, Shayna Sylvia, Jared Morrison, Nick Larson, Bruno Bianchi, and many more of the top drivers in the wingless division from northern California.

Saturday night, Adult reserved seats cost $30, with general admission tickets $25. Children 6-12 cost $10. Kids five & under are free.

Will call/ ticket sales & pit gate will open at 1pm, front gate opens at 4pm, with cars on track around 5pm. Teams are welcome to arrive early and set up in the infield pit area, which will then be swept at noon. The pit area age minimum is 14, with anyone under 18 being required to have a parent sign a release.

2016 Schedule
June 25th- Calistoga Speedway
Jul 10th- Stockton Dirt Track
July 16th- Ocean Speedway
August 13th- Petaluma Speedway (Soares Classic)
August 20th- Ocean Speedway (Johnny Key Classic)
September 7th- Silver Dollar Speedway (Gold Cup)
September 17th- Petaluma Speedway
November 4th- Stockton Dirt Track

-end-
MSCS HEADS TO DAUGHTERY SPEEDWAY TO RACE JUNE 25

Haubstadt, IN - June 16, 2016 - The Hoosier Tire Midwest Sprint Car Series will be racing at the Daugherty Speedway on Saturday night June 25th. This event will mark the return of the MSCS series to the 3/8s mile track for the first time in ten seasons. In that span of time there have been many changes within the series as well as at the facility.

The race represents an excellent opportunity for drivers in northern and central Indiana to run with the series. New faces in different or additional cars always makes for an interesting race. Support for the series currently averages 25 sprint cars per event. Strong competitors are following the series and are joined by equally strong teams that participate as opportunity allows. Drivers can purchase a temporary permit from MSCS to run a particular event or obtain an annual license.

Some of the most successful drivers with MSCS so far include recent "Summer Showdown" winner Kyle Cummins, two time feature winner Chase Stockon, and LPS winner Thomas Meseraull. The series has completed just 4 races so far of the eight on the original schedule. The race at Daugherty marks the end of a wet first half of a season. Frequent members of the top five after the features include Carson Short, C.J. Leary, and Brady Short. Brady Short has taken the lead in the season points for MSCS. He is compiling steady performances to work towards a third MSCS season title.

A number of drivers have made progress in finding openings in the top five so far in 2016. Donny Brackett and Kevin Thomas Jr. have garnered runner-up feature finishes. Six other drivers have earned a top five finish just outside of a trip to the podium. They are Dakota Jackson, Jeff Bland Jr., Josh Hodges, Chad Boespflug, Ted Hines, and Brent Beauchamp.

The Daugherty Speedway may present one of the most neutral battlegrounds of the season for the MSCS sprint car drivers. MSCS last raced at the track when it was known as Kamp Motor Speedway. Those events were held during 2003, 2004, and 2005. The series was gaining momentum then and is now in its 16th season. Series records list the winners during those years as Bobby Smith, A.J. Anderson, Danny Williams Jr., Kenny Carmichael Sr., and Kyle Wissmiller. Odds are that fans will be watching for a new face to appear in victory lane. The winner's prize will be $2,000!

The current top twelve in points for MSCS are Brady Short, Brandon Morin, Kyle Cummins, Nevil Algie, Dakota Jackson, Carson Short, Tyler Hewitt, Jared Chastain, Donny Brackett, Jim Shelton, Jadon Rogers, and C.J. Leary.

Racing will begin at 6:30 Eastern Time. Hot laps and group qualifying will be held an hour earlier. Four other classes will be racing on the card. There should be plenty of action and excitement for race fans to experience at a dirt track.

-end-
SUMMER SHOWDOWN NEXT UP FOR MSCS AT TRI-STATE SPEEDWAY

Haubstadt, IN - June 7, 2016 - The Midwest Sprint Car Series will return to the Tri-State Speedway to race on Saturday night June 11th.

The speedway's"Summer Showdown" will also feature the popular MOWA Winged Sprint Cars. It is the first time this season that full sized non-wing and winged sprint cars will be competing at the speedway as part of the same program. The UMP Modified Cars will also race to provide fans with a triple header of open wheel racing.

Three MSCS events have been completed so far on the 2016 MSCS schedule. Two of those have been held at Tri-State Speedway. Chase Stockon won both of those features. But the driver who has accumulated the most points so far in 2016 is defending MSCS Champion Brady Short. Short also won the 2015 "Summer Showdown" with Carson Short finishing second. Brady Short is the all time leader in series feature wins with 21. He is looking for that first MSCS win in 2016. The feature winner will receive $2,000.

Brandon Morin is currently second in the series points. Morin was last year's MSCS Rookie of the Year! He is off to a good start this season. He trails Short by just 31 points. The two lead a top five that includes Kyle Cummins, Nevil Algie, and Carson Short. Nevil Algie rates as the top rookie driver so far this season. C.J. Leary, Dakota Jackson, Tyler Hewitt, Jared Chastain, and Mitch Wissmiller round out the top ten performers based on points. Hewitt and Chastain are among the nine rookies that are competing with MSCS and checking out opportunities in running with the series this season.

The MOWA Sprint Car Series is a regional traveling organization supported by experienced winged sprint drivers with home bases primarily in Illinois and Missouri. So far this season they have competed four times with all the tracks involved being located in Illinois. This is the first opportunity for Tri-State race fans to watch them in the Hoosier State. Indiana based sprint car drivers who have competed with MOWA this season so far include Spencer Bayston, Bryan Clauson, Kody Kinser, Parker Price-Miller, and Jacob Wilson. This event is a closer opportunity for others to participate in.

The MOWA Points leader is Jerrod Hull from Sikeston, MO. He has also won two of their four feature events. Parker Price-Miller, Jake Blackhurst, Bret Triplett, and A.J. Bruns round out the top five in points.

Racing at Tri-State Speedway begins at 7:30 P.M., C.D.T. Hot laps & group qualifying will begin an hour earlier. The track is located three miles north of I-64 on Highway 41 at Haubstadt, IN. Adult tickets are $20, students $15, and children 12 and under are admitted free. Reserved seats are available for an additional $3 per seat.

-end-