Wingless Series Presented By Hunt Magnetos Season Opener Goes To Joe Stornetta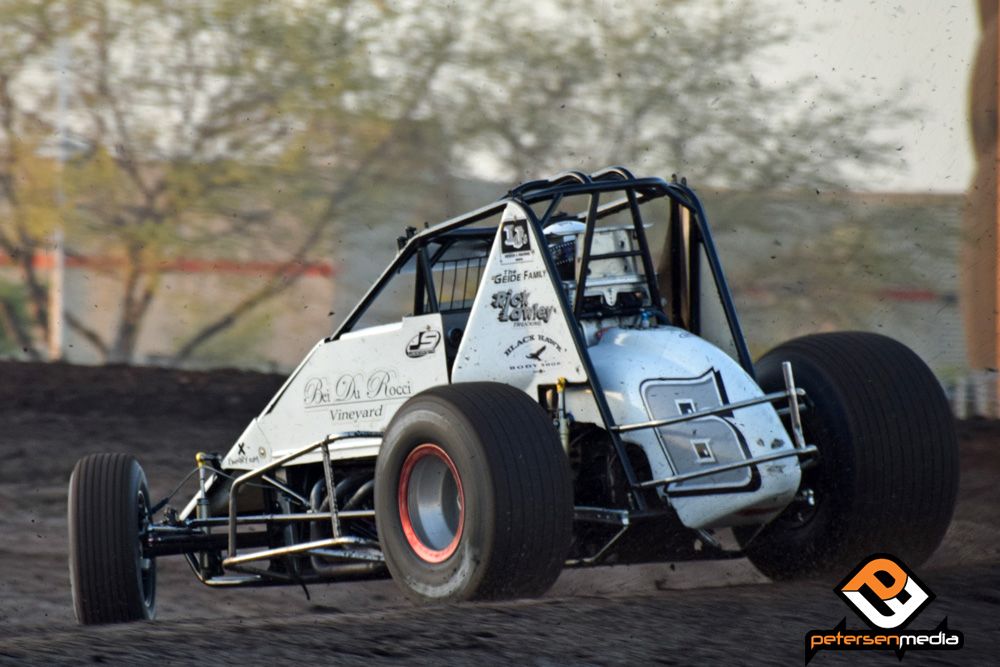 Chico, CA)- Santa Rosa, CA product, Joe Stornetta had his elbows up on Saturday night as he tamed a tricky Silver Dollar Speedway, and survived a wild feature event to score the Silver Cup Race of Champions win during the Wingless Series Presented By Joe Hunt Magnetos season opener.

The start of the feature event saw Angelique Bell jump out to an early lead as behind her Colton Slack and Gary Nelson, Jr battled for the second spot. On the rough and tumble Silver Dollar Speedway, the action up front was exciting in the early laps as Tommy LaLiberte and Nick Larson battled for the fourth spot.

With Bell up front, Laliberte made a couple of big moves as he moved into the third spot on the fifth lap, and set his sights on Bell and Slack.

Lap six saw Slack make his move on Bell to take the race lead, as Laliberte took the second spot on the seventh lap before clipping an infield tire and flipping wildly to bring out the red flag.

The red for Laliberte would trigger a wild chain of events that would change the complexion of the race. Under the caution, race leader, Colton Slack would suffer and right rear flat, and go to the tail end of the field. When the race restarted, new leader, Angelique Bell would come to a stop atop turn two, and Joe Stornetta would find himself in command of the race.

With Stornetta now up front, Nick Larson found himself in the second spot and Gary Nelson ran in third as the race came back to life. The restart saw Scott Hall go to the high side and get around Shane Mhyre and Nelson to take over the third spot as he began his pursuit of the race lead.

As Hall chased down the lead pack, Slack was quickly working his way back forward as he was back into the seventh spot by the 10th lap.

Reds on lap 13 and 14 would bunch the field back up, and what would be the races' final restart, saw Hall slide off the track with some damage, as Stornetta continued to fend off Larson's charge up front.

With Stornetta in command of the race, Slack would work into the third spot just before the race's final caution flew on the 17th lap, and with that the checkered waived giving Stornetta his first career win at the Silver Dollar Speedway, and the opening night win with the series.

"It is great to win in Chico," Stornetta said. "Our car was awesome all night long, and that was huge with the way the track was. It was pretty technical, and I think that made it exciting. I really have to thank everyone who supports this deal for all of their hard work."

Nick Larson would hang on to finish second, with Colton Slack rebounding nicely to finish in the third back. Nelson would finish fourth followed by Shane Myhre, Shawn Jones, Bradley Clark, Bryan Grier, Bill Hopper, and Josh Vieira rounding out the Top-10.

With 21 cars on hand for the season opener, Joe Stornetta set the standard in time trials as heat wins went to Shawn Jones, Tommy Laliberte, and Nick Larson.

ON TAP: The Wingless Series Presented by Joe Hunt Magnetos return to action on April 12th at the Calistoga Speedway.

WINNERS: Joe Stornetta (Silver Dollar Speedway on March 7th).

Stay connected with the series by clicking over to www.racepmg.com

-end-
Ricky Gaunt in the pits at Perris Auto Speedway in 2014. Photo by Doug Allen
RICKIE GAUNT TO RETIRE FROM SPRINT CAR RACING IN 2015

(Perris, CA, March 3) Hope will spring eternal when Perris Auto Speedway kicks off its 20th anniversary season this Saturday, March 7th, with the Sokola Shootout featuring the Amsoil USAC/CRA Sprint Cars, PAS Senior and Young Gun Sprints. The brightest crop of rookies in several years will begin the USAC/CRA season and talented youngsters will launch their sprint car endeavors in the Young Guns. However, one longtime popular veteran, "Super Rickie" Gaunt, will begin the last chapter of his long, illustrious career. The Torrance, California veteran has announced that his last sprint car race will take place at The PAS on July 4th.

The winner of the 1999 Oval Nationals at The PAS and the 2004 SCRA and Non Wing World Champion, had originally planned to call it a career at last year's Oval Nationals. Gaunt's wife, Denise, asked him to carry on for a little bit longer.

"It will be fitting to do it on July 4th as Perris Auto Speedway is what made me and I have never missed a July 4th there since they opened," an emotionally charged Gaunt said. "I was actually going to retire last year at the Ovals, but Denise threw a fit and said that my whole family and a lot of friends could not be there. She said to do it at a race where they all could be at. My whole family goes out there for the fourth of July, so it just makes sense."

"It is just killing me to do this, because I think I can still win," he continued over the phone on Sunday night. "I am not happy about it by any means. There are guys older than me. Dave Darland is older than me and Jon Stanbrough is older than I am and those guys are still winning races, but I have had my day in the sun. I have not raced as much in the last two years and to stay competitive you have to race quite a bit. If it is not 100% effort in a sprint car, there is no reason to do it. It is too competitive. It is not enough just for me to show up at the races and be there. I want to run up front and battle for the win."

Gaunt will split his racing between two cars in his final half season. He will be in the Shawn McDonald owned Jeff and Jimmy Gardner prepped white #9 at the races at The PAS. He will be in Dave Miller's #66, his regular ride the past few years, for the race at Ventura in May as it is the home track of longtime sponsor Tom Roberts. At his final race on July 4th he is not sure what he is going to drive. It could be the #66 car or the #9 or they could put the motor from the #66 car in the #9. In addition to Gaunt retiring, Miller is retiring as a car owner.

Gaunt's stellar driving and epic interviews have been on display at The PAS since it first opened in 1996. His racing skills and light hearted nature will be missed by everyone including fans, fellow competitors and officials.

"I hate to see Rickie go," Perris Auto Speedway promoter Don Kazarian said regarding Gaunt hanging up his helmet. "He is a promoter's delight. Not only is he a good sprint car driver, but he is a colorful character. You never know what he is going to say. He is one of the most popular drivers in the history of Perris Auto Speedway. The fans absolutely love him."

With the extra time he will have on his hands, Gaunt will be helping out more with his two sons, Chasen and Maverick, in their off-road racing careers, but by no means is he turning his back on sprint cars. He plans to be around in another capacity.

"You cannot get rid of me and I will still be around," Gaunt laughed. "I am already working on some deals to have somebody come in and run the #9 car after I am done with it on the 4th of July. I may be switching gears and be going from a driver to an owner. I had Jeremy McGrath out there running the car last week and he is going to do it again in a few weeks. He did a really good job. Would love to see him come out and race it."

Spectator gates will open at 5:00 PM on Saturday and racing will begin at 7:00. As a special for the 20th anniversary season opener, adult tickets will be 20% off making them $20.00. Another anniversary special will at the concession stands from 5:00 to 6:00 PM when fans can purchase any beverage or food item for full price and get a second of the same item for only twenty cents.

-end-
WAR ADDS HISTORIC "QUEENS ROYAL" TO 2015 SCHEDULE

California, MO (February 6, 2015)- What was already an impressive schedule for the WAR Sprint Series in 2015 just got a little better. WAR officials announced today the addition of the "Queens Royal" annual race, held at St. Francois County Raceway in Farmington, MO to their 2015 schedule.

Series director Andrew Korte stated "We're really excited to be a part of this event! The Queens Royal Race is a pretty big deal here in the Midwest and for us to be invited to be a part of it is really cool!"

This will be the first visit of the WAR Series to the 3/8 Dirt Oval, and they will run alongside the Winged Sprint Cars for a complete open wheel show. The event is slated for Sat. Sept 19th 2015, just one weekend before the always exciting Hockett Memorial at Lucas Oil Speedway in Wheatland, MO. "It will be 2 really exciting weekends of racing, and a great way to wrap up the season" Korte went on to say.

In years past the Queens Royal Race has provided fans with some of the best racing of the season, and with the addition of the WAR non wing sprints, this year will surely not disappoint!

The race will also be added to the Series newly formed WAR "East" division, and will be a co-sanctioned event for the two. For more information on the WAR Series you can contact Series Director Andrew Korte at warsprints@yahoo.com or by phone at 573-680-4413.

-end-
Minor Changes For New Egypt Speedway's NERS Sprint Division In 2015

Definitive Tire Rule and Introduction of Handicapping System

New Egypt, NJ- With the 2015 season only a couple short months away, New Egypt Speedway is buttoning up the rules packages for all of their weekly divisions. The first set of minor changes comes for the NERS Sprint division, with a definitive tire rule and the introduction of a handicapping system.

For the 2015 season, the NERS Sprint tire rule will mirror that of the other Racesaver divisions. A 45 or harder compound will now be required for the right rear tire. All other compounds will remain the same as the 2014 rules package. Drivers will also be able to use any used tires so long as they are the required compounds. However, all new tires MUST be purchased from the track's tire supplier Pit Stop Tires.

The 2015 season will also implement a handicapping system for the NERS Sprint division. A driver's yearly finishes will be added together and divided by the number of races they have run to determine their handicapping and starting position in the feature event so long as they qualify through their heat race.

The NERS Sprint handicapping system differs from that of all of the other New Egypt weekly divisions that are based on three weeks money earned. This is to help a division that has a varying amount of driver entries from week to week and also pays out the same amount to more then ¾ of the field.

The NERS Sprints are scheduled to race at New Egypt 12 times during the 2015 season. Five of those races will be combined NERS/TSRS events. Drivers will receive New Egypt Speedway show up points for those events that will be a draw for position.

For more information on the NERS Sprint division, visit www.newegyptspeedway.net, "Like" us on Facebook /newegyptspeedwayofficial, or follow us on Twitter @nesspeedway. New Egypt Speedway is 7/16th mile, family friendly dirt racing track located minutes from Six Flags Great Adventure on Route 539 in New Egypt, NJ.

-end-
USA Rounds of Winter Challenge Washed Out

Lonnie Wheatley, TUCSON, Ariz. (January 30, 2015) – Inclement weather has forced the cancellation of the final two rounds of the E&K Winter Challenge slated for Tucson's USA Raceway this weekend.

The events that were to feature the USAC Southwest vs. USAC West Coast Sprint Cars along with IMCA Modifieds, Stock Cars and more on both Friday and Saturday at the Tucson clay oval will not be rescheduled.

The initial three rounds of the E&K Winter Challenge took place last weekend at Canyon Speedway Park with Ryan Bernal taking back-to-back USAC Sprint Car wins on Saturday and Sunday after Brady Bacon topped the Friday night opener.

Action at Canyon Speedway Park resumes on Saturday night February 28 with the CSP season opener featuring the ASCS Southwest Region winged Sprint Cars along with IMCA Modifieds, AZ Differential Pure Stocks, Renegades and Dwarf Cars.

To keep up on all the latest news and happenings, sign up for Canyon Speedway E-News. The track update registration can be found at the top of the www.canyonspeedwaypark.com home page.

The entire 2015 Canyon Speedway Par schedule can be viewed online at http://www.canyonspeedwaypark.com/schedule/.

For tickets and more information, contact the track at 602-258-RACE(7223) or check online at www.canyonspeedwaypark.com. Additional information regarding USA Raceway is available at http://raceusaraceway.com/.

-end-
$5.00 OFF ADULT TICKETS FOR 20TH SEASON OPENER AT PERRIS AUTO SPEEDWAY
Perris, CA, January 26, 2015 Promoter Don Kazarian has announced that in honor of the 20th season opener at Perris Auto Speedway on Saturday, March 7th, adult fans will receive a 20% discount that night lowering their ticket price to $20.00. On the track the action will be supplied by the Amsoil USAC/CRA Sprint Cars, PAS Senior Sprints and the PAS Young Gun Sprint Cars in the annual Sokola Shootout. Gates will open at 5:00 PM with racing at 7:00.
The sprint car 20th season opener will be the first of 11 nights of sprint car action on the famous Riverside County half-mile clay oval in 2015. A tough field of stars is expected for the first race of the year including three-time and defending series champion Damion Gardner of Concord, five-time series champ Mike Spencer of Temecula, Brody Roa of Buena Park, Anaheim's Jake Swanson, twins Richard & Jace Vander Weerd of Visalia, Corona's Ronnie Gardner, 2014 USAC Western Sprint champ Matt Mitchell and his fellow Yorba Linda residents Cody, Austin and Logan Williams.
In addition to the established stars, perhaps the toughest rookie contingent in the 12-year history of the prestigious USAC/CRA Series will be debuting that night. Included in the rookies will be 2014 PAS Young Gun champion Trent Williams of Victorville, Corona's Stephen Limon who won the 2013 California Lightning Sprint Car championship, 2014 NMRA TQ Midget champ Anthony Lopiccolo of Buena Park, late model star Tommy Malcolm of Corona and Lake Elsinore's Parker Colston.
Current NASCAR Sprint Cup driver J.J. Yeley won the first ever race at The PAS when he was driving his father's sprint car on March 30, 1996.
-end-
PERRIS AUTO SPEEDWAY GOES BACK TO TRADITION FOR THE 20TH BUDWEISER OVALS NATIONALS!

(Perris, CA, January 6, 2015) With the holidays over, the staff at Perris Auto Speedway is back in the office and working hard on the historic 20th season at the famous Riverside County racing facility. Among the things getting attention is the most prestigious traditional sprint car race in the nation, the annual Budweiser Oval Nationals Presented by All Coast Construction. When the race takes place for the 20th time on November 12th, 13th and 14th, it will return to a format that endeared it to race fans around the country in years gone by.

The Oval Nationals began life in October of 1996 as a two-day event. It immediately garnered wide spread attention and appreciation of race teams and fans around the nation. They marveled at the gorgeous new track and appreciated that the race featured a large purse, stiff competition and was staged at a time of year when most tracks around the country had already closed for the winter.

The race remained a two day affair through the year 2000. In 2001 promoter Don Kazarian added an extra night and split the field in two. Half the cars raced on Thursday, the other half on Friday and then they all raced together on Saturday. One season later he made one of the major decisions which made the race so popular over the years. He kept the event at three days and instituted the policy of all drivers having to race all three nights.

All cars racing all three nights brought out the best drivers. It was a tough format where they had to perform at their hardest from their first lap in qualifying on Thursday until the final checkered flag on Saturday. It left little room for error from the drivers and their equipment. It was demanding on the competitors not only racing the cars, but also the crew's thrashing on them in the pits. It created excitement and drama that the fans looked forward to every year.

The race stayed a three night affair through 2011. In 2012, it went back to the original two-night format. In 2013 and 2014, it was back to three nights again, but only the last two of those nights featured the 410 sprint cars. It was still the Oval Nationals, but it was not the same show and the fans let Kazarian know that they wanted the three nights of 410 sprint cars back. Much to their delight, in 2015 the show is going back to what made it great in years gone by. Three straight nights of 410 sprint cars with every driver competing all three nights!

"The fans have been asking for three straight nights of 410 sprint cars like we used to have at the Oval Nationals and that is what we are going to give them," Kazarian said. "The race did lose a little bit of its luster for a few years, but things began to swing around again when we started getting purse back up thanks to Mike Grosswendt at All Coast Construction. There was a buzz around the race again the past two seasons and there will be even more this year as fans will be able to see their favorites from the USAC National and USAC/CRA Series' go at it three straight nights like the old days."

The 2015 edition of the prestigious race will also see it go back to another past tradition of the Oval Nationals. The race started out with just 410 sprint cars and stayed that way for quite some time. However, the past few years have seen a couple of support classes sharing the program with the 410's. That is not going to be the case this year.

"Fans also asked for 410's only and no support classes at the Ovals, so that is what we are going to do" Kazarian commented. "It seemed like the support classes cut out some of the drama and took some of the focus away from the 410's. Make no mistake about it, the 410's made the Oval Nationals and we want everyone to be able to focus on them completely so we are not running any support classes with them at this year's Ovals."

The addition of the third night of 410 racing brings on another big chunk of change for the drivers to compete for. It will be the largest purse in the 20-year history of the race. That should not only draw the attention of the local drivers in the USAC/CRA Series and the Indiana based USAC National Series, but it should draw interest from drivers from other parts of the nation as well.

"Last year Robert Ballou won both nights of the 410 portion of the Oval Nationals and pocketed $30,000.00 for doing so," Kazarian said. "If a driver sweeps all three nights this year, he will take home at least $35,000.00 in main event winnings alone. In addition to going back to all 410's and the biggest purse in Oval Nationals history, we will have some other exciting announcements in the ten months leading up to the race. This year's Oval Nationals is going to be great for the drivers and the fans. Just like old times."

Advance tickets for the 20th Annual Budweiser Oval Nationals will go on sale within the next few weeks.

For more information on The PAS call: (951) 940-0134.

-end-
MSCS RELEASES AMBITIOUS SCHEDULE FOR 2015

Haubstadt, IN - Dec. 19, 2014. The 2015 Hoosier Tire Midwest Sprint Car Series schedule has been formulated, the race dates confirmed, and it is ready to release to the public. There will be 19, probably 20, MSCS sanctioned events which are distributed over a six months period. This is the most ambitious schedule that MSCS has ever released. In 2015 there will be more races and added opportunities!

Six different tracks will host events during the season. The first five races will be at five different tracks. MSCS purses range from $2,000 to $3,000 and upwards in paying $4,000 to $5,000 to win. The biggest single MSCS event , the Haubstadt Hustler, will pay $10,000 to the feature winner.

The season is scheduled to begin on Saturday night April 11th with an appearance at Lincoln Park Speedway in Putnamville, IN. The series will once again headline Bill Gardner's Indiana Open Wheel.com Racin' Fest that night. The winner will receive $4,000.

The next weekend MSCS and USAC will join forces to present racing at Bloomington Speedway on Friday April 17th and then at Tri-State Speedway the next night, April 18th.

The series will next spring back into action the last weekend of April. The Spring Fling at the Terre Haute Action Track on Sunday the 26th will include the
King of Indiana Sprints series battling with MSCS on the half mile. It will be the only half mile track that MSCS will race on during the year.

The MSCS series will be racing at Montpelier Motor Speedway on Saturday night May 2nd. This appearance will take the series North of Indianapolis for the first time in years.

MSCS made its only appearance at Montpelier in 2001. Officials are looking forward to this opportunity.

Memorial Day weekend the series will be at Bloomington Speedway Friday night, Lincoln Park Speedway Saturday night, and Tri-State Speedway on Sunday night. Friday night's event on May 22nd will be the Josh Burton Memorial Race. Saturday will be the traditional Saturday night Special at Putnamville. Sunday MSCS will race at the Memorial Weekend Classic in Haubstadt. The Bloomington and Haubstadt races are KISS races sanctioned by MSCS. All three races will pay $2,500 to win.

Tri-State Speedway will present the MSCS Sprints twice in June. On Saturday June 6th MSCS will be part of the Summer Showdown which also features the Summit Modifieds. On the 27th the MOWA Winged Sprints will split the racing card with MSCS for the Southern Indiana Sprint Stampede. Fans can enjoy watching winged and non-winged sprints on the same racing card.

On Friday night July 3rd MSCS will sanction the racing at Lincoln Park Speedway on the first day of a two day weeked at the track. Itwill be the third of four appearances at Putnamville during the season. This is another new show and an added opportunity involving MSCS. The Bill Gardner Sprintacular that night will pay $4,000 to win.

The annual Hoosier Sprint Nationals will be at Haubstadt on August 2nd and will pay $5,000 to the winner. This year the POWRi Midgets have been added to that show!

The MSCS Sprints will return to Putnamville's Lincoln Park Speedway in August with a $3,000 to win event scheduled for the 8th. Bloomington Speedway will be paying $3,000 to win August 14th when the MSCS Sprints return for the second annual Summer Doubler. A race may be held on August 15th. Details could not be worked out in time to meet the earlier release deadline for the MSCS season schedule. An announcement will be made later.

Brownstown Speedway will host it's very first MSCS event on August 22nd. It will be the third attempt to bring an MSCS Sprint Car show to the fairgrounds oval. If the third effort is charmed MSCS will finally present its first race at the track!

September will be a busy month for MSCS drivers. It begins when they run at Tri-State Speedway Sunday night September 6th in the Labor Day Weekend Challenge paying $3,000 to win. Then they will return to Haubstadt along with the USAC Sprints to participate in the biggest race of the year which is the Haubstadt Hustler on Saturday night September 19th. The top drivers in the nation will be running for a top prize of $10,000 to win.

A September 26th racing date at Tri-State Speedway will include the POWRi Midgets along with the MSCS Sprints. The Class Track Fall Roundup will be a second opportunity for open wheel fans to see both sprints and midgets during the same racing program.

Tri-State Speedway will host the MSCS Season Finale on October 10th. The feature winner will receive the Harvest Cup. The new MSCS Champion and Rookie of the Year will be honored at or following this decisive race.

Kyle Cummins of Princeton, IN, won the 2014 MSCS Championship and the title is once again his to defend in 2015. It was his fourth MSCS series title. James Lyerla of Hillsboro, IL, was named as the 2014 MSCS Rookie of the Year. A new group of drivers will be emerging in the coming season to challenge for Rookie of the Year honors!

Four new race dates have been added to the tour and six race dates have been adjusted to improve the overall schedule. The shows co-sanctioned with USAC or part of the KISS schedule will continue to add to the challenges already facing the drivers at their every appearance. Season FIFTEEN for MSCS begins April 11th. Promoters are offering purse money totaling nearly a quarter of a million dollars over the season.

If any changes or additions are necessary to the schedule, a news release will be issued at that time. Everyone can keep up with MSCS by visiting mscssprints.com. or MSCS Facebook.

2015 MSCS Schedule
APR 11 Sat Lincoln Park Speedway
APR 17 Fri Bloomington Speedway
APR 18 Sat Tri-State Speedway
APR 26 Sun Terre Haute Action Track
MAY 02 Sat Montpelier Motor Speedway
MAY 22 Fri Bloomington Speedway
MAY 23 Sat Lincoln Park Speedway
MAY 24 Sun Tri-State Speedway
JUN 06 Sat Tri-State Speedway
JUN 27 Sat Tri-State Speedway
JUL 03 Fri Lincoln Park Speedway
AUG 01 Sat Tri-State Speedway
AUG 08 Sat Lincoln Park Speedway
AUG 14 Fri Bloomington Speedway
AUG 15 Sat TBA
AUG 22 Sat Brownstown Speedway
SEP 06 Sun Tri-State Speedway
SEP 19 Sat Tri-State Speedway
SEP 26 Sat Tri-State Speedway
OCT 10 Sat Tri-State Speedway

NOTICE: THIS SCHEDULE IS SUBJECT TO REVISION.

-end-


9TH ANNUAL USAC EASTERN STORM TO OPEN TUESDAY NIGHT, JUNE 2ND AT GRANDVIEW SPEEDWAY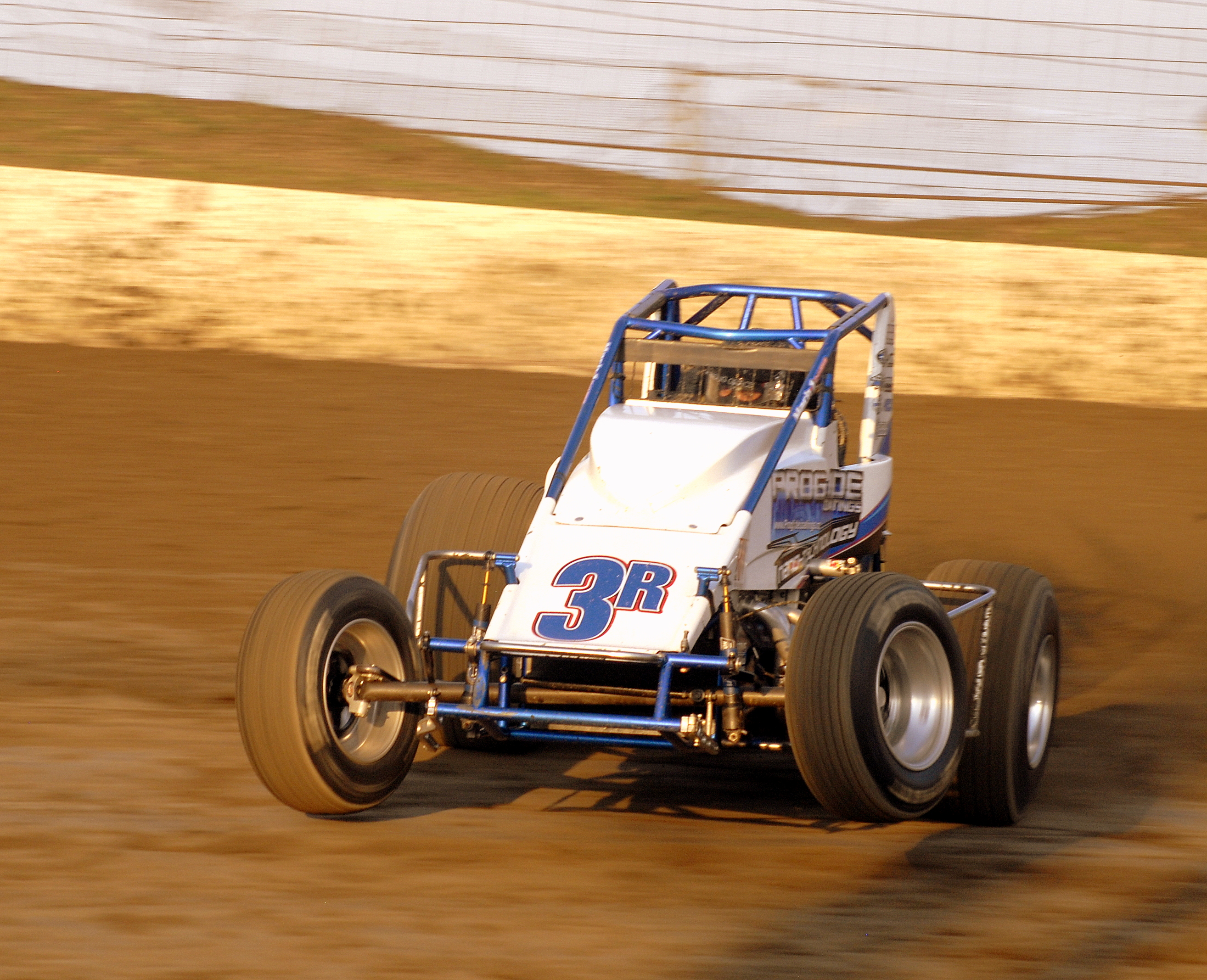 Daryn Hagen hikes his left front wheel during hot laps on opening night of the USAC Eastern Storm at Grandview back in June. Photo Copyright The Dirt Track Channel/Shawn Wood Productions.

USAC history continues with the return of the 9th Annual AMSOIL USAC Eastern Storm opening at the Grandview Speedway on Tuesday night, June 2nd. The Eastern Storm will continue with stops at the Lincoln Speedway on Wednesday night, June 3, New Egypt Speedway on Thursday night, June 4, Port Royal on Saturday night, June 6 and Susquehanna on Sunday night, June 7.

Past Eastern Storm Champions include Brady Bacon, Bryan Clauson, Levi Jones and Cole Whitt. Brady Bacon is one driver who is already gearing up for the 2015 Eastern Storm. Bacon recently confirmed that he's heading East for the Storm.

The USAC Non-Wing Sprints & ARDC Midgets will share the race card at the Grandview Speedway on Tuesday night, June 2nd when the Eastern Storm opens on the hill. Gates open at 5 PM with race time set for 7:30 PM.

A big night of racing is planned for the Lincoln Speedway on Wednesday night, June 3. The USAC Sprints will have a full show plus, their make-up portion of the rain out from 2014. The 360/358 Sprint Challenge will also be on the race card. The rain out portion of their show will include a "B" Main and the 25 lap, $2,500 to win main event, with the same payoff as posted for the 2014 event.

The eighteen cars that qualified through the heat race events will line up in this order. 25 Josh Weller, 22 Troy Betts, 08 Jason Clauss, 4 Jimmy Stitzel, 28F Davie Franek, 25 Aaron Ott, 7 Ed Aikin, 27 Jay Galloway, 4R Kevin Nouse,, 56 Randy West, 9D Kevin Darling, 88B Andy Best, 2W Glendon Forsythe, 7C Chad Trout, M1 Mark Smith, 5G Curt Michael, 21T Scott Fisher, 8C Brian Carber. The "B" Main line-up includes 28 Keith Prutzman, 5 Tyler Ross, 98 Joe Trenca, 17J Jonathan Swanson, 12 Mark Bittinger, 97 Brie Hershey, 77w Will Eggimann, 9 Wes Irwin, 79 Jordan Thomas, 12B Brad Franks, 16 Matt Campbell, 38 Mark Strickler, 14 Anthony Fiore. In addition, the 360/358 sprints will be offered a second Challenge event that night.

On Thursday night, June 4 the New Egypt Speedway in New Egypt, NJ will host the USAC Eastern Storm. Friday night is an open date at this time. The USAC Non-Wing Sprints will invade the Port Royal Speedway in Port Royal, PA on Saturday night, June 6. In the 2014 event, Brady Bacon of Broken Arrow, OK sizzled the fast Port Royal Speedway.

In 2014, rain was no friend to the Eastern Storm, also forcing a cancellation at the Susquehanna Speedway. In 2015, Susquehanna Speedway Park will close out the Eastern Storm on Sunday night June 7.

More news to come on the 9th Annual AMSOIL Eastern Storm of 2015.

-end-