Cottle Wins Sprint Car Feature As Gas City I-69 Speedway Reopens To an Enthusiastic Crowd

GAS CITY, Ind., April 21 — Gas City I-69 Speedway has a new promoter for the 2018 season in Jerry Gappens, but it was a familiar name in victory lane after the 25-lap sprint car feature for the track's grand reopening Friday night. Former track champion Shane Cottle of Kansas, Ill., won the headliner before an enthusiastic, family-friendly crowd.

Cottle started fourth in the 21-car field, took the lead from polesitter Kyle Robbins on lap two, and was never again headed despite three restarts to tighten up the field.

The biggest battle was for the runner-up position, as Robbins, of New Castle, Ind., and Jarett Andretti of Indianapolis duked it out for many laps before Andretti finally got the spot by charging to the inside of Robbins coming out of Turn 4 on lap 19. Robbins held on for third.

The restarts occurred after Landon Simon of Tipp City, Ohio stopped low in Turn 2 with six laps down, Luke Harbison of Fishers, Ind. brought out a red when he flipped on his side in Turn 1 on that ensuing restart, and following lap 12, after Jamie Frederickson of Kokomo, Ind. spun between Turns 1 and 2. That set up a duel between Clinton Boyles of Greenwood, Mo. and Isaac Chapple of Willow Branch, Ind. for fourth, but Chapple took control of that position for good on lap 16 when Brandon Morin of Jasonville, Ind. passed Boyles for fifth.

Boyles held on for sixth followed by Tyler Hewitt of Marion, Ind., Brian Mattox of Terre Haute, Ind., Ted Hines of New Castle, Ind., and Garrett Abrams of Rushville, Ind.

Next Friday, April 27, is the track's "Spring Fever" program of sprints, UMP Modifieds, Thunder Cars and Super Streets. Admission prices are family friendly, and all high school and college students can attend for only $10 each with their school ID cards.

For more information, see the track's Web site at GasCityI69Speedway.com and follow it on Facebook at @GasCitySpeedwayOnTheGas and on Twitter at @GasCitySpeedway.

Sprint Feature (25 laps): 1. Shane Cottle, 2. Jarett Andretti, 3. Kyle Robbins, 4. Isaac Chapple, 5. Brandon Morin, 6. Clinton Boyles, 7. Tyler Hewitt, 8. Brian Mattox, 9. Ted Hines, 10. Garrett Abrams, 11. Dallas Hewitt, 12. Matt Cooley, 13. Paul Dues, 14. Travis Hery, 15. Chad Wilson, 16. Jamie Fredrickson, 17. Matt Goodnight, 18. Matt McDonald, 19. Lee Underwood, 20. Luke Harbison, 21. Landon Simon, 22. Parker Fredrickson (DNS).

-end-
Grant wins Opening Night at Lawrenceburg

Avon, Indiana's Justin Grant won the opening night at Lawrenceburg Speedway in the first race for the Sprint Cars.

He would take the green flag from the 4th starting spot and wrestled the lead away from CJ Leary within a couple laps. Leary settled back into second and Chris Windom third. The leaders began to catch the back half of the field which allowed Windom to get around Leary for second.

As the field began to get strung out, Windom would close in lapped traffic but never was able to challenge Justin Grant for the win. Grant picked up his 10th career win at Lawrenceburg tying him with Leary for second on the all time Sprint Car wins list on the 3/8 mile configuration. Windom finished second followed by Leary, Landon Simon, and Dickie Gaines.

Garrett Abrams was the Hard Charger gaining 11 positions from his starting spot. Heat race winners were Windom, Cottle and Landon Simon.

The Sprint Cars return to the track on Saturday April 28th.

-end-
Waynesfield Opener Night of Firsts
April 21, 2018

FOR IMMEDIATE RELEASE

WAYNESFIELD, Ohio (4/21/18) – The 14th season of racing at Waynesfield Raceway Park in Waynesfield, Ohio was ushered in Saturday under the lights with four divisions of racing action.

The Non Wing Sprints started the season strong with a field of 24 cars signing it to compete. The 25 lap A-main was brought to green by the 52 of Isaac Chapple and the 24L of Lee Underwood. About to tick one lap off the board, the red flag flew for the 0 of Steve Irwin. Irwin went upside down exiting turn three promoting an immediate stop in the action. Korbyn Hayslett and Steve Little were also involved and retired to the pit area for the main. Trial number two to get the main event underway was unsuccessful as a caution flew for the 51 of Curtis Muhlenkamp. The third attempt was a success with Lee Underwood taking the early lead. Matt Westfall managed to slip his way into the second spot early in the event, ready to challenge for the lead. Underwood slipped back in the event to finish sixth. With Westfall now in the lead, it was Kody Swanson's turn to make a run on Westfall. Lap after lap, Swanson reeled in the 33M of Westfall as laps began to tick down. A late race caution was not enough for Swanson giving Matt Westfall the win. Swanson finished second. Isaac Chapple maintained to finish in third. Underwood, Chapple, and Westfall picked up heat race victories.

Waynesfield Raceway Park will be back in action next Saturday, April 28th for the 2018 Spring Fling featuring the Quest Federal Credit Union Non Wings, Performance Powder Coating AMSA Mini Sprints, Block Insurance Tough Trucks, and Indian Lake Outfitter Compacts. Adult general admission is just $12 for the event. Pit side gates will open at 4PM; grandstands at 5PM. Cars hit the track for hot laps at 6PM with the first green flag of the night flying at 7PM.

Non Wings A-Main 1 (25 Laps): 1. Matt Westfall; 2. Kody Swanson; 3. Isaac Chapple; 4. Dallas Hewitt; 5. Mike Miller; 6. Lee Underwood; 7. Drew Rader; 8. Chad Wilson; 9. Tyler Hewitt; 10. Matt Cooley; 11. Travis Hery; 12. Paul Dues; 13. Dustin Hammond; 14. Kevin Myers; 15. Josh Turner; 16. Ty Tilton; 17. Curtis Muhlenkamp; 18. Steve Irwin; 19. Steve Little; 20. Korbyn Hayslett.

-end-
MSCS ADDS ANOTHER RACE TO THE EXISTING SCHEDULE

Haubstadt, IN - February 26, 2018 - Midwest Sprint Car Series Officials are pleased to announce an addition to this season's racing schedule. An agreement has been reached to hold an event at Gas City I-69 Speedway on May 4th. The feature will pay $3,000 to Win that Friday! That should attract a diverse and large field of competitors. It will also mark the first appearance of the non-wing series at this speedway.

The 1/4 mile semi-banked Speedway will be promoted by Jerry Gappens this coming season. The facility is located on Indiana State Route 22 less than a mile west from exit 59 of I-69. This new addition to the schedule is now the second of five MSCS races at four different tracks that will pay $3,000 to win during the season. That also
brings the total number of races on the 2018 MSCS Schedule to 19.

MSCS conducted its annual rules meeting during the month of February. As a result the 2018 rule book has been published. A copy has been posted on the series website.

Also drivers can find a blank application to use in requesting a MSCS license. Using a special pre-season offer, licenses can be purchased at a reduced cost until March 31st.

Details are available on line at www.mscssprints.com.

-end-

Diversified, 17-Event Race Schedule Set for Gas City I-69 Speedway

GAS CITY, IN. (February 27, 2018) – After hosting only a handful of events the past three years, Gas City I-69 Speedway will feature an exciting 17-race event schedule showcasing more than a dozen various racing divisions this season.

Anchoring the schedule will be the 410-cubic-inch, non-wing sprint cars, which compete in 16 events at the quarter-mile, semi-banked clay oval. The largest weekly Indiana sprint car purse awaits this popular and exciting open-wheel division. Three events will pay at least $3,000 to the feature winner. The Midwest Sprint Car Series (MSCS) will make its first Gas City appearance on May 4, and the season will close with the $3,000-to-win James Dean Classic on Sept. 28.

Two winged sprint car programs are scheduled, with the Great Lakes Sprint Series joining the non-wing warriors in a battle of "wings verses non-wings" on June 8. The inaugural season for BOSS winged sprint cars will include a stop at Gas City on August 31.

Midget racing will also be well represented this season. The speedway will host round two of the USAC Indiana Midget week on Wednesday night, May 30. The USSA Kenyon Midget Series (Sept. 7), non-sanctioned midgets (May 18, July 6), D2 midgets (June 15, August 3) and the UMRA TQ Midgets (May 18) round out the mighty midgets' appearances.

The popular UMP Modifieds, Super Streets, Thunder Cars, Front-Wheel-Drive (FWD) Compacts, Mod Lites and 600cc Winged Outlaw Micros will rotate regular appearances throughout the season.

"Although we got a very late start in the scheduling process, we have developed an exciting and diversified schedule for our fans and participants," said Jerry Gappens, promoter of Gas City I-69 Speedway. "We are still in dialogue and expressing our passionate interest with USAC executives in hopes of hosting the opening round of the USAC Sprint Week on July 20. They should be announcing something soon regarding that "TBA" on both schedules.

Gappens has also incorporated special "intermission" entertainment for event nights. KnockerBall, kids coin scrambles, toss-the-helmet and races for "soccer moms" and school buses will be among the popular special attractions for those in attendance. More of these special events will be added.

"Our goal is to provide fast, fun family entertainment," added Gappens. "Our team will be vigilant in starting and finishing the programs on time."

Gas City I-69 Speedway - 2018 Schedule of Events

Sunday afternoon, April 15 (3-7 p.m.) – Test & Tune Session
Open to all race cars (no karts, ATVs or motorcycles)
Pit Pass $20; Grandstands FREE – Pit Gate Opens: 1 p.m.

Friday night, April 20 – Grand Opening Night!
Non-Wing Sprint Cars, UMP Modifieds, Thunder Cars, FWD Compacts,
Intermission Entertainment: "KnockerBall Knockout."
Adult General Admission $15, Children 12 & Under FREE, Pit Pass $30

Friday night, April 27 – Spring Fever
Non-Wing Sprint Cars, UMP Modifieds, Thunder Cars, Super Streets,
Intermission Entertainment: "Throw the Helmet Competition"
Adult General Admission $15, Children 12 & Under FREE, Pit Pass $30.

Friday night, May 4 – Friday Night Fury
Midwest Sprint Car Series (MSCS non-wing) $3,000-to-win;
Thunder Cars, FWD Compacts, Mod Lites, $300 Kids Coin Scramble!
Adult General Admission $18, Children 12 & Under FREE, Pit Pass $30

Friday night, May 11 – MAYhem
Non-wing Sprint Cars, UMP Modifieds, Super Streets, Thunder Cars, FWD Compacts,
Intermission Entertainment: "Soccer Moms Gone Mad" race.
Adult General Admission $15, Children 12 & Under FREE, Pit Pass $30

Friday night, May 18 – Open Wheel Madness
Non-Wing Sprint Cars, Midgets, UMRA TQ Midgets, Mod Lites,
Intermission Entertainment: "Throw the Helmet Competition"
Adult General Admission $15, Children 12 & Under FREE, Pit Pass $30

Friday night, May 25 – No events

Wednesday night, May 30 – USAC Indiana Midget Week Classic
USAC National Midget Series, Non-Wing Sprint Cars, Thunder Cars.
Special Entertainment: USAC Legends Autograph Session
Adult General Admission $25, Children 12 & Under FREE, Pit Pass $30

Friday Night, June 1 – No events (Indiana Midget Week)

Friday Night, June 8 – A Salute to the Kinsers - Wings –vs- Non-Wings
GLSS Winged Sprint Cars; Non-Wing Sprint Cars, Mod Lites, Super Streets
Adult General Admission $20, Children 12 & Under FREE, Pit Pass $30

Friday Night, June 15 – Jack & Jiggs Classic
Non-Wing Sprint Cars, D2 Midgets, Thunder Cars, FWD Compacts.
Intermission Entertainment: TBA
Adult General Admission $15, Children 12 & Under FREE, Pit Pass $30

Friday Night, June 22 – Jerry Gappens Sr. Memorial
Non-Wing Sprint Cars, UMP Modifieds, Thunder Cars, Super Streets, Entertainment TBA
Adult General Admission $15; Children 12 & Under FREE, Pit Pass $30

Friday Night, June 29 – Star Spangle Spectacular – "Patriotic Theme Night"
Non-Wing Sprint Cars, UMP Modifieds, Thunder Cars, FWD Compacts, Kids Coin Scramble and FIREWORKS!
Adult General Admission $15, Children 12 & Under FREE, Pit Pass $30

Friday Night, July 6 – Summer Thunder – "Beach Theme Night"
Non-Wing Sprint Cars, Midgets, 600cc Winged Micro-Sprints (300-to-win, $300 bonus to highest average finish during weekend at Gas City & Circus City), Super Streets.
Intermission entertainment: Midwest Oldtimers Vintage Race Club.
Adult General Admission $15, Children 12 & Under FREE; Pit Pass $30

Friday Night, July 13 –Mid-Season Showdown – "Christmas in July Theme Night"
Non-Wing Sprint Cars, UMP Modifieds, Thunder Cars, FWD Compacts
Adult General Admission $15, Children 12 & Under FREE; Pit Pass $30

Friday Night, July 20 – TBA (Sprint Speedweek)

Friday Night, July 27 – No Events (Sprint Speedweek)

Friday Night, August 3 – Back to School Bash – "School Colors Theme Night"
Non-Wing Sprint Cars, D2 Midgets, Thunder Cars, FWD Compacts, $300 Kids Coin Scramble, School Bus Race.
Adult General Admission $15, Children 12 & Under FRE;, Pit Pass $30

Friday Night, August 10 – No Events

Friday Night, August 17 – Summer Slam
Non-Wing Sprints, $2,018 to Win; UMP Modifieds, Super Streets, FWD Compacts, Mod Lites.
Adult General Admission $15, Children 12 & Under FREE; Pit Pass $30

Friday Night, August 24 – No Events (Kokomo SmackDown)

Friday Night, August 31 – King of the Wings
BOSS Winged Sprint Cars, Winged Outlaw Micro-Sprints* ($500-to-win—plus $500 bonus to highest average finisher during weekend at Gas City & Circus City), Thunder Cars

Special entertainment: TBA.
Adult General Admission $18, Children 12 & Under FREE; Pit Pass $30

Friday Night, Sept. 7 – HARF Night (Hoosier Auto Racing Fans)
Non-Wing Sprint Cars, USSA Kenyon Midget Series, FWD Compacts, Mod Lites,
Intermission entertainment: TBA
Adult General Admission $15, Children 12 & Under FREE; Pit Pass $30

Friday, Sept. 14 – No Events
Friday, Sept. 21 – No Events (WoO and USAC Four Crown weekend at Eldora))

Friday, Sept. 28 – James Dean Classic – "50s Theme Night"
Non-Wing Sprint Cars, $3,000-to-win; UMP Modifieds, $1,000 to win; Super Streets, Thunder Cars
Adult General Admission $18, Children 12 & Under Free; Pit Pass $30

-end-
Kalib Henry claims C&H Veteran Ent. presents Hunt Magnetos Wingless Tour season opener in Marysville

By Gary Thomas

Marysville, CA – February 24, 2018...Kalib Henry ended last season by winning the final two C&H Veteran Ent. presents Hunt Magnetos Wingless Tour events and he started off 2018 in that same fashion by picking up his third career series victory at Marysville Raceway's Sherm and Loree Toller Memorial on Saturday.

"It feels great to open the season in Marysville with another Hunt Tour victory in the 33 car," Henry commented on the front stretch. "We didn't quite fully have the set up where we wanted it to be on the front end and I had some trouble getting around one and two, but then opened up my entry and was able to rotate off the corner better. I had a lot of pressure from Max Adams and got a lucky break when he got caught up with that lapped car. That's racing though and I'm happy to be standing here in victory lane tonight."

The 25-lap Pit Stop USA main event started off with USAC regular Max Adams and Angelique Bell leading the field down to the green flag. Bell was able to get the jump and held command over the first couple laps, until spinning a complete 360 in the second corner. She did a great job to keep going, but dropped to third, as Jake Morgan shot to the top spot. The next lap however, chaos broke out when contact between Morgan and Kalib Henry sent Morgan's 45 machine sideways and collected six other cars.

Henry now found himself in the lead with four laps down and after going back green the battle to watch was the fight for second between Bell and Adams. On lap eight Adams carved his way past Bell and then set his sights on Henry. Following a red flag for youngster Jesse Love with 11 laps complete, the race for the lead was on. Adams hounded the rear bumper of Henry's machine and got alongside him on lap 17 but couldn't quite complete the pass.

The big moment of the race occurred on lap 20 as Henry got to the outside of a lapped car in turn three. Adams tried to follow suit but contact between the pair ensued and left him parked on the inside of the fourth corner. After that it was all Henry up front, who charged away to take the checkered flag. Veteran Sparky Howard crossed the stripe in second but was penalized two positions for jumping the last restart. Even despite that though it was a great run for the Santa Rosa competitor.

The penalty for Howard moved Bell up to a second-place finish to cap off a very successful evening for the Rio Linda racer. Shawn Jones, Howard and Troy Degaton rounded out the top-five. Scott Hall, Jake Morgan, Terry Schank, Max Adams and Adam Christian completed the top-10 in the feature.

Adams captured the Santa Mauro Racing Products Dash, while King Racing Products heat one was picked off by Jesse Love, Speed Mart heat two was won by Kalib Henry and Benic Ent. heat three was claimed by Adams. Jimmy Christian began the night by earning the Quick Time Mortgage fast time award by clocking a 14.037 around the quarter-mile.

The C&H Veteran Ent. presents Hunt Magnetos Wingless Tour will return to action this coming Saturday March 3 at Chico's Silver Dollar Speedway, as part of the annual Silver Cup. The front gate will open at 5pm with racing expected to get underway around 6:30pm.

-end-
Marysville Raceway fires-off the C&H Veteran Ent. presents Hunt Magnetos Wingless Tour season this Saturday

By Gary Thomas

Marysville, CA – February 19, 2018...The Sherm and Loree Toller Memorial has grown to be the traditional Northern California Sprint Car kick-off and for the second consecutive year the C&H Veteran Ent. presents Hunt Magnetos Wingless Tour will be a part of the show this Saturday February 24 at Marysville Raceway.

This weekend's event opens the second C&H Veteran Ent. presents Hunt Magnetos Wingless Tour season under the Glad Enterprises banner with promoter Rick Faeth at the helm. He spoke about opening the year on Saturday. "Having one of MRP's signature events such as the Toller Memorial for the second straight year is great for our wingless tour. I'd like to thank Dennis Gage for hosting us and look forward to kicking-off what should be a great season."

The C&H Veteran Ent. presents Hunt Magnetos Wingless Tour this season will once again pay a minimum of $1,200-to-win & $175-to-start the Pit Stop USA A-main each night. The middle portion of the purse has also been increased thanks to support from Transport Products Unlimited.

The tour champion will be awarded a solid $1,500 from a point fund that pays out the top-10 at season's end. There will be no entry fees and no membership fees for competitors to run tour events. A solid contingency program is also in place with numerous companies lending their support each night.

Last season was dominated by Tracy's Austin Liggett and car owner Brian Sperry, who picked off five wins en route to the C&H Veteran Ent. presents Hunt Magnetos Wingless Tour title. Liggett however, will not be chasing points this year, leaving the championship battle wide open.

The top-five in the standings last year was filled out by Brent Steck, Klint Simpson, Casey McClain and Troy Degaton. Several other drivers will look to battle their way to the front of the field at the opener including reigning Toller Memorial winner Cody Spencer, along with Terry Schank Jr., Kalib Henry, Sparky Howard, Angelique Bell, Scott Hall, Barry Pries Jr., Trey Walters, Chris Kerr, Marcus Smith, Tim Sherman Jr. and many more.

The Sherm and Loree Toller Memorial honors the late husband and wife, who were part of the Marysville Raceway family for years. Sherm handled the infield reporting duties at the speedway, while Loree was a scorekeeper in the booth. Prior to that both also worked at the now defunct Ernie Purcell Speedway in Grass Valley. Also on the card this Saturday in Marysville to help open the Nor-Cal campaign will be Winged 360 Sprint Cars and the RaceSaver 305 Sprints.

Marysville Raceway Announcer and Public Relations Director Troy Hennig talked about having the C&H Veteran Ent. presents Hunt Magnetos Wingless Tour as part of the Sherm and Loree Toller Memorial on Saturday, "We are definitely excited to host the season-opener for the tour this weekend in Marysville. What has taken place the last year and half with the series has been all positive. Having the Hunt Wingless cars alongside the Winged 360's and RaceSaver Sprints will make for a great show at the Toller Memorial and we hope all the fans will come out to support the event."

All seating will be general admission this Saturday with adult tickets $17; juniors 12-15, seniors 62+ and military with ID will be $14; children 6-11 are $6 and five and under will be free. A family pack featuring two adults and two juniors (or three children) will be available for $50. The front gate will open at 5pm, with cars on track shortly after and racing to follow. A full program of West Coast Race Parts qualifying, heat races, the Santamauro Racing Products dash and Pit Stop USA A-main will all be on tap.

The Marysville Raceway is located in Marysville, California. From the Junction of HWY 70 and HWY 20 (12th Street), go a quarter-mile east on HWY 20. Turn south onto Ramirez Road for 1.5 miles. The physical address is 1468 Simpson Ln, Marysville, CA 95901. More info on the track can be viewed at www.marysvilleraceway.com

-end-

Wingless Sprint Series Hosts Thirteen Races In 2018

By Ben Deatherage

Cottage Grove, Oregon- The Winlgess Sprint Series enters it's third year of competition in 2018. The last two seasons Rob Lindsey has managed to best the field in the points table and is seeking his third straight championship. The upcoming schedule will feature thirteen races, over the months of April to September, at six different facilities in Oregon and Washington.

Cottage Grove Speedway will see the lion's share of the events with four visits including the July 7th Herz Precision Parts Wingless Nationals. Grays Harbor Raceway, the only Washington track for the tour this year, will have three shows at the mighty 3/8-mile clay oval.

Both Willamette Speedway and Madras Speedway feature a pair of trips to each respectable track while Sunset Speedway Park and Coos Bay Speedway have just one race each. The September 1st date at Coos Bay will be the final race of the schedule and is sure to be a thriller.

Be sure and visit wingless.nwextremeseries.com for the latest stories, news, points, and more regarding the Wingless Sprint Series. Also, check out the series on Facebook by visiting "Wingless Sprint Series" or "Northwest Wingless Tour" and clicking "Like".

2018 Wingless Sprint Series Schedule:
April 21st-Cottage Grove Speedway-Cottage Grove, Oregon
May 5th-Madras Speedway-Madras, Oregon
May 19th-Cottage Grove Speedway-Cottage Grove, Oregon
May 26th-Grays Harbor Raceway-Elma, Washington
June 9th-Grays Harbor Raceway-Elma, Washington
June 16th-Cottage Grove Speedway-Cottage Grove, Oregon
June 23rd-Willamette Speedway-Lebanon, Oregon
July 7th-Cottage Grove Speedway-Cottage Grove, Oregon-Herz Precision Parts Wingless Nationals
July 21st-Willamette Speedway-Lebanon, Oregon
August 4th-Grays Harbor Raceway-Elma, Washington
August 11th-Sunset Speedway Park-Banks, Oregon-Open Wheel Frenzy
August 18th-Madras Speedway-Madras, Oregon-Open Wheel Spectacular
September 1st-Coos Bay Speedway-Coos Bay, Oregon-Ironman Challenge

-end-

2018 TRI-STATE SPEEDWAY SEASON BEGINS APRIL 14th WORLD OF OUTLAWS FIRST UP ON THE SCHEDULE!

Haubstadt, IN - February 2, 2018. Tri-State Speedway at Haubstadt, IN, will hold this year's season opener for the track on Saturday April 14th. The winged sprint cars of the World of Outlaws will headline the show that evening. This appearance is the only time the outlaws will race at Haubstadt during the season. It will be one great start to a varied and promising schedule consisting of twelve special events.

The non-wing sprint cars will make a first appearance at Tri-State Speedway on Saturday April 28th. Spectators will witness the action as the United States Auto Club Sprints and the Midwest Sprint Car Series Sprints compete in the co-sanctioned "Spring Showdown" paying $5,000 to win.

There will be two races during May. The annual "Midwest Madness" event will be followed by the "Memorial Weekend Classic." The MOWA Wing Sprints will share the race card with MSCS on May 12th. Then on Sunday May 27th MMSA Mini Sprints will appear along with the MSCS 410 Sprints.

The UMP Open Wheel Modifieds will continue to anchor the programs at the track. The class will make 11 appearances during the season. Plus the feature winners will receive $1,000 on April 14, July 28th, September 2nd, and October 13th. Then at the Summit Modified show on Sunday June 24th the feature will pay $1,500. That is on the date for the annual Late Model Summernationals event.

Earlier that month on June 9th the MSCS Sprints will compete in a co-sanctioned event with the POWRi WAR Sprints. The winner for this "Summer Showdown" will receive $5,000. The race will mark the first time these two organizations will meet.

The MOWA Wing Sprints will return to race on July 14th. It is the "Sprint Stampede" with a triple header including the MSCS Sprints and the MMSA Mini Sprints. It will be an all sprint car tripleheader!

MMSA will also return to race at the "Harvest Cup" The MSCS Sprints will make 9 appearances at the track during 2018. In addition to the events already mentioned MSCS will compete in the "Hoosier Sprint Nationals" on August 11th and the "Harvest Cup" which will conclude the season on October 13th. Both of these MSCS features pay $5,000 to win. The IMCA Racesaver Sprints will be added as an additional class for the "Hoosier Sprint Nationals" this season. The "Labor Day Weekend Challenge" for MSCS on Sunday September 2nd has a $3,000 to win purse.

On July 28th the speedway will host the finale of the USAC "Indiana Sprint Week." The USAC Sprints will also return on September 15th for the one and only "Haubstadt Hustler." This will be the biggest race of the season for non-wing sprint competitors. USAC & MSCS will both take up the challenge in this co-sanctioned event. The top prize is $10,000. The Saturday September 15th and October 13th events will have rain dates set for Sunday of that weekend.

Ticket information is available by calling 812-768-5995. Ticket prices do vary for different events on the schedule The speedway also offers reserved seating. Advance tickets for the World of Outlaws event will be on sale starting February 19th. Further details on each event are also available at www.tristatespeedway.com . The speedway also posts updates on face book!

-end
STRADA TO RUN GALLAGHER WINGLESS #5G WITH USAC EAST COAST
By: Jenna Shotz for BBJG Racing

LAKE ARIEL, PENNSYLVANIA (January 31st, 2018)- Eddie Strada of Lake Ariel, PA will be piloting the BBJG Racing #5g wingless 360 sprint car with the USAC East Coast Sprint Car Series for the 2018 season.

Owner Bill Gallagher has put together a successful winged sprint car team for the last 28 years. His team has won 5 United Racing Club championships. Curt Michael has driven for Gallagher since 2008, taking many trips to victory lane together. The pair are going onto their 11th season together.

The team has had great success in the 360 ranks with wings on their cars, but they have decided to add the ten USAC-EC races to their schedule. When it came time to decide who to put in their car, Gallagher and Michael sat down and talked about their options.

Ultimately, Eddie Strada was chosen as the best fit for their team. Strada is a standout in small cars, with an impressive resume in the 600cc micro sprint division as well as the 305 class. Strada has two championships at the Hamlin Speedway and one at the Championship Energy Action Track USA in the 600cc class. Strada also gained multiple wins in the CRSA and TSRS 305 sprint series in the last three years. Eddie says, "In all my years of racing I never thought I'd be able to have the opportunity to race wingless sprint cars. That's like, the dream."

When asked about his decision, Curt Michael explains, "Bill and I look forward to working on our USAC East Coast Sprint Car team. Eddie is a great young person and driver. He runs a bunch of winged and wingless micro sprints, and we feel that he fits into what the USAC-EC series is all about. As a team, we will try our best to get him as comfortable in a wingless sprint car as he is in his wingless 600."

Strada is excited about the transition and feels as though he can take what he knows about wingless micro sprint racing and translate it into a wingless sprint car. "I know it is going to be different. It is probably going to be a big learning curve, but I'm really excited for this season. I am looking forward to building a strong bond with this team and win races and have fun doing it. It's going to be a big swing backing it into the corner instead of trying to keep the car straight with a wing on. I am just really grateful to have a supportive team behind me."

-end-
POWRI RELEASES 2018 WAR & WAR WILDCARD SCHEDULES

INDIANAPOLIS, IN. (January 22, 2018) - The POWRi Lucas Oil WAR Sprint League has released its much anticipated 2018 schedule, which includes 36 events. 2018 will also mark the launch of the WAR Wildcard Series, which will essentially replace the WAR East group that thrived in 2017. The POWRi Lucas Oil WAR Sprint League and the WAR Wildcard Series are two separate schedules. A total of just over $16,500 will be paid out to the WAR and WAR Wildcard competitors in point fund money for 2018.

The season will kick off with the two-day "Rumble in the Bullrings," starting at US 36 Raceway in Osborn, Missouri, on Friday, March 30, followed up with Eagle Raceway in Eagle, Nebraska, on Saturday, March 31. The WAR Sprint League will visit two new venues in 2018 with a trip to Midway Speedway in Lebanon, Missouri, on June 22 and a new two-day event at Humboldt Speedway in Humboldt, Kansas, on August 24 and 25. The two-day Humboldt Speedway event will also feature the POWRi West midgets.

The WAR Wildcard races will be special events and accumulate separate points highlighting marquee venues outside of WAR's Missouri home base.
A total of 14 events will be Wildcard worthy. The Wildcard Series will visit four new venues in 2018 beginning with Tri-State Speedway on June 9 as a co-sanctioned event with MSCS. August 4-5 will see the series visit Wilmot Speedway and the historic Angell Park Speedway for a two-day Wisconsin weekend. The fourth new venue will come on August 7 at Southern Iowa Speedway in Oskaloosa, Iowa. "Osky" has been the home of the Non-Wing World Championship and the Ultimate Challenge in years past and is sure to create some excitement during the Knoxville Nationals week.

The season finale for both series will be at Fairbury American Legion Speedway October 5-6, with Friday paying $2,000 to win and Saturday paying $4,000 to win.

"The goal in our minds with the WAR Wildcard events is to continue growth to new venues showcasing our league's competitive nature and potential," said POWRi WAR Sprint League Director Casey Shuman. "There are some really cool tracks on the schedule this year, and we are looking forward to putting on good shows for some new fans."

POWRi Lucas Oil WAR Point Fund Payout:
1. $3,000
2. $1,500
3. $1,000
4. $900
5. $850
6. $800
7. $750
8. $700
9. $600
10. $500

POWRi Lucas Oil WAR WILDCARD Point Fund Payout:
1. $2,500
2. $1,200
3. $1,000
4. $700
5. $500

POWRi Lucas Oil WAR Sprint League 2018 Schedule:
3/30 - US 36 Raceway (Osborn, MO)
3/31 - Eagle Raceway (Eagle, NE)
4/21 - Springfield Raceway (Springfield, MO)
4/28 - Lake Ozark Speedway (Eldon, MO)
5/4 - Valley Speedway (Grain Valley, MO)
5/5 - Lucas Oil Speedway (Wheatland, MO)
5/19 - Lake Ozark Speedway (Eldon, MO)
6/2 - Valley Speedway (Grain Valley, MO)
6/16 - Randolph County Raceway (Moberly, MO)
6/22 - Midway Speedway (Lebanon, MO)
6/23 - Lake Ozark Speedway (Eldon, MO)
7/6 - Belle-Claire Speedway (Belleville, IL)
7/7 - St. Francois County Speedway (Farmington, MO)
7/28 - Randolph County Raceway (Moberly, MO)
8/17 - Lake Ozark Speedway (Eldon, MO)
8/18 - Lake Ozark Speedway (Eldon, MO)
8/24 - Humboldt Speedway (Humboldt, KS)
8/25 - Humboldt Speedway (Humboldt, KS)
9/8 - Valley Speedway (Grain Valley, MO)
9/20 - Lucas Oil Speedway (Wheatland, MO)
9/21 - Lucas Oil Speedway (Wheatland, MO)
9/22 - Lucas Oil Speedway (Wheatland, MO)
10/5 - Fairbury American Legion Speedway (Fairbury, IL)
10/6 - Fairbury American Legion Speedway (Fairbury, IL)

POWRi Lucas Oil WAR Wildcard Sprint League 2018 Schedule:
4/7 - Jacksonville Speedway (Jacksonville, IL)
5/12 - Fayette County Speedway (Brownstown, IL)
5/30 - Fairbury American Legion Speedway (Fairbury, IL)
6/7 - Fayette County Speedway (Brownstown, IL)
6/8 - Jacksonville Speedway (Jacksonville, IL)
6/9 - Tri-State Speedway (Haubstadt, IN) -- Co-sanctioned with MSCS
6/15 - Lincoln Speedway (Lincoln, IL)
6/30 - The Dirt Oval at Route 66 Raceway (Joliet, IL)
7/14 - Fayette County Speedway (Brownstown, IL)
8/4 - Wilmot Raceway (Wilmot, WI)
8/5 - Angell Park Speedway (Sun Prairie, WI)
8/7 - Southern Iowa Speedway (Oskaloosa, IA)
10/5 - Fairbury American Legion Speedway (Fairbury, IL)
10/6 - Fairbury American Legion Speedway (Fairbury, IL)

The points payout is based on the displayed schedule. If too many events are cancelled due to rain, the payout is subject to change.

-end-
C&H Veteran Ent. presents Hunt Magnetos Wingless Tour to showcase 11 events in 2018

By Gary Thomas

Santa Rosa, CA – January 22, 2018...Entering its second year under the Glad Enterprises banner the C&H Veteran Ent. presents Hunt Magnetos Wingless Tour is geared up to feature 11 dates at five different tracks this coming season.

The year starts on Saturday February 24 with the lone visit of the season to Marysville Raceway for the annual Sherm & Loree Toller Memorial. The event is the official kick-off for Sprint Car racing in Northern California and always finds a packed house of fans in attendance.

The tour will compete in a pair of events at Chico's Silver Dollar Speedway, with those being the Saturday March 3 Silver Cup Race of Champions and the annual Wednesday night Gold Cup Race of Champions opener on September 5. The always sticky Petaluma Speedway will play host to three events, with those taking place on March 31, June 16 and the annual Soares Classic on August 25.

The El Dorado County Fairgrounds based Placerville Speedway will host a pair of races in 2018, with the dates occurring on April 28 and July 21. The centrally located Stockton Dirt Track will hold three events once again this season including May 26, the Salute to LeRoy Van Conett on July 7 and the Tribute to Gary Patterson on Friday November 2.

-end-
MOTORSPORTS EXECUTIVE JERRY GAPPENS LEASES GAS CITY I-69 SPEEDWAY

GAS CITY, Indiana.........With a résumé that includes more than 25 years of successful motorsports promotion - including running the largest sports and entertainment facility in New England - well-respected racing executive Jerry Gappens has reached an agreement with track owner Jack Himelick to lease and promote Gas City I-69 Speedway effective immediately.

Located just off Interstate 69 between Indianapolis and Ft. Wayne, the semi-banked, quarter-mile dirt oval opened in the mid-1980s.

Known for his creative and effective marketing and promotional skills, Gappens enjoyed a 23-year career with Speedway Motorsports, Inc., owner and operator of eight major NASCAR venues, working for NASCAR Hall of Fame track owner O. Bruton Smith.

A native of Kokomo, Indiana, Gappens most recently served as executive vice-president and general manager of New Hampshire Motor Speedway for eight years. He developed marketing strategies that helped sell more than 1 million tickets to NASCAR, motorcycle and road course events during his tenure. In addition, he helped create new revenue streams, increased brand awareness of the multi-use facility and its events and implemented exciting pre-race entertainment, including concerts, game shows with prizes totaling $300,000 and a $1 million New Hampshire Educational Lottery promotional giveaway.

Before his promotion to oversee NHMS, Gappens spent 15 years in executive management at Charlotte Motor Speedway, working under the "P.T. Barnum" of motorsports promotion, H.A. "Humpy" Wheeler. His various roles included publicity, promotion and marketing events for the 1.5-mile superspeedway, quarter-mile and fifth-mile asphalt ovals and a four-tenths-mile dirt track. Gappens was honored as the inaugural recipient of the Most Outstanding PR/Marketing executive in the NASCAR industry during his time at Charlotte Motor Speedway.

Additionally, Gappens worked as an on-air talent for ABC Sports' coverage of major motorsports events, including the Indianapolis 500, Monaco Grand Prix and various NASCAR races.

"Jerry brings a wealth of experience in motorsports promotion and event management," said Himelick. "I look forward to us working together in making Gas City I-69 Speedway one of the premier short tracks in the Midwest. "

Himelick purchased the facility, which was dormant at the time, in 1996 and has made significant upgrades during his ownership. He brought in Jiggs Thomason in 1997 to promote the track and the two enjoyed a successful 17-year run until Thomason's retirement. In recent years, various promoters have rented the facility for special events only. Gappens plans to restore a full schedule of events this season.

"This is a great opportunity," said Gappens. "I appreciate Jack's faith in me and allowing me to come on board and usher in a new era of racing and entertainment for this little gem of a facility. I think the fans, competitors and community are going to like what we have in store for them."

Gappens said the first priority is putting together a schedule of events for this season, including contacting various sanctioning bodies for date availability. Looking primarily at Friday night shows featuring non-wing sprint cars, Gappens added that special events could also be run on other days. Divisions being considered include midgets, late models, modifieds and additional local classes. Other non-racing dates could include flea markets, music, car shows and a Christian-themed festival.

"Race nights will include interactive activity for the fans with prize giveaways, unique racing platforms like school buses, lawn mowers, car-trailer tandem racing and anything else that will help make it an evening of fast, fun, family entertainment," Gappens noted. "Heck, we will race cheetahs down the frontstretch if I can find two!"

For more information and schedule updates, visit the track's website at www.gascityi69speedway.org.

-end-
Waynesfield's 2018 Schedule Released

WAYNESFIELD, Ohio (1/15/18) – Officials at Waynesfield Raceway Park in Waynesfield, Ohio have released the full 2018 schedule of events for the famed 1/3rd mile. The schedule, coupled with announcements of increased payouts for drivers, comes as the track takes a new approach to grass roots racing.

The 2018 season will open on April 21st with four divisions of racing. The Non Wing Sprints, Mini Sprints, Tough Trucks, and Compacts will greet fans on opening night.

The month of May will see two traveling series' stop at WRP. The Modified Lite Stars will make an appearance on May 12th during the first ever "Modified Money" event with $1500 going to the winner of the UMP Modified A-main. The second will be a visit by the NRA Sprint Invaders on May 26th.

The All Star Circuit of Champions will return for their yearly appearance during Ohio Sprint Speedweek on Sunday, June 17th. The NRA Sprint Invaders will also join the program making a doubleheader of winged sprint car racing.

Independence Day weekend will be ushered in with the annual running of the Summer Sprint Sizzler on Tuesday night, July 3rd. The event will feature the FAST 410 and 305 sprint cars, NRA Sprint Invaders, and the Mini Sprints. The NRA Sprint Invaders will be competing for a $4000 to win payday.

The Buckeye Outlaw Sprint Series (BOSS) will make two stops at Waynesfield in 2018. The first will take place on July 7th as they headline the Dick Spencer Memorial. The event will serve as a tune-up for the Jack Hewitt Classic slated for August 4th.

Summer will come to an end with the first ever visit from the Vores Compact Touring Series on August 11th. The event will offer increased payouts for both the UMP Modifieds and the Tough Trucks. Off the track, the event will serve as the yearly backpack giveaway night where young fans in attendance will receive backpacks full of school supplies during driver autograph sessions.

The season will come to a close with back-to-back championship nights on August 25th and September 1st.

The full schedule can be viewed online at www.waynesfieldracewaypark.net.

-end-
UMSS Traditional Sprints Expand to 33 Events in 2018
By: Greg Parent, UMSS Media Director
Stillwater, MN (1-14-18)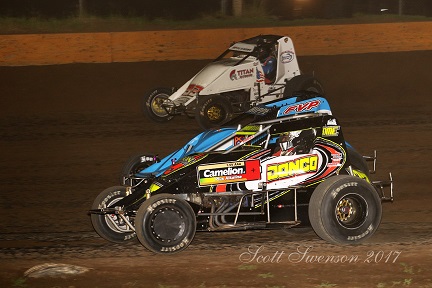 The Upper Midwest Sprint Car Series (UMSS) has seen continued growth each year since the inception of the very popular Traditional Sprint Car Series back in 2011. For 2018 that growth has exploded with a total of 33 events on the schedule with 27 of the races as point shows. "There is no doubt that the 8th Anniversary season for the Traditional non-winged sprints will see their biggest and best schedule yet along with more cars available than in any previous year," stated UMSS President Ron Bernhagen. Plenty of variety will give UMSS Traditional sprint car teams lots of opportunities in 2018.

No surprise compared with the previous two seasons, the Cedar Lake Speedway will once again provide the most race nights for the UMSS Traditional sprint cars leading the way with 15 shows (14 point races) for what many consider as the series "home track" at the legendary western Wisconsin speedway. The Traditional sprints will race at numerous other tracks in 2018 with two events each at the Granite City Speedway in Sauk Rapids, Ogilvie Raceway, and Jackson Motorplex (non-point shows). Single events dot the schedule with a return to the Princeton Speedway, another appearance at the Eagle Valley Speedway after a successful showing last season, a new event at the Spring Lake Speedway in Unity, Wisconsin, the "traditional" non-point shows on Labor Day Weekend at Wilmot Raceway and Angell Park Speedway, a non-point event at the Clay County Fair Speedway in Spencer, Iowa and a full-point show at the Deer Creek Speedway. Still to be confirmed, the series is planning on returning in early May to the Red Cedar Speedway and to the Rice Lake Speedway on Memorial Day Weekend. The popular Northern Tour returns in 2018 in conjunction with the upstart Northern Renegade Sprints. A Thursday night June 21 date is confirmed at the Grand Rapids Speedway, a Friday night show is in the works but no official announcement can be made just yet, and although not 100% confirmed it looks likely that the ABC Raceway in Ashland will fill in the June 23 date to complete what will be known as the North-South Challenge Round 1.

There are several special events throughout the 2018 schedule. Seventeen nights will see the Traditional sprints pared up with the UMSS 360 winged sprints, but the opening weekend in early April belongs entirely to the non-winged division. Part of what will be called "The Legendary Opener" at the Cedar Lake Speedway, the UMSS Traditional sprints will race all three nights April 5-7 weather permitting. The Wisconsin wingLESS Sprint cars will also be part of this big season-opening event. Continuing on through the schedule the Traditional sprints return to the always-exciting Princeton Speedway 1/4 mile bullring for the 16th Annual Billy Anderson Memorial program on May 18. The aforementioned North-South Challenge Round 1 takes place June 21-23 while the North-South Challenge Round 2 is the following week at Granite City Speedway and Cedar Lake Speedway on June 29-30. The June 30 show at CLS is the hugely popular Fireworks Spectacular night. Once again part of the popular WoO weekend at CLS, the Traditional sprints get the Friday night July 6 show while the following Friday they will partner up again with the Wisconsin wingLESS Sprints for the first-time ever at the Spring Lake Speedway in Unity. The 7th Annual Davey Tabor Memorial will see the Traditional sprints race for increased purse money at the Ogilvie Raceway on August 18. Then comes what likely will be the biggest event on the 2018 schedule, the two-day Traditional Sprint Car Challenge at the Cedar Lake Speedway featuring non-winged sprints from five different sanctioning bodies in a two-day show that will see TWO complete feature races run each night. In addition to the UMSS Traditional Sprints, the Wisconsin wingLESS Sprints, the National Sprint League Non Winged Sprint Cars (formerly Heartland Racing Association), the Northern Renegades and the Black Hills Non Winged Sprints will all participate in this event which very likely will see 40-50+ non-winged sprint cars on hand at CLS for two big nights of topless sprint car racing action around the 3/8th mile high-banked track.

After a couple of non-point events in southern Wisconsin to kick off September, the 18th Annual Richert Memorial is another one of those must-see sprint car racing weekends with three different divisions on hand at CLS on September 8. A couple of non-point shows at Cedar Lake for the Legendary 100 and Clay County Fair Speedway in Spencer, Iowa will see the point battle culminate at the Deer Creek Speedway on September 15. Two more non-point shows remain on the schedule for the following weekend at the Jackson Motorplex for the inaugural NSL Non Wing Sprint Car Challenge at the premier sprint car racing track in Minnesota.

Building on the success of its six-race NASCAR Dash Series the past several seasons for their stock car divisions, the Cedar Lake Speedway has created the CLS Shootout in 2018 for the UMSS winged and Traditional sprints along with the limited late model division. The three divisions in the six-race CLS Shootout will be competing for point fund monies with the same point format as the NASCAR Dash. The CLS Shootout dates include April 21, May 19, June 2, June 30, July 14 and July 28. Also as part of both the CLS Shootout and NASCAR Dash Series in 2018, GRP Motorsports has come on board to help sponsor what will be known as the "GRP Motorsports CLS Loyalty Bonus" which will pay a $100 bonus to ALL drivers in both the CLS Shootout and NASCAR Dash Series who race ALL SIX events. Stated Greg Parent from GRP Motorsports, "I like the idea of paying a bit of bonus to those drivers who make the commitment to be at all six races in each series. Individually its a little extra "tow" money or whatever you want to think of it as, but collectively amongst all seven divisions its a fairly large sum of money that will be distributed to ALL drivers who compete in all six shows regardless of where they finish in the final point standings. That fits in perfectly with the thought process I have in helping reward those who show loyalty and help support a particular series, track or number of events."

The 2018 season is definitely shaping up to the best yet for the UMSS Traditional sprint car division. "I think our 2018 schedule is likely the strongest one I have put together for the UMSS non-winged sprint cars for our 8th Anniversary season and should give drivers numerous opportunities to race and earn some extra money along the way. I can't wait for the 2018 racing season to get underway in April," stated UMSS President Ron Bernhagen. Racers and fans alike will want to make plans to attend as many UMSS events as their schedules permit in order to be part of the always-exciting and entertaining racing generated by the ultra-popular UMSS Traditional sprint cars in 2018!

2018 UMSS Traditional Sprint Car Series Schedule (First Edition):
April 5-7 - Cedar Lake Speedway (The Legendary Opener w/Wisconsin wingLESS Sprints)
April 21 - *Cedar Lake Speedway (2nd Annual Gale Patterson Memorial)
May 5 - Cedar Lake Speedway
May 11 - TBD (Tentatively Red Cedar Speedway)
May 18 - +Princeton Speedway (16th Annual Billy Anderson Memorial-Midwest Power Series)
May 19 - *+Cedar Lake Speedway
May 26 - TBD (Tentatively Rice Lake Speedway)
May 27 - Eagle Valley Speedway
June 2 - *Cedar Lake Speedway
June 9 - +Ogilvie Raceway (Big O Showdown)
June 21 - +Grand Rapids Speedway (North-South Challenge Round 1)
June 22 - +TBD (North-South Challenge Round 1)
June 23 - +TBD (Tentatively ABC Raceway / North-South Challenge Round 1)
June 29 - +Granite City Speedway (North-South Challenge Round 2)
June 30 - *+Cedar Lake Speedway (North-South Challenge Round 2)
July 6 - Cedar Lake Speedway (WoO weekend)
July 13 - Spring Lake Speedway w/Wisconsin wingLESS Sprints)
July 14 - *Cedar Lake Speedway
July 28 - *Cedar Lake Speedway
August 17 - +Granite City Speedway
August 18 - +Ogilvie Raceway (7th Annual Davey Tabor Memorial)
August 24-25 - +Cedar Lake Speedway (The Traditional Sprint Car Challenge)
September 1 - Wilmot Raceway (non-point w/Wisconsin wingLESS Sprints)
September 2 - Angell Park Speedway (non-point w/Wisconsin wingLESS Sprints)
September 8 - Cedar Lake Speedway (18th Annual Jerry Richert Memorial)
September 13 - Cedar Lake Speedway (Legendary 100 non-point show)
September 14 - Clay County Fair Speedway (non-point show)
September 15 - Deer Creek Speedway
September 21-22 Jackson Motorplex (non-point event NSL Non Wing Sprint Car Challenge)
*CLS Shootout event
+ With Northern Renegades

-end-

MSCS RELEASES THE 2018 SCHEDULE

Haubstadt, IN - Jan. 5, 2018. Today the Hoosier Tire Midwest Sprint Car Series officials released the schedule of the various events set to be held in 2018. There are eighteen MSCS sanctioned events listed. Seven different dirt tracks will host events for the 410 non wing sprint car series.

A balanced MSCS schedule has events for each month starting in early April and not ending until October. Racing begins on Saturday night April 7th at the Lincoln Park Speedway in Putnamville, IN. The occasion is the annual "Indiana Open Wheel . Com Racin' Fest." The winner will receive $3,000.

Next, MSCS and USAC will race together in the "Spring Showdown" at Tri-State Speedway on April 28th. This annual co-sanctioned event will pay $5,000 to win! MSCS and USAC also competes together on September 15th for the "Haubstadt Hustler." That event offers the biggest pay-out of the season with $10,000 going to the winner.

The "Midwest Madness" show at Tri-State Speedway on May 12th will also include an appearance of the MOWA Wing Sprints. The two series will provide separate shows at Haubstadt again on July 14th. These crowd pleasers are both on Saturday nights!

Memorial Day weekend beginning on May 25th, MSCS will race at Bloomington Speedway on Friday, Lincoln Park Speedway on Saturday, and Tri-State Speedway on Sunday. That weekend rates as the only "Triple Trek" of the season. It all begins with the "Josh Burton Memorial" on Friday. All 3 feature events will pay $2,500 to win.

June kicks off with the first head to head meeting of the MSCS sprints and the POWRi WAR sprints. The two series will compete together in a "Summer Showdown" at Tri-State Speedway on June 9th. The Winner will bank $5,000! Then Brownstown Speedway will host an MSCS sanctioned sprint car event on Saturday June 23rd. The Jackson County Fairgrounds always provides a unique and pivotal stop for the series.

There are two "Double Header" weekends later in the season. MSCS will go back to back with appearances at Daugherty Speedway and Kickapoo Speedway on June 29th and 30th. It should be a great match-up of Indiana and Illinois drivers!

The other big weekend is August 11th and 12th. MSCS will follow up on an appearance for the "Hoosier Sprint Nationals" paying $5,000 to win at Tri-State Speedway on Saturday with a visit to the legendary Terre Haute Action Track Sunday.

MSCS will also provide the second round of action during the "Bill Gardner Sprintacular" on Saturday July 7th. The Sprintacular drew 40 entries in 2017. MSCS will also return to Putnamville's Lincoln Park Speedway for a 4th visit on August 18th.

The Labor Day Weekend Challenge on Sunday September 2nd at Tri-State Speedway will pay $3,000 to win. It is a great opportunity for crews to get set for the upcoming "Haubstadt Hustler." Following the Hustler, Tri-State Speedway will host the MSCS Season Finale on October 13th. The feature winner will receive 5,000 and the coveted "Harvest Cup." A continuing tradition will have the new MSCS Champion and Rookie of the Year being honored at the track.

2018 Schedule
April 7 Sat Lincoln Park Speedway
April 28 Sat Tri-State Speedway (USAC & MSCS)
May 12 Sat Tri-State Speedway (MOWA Wing Sprints)
May 25 Fri Bloomington Speedway (Josh Burton Memorial)
May 26 Sat Lincoln Park Speedway
May 27 Sun Tri-State Speedway
June 9 Sat Tri-State Speedway (MSCS & POWRi WAR)
June 23 Sat Brownstown Speedway
June 29 Fri Daugherty Speedway
June3 30 Sat Kickapoo Speedway (Ill.)
July 7 Sat Lincoln Park Speedway (Bill Gardner Sprintacular)
July 14 Sat Tri-State Speedway (+ MOWA Wing Sprints)
Aug. 11 Sat Tri-State Speedway (+Racesaver Sprints) 14th Annual Hoosier Sprint Nationals
Aug. 12 Sun Terre Haute Action Track
Aug. 18 Sat Lincoln Park Speedway
Sept. 2 Sun Tri-State Speedway
Sept. 15 Sat Tri-State Speedway($10,000 Haubstadt Hustler,Rain Date - Sept. 16; MSCS & USAC )
OCT 13 Sat Tri-State Speedway, Haubstadt, IN($5,000 The Harvest Cup, Rain Date - October 14)

NOTICE: This schedule is subject to revision

-end-
SWEENEY RUSH SPRINT CAR SERIES RELEASE INAUGURAL 2018 SCHEDULE; CURRENTLY 23 BONNELL'S ROD SHOP WEEKLY SERIES EVENTS CONFIRMED

December 22, 2017
(By Mike Leone)

FOR IMMEDIATE RELEASE

(Pulaski, PA)...With the inaugural season for the Sweeney Chevrolet Buick GMC RUSH Sprint Car Series powered by Pace Performance less than four months away, Series Directors Vicki Emig and Mike Leone are excited to release the schedule of events to date for the 2018 Bonnell's Rod Shop Weekly Series Championship. Currently 23 events at seven different speedways make up the inaugural slate of events with the possibility of a few more events to be added.

The RUSH Sprint Cars are traditional, non-wing Sprint Cars utilizing the cost-effective Pace Performance GM 602 Crate Sprint Car engine package developed by Pace's Director of Circle Track Engine Development, Don Blackshear, $135 sealed, spec RUSH Bilstein Bandits Shocks, affordable spec Hoosier Tires, and RUSH "Visual" Methanol spec fuel produced by Insinger Performance, a Sunoco Race Fuel Distributor.

Lernerville Speedway came on to anchor the RUSH Sprint Cars with 10 events including the inaugural event part of the Sarver, Pa. track's season opener on Friday, April 20. The RUSH Sprints will join with Tony Stewart's All Star Circuit of Champions Sprint Cars on May 4, Sprint Spectacular events on June 29 and August 31 along with the season ending "Steel City Stampede" October 12-13. Tentatively the inaugural "Manufacturers Night" presented by MSD Performance is slated for August 31.

In addition, the RUSH Sprint Cars will headline Lernerville's new monthly "RK Virgilie Wednesday Night Can't Wait For The Weekend Mayhem Series" beginning in May and will feature the "Wednesday Night Lightning Series"; five exciting non-wing Sprint Car events with a $3,000 point fund! These events will also count toward the Bonnell's Rod Shop Weekly Series Championship.

"Dirt's Monster Half-Mile" at Pittsburgh's PA Motor Speedway will hold monthly Bonnell's Rod Shop events from June through September. Three of the four events are paired with "410" Sprint Cars including the All Star event on July 21. The RUSH Late Models headline action at Pittsburgh on a weekly basis, and the RUSH Sportsman Modifieds make numerous appearances at the track.

Another big western Pa. half-mile to host the RUSH Sprint Cars is Tri-City Raceway Park. The Sunday night facility will again hold monthly specials-only programs. The RUSH Sprints have dates on June 17 and July 15.

Two northwestern Pennsylvania tracks and another right across the border that host weekly RUSH Late Model action have stepped up to offer events for the RUSH Sprint Cars. Eriez Speedway will be the first track outside of Lernerville to have the RUSH Sprint Cars, which will take place on Sunday, May 13. The Sunday night 1/4-mile bullring of Old Bradford Speedway hasn't had a Sprint Car race of any kind in many years. That will change in 2018 with a pair of $600 to-win, $150 to-star events on May 20 and August 5. The RUSH Sprint Cars will again join up with the All Stars on June 9 at New Stateline Speedway then return on June 30 part of "Open Wheel Mania" as both events will pay $600 to-win, $150 to-start. Stateline is located almost right on the PA/NY border in Busti, NY.

The most recent announcement was that the RUSH Sprint Cars will be part of Genesee Speedway's second annual "Topless Nationals" on September 15-16. The Batavia, NY 1/3-mile is one RUSH's most successful weekly Late Model tracks as track promoter Jim Johnson has completed his second year at the helm. The RUSH Sprint Cars will run a complete show paying $800 to-win, $160 to-start each day with the overall top point driver receiving a $300 bonus from RUSH for the "Empire State Classic". The last time full size Sprint Cars raced at Genesee was 2009 when "360" Sprint Cars were part of the weekly program.

"To have seven regional tracks to date commit to helping us put together a 23-event schedule before we've even officially turned a wheel on a RUSH Sprint Car means a lot to not only us, but the numerous racers who are already preparing to compete in the inaugural season," expressed Emig. "We cannot thank our RUSH partner speedways enough. We've had talks with a few other speedways that may host an event or two, but we felt it was important to get this confirmed schedule of events out to the public now. I think the fans are really going to be surprised at what great racing the RUSH Sprint Cars produce. The cars that we tested at Lernerville turned times very comparable to our fastest 604 Late Model Touring cars at Lernerville events. Running them wingless is going to produce great side-by-side racing."

All events in 2018 will be part of the $20,000+ Bonnell's Rod Shop Weekly Series Championship that will pay $5,000 to-win down 20 spots. Like all of RUSH's other divisions, drivers' best 12 point finishes will be utilized. There will also be a "Futures Cup" Championship for eligible teenage racers and combined with the "Wednesday Night Lightning" Series will bring the 2018 championship point funds to over $23,700 (see breakdown below).

The GM 602 Sprint Car engine can be purchased directly at Pace Performance in Boardman, Ohio by calling 888-748-4655. Don Blackshear, a former RUSH Authorized Engine Rebuilder, is the director of Circle Track Operations at Pace. The printable color flyer with this information is available online at www.rushsprintcars.com/Sprint-Engine-Flyer.pdf. Know that financing options are available. You can also check out their website at www.paceperformance.com.

In addition, the engine can be purchased through RUSH's Authorized Engine Rebuilders. The complete list with contact info can be found under the Engine tab on the website or directly at the following link www.rushsprintcars.com/engines.html.

2018 Sweeney RUSH Sprint Car Bonnell's Rod Shop Weekly Series Schedule*

Fri, April 20 Lernerville Speedway (Sarver, PA)

Fri, May 4 Lernerville Speedway (Sarver, PA)

Sun., May 13 Eriez Speedway (Erie, PA)

Wed, May 16 Lernerville Speedway (Sarver, PA) - "Wednesday Night Lightning" Series Kickoff

Sun, May 20 Old Bradford Speedway (Bradford, PA) - $600 to-win, $150 to-start

Sat, May 26 Pittsburgh's PA Motor Speedway (Imperial, PA)

Sat, June 9 New Stateline Speedway (Busti, NY) - $600 to-win, $150 to-start

Sun, June 17 Tri-City Raceway Park (Franklin, PA)

Wed, June 20 Lernerville Speedway (Sarver, PA) - "Wednesday Night Lightning" Series

Fri, June 29 Lernerville Speedway (Sarver, PA)

Sat, June 30 New Stateline Speedway (Busti, NY) - $600 to-win, $150 to-start

Sun, July 15 Tri-City Raceway Park (Franklin, PA)

Wed, July 18 Lernerville Speedway (Sarver, PA) - "Wednesday Night Lightning" Series

Sat, July 21 Pittsburgh's PA Motor Speedway (Imperial, PA)

Sun, August 5 Old Bradford Speedway (Bradford, PA) - $600 to-win, $150 to-start

Wed, August 15 Lernerville Speedway (Sarver, PA) - "Wednesday Night Lightning" Series

Sat, August 25 Pittsburgh's PA Motor Speedway (Imperial, PA)

Fri, August 31 Lernerville Speedway (Sarver, PA) - "Manufacturers Night" presented by MSD Performance

Sat, September 15 Genesee Speedway (Batavia, NY) - "Empire State Classic" -$800 to-win, $160 to-start (3 p.m. start)

Sun, September 16 Genesee Speedway (Batavia, NY) - "Empire State Classic" -$800 to-win, $160 to-start with a $300 bonus for top point car over the two days (3 p.m. start)

Wed, September 19 Lernerville Speedway (Sarver, PA) - "Wednesday Night Lightning" Series Finale

Sat, September 22 Pittsburgh's PA Motor Speedway (Imperial, PA)

Fri-Sat, October 12-13 Lernerville Speedway (Sarver, PA) - "Steel City Stampede"

*Schedule is subject to change. Additional dates may be added.

2018 Bonnell's Rod Shop Weekly Series Point Fund ($20,075): 1. $5,000 2. $2,500 3. $1,750 4. $1,500 5. $1,200 6. $1,000 7. $800 8. $750 9. $700 10. $650 11. $600 12. $500 13. $450 14. $425 15. $400 16. $390 17. $380 18. $370 19. $360 20. $350.

2018 "Wednesday Night Lightning" Series Point Fund ($3,000): 1. $1,000 2. $500 3. $350 4. $225 5. $200 6. $180 7. $150 8. $140 9. $130 10. $125.

2018 "Futures Cup" Point Fund ($650 minimum): 1. $300 2. $200 3. $100 4. $50.

-end-
Terre Haute Action Track Releases Most Extensive Schedule In Years WoO Sprint Cars and AMA Flat Track Motorcycles Among New Dates

(Terre Haute, IN) Officials from Track Enterprises, the promotion company for the Terre Haute Action Track, has announced the 2018-season schedule for the 1/2-mile racetrack. The speedway holds several special events during the summer that feature divisions from the United States Auto Club (USAC) and United Midwestern Promoters (UMP). This year's schedule features many of the same fan favorites plus the addition of the AMA All-Star National Flat Track tour in June and the Wabash Clash in October, featuring World Of Outlaw Sprint Cars, USAC Sprints, and Modifieds.

The campaign will begin on Sunday, April 29 for an exciting season opener that will feature the Sumar Classic for the USAC Silver Crown cars. Last year, the event saw beautiful spring weather and a large turnout of cars, which filled the stands. In the 2017 edition, Canton, IL driver Chris Windom led the field across the line at the checkered. This year's opener will also feature the Scott's Custom Colors UMP Modifieds.

The historic Tony Hulman Classic, a mainstay at Terre Haute, is set for Wednesday, May 23, as the first event for USAC's "The Week Of Indy". The event, held the week of the Indy 500 and the night before the Hoosier 100, features the USAC AMSOIL National Sprint Cars and the Modifieds. Last season, the event was rained out while in 2016, Robert Ballou passed A.J. Foyt and Roger McCluskey on the all-time wins list with his 24th career victory. Ballou has won the last two "Tony Hulman Classics".

A new event to the 2018 schedule will be held on Saturday, June 9 with the stars of the two-wheel world heading to town. The AMA All-Star National Flat Track Series motorcycles will pace the 1/2-mile for an exciting event. Several different classes of bikes will make this an action packed night.

Event number four this season is one that many were looking forward to last year before Mother Nature changed their plans with rainfall. The event will feature the best of the best, when it comes to Dirt Late Model Racing. On tap will be the World of Outlaw vs. Summer National Late Models. It will be just the second time the two series have run head-to-head, with the first coming at Federated Auto Parts Speedway in Missouri last summer. Bobby Pierce was the Summer Nationals champion last season, while Brandon Sheppard was the World of Outlaw champ. The Summit National Modifieds will also be in town at the Friday, June 29 event.

That brings us to the Vigo County Fair week race. Typically, the Wednesday grandstand attraction is the Don Smith Classic, however, USAC has bumped Sprint Week back a couple of weeks. This year, the rumble at the fair will be coming from the Pro Late Models and the Scott's Custom Colors UMP Modifieds. The date is Wednesday, July 11.

Historically, the biggest event of the year, at Terre Haute, is the Don Smith Classic, held during USAC Indiana Sprint week. For the first time in several years, the race will not be held in conjunction with the fair. The event is scheduled for Wednesday, July 25. Last season, fans were filling the stands but a torrential rainfall set in just as hotlaps began. The Scott's Custom Colors UMP Modifieds have been added to the show, a change from years' past, where the Sprints were the only division on the card.

The seventh event on this year's schedule is set for Sunday, August 12. On the card will be the MSCS Sprint cars and Scott's Custom Colors UMP Modifieds. Three season ago, 23 drivers took the green with Brady Short taking the victory over Jerry Coons, Jr. and Carson Short. Unfortunately, two tries to run the 2016 MSCS event were rained out as well as last year's attempt.

The Jim Hurtubise Classic for the USAC Sprint Cars is set for Friday, September 14. Canton, IL driver, Chris Windom has won the last two Hurtubise Classics in front of very good crowds. The Scott's Custom Colors UMP Modifieds will also race.

The season will end with the biggest show of the year, the Wabash Clash, a two-day affair. On Friday, October 12, the USAC National Sprint Cars and Scott's Custom Colors UMP Modifieds will be on track for the first of two days of racing. Then on Saturday, the World Of Outlaw Craftsman Sprint Cars make their return to the Action Track to race along with the Modifieds. The WoO Sprints made their last appearance in 2014.

-end-

Track Enterprises Releases 2018 Special Event Schedule ARCA, USAC, WoO & UMP To Race At Many Top Venues

(Macon, IL) Track Enterprises, a racing promotion company based in Macon, IL, has announced its 2018 special event schedule. The new slate includes the traditional stops for ARCA at the Illinois dirt miles, in addition to Lucas Oil Raceway in Indianapolis and a fourth year visit to Fairgrounds Speedway Nashville. Track Enterprises added a fifth ARCA event last season, in Elko, MN, which makes a return to the schedule. This season, a sixth ARCA race will be promoted by the company at Gateway Motorsports Park near St. Louis, MO. Other series that are part of this year's events include the USAC Silver Crown Series and Sprint Cars, the ARCA/CRA Super Series, the Southern Super Series, the CARS Tour, World Of Outlaws, along with UMP Modifieds and Sportsman.

The first event of the season is a fourth year stop at Fairgrounds Speedway Nashville with the ARCA Racing Series presented by Menards on Saturday, April 7. The ARCA Racing Series will be on track for the Music City 200 plus a huge combo event for the ARCA/CRA Super Series, Southern Super Series, and the CARS Super Late Model tour. With ARCA as well as three of the best touring Super Late Model tours in the country, this is a can't miss event in a fun destination city.

Next up will be "The Week Of Indy", a series of events promoted by Track Enterprises that were highly successful in 2016 but took a hit from Mother Nature this past season. It all begins on Wednesday, May 23 with the Tony Hulman Classic at the Terre Haute IN Action Track, featuring the USAC AMSOIL National Sprint Cars and UMP Modifieds. On Thursday, May 24, the annual Hoosier Hundred for the USAC Silver Crown cars is on tap at Indiana State Fairgrounds in Indianapolis. Joining the Champ Cars will be the UMP Modifieds for a $2,000 to win special event. Wrapping up "The Week Of Indy" for TEI, will be the Carb Night Classic at Lucas Oil Raceway, featuring the USAC Silver Crown cars and the USF2000/Pro Mazda combo.

On Friday, June 22, ARCA heads back to the St. Louis, MO area for the first time in 10 years. It will be the seventh time that the ARCA Racing Series presented by Menards has visited Gateway Motorsports Park but the first time since 2007, when the late Bryan Clauson claimed victory. 10-time ARCA champion, Frank Kimmel, has also found victory lane at the track. It's part of the NASCAR Camping World Truck Series weekend at the track, with truck practice part of the Friday ARCA schedule.

In late June and early July, Track Enterprises' officials turn their attention to three of the tracks that they promote on a weekly basis, Lincoln and Macon Speedways in Central Illinois as well as the Terre Haute Action Track in Indiana. On Friday, June 29, the Terre Haute Action Track is a stop for not only the Summer Nationals Hell Tour Late Models but also the World Of Outlaw Craftsman Late Models. Last year, the attempt at that event was rained out. On Sunday, July 1, the Summer Nationals, will be thrilling fans at the Lincoln Speedway ¼-mile, much like one season ago as the Late Models will be joined by Midgets and Modifieds. The series will then visit Mighty Macon Speedway on Thursday, July 5 for the Herald & Review 100.

Returning to the Track Enterprises schedule for the second straight year is the ARCA Racing Series presented by Menards event at Elko Speedway in Elko New Market, MN. The 2017 event was as exciting as it gets with drivers racing to the line four-wide, while crashing, vying for the top prize. New York's Christian Eckes claimed the victory in a photo finish. Brennan Poole, Frank Kimmel, and Grant Enfinger also have victories at the track. The 2018 edition of the race will be on Saturday, July 14.

Arguably the biggest event on the Track Enterprises season takes place on Saturday and Sunday, August 18 and 19 at the Illinois State Fair. It's the annual stop for the ARCA Racing Series presented by Menards and the USAC Silver Crown Series. The UMP Sportsman are back on for another season of racing at the fair. What makes the event so unique and exciting is the rarity of ARCA cars on dirt mixed with the excitement of the state fair.

The ARCA dirt theme continues two weeks later as the DuQuoin IL State Fair races are set for Sunday and Monday, September 2 and 3. Joining ARCA will be the USAC Silver Crown cars and UMP Modifieds. Racing at the Magic Mile was phenomenal, as always, in 2017.

Changing dates this year will be the Lucas Oil Raceway events leading up to the Brickyard 400 at IMS, moving from July to September. Track Enterprises will be hosting a couple of shows in town with the ARCA Racing Series presented by Menards on Friday, September 7. The USAC Silver Crown Champ Cars will run the Rich Vogler Classic the following night, Saturday, September 8 and will be joined by a new and unique event. That race will be the Speed51 Super Select, a race for winners in big Super Late Model events across the country. Event details with eligibility requirements, etc. will be released in the near future.

A new event to the Track Enterprises schedule will be held at the Terre Haute Action Track on Friday and Saturday, October 12-13. The Wabash Clash will see the USAC AMSOIL National Sprint Cars on Friday, October 12 and the World Of Outlaw Craftsman Sprint Cars on Saturday, October 13. The DIRTcar UMP Scott's Custom Colors Modifieds will also be on track both days.

2018 Special Event Schedule
Saturday, April 7-ARCA Music City 200 @ Fairgrounds Speedway Nashville (Nashville, TN)
Wednesday, May 23-"Week Of Indy" Tony Hulman Classic @ Terre Haute Action Track (Terre Haute, IN)
Thursday, May 24-"Week Of Indy" Hoosier Hundred @ Indiana State Fairgrounds (Indianapolis, IN)
Friday, May 25-"Week Of Indy" Carb Night Classic @ Lucas Oil Raceway (Indianapolis, IN)
Friday, June 22-ARCA Racing Series @ Gateway Motorsports Park (Madison, IL)
Friday, June 29-Summer Nationals vs. WoO LM @ Terre Haute Action Track (Terre Haute, IN)
Sunday, July 1-Summer Nationals, Midgets, & Mods @ Lincoln Speedway (Lincoln, IL)
Thursday, July 5-Summer Nationals H&R 100 @ Macon Speedway (Macon, IL)
Saturday, July 14-ARCA Racing Series @ Elko Speedway (Elko, MN)
Saturday, August 18-USAC Silver Crown Series @ Illinois State Fair (Springfield, IL)
Sunday, August 19-ARCA Racing Series @ Illinois State Fair (Springfield, IL)
Sunday, September 2-USAC Silver Crown Series @ Du Quoin State Fair (Du Quoin, IL)
Monday, September 3-ARCA Racing Series @ Du Quoin State Fair (Du Quoin, IL)
Friday, September 7-ARCA Racing Series @ Lucas Oil Raceway (Indianapolis, IN)
Saturday, September 8-USAC Silver Crown Series @ Lucas Oil Raceway (Indianapolis, IN)
Friday, October 12-USAC Sprint Cars Wabash Clash @ Terre Haute Action Track (Terre Haute, IN)
Saturday, October 13-WoO Sprint Cars Wabash Clash @ Terre Haute Action Track (Terre Haute, IN)

-end-

Elite Sprints to Join POWRi Sanction in 2018

Belleville, IL - The Texas-based Elite Sprint Car Series will come under POWRi sanction for 2018 effectively creating the POWRi Lucas Oil Elite Sprint Car Series. POWRi and the Elite Sprints have partnered together to continue the growth of traditional sprint car racing in Texas, Oklahoma, Missouri, and Arkansas. The Elite Sprints are currently a non-wing 305 sprint care league and will be converting to POWRi WAR rules in 2018. Look for the POWRi Lucas Oil Elite Sprint Car Series to release a 20-25 race schedule.

The partnership will allow the POWRi Lucas Oil WAR Sprint Car League and the POWRi Lucas Oil Elite Sprint Car Series to co-sanction events throughout Texas, Oklahoma, Missouri, and Arkansas. "This is an excellent opportunity to help promote the growth of traditional sprint car racing in the Texas area," commented POWRi WAR Director, Casey Shuman. "This partnership will allow us to co-sanction races throughout Texas, Missouri, and Oklahoma."

The POWRi Lucas Oil Elite Sprint Car Series will continue to operate as they always have with Series' President Nathan Moore at the helm, but this partnership will leverage the tools and resources of POWRi to strengthen the presence in Texas and the surrounding states. "We are excited to partner with POWRi," stated Nathan Moore, Elite Sprints President. "POWRi is very supportive in the direction we need to go in order to grow sprint car racing in the Texas area. When I contacted Casey, he agreed that a partnership with POWRi would be beneficial for the Elite Sprints and based this on the growth and exposure that the POWRi Lucas Oil WAR Sprints has experienced since partnering with POWRi.

-end-
C.J. LEARY TAKES THE HARVEST CUP; BRADY SHORT CAPTURES THE MSCS SEASON CHAMPIONSHIP

Haubstadt, IN (October 21, 2017) - C.J. Leary of Greenfield, IN, raced to victory Saturday night in claiming the "Harvest Cup" to close out the season for the Hoosier Tire Midwest Sprint Car Series and Tri-State Speedway. Leary was the quickest in a 21 car field whose overall performance produced an event with all 30 laps completed under the green flag. There were no restarts and every position drivers gained took an all out effort.

Leary took the lead from Chase Stockon on lap 7. The gap between the two leaders varied as they overtook traffic. However Leary was in control. Stockon would cross the finish line a second and a half behind. Leary collected $5,000 in winning his first career MSCS feature. Leary's car is sponsored by Leary Construction and Highsmith Guns. The car owners are Chuck and Tammy Leary.

The other drivers in the top five were grouped further back in a second contest with Kyle Cummins leading Kevin Thomas Jr. and Chase Briscoe to the line. The second five was led by overall fast qualifier Chet Williams who was followed by rookie Stephen Schnapf, Robert Ballou, Donny Brackett, and Brady Short. Carson Short received the Wilwood Tuff Brakes Award as the eleventh place finisher.

Brady Short was the Keizer Aluminum Wheels Hard Charger for the race. He had improved 7 positions overall. Kent Schmidt took a provisional to start the feature and also improved seven spots to finish fourteenth. Winner C.J. Leary started seventh and passed six top competitors. The ZERO redraw had produced a straight up starting field.

Brady Short and car owner Cam Pottorff received their 2017 Hoosier Tire MSCS Championship trophies and award jackets during opening ceremonies. It was the fourth series championship for Brady Short and third in the row for the duo. The MSCS Rookie of the Year Award was presented to Kendall Ruble during a second presentation which followed the feature.

In preliminary action the three heat races were won by Chase Stockon, Kyle Cummins, and Carson Short. Tyler Thomas and Brady Short finished one and two in the B Main. Collin Ambrose was to have been one of the 12 starters for the B but had to scratch for the event after hitting the concrete wall and fencing on the backstretch in the second heat and flipping. Brandon Mattox and Kent Schmidt were involved in another accident in that heat. It started with a spin and ended when Schmidt's car flipped up onto that of Mattox. However Mattox started the B and took the last feature transfer position.

Planning and preparation will replace racing for a few months until the series can return to action next spring for an eighteenth consecutive year.

Hoosier Tire Midwest Sprint Car Series Feature (30 Laps): C.J. Leary, Chase Stockon, Kyle Cummins, Kevin Thomas Jr., Chase Briscoe, Chet Williams, Stephen Schnapf, Robert
Ballou, Donny Brackett, Brady Short, Carson Short, Tyler Thomas, Nate McMillin, Kent Schmidt, Ben Knight, Brandon Mattox, Mitchell Davis, Jadon Rogers, Brian Wallace, Parker
Frederickson, Aric Gentry.

-end-

e a feature win each in action at Haubstadt earlier in the season.

The grandstands for the triple header will open at 3:30 P.M.

-end-