Star-studded field set for Albany-Saratoga opener

MALTA – From the early days of the Champlain Valley Racing Association, when the late C.J. Richards began staging his "Super Shootout" series, big races at Albany-Saratoga Speedway have always drawn big-name drivers from throughout the Northeast.

That tradition will continue this year.
When the historic track on Route 9 in Malta kicks off its season with the "Hell or High Water" card on Friday night, a number of top-notch modified invaders will be trying to walk out with the top prize of $5,600.
Promoter Lyle DeVore was working his phone Monday and received verbal commitments from Stewart Friesen, Billy Decker, Larry Wight, Matt Sheppard, and Mat Williamson, as well as a number of other "maybes".

Those names should come as no surprise. They represent the upper echelon of dirt track racing in the Northeast, and each has had success at Albany-Saratoga Speedway in the past. From that group of five, both Friesen (2017, 2012) and Wight (2015) have notched opening-night wins at Malta.

The "Hell or High Water" card will feature a full night of racing, with all divisions in action, beginning at 7 p.m.. The increased modified purse is the result of additional financial support from Bart Contracting, as well as Schaghticoke Wine & Spirits.

The sportsman winner will receive $1,500 through sponsorship by John Ray & Sons and West End Towing, and Crane's Outdoor Power Equipment is responsible for the $1,000 payday that will go to the pro stock feature winner.

The drivers who qualify for the modified feature will be also competing for a Hard Charger award, a $500 gift card for tools from Dave Prime Jr. of Mac Tools.

In the event of rain on Friday, the "Hell or High Water" card will be held on Sunday, with racing beginning at 4 p.m.

Mike Mahaney, the 2020 modified point champion, will be trying to achieve a rare feat on Friday night. The driver of the George Huttig-owned Bicknell won the opener last year and will be trying to become the first driver to win back-to-back opening-night features since Brett Hearn sat in victory lane to kick off the 2004 and 2005 seasons.

Two-time modified champion Marc Johnson, who set fast time during Albany-Saratoga's practice session on April 9, will be looking for his first opening-night victory since 2014, while 13-time champion Ken Tremont Jr. will be attempting to end an even longer drought. Tremont hasn't won an opening-night feature at Albany-Saratoga Speedway since the 2006 season

-end-
Mike Mahaney & A-Jay Potrzebowski II Lead Short Track Super Series Points into Delaware International April 27

By Chris Moore

DELMAR, DE – Three races into the Short Track Super Series (STSS) South Region points chase and the championship contenders are starting to take shape.

Next up for the series is the 'Diamond State 50' at Delaware International Speedway (Delmar, Del.) on Tuesday, April 27 (rain date: April 28). Both the STSS Modifieds and Crate 602 Sportsman take part in the event.

The STSS Modifieds opened the season at Georgetown (Del.) Speedway for the Melvin L. Joseph Memorial, then headed north to the Keystone State for the 'Icebreaker' at Selinsgrove Speedway followed by the 'Spring Speed Showcase' at Port Royal Speedway.

Savannah, N.Y.'s Matt Sheppard won the points opener at Georgetown, coming from 19th starting position to kick off his pursuit of another STSS championship. Andy Bachetti (Selinsgrove) of Sheffield, Mass., and Canadian Mat Williamson (Port Royal) were the big winners in Pennsylvania the following weekend.

Despite not yet visiting Victory Lane this season, Kings Ferry, N.Y.'s Mike Mahaney heads to Delaware International Speedway as the South Region point leader. Mahaney has finished in the top-10 in all three events, including a runner-up to Williamson at Port Royal and a podium run at Georgetown.

The 11-race series heads to the Cathell family's half-mile for the fourth round of the title chase for the STSS South Region. Mahaney holds a 17-point margin over Sheppard. Wallkill, N.Y.'s Tyler Dippel is another driver who has shown consistency thus far, as he sits third in points just 21 behind Mahaney.

Two more Empire State drivers - Anthony Perrego and Larry Wight - round out the top-five in points. Ringoes, N.J.'s Ryan Godown sits sixth in points, while Sprakers, N.Y.'s Stewart Friesen and Mat Williamson are tied for seventh. Andy Bachetti finds himself in ninth with Mooresville, N.C.'s Max McLaughlin rounding out the top-10.

The STSS Crate 602 Sportsman head to Delaware International Speedway for their third race of the Belmont's Garage South Region.

Melvin L. Joseph winner A-Jay Potrzebowski II of Horseheads, N.Y., holds a seven-point advantage over Newfield, Pa.'s Joe Toth and Sherrill, N.Y.'s Matt Janczuk, who sit tied for second. Otisville, N.Y.'s Corey Cormier is fourth, just 12 points out of first and Belle Mead, N.J.'s Justin Grosso rounds out the top-five, sitting 20 points behind Potrzebowski.

-end-
AJ Slideways Cruises To Modified Feature At Outlaw Speedway

(Dundee, NY) AJ Slideways, Alan Johnson just keeps rolling along and seems to keep getting better with age as he kicked off the 2021 season at the Outlaw Speedway with a huge win.

With the victory, Johnson was able to extend his consecutive yearly win streak to an amazing 47 straight years as he easily won the 35- lap feature event to open the season at the popular Yates County oval.

By the luck of the re-draw, track owner/promoter, Boss Man Tyler Siri jumped into the early lead which he would hold on till lap five when AJ Slideways would drive by and take over the top position. Only a couple caution flags would slow the pace as Johnson extended his lead over Siri, Nick Nye,
The Doctor Danny Johnson and Steve Paine who started twelfth and was up to fifth by the halfway mark. With Alan Johnson distancing himself from the rest of the field and the laps winding down all eyes were on a ferocious battle between Boss Man Siri, Nye and The Doctor with Hurricane Steve Paine looking for an opening.
With just a couple laps remaining Nye's great drive from sixteenth to second began to slip away as he began a backward slide opening the door for both Siri and Doctor Johnson as they were able to get by. With the white flag in the air both Paine and a hard charging James Sweeting were also able to get by Nick Nye and when the final checkered flag waved AJ Slideways had lapped up to the tenth-place machine. Siri was able to hold off his hired gun, Danny Johnson for second as Hurricane Steve Paine finished fourth while Sweeting rounded out the top five finishers.
In the Sunrise Insulation American Racer Tire Sportsman Division Ajay Potrzebowski Sr. picked up right where he left off last season as he was the winningest driver in the class with four feature wins to his credit. Potrzebowski, who started right behind front row starters Tommy Collins Jr. and Travis Grover wasted little time in getting to the point and once out in front never looked back and picked up the win in the Lucas Oil Nationals.
2020 Outlaw Speedway Sunrise Insulation American Racer Tire Track Champion, Karl Comfort tried mightily to grab his first win of the season, but Potrzebowski was just too much to handle, and Comfort had to settle for second at the completion of the thirty-lap affair. Third generation speedster, Alex Payne started the event right behind Comfort in the fourth starting row, ran in the top five the entire event and came home for third at the checkers while Zach Sobotka finished fourth with Kreg Crooker fifth after lining up fifteenth on the original starting grid.

Perhaps the best feature of the night came in the Hoosier Tire Sportsman Class. Zach Sobotka among several others that race in both Sportsman Divisions jumped into the lead from his outside pole position starting spot and led the entire thirty lap distance.
However, his win did not come easy as Ajay Potrzebowski Jr. put relentless pressure on Sobotka throughout the entire distance. In a real classic battle, Sobotka was on the top while Potrzebowski ran the bottom and the two raced side by side lap after lap and in one case Potrzebowski took over the lead only to have a yellow flag wipe out the lap and thus any chance he had of winning.
On the ensuing restart, Potrzebowski Jr. would not give up, however Sobotka was able to hold him off and nail down the win as he looks to defend his 2020 Hoosier Tire Track Championship at Outlaw. Potrzebowski Jr. continues his impressive early start to the 2021 race season in the northeast with a well-deserved runner up finish as he was chased across the line by Alex Payne, Tommy Collins Jr. and AJ Lloyd who would round out the top five finishers.

MODIFIEDS 35 Lap Feature. Alan Johnson, Tyler Siri, Danny Johnson, Steve Paine, James Sweeting, Nick Nye, Cory Costa, Ron Cartwright Jr., Ray Bliss, Jim LaRock, Jordan Siri, Brady Fultz, Jake Dgien, Derrick Podsiadlo, Greg Birosh, Jeff Daugherty, Eldon Payne, Kailee DiMorier, Greg Martin, Josh Nobriga, Dean Laughlin, Torrey Stoughtenger, Ed Lawrence.

AMERICAN RACER TIRE SPORTSMAN 30 Lap Feature. Ajay Potrzebowski Sr., Karl Comfort, Alex Payne, Zach Sobotka, Kreg Crooker, Eric Grice, Tommy Collins Jr., Carter Crooker, Kenny Peoples Jr., Billy Paine, Doug Kline, Tommy Paine, Dale Welty, Chris Fisher, Kaiden Dgien, Travis Grover, Lance Irwin, Riley Ragalon, Ben Feldman, Greg Crooker, Chris Clemens, Josh Keesey, Tim Guild, Justice Mayo, Stacy Jackson, Emmitt Waldron, Brian Fish.

HOOSIER TIRE SPORTSMAN 30 Lap Feature. Zach Sobotka, Ajay Potrzebowski Jr., Alex Payne, Tommy Collins Jr., AJ Lloyd, Scott Kerwin, Jordan Moden, Brett Buono, Riley Roglan, Andrew Jacobson, Brent Ayers, Brandon Close, Timmy Borden Jr., Emmitt Waldron, Blake Parsons, Adam Hilton, Nick Fratto, Stacy Jackson, Travis Grover, Tim Guild, Brandon Michaud

-end-
Friesen Brings the Noise and Tames The Nasty Track

Stewart Friesen bested an elite field of Super DIRTcar Series drivers to win Thunder in the Thousand Islands 100

LaFARGEVILLE, NY – Stewart Friesen, from Niagara-on-the-Lake, Ontario, wheeled his way to the front and picked up a healthy $7,500 for a night's work. The #44 flashed across Can-Am Speedway's start/finish line just ahead of Tim Fuller, who led the most laps. Lightning Larry Wight, from Phoenix, NY, brought the #99L home third.

Max McLaughlin, the 2021 DIRTcar Nationals champion, led the field to the green flag with veteran Big Block pilot Carey Terrance. Almost immediately, the #32c was swallowed up and faded back into the field, eventually pulling the car behind the wall on lap 83.

Tim Fuller took the early lead and began driving away from the field, however, he wasn't alone. Fuller was towing an eager Erick Rudolph in his wake. Rudolph, in the #25R, slowly gained on Fuller as the laps clicked off. Finally, Fuller hit lapped traffic at lap 30. Rudolph closed in and the #19 and #25R swapped first and second positions multiple times in a heated battle.

At that point, it looked as though Rudolph and Fuller were going to lap the field and Friesen watched them get farther and farther away.

At the halfway point Fuller began to pick away at the lapped cars, which became more and more difficult to get around. Rudolph was not able to keep up Fuller's pace of passing cars and fell back.

Meanwhile, Friesen got to work on Larry Wight, from Phoenix, NY, who was occupying third.

"I got by a couple of guys but then when I got up to Larry he'd move and take my line away," said Friesen. Eventually, Friesen was able to motor by Wight on his path to the win.

Lap 70 turned out to be a fateful lap for the Halmar Racing team. Rudolph slowed down and had back to go to the pits for a repair and brought out a caution flag. This lined Friesen up next to Fuller on the restart and the #44 was able to power around the #19 to make a winning pass.

Friesen's car came to life at just the right time but it wasn't a coincidence.

"I had the car set up for the beginning of the race with a heavy fuel load so it would come in towards the end," said Friesen. "It got good around lap 60 or 70. I thought early on I would be able to make the top work in turns one and two and see if I could sneak by a few cars. I went up there and skated. It was a little dusty but then the middle cleaned off and that was pretty good."

This was his 36th career Super DIRTcar Series victory. Friesen is only three away from Bob McCreadie on the all-time list.

Runner-up Tim Fuller was not pleased with his second step on the podium after leading most of the race's laps. Fuller described the pass:

"He [Friesen] came down and I got out of it so we both didn't crash but he's an incredible talent, Fuller said. "You hate to get beat that way. I think we were better than the first place car but we got snookered there a little bit. It happens."

he was satisfied with the effort and the drive but not the result.

"I just wish I'd had a taller spoiler," Fuller cracked. "But I wouldn't have done anything differently."

The Gypsum Racing machine of Larry Wight crossed the line third after battling in the top five the entire race. Wight was searching for a way to compete with Fuller and Friesen but just couldn't find another gear.

"I stayed on the bottom because of a hole on top but once I saw Friesen show his nose up there I knew I had to move up and try it," Wight noted. "We were a third-place car though. We'll take it and build off of it for the next one."

Track conditions for dirt surfaces can be tricky for the first race of the year however the Can-Am Speedway track crew brought the best out of our drivers and they were appreciated.

"Great job by the track crew for grading the track and giving us something to race on," said Friesen.

Wight added, "For the first race of the year the track was beautiful besides one blemish but that was nothing to complain about. We weren't sure what the track was going to do. Sometimes when they scrape the top layer off it turns into a dust bowl. The track took it though and the water soaked in. It actually had a middle line to it. We could run the top too."

Seven-time Series champion Matt Sheppard was involved in battles constantly but the #9S did not stray far from its starting position. After redrawing 10th Sheppard looked to be on the move but a stubborn Peter Britten, from Queensland, Australia, would not give up position number six.

Next up for the Super DIRTcar Series Big Block Modifieds are a pair of $10,000-to-win, NAPA Super DIRT Week qualifiers at the dirt-covered Bristol Motor Speedway for the World of Outlaws Bristol Showdown.

FEATURE RESULTS (100 laps)
Pos No. Name
1 – 44 Stewart Friesen
2 – 19 Tim Fuller
3 – 99L Larry Wight
4 – 91 Billy Decker
5 – 83X Tim Sears Jr.
6 – 21a Peter Britten
7 – 9S Matt Sheppard
8 – 35 Mike Mahaney
9 – 3 Justin Haers
10 – 42p Pat Ward
11 – 7M Michael Maresca
12 – 2L Jack Lehner
13 – 5H Chris Hile
14 – 60 Jackson Gill
15 – 88 Mat Williamson
16 – M1 Dave Marcuccilli
17 – 28 Jordan McCreadie
18 – 48T Dave Rauscher
19 – 17 Marcus Dinkins
DNF 32c Max Mclaughlin
DNF 2 Rusty Smith
DNF 25 Erick Rudolph
DNF 98H Jimmy Phelps
DNF 7t Billy Dunn
DNF 66x Carey Terrence
DNF 4r Kevin Root
DNF 111 Demetrios Drellos
DNF 98w Rocky Warner
DNF 22 Brandon Walters

-end-

Super DIRTcar Series Who's Who: Who is Back and Who is New?

WEEDSPORT, NY - Big Blocks are being tuned to perfection across the Northeast. The first whiffs of VP Racing Fuel are hitting noses and brand new Hoosier Racing Tires are getting loaded up in preparation for the Super DIRTcar Series tour to begin this Saturday, April 10, at Can-Am Speedway.

Seventeen elite drivers are going full-time championship points chasing in 2021. Twenty-seven races stand between the best of the best in Northeast dirt modified racing with races in New York, Pennsylvania, New Jersey, Tennessee, North Carolina, Quebec, and Ontario. These 17 drivers will fight over a $123,000 point fund with $40,000 going to the champion.

Mat Williamson, the longest-term defending champion [no champion in 2020] on record, finally begins his title defense. Despite the delay, the Canadian-born driver and his #88 Buzz Chew team are primed for the points opener at Can-Am Speedway.

Williamson has separated himself as driver by not only winning big-money signature races like the Billy Whittaker Cars 200 at NAPA Super DIRT Week, but he's also a champion. He knows how to play the long game in both races and seasons.

Matt Sheppard is a seven-time Super DIRTcar Series champion. He wins. He podiums. And, most importantly, he finishes. Sheppard, from Waterloo, NY, is a ferocious competitor, who demands the best from himself, his equipment, and his peers at every race.

He is keen on claiming this his eighth Super DIRTcar Series championship in the #9S this year. While the DIRTcar Nationals in February was an up-and-down affair for Sheppard, it's difficult to draw a bead on the season based on his performance there. Especially when the #9S team likes to try new ideas at Volusia – a non-points event for the Series.

While Anthony Perrego took the win at Can-Am last year during DIRTcar OktoberFAST presented by DIRTVision, Sheppard has the last Thunder in the Thousand Islands 100 win at the LaFargeville, NY track when he opened 2019 in Victory Lane two years ago. With two huge points opportunities coming up back-to-back at Bristol, Sheppard knows it's important to go there full throttle.

Billy Decker defines speed and confidence on track. He's won three Series championships but remains hungry for a fourth. His Gypsum Racing #91 Big Block is always at the top of the boards.

Decker was held winless at this year's DIRTcar Nationals but he piled on the podiums nonetheless to be second on points behind Max Mclaughlin. He'll be after career Series win number 71 at Can-Am this Saturday to start his quest for a fourth championship.

This year is another busy year for the HBR pilot Jimmy Phelps as he once again tackles the Series full-time while promoting Weedsport Speedway. Phelps' #98H had a strong 2020, which included an OktoberFAST win at Fulton Speedway.

Phelps, The Baldwinsville Bandit, is currently tied for sixteenth on the all-time wins list alongside Kenny Brightbill and Gary Tomkins.

Phoenix, NY's Larry Wight, also known as Lightning, is tied with Dave Lape on the all-time wins list with eleven, including a coveted $50,000 win at Oswego Speedway's NAPA Super DIRT Week in 2018.

The crimson #99L can often be found pushing the envelope of the high side at most tracks, thrilling fans, and passing drivers. Wight has accomplished a lot in his young career but a Super DIRTcar Series championship still eludes him.

Pride of Ransomville, NY, Erick Rudolph, nearly won the Series championship in 2018, giving Matt Sheppard the biggest run for his money in a few years as the points came down to the World Finals at The Dirt Track at Charlotte. With eight career Series wins to his name, he wants to push that number to double digits in 2021.

Rudolph showcases his skills weekly at Ransomville Speedway in his DIRTcar 358 Modified where he meets the likes of Mat Williamson and Pete Bicknell every Friday. The third-generation driver is not only adding to his family's legacy but building his own storied career.

He had three top-10s in four starts at the DIRTcar Nationals, a slow start by his standards. But there's a good chance the calm, cool, and collected driver of the #25R will find his way to the front at Can-Am.

Mike Mahaney and his #35 Huttig-owned Big Block Modified have become a great match over the last couple years. Mahaney was contending at every single DIRTcar OktoberFAST event last October. His momentum coming into 2021 is stronger than ever.

Although Mahaney has weekly Feature wins and track championships under his belt, he's still chasing that first career Super DIRTcar Series win.

The #111 of Demetrios Drellos has become a well-known threat on the Super DIRTcar Series. Drellos, from Queensbury, NY, is not only a Super DIRTcar Series Feature winner but he's now coming into the championship conversation. With a continued focus on speed in Time Trials, Drellos has the makings of a serious contender.

Jack Lehner, from Saratoga Springs, NY, is working hard to build his race team from the ground up. Lehner, a regular front runner at Albany-Saratoga Speedway, is looking to take the next step with his #2H Big Block in the Series.

In 34 starts, Lehner has picked up three top-10s and one top-five. The blue #2H first entered race fans' radars when he won the Last Chance Showdown at Oswego Speedway to make the 2018 Billy Whittaker Cars 200.

Peter Britten, the driver of the #21A, gained a lot of momentum for the 2021 season after a recent chassis manufacturer switch. Britten now has a Bicknell beneath him for the first time in his career. The veteran driver will hit a milestone 200 Super DIRTcar Series starts in 2021.

The Queensland, Australia driver cuts his teeth weekly at Lebanon Valley Speedway and Albany-Saratoga where the fields include many other Series stars. He's poised for a strong 2021 season.

The Hile Driver, Chris Hile, had to postpone his rookie season on the tour last year – due to the pandemic, but he is looking forward to putting his team to the test in 2021. Hile has always been a high-level competitor when entering one-off events. Race fans should be excited to see how the #5H handles a full-season with the stats he's collected, so far.

Hile has hammered down two top-five finishes, 14 top-10's, and over 50 starts in Series racing.

Dave Rauscher, known as The Big Show, has become a fan favorite to root for with his hard-working attitude every race day and gleaming smile. He'll be aiming to turn the show of passion into results this year and park his #48too in Victory Lane.

Kevin Root has proven himself to be one of the top rookies to watch in 2021. Root, a multiple-time DIRTcar Sportsman Modified champion, will take on the Super DIRTcar Series full-time in the famed #4*. Some of the best drivers, like Tim McCreadie and Brett Hearn, have been behind the wheel of Vinney Salerno's Big Blocks.

Root is ready to take the spotlight in his rookie year and keep the #4*'s winning ways alive.

Marcus Dinkins is back in 2021 for another full-time effort in the Series. Dinkins, from Watkins Glen, NY, showed promise in Volusia at the DIRTcar Nationals with strong qualifying efforts and competing in every feature lap. The #17 is looking to continue improving in the new season.

Long-time racer and builder of the original Bridgeport Speedway Rusty Smith is back on the tour after taking most of 2020 off during the pandemic. With some new chassis lined up, Smith is looking for his first top-10 in Series competition.

The 2017 Rookie of the Year Brandon Walters, from Sydney, NY, returns to the Series in 2021 and is also looking to crack the top-10 for the first time. He has 28 Series starts. Brandon has been itching to get back on the Series, especially with, newly DIRTcar sanctioned, Thunder Mountain Speedway – which he calls his home – one of the 27 events on the 2021 Super DIRTcar Series schedule (Tuesday, Aug. 3).

Olden Dwyer will be a new face on the full-time circuit this year. The Shaftsbury, VT driver has two Super DIRTcar Series starts and has earned one top-10, which came at his hometrack, Lebanon Valley Speedway, in 2015. He'll take on the stars of the Series behind the wheel of his #88JR Big Block.

-end-
SMALL-BLOCK MODIFIEDS, SPORTSMAN, AND ROOKIE SPORTSMAN ON TAP SATURDAY, APRIL 10 AT ORANGE COUNTY FAIR SPEEDWAY

MIDDLETOWN, NY (April 3)……..Saturday evening, April 10 will be the inaugural racing program featuring the Small-Bock Modifieds at the big five-eighths-mile Orange County Fair Speedway clay oval in Middletown, New York.

They will be joined by the exuberant Sportsman division as well as the reinstated Rookie Sportsman division for novice drivers.

"We've got a super competitive field of Small-Block Modified drivers, some who concentrate their efforts entirely in the division, but many of our Big-Block teams also have cars that fit the Small-Block specs, so we'll have a great field of cars," says Orange County Fair Speedway Director of Motorsports Brett Hearn. "I expect the racing to be close and exciting." The lighter, nimbler Small-Block-powered cars turn laps nearly as fast as the Big-Block Modifieds.

The 25-lap feature race for the Small-Block Modifieds---the first point race towards the $10,000 Small-Block track championship---will pay the winner $2,200.

This will be the second outing of the 2021 season for the Sportsman division whose cars are basically the same in appearance as the Modifieds except for a much more restricted motor. The winner of their 20-lap feature race will take home $600.

Qualifying races will set the feature race fields for both the Small-Block Modifieds and the Sportsman.

The night's activities will also see the reintroduction of the Rookie Sportsman, which gives drivers with limited racing experience a chance to compete against others with similar motorsports backgrounds. They'll race in a single 12-lap event, with the winner earning $200, and thanks to sponsor MJK Home Maintenance, a $100 prize to the runner-up.

Due to ongoing COVID-19 restrictions, the stands will be open but with limited seating. Fans may also choose to enjoy the races from the unique Orange County Drive-In section. General admission either for the stands or the Drive-In is $20 adult, $16 seniors, and free for children 12 and under. As a convenience for fans, guaranteed Drive-In parking spaces in Rows D, E, and F of the Drive-In may be reserved for $15. Unsold spaces in these rows will be available at the gate on race day. Fans may purchase tickets by calling the Speedway Office at 845-342-2573. Spectator gates will open at 4:00 pm. Prepaid 2020 Season Tickets will be honored.

OCFS will follow and enforce CDC and New York State COVID-19 protocols. Masks are required to use any of the fairgrounds facilities and to move about the grounds. Everyone is asked to maintain safe distancing. In the Drive-In, announcements and race calls can be heard over FM 107.7.

Fans unable to attend in person, may order live multi-camera streaming of the races on the OCFS website ww.orangecountyfairspeedway.net.

For competitors: Transponders and one-way radios are mandatory. Fire suppression equipment is required for all open wheel divisions (Big-Block Modified, Small-Block Modified, Sportsman, and Rookie Sportsman) and strongly recommended for Street Stocks. Street Stocks must have fire extinguisher. Pit passes are $25 for members, $35 non-members.

-end-
Can-Am Speedway Geared Up for Thunder in the Thousand Islands

LAFARGEVILLE, NY – On Saturday, April 10 the Super DIRTcar Series launches the 2021 championship points chase at Can-Am Speedway with the $7,500-to-win Thunder in the Thousand Islands 100.

Series stars like Canadian hero and defending champion Mat Williamson, seven-time champion Matt Sheppard, and many more premier Series drivers will be on hand to make their mark on the new season.

Under the tutelage of the Bartlett family, Can-Am Speedway, or as some call it, The Nasty Track, has experienced a racing renaissance. The track sanctions DIRTcar 358 Modifieds, Sportsman, and Pro Stocks in the Hoosier Racing Tire Weekly Championship program every Friday night, and all four DIRTcar Northeast Series make stops there.

The Super DIRTcar Series has made Can-Am its points championship opener for the past two years with the new fan-favorite $7,500-to-win Thunder in the Thousand Islands 100.

Tim Fuller, of Watertown, NY, launched his career at The Nasty Track. Fuller is looking at a pair of eights when it comes to Can-Am Speedway records. The pilot of the St. Lawrence Radiology No. 19 is tied for eighth in all-time Super DIRTcar Series wins and he is also eighth in all-time Can-Am Speedway Feature wins with 28.

"I started at Can-Am Speedway racing full seasons 1992-94," Fuller said. "Last year was the first time I had done a full season there since then. It's basically what I grew up on. I guess you get comfortable."

Fuller's success at the track spans decades. Over the past few years, the track surface has been receiving a facelift, but that has not phased him.

"I don't think the track has changed that much," he noted. "Everyone talks about the changes, but I still run the exact same gear. I've noticed that on the exit of Turn 2 you can't swing out as wide. They took the egg shape out. It's more of a straightaway."

Fuller worked hard from day one to put himself in a position to race with strong, funded race teams. He holds one of the longest gaps between Series wins, which is a testament to his tenacity. Fuller shocked the Series best at Brockville Ontario Speedway in 1996 but didn't pick up his second Feature win against the Series until 2003 at Rolling Wheels.

"It was a local track. I had just started Big Block racing," Fuller said of his early first career Series win. "I didn't have a pot to piss in all those years. I was racing with my money and there was very little. I couldn't finance a team. It was half a joke. When 2000 rolled around I hooked up with Bob Faust. I had the experience and the right equipment. From there, things took off. 1996 to 2000, it was a joke. I had less than average equipment, but I was a race junkie, and I was racing to get going and move forward and find something better."

Fuller isn't worried about records, but the significance of being tied with the great "Jumpin" Jack Johnson is notable.

"I am past worrying about the record books, but no doubt it's amazing to be tied with Jack Johnson," said Fuller. "But I think I've gone about as far as I can go in this sport. I'm not getting any younger. But I plan on popping off one or two Series wins in the next couple of years."

The legendary "Hurricane" Steve Paine currently holds the record for the most Series wins at Can-Am with three. Matt Sheppard, who has two Series wins there, has the Series track record with a 19.084 sec. lap.

Also, on the card are the DIRTcar Sportsman Modifieds and the full-fendered DIRTcar Pro Stocks. They'll be racing hard for valuable Hoosier points.

Gates open at 12 p.m., grandstands at 4:30 p.m., and finally Hot Laps go green at 4:30 p.m.

-end-

Big Block Modified Legend 'Jumpin' Jack Johnson Passes Away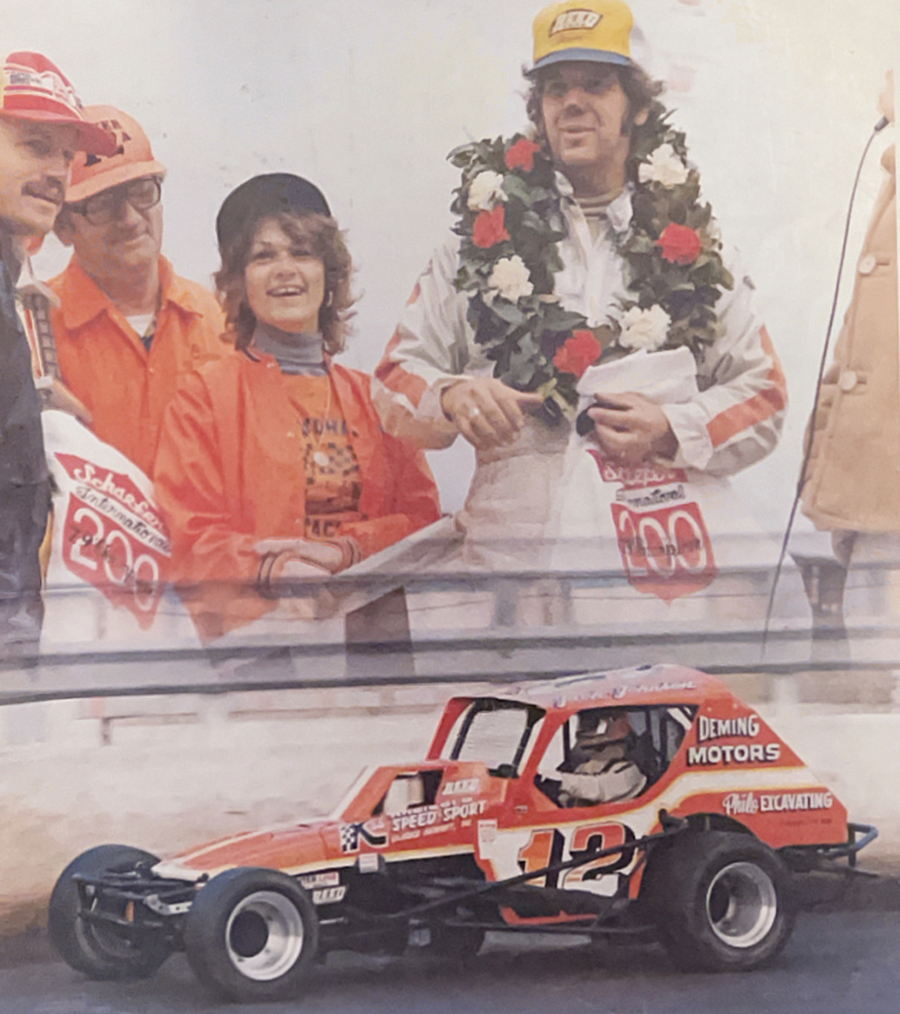 Andrews, Decker remember Super DIRTcar Series hero of the famous #12A

WEEDSPORT, NY — The Super DIRTcar Series and all of the dirt racing community are mourning the loss of four-time Series champion Jack Johnson.

Johnson, who passed away on Thursday at 76 years old, easily ranks among the all-time greatest Big Block Modified drivers, and for many race fans and former competitors, he is the greatest without question.

"Jumpin Jack" was a part of the very origins of the Super DIRTcar Series circuit. His first Series Feature win came at Ransomville Speedway on Aug. 7, 1973. Johnson's excellence behind the wheel of the flashing orange #12A brought him 30 more wins until his final Series victory in 2001 at Orange County Fair Speedway.

Jack Johnson had many loyal fans following him across the Northeast during his incredible career, but one of them became the voice of the Super DIRTcar Series. Shane Andrews shared his heartfelt thoughts on the passing of Jack Johnson.

"Jack Johnson has left an indelible impression on so many race fans in the Northeast," Andrews said. "Growing up in Central New York, when you walked into a race track, whether it was Utica-Rome, Weedsport, Rolling Wheels, Albany-Saratoga, but most of all Fonda Speedway you were greeted with an absolute sea of orange. It was the orange of the #12A of Jack Johnson."

In addition to his four Series championships, Johnson took the checkered flag at NAPA Super DIRT Week in 1979 and 1984. He became the first New Yorker to capture the crown jewel of dirt modified racing at the famed Syracuse Mile.

"He had talent," Andrews said. "He had a big smile and rock star looks. He was the man. He had great equipment, great sponsors, and he had a personality. He was approachable and personable. He was a gasser. He was smooth. Those years that he won 12 races at Fonda he had to start in the back every race because of the handicapping. He could race through the field. He was up on the wheel every lap. He knew what it took to win. He was a driver that a young race fan could meet and that was important."

Clearly, Jack Johnson made an impact with fans and racers throughout his career.

"If you spend any amount of time around racing in the Northeast you'll see Jack's influence," DIRTcar Racing CEO Brian Carter said. "Whether it was the way he raced on the track or the way he connected with fans in the pits, he was a hero to so many people."

Andrews described seeing Johnson for the first time:

"At my first race, my parents told me to pick a car to root for and I picked this orange #12A and they bought me a picture of it. He won the race that night at Utica-Rome and I instantly became a fan and stayed one my entire life. We went to the pits and I got him to autograph it. I still have that picture to this day. He made me a race fan. He was my racing hero and still is. There is nobody that will ever take the place of Jack Johnson in racing to me. He is the ultimate racing hero for me and I am not the only one that feels that way. Heroes live forever and Jack Johson will always be the man to many people."

Andrews still sees the legacy of Johnson's driving ability live on amongst active drivers.

"A lot of drivers that are racing to this day still try to race like he did," Andrews noted. "He helped forge a lot of racers that you see racing today. He took the time to talk to up-and-coming drivers and to give them pointers."

Without Jack Johnson's affable nature and willingness to reach out to his fans, we may not have Shane Andrews on the mic as heroes inspire many to achieve success.

"I was awestruck every time I talked to him," Andrews said. "Then I started getting into announcing. We're not supposed to have favorites as announcers, but I couldn't help kick it up a notch when he was on the track. I'll admit it. If Jack Johnson was winning a Heat Race, I picked it up a little more. If Jack Johnson was winning a Feature, the meter was pegged. I loved announcing races when Jack Johson won and I had the opportunity to do that. I was able to interview him in Victory Lane and that to me in a lifetime highlight."

One driver that learned a lot from Jack Johnson was Billy Decker, from Unadilla, NY. Decker, with three Series championships, is one behind tying the great #12A.

"Jack Johnson was special to me," Decker said. "We raced, we hunted together, and I stayed at his house and helped work on the car between racing at Albany-Saratoga and Fonda. He was very important to me and my racing."

Jack Johnson's prime spanned the careers of some of the best drivers to ever take on the Super DIRTcar Series.

"He made it really tough to go out and win on the Super DIRTcar series," Decker noted. "I got into it when we had all these powerhouses [Brett Hearn, Danny Johnson, etc.]. Jack was at the top of the list of competitors. He made it tough to compete. You had to be able to drive hard and work on your stuff to compete and he and his team did that. They did their job. No one was harder to race than Jumpin' Jack."

"He was going to race you hard. Not dirty, but hard. You were going to have to be all over the steering wheel if you were going to pass him. He didn't block, but he drove hard. When he strapped in, he was gassed up. That's it. It was fun."

When the Super DIRTcar Series returns Saturday, April 10, at Can-Am Speedway, there will likely be a lot of orange in the pit area. Johnson touched the lives of many in the Northeast.

"Jack was a legend, but he never made you feel that way," Decker said. "That goes for his crew, too. It was always fun. He would help us out and we had a lot of laughs together. What was really amazing was the amount of support for Jack later in his life that immediately made his legacy apparent."

Super DIRTcar Series Director Dean Reynolds also grew up a fan of Johnson.

"The word icon might be overused in today's society, but I just can not think of a truer word to describe Jack Johnson," Reynolds said. "One of the greatest to wheel a dirt Big Block Modified, a champion, a fan favorite and of course a Hall of Famer. While we lost Jack Johnson, let's remember all the joy, and memories he brought us over the years. My thoughts are with his son Ronnie and the entire Johnson family."

Rest assured, the legend of "Jumpin' Jack" will live on forever in the hearts of fans and racers for all time.

-end-
This Week in Modified Country on
Facebook
Flemington Speedway Historical Society