44th NAPA Super DIRT Week A Go October 7-11, 2015, In Syracuse

DIRTcar Racing officials working with county, state executives on 2016 and beyond

CONCORD, N.C. - March 3, 2015 - As the 2015 racing season is kicking off around the country this spring, DIRTcar Racing is fully engaged in preparations for the 44th running of NAPA Auto Parts Super DIRT Week on Oct. 7-11, 2015, at the New York State Fairgrounds in Syracuse, N.Y.

Thousands of fans from across the United States and Canada are expected to return once again to the Moody Mile, with less than 30 reserved camping spaces remaining for what's quickly become known as Racing's Biggest Party each October.

DIRTcar officials also followed Tuesday night's presentation by Onondaga County Executive Joanie Mahoney and her plans for the fairgrounds in 2016 and beyond. DIRTcar is eager to work with New York State and Onondaga County on the Empire State's biggest annual week of racing, and improvements to the fairgrounds in the future.

"We are certainly excited to see New York State and Onondaga County considering improvements to the New York State Fairgrounds," DIRTcar Racing CEO Brian Carter said. "NAPA Super DIRT Week has generations of history and tradition for DIRTcar Racing fans, improving the fairgrounds would ensure that coming generations could share in that tradition, too."

-end-

Albany-Saratoga Set For 2014 Awards Banquet

For Immediate Release
February 28th, 2015

Malta, NY – The 2014 season at the Albany-Saratoga Speedway officially comes to a close on Saturday evening March 7th at the Saratoga/Wilton Elks Cub with the annual awards banquet. The track champions and top point finishers in all divisions will be honored as competitors, fans and officials converge on the Saratoga County facility.

Taking top honors at this season's banquet will be the six drivers who will officially be called track champion. Picking up the track championships in the tracks six competing divisions will be Brett Hearn (Upstate GMC Dealers DIRTcar Modified's), Jeremy Pitts (Sportsman), Rob Yetman (DIRTcar Pro Stocks), Bill Duprey (Don Don's Delights Street Stocks), Dave LaBarge (Greg's Towing and Repair Single Cam Four Cylinders) and Steve Ryan (Greg's Towing and Repair Dual Cam Four Cylinders).

Pitts will have the honor of being crowned champion not only once but twice. The Schaghticoke, New York resident also will be crowned champion of the Featherfoot Warrior Series, a series within the weekly schedule for the Sportsman division. This will be the second consecutive Sportsman track championship for Pitts.

The 2015 season will be a season of celebration as the four tenths of a mile, Lyle DeVore promoted speedway will celebrate its 50th anniversary season. The season will kick off on Friday evening, April 17th. For more information about Albany-Saratoga Speedway please log on to www.albany-saratogaspeedway.com.

Paul Kuhl Midget Highlights Flemington Speedway Historical Society Display at Dirt Track Heroes Show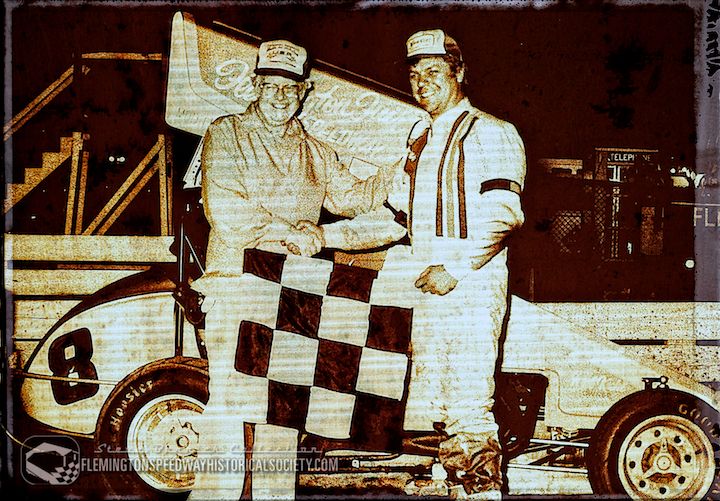 Car owner and Flemington Speedway promoter Paul Kuhl congratulates his driver Stan Ploski after a 1983 victory. This car will be on display all week.

Phillipsburg, NJ -- Flemington Speedway Historical Society (FSHS) will once again provide an anchor display at Quaker Steak & Lube Dirt Track Heroes Car Show. For the eighth consecutive year, Phillipsburg Mall, Route 22 East, Phillipsburg, NJ is the venue for the week long extravaganza. It opens Sunday, March 1 and closes Saturday, March 7. Detailed information can be found at the promotion team's web site: http://www.thunderonthehillracingseries.com.

It's hard to ignore the irony here. For decades, such shopping malls have replaced many aging race tracks on a nationwide scale. Once a year, FSHS and similar anchors of this car show inhabit vacant stores in a once thriving mall, thus lending life support to the kind of entity that doomed the race tracks these historical organizations now represent.

More than a dozen race cars will be part of the FSHS exhibit, highlighted by the former Paul Kuhl Midget. The purple and white #8 driven to Flemington Speedway victories by Stan Ploski is being restored by George Henshaw. Brother Joe Henshaw will bring his '37 slant back Ford sedan, a living example of an early sixties era Stock Car. The #3 Sprint Car of late local hero Rich Polenz will be on hand, recently restored by brother Scott. A tribute to the 1976 Chevette Modified of Glenn Fitzcharles is expected to be unveiled by Microstock campaigner Harry Burd. Joe Opitz's Hanchick & Lerch #44, Dennis Tretter's #35 Brenn Midget, the Taylor-Made #93 of Dick Havens, Mike Everett's Doug Hoffman 60OVER tribute, and Artie Conk's #63 White Phantom are among the many historic race cars expected to be shown.

This year, the FSHS exhibit will feature vintage racing movies projected onto a big screen, along with the tables and walls filled with memorabilia. Flemington Speedway personalities will be visiting the FSHS display all week. Saturday, March 7, Flemington Speedway and FSHS will be among those featured by event organizers, as 1974 and 1976 Flemington Speedway Modified Gerald Chamberlain is saluted.

-end-
Black Rock 2015 Tentative Schedule Announced

The 2015 Black Rock Speedway tentative schedule has been released by Promoters Mike Jackson and Sue Foster. www.blackrockspeedway.com has the tentative schedule posted at this time.

The schedule consists of 23 points paying events with 26 race nights total on the schedule including the IMCA Empire Series event in September and the two-day Dutch Hoag National Open Weekend in October.

The talk of the town has been the return of the Modifieds for weekly competition. Along with weekly competition, the 'Mighty Modifieds' will also participate in the "SP Wilson, Inc Rumble At The Rock" 50 Lap $5,000 to win event on Tuesday June 2nd.

One lucky fan, Logan Kenyon, won a contest to name the Tuesday night special event. Logan will receive free admission on that night and have a personalized photo taken with the Modified winner in victory lane. Curtis Berleue Photography has also donated a free print for Logan fromVictory Lane.

The rest of the regular card for 2015 will consist of Crate Sportsman Modifieds, M&M Auto Sales and Service IMCA Modifieds, Street Stocks, 4-Cylinders and the ever popular Black Rock Bandits.

Black Rock will see several traveling series make multiple stops at the 4/10 mile Dundee, NY oval in 2015 including the Patriot Sprint Tour, the IMCA Empire Series and the SUNY Canton GRIT Racing Series 602 Crate Sportsman.

The Patriot Sprint Tour will make their first stop on Friday May 15th with their final stop taking place on their traditional date at Dundee during Race Weekend at Watkins Glen International. Celebrity Night is always a can't miss event at the speedway and 2015 will carry on that tradition with the 360 sprints being paired with Black Rock's weekly Modified competition.

Much like the return of weekly Modified competition, the return of the SUNY Canton GRIT Racing Series Sportsman is something that fans will have circled on their calendars. The Grit Series put on a fantastic 100 Lap race back in October with Rocky Warner coming from the back to the front to pick up the win. If that was any indication, their 50 Lap affairs on Tuesday June 16th and Tuesday August 4th will keep fans glued to the racing action. Rocky won't have quite as much time to come from the back of the pack this time around!

The IMCA Empire Series will also make two stops at 'The Rock' in 2015 starting with an Empire Series race on Friday May 22nd. They will also be on the card with details and support classes to be determined for a September 18th show.

Dutch Hoag National Open Weekend will take place on it's traditional weekend before Halloween to close out the oval track racing program for 2015 at Black Rock Speedway. More details on the card for each night of action will be forthcoming. Black Rock Speedway will close out the 2015 season with a Motorhome and Demo Derby taking place on Sunday November 1st, promoted by speedway ownership.

-end-
Brewerton And Fulton Speedway Winter Bash A Big Success; Up Next The Motorsports Expo

BALDWINSVILLE, NY – February 24, 2015 (By Dave Medler) – Despite the heavy snow, the 2015 Fulton and Brewerton Speedways 'Winter Bash' was a big success. A large crowd turned out for an evening of race talk, awards, and giveaways at the Radisson Ale House in Baldwinsville.

On the big screen was the final night of the DIRTcar Winter Nationals from Volusia Speedway in Florida. In an exciting Modified feature, Fulton Speedway Tracey Road Equipment Big Block Modified Champion Larry Wight was crowned the four race series champion.

Beyond their point money the 2014 Track Champions received a six-foot trophy and champion jacket while the rest of the top-ten received a sharp plaque along with their point money.

2014 Track Champions

Brewerton Speedway – Tracey Road Equipment DIRTcar Modifieds – Matt Sheppard. Pro Race Cars Mod Lites – (Open) Joe Isabell (Stock Spec) Nick Graziano. Nationwide Insurance IMCA Modifieds – Chris Fleming. Hilton's Automotive Four Cylinders – Chuck Powelczyk.

Fulton Speedway – Tracey Road Equipment DIRTcar Modifieds – Larry Wight. SUNY Canton Sportsman – Ron Davis III. NAPA Late Models – Tim Sears Jr.. A-Verdi Storage Containers 305 Sprints – John Cunningham. Pro Race Cars Mod Lites – (Open) Joe Isabell (Stock Spec) Nick Graziano. Hilton's Automotive Four-Cylinders – Chuck Powelczyk.

During the season Omni Services had the heat race winners challenge for the Tracey Road Equipment DIRTcar Modifieds. The competition at both tracks was tough and had the winners decided on the final point night. Ryan Phelps, Vinnie Vitale and Matt Billings shared the $250 award at Brewerton Speedway. Chad Phelps was the sole winner at the Fulton Speedway.

A few of the notable special awards from last season included:

Chris Mackey – Modified Horizon Award

Dave Talbot – Most Improved Late Model

Zack Babcock – Most Improved Mod Lite

Mike Button – Sportsmanship Award

Jim and Barb Witko – Promoters Award For Dedication

There was also a drawing for 15 Hoosier Tires for modified and Sportsman teams during the evening. The winners were Corey Barker, Jimmy Phelps Rocco Leone, Chris Hile, Joe Kline, Brandon Ford, Billy Clark, James Carlson, Pat O'Brien, Matt Hulsizer, Roy Bresnahan, Todd Root, Jordan Bennett, Dan Vauter and Mike Button.

The most anticipated giveaway of the night was for Brewerton or Fulton Speedway season pit passes with the winners making their choice of speedway. Brewerton Speedway – Chad Phelps. Fulton Speedway – Olivia Ford, Laurie Verdoliva and Janet Ford.

The entire Brewerton and Fulton Speedway staff would like to thank all of the fans and competitors for making it fun and successful.

Up next is the always popular Motorsports Expo at the New York State Fairgrounds on Saturday and Sunday March 14-15. Stop by our booth all weekend to see some of the new racing equipment, pick up schedules, season passes, pit passes and have any questions answered about the 2015 season by speedway staff.

The Great Northern Mall with the Brewerton and Fulton Speedways are excited to announce the return of the "Blast-Off" show on March 27-29.

For race teams this is a way to show off your 2015 racing equipment and give great exposure to your sponsors. Not only is this for the race fans, it's also a way to attract potential fans to the great racing at the Brewerton and Fulton Speedways. The Great Northern Mall is located on Route 31 in Clay, NY with easy access off Route 481. To see all the stores and eateries they have to offer go to www.greatnorthernmall.com .

To put your car on display is free but space is limited. To enter your car please go to the online form http://www.brewertonspeedway.com/mallshow.htm .

After the long offseason the race cars will roar to life when the 2015 season kicks off at the Fulton Speedway with the Highbank Hold-up Weekend. Friday and Saturday, April 24 and 25. Two nights of Big Blocks, Sportsman, Mod Lites, the holdover Novice sportsman event from Outlaw Weekend, 4-Cylinders and Late Models will all be in action. The weekend will finish in a big way with a 100-Lap Modifed Super DIRTcar series race.

With one of the toughest Big Block Modified fields anywhere in the Northeast, the Brewerton Speedway will thunder back to life on Friday, May 1. On the race card will be the Tracey Road Equipment DIRTcar Modifeds, Pro Race Cars Mod Lites, Four-Cylinders and the highly anticipated weekly appearance of the Sportsman division.

Please visit the all new websites built by BC Designs at www.brewertonspeedway.com – www.fultonspeedway.com and like our Facebook pages to interact with race fans anytime www.facebook.com/BrewertonSpeedway - www.facebook.com/FultonSpeedway

-end-

UTICA-ROME SPEEDWAY REGULARS SHOW THEIR STRENGTH AT THE DIRTCAR NATIONALS IN FLORIDA

VERNON, NY- A winter trip to Volusia Speedway in Florida is something many race teams use as an excuse to escape the cold weather of the Northeast and try to build some momentum for the upcoming season. This past week, three of the top four point earners in the Utica-Rome Speedway made the journey and by the end of the week, fans knew that they were there as all three were competitive all week long.

Larry Wight, the hard charging youngster out of the Gypsum Express stable, overcame two nights of being the rear of the field to take home the 2015 DIRTcar Nationals Big Block Modified Championship and earning the "Big Gator" trophy that comes with the title. On the opening night of competition last Wednesday, Wight started 14th and made a late race pass of Billy Pauch to finish the evening in the fourth spot. Night two saw Wight score another top 10 finish as he posted a seventh place finish.

Things really got interesting in the final two nights as an incident with Pauch saw Wight having to restart in the rear. He didn't stay for long, however, as he roared through the field to net an impressive third place finish. Starting scratch on the final night for changing cars before the feature, the Phoenix NY native worked his way up to seventh at the checkered which provided just enough points for Wight to grab his first Florida title.

2014 and seven time Utica-Rome Speedway champion Stewart Friesen made his annual trek to the Sunshine State with the Tom and Roxann Cullen owned machine looking to make it two "Big Gators" in a row, but by the end of the week, he would fall just three points shy of the title. Friesen opened up the four nights of action with a seventh place finish and then followed that up by a dominating victory on the second night. Night three saw Friesen challenge eventual winner Rick Laubach for the lead but he had to settle for the runner up position. The final night of action saw Friesen end his evening pit side which ended his shot the championship.

Matt Sheppard, the 2002 Utica-Rome Speedway champion and the runner up the past two seasons, also made the trip to Volusia. Although he showed the needed speed in all the events, he didn't get the finishes he was looking for or needed to grab the title. Sheppard opened up the four race series with a sixth place finish and chased Friesen to the line on night number two. A fourth place finish on night three would put Sheppard in the mix for the title going into the final night but mechanical issues ended his run prematurely and wiped out any thoughts of taking the title. Sheppard would ended the Florida series in the fourth spot in the points, just 12 markers back.

This trio of drivers are expected to continue to compete weekly at the Utica-Rome Speedway, along with a host of others, and battle for the lucrative NASCAR Whelen All-American Series track title. Last season, Friesen took home over $27,000 for winning the track title plus the NASCAR New York State title.

The Utica-Rome Speedway kicks off on April 19th with Twin 20's for the Modifieds plus a regular show of 602 Sportsman, Open Sportsman, and Pro Street Stocks. For more information, log on to www.uticaromespeedway.com or call the speedway office at (315)829-4557. You can follow us on Facebook as well or on Twitter by following @UR_Speedway.

-end-
Williams a Surprise Winner of DIRTcar Nationals Finale at Volusia

Wight survives wild night to get his first 'Big Gator'

By Mike Mallett

BARBERVILLE, Fla. - Feb. 21, 2015 - Neal Williams shocked a capacity DIRTcar Nationals crowd on Saturday night by pulling off the upset win in the 50-lap Super DIRTcar Series Big-Block Modified finale at Volusia Speedway Park. It was the biggest win of the Pittsgrove, N.J., driver's career as he pocketed the $5,000 check and picked up his first Gator trophy.

"This is just unreal," Williams said. "To get my first Super DIRTcar series win down here against these boys is unbelievable."

Larry Wight had to go to a backup car prior to the feature, but he survived to finish in the seventh spot outlasting both Matt Sheppard and Stewart Friesen to win his first ever DIRTcar Nationals Big-Block Modified week championship and the coveted 'Big Gator.'

"We had to bring the backup car out because we had some motor trouble in the heat race," Wight said. "We didn't want to risk hurting it any worse. We started in the back again and had a great car. Maybe if we started in the top 20 we could have won it. Neal (Williams) had a great car, I could see it. He was able to hold his own."

Sheppard and Friesen redrew the front row for the final night of the Nationals. Sheppard jumped out in front at the green and led the first circuit. Before a second lap could be completed, the red flag was shown as Tyler Dippel and Rick Laubach got together coming down the frontstretch.

Over the next four laps a series of cautions slowed the pace of the feature. All the while, Sheppard was able to control the action at the front. Friesen was forced pit-side under one of the cautions periods after packing the right-rear wheel full of mud. After a few more green flag laps were run, Erick Rudolph slowed in turn four bringing out yet another yellow on lap nine.

When the race got back up to speed, Sheppard made it through turns one and two before he was forced to shut the car down in turn three with mechanical issues. Sheppard's bad luck and the subsequent caution handed the lead over to sixth-place starter Billy Pauch. Pauch, of Frenchtown, N.J., remained in front when the green flag got the race going once more.

When Pauch got back on the gas he was forced to deal with the challenges of fellow Garden State driver Williams. Williams, who started 10th, applied heavy pressure to Pauch over the next five laps. Williams nosed in front several times but each time Pauch was able to drive back by to remain out in front. At the halfway it was Pauch and Williams battling for the lead.

The traffic got thicker and thicker for Pauch which allowed Williams to stay with the veteran driver. Williams kept looking and waiting for his opportunity to get by Pauch and it came on lap 36. Williams worked by Pauch on the bottom of the second turn, taking the lead. He remained the leader as they reached the line. Yan Bussiere brought out the caution before another lap could be scored.

"Everyone talks about being in second when you reach lapped traffic and I just put that in my brain and it paid off," Williams said. "He (Pauch) made a couple mistakes and we were able to capitalize."

The field lined up nose to tail for the restart giving Williams a clear track in front of him. He moved out on Pauch as he had his hands full with Danny Johnson. One more lap clicked off before the final caution of the race was shown for Friesen who found himself nosed into the outside wall off of turn two after an unsuccessful attempt at a slide-job to get by Wight.

Williams was perfect on the ensuing restart and pulled away from Pauch and Johnson on the outside as they renewed their battle for second. Johnson worked low while Pauch worked high. Johnson dispatched of Pauch after two laps and set his eyes on Williams who already had amassed a half-straightaway lead.

"Once I got out in front I knew I had to just stay smooth and consistent," Williams said. "I didn't have any wheel spin, the car was on rails and I was able to pull away."

Over the final ten laps Williams worked some slower traffic but never made a mistake on his way to triumph in front of the capacity crowd at the 'World's Fastest Half-Mile.' Johnson ultimately brought his Chris Gennarelli-owned Bicknell to the line in the second spot at the checkered flag.

"My car was really tight," Johnson said. "I setup for a smooth, slippery race track and it got choppy. It was scary going in there a couple times because I didn't know if I was going to hit the fence or not. I didn't want to do that. I had to be gingerly going in there. We are happy to come out with a second place finish."

Pauch fell back to third in the final rundown after leading much of the first half of the race. It was the best finish for Pauch with his Bicknell No. 1 ride during the DIRTcar Nationals.

"I don't know if the tires sealed up or what," Pauch said. "Neal (Williams) had the car to beat tonight. He was good in the slick and up on the cushion so I have to hand it to him. We wanted to win tonight, but we'll go home with a third. It's tough when you come down here and race with these guys, there is no cherry-picking, it's a tough bunch. I'm proud to finish third with them."

Tim Fuller picked up a fourth place finish with his D.C. Rauscher Motorsports Bicknell and Quebec native, Mario Clair, worked by Brett Hearn in the late stages of the race to finish in the fifth position.

The Super DIRTcar Series stars return to action on April 25 at the Fulton Speedway. To keep up with the latest news about the series visit the website at www.superdirtcarseries.com or following along on Twitter at http://www.Twitter.com/SuperDIRTcar.

Super DIRTcar Series Statistical Report; Feb. 21, 2015; Volusia Speedway Park; Barberville, Fla.

A-Main - (50 Laps) - 1. 323-Neal Williams ($5,000); 2. 27J-Danny Johnson; 3. 1-Billy Pauch; 4. 19-Tim Fuller; 5. 22c-Mario Clair; 6. 20-Brett Hearn; 7. 99L-Larry Wight; 8. 98H-Jimmy Phelps; 9. 54-Steve Bernard; 10. 7-Rick Laubach; 11. 3H-Justin Haers; 12. 30-Jamie Mills; 13. 21a-Peter Britten; 14. 22J-Jeremy Wilder; 15. 48T-Dave Rauscher; 16. 21k-Randy Chrysler; 17. 7-Tim Kerr; 18. 1W-Stewart Friesen; 19. 6m-Mat Williamson; 20. 96-Yan Bussiere; 21. 88-Dave Allen; 22. 14h-Jeff Heotzler; 23. 8-Rich Scagliotta; 24. 9H-Matt Sheppard; 25. 32c-Vic Coffey; 26. 7z-Erick Rudolph; 27. 1d-Tyler Dippel; 28. 1x-Dale Planck

Qualifying Group #1 - 1. 1-Billy Pauch, 17.303; 2. 19-Tim Fuller, 17.614; 3. 1x-Dale Planck, 17.636; 4. 14h-Jeff Heotzler, 17.71; 5. 21k-Randy Chrysler, 17.857; 6. 88-Dave Allen, 17.865; 7. 48T-Dave Rauscher, 18.114; 8. 21R-Roger Chrysler, 18.196; 9. 29-Chris Ostrowsky,18.712

Qualifying Group #2 - 1. 9H-Matt Sheppard, 16.983; 2. 1W-Stewart Friesen, 17.136; 3. 99L-Larry Wight, 17.312; 4. 323-Neal Williams, 17.342; 5. 7-Tim Kerr, 17.4; 6. 54-Steve Bernard, 17.827; 7. 97-Michel Chicoine, 18.356; 8. 1G-Darwin Green, 18.588

Qualifying Group #3 - 1. 20-Brett Hearn, 16.951; 2. 27J-Danny Johnson, 17.064; 3. 96-Yan Bussiere, 17.116; 4. 1d-Tyler Dippel, 17.229; 5. 32c-Vic Coffey, 17.263; 6. 8-Rich Scagliotta, 17.445; 7. 6m-Mat Williamson, 17.542; 8. 22c-Mario Clair, 17.639

Qualifying Group #4 - 1. 30-Jamie Mills, 16.754; 2. 7-Rick Laubach, 16.832; 3. 3H-Justin Haers, 16.987; 4. 55-Anthony Perrego, 17.147; 5. 98H-Jimmy Phelps, 17.272; 6. 21a-Peter Britten, 17.338; 7. 22J-Jeremy Wilder, 17.495; 8. 7z-Erick Rudolph, 17.507; 9. 5*-Tyler Siri, 17.546

Heat #1 (8 Laps - Top 5 finishers transfer to the A-feature) - 1. 1-Billy Pauch; 2. 19-Tim Fuller; 3. 1x-Dale Planck; 4. 14h-Jeff Heotzler; 5. 48T-Dave Rauscher; 6. 21k-Randy Chrysler; 7. 88-Dave Allen; 8. 21R-Roger Chrysler; 9. 29-Chris Ostrowsky

Heat #2 (8 Laps - Top 5 finishers transfer to the A-feature) - 1. 9H-Matt Sheppard; 2. 1W-Stewart Friesen; 3. 323-Neal Williams; 4. 99L-Larry Wight; 5. 7-Tim Kerr; 6. 54-Steve Bernard; 7. 1G-Darwin Green; 8. 97-Michel Chicoine

Heat #3 (8 Laps - Top 5 finishers transfer to the A-feature) - 1. 20-Brett Hearn; 2. 1d-Tyler Dippel; 3. 27J-Danny Johnson; 4. 96-Yan Bussiere; 5. 22c-Mario Clair; 6. 32c-Vic Coffey; 7. 6m-Mat Williamson; 8. 8-Rich Scagliotta

Heat #4 (8 Laps - Top 5 finishers transfer to the A-feature) - 1. 30-Jamie Mills; 2. 7-Rick Laubach; 3. 55-Anthony Perrego; 4. 21a-Peter Britten; 5. 3H-Justin Haers; 6. 98H-Jimmy Phelps; 7. 7z-Erick Rudolph; 8. 22J-Jeremy Wilder; 9. 5*-Tyler Siri

Last Chance Showdown #1 (10 Laps - Top 3 finishers transfer to the A-feature) - 1. 54-Steve Bernard; 2. 21k-Randy Chrysler; 3. 88-Dave Allen; 4. 1G-Darwin Green; 5. 21R-Roger Chrysler; 6. 29-Chris Ostrowsky

Last Chance Showdown #2 (10 Laps - Top 3 finishers transfer to the A-feature) - 1. 98H-Jimmy Phelps; 2. 7z-Erick Rudolph; 3. 32c-Vic Coffey; 4. 6m-Mat Williamson; 5. 22J-Jeremy Wilder; 6. 97-Michel Chicoine; 7. 8-Rich Scagliotta

44th Annual DIRTcar Nationals Big-Block Modified Championship Points Final - 1. 99L-Larry Wight, 198; 2. 1w-Stewart Friesen, 195; 3. 20-Brett Hearn, 190; 4. 9H-Matt Sheppard, 186; 5. 19-Tim Fuller, 181; 6. 7-Rick Laubach, 178; 7. 1-Billy Pauch, 174; 8. 27J-Danny Johnson,171; 9. 323-Neil Williams, 159; 10. 6m-Mat Williamson, 158; 11. 3H-Justin Haers, 151; 12. 21a-Peter Britten, 149; 13. 98H-Jimmy Phelps, 142; 14. 22c-Mario Clair, 140; 15. 30-Jamie Mills, 140; 16. 7z-Erick Rudolph, 120; 17. 32c-Vic Coffey, 114; 18. 1d-Tyler Dippel, 114; 19. 54-Steve Bernard, 113; 20. 22J-Jeremy Wilder, 107; 21. 55-Anthony Perrego, 104; 22. 21-Yan Bussiere, 96; 23. 21K-Randy Chrysler, 89; 24. 14H-Jeff Heotzler, 71; 25. 8-Rich Scagliotta, 71; 26. 07-Tim Kerr, 68; 27. 88-David Allen, 62; 28. 5*-Tyler Siri, 62; 29. 1g-Darwin Greene, 60; 30. 48too-Dave Rauscher, 58; 31. 1x-Dale Planck, 51; 32. 21R-Roger Chrysler, 40; 33. 29-Chris Ostrowsky, 40; 34. x97-Michel Chicoine, 40; 35. 5-Jimmy Horton, 35; 36. 96-Jean Francois Corriveau, 30

-end-

Facility Changes Highlight Albany-Saratoga Off Season

For Immediate Release
February 21st, 2015

Malta, NY – As we approach the final month of the offseason, all eyes turn to the 2015 season at the Great Race Place. When the 2015 season kicks off on April 17th, race fans, drivers and crew members alike will notice some physical changes to the fast, four tenths of a mile Lyle DeVore prepared oval.

The first thing that everyone will notice is the landscaping in front of the ticket area just outside the track's front gates. The landscaping in front of the ticket area will be redesigned to give the area a newer look. In addition to the landscaping, patrons can expect to see a fresh coat of paint all across the facility. Other facility improvements include improving the public address system and paving certain areas.

On the track the improvements continue as more than 150 truckloads of clay have been added to the already fast racing surface.

"We have added 157 loads of clay to the track," DeVore said. "This will enable us to not have to depend on the tires to keep drivers out of the infield, there will now be a drop off."

In November it was announced that the Albany-Saratoga Speedway had been purchased by recent New York State Stock Car Association (NYSSCA) Hall of Fame inductee Howard Commander. Commander announced that DeVore would continue to serve as the track promoter and track manager. The track rose to prominence as a dirt surfaced facility under the guidance of the Richards family and it's patriarch, the late C.J. Richards. The purchase of the facility from the Richard's family will ensure racing along Route 9 for seasons to come.

The 2014 season officially comes to a close on Saturday evening, March 7th with the annual awards banquet. The 2014 banquet will be held at the Saratoga/Wilton Elks Club. The 50th Anniversary season opener will take place on Friday evening, April 17th. For more information about Albany-Saratoga Speedway please log on to www.albany-saratogaspeedway.com.

-end-

Pennsylvanian Laubach Holds Off New Yorkers to Win at Volusia

Friesen, Wight and Sheppard give chase, sets up showdown for 'Big Gator'

By Mike Mallett

BARBERVILLE, Fla. - Feb. 20, 2015 - Rick Laubach earned his first and only Gator trophy from the DIRTcar Nationals two years ago on Friday night. The Quakertown, Pa., driver held off the stars of the Super DIRTcar Series that evening to claim his one and only Volusia Speedway Park victory. Two years to the day later, Laubach repeated the feat.

"This feels good obviously," he said. "It didn't hurt that we started on the pole on a night like tonight. It's not easy to win down here with them guys all right there. I started second last night and fell back so far I can't even count that high."

Laubach managed to keep 2014 DIRTcar Nationals champion Stewart Friesen in check en route to winning the 30-lap Modified feature Friday night. He pulled away from Friesen in the final five laps to claim the winner's prize in front of several friends and family members.

"My family is from Florida," said the former New Egypt and Bridgeport Speedway champion. "We come down here to race and they come up from Ft. Lauderdale and we always tease them about gators and stuff. There is one sitting at my mom's house and my son always looks at it during the day when he goes there so now he can put one next to it."

Laubach started on the pole alongside Canadian standout Mat Williamson. At the green he quickly established himself as the race leader as he drove through the middle of turns one and two and then to the top-side to take the lead. Larry Wight and Billy Pauch gave chase as they battled for the runner-up position.

Then on lap two fireworks erupted between Pauch and Wight. They both dove to the bottom of turns one and two when contact was made that caused Pauch to spin, bringing out a caution. During the yellow, Pauch showed his displeasure with Wight by driving into him several times. Both drivers were sent to the rear of the field handing the second position to Matt Sheppard.

Action resumed with Laubach restarting from the inside lane and Sheppard next to him on the front row. Laubach outran Sheppard down the frontstretch to maintain the lead as they raced through the first two corners. Sheppard had his hands full with the ninth starter Friesen. Their battle allowed Laubach to run the cushion and stretch his advantage as Sheppard and Friesen swapped lanes in the race for second.

Laubach pulled away from the pair as the race reached the lap-10 mark. Friesen continued to work over Sheppard for the second spot and ultimately had the pass made on lap 14. Unfortunately a caution for a spin by Erick Rudolph negated the pass putting him back to the third position. The caution was proved pivotal for Laubach as he made adjustments to his Frank Boardwick-owned machine.

Green was displayed again as Laubach darted away from Sheppard and Friesen to lead at the halfway point. As Sheppard and Friesen continued to work one another over, Laubach used it to his advantage to get away from the duo. He continued to set a torrid pace as the race reached lap 20.

"The yellow on lap 13 meant everything," Laubach said. "That yellow really helped me, I made some adjustments and from there it was good for a couple laps which allowed me to stretch it out."

Only 10 laps remained when Laubach again found himself battling in traffic. As he attempted to navigate through the slower cars Friesen got by Sheppard and began to reel him in. Laubach saw the five to go sign as Friesen worked to his back bumper. Laubach upped the tempo, allowing him to open the advantage on Friesen.

At the checkered it was Laubach solidly out in front over Friesen, who did all he could to challenge for the victory in his Tom and Roxanne Cullen-owned car. The finish was good enough for him to take the points lead for the event going into the final night of competition for the DIRTcar Nationals.

"That is one of the coolest trophies in modified racing," said Friesen about the Gator trophy. "We were fortunate to pick it up last year and it could use a girlfriend so would love to have another one to take home."

Wight drove like a man possessed to work his way back up through the field to get by Sheppard on the final lap to take third. Wight's LJL Racing car was hooked up on the cushion allowing him grab the final spot on the podium.

"We have the best car we've ever had down here," Wight said. "This new Teo car is working really well and I think we got the Penske shocks dialed in. Hopefully we'll have a strong car for tomorrow. It's a shame what happened, not sure why we got penalized, we didn't retaliate none, but it is what it is and we came back to get third."

Sheppard struggled late in the race with a tight racecar, relegating him to the fourth position. Williamson drove his Bicknell car to a fifth-place finish after starting on the outside of the front row of the feature.

Going into the final night of racing, Friesen, Sheppard and Wight are separated by less than 15 points as they each go for the big Gator Trophy on Saturday night.

The DIRTcar Nationals concludes at the Volusia Speedway Park on Saturday with a 50-lap finale for the Super DIRTcar Series Big-Block Modifieds and the World of Outlaw Late Models. Gates open at 5 p.m. with racing getting underway promptly at 7:30 p.m.

Super DIRTcar Series Statistical Report; Feb. 20, 2015; Volusia Speedway Park; Barberville, Fla.

A-Main - (30 Laps) - 1. 7-Rick Laubach ($2,000); 2. 1W-Stewart Friesen; 3. 99L-Larry Wight; 4. 9H-Matt Sheppard; 5. 6m-Mat Williamson; 6. 98H-Jimmy Phelps; 7. 323-Neal Williams; 8. 19-Tim Fuller; 9. 21a-Peter Britten; 10. 32c-Vic Coffey; 11. 1-Billy Pauch; 12. 22c-Mario Clair; 13. 1d-Tyler Dippel; 14. 1x-Dale Planck; 15. 54-Steve Bernard; 16. 20-Brett Hearn; 17. 96-Yan Bussiere; 18. 7z-Erick Rudolph; 19. 3H-Justin Haers; 20. 14h-Jeff Heotzler; 21. 5*-Tyler Siri; 22. 21k-Randy Chrysler; 23. 30-Jamie Mills; 24. 22J-Jeremy Wilder; 25. 27J-Danny Johnson; 26. 1g-Darwin Greene

Qualifying Group #1 - 1. 7-Rick Laubach; 2. 30-Jamie Mills; 3. 55-Anthony Perrego; 4. 27J-Danny Johnson; 5. 7z-Erick Rudolph; 6. 22J-Jeremy Wilder; 7. 14h-Jeff Heotzler; 8. 21a-Peter Britten; 9. 88-Dave Allen

Qualifying Group #2 - 1. 19-Tim Fuller; 2. 9H-Matt Sheppard; 3. 3H-Justin Haers; 4. 1x-Dale Planck; 5. 1g-Darwin Greene; 6. 97-Michel Chicoine; 7. 29-Chris Ostrowsky; 8. 21R-Roger Chrysler; 9. 96-Jean-Francois Corriveau

Qualifying Group #3 - 1. 98H-Jimmy Phelps; 2. 1W-Stewart Friesen; 3. 99L-Larry Wight; 4. 323-Neal Williams; 5. 20-Brett Hearn; 6. 7-Tim Kerr; 7. 22c-Mario Clair; 8. 54-Steve Bernard; 9. 21-Yan Bussiere

Qualifying Group #4 - 1. 1-Billy Pauch; 2. 6m-Mat Williamson; 3. 21k-Randy Chrysler; 4. 1d-Tyler Dippel; 5. 32c-Vic Coffey; 6. 8-Rich Scagliotta; 7. 5*-Tyler Siri; 8. 48T-Dave Rauscher

Heat #1 (8 Laps - Top 5 finishers transfer to the A-feature) - 1. 7-Rick Laubach; 2. 30-Jamie Mills; 3. 55-Anthony Perrego; 4. 27J-Danny Johnson; 5. 7z-Erick Rudolph; 6. 14h-Jeff Heotzler; 7. 22J-Jeremy Wilder; 8. 21a-Peter Britten; 9. 88-Dave Allen

Heat #2 (8 Laps - Top 5 finishers transfer to the A-feature) - 1. 19-Tim Fuller; 2. 9H-Matt Sheppard; 3. 3H-Justin Haers; 4. 1x-Dale Planck; 5. 1g-Darwin Greene; 6. 29-Chris Ostrowsky; 7. 97-Michel Chicoine; 8. 21R-Roger Chrysler; 9. 96-Jean-Francois Corriveau

Heat #3 (8 Laps - Top 5 finishers transfer to the A-feature) - 1. 98H-Jimmy Phelps; 2. 99L-Larry Wight; 3. 1W-Stewart Friesen; 4. 22c-Mario Clair; 5. 323-Neal Williams; 6. 20-Brett Hearn; 7. 54-Steve Bernard; 8. 7-Tim Kerr; 9. 21.-Yan Bussiere

Heat #4 (8 Laps - Top 5 finishers transfer to the A-feature) - 1. 1-Billy Pauch; 2. 6m-Mat Williamson; 3. 21k-Randy Chrysler; 4. 32c-Vic Coffey; 5. 5*-Tyler Siri; 6. 1d-Tyler Dippel; 7. 8-Rich Scagliotta; 8. 48T-Dave Rauscher

Last Chance Showdown #1 (10 Laps - Top 3 finishers transfer to the A-feature) - 1. 14h-Jeff Heotzler; 2. 21a-Peter Britten; 3. 22J-Jeremy Wilder; 4. 21R-Roger Chrysler; 5. 29-Chris Ostrowsky; 6. 88-Dave Allen; 7. 97-Michel Chicoine; 8. 96-Jean-Francois Corriveau

Last Chance Showdown #2 (10 Laps - Top 3 finishers transfer to the A-feature) - 1. 1d-Tyler Dippel; 2. 54-Steve Bernard; 3. 7-Tim Kerr; 4. 21-Yan Bussiere; 5. 20-Brett Hearn; 6. 8-Rich Scagliotta; 7. 48T-Dave Rauscher

44th Annual DIRTcar Nationals Big-Block Modified Championship Points - 1. 1w-Stewart Friesen, 167; 2. 9H-Matt Sheppard, 161; 3. 99L-Larry Wight, 154; 4. 20-Brett Hearn, 139; 5. 7-Rick Laubach, 137; 11. 27J-Danny Johnson, 114; 12. 30-Jamie Mills, 101; 13. 98H-Jimmy Phelps, 100; 14. 7z-Erick Rudolph, 100; 15. 323-Neil Williams, 98; 16. 32c-Vic Coffey, 94; 17. 55-Anthony Perrego, 93; 18. 22c-Mario Clair, 92; 19. 1d-Tyler Dippel, 91; 20. 22J-Jeremy Wilder, 77; 21. 54-Steve Bernard, 73; 22. 21-Yan Bussiere, 73; 23. 21K-Randy Chrysler, 62; 24. 5*-Tyler Siri, 52; 25. 8-Rich Scagliotta, 51; 26. 1g-Darwin Greene, 50; 27. 07-Tim Kerr, 42; 28. 88-David Allen, 40; 29. 5-Jimmy Horton, 35; 30. 14H-Jeff Heotzler, 33; 31. 1x-Dale Planck, 30; 32. 21R-Roger Chrysler, 30; 33. 29-Chris Ostrowsky, 30; 34. 48too-Dave Rauscher, 30; 35. 96-Jean Francois Corriveau, 30; 36. 97-Michel Chicoine, 30
-end-
Friesen Ices Super DIRTcar Series Foes at DIRTcar Nationals

Wins at Volusia Speedway Park for third consecutive year

By Mike Mallett

BARBERVILLE, Fla. - Feb. 19, 2015 - For the third consecutive year, Stewart Friesen captured the second night of Super DIRTcar Big-Block Modified Series action at Volusia Speedway Park's annual DIRTcar Nationals on Thursday night.

Friesen, the defending event champion, swiped the lead from three-time series titlist Matt Sheppard en route to winning the 30-lap feature, marking the sixth time in his career he's won in the Sunshine State.

"We had a great race car," said Friesen, defending Syracuse 200 winner from Sprakers, N.Y. "We worked a lot of bugs out last night and learned a lot of stuff about the speedway. We were able to find that grip there in the middle and just sneak up on there."

Billy Pauch started on the front row alongside Rick Laubach for the Modified main event. Laubach got the jump at the green putting his No. 7 out in front of the field. He led the first few circuits as Matt Sheppard worked forward from the outside of the second row into the runner-up position. Once there he began stalking Laubach for the lead.

Sheppard worked by Laubach on lap four on the inside of turns three and four to take over the top position. Before another lap could be completed, the caution was displayed for Tim Kerr as he spun in the middle of turn setting up a double-file restart. At the green Sheppard remained the leader while Friesen took his car to the middle lane on the speedway, which allowed him to move from the fourth position into second.

Friesen stalked Sheppard for the next three laps before making his move for the lead. As Sheppard attempted to protect the bottom lane on the speedway, Friesen drove right by him in the middle. Sheppard hung with Friesen for a few laps before he was able to open up the gap on the field.

"After that first start we found it (middle groove) when we fell back to fourth," Friesen said. "We got up in the middle and got up on top and it started rolling. Matt was on the bottom and we were just able to find that rubber in the center and check out."

Friesen showed the way at the halfway point as he caught the tail end of the field. He refused to give up the middle lane as he attempted to put cars down a lap. Sheppard, meanwhile, had his hands full with Danny Johnson as well as Tim Fuller right as the caution came out for Wednesday night's runner-up finisher Anthony Perrego, who stopped at the exit of turn two.

The caution bunched the field and gave everyone another shot at Friesen. He wasted little time after the green flag to expand his gap on the field as he kept his Tom and Roxanne Cullen-owned ride in the middle of the track. Sheppard ran a similar line, but wasn't good enough to stay with Friesen.

Friesen again checked out on the field. He ran consistently strong lap times allowing him to pull away from Sheppard. They remained in the top two positions as the laps began to wind down. Friesen again fought traffic on lap 23 before the final caution of the race came one lap later as Jimmy Phelps slowed on the speedway. The caution gave Friesen the opportunity to cool down his Hoosier tires.

"When Jimmy (Phelps) stopped there it actually helped me out," Friesen said. "It let my tires cool off a little bit. We were real good for five or six laps at the beginning of a run before it kind of started to go the other way. It started to push the right front out the longer we went. It really helped us out and let our stuff cool down."

The race resumed with Friesen holding off Sheppard over the final six laps to score his first win of the 2015 season. Sheppard, who struggled on Wednesday night, was happy to finish in the runner-up position aboard his Heinke-Baldwin Racing-owned car.

"We are getting a lot better," said Sheppard, of Waterloo, N.Y. "We took off at the drop of the green. The car felt really good, felt really balanced and thought we had a good line there. Stewie (Friesen) went by me around the top so I decided to try it up there. I didn't realize the track had already started to lock down. Guess if we had moved up there a little sooner we would have had a shot."

Johnson fought his way back by Wednesday night winner Brett Hearn and Fuller to earn the final spot on the podium with his Chris Gennarelli-owned No. 27J Bicknell.

"I really appreciate this hot rod, it is really fast," Johnson said. "I think we could have been a hair bit better. We got stuck there behind Laubach on the restart and he was backing up and we couldn't get going. We are really happy to be here. We'll try it again tomorrow night."

Fuller ended up finishing in the fourth spot after he started from the inside of the third row with his Dave Rauscher-owned No. 19 Bicknell. He was followed to the line by Hearn, who worked from ninth to complete the top-five.

Racing returns Friday night at Volusia Speedway Park for the 11th day of the DIRTcar Nationals. Gates open at 5 p.m. and racing begins at 7:30 p.m.

Super DIRTcar Series Big-Block Modifieds A-Main - (30 Laps) - 1. 1W-Stewart Friesen ($2,000); 2. 9H-Matt Sheppard; 3. 27J-Danny Johnson; 4. 19-Tim Fuller; 5. 20-Brett Hearn; 6. 21a-Peter Britten; 7. 99L-Larry Wight; 8. 3H-Justin Haers; 9. 6m-Mat Williamson; 10. 7z-Erick Rudolph; 11. 32c-Vic Coffey; 12. 22J-Jeremy Wilder; 13. 7-Rick Laubach; 14. 21k-Randy Chrysler; 15. 22c-Mario Clair; 16. 96-Yan Bussiere; 17. 323-Neal Williams; 18. 1d-Tyler Dippel; 19. 98H-Jimmy Phelps; 20. 54-Steve Bernard; 21. 7-Tim Kerr; 22. 55-Anthony Perrego; 23. 8-Rich Scagliotta; 24. 5*-Tyler Siri; 25. 30-Jamie Mills; 26. 1-Billy Pauch

Qualifying Group #1 - 1. 7-Rick Laubach, 17.835; 2. 27J-Danny Johnson, 18.083; 3. 20-Brett Hearn, 18.111; 4. 8-Rich Scagliotta, 18.143; 5. 1d-Tyler Dippel, 18.606; 6. 54-Steve Bernard, 18.717; 7. 21-Yan Bussiere, 18.762; 8. 1g-Darwin Greene, 18.885; 9. 29-Chris Ostrowsky, 19.009

Qualifying Group #2 - 1. 1W-Stewart Friesen, 17.729; 2. 21a-Peter Britten, 18.058; 3. 7z-Erick Rudolph, 18.168; 4. 7-Tim Kerr, 18.447; 5. 21k-Randy Chrysler, 18.523; 6. 5-Jimmy Horton, 18.651; 7. 22J-Jeremy Wilder, 18.724; 8. 97-Michel Chicoine, 18.795; 9. 88-Dave Allen, 18.896

Qualifying Group #3 - 1. 19-Tim Fuller, 18.223; 2. 9H-Matt Sheppard, 18.272; 3. 6m-Mat Williamson, 18.314; 4. 3H-Justin Haers, 18.316; 5. 22c-Mario Clair, 18.339; 6. 32c-Vic Coffey, 18.394; 7. 5*-Tyler Siri, 18.542; 8. 21R-Roger Chrysler, 19.335

Qualifying Group #4 - 1. 1-Billy Pauch, 17.74; 2. 30-Jamie Mills, 17.92; 3. 323-Neal Williams, 17.934; 4. 99L-Larry Wight, 18.057; 5. 55-Anthony Perrego , 18.225; 6. 98H -Jimmy Phelps, 18.363; 7. 48T-Dave Rauscher, 18.368; 8. 96-Jean-Francois Corriveau, 20.157

Heat #1 (8 Laps - Top 5 finishers transfer to the A-feature) - 1. 7-Rick Laubach; 2. 27J-Danny Johnson; 3. 20-Brett Hearn; 4. 8-Rich Scagliotta; 5. 1d-Tyler Dippel; 6. 54-Steve Bernard; 7. 21-Yan Bussiere; 8. 1g-Darwin Greene; 9. 29-Chris Ostrowsky

Heat #2 (8 Laps - Top 5 finishers transfer to the A-feature) - 1. 21a-Peter Britten; 2. 1W-Stewart Friesen; 3. 7z-Erick Rudolph; 4. 7-Tim Kerr; 5. 21k-Randy Chrysler; 6. 22J-Jeremy Wilder; 7. 88-Dave Allen; 8. 97-Michel Chicoine; 9. 5-Jimmy Horton

Heat #3 (8 Laps - Top 5 finishers transfer to the A-feature) - 1. 9H-Matt Sheppard; 2. 19-Tim Fuller; 3. 3H-Justin Haers; 4. 6m-Mat Williamson; 5. 5*-Tyler Siri; 6. 32c-Vic Coffey; 7. 22c-Mario Clair; 8. 21R-Roger Chrysler

Heat #4 (8 Laps - Top 5 finishers transfer to the A-feature) - 1. 99L-Larry Wight; 2. 1-Billy Pauch; 3. 30-Jamie Mills; 4. 55-Anthony Perrego; 5. 323-Neal Williams; 6. 98H-Jimmy Phelps; 7. 48T-Dave Rauscher; 8. 96-Jean-Francois Corriveau

Last Chance Showdown #1 (12 Laps - Top 3 finishers transfer to the A-feature) - 1. 22J-Jeremy Wilder; 2. 54-Steve Bernard; 3. 21-Yan Bussiere; 4. 1g-Darwin Greene; 5. 97-Michel Chicoine; 6. 29-Chris Ostrowsky; 7. 88-Dave Allen

Last Chance Showdown #2 (12 Laps - Top 3 finishers transfer to the A-feature) - 1. 98H-Jimmy Phelps; 2. 32c-Vic Coffey; 3. 22c-Mario Clair; 4. 48T-Dave Rauscher; 5. 21R-Roger Chrysler; 6. 96-Jean-Francois Corriveau

-end-
Brett Hearn Kicks Off 2015 Season with DIRTcar Nationals Victory

Eight-time champ charges from seventh to take checkered flag at Volusia

By Mike Mallett

BARBERVILLE, Fla. - Feb. 18, 2015 - For the 19th time in his historic career, Brett Hearn took the checkered flag on Wednesday night at Volusia Speedway Park in the Super DIRTcar Big-Block Modified Series opener during the DIRTcar Nationals.

Hearn swept into the lead late in the 30-lap feature then charged to victory for the 861st time overall in his storied career. Hearn dedicated the victory and the Gator trophy to fellow racer Brian Stevens, who lost his battle with cancer earlier in the day.

"This is a great team to come back from what I thought was a subpar heat race for us to make some great adjustments," said Hearn, of Sussex, N.J. "We are racing with a little bit of a deep heart. Fellow racer, somewhat of a relative of mine, Brian Stevens passed away this morning and I told him on the way down here; I Facebooked and I told him that if I got a Gator trophy it would be in his honor and here it is right here."

The non-stop feature got underway with Anthony Perrego and Jamie Mills alongside one another on the front row. Mills got the jump on the youngster as he beat him through turns one and two to secure the early lead. Mills worked the outside lane while Perrego worked around the racing surface trying to close the gap.

Hearn began marching to the front early with his Teo Pro Car from his seventh starting spot. The Sussex, N.J., driver ran the bottom over the course of the first portion of the feature as he tried to close in on a top three that included Mills at the point with Perrego and Billy Pauch in pursuit. He tracked them down quickly and began exchange the third spot with Pauch by the fifth circuit.

Mills continued to set a torrid pace out in front. The Delaware native opened up a half-straightaway lead on Perrego by the time the event reached the tenth circuit. Perrego was unable to stay with Mills as he continued to power his way around the outside of the "World's Fastest Half-Mile."

The complexion of the race changed on lap 14. Mills caught the end of the field forcing him to alter his groove. With Mills rhythm broken, Perrego began to close the gap while Hearn challenged Pauch for third once again. Mills' wasn't nearly as good when he was forced to move around the speedway allowing Perrego, Pauch and Hearn to close up on him.

Perrego blasted around Mills in traffic on the outside of turns three and four in order to take the lead. Once he got the top spot Perrego opened the gap on Mills as he now was forced to not only contend with slower traffic, but also Pauch and Hearn closing in on him. Perrego kept the top spot with 10 laps to go, but it didn't last long.

Hearn took over the third on lap 21 from Pauch and then he grabbed the runner-up spot one lap later. From there he focused his attention on Perrego as he raced through heavy traffic and found some traction around the bottom of the surface that allowed him to rapidly make up the distance on Perrego.

Hearn stuck his nose ahead of Perrego on lap 25 on the bottom in turns three and four. Perrego just beat him to the line to keep the lead, but it didn't last long. Hearn worked the bottom lane in turns three and four while Perrego found himself boxed in behind a slower car in turns one and two. Hearn played the pick and roll perfectly to take over the top position.

"You never know how these races are going to play out," Hearn said. "The track was good from the get go. Why one car gets better as the race goes on and why one car slips away. Sometimes you just don't do. If you could do that all the time you'd never lose. Tonight we had a car that stayed underneath me and got better as the race went on where all the guys seemed like they backed up a little bit. The track was unbelievable good, you could drive anywhere you wanted to. It was a driver's race track. I'm just glad to be here."

Once he got to the point Hearn never looked back. He drove away from Montgomery, N.Y., driver Perrego and captured the victory by nearly four seconds over Perrego who had to settle for second. Perrego, also driving a Teo Pro car, was happy to score another top five at Volusia but disappointed with the slower car that impeded his progress late in the race.

"We got going good there at the end," said Perrego. "Last year I felt like we got going good at the beginning and now we got going good late there. The lapped car just killed me. Victor (Coffey) was running down there on the bottom and he was running his line. Darwin (Greene) was running the outside and just killed us. Brett (Hearn) kind of rolled us in the middle and ended up getting by us."

Mills brought his Bicknell across the line in the third spot after leading much of the early portions of the race. He admitted afterwards that the team made the wrong decisions when setting up the car causing him to fade in the races final stages.

"We missed the track a little bit," said Mills. "We thought there would be a little more cushion up there around the top. It went away on us then the left rear gave up on us at the end. We'll take a third rolling with these guys. They are the best in the business. We'll take it, go home and work tonight and try to get better."

Larry Wight, of Phoenix, N.Y., started 14th and drove his way up to the fourth position passing Pauch in the final laps to secure the spot. Pauch faded back to complete the top five after starting third.

Gates open at 5 p.m. and racing begins at 7:30 p.m. on Thursday evening as the World of Outlaw Late Models join the Super DIRTcar Series Big-Block Modifieds.

Super DIRTcar Series Statistical Report; Feb. 18, 2015; Volusia Speedway Park; Barberville, Fla.

A-Main (30 Laps) - 1. 20-Brett Hearn ($2,000); 2. 55-Anthony Perrego; 3. 30-Jamie Mills; 4. 99L-Larry Wight; 5. 1-Billy Pauch; 6. 9H-Matt Sheppard; 7. 1W-Stewart Friesen; 8. 3H-Justin Haers; 9. 6m-Mat Williamson; 10. 27J-Danny Johnson; 11. 7z-Erick Rudolph; 12. 1d-Tyler Dippel; 13. 7-Rick Laubach; 14. 22c-Mario Clair; 15. 323-Neal Williams; 16. 19-Tim Fuller; 17. 21a-Peter Britten; 18. 5-Jimmy Horton; 19. 98H-Jimmy Phelps; 20. 22J-Jeremy Wilder; 21. 54-Steve Bernard; 22. 8-Rich Scagliotta; 23. 32c-Vic Coffey; 24. 1g-Darwin Greene; 25. 88-Dave Allen; 26. 21-Yan Bussiere.

Last Chance Showdown - 1. 21a-Peter Britten; 2. 22J-Jeremy Wilder; 3. 88-Dave Allen; 4. 32c-Vic Coffey; 5. 5-Jimmy Horton; 6. 21-Yan Bussiere; 7. 48T-Dave Rauscher; 8. 29-Chris Ostrowsky; 9. 97-Michel Chicoine; 10. 21k-Randy Chrysler; 11. 21R-Roger Chrysler; 12. 96-Jean-Francois Corriveau; 13. 5*-Tyler Siri.

Heat Race #1: 1. 55-Anthony Perrego; 2. 6m-Mat Williamson; 3. 9H-Matt Sheppard; 4. 22c-Mario Clair; 5. 8-Rich Scagliotta; 6. 22J-Jeremy Wilder; 7. 97-Michel Chicoine; DNS. 7-Tim Kerr; DNS. 5-Jimmy Horton.

Heat Race #2: 1. 30-Jamie Mills; 2. 7x-Rick Laubach; 3. 27J-Danny Johnson; 4. 99L-Larry Wight; 5. 54-Steve Bernard; 6. 21a-Peter Britten; 7. 29-Chris Ostrowsky; 8. 32c-Vic Coffey; DNS. 14h-Jeff Heotzler.

Heat Race #3: 1. 1-Billy Pauch; 2. 20-Brett Hearn; 3. 98H-Jimmy Phelps; 4. 7z-Erick Rudolph; 5. 1d-Tyler Dippel; 6. 21-Yan Bussiere; 7. 48T-Dave Rauscher; 8. 21k-Randy Chrysler; 9. 5*-Tyler Siri.

Heat Race #4: 1. 3H-Justin Haers; 2. 1W-Stewart Friesen; 3. 19-Tim Fuller; 4. 323-Neal Williams; 5. 1g-Darwin Greene; 6. 88-Dave Allen; 7. 21R-Roger Chrysler; 8. 96-Jean-Francois Corriveau.

Qualifying Group #1: 1. 55-Anthony Perrego 17.713; 2. 6m-Mat Williamson 17.877; 3. 9H-Matt Sheppard 17.883; 4. 22c-Mario Clair 18.013; 5. 8-Rich Scagliotta 18.559; 6. 22J-Jeremy Wilder 18.56; 7. 97-Michel Chicoine 18.944; 8. 5-Jimmy Horton NT.

Qualifying Group #2: 1. 30-Jamie Mills 17.444; 2. 7x-Rick Laubach 17.447; 3. 27J-Danny Johnson 17.482; 4. 99L-Larry Wight 17.5; 5. 14h-Jeff Heotzler 17.97; 6. 54-Steve Bernard 18.384; 7. 32c-Vic Coffey 18.411; 8. 21a-Peter Britten 18.499; 9. 29-Chris Ostrowsky 18.882.

Qualifying Group #3: 1. 1-Billy Pauch 17.111; 2. 7z-Erick Rudolph 17.865; 3. 20-Brett Hearn 17.944; 4. 21-Yan Bussiere 18.067; 5. 1d-Tyler Dippel 18.123; 6. 21k-Randy Chrysler 18.257; 7. 98H-Jimmy Phelps 18.379; 8. 5*-Tyler Siri-23.583.

Qualifying Group #4: 1. 3H-Justin Haers 17.69; 2. 1W-Stewart Friesen 17.719; 3. 323-Neal Williams 17.781; 4. 19-Tim Fuller 18.176; 5. 1g-Darwin Greene 18.663; 6. 21R-Roger Chrysler 18.953; 7. 88-Dave Allen 19.276; 8. 96-Jean-Francois Corriveau 19.346.

-end-
Veteran Superstar Racers Lead Super DIRTcar Series Into DIRTcar Nationals

Hearn, Sheppard, Friesen, Phelps, Johnson, Pauch and more take on Volusia Speedway Park

By Mike Mallett

BARBERVILLE, Fla. - Feb. 17, 2015 - The Super DIRTcar Big-Block Modified Series is eagerly anticipating the green flag waving on the 2015 season Wednesday night at Volusia Speedway Park's DIRTcar Nationals. The championship battle will no doubt be fierce this season.

Brett Hearn, an eight-time series champion sporting a new Teo Pro Car experimental design, is an 18-time winner at the high-speed half-mile dirt oval in Central Florida. He'll be looking to add to that total after going winless at the track in 2014. Hearn's last victory at the "World's Fastest Half-Mile" came on Feb. 23, 2013. Hearn's career win total currently sits at 855.

Three-time Super DIRTcar Series champion Matt Sheppard returns to the Sunshine State beginning his second season with Heinke-Baldwin Racing. Sheppard stunned everyone with the decision to switch teams before last season, but the Waterloo, N.Y., driver made it pay off with a victory in the 2014 finale at the DIRTcar Nationals. Sheppard came up just shy of winning the Super DIRTcar Series championship last year, now he's looking for another fast start in his Troyer Car to propel himself toward a fourth series crown. Sheppard is joined by his teammate at HBR, Jimmy Phelps, who is searching for his first victory at Volusia.

Danny Johnson is looking to keep his hot streak going. The native of Rochester, N.Y., enters the DIRTcar Nationals after winning the final race of the 2014 season at the Bad Boy Buggies World Finals in Charlotte with his Chris Gennarelli owned No. 27J. He also has a Big-Block Modified win already this year. He'll attempt to keep that streak alive on Wednesday night when the Super DIRTcar Series kicks off with a 30-lap main event.

Stewart Friesen, the 2014 NAPA Super DIRT Week winner, comes into Volusia as one of the favorites. Friesen captured round two for the Modifieds in 2014 at Volusia and was strong enough all week to earn the "Big Gator" as the DIRTcar Nationals Big-Block champion. He's again piloting the Tom and Roxanne Cullen-owned Teo that propelled him to a championship at Utica-Rome Speedway in 2014.

The Garden State of New Jersey will be well represented by veteran Modified drivers Billy Pauch and Jimmy Horton. Pauch, who has won at Volusia in both a Modified and a Sprint Car, will look to earn his first win at the track since 2008. He holds six career wins at the speedway. Horton, coming off a Bridgeport Speedway title, is a six-time winner, as well, with his last feature victory coming in a 50-lap feature in 2008. These two are joined by young hot shoe Neal Williams, who is aiming to score his first Volusia Speedway Park win.

Larry Wight is the sole representative of the LJL Racing team at Volusia. Wight is scheduled to make only his second start ever behind the wheel of a new Teo Pro Car. He has tried several manufacturers over the past few seasons, and will be joined by fellow Teo young guns Tyler Dippel and Anthony Perrego.

Tim Fuller is making his return to Big-Block Modified world after dabbling in dirt Late Model competition over the past several seasons. Fuller has teamed up with Central New York driver Dave Rauscher. Fuller, of Watertown, N.Y., will debut a No. 19 Bicknell on Wednesday night at Volusia. It will be the same ride he plans on running weekly at Canandaigua Motorsports Park. Joining Fuller in the pits is fellow Canandaigua regular Justin Haers, who won his first series race last year at DIRTcar Nationals.

Erick Rudolph and Mike Payne joined forces during the 2014 season and look to come out strong in 2015. Rudolph earned his first Super DIRTcar Series win at the end of last season in Quebec with his most recent victory coming in TQ Midget action in Atlantic City's Boardwalk Hall. The Ransomville, N.Y., driver has never won at Volusia Speedway Park.

As always the Quebec, Canada, contingent is as strong as Mario Clair and Yan Bussiere. They are joined by first time Big-Block Modified driver J.F. Corriveau. Corriveau is a restaurateur from Montreal. Other Canadians in the field are expected to include the 2013 Lernerville Speedway track champion Mat Williamson from St. Catherines, Ontario, and Picton, Ontario, driver Tim Kerr.

Others expected to be in attendance include former Eastern States 200 winner Jeff Heotzler, former Volusia winner Rick Laubach, Delaware native Jamie Mills, Western New York drivers Randy and Roger Chrysler, Fort Plain, N.Y., driver Jeremy Wilder, Australian champion Peter Britten and more.

Gates open at 5 p.m. and racing begins at 7:30 p.m. DIRTcar Late Models will also be on the card Wednesday night with the final three nights of action featuring the Big-Block Modifieds and World of Outlaws Late Models.

-end-
Mueller Ready To Call The Great Race Place Home

For Immediate Release

February 14th, 2015

Malta, NY – The traditional path for dirt track, short track drivers is to start out on the dirt tracks near their home then move to asphalt and, if the opportunity is there move through the NASCAR ladder. Jesse Mueller however is not your modern day traditional short track racer, not only is he a throwback, hands on driver but he is trading the asphalt for the dirt. Not just any dirt, the clay of the Great Race Place.

"We have raced asphalt for five years," Mueller said. "We are ready to do something different. We won 11 races last year and now we want to move to the dirt to win races."

The 20 year old from Chestertown, New York will be ready come opening day with a pair of brand new Teo Pro Cars and engines built by Carl Wagner of Wisconsin. He will call both the Great Race Place and the Fonda Speedway home in 2015.

"We have two brand new Teo's," Mueller said. "I am heading to Florida with Matt Hearn and Stewart Friesen to learn about dirt track set ups."

Mueller not only is the driver but the Crew Chief. He will be learning from two of the best in Florida in the coming weeks, an education that will come in handy as Jesse makes all of the adjustments on his DIRTcar Modified. The team is owned by his father.

After a very successful asphalt career, Mueller is making the move for a very understandable reason – there is no place else left to go on asphalt.

"We are ready for something more challenging," Mueller emphasized. "There really is no place else to go. We are not looking at moving up in NASCAR, we love Dirt Modified racing."

With sponsorship coming from Freihofer's, Macmillan Construction and W.J. Mueller & Son's, Jesse is looking to learn about racing on dirt, to become competitive on dirt and add to his 26 career feature win total.

"I want to be competitive and learn a lot," Mueller said. "I want to earn respect. We go to win, not to finish second. I know it's going to be tough."

Jesse Mueller is a rare talent, he won his first Dirt Modified race at the age of 15 and four years later is looking to tackle a different challenge. The challenge that is the DIRTcar Modified wars of New York's Capital District. Mueller will make a great addition to the Great Race Place family.

The Albany-Saratoga Speedway's next event will be the annual Awards Banquet. The banquet will be held on Saturday March 7th at the Saratoga/Wilton Elks Club. The 50th Anniversary season opener will take place of Friday evening, April 17th. For more information on the Albany-Saratoga Speedway please log on to www.albany-saratogaspeedway.com.

-end-
'Like' This Week in Modified Country on Facebook
Flemington Speedway Historical Society