BACON STEALS "HURTUBISE CLASSIC" ON LAST LAP FOR FIRST TERRE HAUTE WIN

Terre Haute, Indiana…….AMSOIL Sprint Car National Championship leader Brady Bacon finally sealed the deal at Terre Haute on Thursday, winning his first at the half-mile in the 30-lap "Jim Hurtubise Classic" with a pass as the leaders hit the white flag. The Broken Arrow, Oklahoma native made it his third win of the year as the flag-to-flag victory took 11:34.17.

"We've never finished off the podium here together (with Hoffmans), but it was frustrating to not get a win. It feels great to win one and do it in a great race where we had to take it away at the end. It got high in three and four, and I got beat staying up top the last race here, so I started trying something different down there. He had pulled away from me a bit, so I went to the middle and just kept trying to slow down and run lower and lower. I got by him just in time," Bacon said.

Ballou hooked the pole for the feature after timing in seventh and gunned to the lead at the outset, as Bacon was able to use the bottom off turn-two to rocket to the runner-up spot. He kept pace with Ballou as those two opened up a sizable margin on the rest of the field.

Chase Stockon held down third for much of the race, and behind him was a race between defending race winner Jerry Coons, Jr., this year's "Hulman Classic" winner Dave Darland, and ProSource "Fast Qualifier" Jon Stanbrough.

As the race hit its later stages, third through eleventh all raced amongst each other as Ballou and Bacon had checked out on the field. Brady Short was on the move, as he and fellow sixth-row starter Shane Cottle were making gains on the lower half of the track. Short finally pulled even with Stockon for the third spot with just three to go.

Up front, Ballou had fought back Bacon repeatedly and opened up his gap, but Bacon countered by moving around to find a faster way. He was coming in a hurry the final five laps, using the top of turns one and two and dropping to the bottom in turns three and four. He nearly pulled to his back bumper as they completed lap 28, and when he came off turn-four for the white flag, Bacon had a run. He cleared Ballou down the frontstretch and jumped to the top, while Ballou tried to turn back underneath to no avail.

Bacon rolled through the west end of the speedway one final time to win by .461-seconds over Ballou to his sixth-straight podium finish in series competition

"Sometimes, you need a set of eyes in the back of your head. Tonight was one of those times. I saw him down there a couple times, and he just beat us right at the end when I was losing a little bit down in three and four. I don't know if I needed a yellow or not. We probably used our stuff up a bit too much trying to work traffic. This stretch has shown our dedication. We've finally got things where we knew we needed them. I can't say enough about Derrick Bye and the work he's put into not just preparing the car, but learning how to make us faster," Ballou said.

An amazing twelve seconds behind them, Short held on for third.

"I just kept seeing it get higher and higher, and we had tightened the heck out of the car. It kept coming to me, the slicker it got. We've gotten better here trying to do just that. It worked out, but we could have used a caution a time or two along the way. It's amazing because these have never been my style of track, but we're getting more comfortable out there," Short said.

Just behind Short was Cottle, who closed the gap in the final laps to come home fourth and Stockon rounded out the top five.

AMSOIL USAC NATIONAL SPRINT CAR RACE RESULTS: September 18, 2014 - Terre Haute, Indiana - Terre Haute Action Track - "Jim Hurtubise Classic"

QUALIFICATIONS: 1. Jon Stanbrough, 37RW, Dutcher-20.064; 2. Dave Darland, 71p, Phillips-20.192; 3. Jerry Coons Jr., 10E, Edison-20.232; 4. Kevin Thomas Jr., 9k, KT-20.341; 5. Brady Bacon, 69, Dynamics-20.360; 6. Chase Stockon, 32, 32 TBI-20.460; 7. Robert Ballou, 12x, Ballou-20.512; 8. Tracy Hines, 4, Hines-20.650; 9. Justin Grant, 40, Hery-20.803; 10. Chris Windom, 11, Walker-20.874; 11. Brady Short, 11p, Pottorff-20.905; 12. Shane Cottle, 2E, Epperson-21.066; 13. C.J. Leary, 30, Leary-21.074; 14. Bryan Clauson, 20, Stewart/Curb-Agajanian-21.083; 15. Jac Haudenschild, 11x, Walker-21.128; 16. Chad Boespflug, 5, Baldwin-21.365; 17. Brandon Mattox, 28, Mattox-21.412; 18. Terry Babb, 88, Babb-21.436; 19. Hunter Schuerenberg, 20N, Schuerenberg/Nolen-21.521; 20. Logan Jarrett, 29, Jarrett-21.784; 21. Jarett Andretti, 18, Andretti-21.848; 22. Bill Rose, 6, Rose-22.446.

FIRST HEAT: (10 laps) 1. Ballou, 2. Stanbrough 3. Leary. 4. Windom. 5. Jarrett, 6. Thomas, 7. Boespflug. 2:50.28

SECOND HEAT: (10 laps) 1. Clauson, 2. Bacon, 3. Hines, 4. Darland, 5. Mattox, 6. Short,.7. Andretti. 2:51.81

THIRD HEAT: (10 laps) 1. Coons, 2. Cottle, 3. Schuerenberg, 4. Stockon, 5. Haudenschild, 6. Grant, 7. Rose. 2:55.26

FEATURE: (30 laps) 1. Brady Bacon, 2. Robert Ballou, 3. Brady Short, 4. Shane Cottle, 5. Chase Stockon, 6. Dave Darland, 7. Bryan Clauson, 8. Tracy Hines, 9. Jerry Coons Jr., 10. Chris Windom, 11. Jon Stanbrough, 12. C.J. Leary, 13. Justin Grant, 14. Kevin Thomas Jr., 15. Hunter Schuerenberg, 16. Logan Jarrett, 17. Jarett Andretti, 18. Brandon Mattox, 19. Jac Haudenschild, 20. Chad Boespflug, 21. Bill Rose. 11:34.17

--------------------------------

FEATURE LAP LEADERS: Laps 1-28 Ballou, Laps 29-30 Bacon.

NEW AMSOIL NATIONAL SPRINT POINTS: 1-Bacon-1,623, 2-Darland-1,606, 3-Clauson-1.572, 4-Stanbrough-1,517, 5-Stockon-1,399, 6-Hines-1,276, 7-Windom-1,263, 8-Grant-1,260, 9-Ballou-1,207, 10-Leary-1,115.

NEXT AMSOIL NATIONAL SPRINT RACE: September 20 - Rossburg, OH - Eldora Speedway - 33rd "4-Crown Nationals"


ABREU RESUMES MIDGET TITLE CHASE AT "4-CROWN" SATURDAY

Rico Abreu returns to the Eldora Speedway in Rossburg, Ohio Saturday to defend his "4-Crown Nationals" Midget title and looks to protect the 82-point cushion he enjoys over Tracy Hines in the Honda USAC National Midget series.

Abreu's 2014 resume is remarkable. He has recorded 11 "podium" finishes in 13 starts, including four victories.

The 25-lap Midget race precedes a 30-lap AMSOIL USAC National Sprint feature and the 50-lap USAC Silver Crown finale at the half-mile dirt oval.

Hines has 11 career Eldora wins, including two in Midgets. He is tied with Rich Vogler on the all-time USAC Eldora list behind Jack Hewitt's 24 and Dave Darland's 14.

2014 Honda USAC National Midget Standings: 1-Rico Abreu-822; 2-Tracy Hines-740; 3-Christopher Bell-719; 4-Bryan Clauson-675; 5-Zach Daum-606; 6-Chris Windom-559; 7-Tanner Thorson-531; 8-Michael Pickens-499; 9-Dave Darland-418; 10-A.J. Felker-378.

-end-

3 SILVER CROWN TITLE HOPEFULS READY FOR "4-CROWN NATIONALS" SATURDAY AT ELDORA SPEEDWAY

Saturday night's penultimate round of the 2014 USAC Silver Crown Series concludes the 33rd "4-Crown Nationals" at the Eldora Speedway in Rossburg, Ohio.

Three drivers enter the race separated by just 54 points with a total of 66 available. Leader Kody Swanson of Kingsburg, Calif. has a 27-point lead over runner-up Tracy Hines of New Castle, Ind. Third-place Bobby East of Brownsburg, Ind. is the defending series champion and he and Hines are still without a victory this year.

One of the primary reasons for Hines and East being unable to find victory lane so far is Swanson's proficiency on the dirt. He has won all but one of the five dirt races contested so far. Only the "Ted Horn 100" at DuQuoin, Ill. slipped from his grasp, a race won by David Byrne.

Chris Windom, fourth in the series points, is the defending winner of the "4-Crown Nationals" Silver Crown race but he too is seeking his first 2014 win. Windom's best finish in eight starts has been fifth in the Hoosier Hundred in Indianapolis, Ind. and at Springfield, Ill. September 7.

Hines has been close with four seconds, a third and two fourths in eight starts. East's best finishes have been a second, a pair of thirds and a pair of fourths.

Saturday's 50-lap Silver Crown feature will follow a 25-lap Honda USAC National Midget race and a 30-lap AMSOIL USAC National Sprint Car race, plus complete prelims for all series.

2014 USAC Silver Crown Standings:1-Kody Swanson-483, 2-Tracy Hines-456, 3-Bobby East-429, 4-Chris Windom-361, 5-Jerry Coons Jr.-303, 6-Jacob Wilson-269, 7-A.J. Fike-263, 8-Dave Darland-233, 9-Caleb Armstrong-228, 10-Shane Cockrum-213.

-end-

"HURTUBISE CLASSIC" THURSDAY, "4-CROWN" SATURDAY; CLAYTON WINS THE "HAUBSTADT HUSTLER"

Only three points separate Brady Bacon and Dave Darland in their torrid battle for the 2014 AMSOIL USAC National Sprint Car championship. This week's pair of races are sure to weigh heavily not only on their battle but on the challenge from third-ranking driver Bryan Clauson as well.

Thursday night's race is the rescheduled "Jim Hurtubise Classic" at the Terre Haute (Ind.) Action Track and Saturday's race is the 33rd "4-Crown Nationals" at the Eldora Speedway in Rossburg, Ohio.

Clauson, who continues to seek a historic 100th USAC National feature victory for long-time car owner Mike Curb, stands only 32 points behind Bacon with 148 points available this week.

Clauson won the "Tony Hulman Classic" at Terre Haute in June while Jerry Coons Jr. won last year's "Hurtubise Classic." Chris Windom is the defending winner of the "4-Crown Nationals."

Daron Clayton of Sikeston, Mo. won Saturday night's 40-lap "Haubstadt Hustler" USAC/MSCS Sprint race at Tri-State Speedway in Haubstadt, Ind. He trailed Kyle Cummins for 24 laps, then led the final 16 in his Proglide Coatings/Merry Go-Round Restaurant Spike.

Robert Ballou finished second ahead of Cummins, Coons and Chase Stockon.

2014 AMSOIL USAC National Sprint Car Standings: 1-Brady Bacon-1,554; 2-Dave Darland-1,551, 3-Bryan Clauson-1,522, 4-Jon Stanbrough-1,473, 5-Chase Stockon-1,345, 6-Tracy Hines-1,231, 7-Justin Grant-1,230, 8-Chris Windom-1,225, 9-Robert Ballou-1,142, 10-C.J. Leary-1,080.

-end-

AMSOIL USAC/CRA SPRINT CAR RACE RESULTS: September 13, 2014 - Perris, California - Perris Auto Speedway - 7th "Glenn Howard Classic"

QUALIFICATIONS: 1. Damion Gardner, 4, Alexander-16.379; 2. Jake Swanson, 92, Sertich-16.487; 3. Austin Williams, 2, Jory-16.643; 4. Matt Mitchell, 37, Mitchell-16.693; 5. Cody Williams, 44, Jory-16.734; 6. Mike Martin, 16, Martin-16.790; 7. Mike Spencer, 50, Chaffin-16.793; 8. Rickie Gaunt, 66, Miller-16.865; 9. R.J. Johnson, 51, Martin-16.982; 10. Richard Vander Weerd, 10, Vander Weerd-17.014; 11. Jace Vander Weerd, 88, Vander Weerd-17.082; 12. Garrett Hansen, 7, Priestley-17.106; 13. Brody Roa, 91R, BR-17.108; 14. A.J. Bender, 21, Bender-17.117; 15. David Bezio, 37X, Bezio-17.156; 16. Ronnie Gardner, 93, Gardner-17.176; 17. Chris Gansen, 4G, Gansen-17.254; 18. Jimmy Crawford, 51X, Crawford-17.351; 19. Corey Ballard, 34, Ballard-17.420; 20. Parker Colston, 64, Gore-17.495; 21. Rick Hendrix, 15, Hendrix-17.510; 22. Verne Sweeney, 98, Tracy-17.650; 23. Cal Smith, 39, Cal-Sun-17.842; 24. George Morris, 3K, Kruseman-17.960; 25. Logan Williams, 5, Jory-17.967; 26. Mikey Lovas, 36L, Lovas-18.575; 27. Kenny Perkins, 5X, Perkins-NT.

FIRST HEAT: (10 laps) 1. Roa, 2. R.Gardner, 3. Spencer, 4. D.Gardner, 5. Mitchell, 6. R.Vander Weerd, 7. Colston, 8. Smith, 9. Lovas. 2:50.70

SECOND HEAT: (10 laps) 1. Bender, 2. Gansen, 3. J.Vander Weerd, 4. Swanson, 5. Gaunt, 6. C.Williams, 7. Morris, 8. Hendrix. 2:51.43

THIRD HEAT: (10 laps) 1. Johnson, 2. Bezio, 3. A.Williams, 4. Martin, 5. Ballard, 6. Hansen, 7. Sweeney, 8. L.Williams. 2:49.49.

SEMI: (8 laps) 1. Mitchell, 2. C.Williams, 3. R.Vander Weerd, 4. Gaunt, 5. Hansen, 6. Colston, 7. Ballard, 8. Sweeney, 9. Smith, 10. Morris. 2:20.09

FEATURE: (30 laps) 1. Damion Gardner, 2. R.J. Johnson, 3. Mike Spencer, 4. Matt Mitchell, 5. Austin Williams, 6. Cody Williams, 7. Garrett Hansen, 8. Brody Roa, 9. Ronnie Gardner, 10. Jace Vander Weerd, 11. Mike Martin, 12. David Bezio, 13. Verne Sweeney, 14. Logan Williams, 15. Cal Smith, 16. Richard Vander Weerd, 17. Jake Swanson, 18. Parker Colston, 19. George Morris, 20. Chris Gansen, 21. Corey Ballard, 22. Rickie Gaunt, 23. A.J. Bender. NT

---------------------------

**Crawford flipped during qualifications. L.Williams flipped during the third heat. R.Vander Weerd flipped during the feature.

FEATURE LAP LEADERS: Laps 1-16 Spencer, Laps 17-30 D.Gardner.

NEW AMSOIL USAC/CRA SPRINT POINTS: 1-D.Gardner-1,189, 2-Spencer-936, 3-Roa-790, 4-C.Williams-751, 5-Mitchell-750, 6-A.Williams-722, 7-Swanson-640, 8-Nic Faas-628, 9-R.Vander Weerd-574, 10-L.Williams-464.

NEXT AMSOIL USAC/CRA SPRINT RACE:November 7 - Perris (CA) Auto Speedway

-end-
DAMION GARDNER GOES WELL PAST THE 200-MPH BARRIER IN SPRINT CAR AT BONNEVILLE!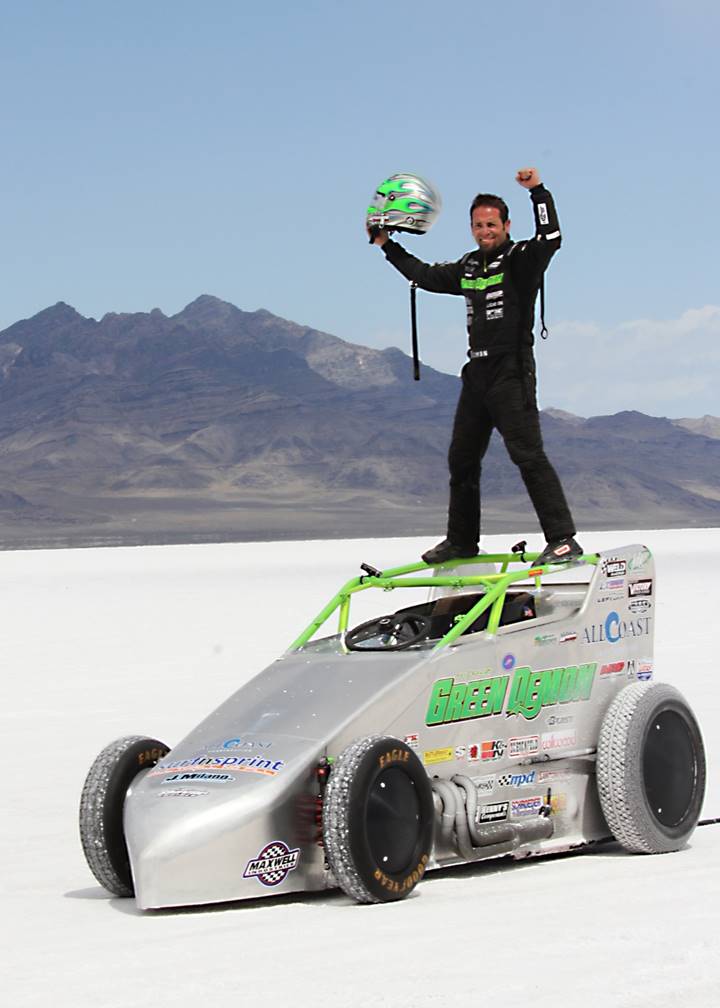 Photo copyright Doug Allen

(Concord, CA, September 9, 2014) The "World's Fastest Sprint Car Driver," Concord, California's Damion Gardner, saw nearly two years of dreams and hard work come to fruition when he broke the 200-MPH barrier not once, but two times in a sprint car at the Bonneville Salt Flats on Monday. Not only can he be called the "World's Fastest Sprint Car Driver," but now the slender racer can also be called the only driver to go 200-MPH in a sprint car.

After a "shakedown" run of 190-MPH on the famous Utah salt surface on Sunday, the table was set to make sprint car history on Monday. Gardner started off the dramatic day with a sizzling pass that produced a speed of 194.19901 early in the morning. It was his fastest ever pass at Bonneville. The crew then realized history was in its grasp and it was time to go for it.

Gardner's second run of the day proved to be the one dream's are made of. He blistered the salt and by mile two, his speed was 199.44424. He was within arm's reach of the coveted 200-MPH. One mile later, he did it! At the three mile mark he was at 202.25408 and his exit speed was 202.38426.

Those who are acquainted with Damion Gardner know that he will not quit pushing and rather than rest on his laurels at 202.38426, he wanted more. The area was being pestered by some light rain followed by cross winds that caused some concern, but Gardner went back out and he obliterated the 202 run with an amazing pass of 205.47318.

205+ and it is not over yet. Instead of packing up the car and the tools and heading home, Gardner and the crew are headed back to the salt for some more passes on Tuesday to wrap up the three days of wonderful speed history. Full details on today's exploits with be forthcoming this evening or first thing Monday morning, but here is a little hint. Gardner just went 211.58844 on his first run of the day!

You can see and meet the "World's Fastest Sprint Car Driver" this Saturday night when he returns to the cockpit of the Mark Alexander #4 in the USAC/CRA Sprint Car Series at Perris Auto Speedway.

Everything, including the historical 205-MPH pass is being shot for an exciting documentary titled, "The World's Fastest Sprint Car." The made for TV production is being written, directed and produced by Surf N' Sprint and will be shot by the award winning racing specialists from LoudPedal Productions. You can take a sneak peek at the documentary at the following link. http://www.youtube.com/watch?v=Gp1JvkD9aaI&feature=youtu.be

Damion Gardner would like to thank the following for making this enormous task possible: Surf N' Sprint, Frankland Rearends, J. Milano Co., Shaver Engines, Lucas Oil, ARP, FK Rod Ends, Weld Wheels, Yak Graphics, Schoenfeld, Waterman, Simpson, Willwood, Kinsler Fuel Injection, Advanced Racing Suspension, Maxwell Industries, Victory Race Cars, Beast Chassis, Maas Powdercoat, Kenny's Components, Santamauro Racing, Lee Power Steering, Butler Built Seats, Schroeder, Brown & Miller, Champion Spark Plugs, System 1, Barne's Systems, Eibach, TSR, Indy Race Parts, MPD, Beaver Stripes, K&N, Jessel, Comp Cams, Donovan, Seals It, LoudPedal Productions, KMD Racing.

Watch for more follow ups on this noble effort in 2014. You can also check out what is going on by visiting the Damion Gardner Fan Page on Facebook. The pages of Steve Watt and Loudpedal Productions will also offer their takes on all the high speed happenings.

To hear Damion Gardner's 2013 interview about driving the "World's Fastest Sprint Car" with Shawn Wood on the Dirt Track Channel, please click on the following link: http://thedirttrackchannel.com/Webcast/tscsAug1313.mp3

-endp
ELDORA'S "4-CROWN NATIONALS" SEPTEMBER 20; "TONY BETTENHAUSEN 100" SWANSON'S 4TH WIN THIS YEAR!

Only 54 points separate the top-three in USAC's Silver Crown standings entering the upcoming September 20 "4-Crown Nationals" at the Eldora Speedway in Rossburg, Ohio.

The "4-Crown" will offer 66 points, so the title could still be up for grabs in the series finale on October 11 at the New York State Fairgrounds in Syracuse.

Kody Swanson of Kingsburg, Calif. scored his fourth win of the year in Sunday's "Tony Bettenhausen 100" at the Illinois State Fairgrounds in Springfield. He won the pole in the Radio Hospital Maxim/Hampshire and never trailed, finishing a half-lap ahead of runner-up Tracy Hines.

The point battle was affected only minimally, with second-place Hines and third-place Bobby East unable to close in on Swanson. Hines finished second and East third at the checkered flag, with A.J. Fike fourth and Chris Windom fifth. Sixteen of the 24 starters were still running at the finish of the 100 mile race.

Swanson became the fifth driver to score a fourth victory during a single Silver Crown campaign. Jack Hewitt won six in 1986, while J.J. Yeley won four in 2003. Gary Bettenhausen also won four in 1980 and Dave Steele accomplished the same feat in 2005.

2014 USAC Silver Crown Standings:1-Kody Swanson-483, 2-Tracy Hines-456, 3-Bobby East-429, 4-Chris Windom-361, 5-Jerry Coons Jr.-303, 6-Jacob Wilson-269, 7-A.J. Fike-263, 8-Dave Darland-233, 9-Caleb Armstrong-228, 10-Shane Cockrum-213.

-end-

SWANSON TAKES "TONY BETTENHAUSEN 100" AT SPRINGFIELD

Springfield, IL……..Kody Swanson of Kingsburg, Calif. led wire-to-wire to win Sunday's "Tony Bettenhausen 100" USAC Silver Crown race at the Illinois State Fairgrounds.

He won the pole in the Radio Hospital Maxim/Hampshire and never trailed, finishing a half-lap ahead of runner-up Tracy Hines.

The point battle was affected only minimally, with second-place Hines and third-place Bobby East unable to close in on Swanson going into the September 20 "4-Crown Nationals" at the Eldora Speedway in Rossburg, Ohio.

Hines finished second and East third at the checkered flag, with A.J. Fike fourth and Chris Windom fifth. Sixteen of the 24 starters were still running at the finish of the 100 miles.

USAC SILVER CROWN CHAMPIONSHIP SERIES RACE RESULTS: September 7, 2014 - Springfield, Illinois - Illinois State Fairgrounds - "Tony Bettenhausen 100"

QUALIFICATIONS: 1. Kody Swanson, 63, DePalma-31.999; 2. Jacob Wilson, 07, Wilson-32.140; 3. Tracy Hines, 16, Lightfoot-32.314; 4. Brady Bacon, 14, McQuinn-32.415; 5. Bobby East, 10, Stewart/Curb-Agajanian-32.610; 6. A.J. Fike, 3, RFMS-32.923; 7. Shane Cockrum, 66, Hardy-33.046; 8. Bryan Clauson, 20, Nolen-33.101; 9. Dave Darland, 19, Longworth-33.235; 10. Steven Russell, 41, McQuinn-33.335; 11. Caleb Armstrong, 9, Armstrong-33.436; 12. Chris Windom, 17, RW/Curb-Agajanian-33.580; 13. Jerry Coons Jr., 98, RPM/Gormly-33.606; 14. David Byrne, 40, Byrne-33.705; 15. Davey Ray, 25, Sachs-33.877; 16. Levi Jones, 56, Fox-33.927; 17. Russ Gamester, 51, Gamester-34.347; 18. Chris Fetter, 88, Fetter-34.369; 19. Jackie Burke, 86, Burke-34.596; 20. Randy Bateman, 55, Bateman-34.656; 21. Patrick Lawson, 2, Lawson-34.913; 22. John Hunt, 91, Hunt-35.558; 23. Chris Urish, 77, Urish-NT; 24. Kenny Gentry, 18, Gentry-NT.

FEATURE: (100 Laps) 1. Kody Swanson, 2. Tracy Hines, 3. Bobby East, 4. A.J. Fike, 5. Chris Windom, 6. Bryan Clauson, 7. Jerry Coons Jr., 8. Dave Darland, 9. Levi Jones, 10. Brady Bacon, 11. Russ Gamester, 12. Jacob Wilson, 13. Davey Ray, 14. Steven Russell, 15. Chris Fetter, 16. David Byrne, 17. Randy Bateman, 18. Jackie Burke, 19. Patrick Lawson, 20. Caleb Armstrong, 21. Shane Cockrum, 22. John Hunt, 23. Kenny Gentry, 24. Chris Urish. NT
------------------------------------------------------
FEATURE LAP LEADERS: Laps 1-100 Swanson.

NEW USAC SILVER CROWN SERIES POINT STANDINGS: 1-Swanson-483, 2-Hines-456, 3-East-429, 4-Windom-363, 5-Coons-303, 6-Wilson-269, 7-Fike-263, 8-Darland-233, 9-Armstrong-228, 10-Cockrum-213.

NEXT USAC SILVER CROWN RACE: September 20 - Rossburg, OH - Eldora Speedway - "4-Crown Nationals"

-end-
AMSOIL USAC/CRA SPRINT CAR RACE RESULTS: September 6, 2014 - Santa Maria, California - Santa Maria Speedway - "Gold Cup" - "California Sprint Week"

QUALIFICATIONS: 1. Brody Roa, 91R, BR-14.612; 2. Damion Gardner, 4, Alexander-14.631; 3. Richard Vander Weerd, 10, Vander Weerd-14.985; 4. Geoff Ensign, 3F, Finkenbinder-15.099; 5. Rickie Gaunt, 66, Miller-15.196; 6. Cody Williams, 44, Jory-15.205; 7. Austin Williams, 2, Jory-15.218; 8. Mike Spencer, 50, Chaffin-15.317; 9. Jake Swanson, 92, Sertich-15.389; 10. Matt Mitchell, 37, Mitchell-15.435; 11. Logan Williams, 5, Jory-15.560; 12. D.J. Johnson, 33, Johnson-15.672; 13. Jace Vander Weerd, 88, Vander Weerd-15.690; 14. Jeremy Ellertson, 98X, Ellertson-15.714; 15. Ronnie Gardner, 4X, Gansen-15.724; 16. Ryan Bernal, 56, Phulps-15.778; 17. Chris Gansen, 4G, Gansen-15.894; 18. Luke Boles, 56A, Boles-15.985; 19. Garrett Hansen, 7, Priestley-16.203; 20. Tyler Schmidt, 49, Schmidt-16.397; 21. Landon Hurst, 179, Hurst-16.541; 22. James Herrera, 16J, Jones-16.963; 23. Bill Jones, 16, Jones-NT; 24. Kevin Thomas Jr., 73, Ford-NT; 25. Cotton Farmer, 15, HAL-NT; 26. Eric Rossi, 17 Shanoian-NT

FIRST HEAT: (10 laps) 1. Bernal, 2. Mitchell, 3. Ensign, 4. Roa, 5. A.Williams, 6. J.Vander Weerd, 7. Hansen, 8. Herrera. NT

SECOND HEAT: (10 laps) 1. Gaunt, 2. Ellertson, 3. D.Gardner, 4. Spencer, 5. L.Williams, 6. Gansen, 7. Schmidt (#17 Shanoian), 8. Jones. NT

THIRD HEAT: (10 laps) 1. Boles, 2. C.Williams, 3. Hurst, 4. R.Vander Weerd, 5. Swanson, 6. Johnson, 7. R.Gardner, 8. Farmer (#7D HAL). NT

SEMI: (12 laps) 1. A.Williams, 2. Johnson, 3. Swanson, 4. J.Vander Weerd, 5. Hansen, 6. R.Gardner, 7. L.Williams, 8. Gansen, 9. Schmidt, 10. Farmer, 11. Herrera, 12. Jones. NT

FEATURE: (30 laps) 1. Damion Gardner, 2. Cody Williams, 3. Geoff Ensign, 4. Brody Roa, 5. Mike Spencer, 6. Austin Williams, 7. Rickie Gaunt, 8. Jace Vander Weerd, 9. Jake Swanson, 10. D.J. Johnson, 11. Ryan Bernal, 12. Matt Mitchell, 13. Garrett Hansen, 14. Landon Hurst, 15. Logan Williams, 16. Luke Boles, 17. Chris Gansen, 18. Tyler Schmidt, 19. Ronnie Gardner, 20. Jeremy Ellertson, 21. Cotton Farmer, 22. Richard Vander Weerd, 23. Kevin Thomas Jr. NT

---------------------------

FEATURE LAP LEADERS: Laps 1-10 Gaunt, Laps 11-24 C.Williams, Laps 25-30 Gardner

NEW AMSOIL USAC/CRA SPRINT POINTS: 1-D.Gardner-1,118, 2-Spencer-876, 3-Roa-743, 4-C.Williams-701, 5-Mitchell-692, 6-A.Williams-664, 7-Nic Faas-628, 8-Swanson-611, 9-R.Vander Weerd-551; 10-L.Williams-439.

FINAL CALIFORNIA SPRINT WEEK POINTS: 1-D.Gardner-332, 2-Roa-247, 3-Thomas-246, 4-Spencer-245, 5-C.Williams-218, 6-Ensign-186, 7-Mitchell-175, 8-Bernal-166, 9-Johnson-160, 10-A.Williams-157.

NEXT AMSOIL USAC/CRA SPRINT RACE:September 13 - Perris (CA) Auto Speedway - "Glenn Howard Classic"

-end-

AMSOIL USAC/CRA SPRINT CAR RACE RESULTS: September 5, 2014 - Watsonville, California - Ocean Speedway - "California Sprint Week"

QUALIFICATIONS: 1.. Damion Gardner, 4, Alexander-12.500; 2. Jake Swanson, 92, Sertich-12.784; 3. Mike Spencer, 50, Chaffin-12.859; 4. Austin Liggett, 83, Liggett-12.865; 5. Kevin Thomas Jr., 73, Ford-12.879; 6. Richard Vander Weerd, 10, Vander Weerd-12.880; 7. Cody Williams, 44, Jory-12.931; 8. Ryan Bernal, 56, Phulps-12.975; 9. Brody Roa, 91R, BR-13.036; 10. Matt Mitchell, 37, Mitchell-13.096; 11. Landon Hurst, 179, Hurst-13.115; 12. Austin Williams, 2, Jory-13.171; 13. Danny Faria Jr., 2F, Bowman-13.198; 14. Jace Vander Weerd, 88, VanderWeerd-13.288; 15. Geoff Ensign, 3F, Finkenbinder-13.313; 16. D.J. Johnson, 33, Johnson-13.429; 17. Chris Gansen, 4G, Gansen-13.441; 18. Tim DeCarlo Jr., 4D, DeCarlo-13.442; 19. Tyler Schmidt, 49, Schmidt-13.578; 20. Logan Williams, 5, Jory-13.579; 21. Jeff Sibley, 42N, Sibley-13.641; 22. Garrett Hansen, 7, Priestley-13.721; 23. Eric Rossi, 17, Shanoian-13.745; 24. Jeremy Ellertson, 98X, Ellertson-14.114; 25. Eli Deshaies, 91RI, Deshaies-14.116.

FIRST HEAT: (10 laps) 1. Gardner, 2. Faria, 3. Liggett, 4. Johnson, 5. Mitchell, 6. Hansen, 7. Schmidt, 8. C.Williams, 9. Deschaies. NT

SECOND HEAT: (10 laps) 1. Swanson, 2. J.Vander Weerd, 3. Bernal, 4. Gansen, 5. Thomas, 6. Rossi, 7. Hurst, 8. L.Williams. NT

THIRD HEAT: (10 laps) 1. Ensign, 2. Roa. 3. R.Vander Weerd, 4. A.Williams, 5. Sibley, 6. DeCarlo, 7. Ellertson, 8. Spencer. NT

SEMI: (12 laps) 1. Thomas, 2. Spencer, 3. Mitchell, 4. C.Williams, 5. Schmidt, 6. L.Williams, 7. DeCarlo, 8. Sibley, 9. Hansen, 10. Rossi, 11. Ellertson, 12. Hurst. NT

FEATURE: (30 laps) 1. Damion Gardner, 2. Ryan Bernal, 3. Kevin Thomas Jr., 4. Richard Vander Weerd, 5. Mike Spencer, 6. Brody Roa, 7. Geoff Ensign, 8. Danny Faria Jr., 9. Austin Liggett, 10. D.J. Johnson, 11. Cody Williams, 12. Jake Swanson, 13. Austin Williams, 14. Jace Vander Weerd, 15. Eric Rossi, 16. Jeff Sibley, 17. Chris Gansen, 18. Tyler Schmidt, 19. Logan Williams, 20. Jeremy Ellertson, 21. Matt Mitchell, 22. Garrett Hansen, 23. Tim DeCarlo Jr. NT

---------------------------

FEATURE LAP LEADERS: Laps 1-14 Bernal, Laps 15-30 Gardner.

NEW AMSOIL USAC/CRA SPRINT POINTS: 1-Gardner-1,047, 2-Spencer-823, 3-Roa-681, 4-Mitchell-656, 5-C.Williams-636, 6-Nic Faas-628, 7-A.Williams-615, 8-Swanson-573, 9-R.Vander Weerd-529, 10-L.Williams-415.

NEW CALIFORNIA SPRINT WEEK POINTS: 1-Gardner-261, 2-Thomas-233, 3-Spencer-192, 4-Roa-185, 5-C.Williams-153, 6-Colby Copeland-151, 7-Mitchell-139, 8-Christopher Bell-135, 9-Rico Abreu-132, 10-Bradley Terrell-129.

NEXT AMSOIL USAC/CRA SPRINT RACE:September 6 - Santa Maria (CA) Speedway - "California Sprint Week"

-end-


AMSOIL USAC/CRA SPRINT CAR RACE RESULTS: September 4, 2014 - Chico, California - Silver Dollar Speedway - "Gold Cup Race of Champions" - "California Sprint Week"

QUALIFICATIONS: 1. Damion Gardner, 4, Alexander13.467; 2. Kevin Thomas Jr., 73, Ford-13.681; 3. Austin Williams, 2, Jory-13.759; 4. Matt Mitchell, 37, Mitchell-13.808; 5. Bud Kaeding, 0, Williams-13.871; 6. Mike Spencer, 50, Chaffin-13.879; 7. Brody Roa, 91R, BR-13.911; 8. Jake Swanson, 92, Sertich-13.915; 9. Terry Schank, 1, Gleeson-13.917; 10. Ryan Bernal, 56, Phulps-13.947; 11. Keith Bloom Jr., 19, Wolf-13.049; 12. Cody Williams, 44, Jory-13.966; 13. Kyle Hirst, 3F, Finkenbinder-13.987; 14. Austin Liggett, 83, Liggett-14.024; 15. D.J. Johnson, 33, Johnson-14.046; 16. Bradley Terrell, 43, Terrell-14.130, 17. Andy Forsberg, 01, Geaney-14.140; 18. Colby Copeland, 5V, VanLare-14.224; 19. Logan Williams, 5, Jory-14.228; 20. Chris Gansen, 4G, Gansen-14.251; 21. Brett Rollag, 27, Rollag-14.289; 22. Cody Myers, 7, Snow-14.377; 23. Scott Hall, 56K, Hall-14.378; 24. Kyler Shaw, 92K, Shaw-14.389; 25. Justyn Cox, 31C, Cox-14.412; 26. Jimmy Trulli, 33T, Trulli-14.513; 27. Koen Shaw, 88K, Shaw-14.665; 28. Adam Brenton, 28, Brenton-14.675; 29. Rowdy McClenon, 32, Johnson-14.675; 30. Mason Moore, 22, Moore-14.811; 31. Jim Richardson, 8, Richardson-15.029; 32. Tony Richards, 94, Richards-15.292; 33. Gary Deemer, 28G, Deemer-15.15.510; 34. Greg Higginbotham, 11, Higginbotham-15.930; 35. Chase Johnson, 68, Thomas-NT.

FIRST HEAT: (10 laps) 1. Gardner, 2. HIrst, 3. Kaeding, 4. Forsberg, 5. Schank, 6. Cox, 7. Rollag, 8. Deemer. NT

SECOND HEAT: (10 laps) 1. Copeland, 2. Thomas, 3. Liggett, 4. Spencer, 5. Myers, 6. Trulli, 7. Moore, 8. Bernal. NT

THIRD HEAT: (10 laps) 1. Hall, 2. Bloom, 3. DJ.Johnson, 4. Roa, 5. A.Williams, 6. L.Williams, 7. Richardson, 8. Ko.Shaw. NT

FOURTH HEAT: (10 laps) 1. Ky.Shaw, 2. Swanson, 3. Terrell, 4. C.Williams, 5. Brenton, 6. Richards, 7. Gansen, 8. Mitchell. NT

SEMI: (12 laps) 1. Bernal, 2. Mitchell, 3. A.Williams, 4. Schank, 5. Rollag, 6. L.Williams, 7. Cox, 8. Gansen, 9. Trulli, 10. Moore, 11. Myers, 12. Ko.Shaw, 13. Richardson, 14. Brenton, 15. Richards. NT

FEATURE: (30 laps) 1. Damion Gardner, 2. Bud Kaeding, 3. Colby Copeland, 4. Brody Roa, 5. Kevin Thomas Jr., 6. Austin Liggett, 7. Andy Forsberg, 8. Mike Spencer, 9. Bradley Terrell, 10. Cody Williams, 11. Brett Rollag, 12. Terry Schank, 13. Kyler Shaw, 14. Logan Williams, 15. Austin Williams, 16. Scott Hall, 17. Jake Swanson, 18. Chris Gansen, 19. Keith Bloom Jr., 20. D.J. Johnson, 21. Matt Mitchell, 22. Ryan Bernal, 23. Kyle Hirst. NT

---------------------------

**C.Johnson flipped during hotlaps. Mitchelll flipped during the feature.

FEATURE LAP LEADERS: Lap 1 Swanson, Laps 2-15 Spencer, Laps 16-30 Gardner.

NEW AMSOIL USAC/CRA SPRINT POINTS: 1-Gardner-973, 2-Spencer-768, 3-Mitchell-641, 40Roa-629, 5-Nic Faas-628, 6-C.Williams-604, 7-A.Williams-583, 8-Swanson-531, 9-Richard Vander Weerd-471, 10-L.Williams-399.

NEW CALIFORNIA SPRINT WEEK POINTS: 1-Gardner-187, 2-Thomas-173, 3-Copeland-151, 4-Spencer-137, 5-Christopher Bell-135, 6-Roa-133, 7-Rico Abreu-132, 8-Terrell-129, 9-Mitchell-124, 10-C.Williams-121.

NEXT AMSOIL USAC/CRA SPRINT RACE:September 5 - Watsonville, CA - Ocean Speedway - "California Sprint Week"

-end-

USAC HONDA WESTERN MIDGET CAR SERIES RACE RESULTS: September 4, 2014 - Chico, California - Silver Dollar Speedway - "Gold Cup Race of Champions" - (Co-sanctioned by BCRA)

QUALIFICATIONS: 1. Ronnie Gardner, 68, Six8-14.047; 2. Shane Golobic, 26, Bock-14.411; 3. Richard Vander Weerd, 19S, Sala-14.517; 4. Barry Pries Jr., 14, Pries-14.517; 5. Sean Dodenhoff, 9D, Dodenhoff-14.567; 6. Shannon McQueen, 7, McQueen-14.590; 7. Frankie Guerrini, 63, Guerrini-14.617; 8. Brian Gard, 88, Arata-14.634; 9. Sean Becker, 19, Sala-14.14.638; 10. Trey Marcham, 73, Ford-14.645; 11, Alex Schutte, 28, Schutte/McElwee-14.680; 12. Geoff Ensign, 11, Thurston-14.732; 13. Tyler Seavey, 57, Cofer-14.767; 14. Jarid Blondel, 98, Blondel-1797; 15. Chad Nichols, 17, Nichols-14.851; 16. Gary Conterno, 55, Conterno-15.019; 17. Lance Hallmark, 8H, Hallmark-15.075; 18. Scott Kinney, 27C, Blackwell-15.127; 19. Sparky Howard, 3, Faeth-15.290; 20. Floyd Alvis, 11F, Champion-15.407; 21. Rick Cook II, 7R, Cook-15.469; 22. Doug Hunting, 2, Hunting-15.527; 23. J.R. Williams, 74, Williams-15.851; 24. Tanner Thorson, 27B, Blackwell-NT.

FIRST HEAT: (8 laps) 1. Gardner, 2. Marcham, 3. Guerrini, 4. Conterno, 5. Howard, 6. Pries, 7. Hunting, 8. Ensign. NT

SECOND HEAT: (8 laps) 1. Gard, 2. Dodenhoff, 3. Golobic, 4. Seavey, 5. Alvis, 6. Hallmark, 7. Williams, 8. Blondel. NT

THIRD HEAT: (8 laps) 1. Schutte, 2. McQueen, 3. Vander Weerd, 4. Kinney, 5. Cook, 6. Nichols, 7. Becker. NT

FEATURE: (30 laps) 1. Brian Gard, 2. Trey Marcham, 3. Shane Golobic, 4. Richard Vander Weerd, 5. Geoff Ensign, 6. Sean Dodenhoff, 7. Ronnie Gardner, 8. Alex Schutte, 9. Shannon McQueen, 10. Frankie Guerrini, 11. Lance Hallmark, 12. Floyd Alvis, 13. J.R. Williams, 14. Gary Conterno, 15. Doug Hunting, 16. Sparky Howard, 17. Tyler Seavey, 18. Barry Pries Jr., 19. Jarid Blondel, 20. Scott Kinney, 21. Chad Nichols. NT

----------------------------

FEATURE LAP LEADERS: Laps 1-14 Marcham, Laps 15-30 Gard.

NEW HONDA USAC WESTERN DIRT MIDGET POINTS: 1-Gardner-559, 2-Marcham-527, 3-Schutte-334, 4-Blondel-308, 5-Scott Pierovich-288, 6-McQueen-247, 7-Dodenhoff-221, 8-Chris Ennis-186, 9-Nichols-172, 10-Tyler Dolacki-155.

NEW HONDA USAC WESTERN MIDGET POINTS: 1-Gardner-559, 2-Marcham-527, 3-Blondel-471, 4-Schutte-387, 5-Nichols-359, 6-Scott Pierovich-327, 7-Nick Chivello-255, 8-McQueen-247, 9-Dodenhoff-221, 10-Chris Ennis-186.

NEXT HONDA USAC WESTERN DIRT MIDGET RACE: September 20 - Bakersfield (CA) Speedway

NEXT HONDA USAC WESTERN (Paved) MIDGET RACE: September 13 - Madera (CA) Speedway

-end-

PENALTIES ASSESSED FOR DuQUOIN SILVER CROWN VIOLATIONS; BYRNE MAKES DIRT DEBUT SUNDAY AT SPRINGFIELD

The United States Auto Club today announced penalties assessed to three Silver Crown teams for violations during Sunday's "Ted Horn 100" at the DuQuoin (Ill.) State Fairgrounds.

The #66 Hardy Boys entry driven by race winner Shane Cockrum was fined $300 and nine car entrant points, while the #77 Chris Urish entry and the #98 Fred Gormly entry driven by Jerry Coons Jr. were each fined $100 and three car entrant points.

The penalties were levied as a result of violations of USAC red-flag competition procedures regarding pit personnel over the wall prior to the issuance of the starter's white flag signifying an "open" pit.

In other series news, David Byrne, who became USAC's 100th different Silver Crown race winner with his July 24 "J.D. Byrider 100" victory at Lucas Oil Raceway in Indianapolis, Ind., will make his series debut on dirt in this Sunday's "Tony Bettenhausen 100" at the Illinois State Fairgrounds in Springfield.

Byrne, of Shullsburg, Wisc., will pilot the Truck Country/Bytec Beast/Toyota in the race which was rescheduled for this Sunday after having been rained out August 16.

Byrne's three Silver Crown appearances this year have all produced "top-10" finishes. He was third at Indianapolis in May and 10th at Gateway Motorsports Park in Madison, Ill. in June.

Sunday's Springfield timetable has registration starting at 7 am and practice at 10, followed by qualifying and the 100-lap race.

-end-
USAC AMSOIL USAC/CRA/WESTERN CLASSIC SPRINT CAR SERIES RACE RESULTS: August 31, 2014 - Calistoga, California - Calistoga Speedway - "7th Louie Vermeil Classic"

QUALIFICATIONS: 1. Matt Mitchell, 37, Mitchell-19.589; 2. Christopher Bell, 83, Roth-20.040; 3. Mike Spencer, 50, Chaffin-20.049; 4. Rico Abreu, 24, Abreu-20.060; 5. Kevin Thomas Jr., 73X, Ford-20.219; 6. Damion Gardner, 4, Alexander-20.222; 7. Brody Roa, 91R, BR-20.276; 8. Austin Williams, 2, Jory-20.284; 9. Cody Williams, 44, Jory-20.318; 10. Bud Kaeding, 69, Bowman-20.323; 11. Ryan Bernal, 56, Phulps-20.346; 12. Geoff Ensign, 3F, Finkenbinder-20.386; 13. D.J. Johnson, 33, Johnson-20.486; 14. Jake Swanson, 92, Sertich-20.510; 15. Robert Ballou, 73, Ford-20.548; 16. Bradley Terrell,43, Terrell-20.801; 17. Scott Hall, 77J, Campanile-20.822; 18. Colby Copeland, 5V, VanLare-20.938; 19. Tim Barber, 3T, Finkenbinder-21.272; 20. Marty Hawkins, 3M, Hawkins-21.382; 21. Logan Williams, 5, Jory-21.490; 22. Adam Brenton, 28, Brenton-21.557; 23. Terry Schank, 1, Gleeson-21.574; 24. Chris Gansen, 4G, Gansen-21.992.

FIRST HEAT: (8 laps) 1. Abreu, 2. Mitchell, 3. Roa, 4. Kaeding, 5. Terrell, 6. Johnson, 7. Barber, 8. Brenton. NT

SECOND HEAT: (8 laps) 1. Bernal, 2. Bell, 3. Swanson, 4. A.Williams, 5. Thomas, 6. Schank, 7. Hawkins, 8. Hall. NT

THIRD HEAT: (8 laps) 1. Gardner, 2. Ballou, 3. Ensign, 4. C.Williams, 5. Copeland, 6. L.Williams, 7. Gansen, 8. Spencer. NT

FEATURE: (30 laps) 1. Rico Abreu, 2. Kevin Thomas Jr., 3. Christopher Bell, 4. Geoff Ensign, 5. Bradley Terrell, 6. Colby Copeland, 7. Cody Williams, 8. Mike Spencer, 9. Matt Mitchell, 10. Damion Gardner, 11. D.J. Johnson, 12. Terry Schank, 13. Marty Hawkins, 14. Logan Williams, 15. Scott Hall, 16. Adam Brenton, 17. Ryan Bernal, 18. Tim Barber, 19. Chris Gansen, 20. Robert Ballou, 21. Brody Roa, 22. Jake Swanson, 23. Austin Williams, 24. Bud Kaeding. NT

---------------------------

**A.Williams & Ballou flipped during the feature.

FEATURE LAP LEADERS: Laps 1-3 A.Williams, Laps 4-21 Bell, Laps 22-30 Abreu.

NEW AMSOIL USAC/CRA SPRINT CAR POINTS: 1-Gardner-849, 2-Spencer-723, 3-Nic Faas-628, 4-Mitchell-622, 5-Roa-573, 6-C.Williams-566, 7-A.Williams-554, 8-Swanson-505, 9-Richard Vander Weerd-471, 10-Cory Kruseman-381.

NEXT USAC AMSOIL USAC/CRA SPRINT CAR RACE: September 4 - Chico, CA - Silver Dollar Speedway - "Gold Cup"

-end-

USAC HONDA WESTERN MIDGET CAR SERIES RACE RESULTS: August 31, 2014 - Calistoga, California - Calistoga Speedway - "7th Louie Vermeil Classic"

QUALIFICATIONS: 1. Rico Abreu, 97, Kunz/Curb-Agajanian-20.320; 2. Christopher Bell, 71, Kunz/Curb-Agajanian-20.405; 3. Tanner Thorson, 67, Kunz/Curb-Agajanian-20.416; 4. Shane Golobic, 26, Bock-20.576; 5. Ronnie Gardner, 68, Six8-20.694; 6. Trey Marcham, 73, Ford-20.973; 7. Scott Pierovich, 35, Pierovich-21.000; 8. Taylor Simas, 62, Bock-21.077; 9. Alex Schutte, 28, Schutte/McElwee-21.244; 10. Jarid Blondel, 98, Blondel-21.251; 11. Cody Swanson, 71S, Swanson-21.356; 12. Brian Gard, 88, Arata-21.396; 13. Nick Chivello, 27, Chivello-21.525; 14. Scott Kinney, 27C, Blackwell-21.815; 15. Lance Hallmark, 8H, Hallmark-22.730; 16. Michael Pickens, 25, Rodela-NT; 17. Randi Pankratz, 8, Pankratz-NT; 18. Chad Nichols, 17, Nichols-NT; 19. Britton Bock, 35X, Pierovich-NT; 20. David Prickett, 27B, Blackwell-NT.

FIRST HEAT: (8 laps) 1. Abreu, 2. Pierovich, 3. Chivello, 4. Blondel, 5. Golobic. NT

SECOND HEAT: (8 laps) 1. Gardner, 2. Bell, 3. Simas, 4. Kinney, 5. Swanson, 6. Prickett, 7. Pankratz. NT

THIRD HEAT: (8 laps) 1. Thorson, 2. Marcham, 3. Schutte, 4. Gard, 5. Hallmark, 6. Nichols. NT

FEATURE: (30 laps) 1. Christopher Bell, 2. Tanner Thorson, 3. Ronnie Gardner, 4. Cody Swanson, 5. Nick Chivello, 6. Brian Gard, 7. Lance Hallmark, 8. Jarid Blondel, 9. Trey Marcham, 10. Rico Abreu, 11. Scott Pierovich, 12. Alex Schutte, 13. Taylor Simas, 14. Scott Kinney, 15. Shane Golobic, 16. Randi Pankratz, 17. David Prickett, 18. Britton Bock, 19. Chad Nichols. NT

----------------------------

*Schutte and Abreu flipped during the feature.

FEATURE LAP LEADERS: Laps 1-13 Marcham, Laps 14-25 Thorson, Laps 26-30 Bell.

NEW HONDA USAC WESTERN DIRT MIDGET POINTS: 1-Gardner-503, 2-Marcham-463, 3-Pierovich-318, 4-Blondel-292, 5-Schutte-287, 6-Shannon McQueen-203, 7-Chris Ennis-186, 8-Sean Dodenhoff-167, 9-Michols-156, 10-Tyler Dolacki-155.

NEW HONDA USAC WESTERN MIDGET POINTS: 1-Gardner-503, 2-Marcham-463, 3-Blondel-455, 4-Nichols-343, 5-Schutte-340, 6-Pierovich-327, 9-Chris Ennis-186, 10-Sean Dodenhoff-185,

NEXT HONDA USAC WESTERN MIDGET RACE: September 4 - Chico, CA - Silver Dollar Speedway

-end-

USAC SILVER CROWN CHAMPIONSHIP SERIES RACE RESULTS: August 31, 2014 - DuQuoin, Illinois - DuQuoin State Fairgrounds - "Ted Horn 100"

QUALIFICATIONS: 1. Bobby East, 10, Stewart/Curb-Agajanian-30.571; 2. Kody Swanson, 63, DePalma-30.729; 3. Jerry Coons Jr., 98, RPM/Gormly-31.199; 4. Dave Darland, 19, Longworth-31.273; 5. Shane Cockrum, 66, Hardy-31.474; 6. Zach Daum, 5, Daum-31.766; 7. Caleb Armstrong, 9, Armstrong-31.838; 8. A.J. Fike, 3, RFMS-32.266; 9. C.J. Leary, 35, Ferns-32.349; 10. Tracy Hines, 16, Lightfoot-32.388; 11. Russ Gamester, 51, Gamester-32.430; 12. Brady Bacon, 14, McQuinn-32.458; 13. Levi Jones, 56, Fox-32.491; 14. Chris Urish, 77, Urish-32.915; 15. Randy Bateman, 55, Bateman-33.038; 16. Steven Russell, 41, McQuinn-33.521; 17. Patrick Lawson, 2, Lawson-34.109; 18. Jake Simmons, 31, Simmons-34.171; 19. Chris Fetter, 88, Fetter-34.326; 20. Jackie Burke, 86, Burke-34.511; 21. Robbie Ray, 53, SET-39.720; 22. Chris Windom, 17, RW/Curb-Agajanian-NT; 23. Terry James, 23, Satterhouse-NT; 24. Jerry Bruce, 50, Bruce-NT.

FEATURE: (100 Laps) 1. Shane Cockrum, 2. Levi Jones, 3. Brady Bacon, 4. Tracy Hines, 5. A.J. Fike, 6. Russ Gamester, 7. Chris Urish, 8. Jerry Coons Jr., 9. Bobby East, 10. Steven Russell, 11. Randy Bateman, 12. Patrick Lawson, 13. Kody Swanson, 14. Chris Windom, 15. Zach Daum, 16. Dave Darland, 17. Chris Fetter, 18. Jake Simmons, 19. Caleb Armstrong, 20. C.J. Leary, 21. Robbie Ray, 22. Jackie Burke, 23. Terry James. NT

------------------------------------------------------

**Darland flipped on lap 65. Windom flipped on lap 90.

FEATURE LAP LEADERS: Laps 1-8 East, Laps 9-31 Swanson, Laps 32-41 East, Laps 42-56 Darland, Laps 57-86 Cockrum, Laps 87-89 Windom, Laps 90-100 Cockrum.

NEW USAC SILVER CROWN SERIES POINT STANDINGS: 1-Swanson-417, 2-Hines-398, 3-East-375, 4-Windom-313, 5-Coons-261, 6-Jacob Wilson-240, 7-Armstrong-215, 8-Fike-212, 9-Cockrum-201, 10-Darland-194.

NEXT USAC SILVER CROWN RACE: September 7 - Springfield, IL - Illinois State Fairgrounds - "Tony Bettenhausen 100"

-end-

USAC AMSOIL USAC/CRA/WESTERN CLASSIC SPRINT CAR SERIES RACE RESULTS: August 30, 2014 - Calistoga, California - Calistoga Speedway - "7th Louie Vermeil Classic"

QUALIFICATIONS: 1. Damion Gardner, 4, Alexander-19.453; 2. Matt Mitchell, 37, Mitchell-19.802; 3. Christopher Bell, 51T, Roth-20.003; 4. Jake Swanson, 92, Sertich-20.042; 5. Mike Spencer, 50, Chaffin-20.085; 6. Ryan Bernal, 56, Phulps-20.101; 7. Brody Roa, 91R, BR-20.187; 8. Kevin Thomas Jr., 73X, Ford-20.344; 9. Rico Abreu, 24, Abreu-20.364; 10. Geoff Ensign, 3F, Finkenbinder-20.401; 11. Bud Kaeding, 24, Bowman-20.409; 12. Robert Ballou,73, Ford-20.421; 13. Colby Copeland, 5V, VanLare-20.580; 14. D.J. Johnson, 33, Johnson-20.603; 15. Tim Barber, 3T, Finkenbinder-20.737; 16. Cody Williams, 44, Jory-20.810; 17. Scott Hall, 77J, Campanile-20.891; 18. Austin Williams, 2, Jory-20.943; 19. Marty Hawkins, 3M, Hawkins-21.131; 20. Bradley Terrell, 43, Terrell-21.159; 21. Terry Schank Jr., 1, Gleeson-21.183; 22. Logan Williams, 5, Jory-21.638; 23. Adam Brenton, 28, Brenton-21.645; 24. Trevor Schmid, 2X, Schmid-21.739; 25. Chris Gansen, 4G, Gansen-21.950.

FIRST HEAT: (8 laps) 1. Gardner, 2. Roa, 3. Swanson, 4. C.Williams, 5. Copeland, 6. Ensign, 7. Hawkins, 8. L.Williams, 9. Gansen. NT

SECOND HEAT: (8 laps) 1. Thomas, 2. Spencer, 3. Mitchell, 4. Kaeding, 5. Johnson, 6. Hall, 7. Terrell, 8. Brenton. NT

THIRD HEAT: (8 laps) 1. Ballou, 2. Abreu, 3. Bernal, 4. Bell, 5. A.Williams, 6. Barber, 7. Schank, 8. Schmid. NT

FEATURE: (30 laps) 1. Christopher Bell, 2. Damion Gardner, 3. Rico Abreu, 4. Brody Roa, 5. Robert Ballou, 6. Matt Mitchell, 7. Kevin Thomas Jr., 8. Mike Spencer, 9. Colby Copeland, 10. Bradley Terrell, 11. Cody Williams, 12. D.J. Johnson, 13. Tim Barber, 14. Austin Williams, 15. Logan Williams, 16. Terry Schank Jr., 17. Chris Gansen, 18. Jake Swanson, 19. Adam Brenton, 20. Ryan Bernal, 21. Bud Kaeding, 22. Geoff Ensign, 23. Scott Hall, 24. Marty Hawkins, 25. Trevor Schmid. NT

---------------------------

**Kaeding flipped during the feature.

FEATURE LAP LEADERS: Laps 1-10 Spencer, Laps 11-13 Bernal, Lap 14 Bell, Laps 15-23 Bernal, Laps 24-30 Bell.

NEW AMSOIL USAC/CRA SPRINT CAR POINTS: 1-Gardner-857, 2-Spencer-680, 3-Nic Faas-628, 4-Mitchell-573, 5-Roa-554, 6-A.Williams-536, 7-C.Williams-519, 8-J.Swanson-486, 9-Richard Vander Weerd-471, 10-Cory Kruseman-381.

NEXT USAC AMSOIL USAC/CRA/WESTERN CLASSIC SPRINT CAR RACE: August 31 - Calistoga (CA) Speedway - "7th Louie Vermeil Classic"

-end-

USAC HONDA WESTERN MIDGET CAR SERIES RACE RESULTS: August 30, 2014 - Calistoga, California - Calistoga Speedway - "7th Louie Vermeil Classic"

QUALIFICATIONS: 1. Rico Abreu, 97, Kunz/Curb-Agajanian-20.159; 2. Christopher Bell, 71, Kunz/Curb-Agajanian-20.245; 3. Ronnie Gardner, 68, Six8-20.371; 4. Tanner Thorson, 67, Kunz/Curb-Agajanian-20.416; 5. Michael Pickens, 25, Rodela-20.642; 6. Shane Golobic, 26, Bock-20.705; 7. Trey Marcham, 73, Ford-20.820; 8. Alex Schutte, 28, Schutte/McElwee-21.059; 9. Scott Pierovich, 35, Pierovich-21.084; 10. Taylor Simas, 62, Bock-21.206; 11. Randi Pankratz, 8, Pankratz-21.214; 12. Cody Swanson, 71S, Swanson-21.354; 13. Britton Bock, 67X, Bock-21.464; 14. Johnathon Henry, 17, Nichols-21.656; 15. Brian Gard, 88, Arata-21.748; 16. Jarid Blondel, 98, Blondel-21.817; 17. Lance Hallmark, 8H, Hallmark-22.479; 18. Scott Kinney, 27C, Blackwell-NT.

FIRST HEAT: (8 laps) 1. Thorson, 2. Abreu, 3. Marcham, 4. Simas, 5. Bock, 6. Blondel. NT

SECOND HEAT: (8 laps) 1. Bell, 2. Pickens, 3. Schutte, 4. Hallmark, 5. Henry, 6. Pankratz. NT

THIRD HEAT: (8 laps) 1. Swanson, 2. Gardner, 3. Pierovich, 4. Golobic, 5. Gard, 6. Kinney. NT

FEATURE: (30 laps) 1. Rico Abreu, 2. Christopher Bell, 3. Tanner Thorson, 4. Shane Golobic, 5. Ronnie Gardner, 6. Michael Pickens, 7. Alex Schutte, 8. Taylor Simas, 9. Scott Pierovich, 10. Jarid Blondel, 11. Britton Bock, 12. Brian Gard, 13. Lance Hallmark, 14. Trey Marcham, 15. Cody Swanson, 16. Johnathon Henry. NT

----------------------------

*Pankratz flipped during the second heat.

FEATURE LAP LEADERS: Laps 1-6 Golobic, Laps 7-27 Bell, Laps 28-30 Abreu.

NEW HONDA WESTERN DIRT MIDGET POINTS: 1-Gardner-439, 2-Marcham-419, 3-Schutte-252, 4-Pierovich-250, 5-Blondel-248, 6-Shannon McQueen-203, 7-Chris Ennis-186, 8-Sean Dodenhoff-167, 9-Tyler Dolacki-155, 10-Ricky Shelton-147.

NEW HONDA WESTERN MIDGET POINTS: 1-Gardner-439, 2-Marcham-419, 3-Blondel-411, 4-Chad Nichols-325, 5-Schutte-305, 6-Pierovich-289, 7-Shannon McQueen-203, 8-Nick Chivello-201, 9-Chris Ennis-186, 10-Sean Dodenhoff-167.

NEXT HONDA USAC WESTERN MIDGET RACE: Augsut 31 - Calistoga, CA - Calistoga Speedway - "7th Louie Vermeil Classic"

-end-

USAC SOUTHWEST SPRINT CAR RACE RESULTS: August 29, 2014 - El Paso, Texas - El Paso Speedway Park "Border Tour" (Co-sanctioned by NMMRA)

FIRST HEAT: (10 laps) 1. R.J. Johnson (#77M Michaels), 2. Charles Davis Jr. (#50 Massey), 3. Josh Pelkey (#12 Allen), 4. Robert Herrera (#9 Herrera), 5. Nick Aiuto (#27 Aiuto), 6. Michael Curtis (#11C Turner/Wheeler), 7. Don Grable (#148N Grable), 8. Jason Grady (#45 Grady), 9. Matt Ziehl (#36DD Ziehl). NT

SECOND HEAT: (10 laps) 1. Josh Hodges (#74X Hodges), 2. Shon Deskins (#20 Deskins), 3. Jesse Baker (#22 Baker), 4. Brian Hosford (#32B Weber), 5. Mike Martin (#16 Martin), 6. Katherine Aragon (#42 Aragon), 7. Joseph Hernandez (#5H Hernandez), 8. Andy Reinbold (#19 Underwood), 9. Danny Lee (#7X Lee). NT

THIRD HEAT: (10 laps) 1. Rick Ziehl (#20Z Ziehl), 2. Matt Rossi (#02 Rossi), 3. Tye Mihocko (#5 Mihocko), 4. Bo Baker (#22NM Baker), 5. Michael Fanelli (#38 Fanelli), 6. Matthew Cardienas (#7M Cardienas), 7. Stephen Spiak (#17X Spiak), 8. Kristy Smith (#4L Smith). NT

FOURTH HEAT: (10 laps) 1. Gary Gonzales (#98NM Gonzales), 2. Randy Smith (#26 Smith), 3. Dillon Tanner (#11W West), 4. Stephen Nix (#52NM Nix), 5. James Hatch (#41NM Hatch), 6. Asa Kesterson (#18 Kesterson), 7. Ronnie Smith (#19R Smith), 8. David Dykes (#55M Dykes). NT

FIRST SEMI: (12 laps) 1. Martin, 2. Hosford, 3. Grable, 4. M.Ziehl, 5. Fanelli, 6. Aragon, 7. Hernandez, 8. K.Smith, 9. Lee. NT

SECOND SEMI: (12 laps) 1. Grady, 2. Cardienas, 3. Curtis, 4. Hatch, 5. Ro.Smith, 6. Reinbold, 7. Kesterson, 8. Spiak, 9. Dykes. NT

FEATURE: (30 laps) 1. R.J. Johnson, 2. Shon Deskins, 3. Matt Rossi, 4. Josh Hodges, 5. Tye Mihicko, 6. Jesse Baker, 7. Randy Smith, 8. Bo Baker, 9. Brian Hosford, 10. Jason Grady, 11. Michael Curtis, 12. Dillon Tanner, 13. Nick Aiuto, 14. Josh Pelkey, 15. Mike Martin, 16. Matthew Cardienas, 17. Don Grable, 18. Stephen Nix, 19. Rick Ziehl, 20. Charles Davis Jr., 21. Gary Gonzales, 22. Robert Herrera. NT
---------------------------

**Davis flipped during the feature.

FEATURE LAP LEADERS: Laps 1-29 Deskins, Lap 30 Johnson.

NEW USAC SOUTHWEST SPRINT CAR POINTS: 1-Johnson-813, 2-Davis-715, 3-Pelkey-712, 4-Deskins-673, 5-Rossi-641, 6-Martin-591, 7-Mihocko-571, 8-Reinbold-460, 9-Aiuto-445, 10-Mike Colegrove-442.

NEXT USAC SOUTHWEST SPRINT CAR RACE: August 30 - Las Cruces, NM - Southern New Mexico Speedway "Border Tour" (Co-sanctioned by NMMRA)

-end-

TERRE HAUTE SPRINTS RAINED OUT - RESET FOR SEPTEMBER 18

Terre Haute, IN........Friday night's "Jim Hurtubise Classic" AMSOIL USAC National Sprint Car race at the Terre Haute Action Track was rained out and has been rescheduled for Thursday night, September 18.

-end-

LEVI JONES RETURNS FOR SUNDAY'S "TED HORN 100"

One of USAC's most proficient drivers, Levi Jones, will return to the cockpit Sunday night in the "Ted Horn 100" USAC Silver Crown race at the beautiful DuQuoin (Ill.) State Fairgrounds.

The one-mile oval sits just an hour southeast of Jones' present residence of Swansea, Ill. and about thesame distance southwest of his hometown of Olney, Ill. and his appearance will end his USAC hiatus, which began just over a year ago. Last year he recorded his third career Silver Crown victory in the prestigious Hoosier Hundred" in Indianapolis, Ind. and he has 28 career Sprint wins and four in the Midgets.

Jones will pilot the famed #56 entry for long-time car owner Galen Fox, the 1994 DuQuoin winner with Chuck Gurney driving. Fox also entered the recent Springfield race with driver Jon Stanbrough.

The 2010 and 2011 USAC Silver Crown Champion and five-time USAC National Sprint Car Champion looks forward to Sunday's race: "It's a race I'd like to win, for sure," says Levi. "Not having competed full-time in a year or so, I feel like the miles (DuQuoin and Springfield) are ones where you can race and have some fun and I didn't want to pass up the opportunity to drive for Galen. "He's definitely got a car that can win the race. DuQuoin has special meaning for me, so close to my home. We used to go to the races every year and I've been going there for more than 20 years now."

Jones' last USAC appearance came in last year's "Eastern Storm" Sprint races in Pennsylvania and New Jersey where he recorded three "top-10s."

He'll face a formidable field of USAC Champions and Illinois veterans. They include USAC driving champions Bobby East, Tracy Hines, Dave Darland, Chris Windom, Russ Gamester, Kody Swanson, Robbie Ray, Jerry Coons Jr. and Caleb Armstrong, plus Illinois vets (Windom included) Patrick Lawson, A.J. Fike, Zach Daum, Steven Russell, Randy Bateman, Shane Cockrum and Chris Urish.

Urish shocked the series regulars with his "Ted Horn 100" victory a year ago, while Fike also has a couple of recent victories in the "Tony Bettenhausen 100" at the Illinois State Fairgrounds which returns to Springfield next week (September 7).

Practice at DuQuoin begins at 5 pm, followed by qualifications and the 100-mile "Ted Horn 100."

-end-
DARLAND'S #53 BREAKS ONE OF USAC's CHERISHED ALL-TIME MARKS

The "People's Champ" is now USAC's winningest Sprint Car driver of all time!

Dave Darland's remarkable career has carried him to a record few thought would ever be broken. And, it took him 22 years to break it, scoring his 52nd and 53rd victories this past week to surpass the mark of 52 established by Tom Bigelow during his USAC career. The Bigelow record stood for 33 years!

It was fitting that Bigelow was one of the first to congratulate Darland in victory lane Sunday after the historic win.

Beginning with the 1993 "Tony Hulman Classic" at the Terre Haute (Ind.) Action Track, Dave's career has included wins at 27 tracks in nine states, including Indiana, Iowa, Ohio, Nebraska, Pennsylvania, Arizona, California, Wisconsin and Arkansas.

In terms of track wins, he has eight Sprint wins at Kokomo, six at Lawrenceburg and five ach at Eldora Speedway and Putnamville, Ind. He has won for nine different teams, including 13 each with Jeff Walker Racing and his current owner, Phillips Motorsports and 12 wins with Dynamics, Inc.

His latest wins have him on the threshold of another significant USAC mark - 100 total USAC National feature wins! He now has 96 and four more will put him in company with only three previous drivers - A.J. Foyt, Rich Vogler and Mel Kenyon.

Bigelow's achievement occurred with wins between 1969 and 1981 and included 14 wins in 1977, ironically a year in which he did NOT win the series title. Actually, Bigelow posted his 14th win that year by mid-July but was unable to add any more the remainder of that year. The following year, with less wins, Bigelow secured the USAC National Sprint Car championship.

Darland has now won USAC feature events in 22 consecutive years (1993-2014), a feat unmatched in USAC's 59-year history.

-end-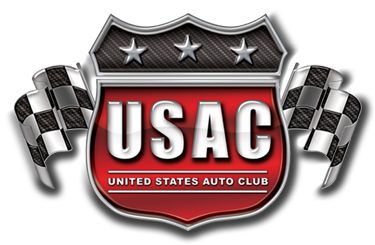 National Sprints
2014 points
Sept. 18
1. Brady Bacon 1623
2. Dave Darland 1606
3. Bryan Clauson 1572
4. Jon Stanbrough 1517
5. Chase Stockon 1399
6. Tracy Hines 1276
7. Chris Windom 1263
8. Justin Grant 1260
9. Robert Ballou 1207
10. C.J. Leary 1115
National Dirt Midgets
Aug. 18
1. Rico Abreu 822
2. Tracy Hines 740
3. Christopher Bell 719
4. Bryan Clauson 675
5. Zach Daum 606
6. Chris Windom 559
7. Tanner Thorson 531
8. Michael Pickens 499
9. Dave Darland 418
10. Andrew Felker 378
Silver Crown
Sept. 7
1. Kody Swanson 483
2. Tracy Hines 456
3. Bobby East 429
4. Chris Windom 363
5. Jerry Coons Jr. 303
6. Jacob Wilson 269
7. A.J Fike 263
8. Dave Darland 233
9. Caleb Armstron 228
10. Shane Cockrum 213
USAC/CRA
Sept. 13
1. Damion Gardner 1189
2. Mike Spencer 936
3. Brody Roa 790
4. Cody Williams 751
5. Matt Mitchell 750
6. Austin Williams 7224
7. Jake Swanson 640
8. Nic Faas 628
9. R. Vander Weerd 574
10. Logan Williams 464