CHOWCHILLA CANCELLED

Sunday's USAC HPD Western Dirt Midget race at Chowchilla (Calif.) Speedway has been cancelled due to rain and wet grounds. It marks the fourth time in nine years that a USAC race at Chowchilla has fallen to the elements.

-end-
WESTERN HPD DIRT MIDGETS OPEN AT CHOWCHILLA

Hopefully the fourth time will be the charm as the one-third mile dirt Chowchilla (Calif.) Speedway hosts the USAC HPD Dirt Midgets this Saturday night. Weather conspired to force cancellation of USAC events scheduled there in 2007, 2009 and 2012.

Saturday's race opens the 2014 dirt calendar for the USAC HPD Midgets. Bakersfield (Calif.) driver Cory Elliott emerged as the 2013 series champion and is expected to compete at Chowchilla and defend his title.

Jarid Blondel, who finished sixth in last Friday's Honda USAC Western Midget opener, won last year's 2013 USAC HPD Midget overall championship.

Elliott won three races during the 2013 dirt campaign, which also included a trio of seconds, a fourth and a fifth.

-end-

LVMS DIRT TRACK'S "SIN CITY SHOWDOWN" THURSDAY OPENS WEST COAST SPRINT CAR SERIES

Danny Faria Jr. opens defense of his 2013 USAC West Coast Sprint Car championship this Thursday when the 2014 series debuts in the "Sin City Showdown" at the Las Vegas (Nev.) Motor Speedway Dirt Track.

The half-mile oval has has hosted numerous USAC events in the past 18 years, including Sprint Cars, Midgets, Silver Crown Cars, TQ Midgets and even TORC Trucks. Thursday night's race opens the three-race USAC West Coast/Southwest "Grudge Series" which also includes races September 27 at Canyon and November 11 at Perris, Calif.

AMSOIL USAC Sprint Car king Bryan Clauson won last year's Sprint race at LVMS, while former LVMS USAC Sprint winners include NASCAR vets Josh Wise and Cole Whitt. Thursday night's race helps kick off the facility's big weekend which concludes with Sunday's Kobalt 400 NASCAR Sprint race.

Faria, who beat Richard Vander Weerd by 27 points for the 2013 West Coast title, did not compete at LVMS last year, but Vander Weerd did and finished third behind National Champ Clauson and USAC Southwest Sprint Car Champ R.J. Johnson. Faria, who has five career West Coast wins to his credit, scored three of those on his way to the 2013 title.

Third-ranking West Coast Sprint driver Bud Kaeding was the winner of the 2012 LVMS Sprint clash.

Thursday's race also includes USAC Southwest Sprint participants, who will compete under "special event" no points status.

-end-

PERRIS NEXT UP FOR CRA MARCH 15; GARDNER WINS "COPPER ON DIRT" THRILLER; RAIN TAKES SATURDAY

The AMSOIL USAC/CRA Sprint Cars resume action March 15 at Perris (Auto) Speedway and defending series champion Damion Gardner carries the early point lead into that race after winning at Peoria, Ariz. Friday night.

Gardner, of Concord, Calif., led the final two laps of the opening race at the 7th "Copper on Dirt" at Canyon Speedway Park. He passed R.J. Johnson on the white flag lap and withstood the challenges of Johnson and Gary Taylor to put his Scott Sales/Advanced Racing Suspension Spike/J & D in victory lane. Johnson was second ahead of Taylor, Charles Davis Jr. and Josh Hodges. Taylor led the first 23 laps and Johnson led the next five before Gardner took over.

Rains and flooding in the Phoenix area forced cancellation of Saturday night's "Copper on Dirt" finale.

Gardner's Peoria victory was his 47th in USAC/CRA history. The all-time series leader also has a record 26 Perris USAC/CRA wins compared to five-time series champion Mike Spencer's 25. Each won a race at the PAS last year.

2014 AMSOIL USAC/CRA Sprint Car Standings: 1-Damion Gardner-68, 2-R.J. Johnson-65, 3-Gary Taylor-60, 4-Charles Davis Jr.-58, 5-Nic Faas-55, 6-Josh Hodges-51, 7-Mike Martin-50, 8-Jake Swanson-42, 9-Colby Copeland-40, 10-Matt Mitchell-39.

-end-

RAINS FORCE "COPPER ON DIRT" CANCELLATION

Peoria, AZ........Heavy rains in the Phoenix area have forced cancellation of Saturay night's closing event of this year's 7th "Copper on Dirt" AMSOIL USAC/CRA Sprint Car and Honda USAC Western Midget races at Canyon Speedway Park.

-end-
AMSOIL USAC/CRA SPRINT CAR RACE RESULTS: February 28, 2014 - Peoria, Arizona - Canyon Speedway Park - 7th "Copper on Dirt"

QUALIFICATIONS: 1. Mike Spencer, 50, Chaffin-13.476; 2. Nic Faas, 73, Ford-13.810; 3. Mike Martin, 16, Martin-13.814; 4. R.J. Johnson, 51, Martin-13.942; 5. Damion Gardner, 4, Alexander-13.968; 6. Gary Taylor, 4x, Cook-14.027; 7. Colby Copeland, 74, Williams-14.071; 8. Charles Davis Jr., 50x, Massey-14.078; 9. Cody Williams, 44, Jory-14.109; 10. Jake Swanson, 92, Sertich-14.137; 11. Josh Hodges, 74x, Hodges-14.211; 12. Dave Darland, 45, Grady-14.268; 13. Matt Mitchell, 37, Mitchell-14.330; 14. Cory Kruseman, 7, Priestley-14.399; 15. Josh Pelkey, 12, Allen-14.406; 16. Austin Williams, 2, Jory-14.456; 17. J.J. Ercse, 14, Springstead-14.675; 18. Chris Gansen, 4G, Gansen-14.783; 19. Logan Williams, 5, Jory-14.862; 20. Michael Curtis, 11c. Turner/Wheeler-17.488; 21, Brody Roa, 91R, BR-NT.

FIRST HEAT: (8 laps) 1. A.Williams, 2. Spencer, 3. Mitchell, 4. Johnson, 5. Copeland, 6. Swanson, 7. L.Williams. NT

SECOND HEAT: (8 laps) 1. Kruseman, 2. Davis, 3. Gardner, 4. Faas, 5. Ercse, 6. Hodges, 7. Curtis. NT

THIRD HEAT: (8 laps) 1. Pelkey, 2. C.Williams, 3. Darland, 4. Taylor, 5. Martin, 6. Roa, 7. Gansen. NT

FEATURE: (30 laps) 1. Damion Gardner, 2. R.J. Johnson, 3. Gary Taylor, 4. Charles Davis Jr., 5. Josh Hodges, 6. Nic Faas, 7. Mike Martin, 8. Jake Swanson, 9. Colby Copeland, 10. Matt Mitchell, 11. Dave Darland, 12. Cody Williams, 13. Josh Pelkey, 14. Austin Williams, 15. Brody Roa, 16. Mike Spencer, 17. Logan Williams, 18. Michael Curtis, 19. J.J. Ercse, 20. Chris Gansen, 21. Cory Kruseman. NT

----------------------------

FEATURE LAP LEADERS: Laps 1-23 Taylor, Laps 24-28 Johnson, Laps 29-30 Gardner.

NEW AMSOIL USAC/CRA SPRINT POINTS: 1-Gardner-68, 2-Johnson-65, 3-Taylor-60, 4-Davis-58, 5-Faas-55, 6-Hodges-51, 7-Martin-50, 8-Swanson-42, 9-Copeland-40, 10-Mitchell-39.

NEXT AMSOIL USAC/CRA SPRINT RACE:March 1, 2014 - Peoria, AZ - Canyon Speedway Park - 7th "Copper on Dirt"

-end-

HONDA USAC WESTERN MIDGET DIRT RACE RESULTS: February 28, 2014 - Peoria, Arizona - Canyon Speedway Park - 7th "Copper on Dirt"

QUALIFICATIONS: 1. Trey Marcham, 73, Ford-14.250; 2. Alex Schutte, 28, Schutte/McElwee14.256; 3. Jake Swanson, 5, VanDyne/Swanson-14.367; 4. R.J. Johnson, 51, Martin-14.425; 5. Jarid Blondel, 98, 14.534; 6. Chad Nichols, 17, 14.988; 7. Terry Goodwin, 2G, Goodwin-15.173; 8. Ronnie Gardner, 68, Six8-NT; 9. Jeffrey Perry, 28x, Perry-NT.

HEAT RACE: (8 laps) 1. Johnson, 2. J.Swanson, 3. Marcham, 4. Schutte, 5. Blondel, 6. Nichols, 7. Goodwin. NT

FEATURE: (20 laps) 1. R.J. Johnson, 2. Alex Schutte, 3. Trey Marcham, 4. Terry Goodwin, 5. Jake Swanson, 6. Jarid Blondel, 7. Chad Nichols, 8. Ronnie Gardner. NT

----------------------------

**Nichols flipped during the feature.

FEATURE LAP LEADERS: Laps 1-20 Johnson.

NEW HONDA USAC WESTERN MIDGET DIRT POINTS: 1-Johnson-71, 2-Schutte-67, 3-Marcham-66, 4-Swanson-59, 5-Goodwin-53, 6-Blondel-51, 7-Nichols-46, 8-Gardner-39.

NEXT HONDA USAC WESTERN MIDGET DIRT RACE:March 1, 2014 - Peoria, AZ - Canyon Speedway Park - 7th "Copper on Dirt"

-end-
GARDNER OPENS CRA DEFENSE AT PEORIA'S "COPPER ON DIRT"

Damion Gardner begins defense of his 2013 AMSOIL USAC/CRA Sprint Car title this weekend at Canyon Speedway Park in Peoria, Ariz. The 7th "Copper on Dirt" features both the USAC/CRA Sprints and Honda Western Midgets in USAC "doubleheaders" both Friday and Saturday at the 3/8-mile dirt oval near Phoenix. IMCA Modified and West Coast and CDM Late Model competition also is on tap during the two nights.

Charles Davis Jr. and R.J. Johnson are seeking to return to the top of the all-time USAC Arizona winners' list. Each have 11 as opposed to Bryan Clauson's 12 and both are expected to be top challengers for Gardner this weekend.

Gardner leads the all-time list of USAC/CRA winners with 46 victories. Five came last year on his way to his second series title. He has eight career USAC wins in the Grand Canyon State, but none at Canyon. He won five times at Manzanita Park in Phoenix, twice at Yuma and once at Tucson.

Johnson, the Phoenix driver who won 11 USAC races in Arizona last year and claimed USAC's Southwest Sprint Car Championship, won five races at Peoria in 2013.

Mike Spencer, the 5-time AMSOIL USAC/CRA Champ from Temecula, Calif., plans to be among top contenders this weekend. He won last year's "Brawl for it All" grudge series race at Canyon. He's expected to team up with Cory Kruseman this weekend.

Two day discounted tickets may be purchased in advance and ticket pricing/purchasing information can be found online at: http://www.canyonspeedwaypark.com/?page_id=879 or by calling the Canyon Speedway office at 602-258-7223.

-end-

AMSOIL SPRINTS EYE APRIL 5 RACE AT LAWRENCEBURG; BACON, CLAUSON SNARE OCALA OPENERS; DARLAND REACHES 1,000!

Defending two-time AMSOIL USAC National Sprint Car Champion Bryan Clauson of Noblesville, Ind. will continue his pursuit of a third consecutive series championship when the series resumes April 5 at the Lawrenceburg (Ind.) Speedway. Clauson won last September's race at the 3/8-mile dirt oval.

Clauson hopes to join Steve Butler, Robbie Stanley and Levi Jones as drivers who have strung together three straight titles. He enters the Lawrenceburg race with a four-point lead over 2013 series runner-up Dave Darland after winning Saturday night's "Winter Dirt Games V" finale at Bubba Raceway Park in Ocala, Fla.

Clauson trailed Justin Grant for the first 22 laps, then led the final eight circuits in his Tony Stewart/Curb-Agajanian Racing Chevy Performance Beast/Kistler. Grant took second ahead of Chase Stockon, Darland and Robert Ballou.

Clauson finished seventh in Thursday night's Ocala opener behind race winner Brady Bacon of Broken Arrow, Okla. Bacon passed Tracy Hines on lap 18 and led the rest of the 30-lap race in the Mean Green/Lykins Oil Triple X/Stanton Mopar to give car owner Dynamics, Inc. its all-time record 83rd series feature victory. Hines led 16 laps and finished second ahead of Darland, Shane Cottle and Stockon.

Darland, who led a lap on Thursday, celebrated his all-time USAC record 1,000th National feature start and was presented an Oakley Watch by USAC President/CEO Kevin Miller.

Bacon was Thursday's Pro Source fastest qualifier and Kody Swanson paced Pro Source qualifying on Saturday. Each fast qualifying record was worth a $200 bonus from Pro Source. Friday's races were rained out.

2014 AMSOIL USAC National Sprint Car Standings: 1-Bryan Clauson-125; 2-Dave Darland-121; 3-Chase Stockon-118; 4-Tracy Hines-117; 5-Justin Grant-114; 6-Brady Bacon-111; 7-Shane Cottle-106; 8-Jon Stanbrough-87; 9-Chris Windom-84; 10-Robert Ballou-74.

-end-

"COPPER ON DIRT" OPENS WESTERN MIDGET SLATE

The 2014 Honda USAC Western Midget slate debuts this weekend in the 7th "Copper on Dirt" at Canyon Speedway Park in Peoria, Ariz. The Midgets share the weekend billing with the AMSOIL USAC/CRA Sprint Cars, IMCA Modifieds and West Coast and CDM Late Model competition on Canyon's 3/8-mile dirt oval located near Phoenix.

Defending Honda Western Midget titlist Ronnie Gardner of Norco, Calif. hopes to pick up where he left off last year, a year which yielded nine feature wins among 15 podium finishes in 21 starts. He'll be seekingp his initial wins in the state when action unfolds Friday and Saturday nights.

Jake Swanson David Prickett, Scott Pierovich and Shannon McQueen rounded out the "top-five" in last year's Honda USAC Western Midget standings.

Last year's "Copper on Dirt" Midget competition was swept by Bryan Clauson, who also posted three of the four "Copper on Dirt" Sprint wins last year as well.

-end-
CLAUSON CLOSES "WINTER DIRT GAMES V" WITH OCALA WIN

Bryan Clauson is joined by Justin Grant and Chase Stockon on the Bubba Raceway Park podium. Winner Bryan Clauson is joined by Justin Grant and Chase Stockon on the Bubba Raceway Park podium. Rich Forman Photo

Ocala, Florida…….Defending AMSOIL Sprint Car National Champion Bryan Clauson let it be known that his title defense will be strong as he finished "Winter Dirt Games V" in Ocala, Florida with a win in Saturday's 30-lap feature. The Noblesville, Indiana driver's 26th career win put him into a tie for 14th with Tony Elliott and Dave Steele.

Ione, California's Justin Grant got the jump and held the lead as Chase Stockon vaulted from row two to second. Clauson stuck the bottom on the opening corner and came out of the fray in third. Just after, Stockon lost the front-end while applying pressure to Grant and watched Clauson move underneath for the runner-up spot.

Clauson hounded Grant for the remainder of the race, which included six restarts over the course of the race. At one point, Clauson drew even through three and four, but Grant fought him off as he pulled a wheelstand down the frontstretch and shut the door into turn one.

The winning move finally came on the final restart, as Grant bobbled in turn-one and then charged into turn-three to hold his lead, only to see Clauson pivot to the bottom of turn-four and pull past him to the flagstand. Clauson was unchallenged from there, winning aboard the Tony Stewart/Curb-Agajanian Racing – Chevy Performance #20 Beast/Kistler.

"I just needed to get my nose in there and put pressure on him and try to force a mistake. Justin did a great job, but we were definitely better on restarts. He made just a couple mistakes under green and I wasn't there to get him. We finally forced his hand enough to get him. It's a huge start to the year for us, to be in contention on both nights with two very different surfaces," Clauson said.

Grant finished second, capping off a solid trip with two top-fives in his first nights back with the Mark Hery Racing – S&H Nerf Bars #40 DRC/Claxton.

"I was trying. We hung tough for about as long as we could. The restarts were just killing me. The last one, I just hit the hole a little in turn-one, and that was all it took to give him a shot. I raced it down to three until he finally got me off four. It's great to be back with this bunch and feel like my old self again," Grant said.

Stockon recovered from his early issues to draw away from the rest of the field and securely finish third in the Superior Tank & Trailer – Crescent Electric Supply #32 DRC/Fisher.

"We're definitely happy to come out of Florida again with a couple top-fives. We kinda fought handling problems some down here this year, and we went back to some of our old notes from here for the feature, but it was just a little snug. We were better without the cautions, so those hurt us. But we're satisfied to be picking up where we left off last year with the Superior Tank & Trailer Fisher-powered DRC," Stockon said.

Dave Darland finished fourth in the Phillips Motorsports – Racer's Advantage Store #71P DRC/Foxco, while Robert Ballou bounced back from a flip on Thursday to finish fifth in the Ballou Motorsports – Butlerbuilt Seat Systems #12 Maxim/Ott.

Kody Swanson began the night by setting the ProSource "Fast Time Award" aboard the DePalma Motorsports #63.
AMSOIL USAC NATIONAL SPRINT CAR RACE RESULTS: February 22, 2014 - Ocala, Florida - Bubba Raceway Park - "Winter Dirt Games V"

QUALIFICATIONS: 1. Kody Swanson, 63, DePalma-14.261; 2. Hunter Schuerenberg, 20N, Schuerenberg/Nolen-14.345; 3. Chris Windom, 11, Walker-14.367; 4. Bryan Clauson, 20, Stewart/Curb-Agajanian-14.375; 5. Shane Cockrum, 66, Wade-14.410; 6. Tracy Hines, 4, Hines-14.434; 7. Carson Short, 21, Short-14.697; 8. Chase Stockon, 32, 32/TBI-14.712; 9. Dave Darland, 71P, Phillips-14.750; 10. Robert Ballou, 12, Ballou-14.755; 11. Justin Grant, 40, Hery-14.820; 12. Logan Jarrett, 29, Jarrett-14.847; 13. Kevin Thomas, Jr., 17RW, Dutcher/RW/TriStar-14.890; 14. Brady Bacon, 69, Dynamics-14.910; 15. Jon Stanbrough, 37RW, Dutcher/RW/TriStar-14.936; 16. Aaron Farney, 15F, Farney-14.987; 17. Jarett Andretti, 18, Andretti Autosport Short Track-15.001; 18. Mark Smith, 1M, Mach1-15.010; 19. Mitch Wissmiller, 1, Wissmiller-15.126; 20. Travis Hery, 21H, Hery-15.129; 21. Dalten Gabbard, 5, Baldwin-15.170; 22. C.J. Leary, 30, Leary-15.205; 23. Shane Cottle, 2E, Epperson-15.291; 24. Casey Shuman, 21x, Pollock-15.369; 25. Chris Jones, 59, Powell-15.405; 26. Nathan Moore, 48, Moore-15.612; 27. Derek Hastings, 32M, Marshall-15.816; 28. Matt Westfall, 54, Best Performance-16.107; 29. Steve Irwin, 2M, Marshall-16.125; 30. Collin Cabre, 12c, Cabre-16.147; 31. Mike Weber, 22, Weber-16.658; 32. Frank Carlsson, 20x, Carlsson-16.765.

FIRST HEAT: (8 laps) 1. Darland, 2. Gabbard, 3. Andretti, 4. Swanson, 5. Thomas, 6. Cockrum, 7. Irwin, 8. Jones. 1:59.14

SECOND HEAT: (8 laps) 1. Smith, 2. Bacon, 3. Leary, 4. Ballou, 5. Hines, 6. Moore, 7. Cabre, 8. Schuerenberg. NT

THIRD HEAT: (8 laps) 1. Cottle, 2. Wissmiller, 3. Grant, 4. Stanbrough, 5. Windom, 6. Short, 7. Hastings, 8. Weber. NT

FOURTH HEAT: (8 laps) 1. Clauson, 2 .Shuman, 3. Jarrett, 4. Stockon, 5. Hery, 6. Farney, 7. Carlsson, 8. Westfall. 1:56.22

SEMI: (12 laps) 1. Hines, 2. Cockrum, 3. C.Short, 4. Thomas, 5. Windom, 6. Schuerenberg, 7. Farney, 8. Hery, 9. Cabre, 10. Hastings, 11. Irwin, 12. Carlsson, 13. Moore, 14. Jones, 15. Weber. 3:01.02

FEATURE: (30 laps) 1. Bryan Clauson, 2. Justin Grant, 3. Chase Stockon, 4. Dave Darland, 5. Robert Ballou, 6. Tracy Hines, 7. Chris Windom, 8. Shane Cottle, 9. Jon Stanbrough, 10. Brady Bacon, 11. Kody Swanson, 12. Casey Shuman, 13. Jarett Andretti, 14. Shane Cockrum, 15. Logan Jarrett, 16. C.J. Leary, 17. Mark Smith, 18. Dalten Gabbard, 19. Carson Short, 20. Hunter Schuerenberg, 21. Mitch Wissmiller, 22. Kevin Thomas, Jr. NT

----------------------------

**Schuerenberg flipped during the second heat.

FEATURE LAP LEADERS: Laps 1-22 Grant, Laps 23-30 Clauson.

NEW AMSOIL NATIONAL SPRINT POINTS: 1-Clauson-125; 2-Darland-121; 3-Stockon-118; 4-Hines-117; 5-Grant-114; 6-Bacon-111; 7-Cottle-106; 8-Stanbrough-87; 9-Windom-84; 10-Ballou-74.

NEXT AMSOIL NATIONAL SPRINT RACE: April 5 - Lawrenceburg (IN) Speedway

-end-
Bacon On Top To Open Ocala
Ocala, Florida…….Brady Bacon started off his bid for the 2014 USAC AMSOIL Sprint Car National Championship with a win in Thursday's season opening "Winter Dirt Games V" feature at Bubba Raceway Park. The 24-year old Broken Arrow, Oklahoma native, who finished third in points last year, already equaled his win total from 2013 aboard the all-time winningest entry in the series. With the win, the famed Hoffman Auto Racing group claimed their 83rd series victory.

Veterans Dave Darland and Tracy Hines led the field to green and diced hard in the opening laps, both seeking victories to advance their hunt of Tom Bigelow for the all-time series win record. After leading the opening lap, Hines saw Darland blast by before retaking the point in turn-one on lap three.

From there, Hines led at the front as defending series champion Bryan Clauson moved past Darland for second. Just behind him, Bacon was on the move from his sixth-starting spot, earned by virtue of his ProSource "Fast Qualifier Award," which was worth $200.

After a flip on lap nine, Clauson went to work on Hines for the lead as Bacon trailed. The top three pulled away until Clauson suffered misfortune on lap 15, flattening a right-rear tire while all over Hines for the top spot. He restarted at the tail and would advance all the way to 7th at the checkered.

From there, it was a two-horse race as Bacon cut low off turn-four to steal the lead on lap 18 and race away from Hines. Without a caution, Bacon negotiated traffic to come home with a 2.593-second victory aboard the Mean Green – Lykins Oil #69 Triple X/Stanton Mopar.

"This probably wouldn't have been a track we would have won on last year, so it's a relief to get one right away. We've changed a lot of things to be good on a slicker track like this. We ran a ton of laps in practice last night, and it paid off. I didn't think the top would last in turn-four, and I was just trying to hit that one little wet spot every time down lower. I think Clauson was gonna be a threat, but unfortunately for him, he got a flat. This bunch worked really hard in the winter, and I'm proud of them," said the 24-year-old Bacon.

Hines held on for a strong second after leading sixteen laps in The Carolina Nut Company – Hansen's Welding #4 DRC/Stanton Chevy.

"I struggled out of four all night. I just never got it figured out. Nothing I tried could fix it. Once Brady got me, I tried to attack it harder and it just wasn't there. We're better when it's slick than we have been, but it's just not enough yet. It was a good run, though, and a good first night for our Carolina Nut Company team," Hines said.

Darland began to track Hines back down through traffic in the closing laps but had to settle for third in the Phillips Motorsports – Racer's Advantage Store #71P DRC/Foxco.

"It was a really tricky track tonight, with a real slick end and then some holes on entry into one before you slide up and hit the cushion. We made a few adjustments under the red and just tried to figure out where the car was happy. It came around some at the end, and we had a chance at Tracy in traffic, but I could only gain on him off of four," Darland said.

Shane Cottle completed a strong night with a heat race win and a fourth-place finish after starting tenth in the Epperson Painting – PPG #2 Spike/Claxton. Chase Stockon rounded out the top-five in the Superior Tank & Trailer – Crescent Electric Supply #32 DRC/Fisher.
AMSOIL USAC NATIONAL SPRINT CAR RACE RESULTS: February 20, 2014 - Ocala, Florida - Bubba Raceway Park - "Winter Dirt Games V"

QUALIFYING: 1. Brady Bacon, 69, Dynamics-14.564; 2. Chase Stockon, 32, 32/TBI-14.704; 3. Bryan Clauson, 20, Stewart/Curb-Agajanian-14.733; 4. C.J. Leary, 30, Leary-14.819; 5. Tracy Hines, 4, Hines-14.956; 6. Dave Darland, 71P, Phillips-14.997; 7. Chris Windom, 11, Walker-15.031; 8. Kevin Thomas, Jr., 17RW, Dutcher/RW/TriStar-15.050; 9. Justin Grant, 40, Hery-15.076; 10. Shane Cottle, 2E, Epperson-15.084; 11. Jarett Andretti, 18, Andretti Autosport Short Track-15.125; 12. Jon Stanbrough, 37RW, Dutcher/RW/TriStar-15.160; 13. Matt Westfall, 54, Best Performance-15.225; 14. Carson Short, 21, Short-15.232; 15. Mark Smith, 1M, Mach1-15.236; 16. Robert Ballou, 12, Ballou-15.281; 17. Casey Shuman, 21x, Pollock-15.366; 18. Travis Hery, 21H, Hery-15.375; 19. Brady Short, 11P, Pottorff-15.418; 20. Shane Cockrum, 66, Wade-15.504; 21. Hunter Schuerenberg, 20N, Schuerenberg/Nolen-15.540; 22. Logan Jarrett, 29, Jarrett-15.541; 23. Aaron Farney, 15F, Farney-15.549; 24. Dalten Gabbard, 5, Baldwin-15.562; 25. Kody Swanson, 63, DePalma-15.658; 26. Derek Hastings, 32M, Marshall-15.738; 27. Steve Irwin, 2M, Marshall-15.753; 28. Mitch Wissmiller, 1, Wissmiller-15.846; 29. Collin Cabre, 12c, Cabre-15.974; 30. Daylan Chambers, 4c, Chambers-16.170; 31. Chris Jones, 59, Powell-16.558; 32. Nathan Moore, 48, Moore-16.853; 33. Frank Carlsson, 20x, Carlsson-17.110; 34. Mike Weber, 22, Weber-18.193.

FIRST HEAT: (8 laps) 1. Hines, 2. Schuerenberg, 3. Grant, 4. Bacon, 5. Shuman, 6. Cabre, 7. Swanson, 8. Carlsson, 9. Westfall. 2:05.08

SECOND HEAT: (8 laps) 1. Cottle, 2. Darland, 3. Stockon, 4. Hery, 5. Jarrett, 6. Hastings, 7. Chambers, 8. C. Short, 9. Weber. NT

THIRD HEAT: (8 laps) 1. Clauson, 2. Short, 3. Andretti, 4. Smith, 5. Windom, 6. Farney, 7. Jones, 8. Irwin. 2:04.80

FOURTH HEAT: (8 laps) 1. Ballou, 2. Stanbrough, 3. Thomas, 4. Leary, 5. Cockrum, 6. Moore, 7. Wissmiller, 8. Gabbard. NT

SEMI: (12 laps) 1. Windom, 2. Westfall, 3. C. Short, 4. Shuman, 5. Cockrum, 6. Wissmiller, 7. Gabbard, 8. Swanson, 9. Farney, 10. Hastings, 11. Jones, 12. Carlsson, 13. Cabre, 14. Chambers, 15. Moore. NT

FEATURE: (30 laps) 1. Brady Bacon, 2. Tracy Hines, 3. Dave Darland, 4. Shane Cottle, 5. Chase Stockon, 6. Justin Grant, 7. Bryan Clauson, 8. Jon Stanbrough, 9. Hunter Schuerenberg, 10. Chris Windom, 11. C.J. Leary, 12. Casey Shuman, 13. Kevin Thomas Jr., 14. Mitch Wissmiller, 15. Jarett Andretti, 16. Mark Smith, 17. Shane Cockrum, 18. Travis Hery, 19. Carson Short, 20. Robert Ballou, 21. Brady Short, 22. Matt Westfall. NT

------------------------------

**Wissmiller flipped in Heat 4. Ballou & B. Short flipped on lap 9 of the Feature.

FEATURE LAP LEADERS: Lap 1 Hines, Lap 2 Darland, Laps 3-17 Hines, Laps 18-30 Bacon.

NEW AMSOIL NATIONAL SPRINT POINTS: 1-Bacon-71; 2-Hines-67; 3-Darland-62; 4-Cottle/Stockon-59; 6-Clauson-56; 7-Stanbrough-46; 8-Schuerenberg-43; 9-Leary-39; 10-Windom-37.

NEXT AMSOIL NATIONAL SPRINT RACE: February 21 - Ocala, FL - Bubba Raceway Park - "Winter Dirt Games V"

-end-
CLAUSON READY FOR DEFENSE, SEEKS ELUSIVE 3RD-STRAIGHT TITLE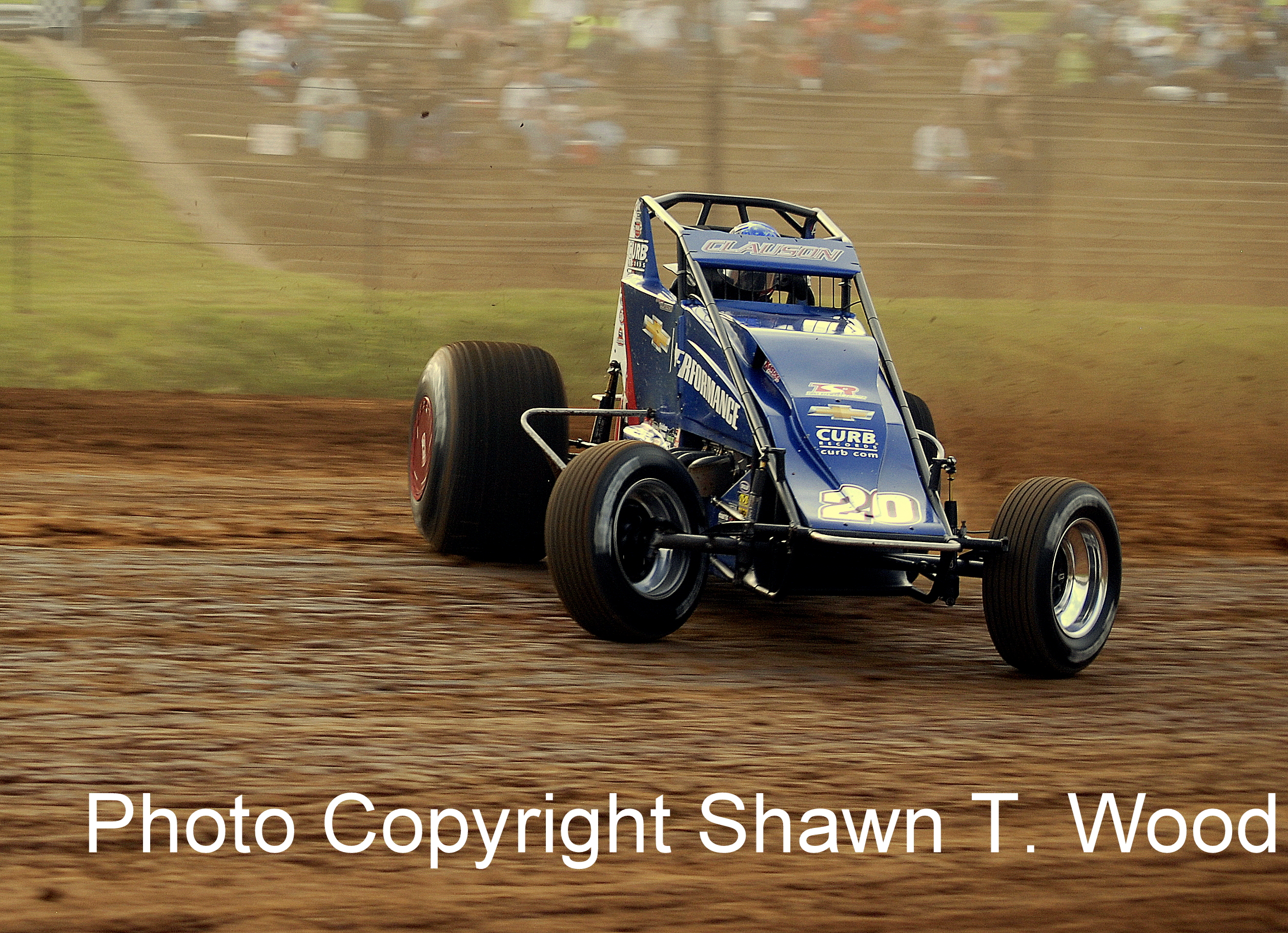 Bryan Clauson at speed on the frontstretch at Bloomington Speedway during qualifying for the Larry Rice Classic. Photo Copyright Shawn T. Wood/Shawn Wood Productions.

Only three drivers in the history of the AMSOIL Sprint Car National Championship have achieved the feat of back-to-back-to-back titles, but Noblesville, Indiana's Bryan Clauson will start the 2014 season on Thursday at Bubba Raceway Park in Ocala, Florida with that exact result in mind.

After recovering from four missed races due to other commitments to win his first championship with the Corey Tucker/BCI/Curb-Agajanian Racing #7 in 2012, Clauson stepped into the Tony Stewart/Curb-Agajanian Racing #20 for 2013 and picked up where he left off. Seven wins each season and both championships now present him with the opportunity to join Steve Butler, Robbie Stanley, and Levi Jones as the only drivers to take three-straight.

"Walking into an organization like that, where they have a tradition of winning championships, is a lot of pressure. To step in and go through the process, with the downs and ups of the season, it was satisfying and a lot of fun to work ourselves into form and contend for the championship. I'm excited about some changes we made through last season and in the offseason, so hopefully we can come out even stronger and defend it," Clauson said.

The TSR operation was no stranger to success and championships, as Jones won four-of-five championships before Clauson broke through in 2012. The 2013 season posed a legitimate test, however, as the team saw changes in nearly every area. In addition to the change in the seat, only Brad Mariscotti remained from the crew, and the team switched to Beast Chassis. For the first race of the year, car builder Bob East joined the team as an advisor and Warren Beard completed the crew assembled by race director Jimmy Carr. East would become a full-time addition early in the season.

Despite winning their first race out of the box in a spirited battle with Dave Darland, the beginning of the season was self-described as "challenging." Still, the group found enough footing for Clauson to take his second-straight "Eastern Storm" title in early June using consistent finishes, as a second win on the season was still lacking.

"Each driver is so different. The characteristics of the way Bryan drives a car versus Levi before him are just not the same. Luckily, we meshed together pretty well from the start. It took us a little while to marry everything together and figure out exactly what Bryan likes, and that's when we started to see better results," Mariscotti said.

The wins finally flooded in when the biggest week of the season came, as Clauson took back-to-back wins to close "Indiana Sprint Week" at Putnamville and Bloomington and steal the week-long championship. Two races later, he opened up "Sprint Car Smackdown" at Kokomo (IN) Speedway by slicing from 14th to win without the aid of a caution. By the time Clauson won at Little Rock, Arkansas in early September, he had tied Darland for the point lead.

To close out the championship, they backed up a big win in the final Midwest race of the season at Lawrenceburg (IN) Speedway with another in the first night at Canyon Speedway Park in Peoria, Arizona. As Darland had difficulties, Clauson was steady and dueled with Darland at the "Oval Nationals" as he narrowly missed a win in the final race of the season while clinching the title in the process.

Not only was it Clauson's fourth career National title (joining his two National Midget championships), it was the first Sprint Car title for former racer East, who has achieved numerous titles in both Midget and Silver Crown competition as crew chief and team manager.

"The Sprint Car title was definitely a focus, after we got going. It was the only one that I hadn't won, and I wanted to do that. It was a lot of fun; it's the first series in so long where I had no other cars (chassis customers) competing, so I could totally concentrate on our team. It was a great group to race with. We believed in each other, and confidence makes a big difference," East said.

Clauson, who now sits tied for 16th all-time with 25 career National Sprint Car wins, also relished the opportunity to win with his new group.

"I always dreamed of working with Bob, but never really thought it would be on the sprint car side. When I was coming up, he was king of the midgets. To have an opportunity to work with him and get the chance to win the sprint car championship with him was cool. The chemistry he and Brad had, being friends even outside of racing, helped a lot. Bob wasn't necessarily supposed to work with us all year, but after Ocala it was obvious that we would be good together," Clauson said.

For Mariscotti, it was a slightly different point-of-view, but the level of satisfaction was similar.

"It meant a lot for me, personally, as the only guy still there from all our other championships. And we were able to win the Silver Crown championship, too, with Bobby (East). To be able to go out with a new driver and a really small team, it felt great to do it again," Mariscotti said.

As the top six pairings from last season remain intact for 2014, along with some strong additions pursuing the full schedule, Clauson knows a target will be on them as they try to defend the crown with their Chevrolet Performance - Curb #20 Beast/Kistler.

"It looks like the National Sprint Car bunch is as strong as I can remember it being, and we know that other teams have gotten better in the off-season, so we'll have to start a little quicker and be even better than last year to do it again," Clauson said.

Thursday's season opener at Ocala kicks off "Winter Dirt Games V," which is preceded by a practice night Wednesday evening. Tickets are still available for advance purchase at BubbaRacewayPark.com while an online pay-per-view is offered at USACracing.tv and further information about the race, including post-race coverage, will be found at USACracing.com.

-end-
OCALA SPRINTS SPORT "NEW LOOK" FOR 2014 THIS WEEK

The AMSOIL USAC National Sprint Car Series debuts this week at Bubba Raceway Park in Ocala, Fla. with new faces, new teams and new sponsors as participants begin their quest for USAC records and championships.

The "Winter Dirt Games V," part of Bubba Raceway Park's 3rd Annual Bubba Army "Winter Nationals," features the top 2013 USAC drivers and some new stars in three consecutive nights of heart-pounding action on the D-shaped 3/8-mile dirt oval. A 30-lap feature caps Thursday, Friday and Saturday action.

It marks the fourth straight year the USAC stars have competed at Ocala. Bryan Clauson, winner of last year's opener, will return to defend his 2013 AMSOIL National championship and will again face the challenge of two-time 2013 Ocala winner Tracy Hines and drivers Dave Darland and Kevin Thomas Jr., who, like Clauson, each scored seven feature wins last year. Darland wound up as the 2013 series runner-up, Thomas was fifth and Hines was sixth.

Darland and Hines are actively pursuing the all-time USAC National Sprint Car victory mark, held for three decades by Tom Bigelow at 52. Darland has 47 and Hines 45. Darland also hopes to break the record of A.J. Foyt and Mel Kenyon, who each scored at least one USAC National win in 21 consecutive years. He previously topped the Foyt and Kenyon records with his 22nd straight year in a USAC victory lane earlier this year at Peoria, Ariz. but that was not in a National feature. In addition, Darland owns 99 total (National and Regional) USAC career wins, so he is eyeing the magic 100 this week. Only Foyt, Kenyon and Rich Vogler previously reached that figure.

Jon Stanbrough, who was third to Clauson and Darland in the 2012 AMSOIL standings, will debut at Ocala with a new team, partnering with Kevin Thomas Jr. in a two-car assault on the title.

Former USAC Champion Levi Jones, who holds the all-time record for consecutive series starts at a remarkable 227, will be on hand, not in a driving role, but as crew chief for Jarett Andretti as Jarett and his father John pursue USAC glory in the 2014 AMSOIL series.

In addition to Clauson and Hines, previous Ocala USAC Sprint winners include Damion Garner and Darren Hagen. Gardner has three Ocala wins to his credit, while Clauson and Hines have two and Hagen one.

Florida's spot in USAC history is solidified as it hosted the first-ever USAC Sprint race in 1956, won by Bob Sweikert, the previous year's Indianapolis 500 winner, at West Palm Beach.

Advance tickets for "Winter Dirt Games V" are available at BubbaRacewayPark.com and live pay-per-view will be available through USACracing.tv! Stay tuned to both websites for more details. Practice night on Wednesday the 19th kicks off the action.

-end-
BACON, STOCKON RETURN TO CHALLENGE FOR 2014 AMSOIL SPRINT CROWN

Brady Bacon and Chase Stockon sat just outside the championship picture in 2013, finishing third and fourth in points, respectively. In a strange season that produced 21 wins for the threesome of champion Bryan Clauson, runner-up Dave Darland and fifth in points Kevin Thomas, Jr., only one win apiece fell to the duo.

With the 2014 season starting February 20-21-22 at Ocala, Florida's Bubba Raceway Park, both are back and expected to compete full-time, looking to expand on their consistent form of last season and add in the win department. Bacon, the Broken Arrow, Oklahoma driver who competed full-time in 2007-2008 with Kasey Kahne Racing before pursuing other series, returned to USAC last season with the potent Hoffman Auto Racing team.

After combining for a few races in 2012, which included a win at West Memphis, Arkansas, the combination seemed to pick up steam as the season progressed, remaining mathematically in the title hunt until very late in the season. Despite Bacon's few USAC starts in the previous four seasons and a switch in equipment for the team, the #69 amassed 17 top-five and 26 top-ten finishes in 33 races.

"It had been a long time since I had run regularly, so I had to adjust to the cars some and to tracks I hadn't seen in a while. Thankfully, we were able to get our qualifying figured out early, as I hadn't done the time-trial format much lately," said the 24-year-old Bacon, adding, "I really enjoy racing with the Hoffmans; they take this just as seriously as I do. I know they're doing whatever they can to make us fast. With a new deal for chassis and me coming back, we worked well to overcome that and keep getting better. We just need to come a little hotter out of the box this season and focus on salvaging the bad nights and making the most of our good ones."

Owners of a record nine USAC National Sprint Car owner's championships to go along with their all-time best 82 wins in the series, Hoffman Auto Racing brings back a similar program to last year for Bacon. After making the switch to Triple X chassis with Bacon's arrival, the team will continue to utilize those frames along with Stanton Mopar engines as they have retained sponsors Mean Green, Lykins Oil, and Hoosier Tire.

"We're grateful to have our sponsors back for this year to keep us going. We've focused on updating our equipment and making sure everything is ready. Brady's been a great fit for us. He's a lot of fun to be around and is very low-maintenance. We're really glad to get together for a second year; we know each other a bit better now and got going faster at the end of last year," team president Richard Hoffman said.

Stockon is ready for his third full season on tour, as the 25-year-old Elizabethtown, Indiana driver finished seventh in points on the strength of two wins in 2012 before his placing of fourth last season. In addition to 16 top-five finishes and 23 top-tens, he posted three fast times and won eight heat races. Stockon even led the point standings from early May until early June.

"Just the more we've run different tracks and against better cars, we've learned a lot. We took some data from nights we were fast and applied them to similar tracks, and we've just gradually gotten closer. Getting to race some local shows for Chris Gentry helped a lot, too, both with just racing more and with learning more to apply to my car," said Stockon.

Stockon's familiar, eye-catching #32 DRC/Fisher retains his key partners for this season, most notably co-owner Tom Burkey from Superior Tank & Trailer. Also supporting Stockon's third-year effort are Crescent Electric Supply, Network Electric, Butlerbuilt, Ted Brown's Quality Paint & Auto Body, Angle Buildings, Goodridge, and AFCO.

"We're running the same combination we have for two years now. We have a lot of confidence after the way we ended this past year. Our goal was to finish this past season in the top-five, and it actually seemed to go a little better than I expected. Looking back now, though, there were a few nights where we had problems or let good finishes slip away, and without those we could have been in title contention. I don't want to get too caught up in that stuff, though. We just want to keep the stress low and have as much fun as possible," the always-optimistic Stockon said.

Both Bacon and Stockon have been strong in Florida, as neither finished outside the top-seven in any of the three features contested there last February. Next week's "Winter Dirt Games V" kicks off with Wednesday's practice night followed by three complete programs on the nights that follow.

For more information or to purchase advance tickets, visit BubbaRacewayPark.com. More information on the series and the online pay-per-view of the event will be available at USACracing.com.

-end-
COCKRUM, ANDRETTI AMONG ROOKIES AT OCALA; NEW COMBINATIONS READY FOR 2014

The offseason is always a time of change for drivers and teams alike in the USAC AMSOIL Sprint Car National Championship. Four of the top-five in 2013 were new combinations in their first year of racing together.

This year, the turnover has been down somewhat, and most of the changes from last season include teams that are already quite familiar with one another. At the same time, a fresh batch of rookies is ready to make a splash in the season opener at Bubba Raceway Park in Ocala, Florida February 20-21-22.

Silver Crown and Midget competitor Shane Cockrum looks to complete the entire National schedule as a rookie for Amati Racing, which was a winner twice in 2013 with veteran Jon Stanbrough. Cockrum finished in the top-five three times last season in Silver Crown competition and joins a familiar team for his first foray into the Sprint Car schedule.

"My dad (Cliff Cockrum) ran for a lot of years and (car owner) Shane Wade's grandpa is Chuck Amati. So there was a lot of history there and a little bit of a rivalry. We've become good friends in recent years and kicked around the idea of getting together. Without racing a whole lot, we had a pretty good year last year and he is giving me the opportunity to take the next step," said the new driver of the Marion Underground Construction - Shane Wade Enterprises #66 J&J, adding "We get along great and have a great full-time mechanic, Jeff Peterson, so we're gonna race against the best in the business and take on that challenge. I'm confident we can run with them, as long as we get our program fine-tuned and get enough seat time for me."

Jarett Andretti, another recognizable face in the Silver Crown Series last season, tries to build on his five Sprint Car appearances from last year that peaked with a tenth-place finish at Eldora Speedway in September. He heads to Florida with a formidable crew chief in his corner on the Window World - Indy Trading Post #18 Spike.

"We wanted to take another step with our sprint car program and we've known Levi Jones for a couple years now, so we contacted him and he was on board. His credentials speak for themselves and I think his perspective on things can help us improve where we need to. I really like the dirt sprint car and the power it brings. There's no feeling like throwing a 900-horsepower car sideways. We want to perform this year when the eyes are on us; I think we have some experience now and are taking the steps we need to in the off-season to get better," Andretti said.

After winning last year's "Four Crown Nationals" at Eldora Speedway in Ohio, Jeff Walker Racing and Chris Windom continue their re-kindling as the new season begins. The duo won the 2010 Perris (CA) "Oval Nationals" before spending more than two seasons apart prior to their reunion last season.

2012 National Series feature winner Justin Grant also returns to a comfortable seat, that with Mark Hery Racing. The duo separated last season after taking the #40 to a win during "Indiana Sprint Week" at Lawrenceburg (IN) Speedway, which was the first National win for both of them.

Casey Shuman, who began the 2012 season with Rick Pollock before splitting in late May, will again drive the #21x out of Illinois after beginning their season at Peoria, Arizona's Canyon Speedway Park for the "Winter Challenge."

Other rookies expected to compete on a frequent basis include Arizona driver Dalten Gabbard, who is slated to drive for Baldwin Brothers Racing, Midwest-based teenagers Aaron Farney and Carson Short, along with Texas driver Nathan Moore.

Advance tickets for "Winter Dirt Games V" are available at BubbaRacewayPark.com and live pay-per-view will be available through USACracing.tv! Stay tuned to both websites for more details. Practice night on Wednesday the 19th kicks off the action.

-end-
DARLAND CHASES WIN RECORD, CHAMPIONSHIP WITH PHILLIPS MOTORSPORTS
It was yet another year with new surroundings for Dave Darland in 2013. "The People's Champ," as he has become affectionately known, came off a six-win runner-up season with Jeff Walker Racing in 2012 and had to find a new home.

That came in the form of Phillips Motorsports, with owners Steve & Carla Phillips still looking for their first USAC win. After nearly delivering that win in the first race of the season in Ocala, Florida after a frenzied battle with Bryan Clauson, the collaboration celebrated in victory lane at Bloomington (IN) Speedway's "Larry Rice Classic" in May with their first victory.

They picked up steam as the season progressed, trading blows with Clauson and his Tony Stewart/Curb-Agajanian Racing team as the championship hung in the balance. Although Darland and the #71P fell short of the title, they picked up six more wins, including some of the biggest on the schedule in the Kokomo (IN) "Sprint Car Smackdown" and the year-ending "Oval Nationals" in Perris, California.

"It was an incredible yearthat makes us look back and say 'Wow, did we really do that?' Our goal at the start of the year was to win a race and keep ourselves in the top-10. To win like that and take such big events, it was just a lot of fun. We better enjoy this, because it's hard to have a season like that and who knows if it will happen again," Steve Phillips said.

Not only did the combination finish as the AMSOIL Sprint Car National Championship runner-up, both sides received other accolades. Steve Phillips garnered the "Crew Chief of the Year" award while Darland was named the first winner of the "Jason Leffler Award," an honor bestowed on the Lincoln, Indiana native for his appreciation of the sport's history and his representation of the sport, much in the same way as Leffler.

"Jason was a great race car driver and a great person, so it was really meaningful to be the first recipient of that award. I enjoy open-wheel racing and try to do the best I can. He was younger than me, but we grew up together in a way, racing on the same teams and whatnot. It feels good to have so many friends and fans and have people think of me like that," Darland said, adding, "Last year was a lot of fun and a great accomplishment for us to do so well. Nobody expected that, probably not even us. It's rewarding to have a season like that with our little team."

Seven wins in 2013 have elevated Darland into rarified air, now sitting second all-time in National Sprint Car wins. The 47-year-old is just five behind leader Tom Bigelow, and has leapt two ahead of Tracy Hines as the two vie for the top of the charts. Darland also looks to make 2014 the 22nd consecutive year with a USAC National win, which would break a tie with A.J. Foyt and Mel Kenyon for the longest streak all-time.

"That's never been the kind of thing I dwell on, but it's cool to hear things like that when people talk about it. I've had a lot of great teams like the Phillips family that have helped me along the way. I'm looking forward to racing with them again and trying to win some more. We have a lot of fun and hopefully we can have some of the good luck we had last year," Darland said.

Phillips Motorsports navigated last season's schedule despite a lack of major sponsorship, and they continue to seek backing for the upcoming season. Steve Stroud of Racer's Advantage Store in Phoenix returns to assist the team, as well as Frank Daigh, Surf-N-Sprint, Jockish Flowers, Ealey Trucking, BT Miller Farms, Maaco of Lafayette Road, Fatheadz Eyewear, Pallet Builders, Lucas Oil, Super Shox, Greene's Truck & Auto, and Rod End Supply. They continue to use DRC Chassis and Foxco Engines.

"There were so many good things that happened to us last year - I never dreamed of winning "Crew Chief of the Year" and we finished second and won big races - the good thing is we left something on the table that we want. Now we can try harder to go after the championship this season. We have more drive than ever. There are lofty goals there, and we still just need to line up the funding to get us to the end. Carla and Brenda (Darland's wife), especially, have worked really hard at that, and we just have to come up with some more help," Steve Phillips said.

After a practice night on February 19th, the AMSOIL Sprint Car National Championship runs three consecutive nights at Bubba Raceway Park in Ocala, Florida February 20-21-22. Advance tickets are available at BubbaRacewayPark.com and additional information concerning the event will be forthcoming at USACracing.com.

-end-
STOOPS BECOMES TITLE SPONSOR OF KOKOMO "SPRINT CAR SMACKDOWN III"

In just two years, Kokomo Speedway's "Sprint Car Smackdown" has become one of the most anticipated stops on the AMSOIL Sprint Car National Championship tour, along with a favorite destination of die-hard sprint car fans. For 2014, Stoops Freightliner-Quality Trailer will serve as title sponsor of the event.

Jeff Stoops has long been a supporter of the United States Auto Club and sprint car racing, in general. In addition to being a car owner and series sponsor in the past, Stoops supported the first two editions of the event by posting bonus money and sponsoring laps. This year, he teams up with the O'Connor family who owns and promotes the quarter-mile oval to back "Sprint Car Smackdown III."

"Having been a small part of the event over the first two years, it's been great to see it grow and become a cornerstone event on the USAC and Kokomo calendars. We want to support the O'Connor family and the Sprint Car circuit with what is now one of the premier events in the country," Jeff Stoops said.

The event will again feature three full nights of USAC Sprint Car racing, with action taking place Thursday through Saturday, August 21-23. Both former event champions, Bryan Clauson and Dave Darland, are expected to return for another shot at the crown while pursuing the AMSOIL Sprint Car National Championship.

Kokomo Speedway and the O'Connor family continue their support of USAC racing, which also includes the inaugural "Kokomo Grand Prix" for Honda National Midgets on April 11-12. They will also host "Indiana Midget Week" on Sunday, June 15th and "Indiana Sprint Week" on Saturday, July 12th.

"We are really happy to have Stoops on board and try to keep growing the "Smackdown" in August. The two we've had featured some great racing and a lot of fun, too. Our goal is to keep making it bigger and better every year," said race organizer Reece O'Connor.

Reserved seat tickets are already available and can be ordered by calling 815-468-8690. Three-night tickets are available for $80 and include a complimentary pit pass if ordered before March 31st.

-end-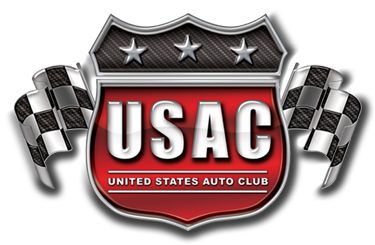 National Sprints
2014 points
As of Feb. 21
1. Bryan Clauson 125
2. Dave Darland 121
3. Chase Stockson 118
4. Tracy Hines 117
5. Justin Grant 114
6. Brady Bacon 111
7. Shane Cottle 106
8. Jon Stanbrough 87
9. Chris Windom 84
10. Robert Ballou 74

National Dirt Midgets
Nov. 16
1. Christopher Bell 1088
2. Bryan Clauson 971
3. Darren Hagen 908
4. Tracy Hines 889
5. Rico Abreu 834
6. Jerry Coons Jr. 770
7. Zach Daum 707
8. Andrew Felker 691
9. Brad Kuhn 640
10. Tanner Thorson 614

Silver Crown
Final
1. Bobby East 387
2. Chris Windom 381
3. Tracy Hines 359
3. Jerry Coons Jr. 359
5. Kody Swanson 349
6. A.J. Fike 272
7. Brian Tyler 249
8. Taylor Ferns 213
9. Shane Hollingsworth 182
10. Shane Cockrum 165

USAC/CRA
2014
1. Damion Gardner 68
2. R.J. Johnson 65
3. Gary Taylor 60
4. Charles Davis Jr. 58
5. Nic Faas 55
6. Josh Hodges 51
7. Mike Martin 50
8. Jake Swanson 42
9. Colby Copeland 40
10. Matt Mitchell 39