KRIMES CLAIMS FIRST TRACK CHAMPIONSHIP IN LINCOLN 410 SPRINTS

Sophomore Chase Dietz takes title in Lincoln 358 sprint division

YORK, PA, 11/22/14 - Lincoln Speedway track champions and special year-end awards were handed out at the Holiday Inn in York Saturday night, November 22nd. The top ten finishers in the season -long point series for both sprint car divisions, and special awards were distributed to rookies' of-the-year and most improved driver.

KRIMES SCORES FIRST LAWRENCE CHEVROLET TRACK CHAMPIONSHIP
After several years as a top-five point contender, Denver's Alan Krimes rode the strength of two wins and consistent top finishes to his first-ever track title. Ironically, Krimes' wins came back-to-back with an ARCH Night win on April 12th and a 410 Sprint Spring Championship victory on April 19th. Although he didn't win the rest of the year, he did score ten top-five and 16 top-ten finishes in 23 races to claim the $10,000 championship. Krimes' two wins in the John Alexander's Midnight Express/Conestoga Valley Garage #87 moved him alongside Junie Taylor and Bobby Weaver on the all-time Lincoln win list with 15 career wins. Krimes title also earned Dennis Kohler Lincoln's mechanic of-the-year award.

Four-time track champ Brian Montieth missed one race and suffered a few DNF's, but still rode the strength of three wins, 12 top-five finishes and 15 top ten to second in season points. His three wins moved him into sole possession of sixth place on the all-time Lincoln win list with 44.

New Oxford's Jim Siegel won twice and scored five top-five and 15 top ten to finish third in season points. One of his wins was the 11th Annual Weldon Sterner Memorial on May 3rd.

Dallastown's Cory Haas went winless at Lincoln in 2014, but did register seven top five and 14 top ten finishes to end fourth in season points. Haas was also named the season's Sportsmanship Award winner for his on-and-off track efforts.

Rounding out the top five in the season point series was Gerard McIntyre, Jr., who picked up his third career Lincoln win on April 26th. He finished in the top five four times and in the top ten 15 times.

Sixth through tenth in season points were Robbie Kendall, Kyle Moody, Billy Dietrich, five-time winner Danny Dietrich, and Freddie Rahmer.

Kendall and Moody both scored their first-career 410 sprint wins during the season. Moody's win was momentous, holding off national sprint car star Brady Bacon in Lincoln's PA Speedweek show. Kendall and Moody were joined by other first-time winners Austin Hogue (who was named rookie of-the-year), rookie 410 driver Tim Wagaman, and J.J. Grasso.

Other Lincoln wins in 2014 were recorded by Adam Wilt (opening day for the second time in three years), Lance Dewease, Daryn Pittman (who won the July World of Outlaw show), and Steve Smith (who won both the World of Outlaw Show in May and the Dirt Classic presented by Kasey Kahne in September).

All told, there were 14 different winners in 23 races at Lincoln in 2014.

SPECIAL AWARDS WINNERS (410 Sprints)
410 Sprint Champion – Alan Krimes
Mechanic of the Year – Dennis Kohler
Rookie of the Year – Austin Hogue
Sportsmanship Award – Cory Haas
Most Improved Driver – Robbie Kendall

CHASE DIETZ CLAIMS FIRST-EVER LINCOLN SPEEDWAY TRACK CHAMPIONSHIP
Sophomore driver Chase Dietz won three times during the season to edge defending champ Niki Young and claim his first track title in Lincoln's 358 sprint car division. Back-to-back wins on July 26th (Pepsi Night) and August 2nd (Sprint Car Championship in which he made a last-lap pass for the win) vaulted him into a points lead he would never relinquish. All told, Dietz scored 12 top-five and 15 top-ten finishes in 18 events, which gave him a 95-point over Young at the end.

Young won the season opener and finished second in season points. He challenged Dietz down the stretch with ten top-five and d 13 top-ten finishes.

Carlisle's Chandler Leiby, another sophomore driver and grandson to Lincoln promoter Bob Leiby, finished an impressive third in season points. He claimed his second career Lincoln win on August 30th, and ended the season tied with Dietz for the most top five (12) and a division-leading 16 top-ten finishes.

Rookie of-the-year Matt Campbell was fourth in season points. Campbell scored wins on May 3rd (Sterner Memorial) and June 21st (BAPS Night) and ended the season with seven top-five and 12 top-ten finishes.

Lady driver Brie Hershey of Dillsburg rounded out the top five in season points with two top-five and seven top-ten finishes.

Sixth through tenth in season points were another female driver Ashley Cappetta, Matt Findley, one-time winner Doug Hammaker (first career Lincoln win), Zach Euculano, and one-time winner Jeff Rohrbaugh.

Four different drivers picked up their first Lincoln career wins in 2014, including Hammaker, Mark Strickler, Phil Walter (who first won at Lincoln in the 410 sprints 22 years ago), and Dwight Leppo in the season finale.

All told, there were 13 different winners in 18 events. The only repeat winners at Lincoln in '14 were Dietz and Kevin Nouse (with three wins each), and Campbell with two. There were ten single-time winners, including Mike Bittinger and Brad McClelland, not yet mentioned.

SPECIAL AWARDS WINNERS (358 Sprints)
358 Sprint Champion - Chase Dietz
Rookie of the Year - Matt Campbell
Sportsmanship Award - Cody Fletcher
Most Improved Driver - Chase Dietz

-end-

Port Royal Bestows Honors At Annual Banquet, World Of Outlaws Return In 2015

FOR IMMEDIATE RELEASE

11/22/14

Port Royal – The annual Port Royal Speedway awards banquet was held Saturday night, November 22 at the Port Royal Community Building.

Feted were the track champions in all regular divisions: Aumiller's Insurance 410 sprints, Jake's Carts/Enviroman Products late models, Gray's Auto and Towing econo late models, Len Krautheim Auto Sales xtreme stocks and River Valley Builders 305 sprints.

While opening the awards portion of the banquet, speedway promoter Steve Oneal announced that the STP World of Outlaws sprint cars will return to the Juniata County Oval again in 2015.

After a successful return to the track for the first time in a decade in October of this year, the World of Oultaws are looking forward to a return in 2015 although a concrete date has not yet been confirmed.

Rick Lafferty of Pennington, New Jersey, took home top honors in the 410 sprint portion of the awards ceremony as the 2014 track champion for the first time in his career.

Lafferty and his self-owned No. 0 ended the season with an average feature finish of eighth in his 18 regular season starts while pocketing one victory.

Mike Erdley finished the season second in points, just 10 markers back of Lafferty for the title, also posting an average feature finish of eighth during his 18 regular season starts.

Blane Heimbach, Chad Layton and Greg Hodnett completed the top five in points followed by Doug Esh, Curt Stroup, Dylan Cisney, Mike Wagner and Nate Snyder.

Stroup, of Richfield, took home honors as Most Improved in the division after moving from 14th in the 2013 point standings up to seventh this season.

Rookie of the Year honors went to Harrisonville's Logan Wagner who put together a 15th in the points and a best feature finish of third on August 16.

Dave Ely earned the 410 sprint Sportsmanship Award in honor of his contributions to the oval's regularly staged kids activities and other fan oriented promotions.

Shermansdale's Mike Lupfer scored the super late model track title for a career first while scoring one victory and an average season feature finish of fifth.

Brett Schadel was second in season points for an amazing third season in a row and that fact alone earned him 2014 Sportsmanship honors.

Mitch Hack was third in points followed by Jason Schmidt and Tim Smith Jr.

Schmidt was voted Most Improved in the division in what was a highly competitive race for the award after finishing 11th in points last year.

Smith Jr. was awarded Rookie of the Year laurels.

The balance of the late model top 10 point earners were Trent Brenneman, Tim Wilson, Patrick Bryner, Tim Fedder and Matt Parks.

Jeff Miller of Huntingdon won champion's laurels in the 305 sprint division by just five markers over Tyler Bear in a race for the title that came down to a pass in the final corner of the last lap of the final race for the division.

Miller had a lone victory on the year and an average feature finish of fifth.

Mike Wagner II., was third in points followed by Eric Parker and Erin Statler.

Wagner announced his plans to compete in 410 sprint competition during the upcoming season.

The 355 econo late model division saw veteran Tim Krape score the maiden title in the new speedway division with an average feature finish of third.

The track crown was Krape's ninth overall having also taken crowns in oval thundercar, street stock and pro stock action.

Krape had one win during the season and announced he will move up to super late model competition in 2015.

Andrew Yoder was second in points with five victories followed by Devin Hart, Shaun Miller and Danny Sollers.

Sixth through 10th went to Troy Miller, Todd Snook, Jared Fulkroad, Eric Irvin and Chase Bowsman.
Shaun Miller earned the Sportsmanship Award.

Bill Powell walked away with the title in the xtreme stock division after taking a prior title in the enduro dash class in 2002.

Powell posted three victories and an average feature finish of second.

Bob Bussey was second in points and earned Sportsman honors.

The balance of the xtreme stock top 10 was Jason Zook, Deron Henry, Tyler Amtower, Mike Goodwin, Darien Trego, Pete Leister, Karl Miller and Floyd Sheets.

The tentative 2015 Port Royal schedule of events is expected to be released in the early weeks of January, 2015.

Season passes and seats for the new season will go on sale December 1, just in time for holiday gift giving.

-end-
Renegade Sprints and Fred Rahmer Team Up for 2015 Event at Path Valley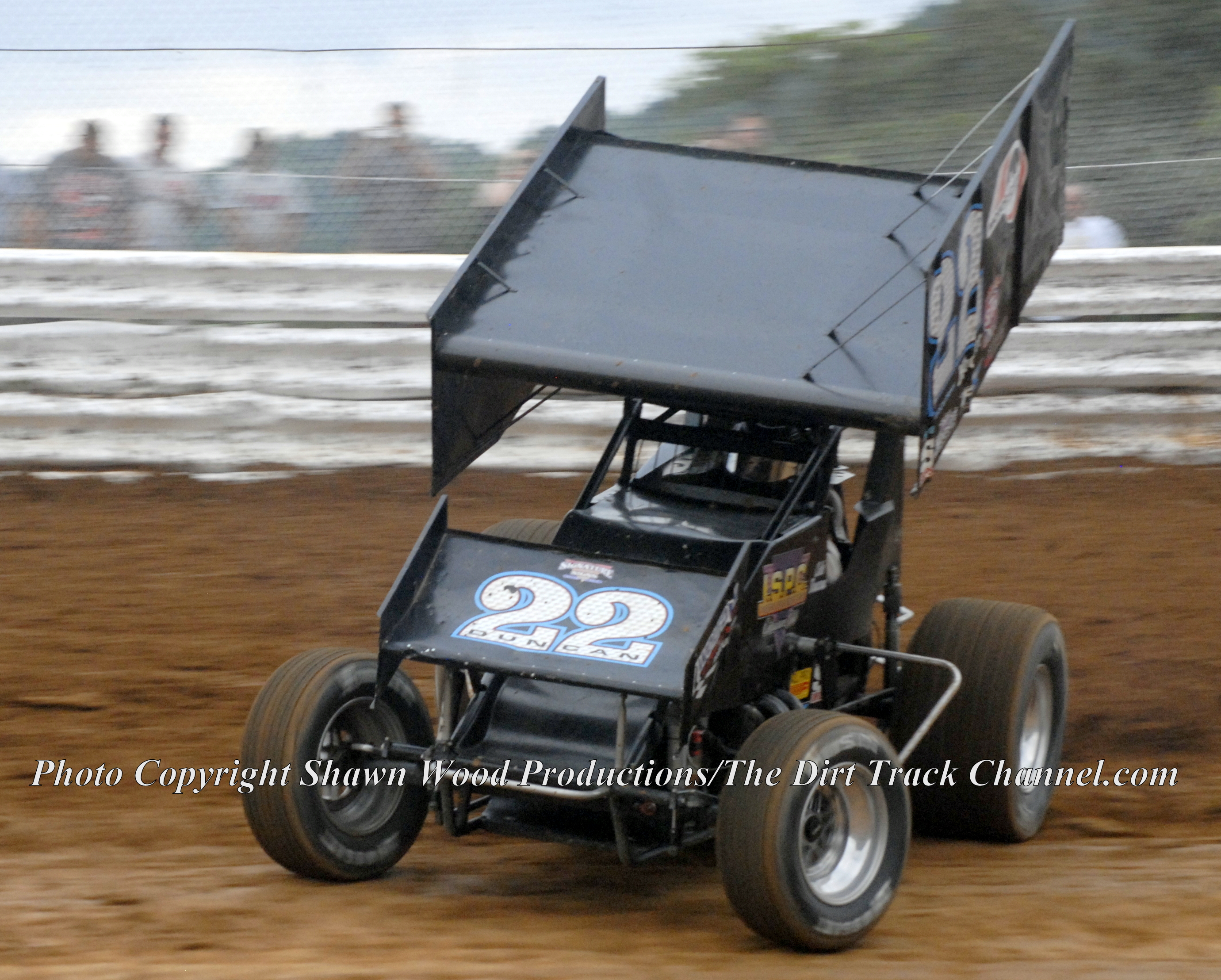 Cole Duncan on the gas at Path Valley during the 2014 Pa. Speedweek Show

FINDLAY, Ohio (Nov. 10, 2014) - The Renegade Sprints and Pennsylvania kingpin Fred Rahmer have booked at least one race together in 2015.

The event will be one of three shows Fred Rahmer Promotions will put on at Path Valley Speedway Park in Spring Run, Pa., next year.

"I'm looking in April for a Sunday race with the Renegades against the Pennsylvania Posse on neutral ground," he said. "I think our guys will come out on top, but there's a great group of Renegades coming in."

Rahmer added that he has heard a lot of positive about the 410ci sprint car series, from the drivers committed to the series to the leadership to the fan interaction.

"I feel really good that the Renegades are going to be a really good group of race cars that should put on a great show at Path Valley," he said. "From what I hear (Renegade Sprints President) Shane Helms is in the direction of the racer and the fans and that's the direction I want to go with. I believe in what the Renegades are doing."

Helms said he is thrilled to work with Rahmer, who was one of the premier sprint car drivers in the country for decades before stepping away from the seat last year.

"Fred has always been a leader whether he was on the track racing or promoting sprint car races," he said. "I think this event will be a marquee matchup of the Renegade Sprints and the Pennsylvania Posse. It will be a show the fans won't want to miss."

-end
Nov. 22 Port Royal Banquet Tickets On Sale, Staple Divisions To Return In 2015

FOR IMMEDIATE RELEASE

11/2/14

Port Royal – The annual Port Royal Speedway awards banquet is coming up Saturday, November 22 at 5 PM at the Port Royal Community Building, located just off of the speedway's backstretch on Fourth Street.

Tickets for the awards ceremony and banquet are on sale at a price of $30 each and can be purchased by calling event coordinator Joanne Heckert at 717.527.4677.

The Deadline for purchasing tickets is November 17.

Honored at the annual awards presentations will be the 2014 track champions: Rick Lafferty, 410 sprints; Mike Lupfer, late models; Tim Krape, 355 econo late models; Bill Powell, xtreme stocks; and Jeff Miller, 305 sprints.

All speedway champions will receive beautiful championship rings courtesy of Foss Jewelers of Mifflintown and Lewistown as well as commemorative jackets.

Attendees of the banquet are encouraged to bring a children's toy for donation to the 2015 Kids Night program in return for a chance at numerous door prizes.

In other speedway news it has been announced that that track will again return with its five staple divisions in 2015 with weekly racing cards headlined by the 410 sprints and the super late models.

Also appearing as was the case in 2014 will be the 355 econo late models, the xtreme stocks and the PA Sprint Series 305 sprint cars.

Negotiations with various touring circuits and sanctioning bodies are currently underway for inclusion on the 2015 slate of racing.

The tentative 2015 schedule of events is expected to be released in the early weeks of January, 2015.

Season passes and seats will go on sale before December 1, just in time for holiday gift giving.

-end-

World Of Outlaws Invade Port Royal Speedway For Oval Finale This Saturday

Outlaws VS. Posse showdown begins at 5 pm October 25!

FOR IMMEDIATE RELEASE

10/19/14

Port Royal – It has been a decade since the STP World of Outlaws Sprint cars last raced at the historic Port Royal Speedway. And now the wait is over!

The cars and stars of the World of Outlaws circuit will return to Port Royal Speedway this Saturday night, October 25 for a 5 pm showdown with the Pennsylvania Posse stars to close out the 2014 Port Royal Season.

Purely sprint car racing is on the agenda that climaxes with a $10,000 to win, 30-lap feature event.

Gates open at 3 pm for the races and beginning at the same time will be the Nittany Media Penn State Football Tailgate party in the speedway commercial building.

Nittany Media of Lewistown will be hosting the event complete with a pair of 8 x 8 projection screens to help get action started for the evening kickoff of the Penn State/Ohio State match up.

The tailgate will continue through the racing program and until the conclusion of the game if fans remain in attendance.

The World of Outlaws have contested a total of seven events at Port Royal Speedway over the years, staging their first in 1979 when local Lynn Paxton scored the victory aboard the Boops Special No. 1 over Sammy Swindell.

As his career was still on the rise, Don Kreitz Jr. trumped the outlaws in his No. 69 at Port Royal in 1986 over Doug Wolfgang.

Wolfgang came back with a win for Bob Weikert over the band in 1987 with Steve Kinser finishing second.

And then a 14-year hiatus for the series at the track took place before Oklahoma's Danny Wood won in his No. 21 over Mark Kinser in 2001.

The year 2002 found Californian Brad Furr pilot his No. 2 to a victory ahead of Mark Kinser.

A pair of future outlaws series champions in the making; Jason Meyers took a win over Daryn Pittman in 2003.

And current outlaws powerhouse Donny Schatz scored the most recent outlaws show at the track in 2004 over Pittman.

Ticket sales are ongoing for the upcoming invasion by the STP World of Outlaws and with contingency plans put in place to protect from a loss of the program due to inclement weather, fans can purchase tickets with confidence.

Seat tickets for the highly anticipated return of the World of Outlaws to Port Royal Speedway can be purchased now at the World of Outlaws official website, located at www.worldofoutlaws.com/tickets.

Reserve seating admission tickets, available in rows 7 – 19 of the aluminum grandstand, are set at $35 with adult general "day of" prices set at $30.

General admission prices for students ages 12 – 18 for the outlaws show will be just $20. Ages 0 – 11 will be admitted for free to general admission areas.

Rows 1 – 6 of the aluminum grandstand will be open to general admission ticket holders.

A reserved seat/ticket, in rows 7 – 19 if desired, for ages 0 – 11 and for students will be the aforementioned $35.

PORT ROYAL SPEEDWAY WORLD OF OUTLAWS TOP FIVE FINISHES

July 25, 1979
1. Lynn Paxton
2. Sammy Swindell
3. Jim Nace
4. Steve Kinser
5. Randy Wolfe

May 28, 1986
1. Don Kreitz Jr.
2. Doug Wolfgang
3. Dave Blaney
4. Jack Hewitt
5. Jac Haudenschild

May 27, 1987
1. Doug Wolfgang
2. Steve Kinser
3. Cris Eash
4. Brad Doty
5. Dave Blaney

September 27, 2001
1. Danny Wood
2. Mark Kinser
3. Steve Kinser
4. Paul McMahan
5. Jason Meyers

September 29, 2002
1. Brad Furr
2. Mark Kinser
3. Greg Hodnett
4. Tim Shaffer
5. Craig Dollansky

October 2, 2003
1. Jason Meyers
2. Daryn Pittman
3. Steve Kinser
4. Tim Shaffer
5. Danny Lasoski

September 29, 2004
1. Donny Schatz
2. Daryn Pittman
3. Lucas Wolfe
4. Steve Kinser
5. Kraig Kinser

PORT ROYAL SPEEDWAY WORLD OF OUTLAWS DIVISION II TOP FIVE FINISHES

May 6, 2000
1. Don Kreitz Jr.
2. Paul McMahan
3. Dave Ely
4. P.J. Chesson
5. Jason Meyers

August 26, 2000
1. Jeff Shepard
2. Jason Meyers
3. Lance Dewease
4. Brad Furr
5. Don Kreitz Jr.

April 28, 2001
1. Lance Dewease
2. Keith Kauffman
3. Todd Shaffer
4. Todd Hestor
5. Todd Gracey

August 25, 2001
1. Todd Shaffer
2. Mike Goodman
3. Lance Dewease
4. Ronald Laney
5. Shane Stewart

April 27, 2002 (feature run 8/24)
1. Lance Dewease
2. Tyler Walker
3. Keith Kauffman
4. Alan Cole
5. Wayne Johnson

-end-
Haas, Eichelberger, Foster And Kline Close Williams Grove Season With Fall Fest Wins

Track Title Laurels Bestowed Upon Hodnett, Heffner & Nouse

10/18/14

FOR IMMEDIATE RELEASE

Mechanicsburg – Cory Haas won the season finale 410 sprint car main as part of Fall Fest 2014 on Saturday night at Williams Grove Speedway while other winners in the features-only program were Rich Eichelberger, 358 sprints; Gregg Foster, super sportsman; and Ron Kline, 358 late models.

Following the racing program, track title laurels were handed out to the champion sprint car teams including Greg Hodnett and car owner Mike Heffner in the 410 division and Kevin Nouse in the 358 division.

The top teams in both divisions also received their trophies and point fund payoffs.

Special awards in the 410 sprint class went to: Austin Hogue, Rookie of the Year; Ryan Smith, Most Improved Driver; Ryan Hand, Mechanic of the Year; and Don Kreitz Jr., Sportsmanship.

Special awards in the 358 sprints class went to: Matt Campbell, Rookie of the Year; and Adrian Shaffer, Sportsmanship.

Haas and Brent Marks started on the front row of the 25-lap 410 sprint feature and Marks took the lead at the beginning over Haas and Ryan Smith.

In a race riddled with caution flags, Marks looked convincingly strong early before suddenly slowing and pulling pitside on the fourth circuit, giving way to Haas just before a yellow flag unfurled.

Under the caution period, Marks rejoined at the rear.

Smith made attempts to snare the lead on restarts on laps four, six and 12 but despite challenging when action restarted each time, Haas was clearly stronger as the field strung out after each restart, pulling away over Smith repeatedly.

Eighth starter Steve Buckwalter drove into the top five on the first lap but would give way to seventh starter Danny Dietrich for third with nine laps to go.

However that was as far as Dietrich would advance before the finish with Buckwalter riding home fourth followed by Brian Montiech.

Sixth through 10th went to Greg Hodnett, Lance Dewease, Alan Krimes, Don Kreitz Jr. and Gerard McIntyre Jr.

Buckwalter finished a strong fourth followed by

Polesitter Jay Galloway took the lead when action began in the 20-lap 358 sprint main but gave way to seventh starter Doug Hammaker on the 11th tour.

Hammaker appearead home free, headed for his second oval win of the season when as he drove toward the white flag, his car slowed around the inside of the track, allowing veteran Rich Eichelberger to drive into control.

Eichelberger had taken over second from Galloway with five laps to go and made good on his opportunity for the victory.

After starting 11th, Kevin Nouse finished second followed by Adrian Shaffer, final starter Jason Shultz and Galloway.

Sixth through 10th went to Chandler Leiby, Chris Arnold, Brie Hershey, DJ Montgomery and Matt Findley.

Bobby Hockenberry led the first two tours of the 20-lap super sportsman feature before sixth starter Gregg Foster used the outside groove to take command for a lead he would never relinquish to the end.

It was Foster's second victory of the season at the track coming over Hockenberry, Chad Criswell, Scott Dellinger and Frankie Herr.

Sixth through 10th went to Russ Mitten, Rich Eichelberger, Tom Wyckoff, Steve Fannasy and Mike Enders.

Ron Kline wired the field from the pole to win the 20-lap 358 limited late model feature over Alan Sagi.

Sagi started 10th in the field and took second on the final lap from Travis Mease, who would finish third, followed by Randy Croop and Shaun Jones.

Sixth through 10th went to Sam Gallagher, Cam Zeigler, Zach Kauffman, Al Chaney and Chad Julius

October 18, 2014 Feature Finishes:

410 sprints, 25 laps: 1. Cory Haas, 2. Ryan Smith, 3. Danny Dietrich, 4. Steve Buckwalter, 5. Brian Montieth, 6. Greg Hodnett, 7. Lance Dewease, 8. Alan Krimes, 9. Don Kreitz Jr., 10. Gerard McIntyre Jr., 11. Ryan Wilson, 12. Austin Hogue, 13. Curt Stroup, 14. Dave Ely, 15. Brent Marks, 16. Glenndon Forsythe, 17. Todd Allen, 18. Jordan Givler, 19. Troy Fraker, 20. Tyler Bear, 21. Jay Reichard, 22. Bradley Howard, 23. Jim Shuster

358 sprints, 20 laps: 1. Rich Eichelberger, 2. Kevin Nouse, 3. Adrian Shaffer, 4. Jason Shultz, 5. Jay Galloway, 6. Chandler Leiby, 7. Chris Arnold, 8. Brie Hershey, 9. DJ Montgomery, 10. Matt Findley, 11. Chris Frank, 12. Denny Gross, 13. Doug Hammaker, 14. Brian Garland, 15. Chad Trout, 16. Kody Lehman, 17. Matt Campbell, 18. Scott Fisher, 19. Jordan Givler

super sportsman, 20 laps: 1. Gregg Foster, 2. Bobby Hockenberry, 3. Chad Criswell, 4. Scott Dellinger, 5. Frankie Herr, 6. Russ Mitten, 7. Rich Eichelberger, 8. Tom Wyckoff, 9. Steve Fannasy, 10. Mike Enders, 11. Dave Conrad Jr., 12. Todd Leonard, 13. Bill Devine, 14. Bob Gutshall, 15. Lanny Hake, 16. Dave Berkheimer, 17. Steve Wilbur, 18. Chad Smith, 19. Rick Barr, 20. Dave Socks, 21. John Wolfe

358 limited late models, 20 laps: 1. Ron Kline, 2. Alan Sagi, 3. Travis Mease, 4. Randy Croop, 5. Shaun Jones, 6. Sam Gallagher, 7. Cam Zeigler, 8. Zach Kauffman, 9. Al Chaney, 10. Chad Julius, 11. Les Hare, 12. Pat McNEal, 13. Larry Neiderer, 14. DJ Mease, 15. Jake Moser, 16. Dan Zechman, 17. John Moser

-end-
Williams Grove Speedway Has Features-Only Fall Fest Season Finale Saturday,

Main events on tap for 410 & 358 sprints, super sportsman & 358 limited late models

Titles To Be Bestowed Upon Hodnett/Heffner and Nouse

10/12/14

FOR IMMEDIATE RELEASE

Mechanicsburg – Williams Grove Speedway will present the season finale, feature's only Fall Fest racing program this Saturday, October 18 at 5:30 pm.

The show will include a total of four main events; one each for the 410 sprints, 358 sprints, 358 limited late models and the super sportsman.

There will be no qualifying heat races for the year-end event, just feature only racing action only!

The invitational features program will see feature lineups set by luck of an inversion draw.

Fans can expect to see the top competitors from all four divisions in action this one last time before the season closes.

Don't miss this exciting final racing program of the season at Williams Grove Speedway!

Greg Hodnett and car owner Mike Heffner have claimed the 2014 Lawrence Chevrolet 410 sprint Williams Grove Speedway point title worth $20,000 and they will receive their laurels during the program.

The duo will also receive honors as the 2014 Williams Grove Diamond Series titlists.

Also being bestowed a season crown will be Tool Shed of America 358 sprint champion Kevin Nouse.

The top 10 drivers in season points in both sprint car divisions will receive their accolades as well along with the bestowment of division special awards.

A pig roast will also take place in the pit area prior to and during the racing program.

Adult general admission for this week's show is set at just $15 with youth ages 13 – 20 priced at just $8.

Senior Citizen general admission pricing will also be in effect with fans born in 1957 or earlier admitted for just $8.

And remember, youth ages 12 and under are always admitted for FREE at Williams Grove Speedway.

-end-

Will 2014 Be The Year King Steve Kinser Gets A Victory At Port Royal Speedway?

FOR IMMEDIATE RELEASE

10/12/14

Port Royal – Could 2014 be the year that Steve Kinser gets a sprint car win at Port Royal Speedway?

Believe it or not, the 20-time World of Outlaws sprint car champion has never taken a victory at the historic oval but another chance is on the horizon coming up on October 25 when the STP World of Outlaws series invades the oval.

Racing is slated to get underway at 5 pm with gates opening at 3 pm.

Kinser turned 60 years old a few months ago and has put together a driving legacy that can be rivaled by no other however he has yet to notch a W at The Port.

In total the Bloomington, Ind., native owns 577 career World of Outlaws A Main wins at 142 different tracks and he wouldn't mind making it 578 at 143 when the 30-lap, $10,000 to win outlaws show is spun off in two weeks.

Kinser does have a legacy at Port Royal during his driving career, finishing fourth in 1979, second in 1987, third in 2001, third in 2003 and fourth during the most recent WoO show at the track in 2004.

The undisputed King of the Outlaws announced his farewell tour last December and is nearly at the end of his final run through a season as a full-time WoO racer.

And as such, his Salute To The King 2014 campaign will bring him to Port Royal Speedway on October 25 along with a host of other outlaws drivers to battle the Pennsylvania Posse.

The Saturday, October 25 show at Port Royal Speedway will be Kinser's last stand in the state of Pennsylvania as a full-time, card carrying World of Outlaws pilot and he will want to make good on his last chance at PA clay.

Ticket sales are ongoing for the upcoming invasion by the STP World of Outlaws and with contingency plans put in place to protect from a loss of the program due to inclement weather, fans can purchase tickets with confidence.

Seat tickets for the highly anticipated return of the World of Outlaws to Port Royal Speedway can be purchased now at the World of Outlaws official website, located at www.worldofoutlaws.com/tickets.

Reserve seating admission tickets, available in rows 7 – 19 of the aluminum grandstand, are set at $35 with adult general "day of" prices set at $30.

General admission prices for students ages 12 – 18 for the outlaws show will be just $20. Ages 0 – 11 will be admitted for free to general admission areas.

Rows 1 – 6 of the aluminum grandstand will be open to general admission ticket holders.

A reserved seat/ticket, in rows 7 – 19 if desired, for ages 0 – 11 and for students will be the aforementioned $35.

-end-

Mike Wagner II Wins Kickoff To Port Royal Blue Collar Classic Weekend Friday

FOR IMMEDIATE RELEASE

10/10/14

Port Royal – Mike Wagner II of Harrisonville kicked off the 305 sprint Blue Collar Classic weekend at Port Royal Speedway with a win on Friday night

It was Wagner's first Port Royal win of the season and the fifth overall of his career at the track.

He nearly gave the win away when he lost the lead to Jeff Miller Jr. on the ninth tour of the 20-lap main.

"I was just flirting with the inside wall a little bit and it gave me a bite," said Wagner referring to contact with the wall when he lost the lead mid-race.

"The track was fast. I made a small mistake and it cost me the lead for a little bit."

Shortly after track point leader Miller took the lead he took a dramatic ride up and over the right rear tire of Mifflintown's Jake Waters, somehow landing on four wheels on the backchute but ending Waters' night.

"There was a scuffle in front of me and Jeff Miller got into it, but he kept going. He had a really fast car as he always does. He probably deserved to win. I got pretty lucky," Wagner said in victory lane.

"I started up front and the car was fast. This is my win at Port this year, so I'm happy about that."

Wagner started on the pole and drove into the lead to start the 20-lap main event for the RaceSaver 305 sprints.

Zach Newlin of Millerstown drove by Brad Franks of Collegeville and into second at the start

Jeff Miller Jr. also drove by Franks and into third as Newlin looked under Wagner in turn four for the lead, but couldn't make the pass. Miller would take second from Newlin shortly thereafter.

Miller drove by Wagner as they raced down the backchute to take the lead on lap eight after Wagner clipped the inside fence off turn two, dramatically slowing his momentum.

Waters slowed on the backstretch the next lap and Miller jumped his tire and got airborne but somehow came down and didn't stop, allowing him to maintain the lead.

Miller's luck came to an end on the restart however as he slowed to a stop in turn four with a blown tire.

"I almost got into him when his car broke," said Wagner.

"It was really close. I'm glad it all worked out for me tonight."

Wagner controlled the final 11 laps to score the win over Franks, Matt Heimbach, Paul Snyder and Tyler Bear. Bill Jones Jr., Jordan Thomas, Scott Frack, Scott Ellerman and Roger Irvine completed the top 10.

The 305 sprint heats for the 34 cars were won by Mike Esposito, Wagner II, Shawn Kirkpatrick and Miller Jr. The consolation was won by Nathan Gramley.

Grant Adams of Grantville grabbed the early race lead in the 20-lap main event for the limited late models before the caution flew with one lap completed. Rick Singleton drove by Todd Snook and into second on the restart.

Division kingpin Gene Knaub was making his way through the field from the seventh starting spot and he moved to fourth on the restart and a pass of Snook got him into third.

Singleton took a shot under the leader in turn two in lapped traffic but Adams held on. The caution flew on lap eight and then another yellow for a frontstretch crash on the restart again bunched the field.

Singleton went after Adams hard on the restart as the pair nearly made contact off of turn two. They were close again down the backstretch and into the third turn seconds later when they made contact again with Singleton slipping high off turn four allowing Knaub to take over second.

Singleton then stopped on the backstretch with 10 laps completed.

Adams, of Grantville, would hold off the challenges of Knaub over the final eight laps to score the $1,000 win.

Knaub settled for second ahead of Snook, J.R. Rodriguez and Brad Kling. Dave Leidy, Nathan Lasalle, Chad Latshaw, Ken Yoder and Dave Stamm completed the top 10.

"That was exciting," said Adams. "We didn't get to race much this year so to end the season with a win is good for us. It was a good race. I'm glad I came out on top."

The limited late model heats for the 25 cars went to Knaub, Rodriguez and Adams.

The Blue Collar Classic concludes at Port Royal Saturday with a 25-lap, $1,000-to win feature for the 305 sprints, along with the final tune-up for the 410-sprints prior to the World of Outlaws sprint cars coming up Saturday. Oct. 25.

Miller Jr. and Bear are tied for the point lead heading into Saturday's 305 sprint Port Royal finale.

Race Results:
Feature Finishes
10/10/14

305 sprints, 20 laps,: 1. Mike Wagner, II., 2. Brad Franks, 3. Matt Heimbach, 4. Paul Snyder, 5. Tyler Bear, 6. Bill Jones Jr., 7. Jordan Thomas, 8. Scott Frack, 9. Scott Ellerman, 10. Roger Irvine, 11. Eric Parker, 12. Shawn Kirkpatrick, 13. Justin Hoffman, 14. Ed Newhauser, 15. Ryan Lynn, 16. Mike Esposito, 17. Jeff Miller Jr., 18. Erin Statler, 19. Tyler Reaser, 20. Nathan Gramley, 21. Lance Newlin, 22. Jake Waters, 23. Jeff Geiges, 24. Zach Newlin

DNQ: John Haegele, Terry Schaeffer, James Pryde, Mike Alleman, Ryan Stillwaggon, John Bordlemay, Reed Thompson, Dave Guss, Jr., Anthony Fiore, Ken Duke

Limited late models, 20 laps: 1. Grant Adams, 2. Gene Knaub, 3. Todd Snook, 4. JR Rodriguez, 5. Brad Kling, 6. Dave Leidy, 7. Nathan Lasalle, 8. Chad Latshaw, 9. Kenneth Yoder, 10. Dave Stamm, 11. Chad Myers, 12. Donny Farling, 13. Garrett Gray, 14. Rick Singleton, 15. Devin Frye, 16. Shawn Stahl, 17. Shaun Jones, 18. Andrew Yoder, 19. George Dixon, 20. Jason Peachey, 21. Jason Nace, 22. Travis Calhoun, 23. Robby Black, 24. Ralph Morgan, 25. Charlie Shaffer

-end
HOUSE OF THUNDER HALLOWEEN PARTY & GRANDVIEW THUNDER 5-25'S PLANNED FOR SATURDAY NIGHT, OCTOBER 18 6 PM

Blood-curdling screams will be heard when the spookiest drivers in the area descend upon the Grandview Speedway for the final time of the season, as the NAPA AUTO PARTS Thunder on the Hill Racing Series presents the popular Grandview Thunder 5-25s features only event and House of Thunder Halloween Party. The action will take place on Saturday night, October 18 with the first of five features taking the green flag at 6 PM. Gates will open at 4 PM

The NASCAR 358 Modifieds, URC Sprint Cars, ARDC Midgets, Sportsman and Legends cars will each compete in a 'frightful' 25 lap feature event – along with the Blast from the Past Vintage Stock cars and the maniacal MONSTER SMASH Demolition Derby that close out the spooky night.

Led by 10-time NASCAR 358 Modified Champion, Jeff Strunk, the mighty Modifieds – featuring top runners: Duane Howard, Frank Cozze, Meme DeSantis, Ryan Grim and invader, Mike Mahaney -- will certainly provide some wheel-banging, hard-hitting Halloween action. This event has no tricks, just treats as these fierce competitors battle for $3,000 to win, $1,000 for third, $700 for fifth and $260 to take the green.

Davie "No Panic" Franek, out of Wontage, NJ is the Rislone URC Sprint Series point leader and has his eye on the 2014 United Racing Company championship as the series makes their final date of the 2014 season. Franek has to watch his back as the ghouls of races past – Josh Weller, Randy West, Robbie Stillwaggon, Ed Aikin and Troy Betts all look to bury alive the point leader.

The Modifieds, URC Sprints, ARDC Midgets and Sportsman will utilize timed warm-ups to determine the starting order for each feature event, while the Legends cars will use their current points standing with an invert to make up their feature line-up.

All this action coupled with Thunder on the Hill mainstays: FREE Pit Tours and the Inside/Out Experience – available for you to sign-up directly inside the main gate. The Low Down and Dirty Radio Show will be hosting their pre-race Meet and Greet. JOE THE PIZZA DUDE and the Thunder Girls will be available along with give-a-ways, games and prizes. Also, Jay Dugan from the Radical Design Group will be there to "trick or treat" the race fans as he leads the social media interaction for Thunder on the Hill.

Fans are encouraged to dress in costume to be eligible for special Halloween treats.

On Saturday, October 18th for House of Thunder Halloween Party, Gates Open at 4PM with a 6PM Race Time. Adult General Admission tickets are $25, Children 6-11 are $10 and Kids under 6 are always FREE! Pit Admission is $30 with a license and $35 without a license.

Series sponsors joining NAPA Auto Parts include: Window World of Lehigh Valley, Pioneer Pole Buildings, MACH1 Sprint Car Chassis and GALCO Business Communications.

Grandview Speedway
Route 100
Ten mile north of Pottstown, PA
GPS Users: 43 Passmore Road Bechtelsville, PA 19505
Speedway Phone: 610-754-7688
Thunder on the Hill Information: 443 513 4456
Websites: www.thunderonthehillracingseries.com or www.grandviewspeedway.com

Thunder on the Hill fans are encouraged to engage on social media platforms using the hashtag #TOTHRacing before, after and during racing events. #TOTHRacing content will be promoted across the Thunder on the Hill official social media platforms on

Facebook: www.facebook.com/thunderonthehill

Twitter: @TOTHRacing and Instagram: @TOTHRacing.

Window World is America's largest home improvement company. Window World of Lehigh Valley is your local specialist to help you with your window, vinyl siding, entry door or patio door needs. They can be reached at 610-432-6878, online at www.WindowWorldAllentown.com or at their show room 5925 Tilghman St, Allentown, PA 18104.

2014 Thunder Series Race Dates:
Saturday, Oct 18 6 PM House of Thunder Halloween Party- - Features Only Modifieds, Sprints, ARDC Midgets, Sportsman, Legends, Monster Smash Demo Derby, Blast from the Past Vintage Cars. Rain Date: Sunday, October 19 4 PM
Admission: Grandstands $25 Adults, $10 Children 6-11, Children 5 and under are FREE
Pit Fee: $30 with a license, $35 without a license.

-end-
Over 50 RaceSaver 305s Now Entered For Weekend Port Royal Blue Collar Classic

410 sprints and xtreme stocks also race Saturday, limited lates on Friday

FOR IMMEDIATE RELEASE

10/7/14

Port Royal – Over 50 RaceSaver 305 sprint cars have registered to enter the third annual Keystone RaceSaver Blue Collar Classic at Port Royal Speedway this weekend, October 10 and 11.

The RaceSaver 305s, hosted the entire weekend at Port Royal by the PA Sprint Series 305 region, will compete both nights at the track with Friday's show going off using a regular format and purse while Saturday's 25-lap Blue Collar main pays $1,000 to win and $400 to start with group time trials setting the heat and feature starting grids.

Drivers from Virginia, West Virginia, New York and Maryland will join those from Pennsylvania for the two-day 305 extravaganza at the historic oval.

The big weekend Port Royal party will showcase the best in the 305 business, bringing together racers from numerous RaceSaver regions including: PASS – PA Sprint Series, VSS – Virginia Sprint Series, CRSA – Capitol Region Sprint Association, TSRS – Tri State RaceSaver Sprints and LH – Laurel Highlands.

The 410 sprint cars join the 305s on the Saturday racing program along with an xtreme stock feature, all getting underway at 5 pm.

Friday action gets underway at 7 pm with the 305s and limited late models paying $1,000 to win.

Mifflintown's Jake Waters is the defending winner of the Port Royal Blue Collar Classic for the RaceSaver 305 sprints.

Sean Campbell took the inaugural event in 2012.

General admission gates for the Friday program will open at 5:30 pm with adult general admission set at JUST $12 and students ages 12 – 18 admitted for the usual low price of JUST $5.

Saturday gates will open at 3 pm with adult general admission priced at JUST $15 and students again priced at JUST $5.

Port Royal Speedway will close the 2014 season with the STP World of Outlaws appearing on Saturday, October 25 at 5 pm.

The show will mark the first visit by the band to Port Royal since its last visit back in 2004.

Reserve seats are now on sale for the big show at www.worldofoutlaws.com/tickets.

Reserve seating admission tickets, available in rows 7 – 19 of the aluminum grandstand, are set at $35 with adult general "day of" prices set at $30.

General admission prices for students ages 12 – 18 for the outlaws show will be just $20. Ages 0 – 11 will be admitted for free to general admission areas.

Rows 1 – 6 of the aluminum grandstand will be open to general admission ticket holders.

A reserved seat/ticket, in rows 7 – 19 if desired, for ages 0 – 11 and for students will be the aforementioned $35.

-end-

Williams Grove Speedway
410 sprint cars
1. Greg Hodnett 5110
2. Don Kreitz Jr 5060
3. Lance Dewease 4710
4. Alan Krimes 4520
5. Brian Montieth 4300
6. Doug Esh 4005
7. Ryan Smith 3885
8. Brent Marks 3755
9. Stevie Smith 3550
10. Danny Dietrich 3385

-end-
Get Your Advanced Port Royal World Of Outlaws Tickets With Confidence Now

FOR IMMEDIATE RELEASE

10/5/14

Port Royal – Ticket sales are underway for the upcoming invasion by the STP World of Outlaws at Port Royal Speedway, slated for Saturday, October 25 at 5 pm and with contingency plans put in place to protect from a loss of the program due to inclement weather, fans can purchase tickets with confidence.

Seat tickets for the highly anticipated return of the World of Outlaws to Port Royal Speedway can be purchased now at the World of Outlaws official website, located at www.worldofoutlaws.com/tickets.

Reserve seating admission tickets, available in rows 7 – 19 of the aluminum grandstand, are set at $35 with adult general "day of" prices set at $30.

General admission prices for students ages 12 – 18 for the outlaws show will be just $20. Ages 0 – 11 will be admitted for free to general admission areas.

Rows 1 – 6 of the aluminum grandstand will be open to general admission ticket holders.

A reserved seat/ticket, in rows 7 – 19 if desired, for ages 0 – 11 and for students will be the aforementioned $35.

Slightly less than three weeks remain until the professional sprint car warriors of the STP World of Outlaws circuit roll into the Juniata County oval, led by current point leader Donny Schatz of Minot, Nd.

Although the current WoO point leader and experiencing the best season of his career to date in the victory column, Schatz has only one career top five finish at Port Royal, that being a victory during the most recent previous appearance by the outlaws at the track back in 2004.

The circuit champion in 2013, Daryn Pittman was second in outlaws action at the track in both 2003 and in 2004.

Aliquippa's Tim Shaffer, now piloting the locally rejuvenated Apple Motorsports No. 12 for Bob Stewart, has a pair of fourth place finishes at the track in WoO action, coming in 2002 and in 2003.

Of local drivers, only Greg Hodnett and Lucas Wolfe have been able to get top fives in outlaws action at the track when the band last put together stands at the oval in the early 2000s.

Hodnett was third aboard the Stewart/Apple No. 12 in 2002 and Wolfe was third aboard the Allebach No. 5W in 2004

-end-

3rd Annual Keystone RaceSaver 305 Sprint Blue Collar Classic Port Royal Weekend Is October 10 & 11

Interregional clash for 305s, 410 sprints vie for $3,500 in outlaws tune up Saturday!

FOR IMMEDIATE RELEASE

10/5/14

Port Royal – The stage is set for the third annual Keystone RaceSaver Challenge Blue Collar Classic weekend for 305 sprints presented by the PA Sprint Series at Port Royal Speedway this coming holiday weekend, October 10 and 11.

Racing action on Friday night gets underway at 7 pm featuring a regular program for an interregional gathering of Keystone RaceSaver 305 sprints and limited late model action that will pay $1,000 to win.

Saturday competition gets started at 5 pm with a huge clash of interregional RaceSaver 305 sprint teams featuring a headline 25-lap main paying $1,000 to win and $400 just to start out of a total purse worth some $10,000.

Nearly 50 RaceSaver 305 sprint teams have already pre-registered for the big weekend Port Royal party that will showcase the best in the 305 business from up and down the East Coast, bringing together racers from numerous RaceSaver regions including: PASS – PA Sprint Series, VSS – Virginia Sprint Series, CRSA – Capitol Region Sprint Association, TSRS – Tri State RaceSaver Sprints and LH – Laurel Highlands.

A non-qualifiers main for the 305s will also be run featuring a full purse for the pilots on Saturday.

Also on the Saturday racing program is a World of Outlaws tune up event for the 410 sprints paying $3,500 to win and a feature for the xtreme stocks.

More information on the big 305 sprint Port Royal weekend is available at www.pasprintseries.com.

Mifflintown's Jake Waters is the defending winner of the Port Royal Blue Collar Classic for the RaceSaver 305 sprints.

Sean Campbell took the inaugural event in 2012.

General admission gates for the Friday program will open at 5:30 pm with adult general admission set at JUST $12 and students ages 12 – 18 admitted for the usual low price of JUST $5.

Saturday gates will open at 3 pm with adult general admission priced at JUST $15 and students again priced at JUST $5.

Port Royal Speedway will close the 2014 season with the STP World of Outlaws appearing on Saturday, October 25 at 5 pm.

The show will mark the first visit by the band to Port Royal since its last visit back in 2004.

Reserve seats are now on sale for the big show at www.worldofoutlaws.com/tickets.

Reserve seating admission tickets, available in rows 7 – 19 of the aluminum grandstand, are set at $35 with adult general "day of" prices set at $30.

General admission prices for students ages 12 – 18 for the outlaws show will be just $20. Ages 0 – 11 will be admitted for free to general admission areas.

Rows 1 – 6 of the aluminum grandstand will be open to general admission ticket holders.

A reserved seat/ticket, in rows 7 – 19 if desired, for ages 0 – 11 and for students will be the aforementioned $35

-end-

Final Sprint Points Races This Week At Williams Grove Speedway

Hodnett and Kreitz will settle the fight!

10/5/14

FOR IMMEDIATE RELEASE

Mechanicsburg – The final races of the season at Williams Grove Speedway have arrived, coming up this Friday, October 10 and Saturday, October 18.

The Lawrence Chevrolet 410 sprints and Tool Shed of America 358 sprint cars are on this week's final points racing program with a 7:30 pm start time.

The feature checkers of the night will determine the 2014 track champions.

Kevin Nouse has mathematically already locked up the 358 sprint season laurels however the race is still up in the air for the 410 sprint cars.

After both Don Kreitz Jr. and Greg Hodnett had lackluster performances in the October 4 National Open, the men are still separated by just 50 points as they head into the final point event with Hodnett on top.

At this point the 2014 track title is still entirely up for grabs between the duo as Hodnett attempts to garner his third while Kreitz is trying for his fifth.

The October 10 racing program will be the final regular event of the season on the Williams Grove slate.

The 2014 Williams Grove season will end in two weeks with the features only Fall Fest for 410 and 358 sprints, super sportsman and 358 late models, getting underway at 5:30 pm.

Adult general admission for this week's show is set at $14 with youth ages 13 – 20 priced at just $8.

Senior Citizen general admission pricing will also be in effect with fans born in 1957 or earlier admitted for just $8.

-end-

Rain Cancels Night One of the National Open at Williams Grove Speedway

The Outlaw vs. Posse battle for the $50,000 to win National Open continues Saturday night

MECHANICSBURG, Pa. - Oct. 3, 2014 - Heavy rain has forced World of Outlaws and Williams Grove Speedway officials to cancel the first night of the National Open weekend.

The Outlaws and Posse return to Williams Grove Speedway Saturday night to battle for the coveted $50,000 to win National Open title.

With 82 full-point events complete so far this World of Outlaws STP Sprint Car Series season, tonight is only the third event to be rained out and only the second to be canceled.

Fans who purchased tickets for Friday night's event can visit http://www.WilliamsGrove.com for more information on the rain check policy, or they can call the track at (717) 697-5000.

The pits will open on Saturday afternoon at 3 p.m.

For the latest news and information from the National Open go to www.WorldofOutlaws.com , and make sure to follow on Facebook at www.facebook.com/WorldofOutlaws and on Twitter at www.twitter.com/WorldofOutlaws .

-end-
World Of Outlaws Final PA Show Of 2014 At Port Royal Speedway Oct. 25

FOR IMMEDIATE RELEASE

9/28/14

Port Royal – Even though the STP World of Outlaws are competing in the area during the next week, there will still be another chance this season to catch all the best sprint car drivers in the world do battle under one roof when the STP World of Outlaws visit Port Royal Speedway on Saturday, October 25 at 5 pm.

The highly anticipated Port Royal program will be the last chance for area fans to see multi-time outlaws champion Steve Kinser of Bloomington, IN., compete in the state of Pennsylvania as a full-time outlaws pilot.

And the opportunity should not be missed by anyone to send Kinser out of the state with a classic outlaws vs. posse duel at "The Port."

The October 25 show will be just the eighth appearance in history of the World of Outlaws at the theater of speed, Port Royal Speedway.

And the show will mark the first visit by the band to Port Royal since its last visit back in 2004.

Reserve seats are now on sale for the big show at www.worldofoutlaws.com/tickets.

Reserve seating admission tickets, available in rows 7 – 19 of the aluminum grandstand, are set at $35 with adult general "day of" prices set at $30.

General admission prices for students ages 12 – 18 for the outlaws show will be just $20. Ages 0 – 11 will be admitted for free to general admission areas.

Rows 1 – 6 of the aluminum grandstand will be open to general admission ticket holders.

A reserved seat/ticket, in rows 7 – 19 if desired, for ages 0 – 11 and for students will be the aforementioned $35.

Keep up to date on all the latest speedway news and information by visiting the oval's official website at portroyalspeedway.com or by following the track on Facebook or Twitter.

-end-

Like The Sprint Car Show on Facebook
Lincoln Speedway
410 sprint cars
FINAL

1. Alan Krimes 6260
2. Brian Montieth 5990
3. Jim Siegel 5985
4. Cory Haas 5960
5. Gerard McIntyre Jr. 5740
6. Robbie Kendall 5415
7. Kyle Moody 5180
8. Billy Dietrich 5075
9. Danny Dietrich 5070
10. Freddie Rahmer 5005
358 sprint cars
FINAL

1. Chase Dietz 5275
2. Niki Young 5180
3. Chandler Leiby 4835
4. Matt Campbell 4665
5. Brie Hershey 4535
6. Ashley Cappetta 4325
7. Matt Findley 4320
8. Doug Hammaker 4155
9. Zach Euculano 4010
10. Jeff Rohrbaugh 3990

Williams Grove

410s
FINAL

1. Greg Hodnett 5110
2. Don Kreitz Jr 5060
3. Lance Dewease 4710
4. Alan Krimes 4520
5. Brian Montieth 4300
6. Doug Esh 4005
7. Ryan Smith 3885
8. Brent Marks 3755
9. Stevie Smith 3550
10. Danny Dietrich 3385
358 sprint cars
FINAL
1. Kevin Nouse 3330
2. Adrian Shaffer 2805
3. Kody Lehman 2435
4. Matt Campbell 2400
5. Doug Hammaker 2335
6. Brie Hershey 2090
7. Scott Fisher 2070
8. Chandler Leiby 1995
9. Jay Galloway 1915
10. Chris Arnold 1785
Super Sportsman
FINAL
1. Frankie Herr 4950
2. Mike Enders 4820
3. Scott Dellinger 4555
4. Chad Trout 4525
5. Scott Geesey 4450
6. Russ Mitten 4360
7. Steve Fannasy 4280
8. Gregg Foster 4030
9. Steve Wilbur 3925
10. Chad Criswell 3920
Port Royal

FINAL
1. Rick Lafferty 5380
2. Mike Erdley 5370
3. Blane Heimbach 5325
4. Chad Layton 5310
5. Greg Hodnett 5165
6. Doug Esh 4695
7. Curt Stroup 4670
8. Dylan Cisney 4505
9. Mike Wagner 4445
10. Nate Snyder 4315

Selinsgrove
360 sprint cars
FINAL

1. Mark Smith 5085
2. T.J. Stutts 4995
3. Jason Shultz 4185
4. Ryan Kissinger 3805
5. Derek Locke 3640
6. Davie Franek 3415
7. Cody Keller 3290
8. Brock Zearfoss 3195
9. Mike Walter II 3080
10. Colby Womer 3020